Cheap throw pillows are one of my favorite items to have in my decorating toolkit. The easiest way to decorate for a holiday or give your room a quick refresh is by adding some cheap decorative pillows to your living room or bedroom.
A week or so ago I shared a photo of my outfit of the day in my living room, and the pillow situation behind me garnered a few comments about my pillow hoarding ways. 😂 It's true – I LOVE a good throw pillow. I'd call it an obsession, really.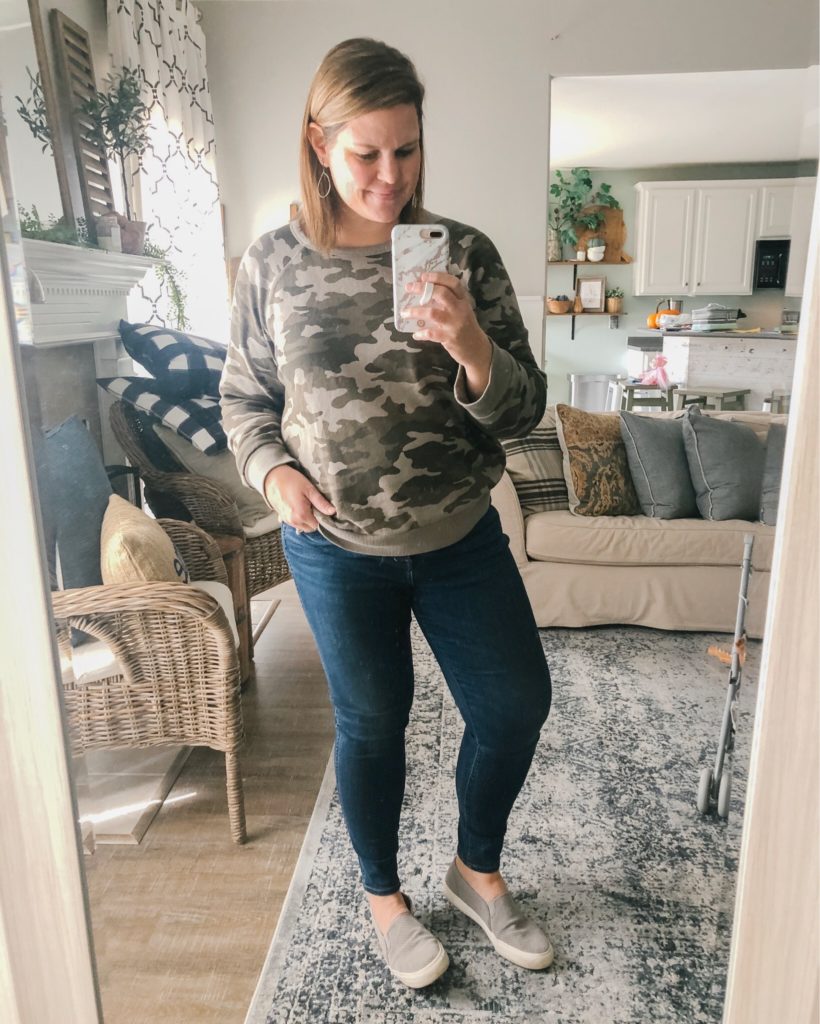 So, since I'm probably not the only one who loves a pretty throw pillow and doesn't have millions of dollars to spend on them, I thought I'd share my favorite go-to sources for finding inexpensive throw pillows.
Cheap throw pillows that are actually cute is a bit like going on a treasure hunt. Perhaps it will help to think of me as your friendly pillow tour guide—I may or may not have a lifetime of experience in this area. 😜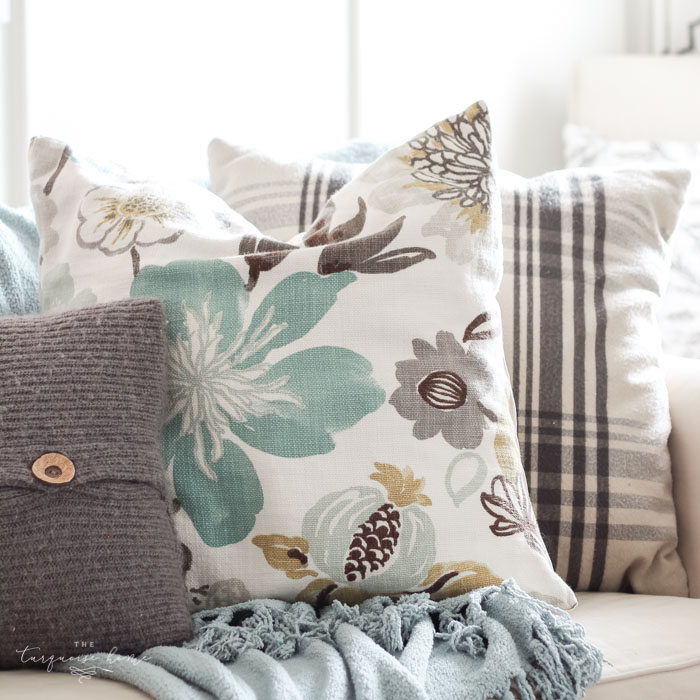 As a lifelong decorator, I've learned how to create the space of my dreams within a budget. Whether it was my childhood room, my dorm room, or my current home, cheap decorative pillows have always been a big part of my decor plans.
You'd be hardpressed to think of another single decorating tool that's as affordable as pillows. Plus, they are tiny and light, so they are easy to store and move around. Altogether, a win!
Even better if you just have a stash of pillow covers and can just change those out as the seasons (or your decor whims) change. Then you're not storing a bunch of pillow forms, too!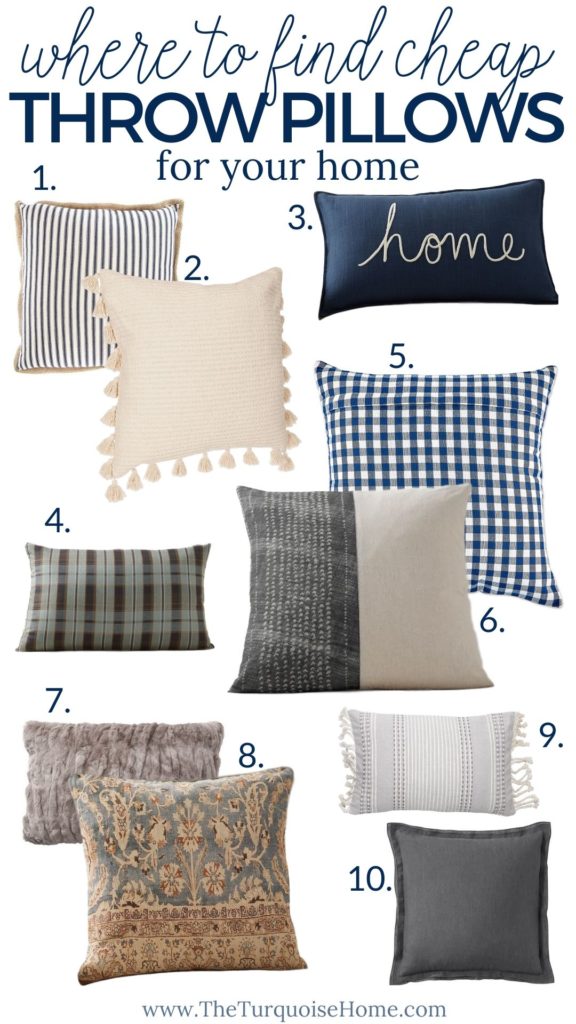 1 | 2 | 3 | 4 | 5 | 6 | 7 | 8 | 9 | 10
What to Look for When Shopping for Cheap Pillows Online
I'll be honest with you all: I prefer shopping in person for pillows—or pretty much anything else. However, as a business owner, wife and mom of two young girls, my free time is extremely limited.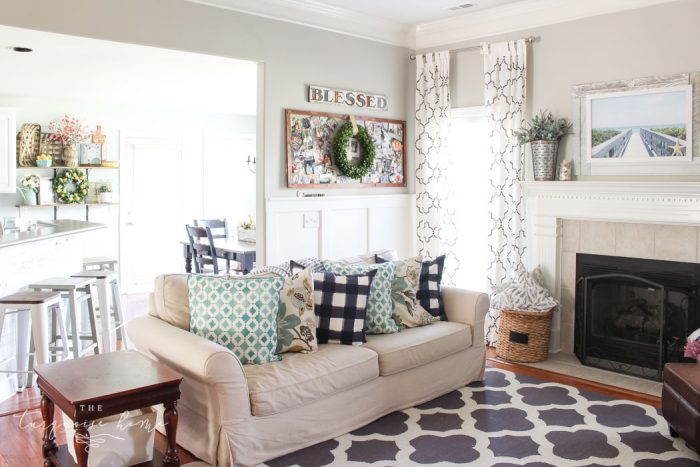 It's quite rare for me to have ten minutes free, let alone a couple of hours to grab a latte and stroll through the aisles of my nearest Home Goods. In this season of life, grabbing a few minutes to shop online in between activities is the best I'm going to get.
I also like to shop at retailers where I can return things for free online or have a local store where I can pop in and return anything I don't want to keep. So, pay attention to those policies when shopping online.
The Best Places to Find Cheap Pillows
Thankfully, it seems like stores are getting the message and starting to add more and more cheap pillows into their online inventory. As an avid pillow shopper, I thought it would only be fair if I shared my favorite spots with you all—there are plenty of pillows to go around.
Kirkland's has a great selection of everyday cheap throw pillows and is just one of my favorite places to shop for inexpensive decor. My favorite part of their online store, however, is the seasonal decor. I find myself stocking up on at least one set of new cheap pillows every season—usually for under $20! They almost always have a 20%-30% off sale going on so look for those coupons online and in store!
Longtime readers will already know of my love of Hobby Lobby, but their pillow section takes it up an entire level. Again, they have a great mix of everyday cheap pillows and seasonal ones, particularly all the aisles full of Christmas pillows. Some are less than $10 or even $5!
Just make sure you plan your online shopping in time with sales. You can expect pillows or seasonal decor to be 40 – 50% off at least once a month. Plus, there's always that 40% off coupon available if you're looking for a non-seasonal or non-sale item!
It wouldn't be a list of the best stores to find cheap throw pillows without mentioning Target (or Tar-Jay if you are feeling fancy). Their website is easy to navigate and you can narrow down your searches until you find exactly what you're looking for.
Plus, the store often runs deals for Target Circle members (formerly Target Cartwheel program). Additionally, those with the red card will receive an extra 5% off the purchase, which definitely adds up. I use the Red Card debit card as it works just like my debit card and I get 5% off all purchases, plus free shipping—most of which is 2-day shipping now!
Likewise, Walmart has got quite the selection of home decor these days, including plenty of cheap pillows. If you want to find a place with great staples, start here with their Better Homes & Gardens line.
If you didn't know it, now you do: TJ Maxx has a website. And it's a pretty good one! I'll say upfront that some the pillows online aren't what I would generally consider super cheap, however I know that each person defines that word a little differently.
You can often find pillows for under $15 each, making it $30 for a set of two. Some of the nicer pillows are even up to $40+ each, but they truly are gorgeous. If you've got room in your budget for a splurge, or want to get a great all-season decorative pillow, try looking here!
I know Pottery Barn probably isn't at the front of your mind when you think of cheap decor, but hear me out! I love their pillows and can usually find them on sale pretty often for $20-$30 each! They are classic designs and great quality!
Keep in mind that Pottery Barn usually sells the pillow covers and pillow inserts separately. But that's perfect if you already have pillow forms and just need to switch out the covers. (I do have a tip below for finding cheap pillow inserts if you need them in the tips and tricks section.)
Other Websites with Cheap Decorative Pillows
Want even more sites to check? You got it! Here are a few of my other favorite sites that are worth favoriting.
Tips and Tricks for Finding Cheap Throw Pillows
Here are some tips and tricks to help you find cheap pillows, or reuse what you have in a creative way.
Stock up on cheap inserts. The best place I've found for super affordable pillow inserts is Ikea. The next time you go, by six to eight and you can reuse them throughout the year.
Take advantage of in-store shopping. If you happen to find time to do some in-store shopping, stock up on some inserts and covers that can be easily rotated and added to. Plus, make sure to check the clearance aisle.
Buy the ugly cheap pillow. Find a pillow for $1.99 online? Grab it! Even if it's hideous, chances are the form inside is good. Cut off the ugly outside and make the pillow into your new craft project.
Learn to sew. This isn't an option for everyone, but if you have access to a sewing machine and an inclination for straight lines, you can sew a pillow of your own! I've made several pillows for myself over the years including drop cloth pillows with stencils, or using a printable iron-on transfer. I've bought a yard of expensive fabric and put a cheap backing on it and DIY'd a pillow that would be normally over $75/each for less than $20/each.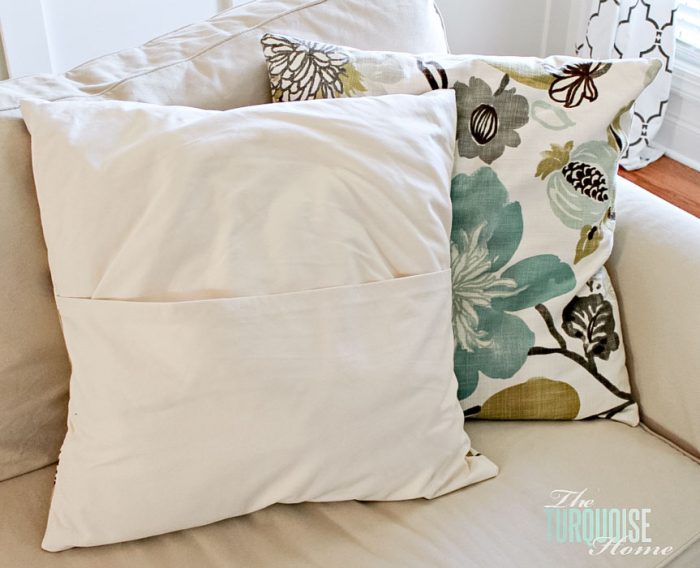 As you can see, there are dozens of ways you can start searching for cheap pillows online. If you have any tips of your own, please feel free to share them in the comments!
MORE POSTS YOU WILL LOVE:
Get Instant Access to my Guide to Customize Your Home on a Budget
Grab your FREE guide for 10 Ways to Customize Your Home on a Budget: simple projects to transform your home from builder beige to a home with character and charm!