A Traditional Spring Tablescape (& the End of an Era)
Last night was the end of an era.
When I first started sharing my home almost a decade ago, I had just moved into a builder-beige home and had very little extra money for decorating. It was the end of the recession and I had just lost my job. So, the funds for furnishing our new home were slim to none.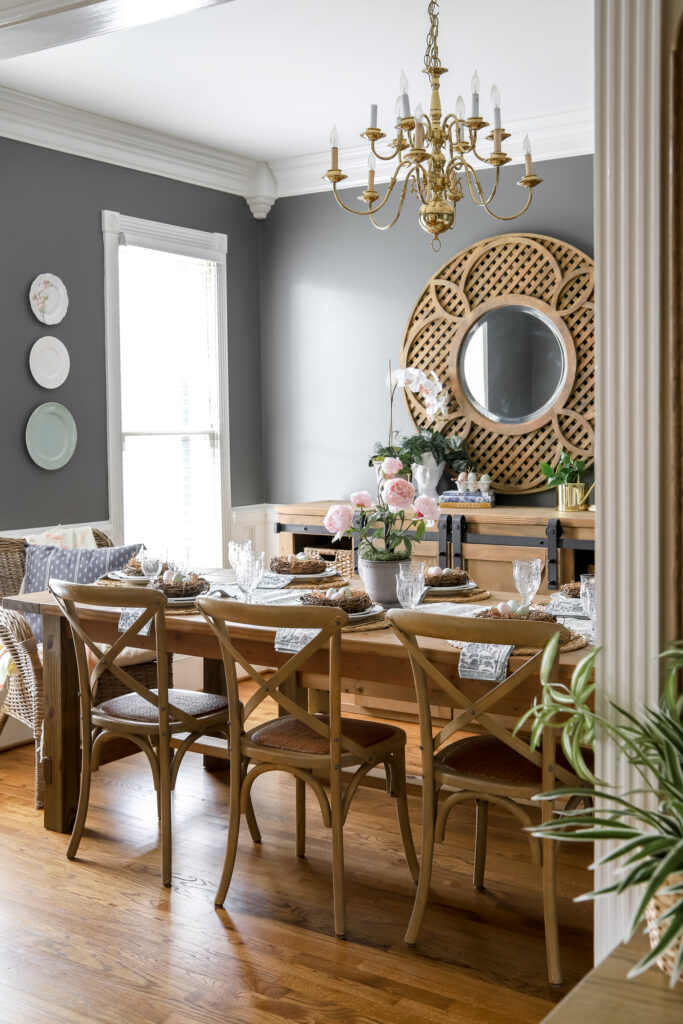 I had a 1-year-old baby and plenty of time to do projects. And it was the beginning of the rise of the farmhouse decorating style.
Remember the pallet projects? I found pallets on the side of the road that same year and they kept me busy with projects for years to come! (I think one of the reasons the farmhouse style took off at that time was that people's bank accounts were hurting and it's easy and cheap to make furniture in the farmhouse style.)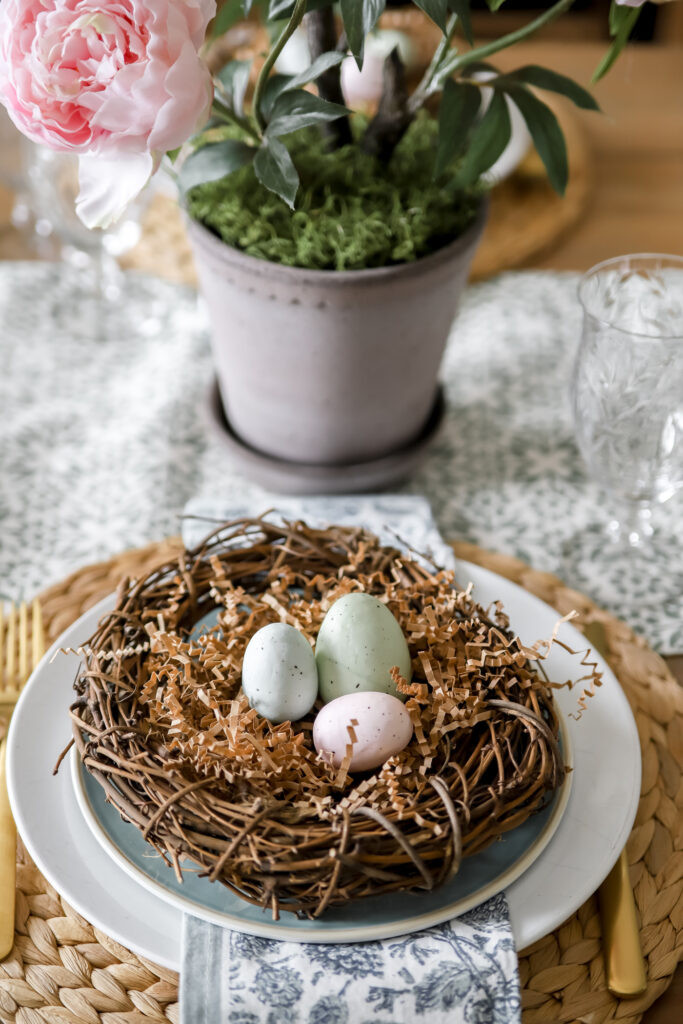 One of the first projects I made was my farmhouse table. I had received a circular saw for a birthday present and saved up to buy a Kreg Jig. I convinced my husband that I could build a table for only $100 + the tools. And he agreed to spend our hard-earned money on a table.
Click/Tap the images below to shop this space:

And so my first big DIY project was birthed out of desperation and ingenuity. The building project was a success (🎉) and I quickly found more ways to add DIY furniture and home accents to my house.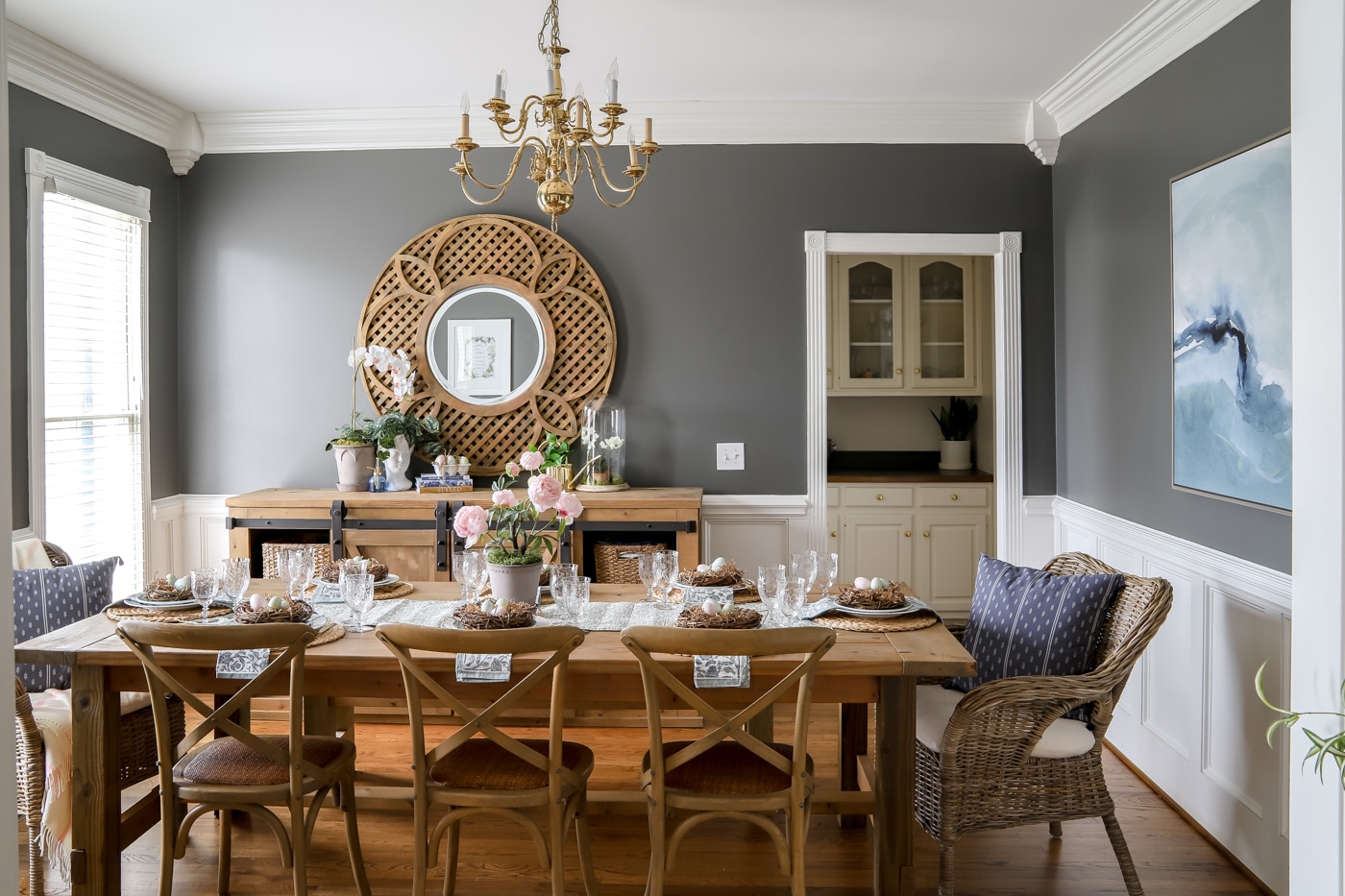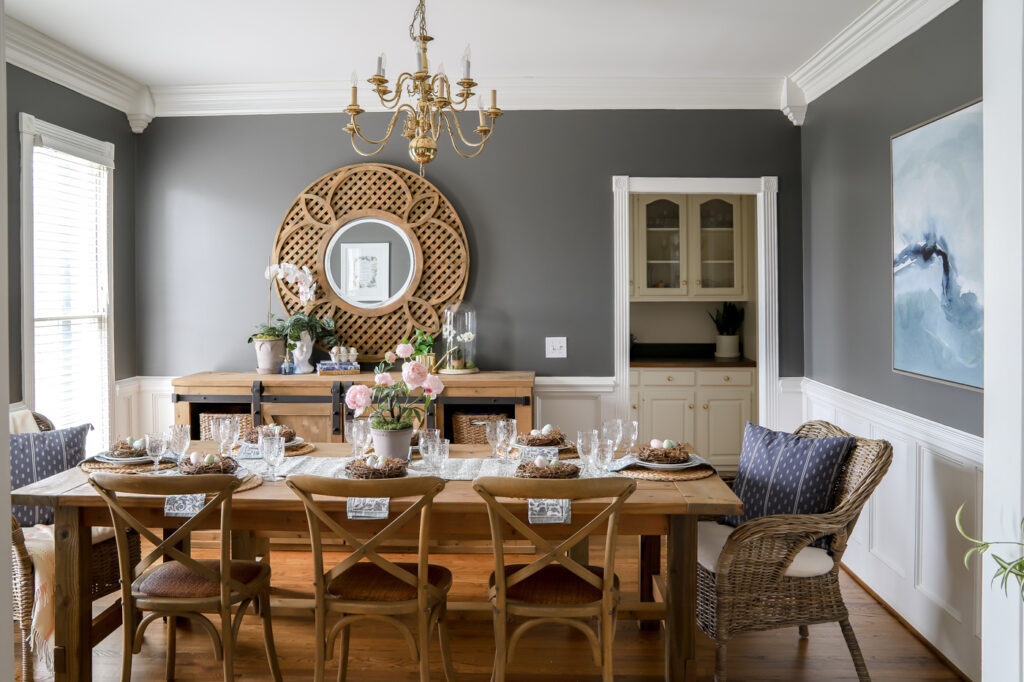 I loved that I could now create a beautiful home for my family with some lumber and a few basic tools. It was the beginning of a DIY season and the start of this blog, which now provides my family with a full-time income so that I don't have to DIY everything anymore. (Thank you for being here & supporting us!!)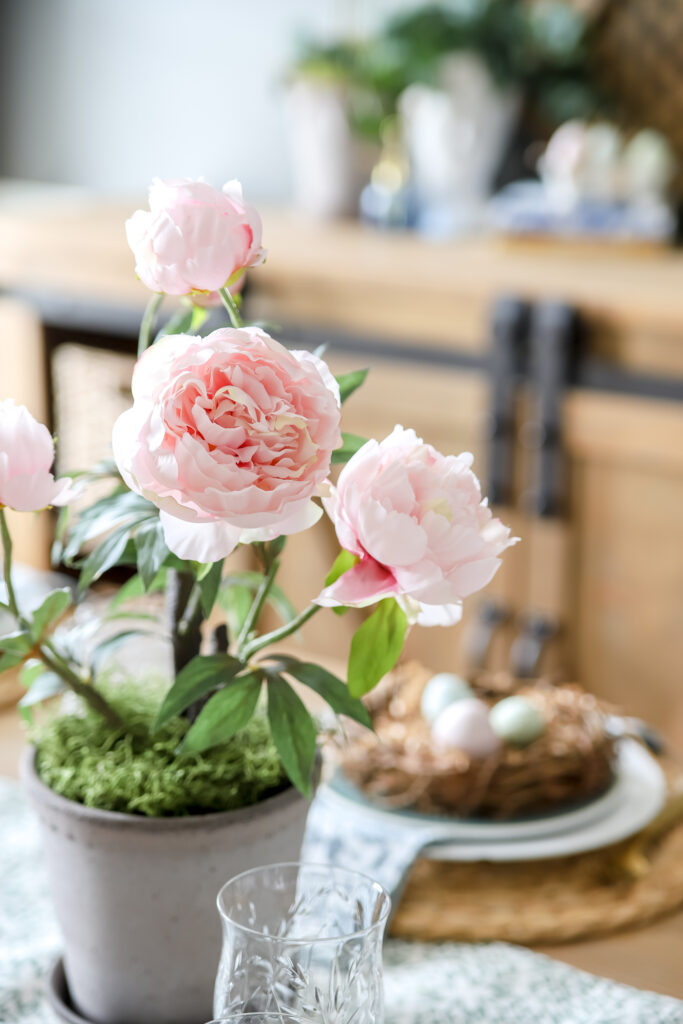 But when we moved into our current home, I knew that it was not a farmhouse style home.
I'm a big believer in listening to your home and decorating within the style of home you have. There are some exceptions to that rule, but I knew my originally-built-in-the-1990's, traditional Cape Cod-style home wasn't the place for my beloved farmhouse table. (Or the matching bench or my DIY media console either. 😔)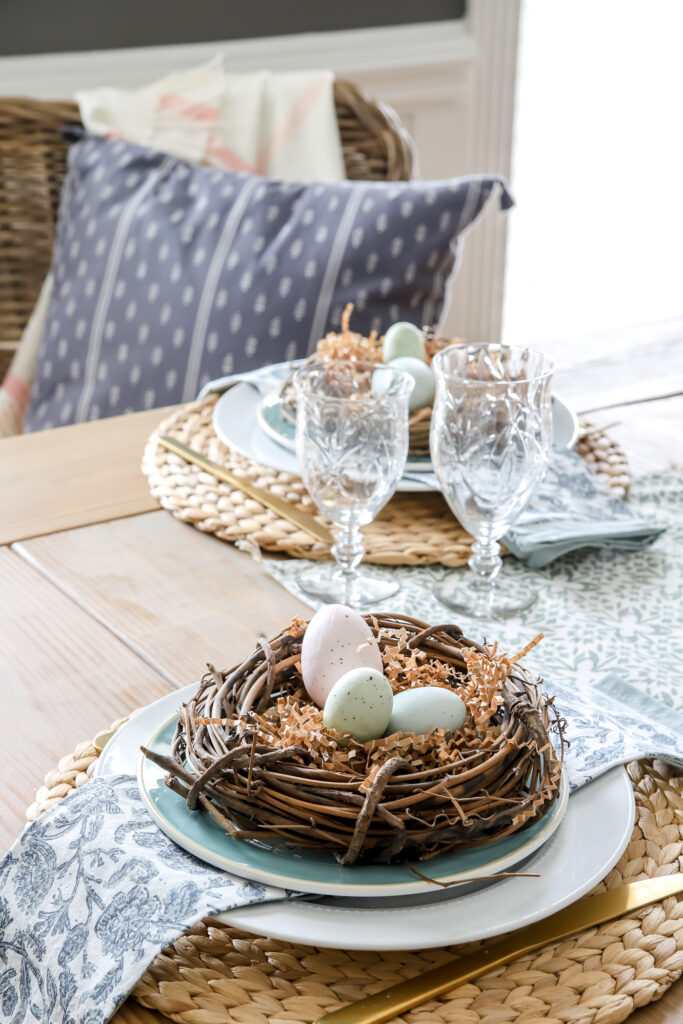 And so last night I sold the farmhouse table and matching farmhouse bench to a dear friend whose home is more suited to that style. And I couldn't let the table go without decorating her one last time. (I'll be selling my media console next, once I find a replacement.)
So, in honor of the last 9.5 years and the fact that this table started my whole DIY journey, I displayed one final spring tablescape and captured the raw, rustic beauty.
It has served us well.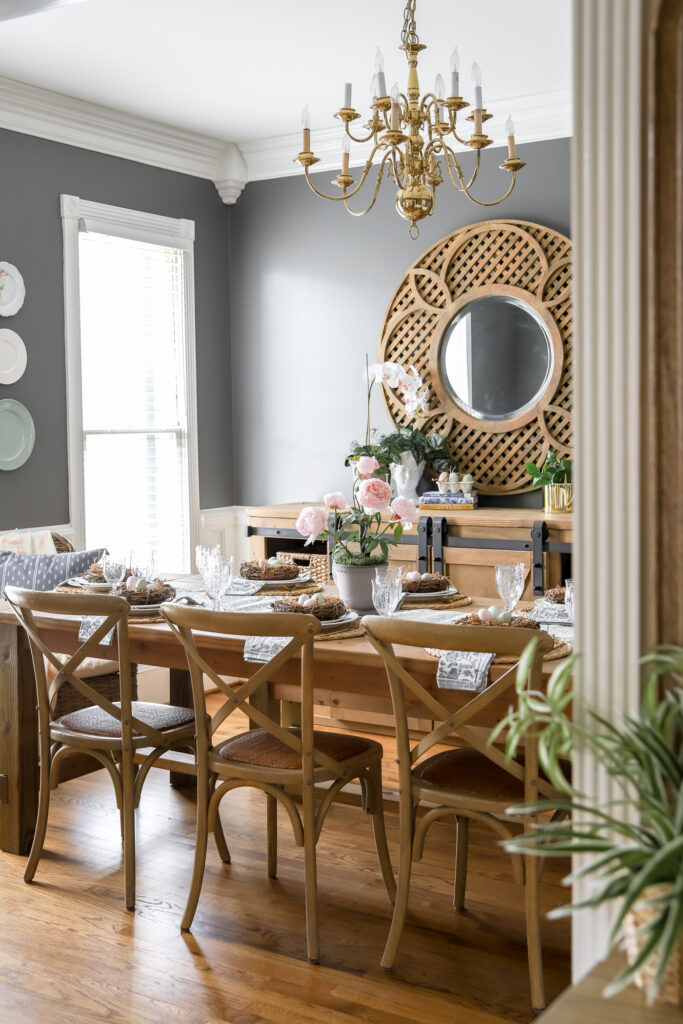 And I'm so glad it'll move on to another family who will love it and gather around it as we have done.
While it's the end of one era, it's the beginning of another. I've spent this last year learning and figuring out exactly how to decorate this new house of mine.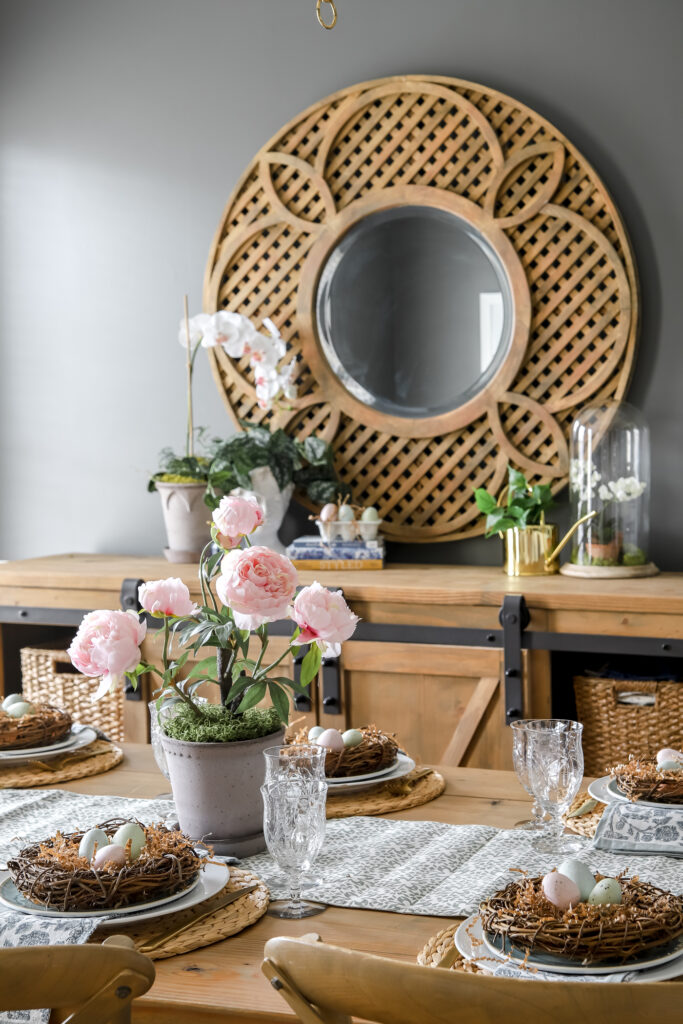 I have loved seeing the rise of the "grandmillennial" style because it really fits this 90's home.
When we first moved in, we felt like it had a "Home Alone House" vibe and that pretty much sums it up. Lots of wallpaper, lots of fancy trim work and lots of patterns. (By the way, 95% of the walls in this home were wallpapered at one point and have since been painted over. So, we'll just be going back to her roots.)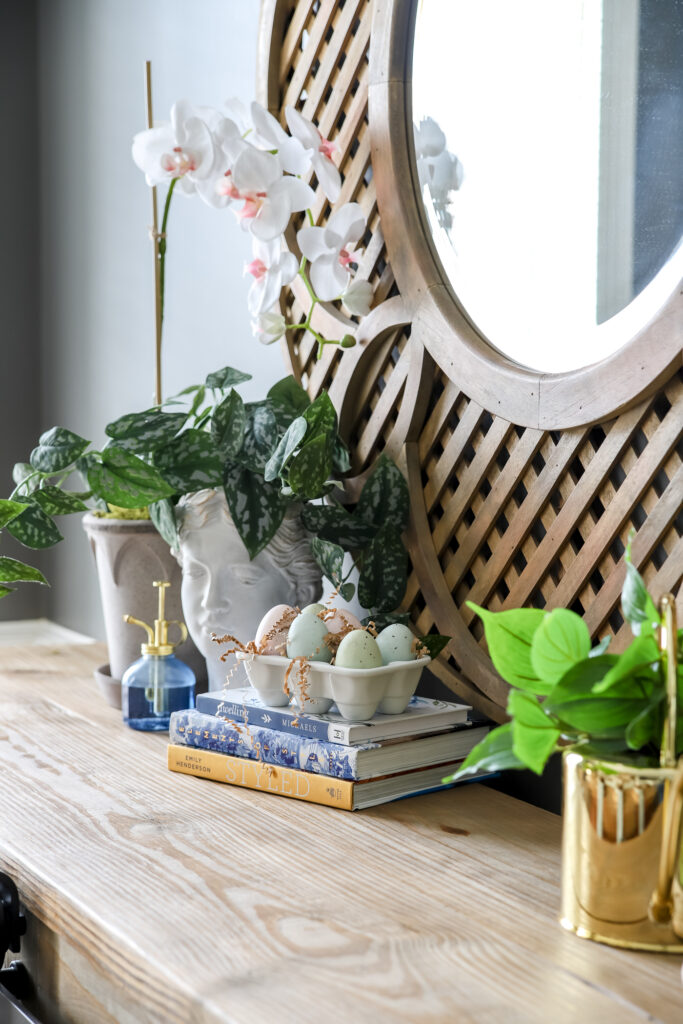 I'll soon share more about my take on that traditional style and how it will evolve in my home in the years to come.
But for now, I'm having a moment of silence for the table that started it all and helped me create this online space that has become a community. Thanks again for being here!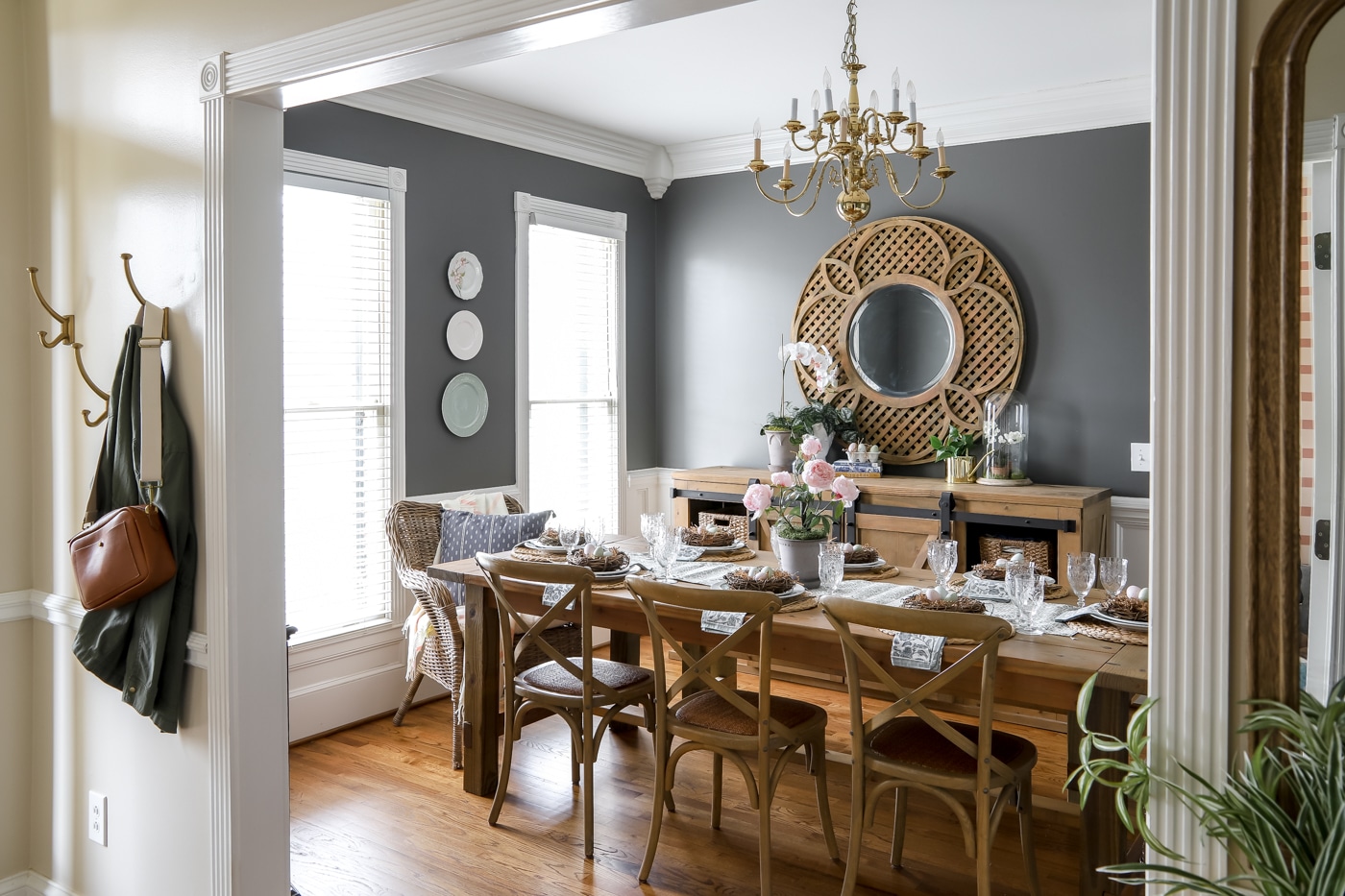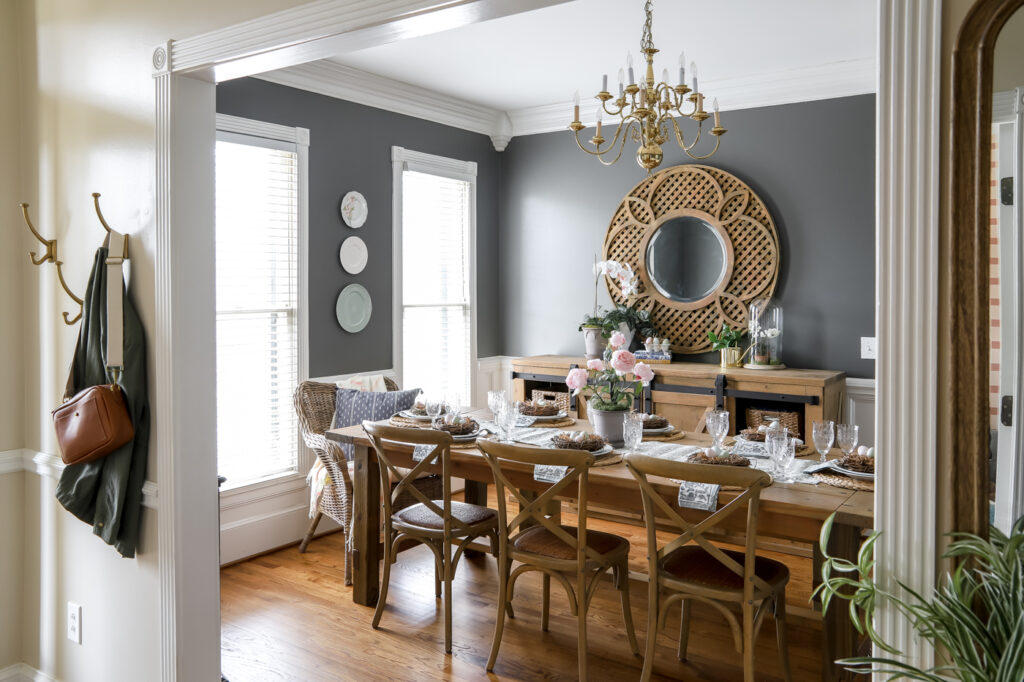 Dining Room Sources:
Crystal Glasses – my great-grandmother's | Woven Chargers | Gold "Silverware" | Napkins | Table Runner | Speckled Eggs | Ceramic Egg Crate | X-Back Dining Chairs | Hooks in Entry Way | Round Mirror (not available) | DIY Table Tutorial | DIY Bench Tutorial | DIY Buffet Tutorial | Grecian Bust Planter | Faux Potted Mini Orchids | Plates on the Wall – antiques | Other Faux Flowers – local | Block Pattern Blue Pillows | Pink Windowpane Throw Blanket
More Posts You Will Love: