7 Favorite Stylish Small Entryway Tables
I searched all over for the most stylish entryway tables I could find and found these 7 favorites! These are perfect for creating a decor moment, additional storage or a landing spot in your home!
When I shared my small entry way storage ideas a while back, I shared my own entryway space and how I'd maximized their storage.
I had a few comments that I MUST not know what a small entryway is because my spaces are quite large.
I should have clarified that while my front entryway might be large, I didn't have much wall space to work with. Therefore I was limited in how I could create storage in the space.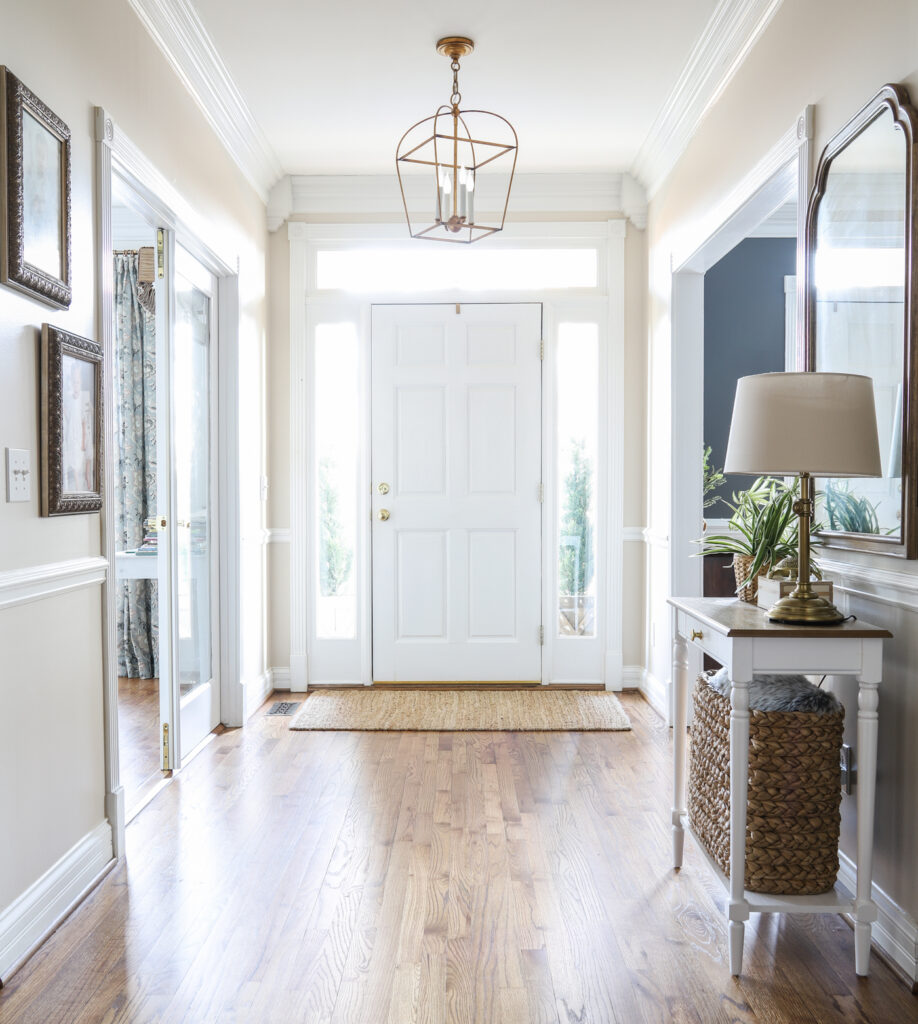 Most of the time a storage solution requires a wall for a table to be placed against or hooks to be hung on.
And in my situation, my entryway is flanked on all sides by large doorways or openings, leaving me little options for creating a much-needed landing spot.
My limited wall space lead me on a months long search for the perfect console table for my small wall size. This proved to be harder than I thought because I am picky. Ha!
This post contains affiliate links for your convenience. See my full disclosure policy.
Criteria for My Table and Landing Zone
I wanted my console table to:
Be neutral in color
Not be wider than my wall, which was only 32″
Have a drawer
Have an open space at the bottom for a basket
Not be higher than my chair rail
The reason for wanting a landing spot in the first place is that I love a lamp in the entry way. I have my lamps plugged into wifi plugs so that they come on at dusk and go off at a certain time at night. And I always love a mirror by the front door for last-minute checks.
Plus it's always nice to have a place for guests to put their keys or other items when they walk into your home. So, it was important for me to create this small landing zone. And I think it's pretty!
Click/Tap the Images Below to Shop My Entryway:

I didn't find a ton of tables that would work, which is why the hunt took so long. But if you're also on the lookout for a console table for your entry way, let me introduce you to a few of my favorites I found along the way!
My Favorite Stylish Entryway Tables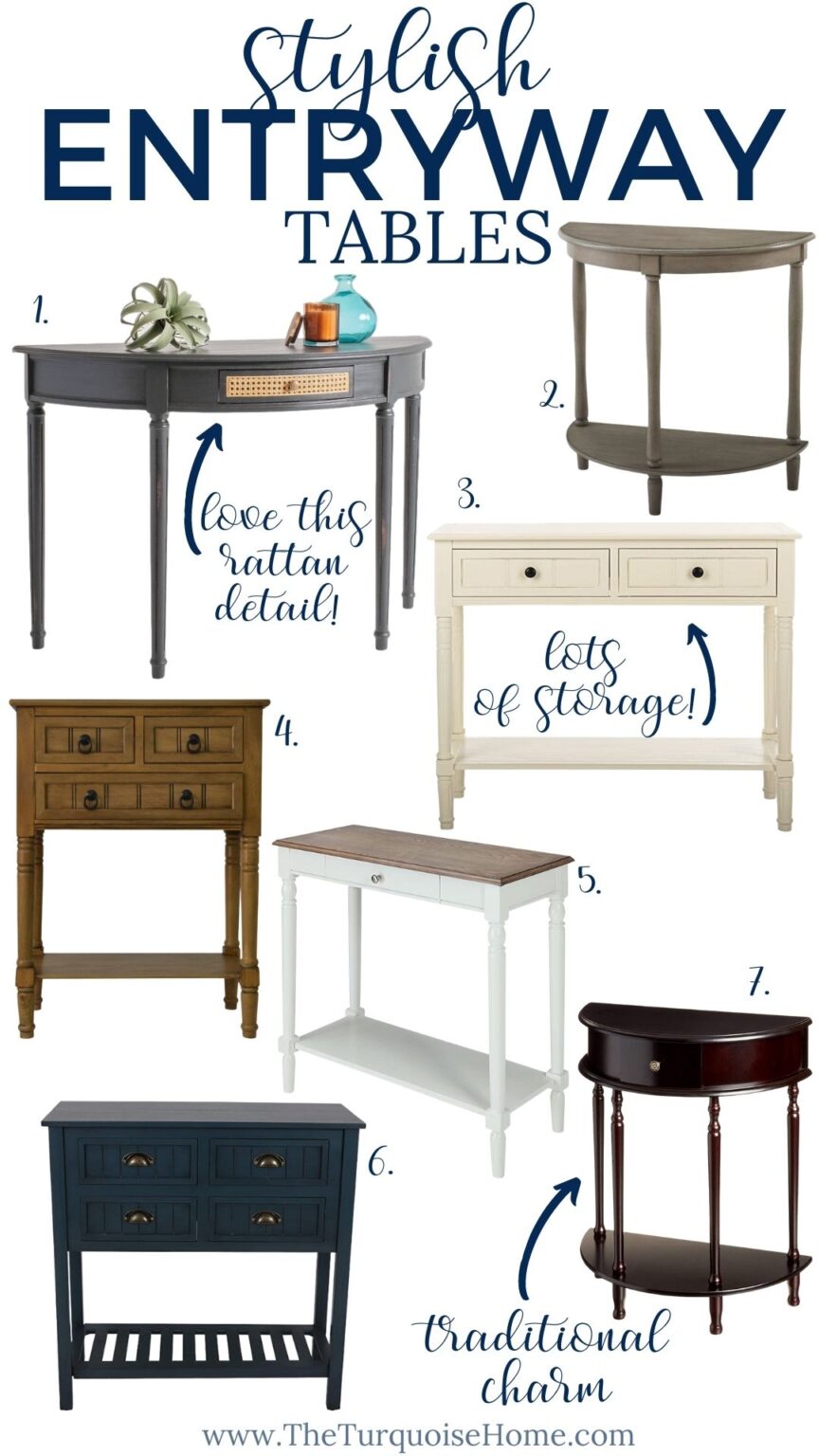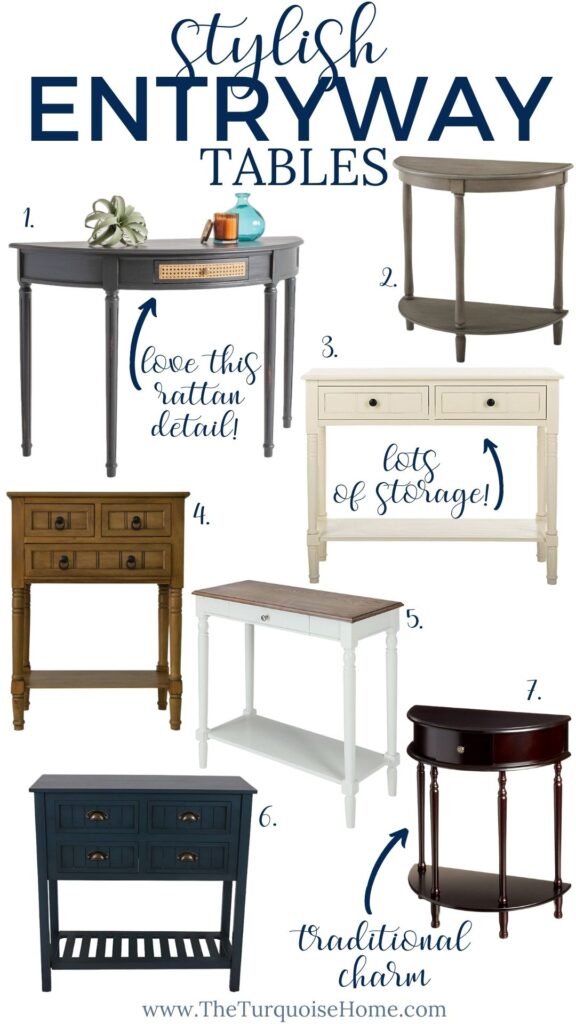 I hope those help you if you are looking for just the perfect table for your space. I love how a small table like that can create an intentional moment in your home with storage, a mirror or art above it, and a lamp for light.
The lamp on my entryway table is on a timer and I love it every night when it comes on and signals to me that it's time to start working and start on dinner. So much life and coziness – all started by finding the right table!
Happy shopping!
MORE POSTS YOU WILL LOVE: