One Year: Before & After Home Tour
Take a look at the before and after photos in this traditional, cape cod style home. We made mostly cosmetic changes that pack a punch!
Well our anniversary of moving into our home came and went back in December. But Christmas is a wash when it comes to paying attention to any home improvements in this house, so I'm going to pretend it's now.
I haven't done anything to the house since Christmas, so we can all pretend like I'm sharing this a month ago. 😜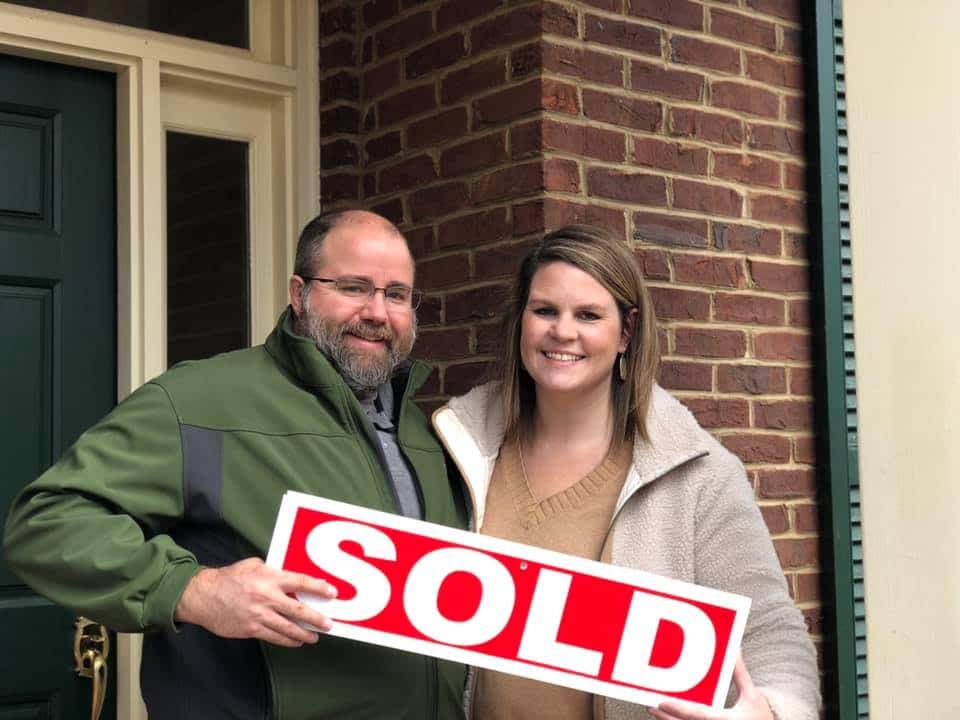 I'm not one who makes over a house quickly. I like to take my time, make careful and deliberate decisions AND buy things as we can afford them. So, it takes me a bit longer than some others.
This past year I changed things up by setting quarterly goals. You can do a deep dive into my house goals from 2020 in each of these posts:
See all of the updates we did in the second year in our home!
As a refresher, this house was built in 1996 and most rooms were painted either yellow or green when we bought it. The previous owners were big fans of hunter green.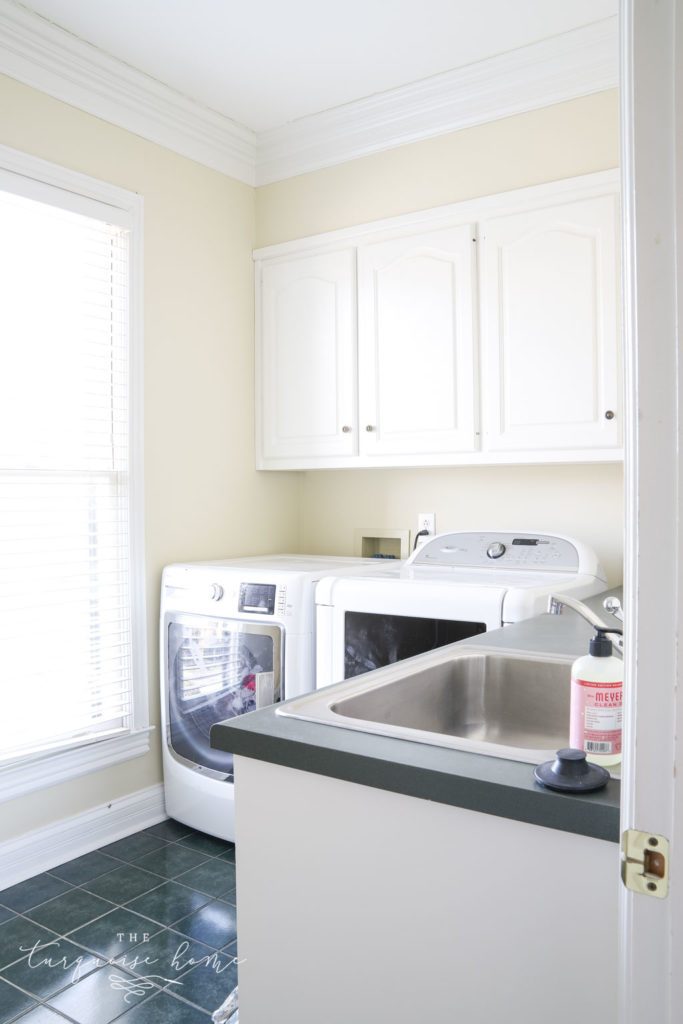 While they had replaced the kitchen counter tops, had the kitchen cabinet painted white and refinished the original hardwood floors, it doesn't appear like they updated much else.
My goal when we moved in was to 1) paint, paint, paint! and 2) change some of the lighting. I still have a few more to change out, but I've removed the worst offenders.
While I had big plans to makeover some spaces this year, we all know that while we've spent more time than ever at home over the past year. But it didn't exactly translate into more projects being done.
With my kids and husband being home much of the year, I didn't have nearly as much times as I thought I would to devote to my goals. And with lead times on some of the products I've ordered for the house, everything it taking longer. And that's OK!
Let's jump in and take a look back at the things I did changed in the house this past year.
2020 House Projects | Before & Afters
Most all of the changes I made were cosmetic changes. But we're saving our money for a full bathroom renovation in the next few years! (Click on any of the pink room titles to see the full reveal posts.)
This post contains affiliate links for your convenience. See my full disclosure policy.
I'm soooooo thankful that I began the year by getting my pantry in shape. I didn't just walk in and organize it. I removed EVERYTHING, thought through all of the things I needed, measured the space and ordered a ton of baskets, bins and lazy susans.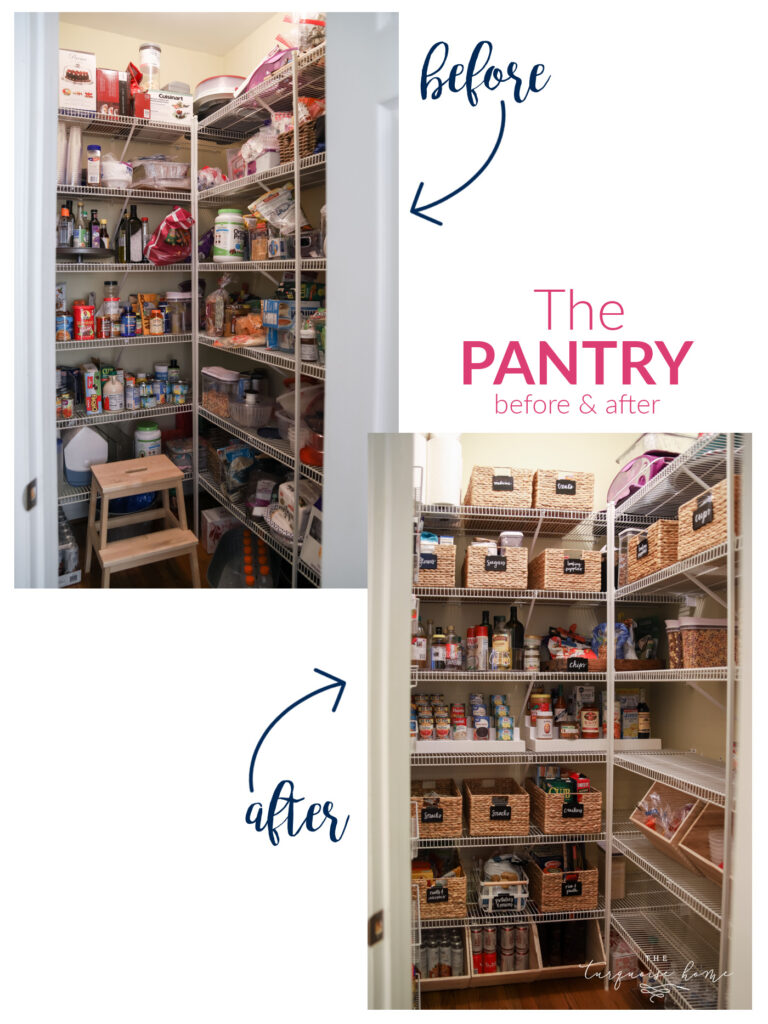 Scroll and Click an Image to Shop the Pantry

I'm happy to say that this space has been a work horse this year. When I come home with my groceries, everything is put away in it's correct place in just a few minutes. If someone else needs to use my kitchen, everything is labeled.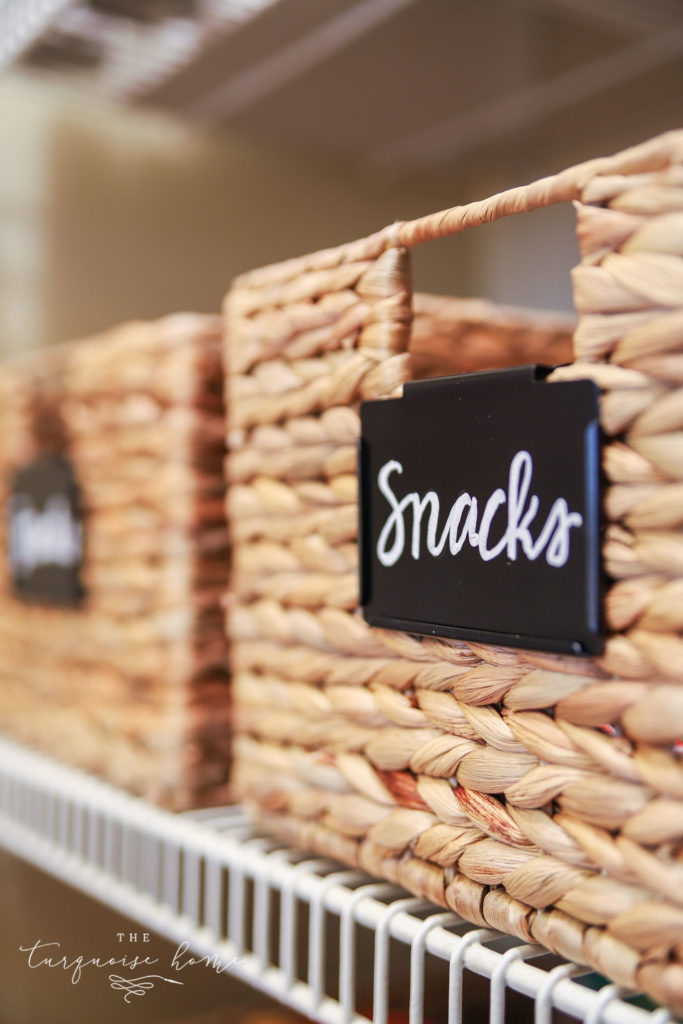 And because there are labels, my family actually knows where to put things back! It's magical and I'm thrilled with how everything is still organized a year later.
If you have a space like this that isn't organized, I can't encourage you enough to tackle it once and for all! I shared all of the steps I took in my How to Organize a Pantry post!
Every room in this house is on the makeover list and will be touched in some way at some point. BUT I wanted to start with my office because it is the central hub for my business & the house. It's hard for me to plan the makeover of my home in a room I don't love. SO, the office moved to the top of the list!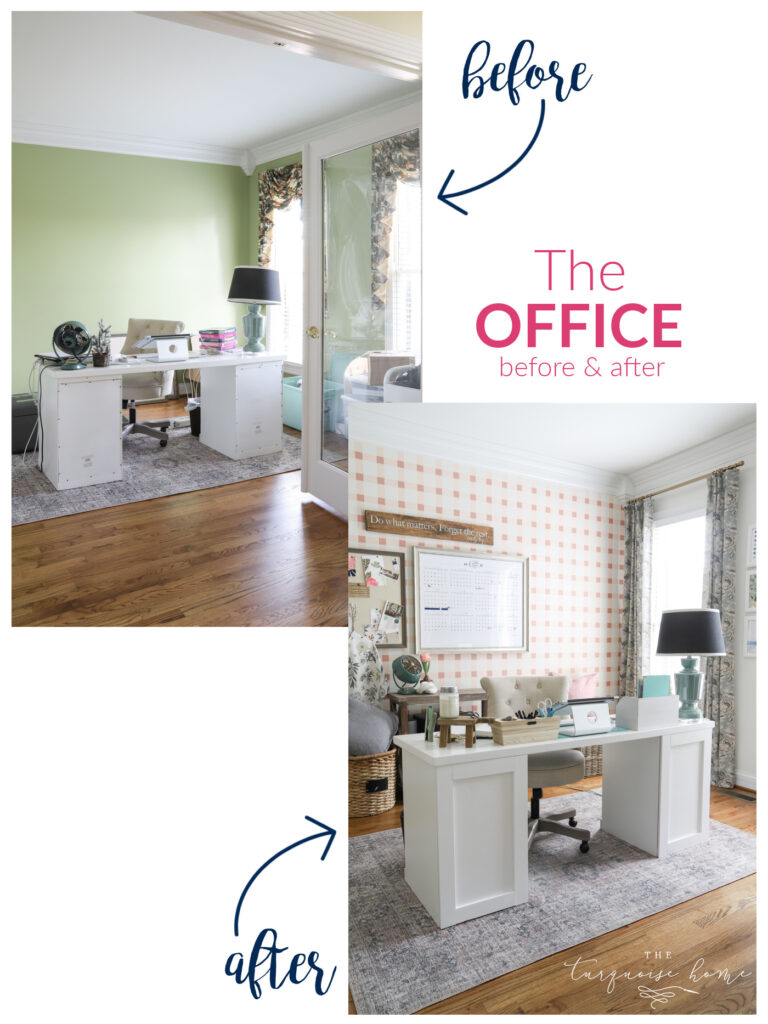 Click/Tap the images below to shop my Home Office:

It took a while because a few items were back ordered. And I still owe a post about how I painted the plaid wall. But you'll find the rest of the details in my Blush & Brass Home Office Reveal!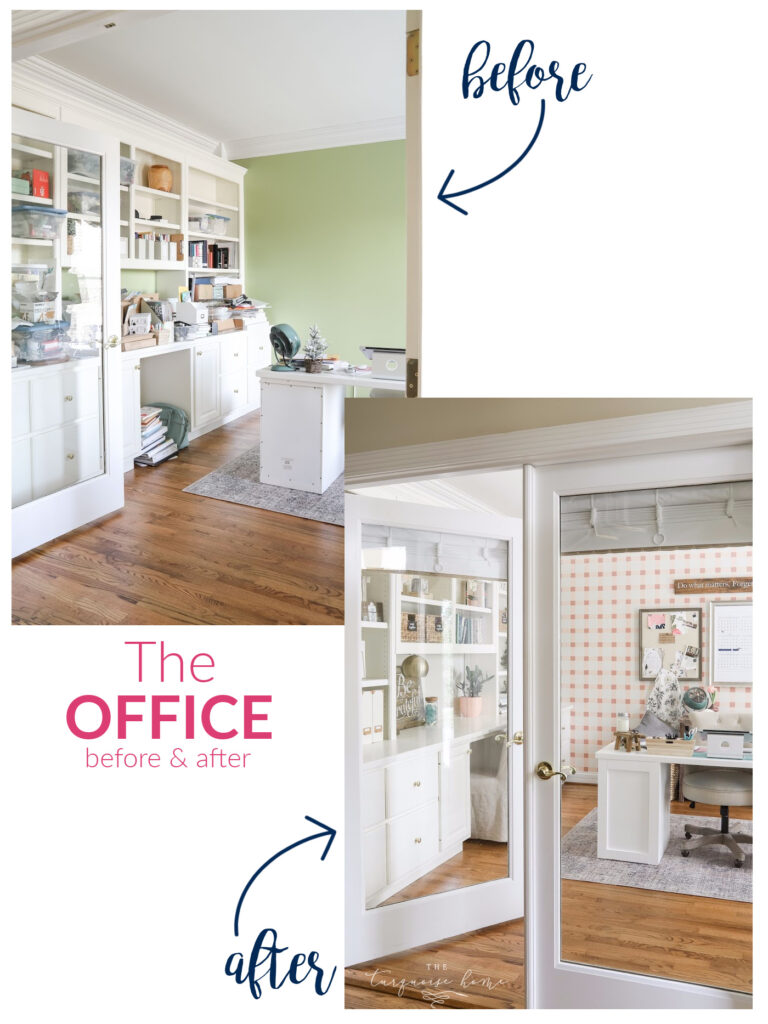 I even decorated my office for Christmas! I loved it.
More Office Posts:
Ahh my (current) favorite room! I remember that when we moved in, I had no idea what to do with this room.
It was painted deep yellow with a large wall of windows and huge built-ins & a fireplace at one end of the room. We were able to use most of our furniture in from our old house, which was such a blessing!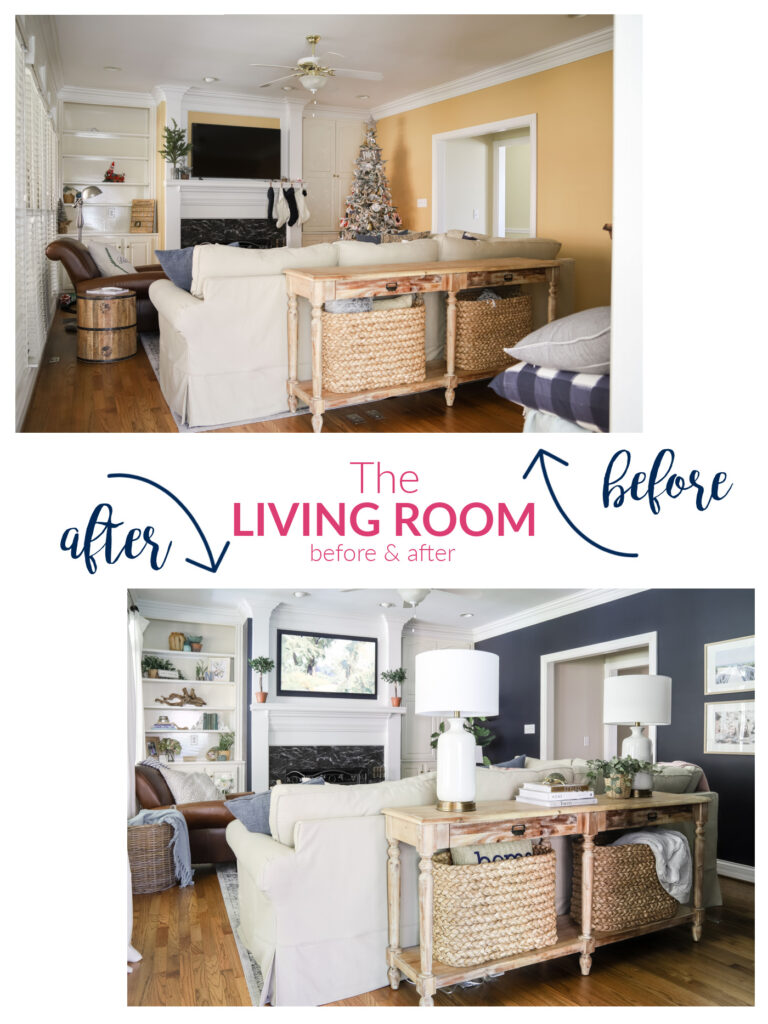 The large sectional and Samsung Frame TV fit perfectly. Whew!
Honestly once I figured out what curtains I wanted to use, everything else fell into place! I still have a few items I'd like to change, like the old 80's style ceiling fan. But for now, I'm totally happy with this phase 1 makeover.
Click/Tap the images below to shop my living room: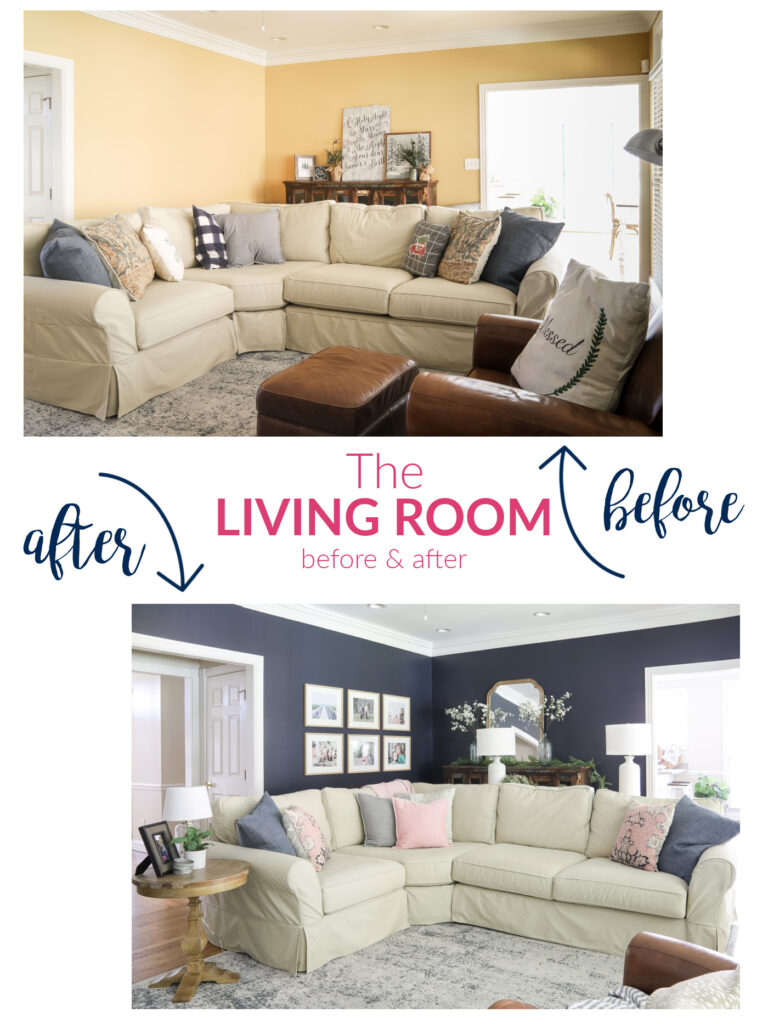 More Living Room Posts:
4. The Girls Bedroom & Bathroom
About midway through the year, the girls really began to beg for a makeover of their bedroom and bathroom. I had promised them we would get them a loft bed if they decided they liked sleeping in the same room together. So in May I ordered their loft bed and got about painting their room pink.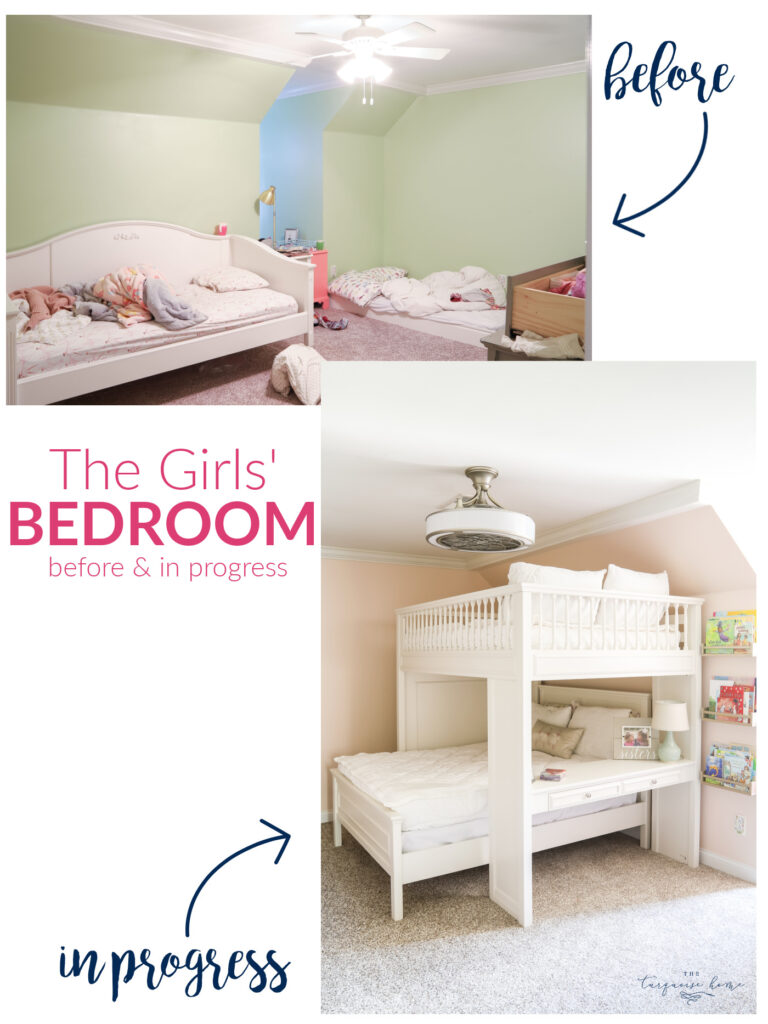 Both the bedroom and bathroom were painted a variation of lime green and my girls were tired of it! I don't feel like the girls' room is quite finished yet, though. But for now it works well for them. And when I get inspiration for how to finish their room, I'll keep you posted!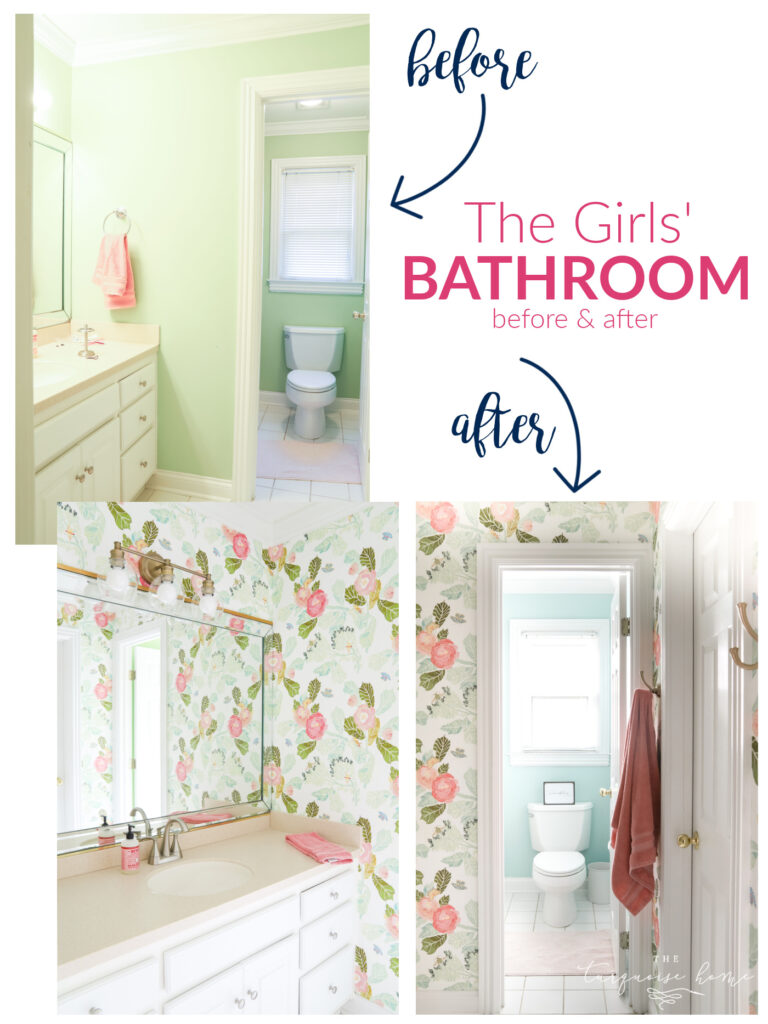 Their adjoining bathroom was the perfect spot to try my hand at wallpapering. It turned out so well and I LOVE how well it's held up. It's so nice to have the green gone up there and the girls feel much better living in a room that feels like them!
More Girls' Room & Bedroom Posts:
---
The other room makeovers that I started in 2020 were our kitchen and master bedroom. I hope to finish the kitchen makeover ASAP and the master bedroom makeover will probably be complete before summer. I'll share more plans for this year in a Home Goals 2021 post, coming soon!
Honorable Mentions for 2020
Two of the easiest ways to update a home is with paint and updated lighting. While light fixtures might not be cheap, they are a lot less expensive than full makeovers. So, if you're on a tight budget and want a new look, start with lighting and paint.
What I Painted in 2020
I painted (or hired someone to paint) almost every wall in our home last year. When we moved in, all walls were either a green or yellow – and I didn't like any of the colors.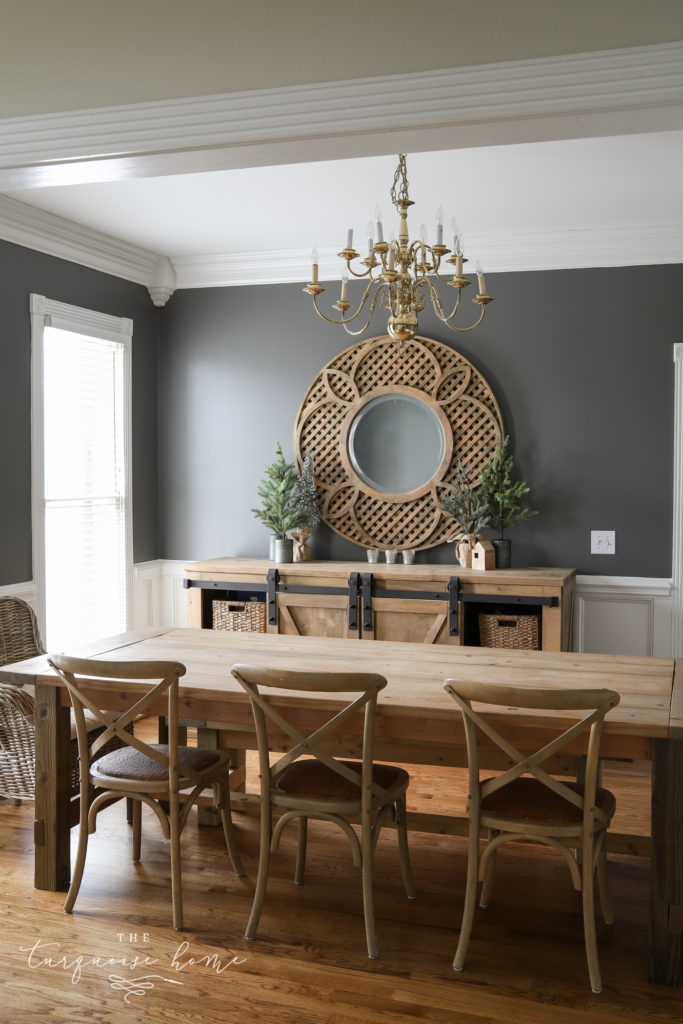 Here are some of the paint colors we added to our home in 2020: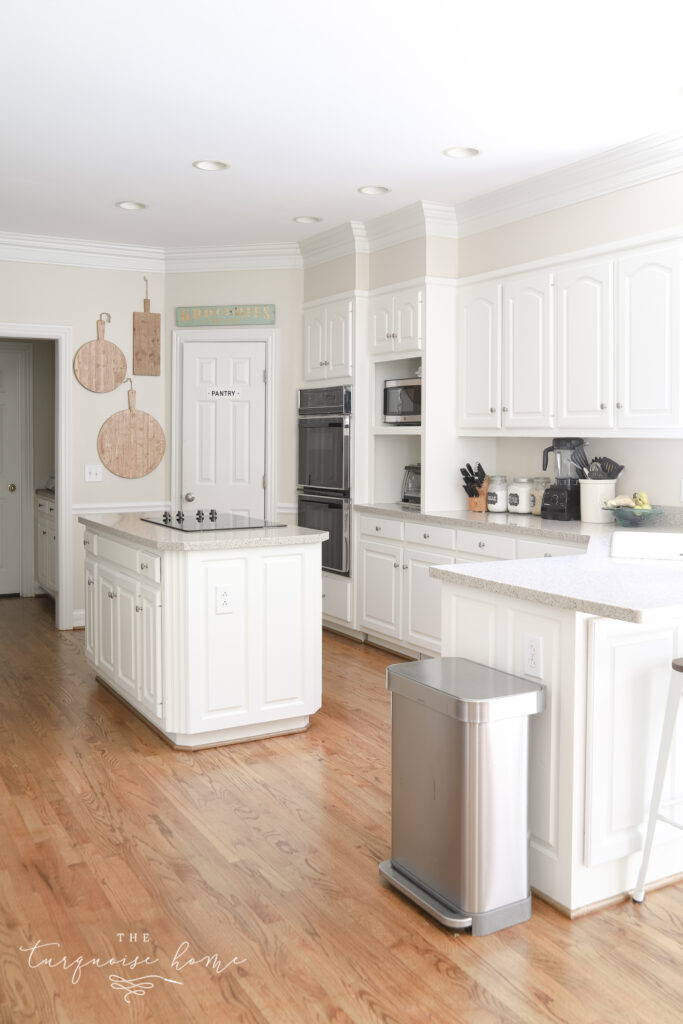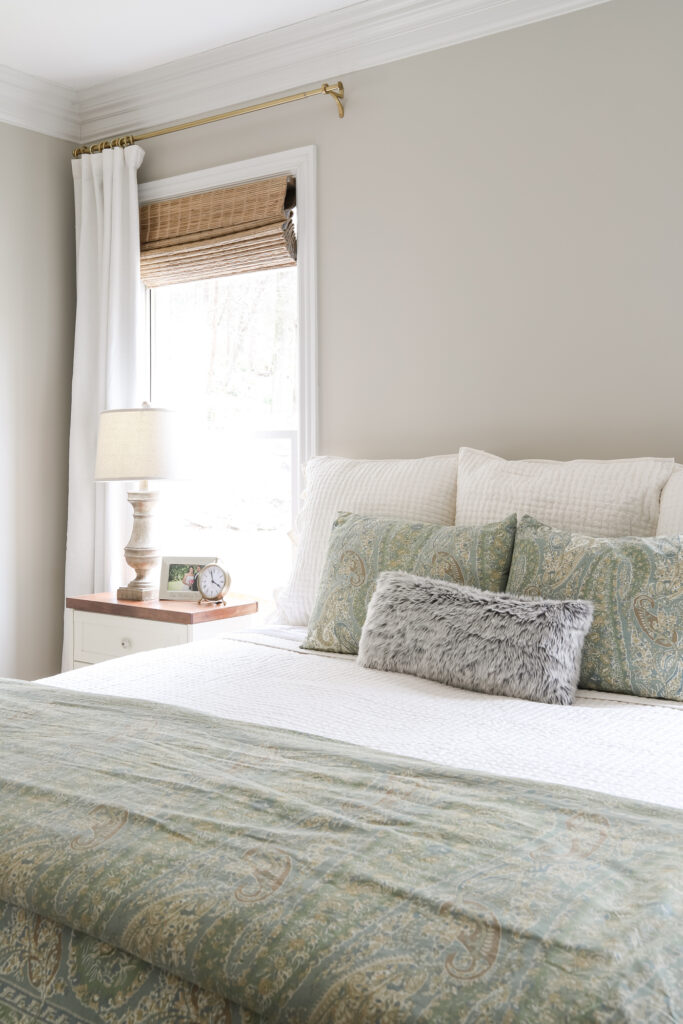 Updated Lighting
One thing I vowed to tackle head on when we moved was replacing the lighting. I lived with ugly light fixtures in our previous home for years. But lights are such an easy way to update a space.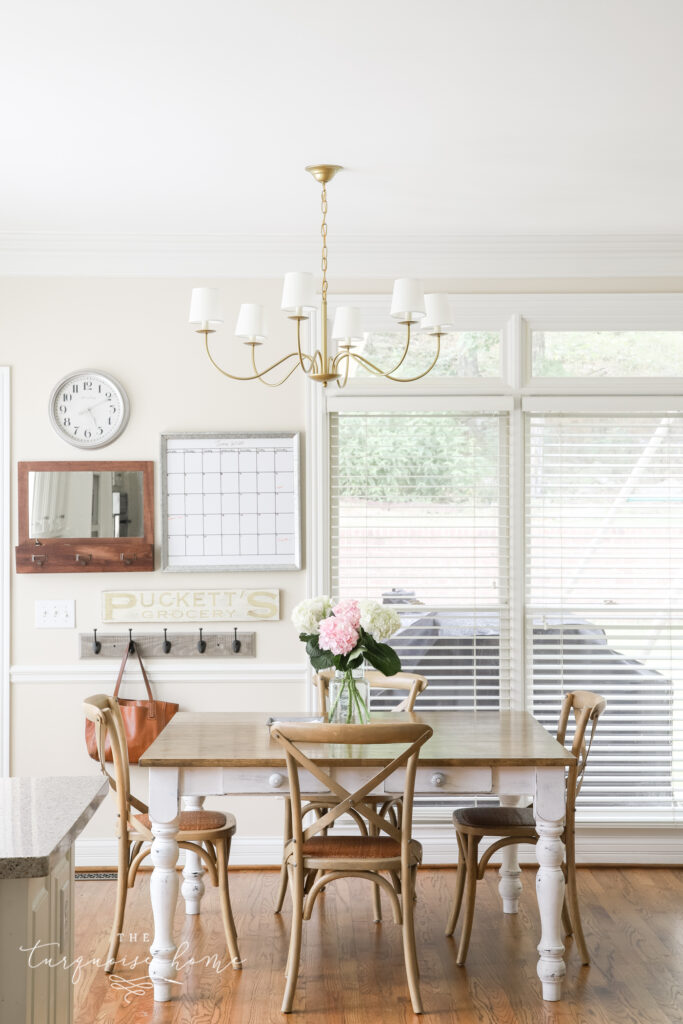 We updated lighting in the kitchen, entryway, stairwell, powder room, girls' bedroom, girls' bathroom and butler's pantry. And will be replacing the rest of the lighting ASAP! It's all straight outta the 90's and it's time for an upgrade!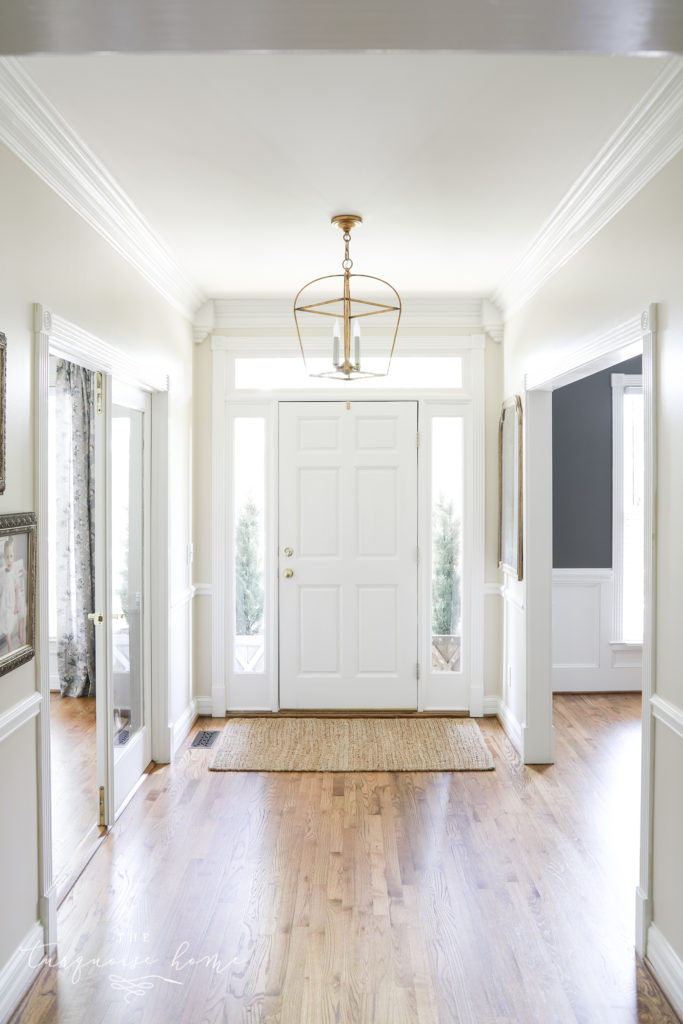 Custom Dishwasher Panel
Last, but not least, I made a custom dishwasher panel for our new Bosch dishwasher. You can read all about it toward the end of this post, but I love it!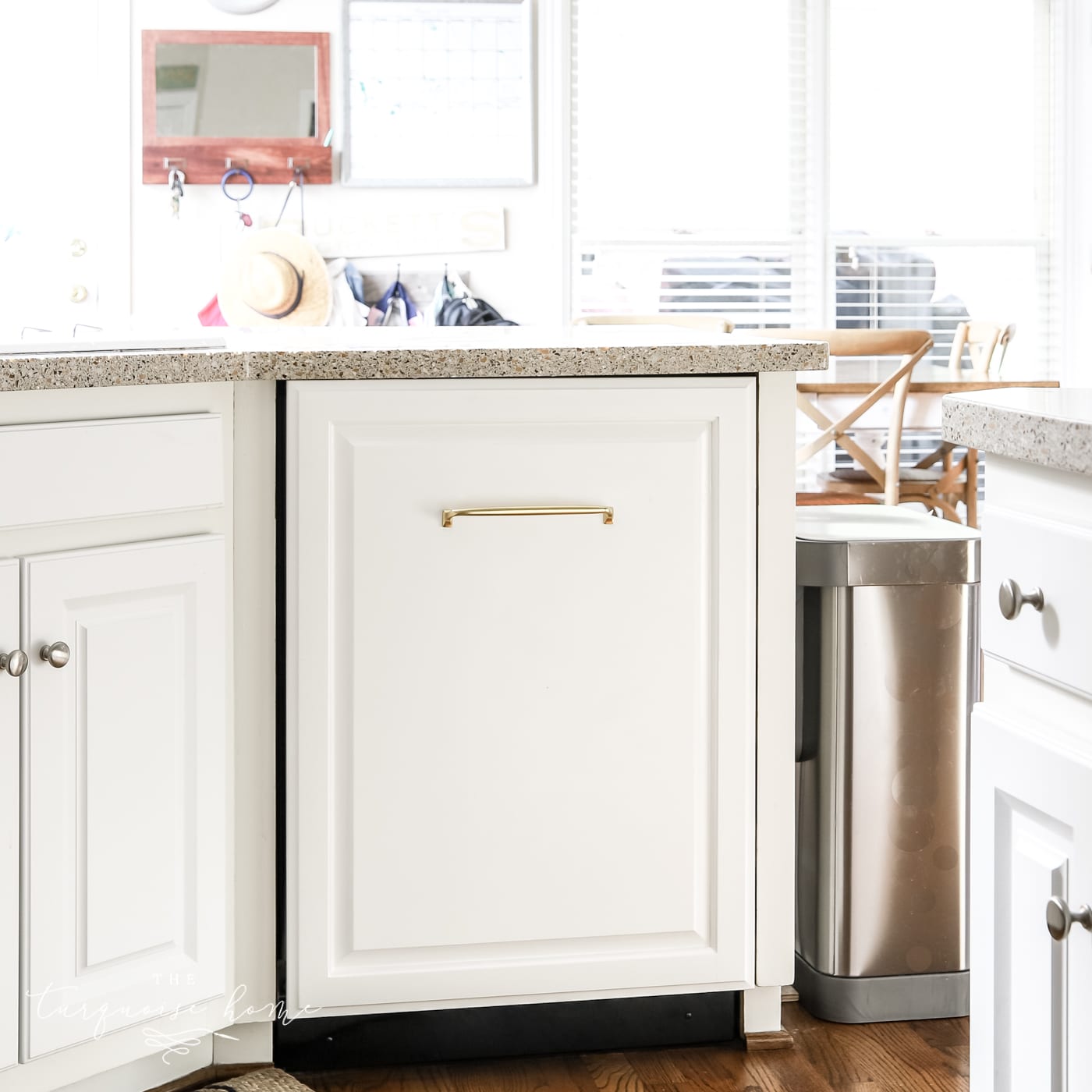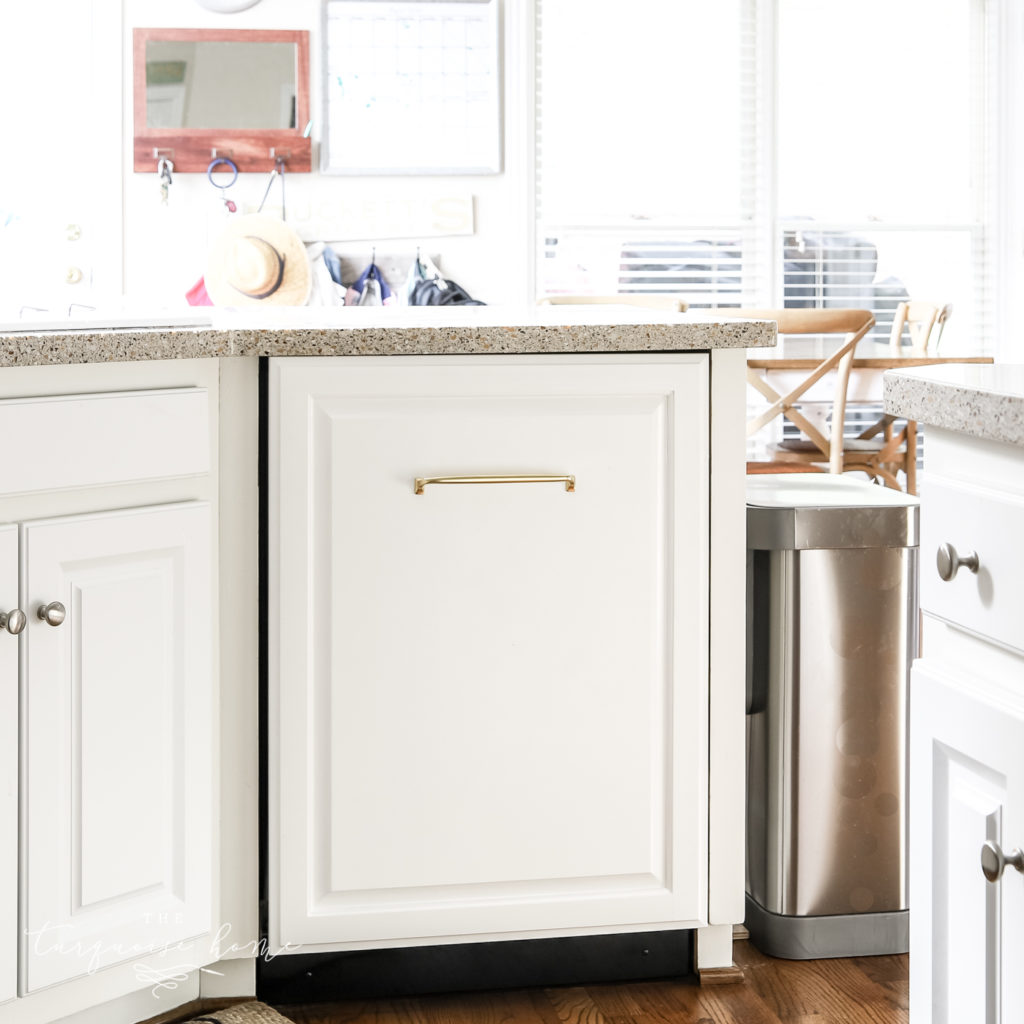 I hope you enjoyed a look back at 2020 and will stay with me as we do more projects in 2021! I can't wait to see how far we've come this time next year!
MORE POSTS YOU WILL LOVE: