DIY Weathered Wood Beach Buoys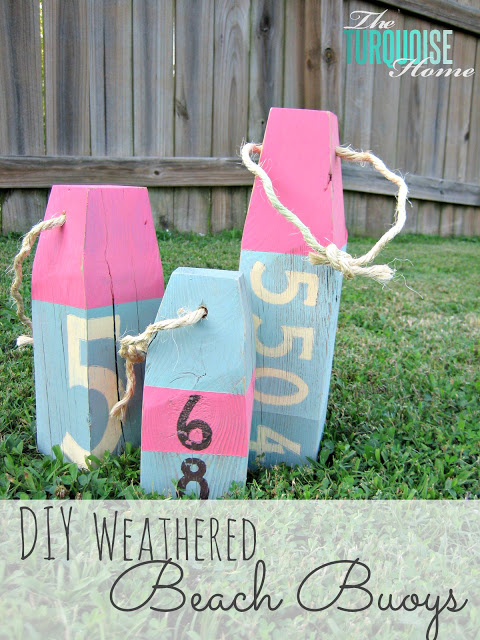 Recently I was flipping through the Pottery Barn catalog and came across these beach buoys. I thought they would make some super cute lake house or beach house decor.
And then I got to thinking … I could make some buoys for next to nothing.
You see, in our new neighborhood people are always throwing out their old, unused junk the night before the trash runs. And I *might* be one of those people who stops and digs through other people's trash. Don't judge.


A few weeks go I was driving home and saw some perfectly beat up good 4 x 4's just sitting next to the trash in a neighbor's yard. So, I did what any smart, frugal, wood-working woman would do and I called my husband and told him to meet me at the top of the driveway in a couple of minutes. I got him to help me go rescue my new 4 x 4's. 🙂 (Note: The neighbor was outside and we did ask before the took the wood.)
I didn't really know what I would use them to make, and for the record, my hubby thinks I'm crazy. But turns out they make beautiful wooden buoys.
See what I mean?
How to go from this … to this …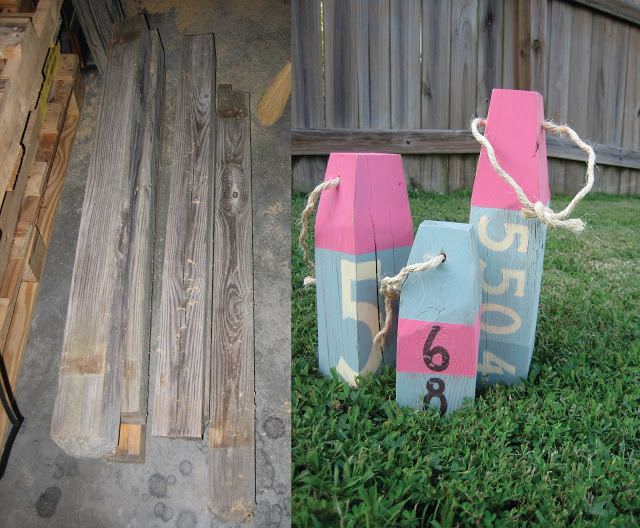 First I cut the 4 x 4 into different sizes and cut the sides of the tops at an angle using my miter saw. A circular saw would have been much easier, but I don't have one … yet. I didn't measure the angled tops, I just eyeballed it and cut.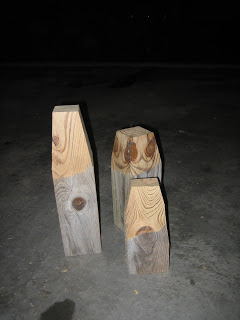 Then I drilled holes through the tops.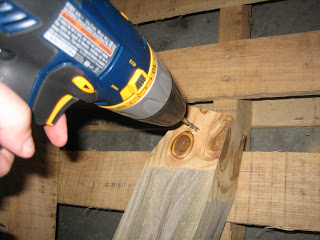 I painted them.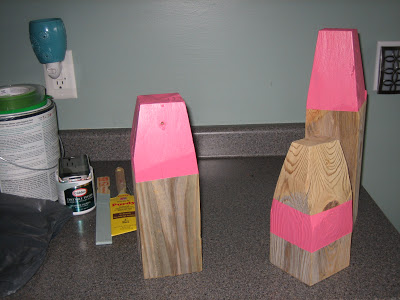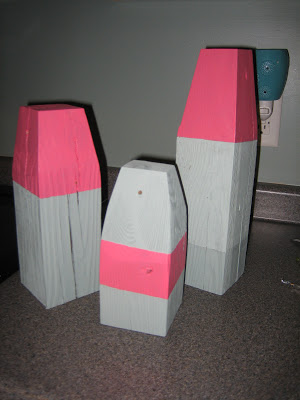 And then I printed numbers on my computer and traced them on to the buoys. I then just painted the numbers directly on to the buoys. I sanded them to make them look a little weathered, and then I added the sisal rope through the holes in the top. (You can find this rope at any home improvement store. I found mine at Lowe's.)
And there you have it! You're very own weathered beach buoys. And mine cost a total of $11 instead of $60 at Pottery Barn. I just bought the pink paint and the rope, and there is plenty of rope left for other DIY projects. I had all of the other paint leftover from painting the house or crafts.
Paint colors:
Pink – Hint of Cherry by Valspar
Light turquoise – Wythe Blue by Benjamin Moore
Darker turquoise on the large buoy – Stratton Blue by Benjamin Moore
Yellow – Butter from Restoration Hardware
Brown – some brown craft paint I have laying around the house
What do you think of my homemade buoys?