Painted Kitchen Cabinets: 2 Years Later
Painted kitchen cabinets are a hot trend in home decor, and one that's been around for a while. (I don't see it going anywhere soon, either!) I get questions about how my painted kitchen cabinets are holding up all the time. Everyone wants to know if I would make the same choices again after I've lived with them for a while.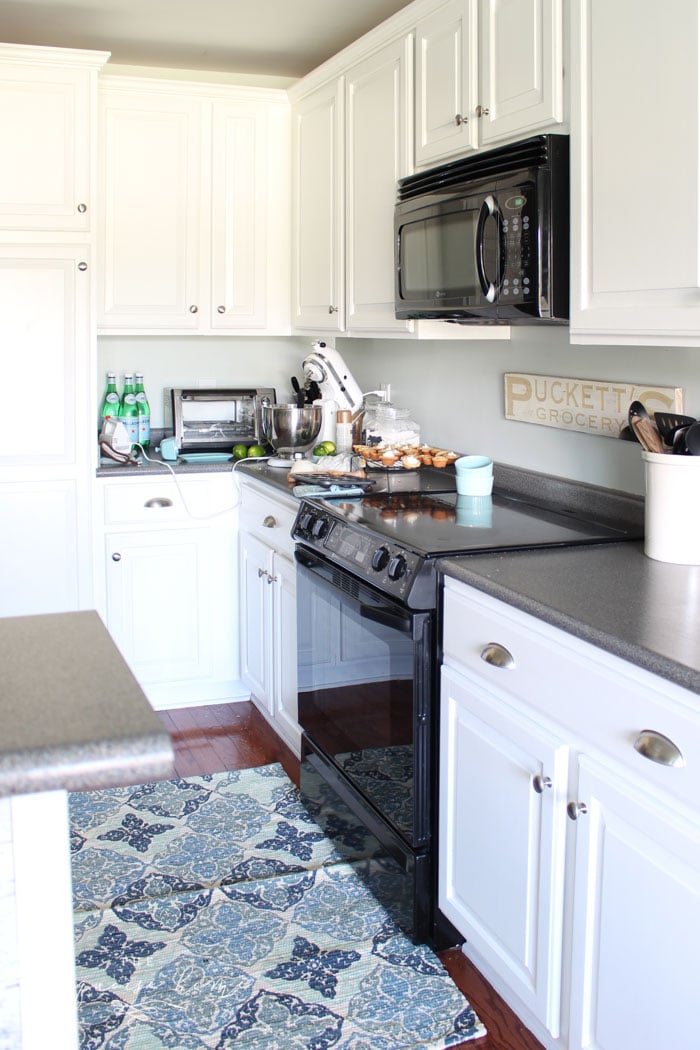 I'll let you in on a little secret. Yes, I'd paint them again in a heartbeat. But there's more to it than that! Keep reading.
I do want to point out that it hasn't quite been 2 years since we painted them, but it's close. I decided that it would sounds funny if I said 1 year and 3 quarters later, so I just rounded up to 2! I imagine they will be in the same shape at the exact 2-year mark as they are now.
If you are even considering painting your cabinets (in your kitchen or otherwise), this is a must read! And please feel free to ask me more questions in the comments and I'll add to this post if there are more things that need to be addressed!
FAQ's about my Painted Kitchen Cabinets
How are the Cabinets Holding Up?
The cabinets are holding up very, very well. While we do have some chipping, it's very minimal and is not noticeable to anyone but me, I'm sure of it! It's important to note, too, that almost all of the chipping happened within the first couple of weeks. It seems that the paint too a bit longer to dry than the suggested time on the paint can. I don't know if I would have been able to go without using them for any longer, but it might have been worth it to avoid those dings.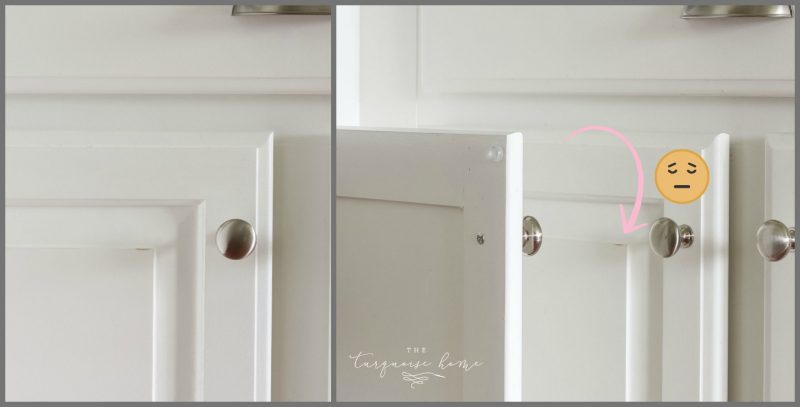 Any other problem areas have been a result of content hitting or rubbing, like this spot where the other cabinet door hits when it's opened. My girls play in this cabinet all the time and well, they are kids, so they don't open it as gently as I'd like. It's a small price to pay for their play time while I'm making dinner.
Here's another spot that took some hits when we were putting up the plates that first week or so! I'm sure I'm the only one who notices them!
What Kind of Paint to Use On Kitchen Cabinets?
Ahhh, the big kahuna! This question is the most received question I've gotten since I painted my cabinets. I have used two different paints for painting cabinets in my home.
Ace Hardware's Door, Trim and Cabinet Paint: It is a very thin paint that glides on and dries extremely smooth. You want to paint with multiple thin coats of paint, so I did. And after a few minutes I would go back to a door and check for drops or pooling in the low parts of the cabinet doors. I could lightly run my brush through the pools or drips and the paint would level out again and not show brush marks.
Bejamin Moore's Advance Paint (this is what I used on the kitchen cabinets): It is not as thin and dries much faster that Ace's paint. After two coats on the doors, you can still see some brush strokes in the beveled parts of the door. I had planned to try to paint a 3rd coat after thinning the paint with a little water, but decided they were good enough. (I'm too busy or lazy to take them down and paint another coat.)
Final thought: I think BM Advance is a fabulous paint, but if you use it, I would highly recommend thinning it, or painting quickly, while leaving the top on the paint to keep it from thickening. If you do thin it, follow Benjamin Moore's directions on the can.
Is the Benjamin Moore Advance Paint Yellowing?
Nope! Not one bit. I've heard it said time and time again that the Benjamin Moore Advance Waterborne Alkyd Paint can yellow, especially if you use white, which we did. But we've had no problems in this department. By the way, the color we chose was Benjamin Moore's Simply White.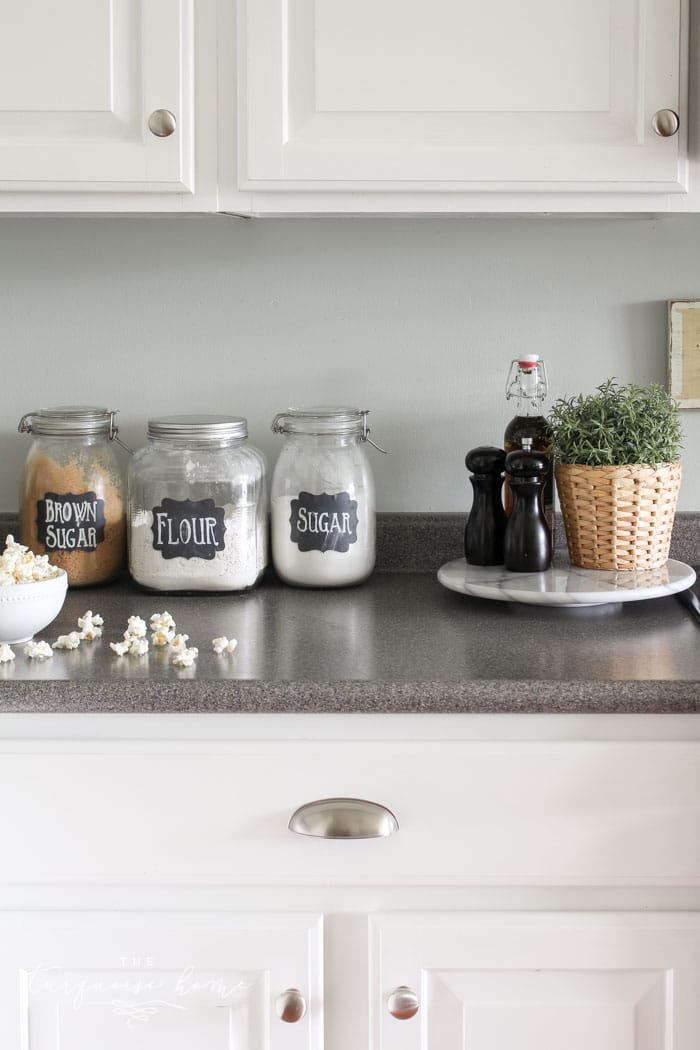 How to Paint Kitchen Cabinets without Sanding?
I get this question a lot in person, so I imagine people in the online world are wondering this too. I didn't sand my cabinet bases, because I didn't want to sand inside and have to cover everything to keep the sawdust at bay.
So, I chose to use a liquid deglosser instead. I was skeptical at first if the finish would hold up, but it has worked so well. Like I said, the chipping happened right after I painted, so I think it would be totally fine if you just allow the cabinets to cure for a couple of weeks, if you can!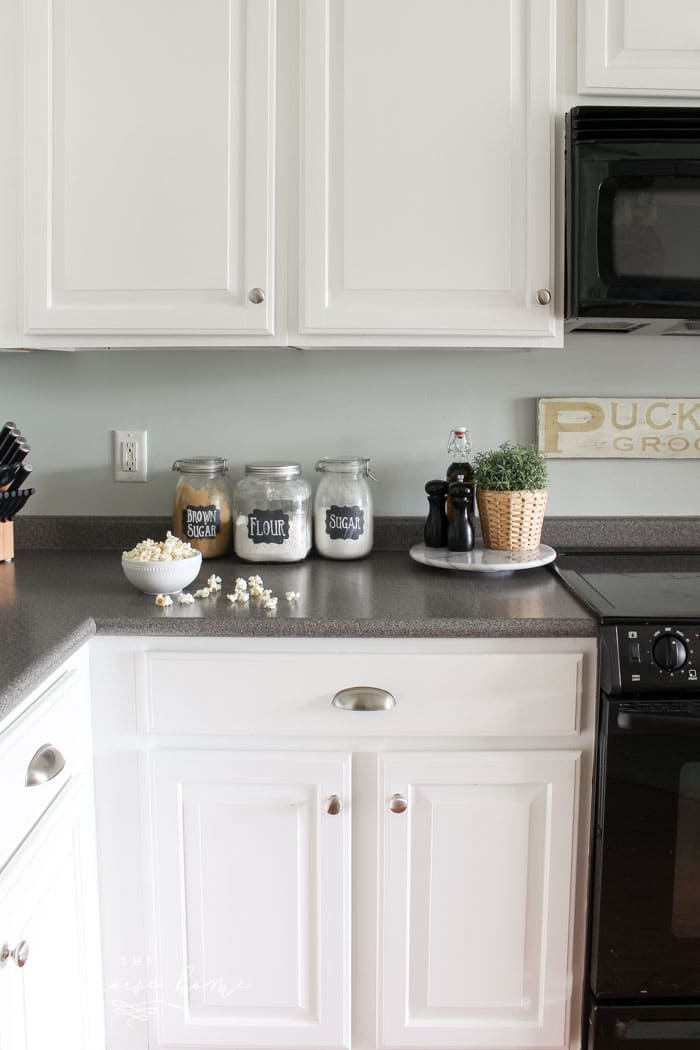 Would you recommend Spray Painting Kitchen Cabinets?
I think I would! When I painted my cabinets, I didn't own a paint sprayer, so I did everything by hand. But since then I've used a paint sprayer to paint my fence and it was wonderful! I will definitely give it a try in the future on any large painting projects.
In conclusion, I would totally recommend painting your cabinets if you desire a different look and don't want to hire a professional. The work is hard, but totally worth it! I hope you'll share your painted cabinets with me if you ever decide to paint them!
MORE POSTS YOU WILL LOVE: