How to Make a Large Wooden Sign
This detailed tutorial on how to make large DIY wood signs will walk you through each and every step with clarity. Using a few supplies from the home improvement store, stencils and paint, you can create any DIY project your heart desires!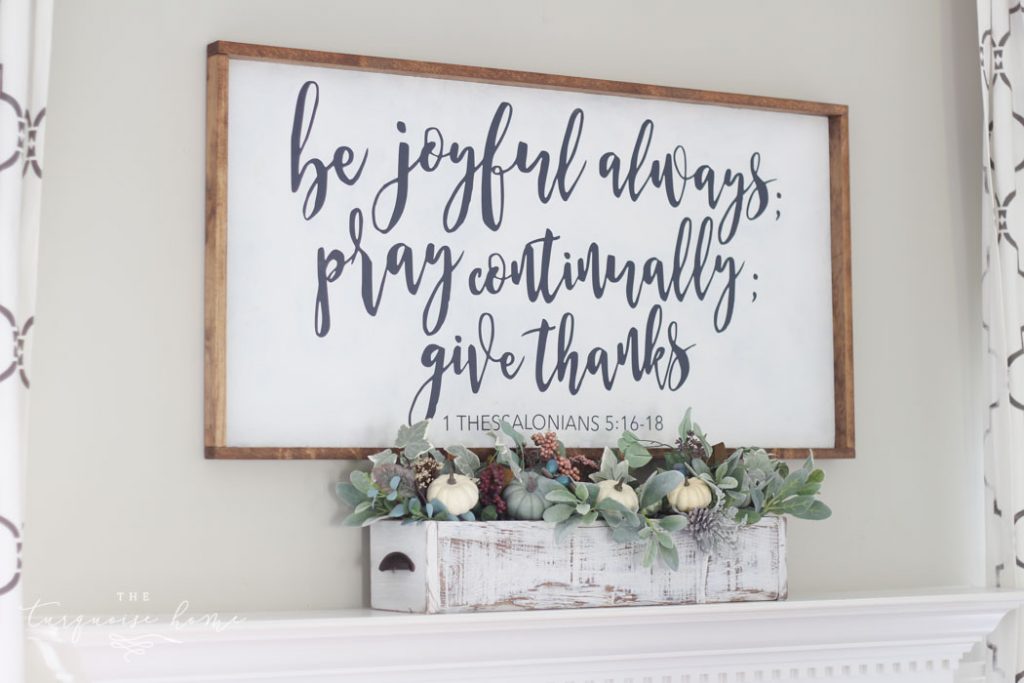 How to make wooden signs is what we're all about today. I don't know about you, but I find myself drooling over all of the large, hand painted signs that adorn the gorgeous homes on Instagram.
The problem is, I'm not willing to fork over the $300+ for those signs. It's just not happening. 😜
This post contains affiliate links for your convention. See my disclosure policy here.
It's especially not happening when I can make one myself for less than the cost of plywood, some 1×2 boards, paint and a vinyl stencil.
I will say that I used my Silhouette Cameo for this project. It's not cheap, but it is so worth the investment if you think you'll make more than one DIY wood sign. (See my other Silhouette projects here.)
The cost of the Cameo and the rest of these supplies is still about the cost of one sign. So, if you do end up making just two signs (or a lot of signs), then the investment will be well worth it.
When I envisioned my fall mantel this year, I just knew I wanted a super large wooden sign with a saying up there. I didn't want any of those cute fall sayings, like "hello fall" or "it's fall y'all." I wanted something a little more inspirational and subtly fall.
So, I chose this scripture verse and designed it out in Picmonkey (a super easy online design tool) before I did anything else! I'll walk you through all of the steps to make your very own.
Supplies for How to Make a Large Wooden Sign with a Saying
Large piece of 1/2 inch plywood, customized to the size you need.
2 Paint Colors (one for the background color and one for the letters)
Paint brush
Silhouette Cameo (I've outlined other options below if you don't have one, yet. But I highly recommend getting one! 😉)
Contact Paper or Adhesive Vinyl – (If you use contact paper, I find that Duck brand contact paper works best.)
Mod Podge
Brad nailer – Hot glue will also work if you don't have a brad nailer!
1 x 2 board in the length you need to frame your plywood
Steps for Making DIY Wood Signs
Time needed: 3 hours
Step 1. Get your plywood.
I had a leftover 2 x 4 piece of plywood from another project. And it was perfect for my sign! But if you don't have an extra piece laying around, just head down to the hardware store and pick one up!
You will want a 1/2 thick piece, because mine was 1/4 inch thick, which I wouldn't recommend since it was hard to nail the frame into the board. Cut down the size you need from the large board with a circular saw or jig saw. Or even easier – ask the home improvement store to cut it for you!
Step 2. Paint your sign.
If you make yours like me using a stencil, then you will want to paint the board the color you want your letters. If you are going to paint the letters onto the board, you'll want to paint the board the background color. I chose Hale Navy by Benjamin Moore for my paint color of my letters.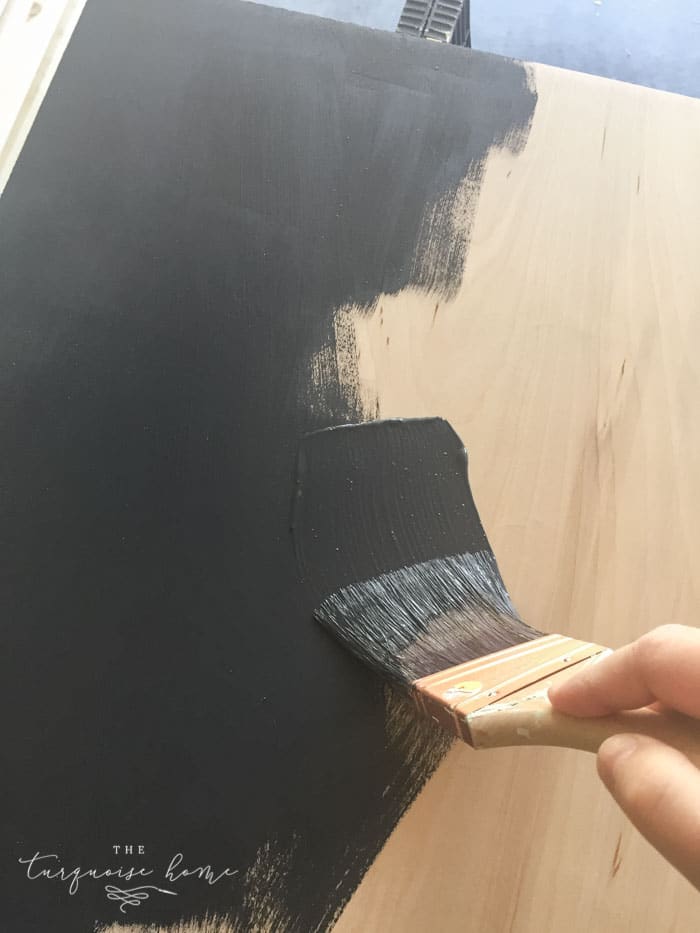 Step 3. Create Your Design
I took the dimensions of my board and then used PicMonkey to create my design. Since my board was 2 feet by 4 feet, my graphic was 1000 pixels by 2000 pixels.
I used a pretty script font (Midnight font) and wrote everything out exactly how I wanted it. I saved it as a jpg file. I shared my design as a free printable HERE!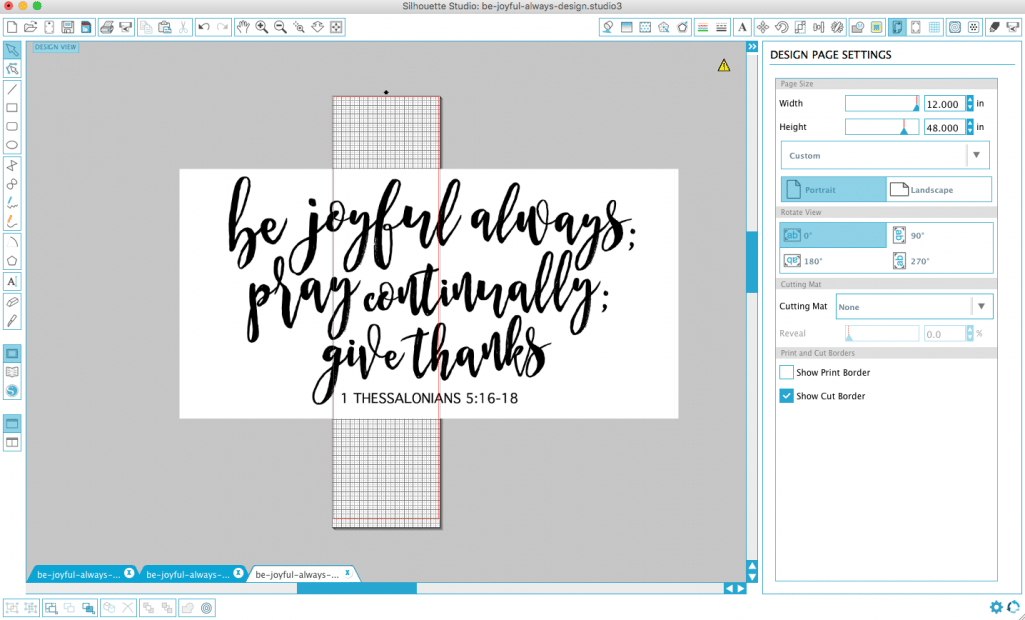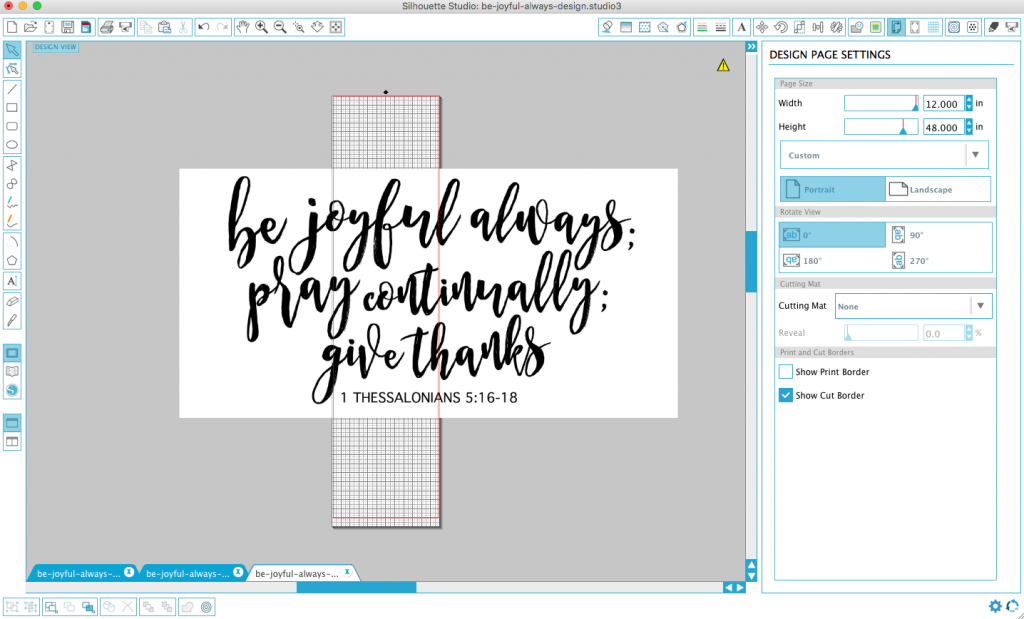 Step 4. Import the Design into the Silhouette Studio & Create a Cut File
I opened the Silhouette Studio software on my computer, then opened my jpg design in the software. I used this video to convert my design to a cut file. Watching that is much easier than my trying to explain anything. 😊
Once you have your cut file, you will arrange it the way you want it to be cut. I ungrouped my design and cut out one line at a time, except for the last line and the scripture reference. I could fit them all on one line.
TIP: You'll want to size your cut file to match the size of your board. I knew that my board length was 4 feet long, so I needed to cut my stencil to be long enough to cover the board. And since my Silhouette can only cut a 12-inch wide piece, I had to cut just 1 line at a time, like I said before.
I'm not going to get super technical about the Silhouette, because honestly mine is a very old model. There are newer cutting machines and different machines than mine, so if you don't know something, just search on Google. There are tons of video tutorials out there.
If you don't have a Silhouette machine, you can draw something free hand, if you're good at that. You can also use a projector, like this one, and project the image in your board and trace, then paint. Or have an etsy shop (like this one) cut out a design for you with vinyl and use my method. There are definitely ways of wood sign making without a cutting machine.
Step 5. Cut your Stencil.
I use Duck brand contact paper to create my stencil, but you can use any type of vinyl that has an adhesive backing.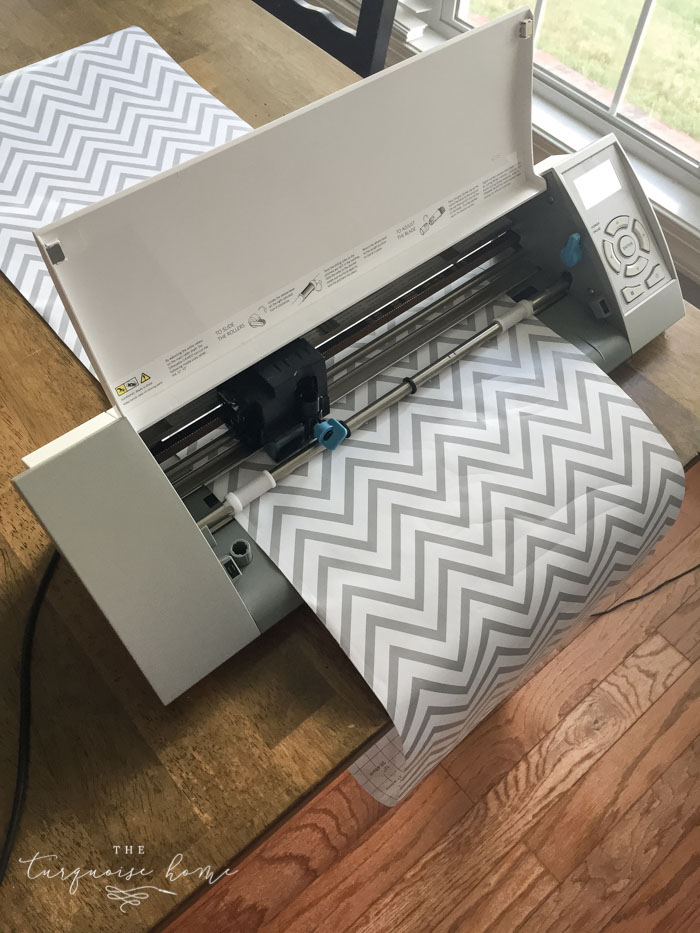 I used the cut settings for the Silhouette brand vinyl and it worked great. But always do a test cut to make sure.
Again, if this is the first time using your Silhouette machine, just search for whatever tutorial you need and it'll be there!
Step 6. Weed Your Stencil
This just means that you remove the parts of the contact paper that you're not going to use. In this instance you'll want to keep the letters in tact on the paper and remove the outside paper.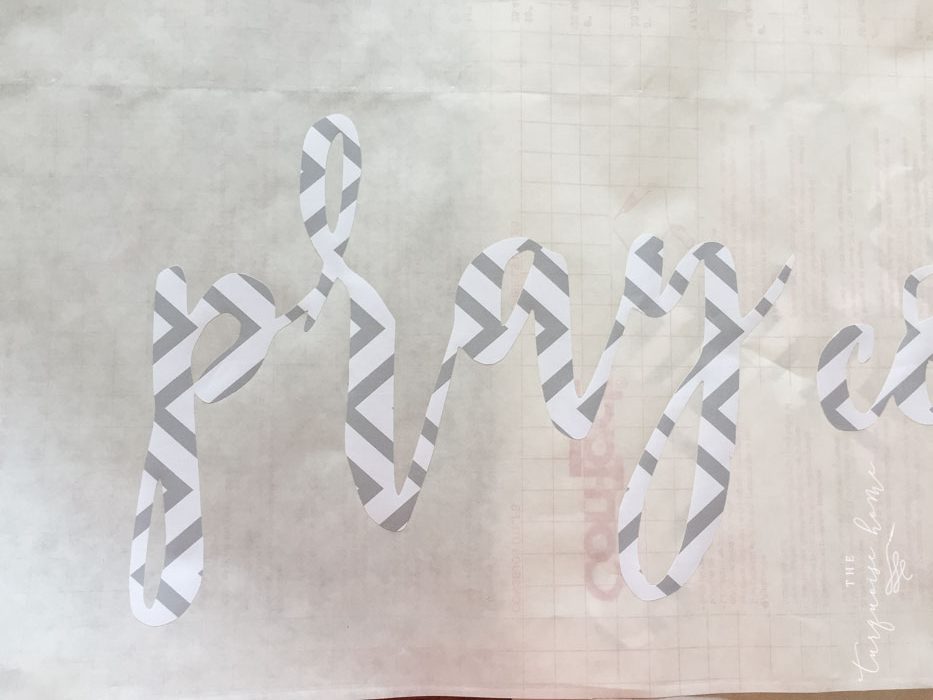 Step 7. Place transfer tape over your letters, then place on the board where you want them.
Take your transfer tape and remove the non-sticky backing. Place the sticky side down on your letters and rub them with a credit card or other hard object to get it to stick well.
Remove the letters from the contact paper sheet and place it on the board where you would like the letters to be. This is always a little time-consuming because you want to get it just right.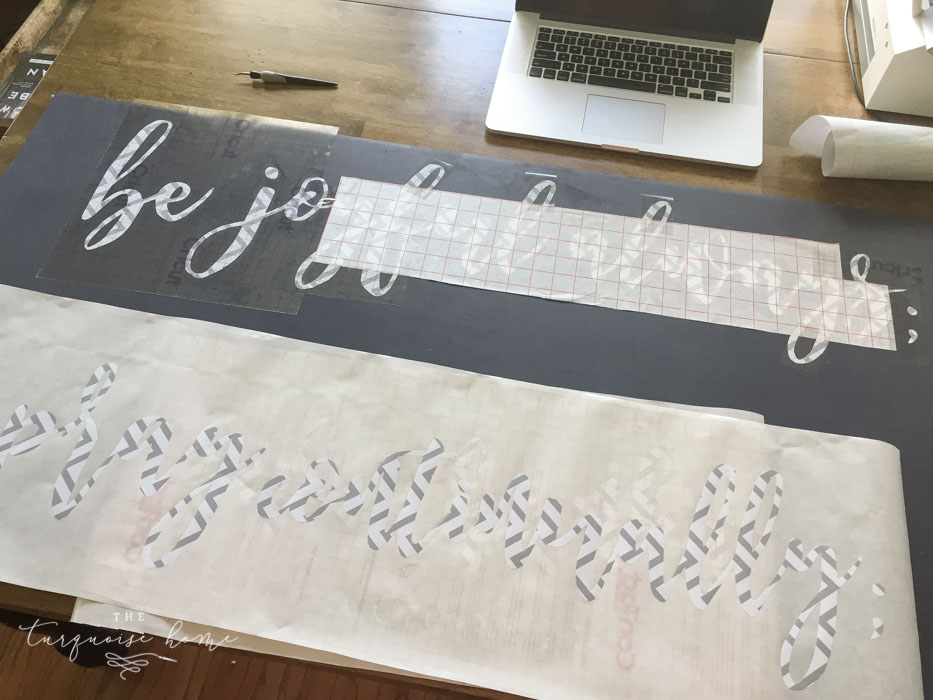 The contact paper wasn't super sticky, and some of the transfer paper I had was very sticky, so I was having trouble getting it to stick on the board. I ended up just using my Silhouette brand transfer paper, because it worked the best.
Step 8. Paint over the words with Mod Podge
I paint over each letter with clear, matte Mod Podge. This seals the edges of the contact paper and helps prevent bleeding under the letters while I paint over them.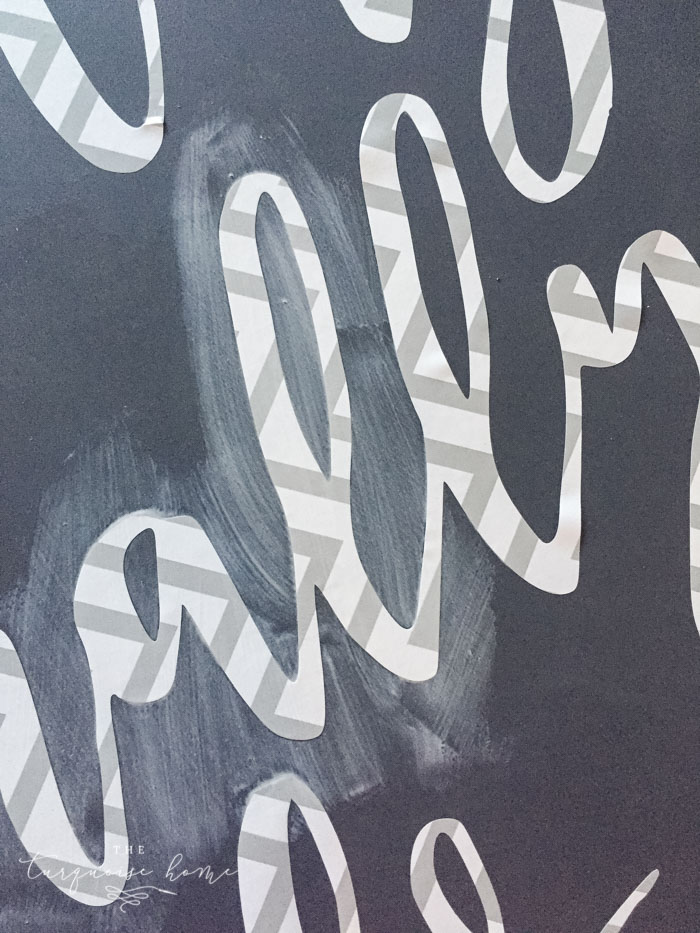 Step 9. Paint over the letters with a different color paint.
I chose a chalky type pant called Amy Howard's One Step Paint in Bauhaus Buff and applied one light coat of paint.
Once the paint has dried, remove the adhesive letters to reveal the paint color underneath! This is my favorite part.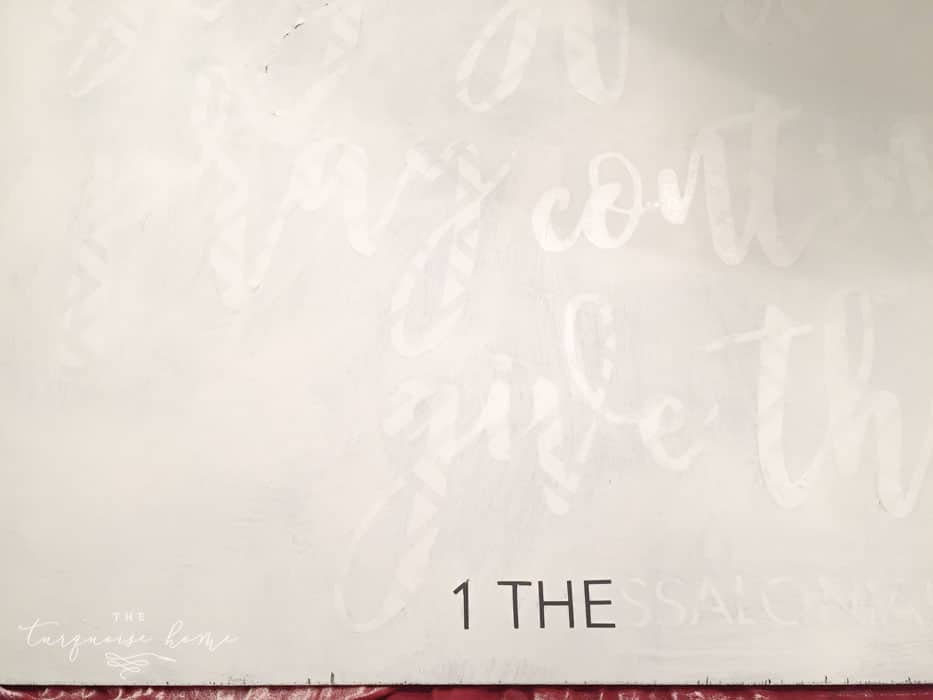 Step 10. Build the Frame
I used 1×2's to create the frame. I cut the two sides and then the top and bottom pieces to fit. You could also use lattice for a smaller profile frame.
Don't attach it just yet! You'll want to stain it first.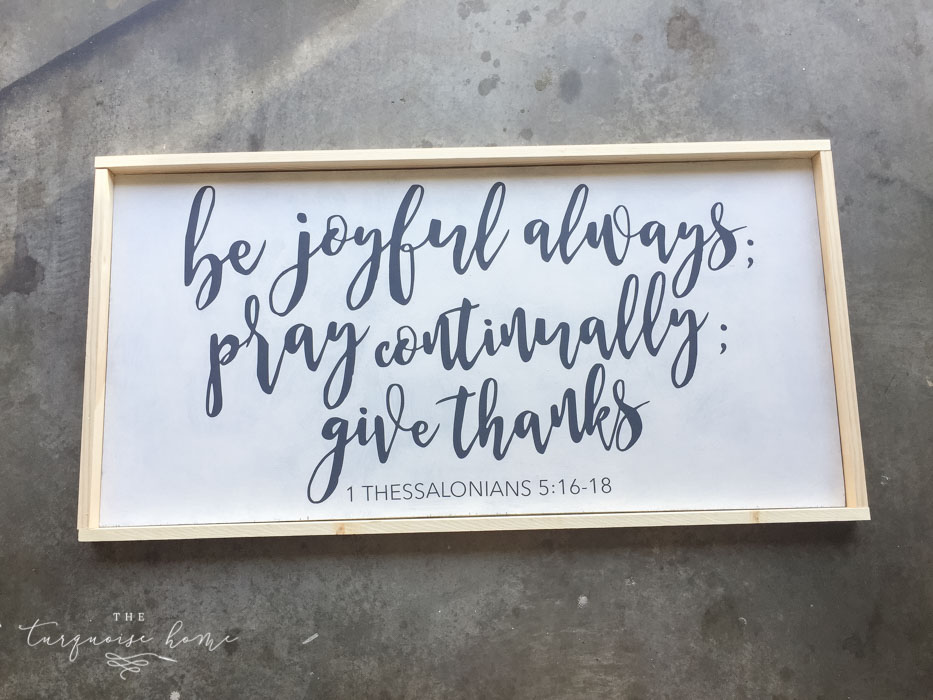 Step 11. Stain or paint the frame.
I chose to stain it in Early American by Minwax stain. Let it dry before trying to add it to your beautiful sign. (Ask me how I know… 😊)
Step 12. Using a brad nailer and wood glue, attached the frame to the board.
You could also try to use hot glue to attach the frame if you don't have a brad nailer. I think it would work, but you just couldn't hold the sign by the frame.
Sing a happy dance because you're done and your sign looks absolutely stunning!!! I love this sign!
What do you think? Would you like to make a sign like this for your home? Want to add it your fall mantel this year?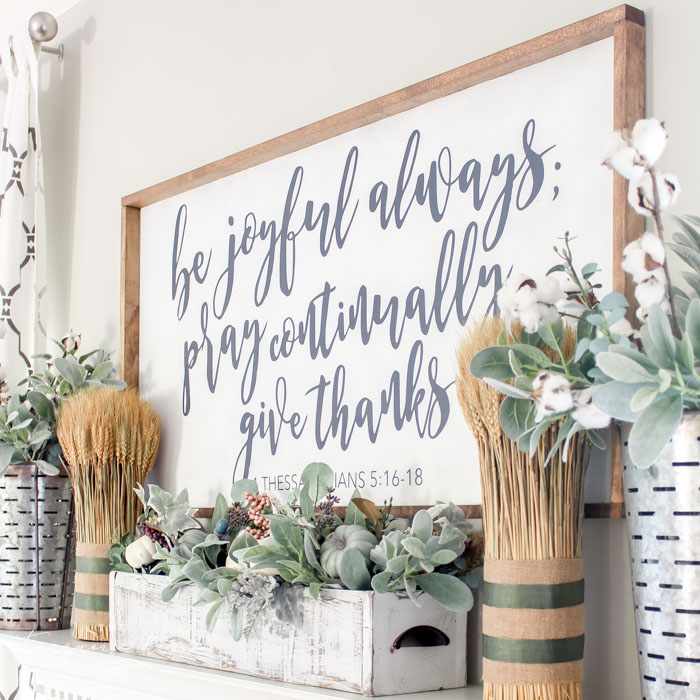 This is from my fall mantel a few years back. You can see it here!
If you want to make this exact sign, you can grab the .studio file right here!
Enjoy!!
If you'd like to save this for later, then don't forget to pin it!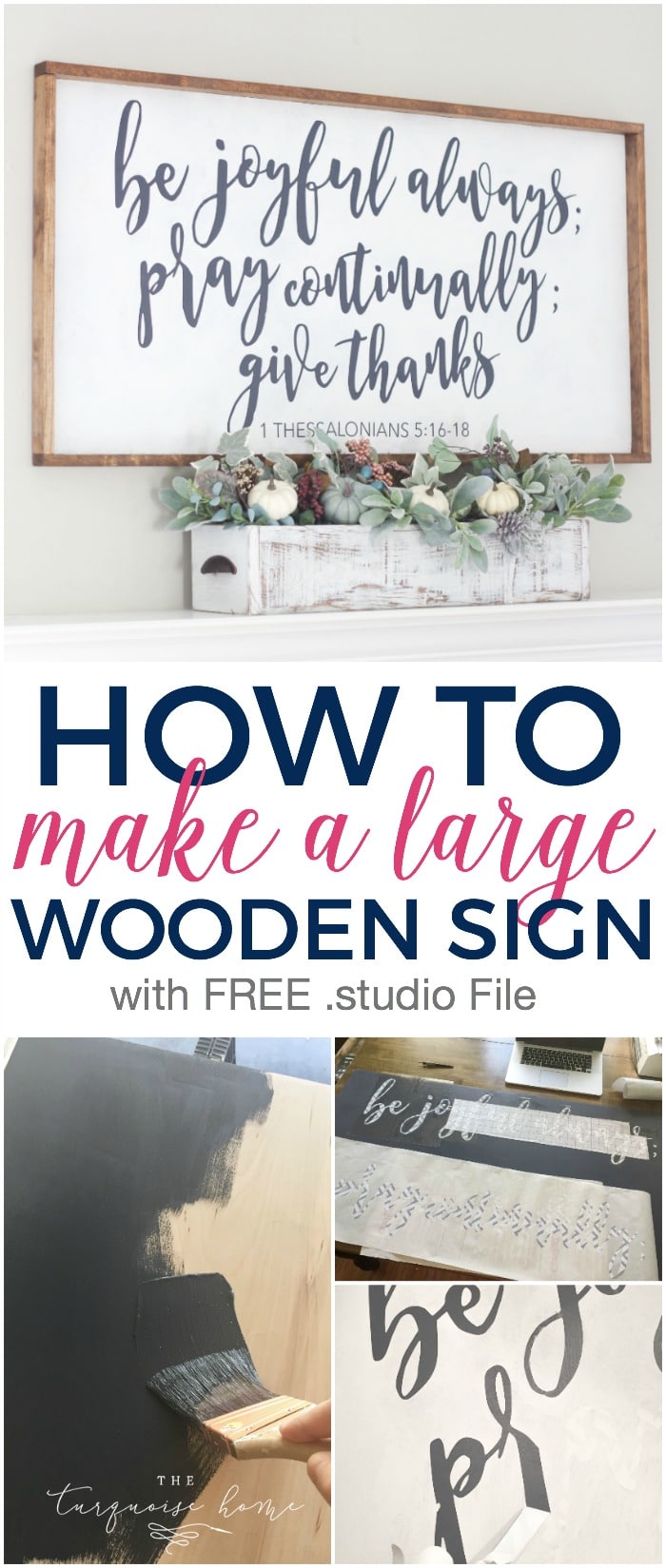 SaveSaveSaveSaveSaveSaveSaveSaveSaveSaveSaveSaveSaveSaveSaveSaveSaveSaveSaveSaveSaveSaveSaveSaveSaveSaveSaveSaveSaveSaveSaveSaveSaveSaveSaveSaveSaveSaveSaveSave