My Fall Kitchen Pumpkin Decor
Sweet Fall-elujah!! It's pumpkin time and I'm so excited to share my kitchen all decked out for fall! I miiiiight have gone a little overboard with the pumpkins, but I think you'll forgive me. I couldn't stop adding them! 💗🎃💗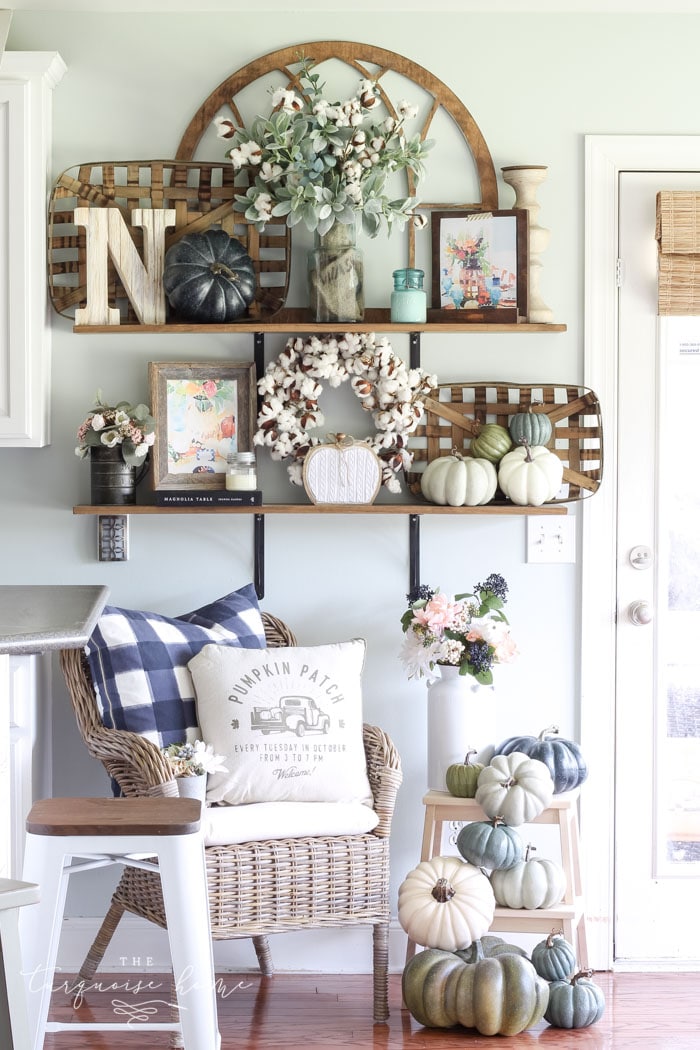 Welcome to my home all decked out with cascading pumpkins for fall! It's one of the best times of the year with crisp weather, cozy sweaters and football. It just makes me so excited!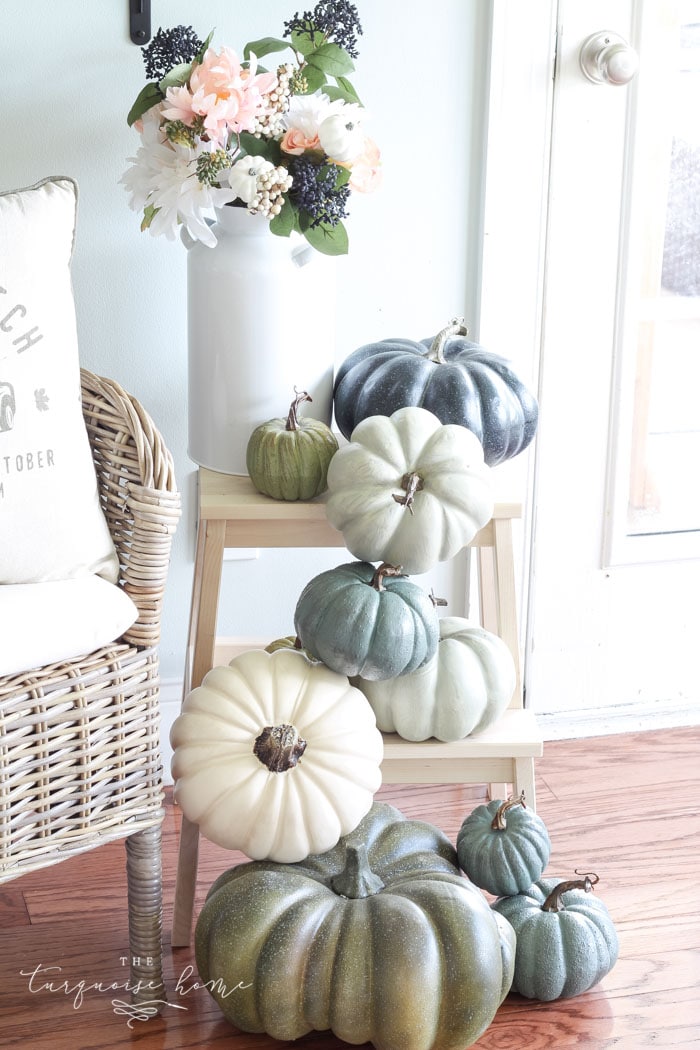 To commemorate this fun new season, I wanted this open shelves are in the kitchen to feel like a pumpkin patch, hence the cascading pumpkins and fun "Pumpkin Patch" pillow.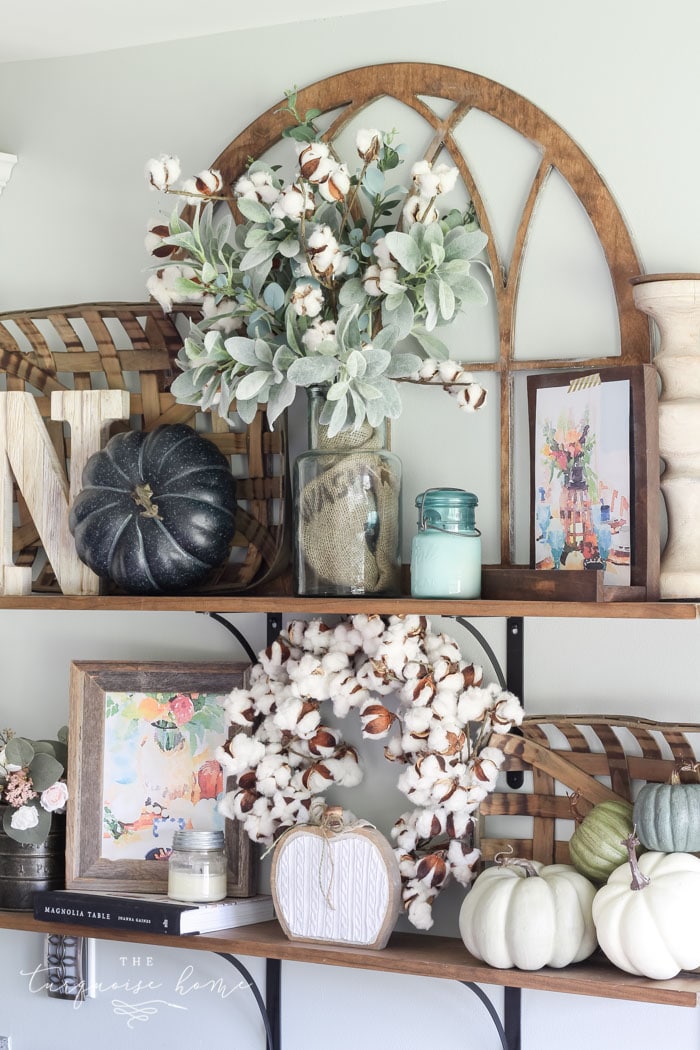 Wooden Pumpkin with Case Kit Sweater (DIY Tutorial)// Antique Ball Jar Candle // Open Shelves Tutorial
On thing I added to my shelves is the cathedral window. I've only ever displayed it on the white side, but I had to take it down recently and remembered that it was stained on the back. So, popped it up here to see how it looks and I love it!
I added some pumpkins to the shelves that look like they are spilling out of the tobacco basket, so it adds to the theme of my pumpkin patch goal.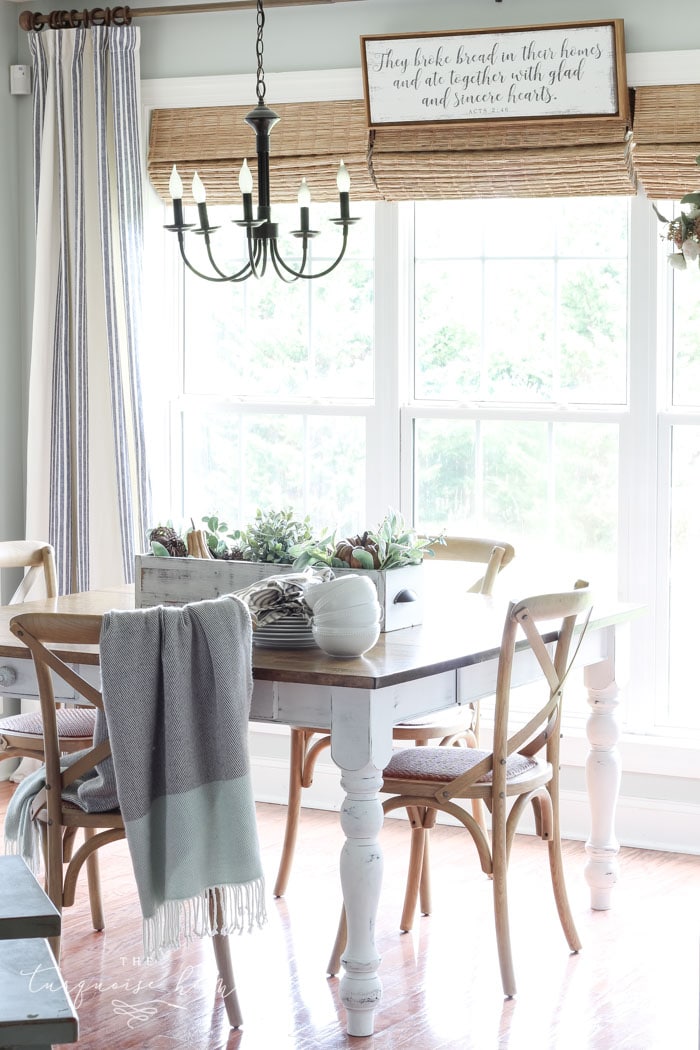 I used my wooden centerpiece (DIY tutorial here) for my table and filled it with some lamb's ear and wooden and twig pumpkins.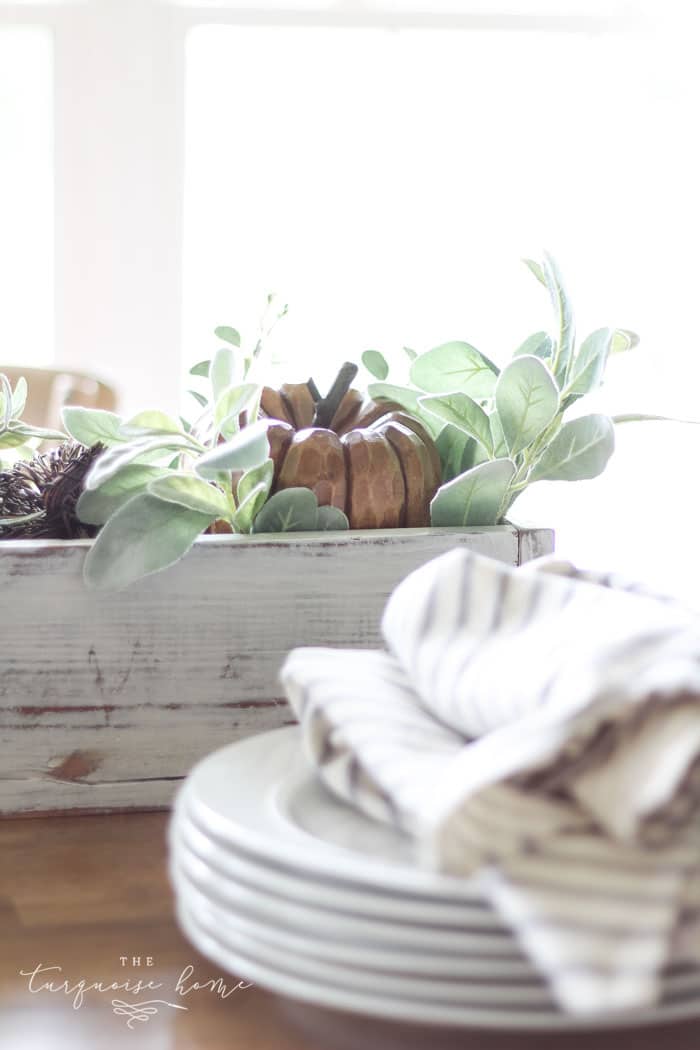 My new bamboo shades in the eat-in kitchen continue to make me smile every day. I love their coastal nod, but the color (jute wheat) lends itself perfectly for fall.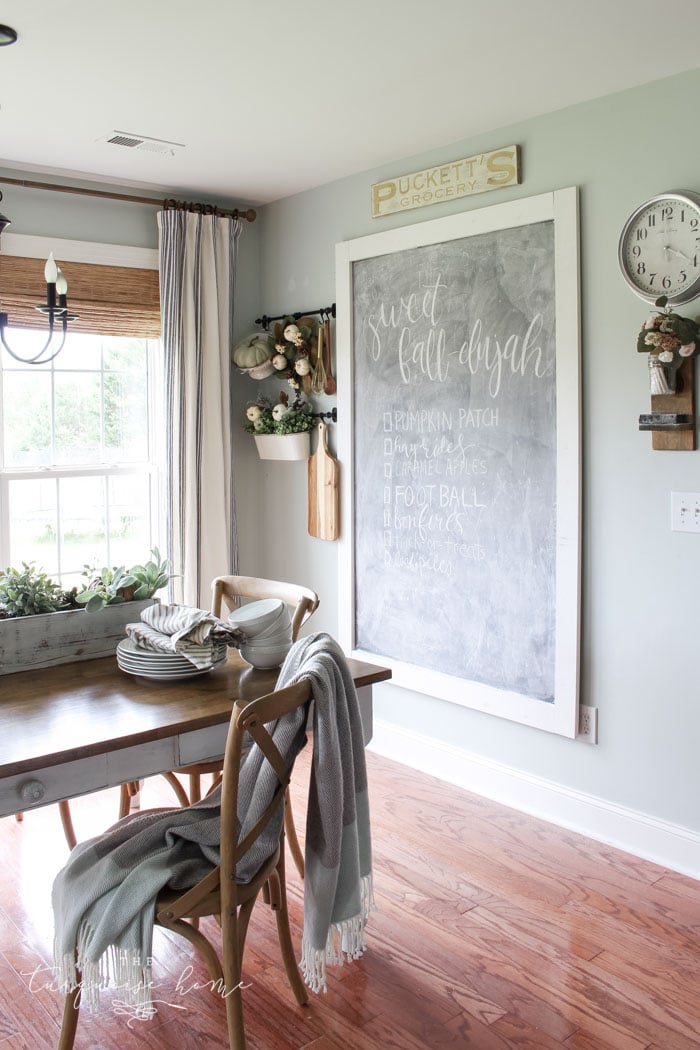 Another few things in this photo that make me smile are the striped blue and cream curtains and the Fintorp hanging system from Ikea. I love the pumpkin in the colander and the pretty pumpkin & magnolia leaf wreath!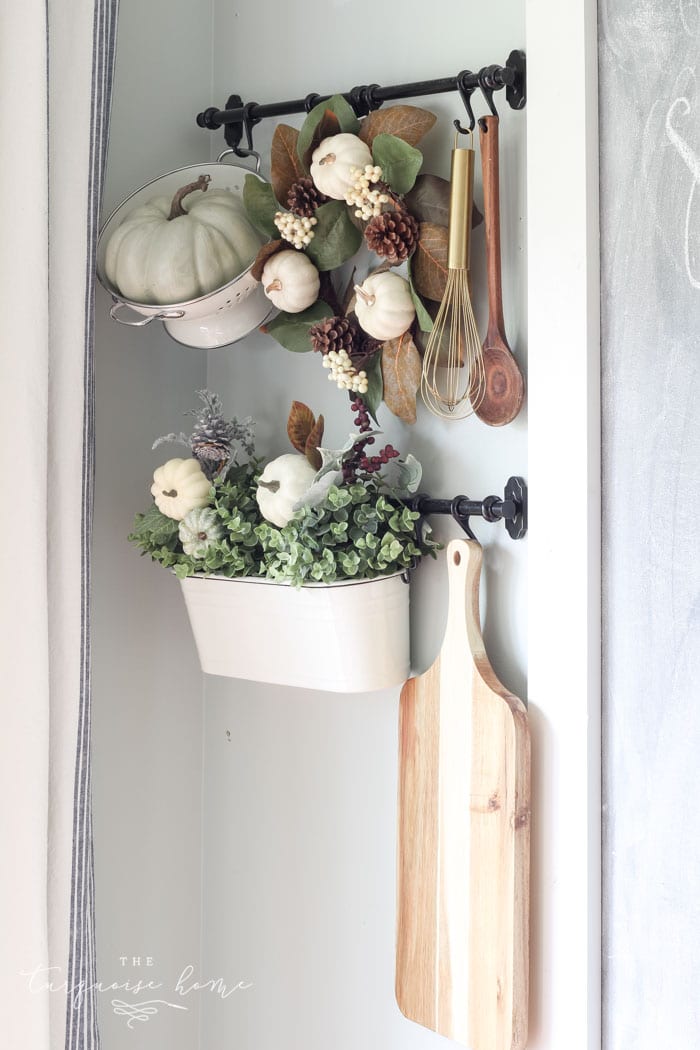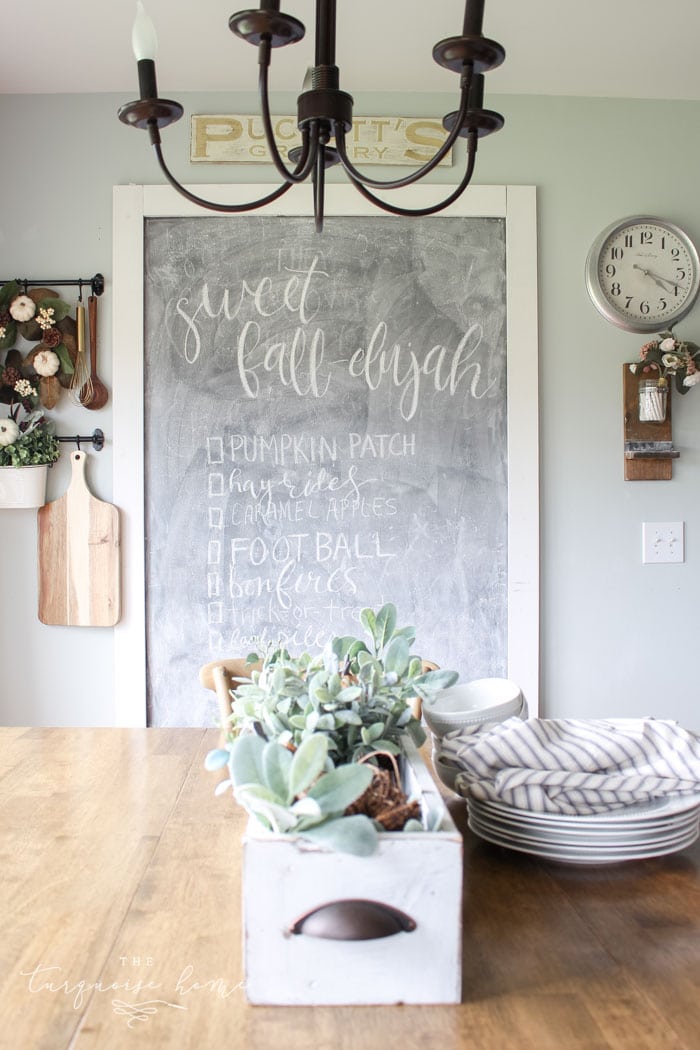 I saw a similar chalkboard on Pinterest with a fun fall bucket list and thought it was so cute! I added the "Sweet Fall-elujah" because I recently saw "fall-elujah" on a front door mat (in this post) and thought it was so clever. Love it!!
Hallelujah for the promise of cooler temperatures, fun trips to the pumpkin patch and football!
I hope you enjoyed this little tour of my fall "pumpkin patch" kitchen. You will find the sources below and then below that check out the other homes in our blog hop tour!
And be sure to comment below with your favorite part of the kitchen!
My Fall Kitchen Sources
Antique Ball Jar Candle (favorite fall scents: Fall Harvest, Apple Pickin', Autumn Leaves, Momma's Kitchen)
Large Iron Measuring Cup Vase
Pumpkin Patch Pillow (similar)
Milk Jug Vase
Small Floral Bouquet on Shelves
Large Bouquet on Stool
Wooden Stool (no longer sold)
Large Green Pumpkin
Medium Cream Pumpkin
Blue & Green Smaller Pumpkins (no longer sold)
Striped Cloth Napkins (from Hobby Lobby: Farmhouse Christmas collection)
Magnolia Leaf & Pumpkin Wreath