Hi friends! It's time to start really planning and making decor for our fall homes. I know that it's still hot in most of the country, but this is the perfect time to get your craft on for the coming season.
I love making new wreaths for every season and this season is no different. But I wanted to try a few new ideas this year.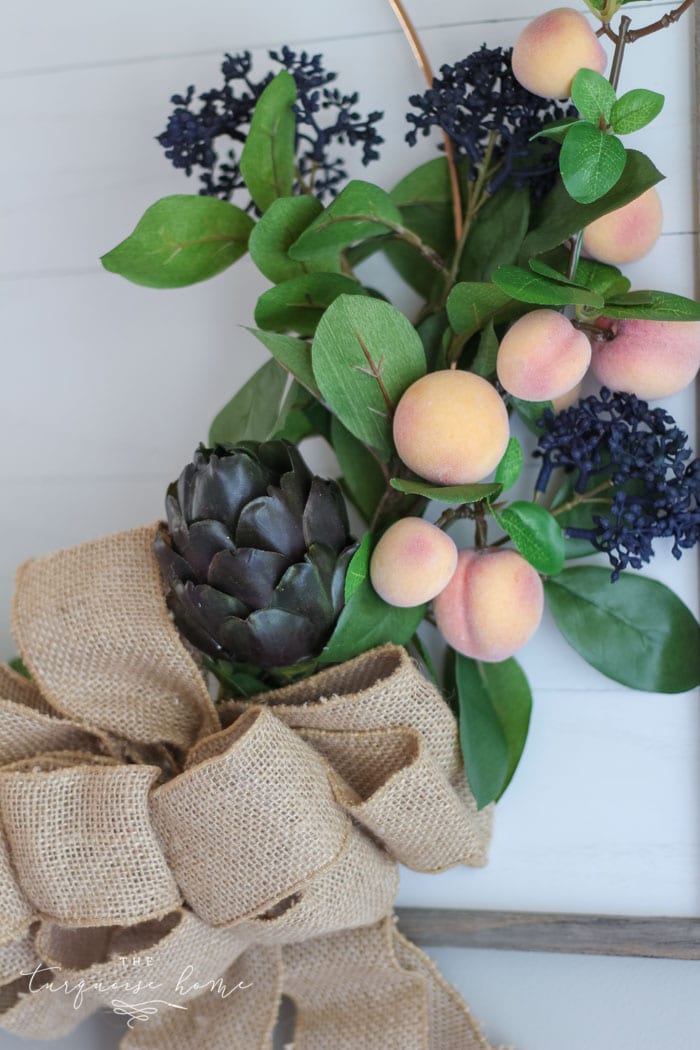 First up, I wanted to incorporate fruit into my fall wreath this year. I was first inspired by some faux peach stems that I bought this summer from my local Southern Living Store. I know peaches don't exactly scream fall, but the orange color fits perfectly. I paired with some deep purple stems and green pear and artichoke. I'd like to think that it has a harvest theme. 😊🍑🍐🌽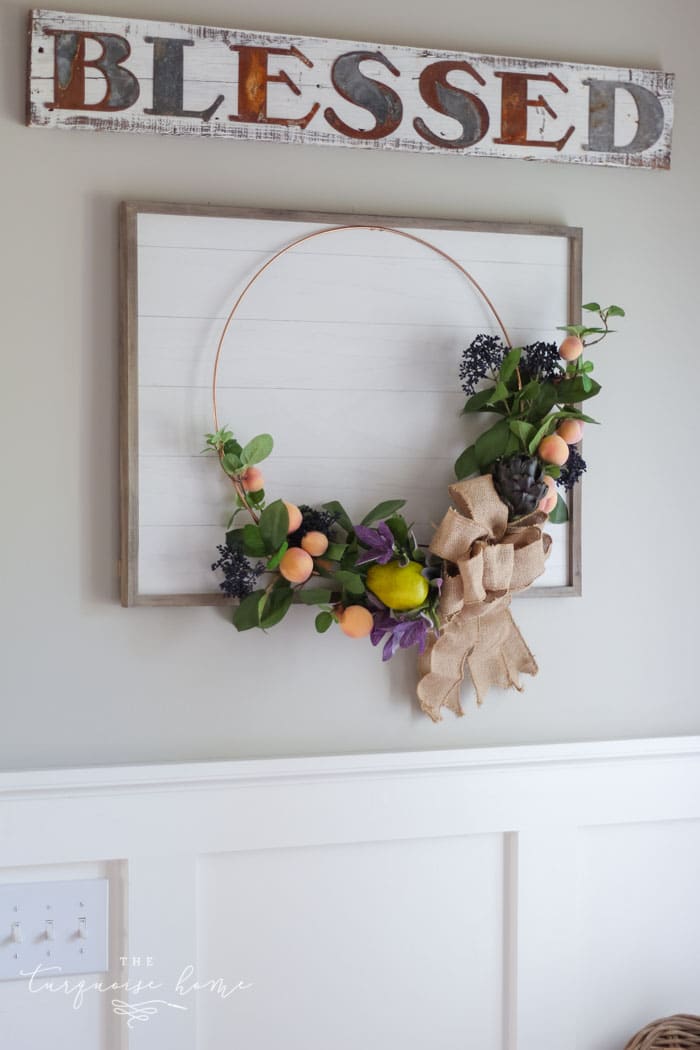 Secondly I love the new "hoop" wreath style with a thin wreath frame and a small floral arrangement in the corner or to one side. It's so cute, but I also love it because it takes a lot less fat foliage, making it more economical. I'm all about a budget-friendly DIY.
Lastly, I've seen some really cute wreaths placed on a framed "shiplap" board. Mine is simple a framed wooden board from Hobby Lobby with pencil lines drawn on it for the "shiplap" look. I love how it turned out and adds a little more dimension to my wreath.
By the way, I'm teaming up with some sweet friends who are also sharing their DIY fall wreaths today, so check them out at the end of the post. There are so many gorgeous wreaths to choose from! And shout out to my friend Krista at The Happy Housie for hosting again. She's the best!
Supplies for a Framed "Shiplap" Fall Wreath with Faux Fruit
How to Make a Framed "Shiplap" Fall Wreath with  Faux Fruit
Say that 10 times really quickly. Ha! #itsamouthful
Step 1. Gather your supplies.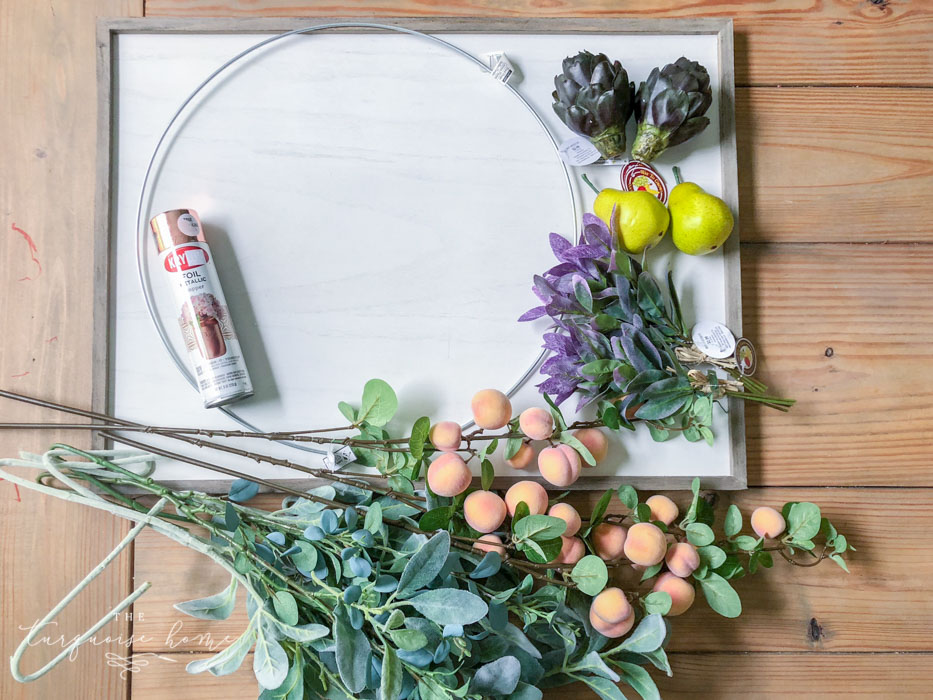 You will need a frame, a hoop or metal ring, (optional) spray paint, floral and fruit stems of your choice.
And you will need supplies for building your wreath like a hot glue gun & hot glue, floral wire and wire cutters.
Step 2. Spray paint the wreath form, whether it's an embroidery hoop or metal wire.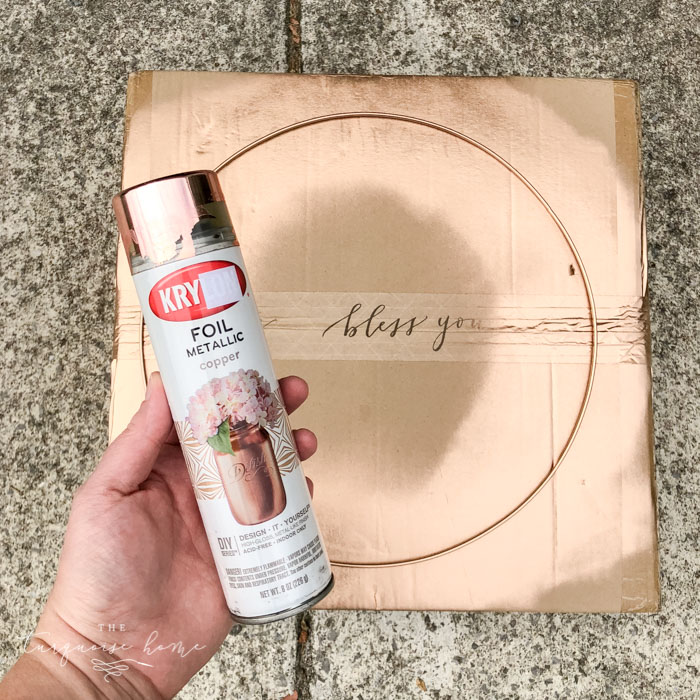 I wanted my hoop to be copper, so I grabbed this foil metallic copper spray paint and it worked great! Now I'm making a mental note of everything I'll be spray painting this fall. LOVE the copper color for fall.
Step 3. Start attaching the stems to the wreath hoop.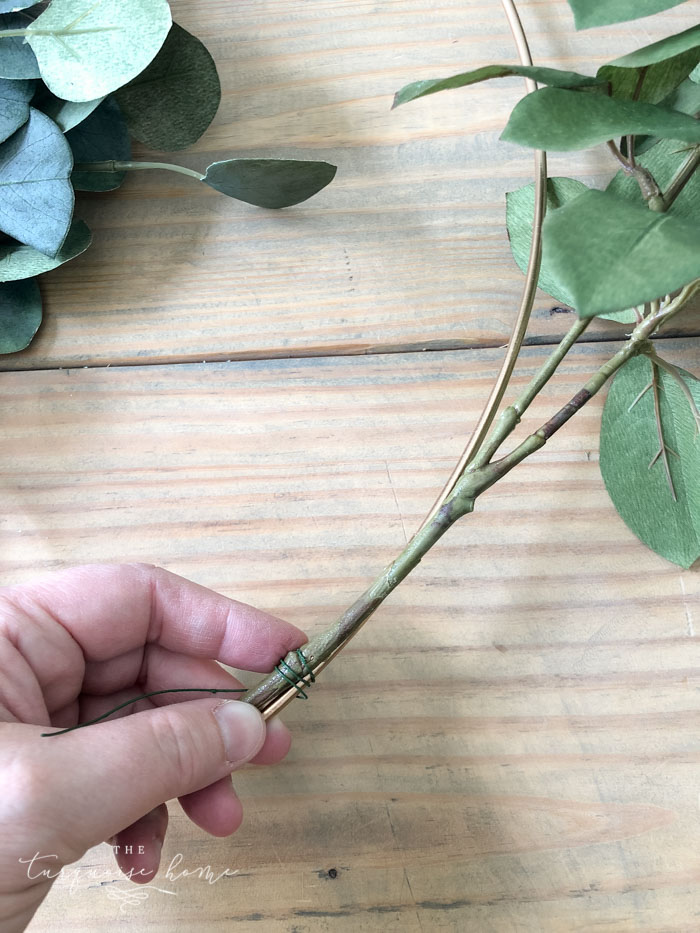 When the paint is dry on the ring, you can start attaching your faux stems to it. I used floral wire in a few places on each stem to keep it holding on the ring.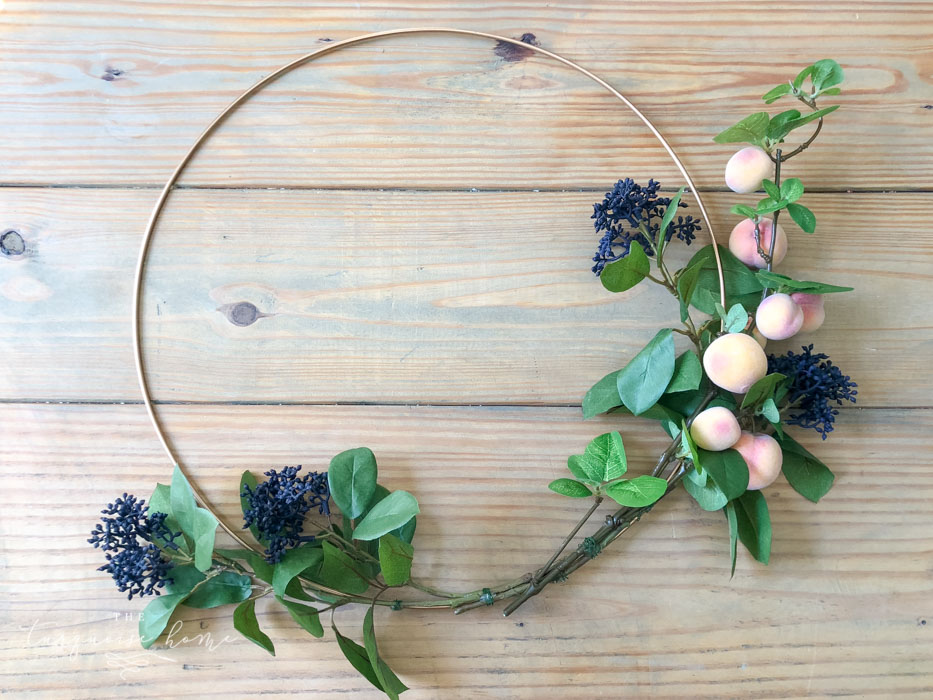 Then I glued the floral wire, stem and ring together because I didn't want the floral stems moving once I picked it up!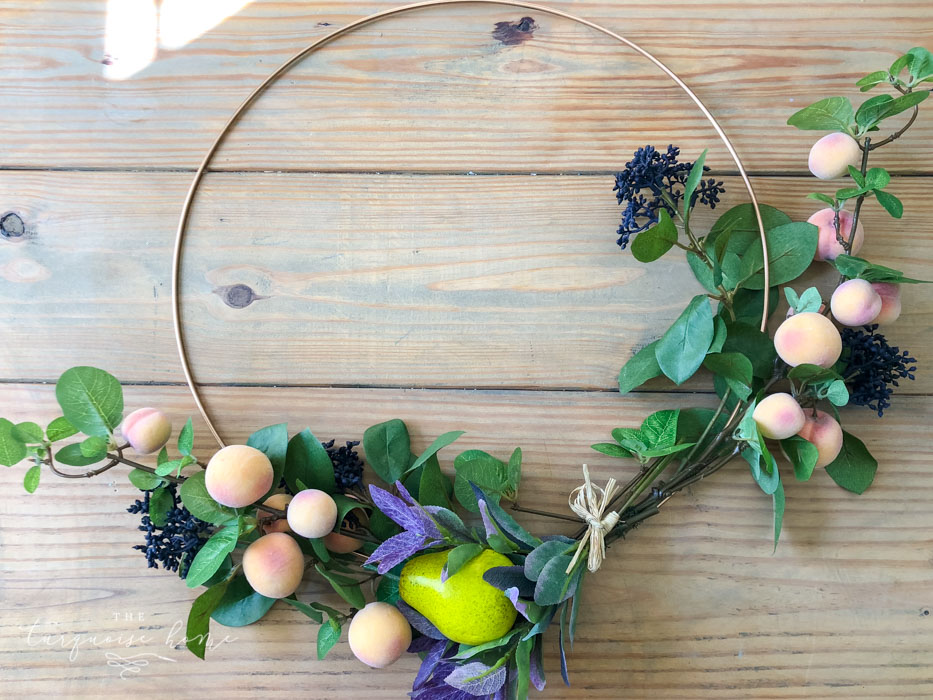 Pear / Artichoke / Skimmia Berries Stem / I can't find the peaches online anywhere. You can always use a faux peach and attach it like I did the pear and artichoke.
I started with the stems I wanted on the outside bottom and worked my way up and in. I did this until everything looked good.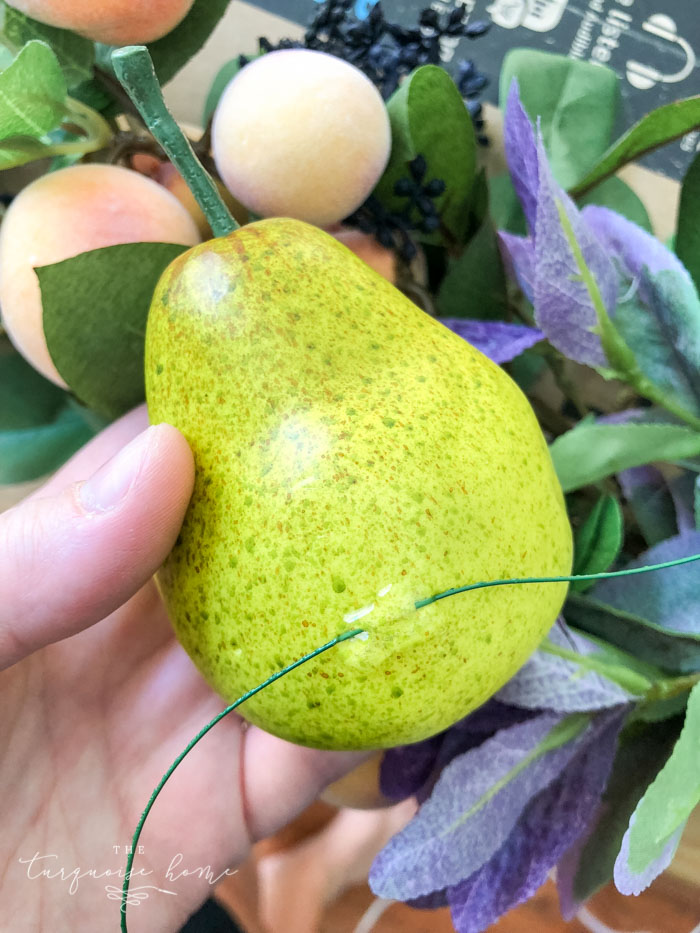 I added the faux pear and artichoke by "threading" floral wire through the back of the fruit. I think they are make of styrofoam, so it's not hard to get the wire through. And then I hot glued the wire in place.
Step 4. Attach a burlap bow to the enter of the floral and fruit stems.
I wasn't sure how the not so pretty stuff in the middle of all the stems and fruit was going to get covered up, so I grabbed a burlap bow and stuck it on! I love the look and it brings some of the rustic texture back to the wreath, which is perfect for fall!
Step 5. Draw "shiplap" lines on the frame.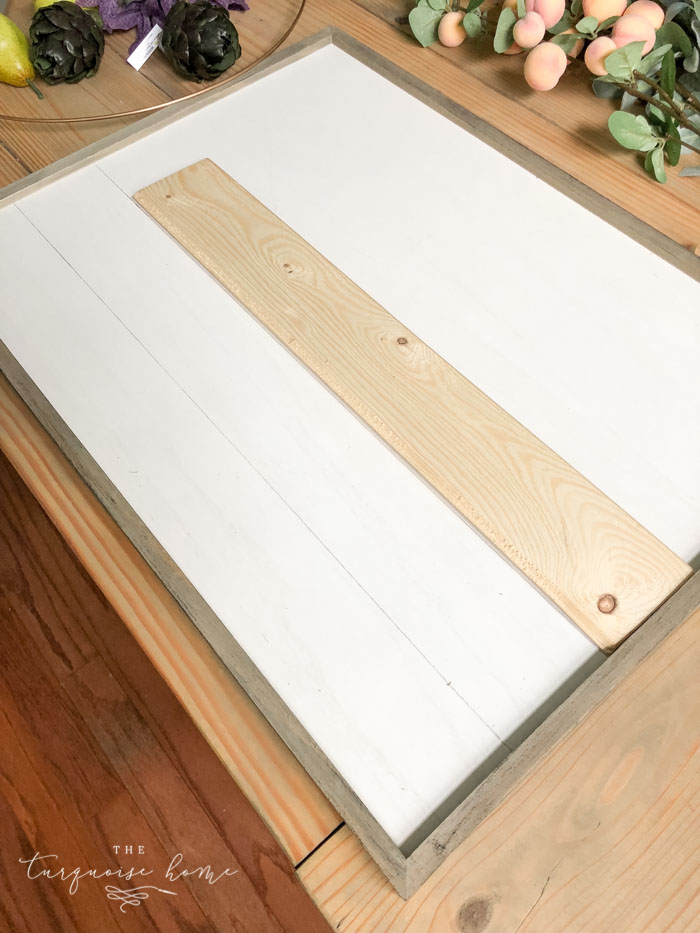 I used a pencil and a scrap board to draw lines across my framed board to give it the look of shiplap. I think it turned out pretty cute for a free upgrade!
Step 6. Hang the wreath on the framed board.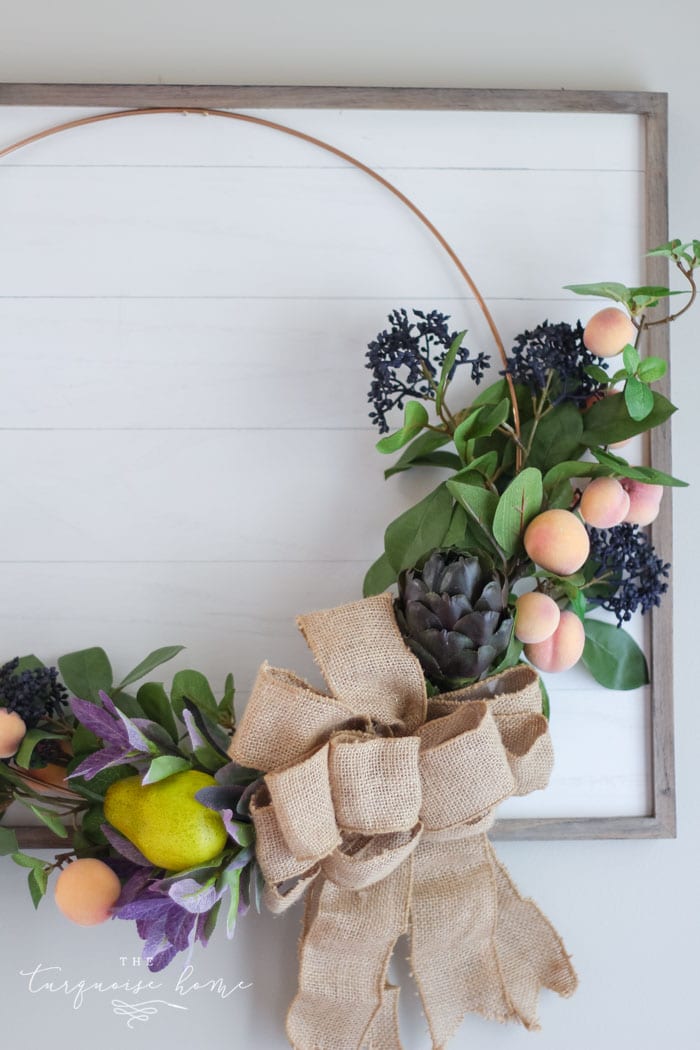 I nailed a small nail into the top of the board, right under the frame and hung the wreath up on it. The weight of the one-sided wreath pulled on it, so I added another small nail to the right of the original nail so that the wreath wouldn't hang crooked on the board.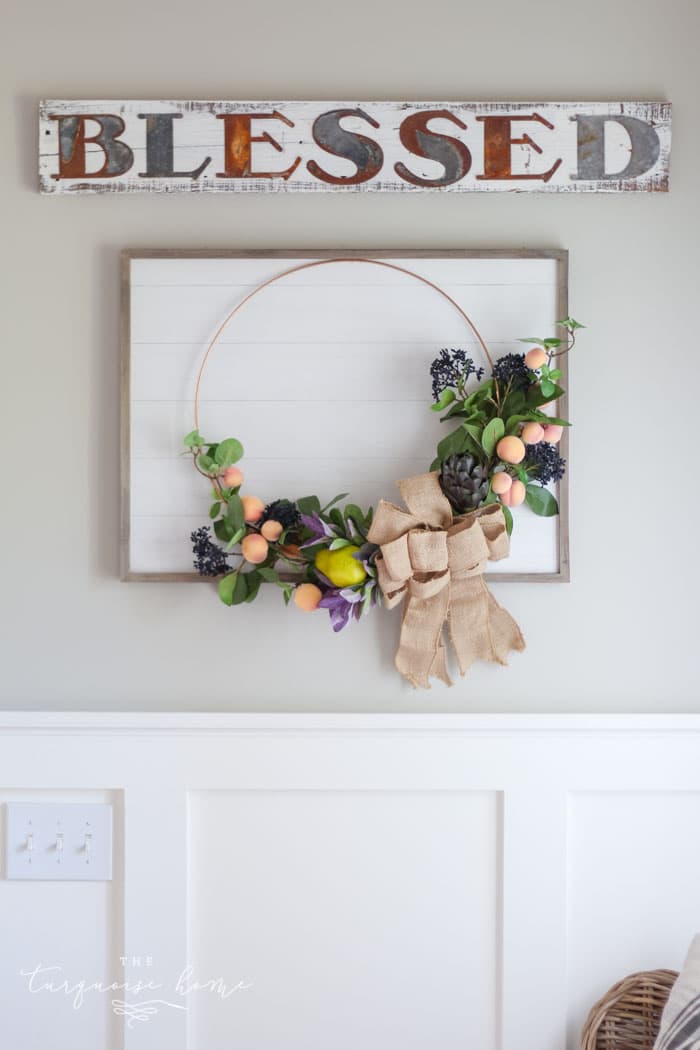 Tada! Done!
I love how it turned out and can't wait to place it in its final spot for my fall home decorating tour, which I'll be sharing really soon!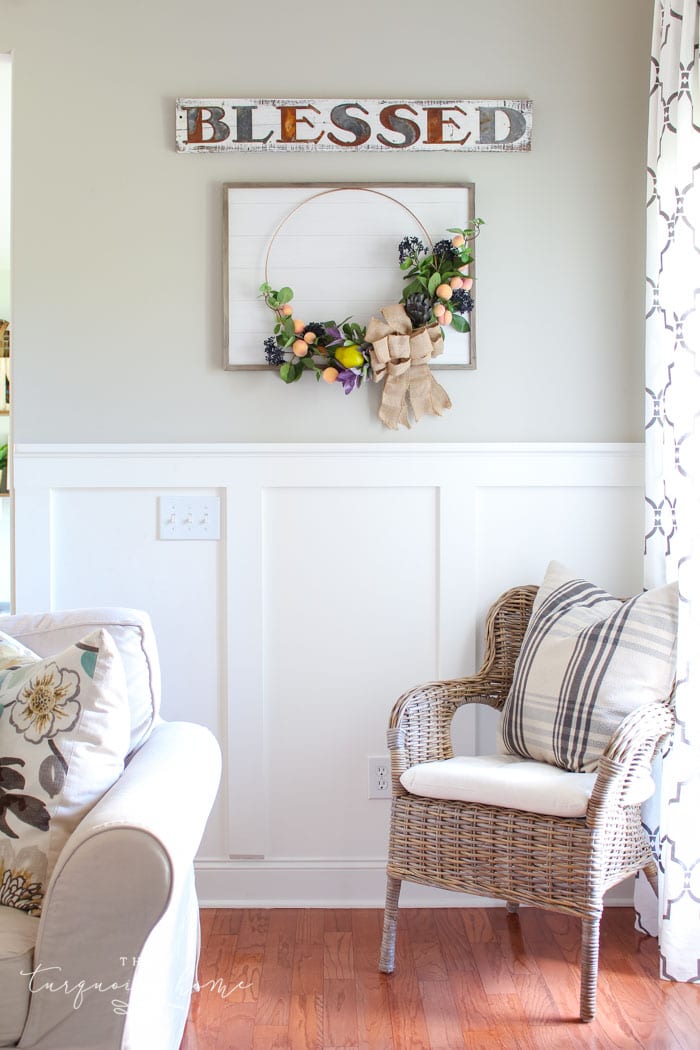 What do you think? I'd love to hear your feedback below in the comments. Or if you make something like it, tag me on Instagram or comment on my Pinterest profile with a picture!
If you thought this tutorial was helpful, or if you'd like to save it for a future project, be sure to save the image below to Pinterest!
Today I'm excited to be joining a group of over 20 other talented bloggers who are also sharing a Fall DIY wreath tutorial with you! Hop over to see what my friends are sharing…
The Happy Housie // Rooms for Rent // The Turquoise Home // Finding Silver Pennies
Deeply Southern Home // Hallstrom Home // Shabbyfufu // Sincerely, Marie Designs //
The DIY Mommy
Lolly Jane // Happy Happy Nester // Amber Tysl // A Pretty Life
Place of My Taste // Love Create Celebrate // Modern Glam // Lemon Thistle
Town and Country Living // Clean and Scentsible // Summer Adams // Willow Street Interiors
Get Instant Access to my Guide to Customize Your Home on a Budget
Grab your FREE guide for 10 Ways to Customize Your Home on a Budget: simple projects to transform your home from builder beige to a home with character and charm!