The Two Rules to Eliminate Paper Clutter for Good!
Welcome to Day 9 of the 30 Days to Less of a Hot Mess Challenge! We're decluttering, reorganizing and taking a breath of fresh air to create a home we love. If this is your first time at the challenge, you may want to start here at the beginning. Affiliate links used for your convenience.
This post contains affiliate links for your convenience. See my full disclosure policy.
**************************************************************
Ok, so I started this project months and months and months ago.
I fondly remember starting this section of the Life-Changing Magic of Tidying Up book and thinking this was going to be my biggest challenge to face in the decluttering challenge.
That was a year ago. (Read about it here.)
Little did I know that it would halt me in my decluttering tracks.
I have randomly, through the past 12 months, sorted and decluttered the paper in my home, knowing it was the step I was supposed to be on in the book's recommended process. But I continually did NOT have a handle on the situation. The problem was I wasn't really doing it the way you're supposed to do it. I was trying to declutter with the papers still in the filing cabinets.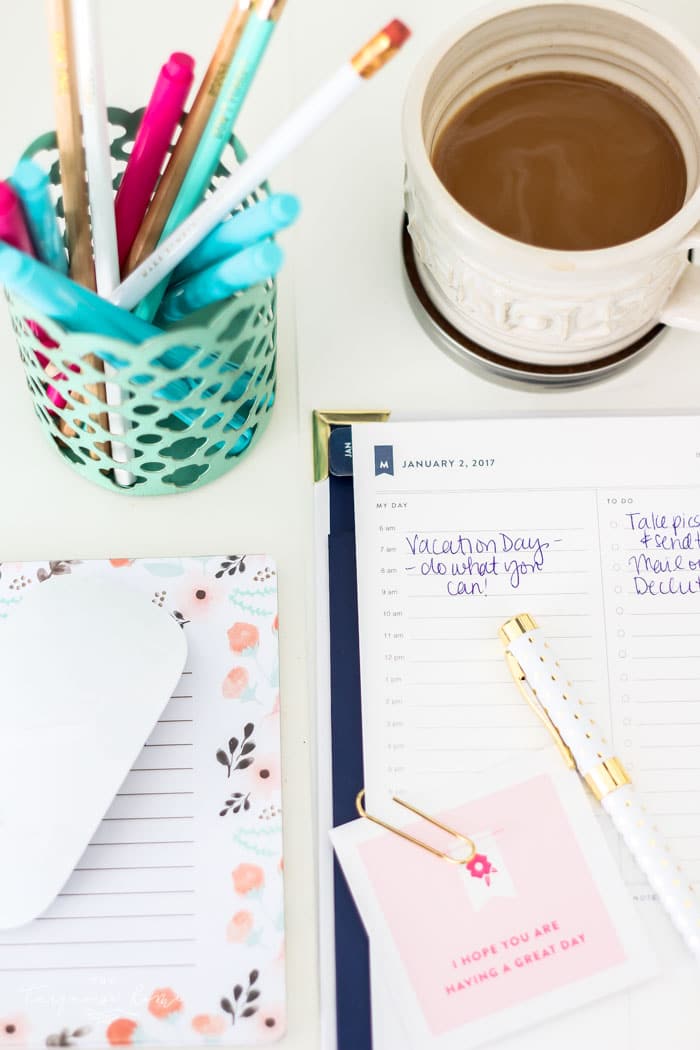 Tired of Feeling Overwhelmed?
Join the FREE 30-Day Decluttering Challenge & Find Peace in Your Home Again!
It all just felt all too overwhelming for me. I wasn't sure if I would ever slay the paper clutter dragon.
You see, my long-time goal has been to get rid of this old, brown filing cabinet.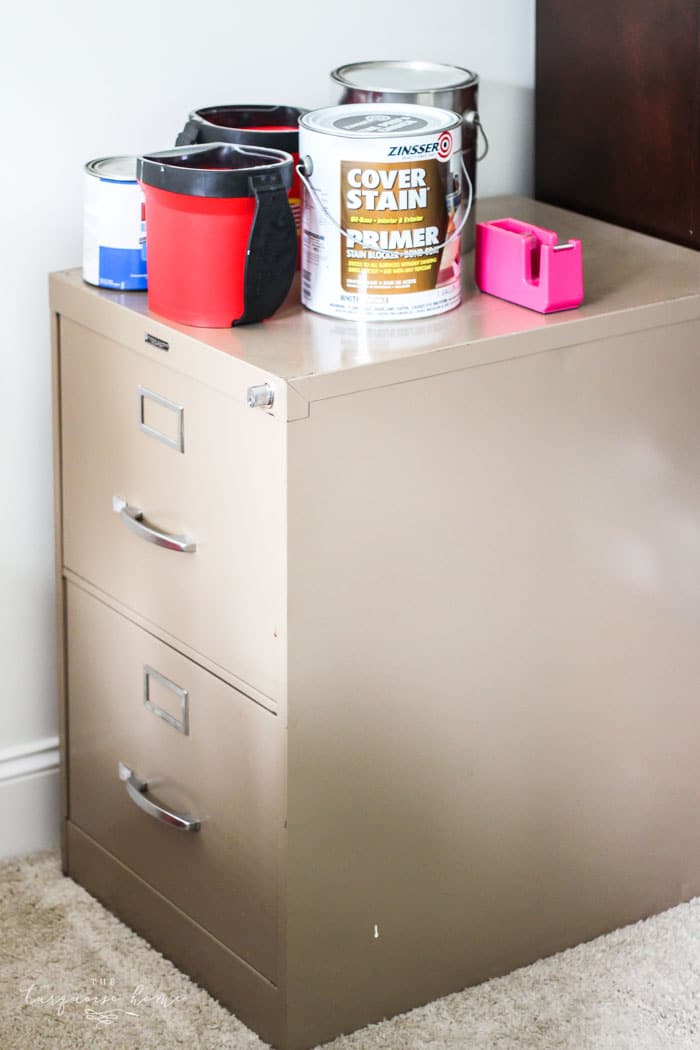 My husband had it when we got married and it has served us well. At one point it was stuffed to overflowing, but I have whittled away at the contents until the papers took up just one drawer. The other drawer held printer paper, ink and envelopes.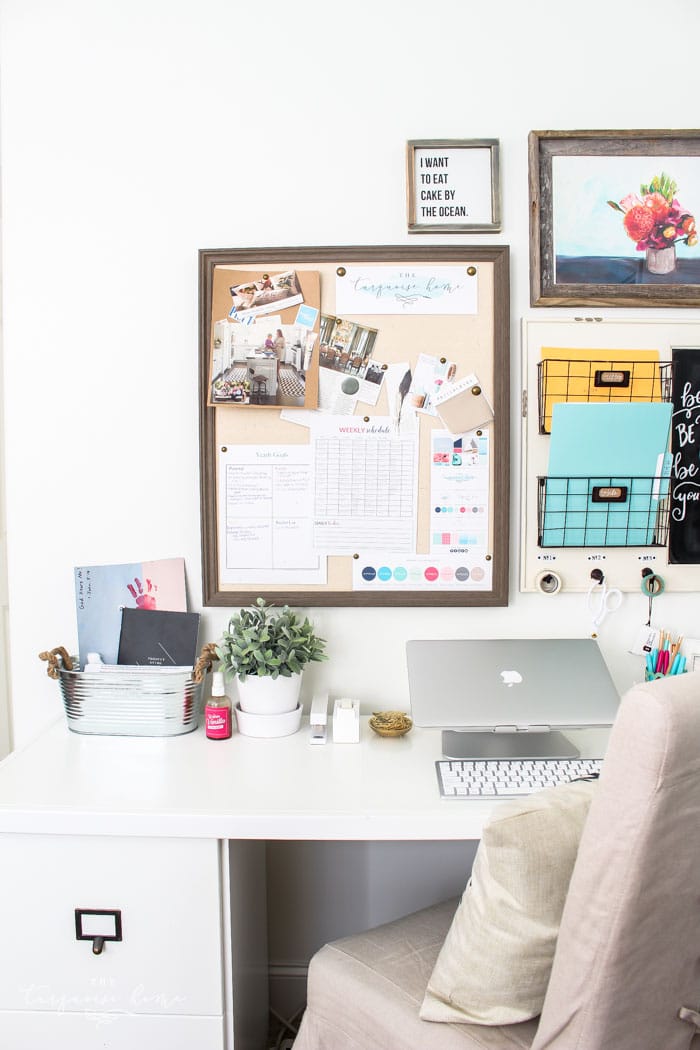 Secret sneak peek of my newly organized office space I'm revealing tomorrow. 😉
And then this past year I bought my dream desk from Ballard's Design outlet near Atlanta. I wanted this one because 1) it was white 2) it was large and 3) the bases function as filing cabinets! Yay! More desk space and less ugly filing cabinet. It was a winning combo. But I still couldn't figure out how to go through my papers and get rid of what I didn't need.
Well, that is until I finally heeded the advice found in The Life-Changing Magic of Tidying Up and I pulled everything out.
Some items you may need to get started:
Inbox – I just got this one here and I'm loving it!
File folders
Hanging filing system
Pen (my favorites)
Paper shredder (I have this very basic one.)
Rule #1 to Get Rid of Paper Clutter For Good: Pull Them All Together in ONE place!
To make this work you will want to grab the papers from everywhere in your home. Go through all of the rooms and stack them up. Check the laundry, kitchen, bathroom, kids' rooms, everywhere!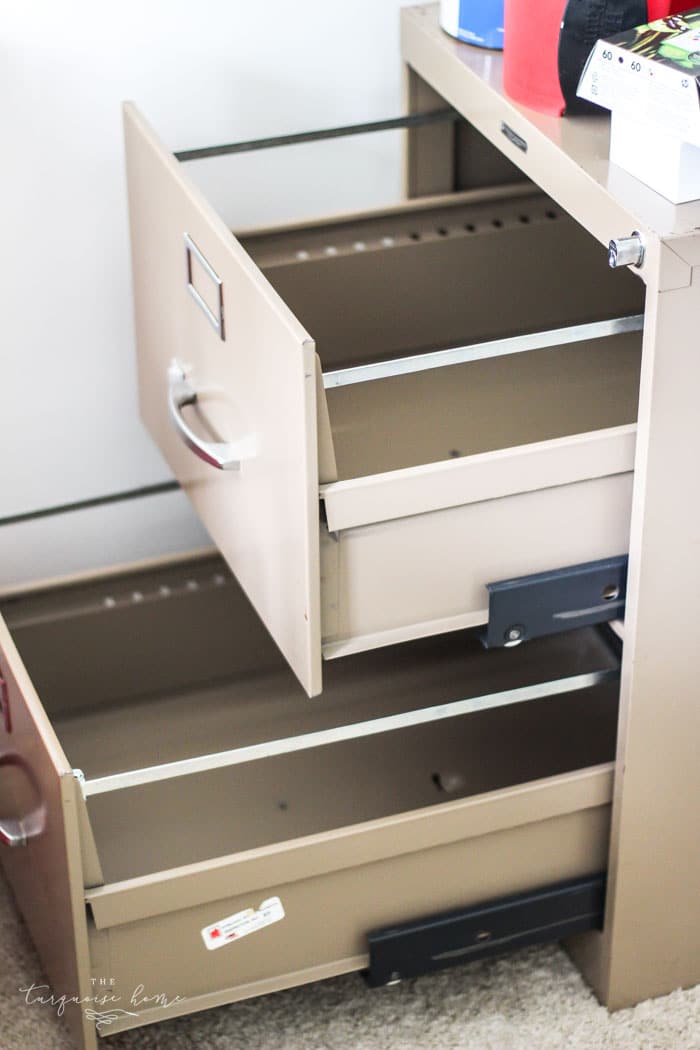 I cleared out the filing cabinets and grabbed the piles from around the house.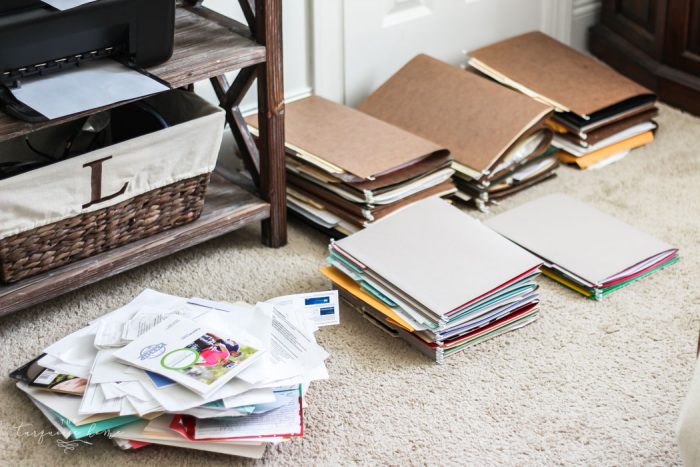 This stack of papers was tiny compared with how many I started with last year! I had multiple boxes FULL of paperwork to go through!
I made 4 "discard" piles for my sorting needs and sorted them accordingly:
to keep
to do
to shred
trash
I was ruthless when it came to the "to keep" pile. Most papers either went into the trash or shred piles, thank goodness!
I also kept my planner nearby. When I put something in the "to do" folder, I wrote it in my planner so that they wouldn't just languish away in the to-do folder forever.
I loosely following Marie Kondo's advice for keeping papers, which is pretty much keep nothing except for your house deed and maybe a few other financial records. She even recommends throwing out all owner's manuals (with the exception of maybe your TV, computer and camera manuals).
While I was not nearly as cut throat as she is, I did cut out a ton of stuff. And I used to store every.single.owners manual in these plastic sleeves in large 3-ring binders. But I've done away with all of that and now store the ones I've decided to keep in one magazine file. Super simple!
Now, I've been working on this for years, and more so in the past 6 months, so if you're just starting to tackle the paper monster, then this will be a process.
It will most likely be a longer process anyway. Don't expect to tackle this one in a day. And if you're not able to do it now, then make an appointment on your calendar for when you would like to start. Take a long weekend or a few days off in a row to begin to tackle the paper beast.
And it's OK to take your time to do this task! Organization IS a process and the journey is one to be enjoyed as each step gets us closer to our goal of less clutter and more margin. I already taste a little bit of the clutter-free life since I've been working on this for a while now and it's glorious! The more I declutter, the more I want to get rid of things. I think by the end, I'll need to circle back around to clothing and give more away because my ideas about what to keep and what to donate have changes so drastically since then!
Just to give you an idea of what I had in my drawers, these are things I threw away:
Tax returns older than 7 years.
Home maintenance records from a previous home that we sold 5+ years ago
Old medical bills (that had loooong since been paid) and medical receipts
Random receipts
Note of caution: you don't necessarily need to keep or throw away all of these items. I'm not an accountant or lawyer. So, if someone told you to keep these items for some reason, then please follow their advice, not mine. 🙂 These are just the decisions my husband and I made for our family.
I ended up with these file folder categories:
Keep Long Term: letters of old account, loan or mortgage closures, select health documents, current mortgage documents, marriage and birth certificates, passports, social security cards
Art: I like to keep my random art collection (worth $10's of $$'s) safe and sound in the filing cabinet. Less likely to get creased or damaged in there.
Medical: Each one of my family members has a small folder of necessary medical records.
House: Our current home's maintenance records and HOA info
School: a few important papers from my husband's work (he's a teacher) and my daughters' schools. Some of the most current info just goes into our Home Organization Binder.
Rule #2 to Get Rid of Paper Clutter For Good: Only 1 Drop Spot
Another huge piece of this paper declutter puzzle is this rule, which is how to organize new papers coming into your home:
Have 1 place (and ONLY 1 place) for paper when it comes into your home.
I was guilty of having multiple places for paper to land. It was fine on the kitchen counter, or by the junk drawer, or in our command center, or on my office desk or even on my dresser in the master bedroom.
And then when company was coming over, I just shoved it all in a box and tossed it in the guest bedroom or the bottom of the closet. I'd finally go through it a year or more later. Ugh! So not good!
I finally made one place on my desk where paper goods go. It's more of a bin than anything and I like that it's more open so that I can't ignore it behind a file folder. We're using our common center to hold our home organization binder and things we need to use regularly, instead of a paper sorting station now anyway!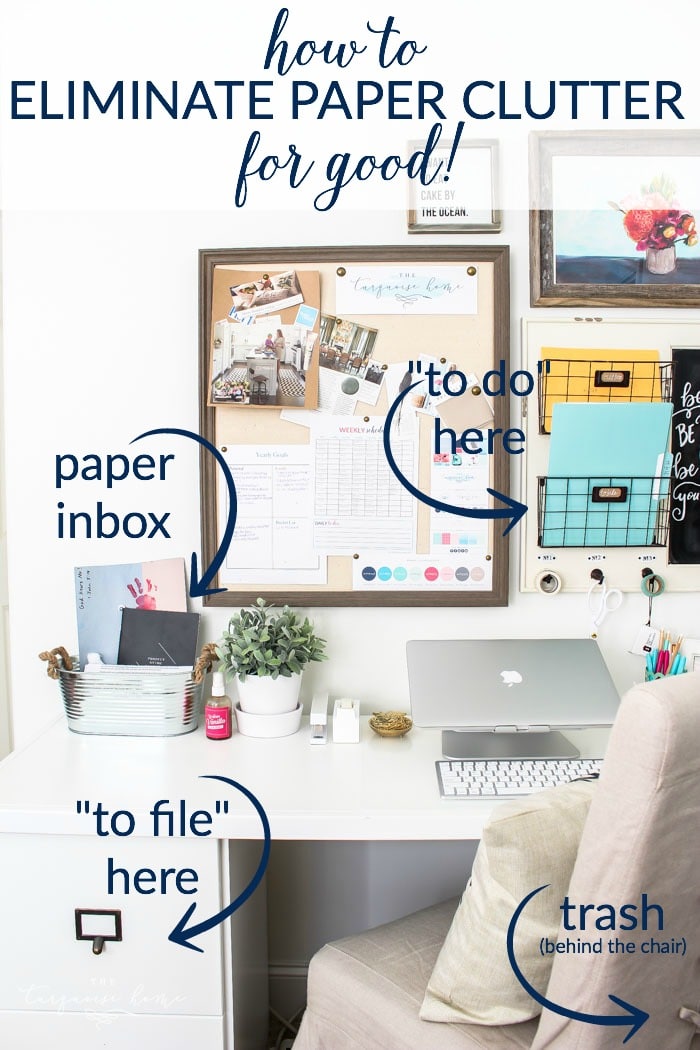 Metal bucket "inbox" | Linen Corkboard (no longer available: similar & similar) | Wall Basket Organizer with Chalkboard | Laptop Stand | Wireless Keyboard | Desk
And I set up a system for how to deal with the papers once they've come in to the house. It's so easy to keep track of all of it now! I can jot things down in my planner and toss them, or file them right away, or keep them in my to do folder until I have a chance to get to them. I need to set up a time just to deal with these items each week.
I'm so very thankful that I have one more item crossed of my decluttering list and a plan ini place to tackle them once the papers do arrive.
Tomorrow we're talking all things desk and office organization, because I just organized my space and I'm in LOVE!
The Messy Work: Either start the work of going through your papers, or schedule a time on your calendar to tackle it. You can do it!! It doesn't need to take you 12 months like it did me!! 😋
In the mess with you, Laura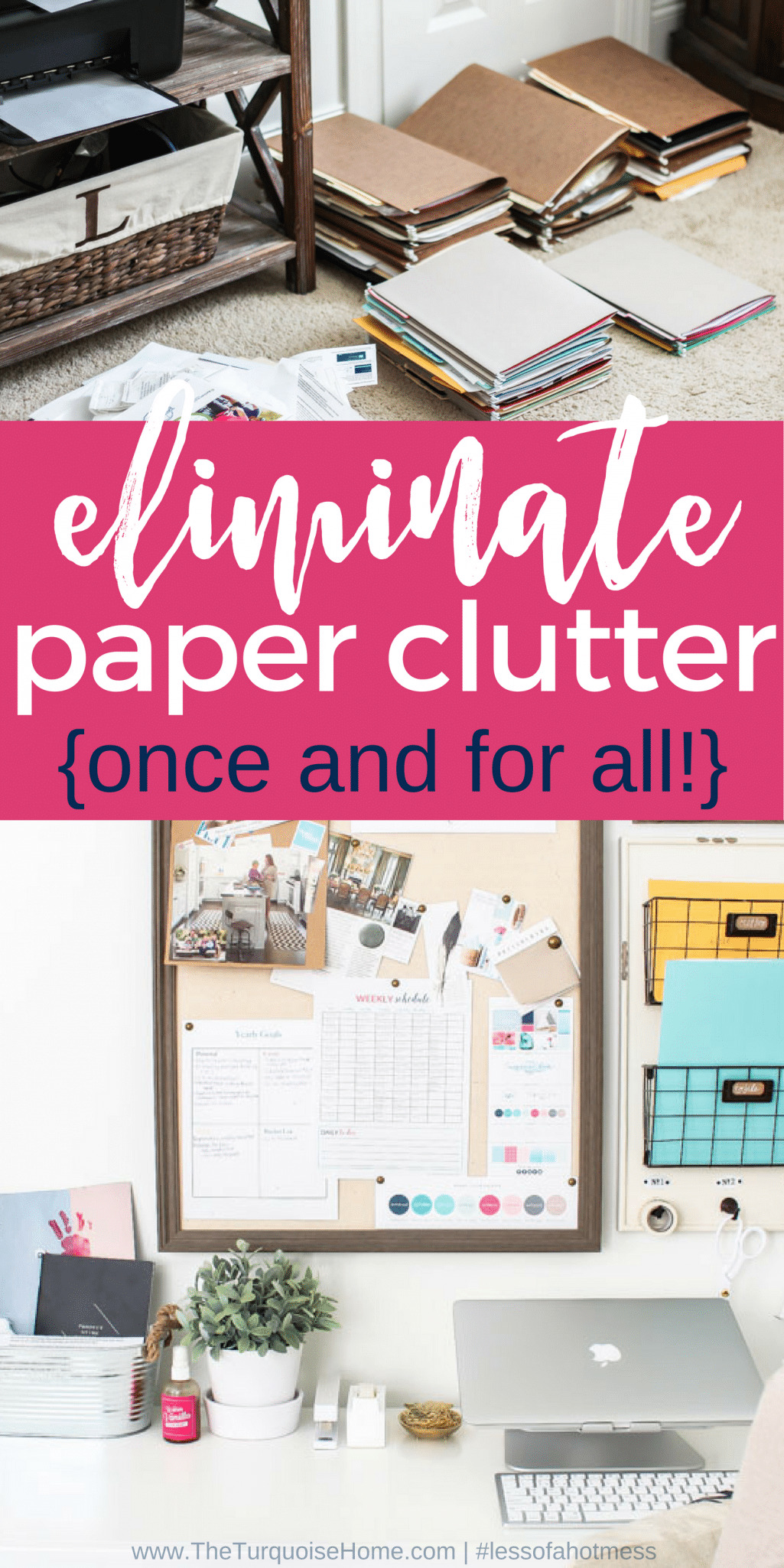 MORE POSTS YOU WILL LOVE: