Looking for a practical and pretty way to add farmhouse lighting to your home? Try adding these farmhouse chandeliers to your space. They are surprisingly versatile—these lighting fixtures can add beautiful light to any space.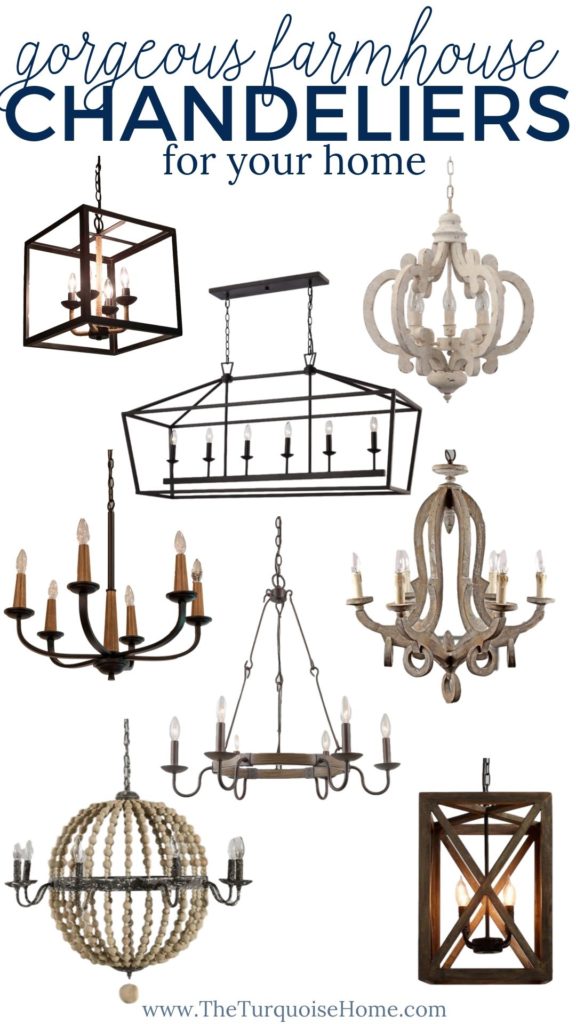 Once upon a time, chandeliers were banished to the dining room or perhaps reserved for the foyer of a rich, fabulous home. Thankfully, chandeliers are now appropriate in pretty much any space you can imagine, particularly these farmhouse chandeliers.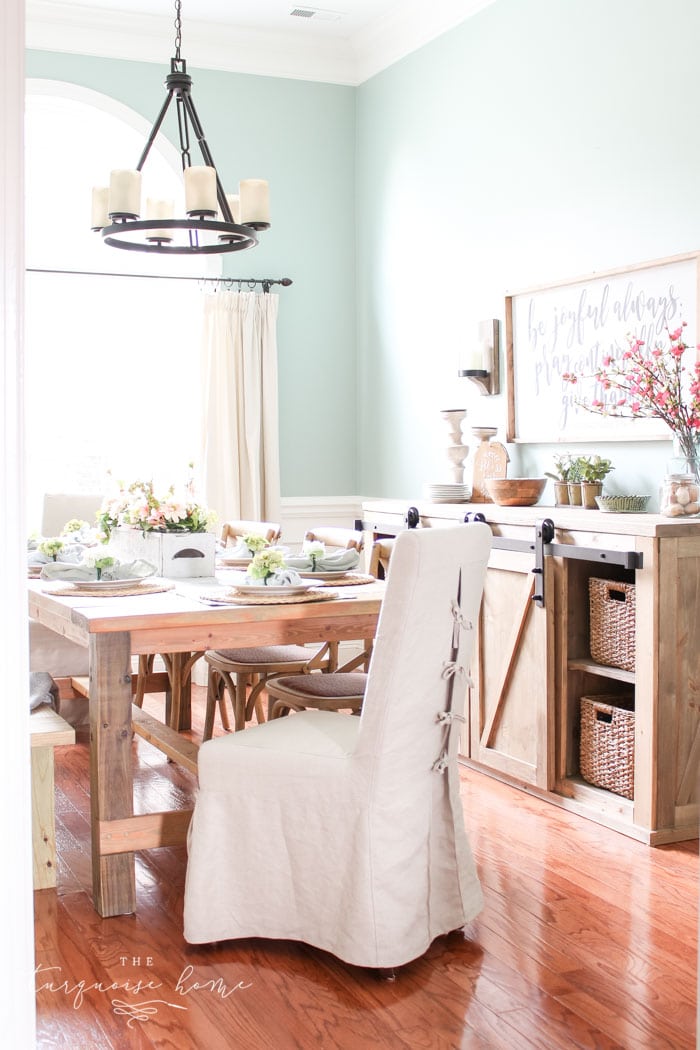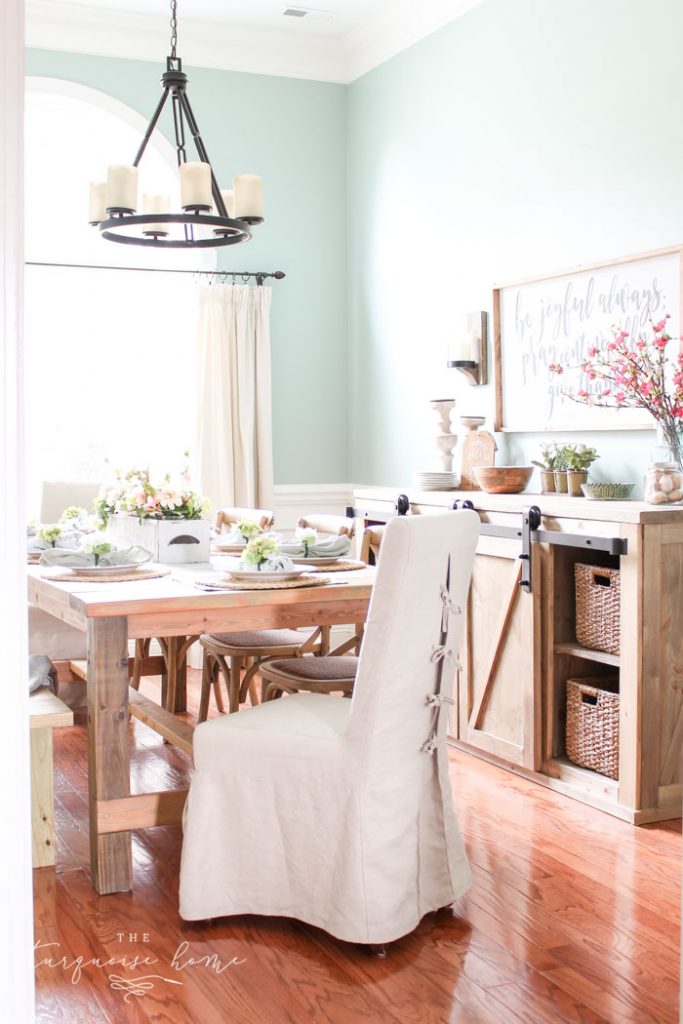 I love the contrast a good farmhouse light fixture can add to a home. You can get away with using them outside the formal chandelier silhouette (normally reserved for dining rooms only) since these fixtures are generally made with casual materials rather than gold and crystal. And since I'm more casual than stuffy, I tend to gravitate toward this style.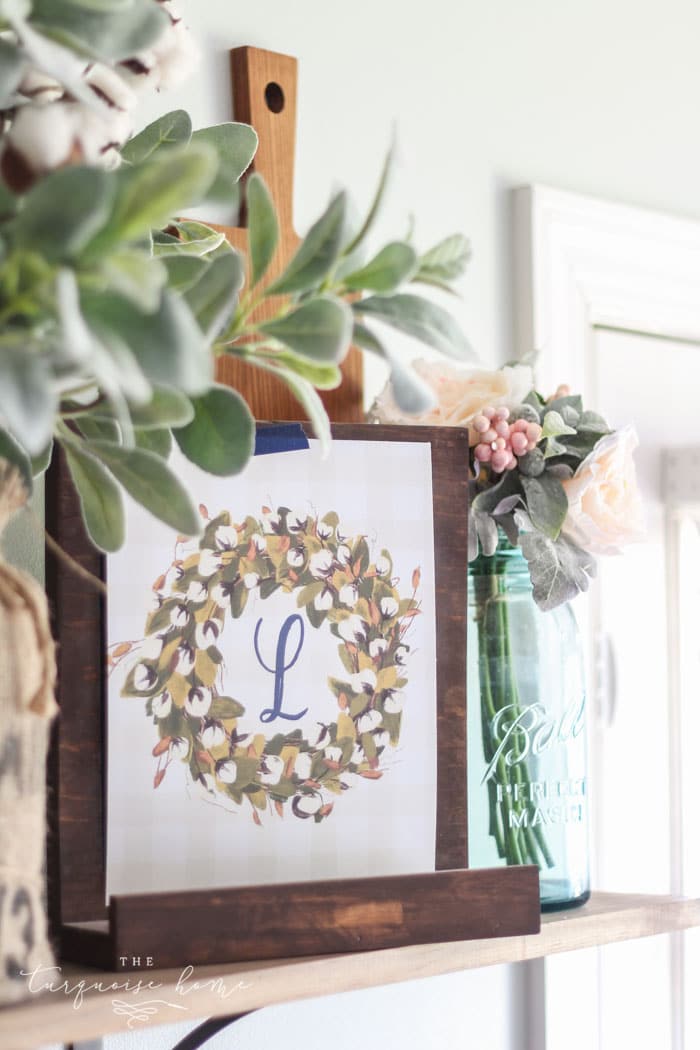 The Home Decorator's Free Printable Library
Get 40+ beautiful FREE printables for every season and every room!
In my my own home, I only have two chandeliers – one in my dining room and the other in my eat-in kitchen. But I think it's time for an upgrade and I've got a couple of these at the top of my list!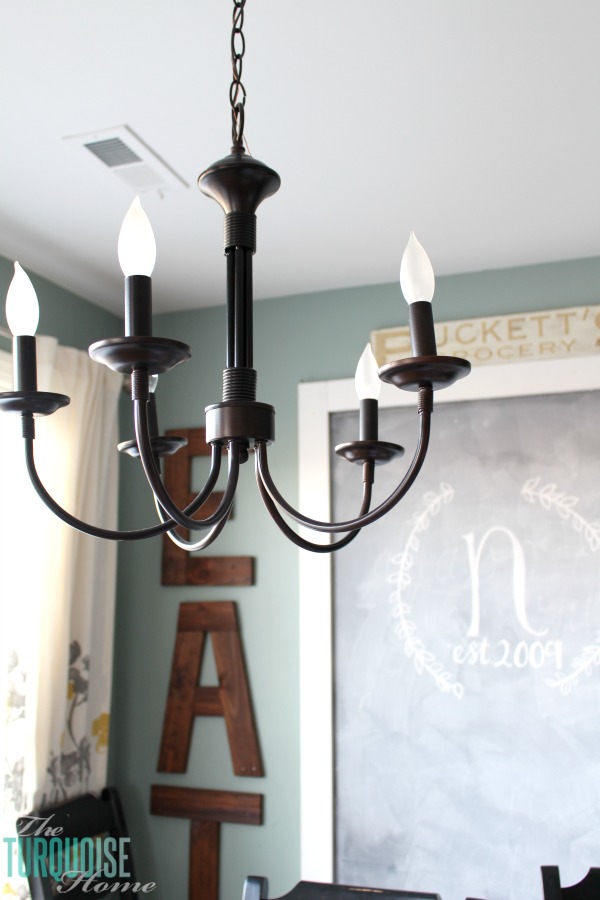 The Best Farmhouse Chandeliers
Choosing a lighting fixture is no simple task, however. These days there are more farmhouse chandelier options than ever thanks to consumer demand—frankly, the options can be a bit overwhelming. That's why I decided to put together a list of my favorite options for this style of lighting. You're sure to have a favorite on this list! I'd love to hear your favorite one in the comments!
And even as the really rustic farmhouse trend has died down, the classic farmhouse style has been around for decades and I believe it's here to stay. Any of these chandeliers would be a wonderful addition to any home.
Wagon Wheel Chandelier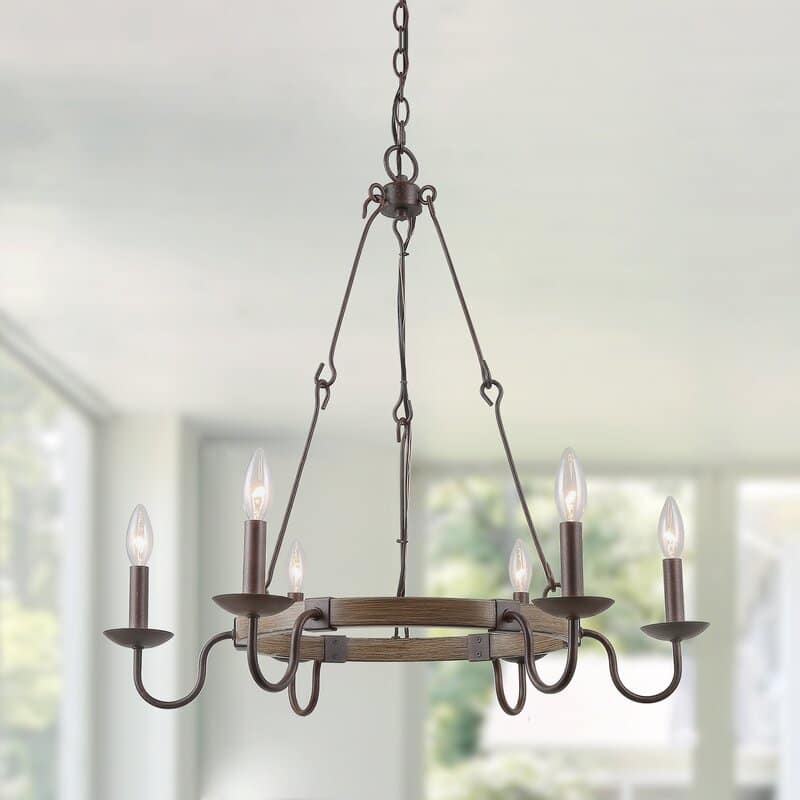 Probably my favorite farmhouse chandelier trend right now is the wagon wheel chandelier. The name of it just invokes farmhouse living, right? But when turned into a chandelier, it's just a gorgeous and timeless silhouette.
I bought my first "wagon wheel" style chandelier in our first home almost 9 years ago (as you can see in my dining room photo at the top of this post). I'm so glad that the style has evolved and stuck around this long! It's just my fave!
MORE WAGON WHEEL CHANDELIERS:
Click on any image to shop:

Wood and Iron Valencia Farmhouse Chandelier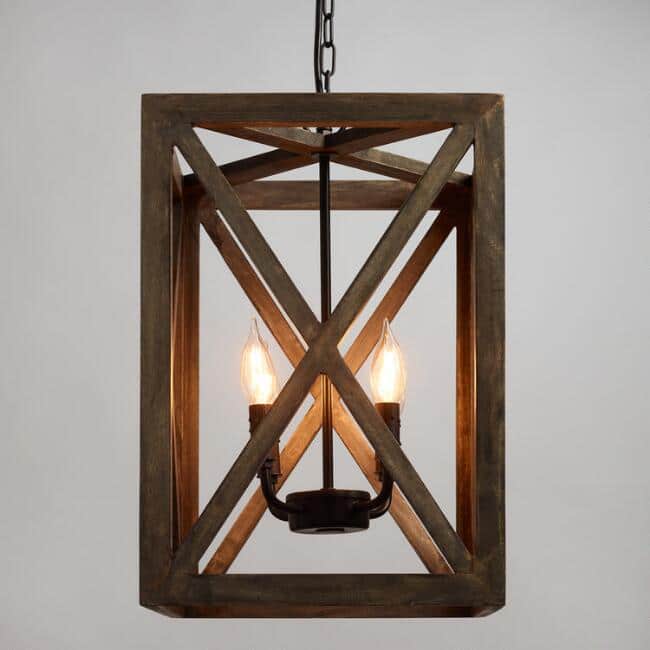 This chandelier from World Market has the classic wood x style that we have all grown to know and love. This light has a slim profile that would work in even smaller rooms like a bathroom or an eat-in kitchen.
I really debated on using this pendant light my entry way, but ended up going with this one instead. I still go back and look at this one online and hope to use it somewhere someday!
Wood Beaded Chandelier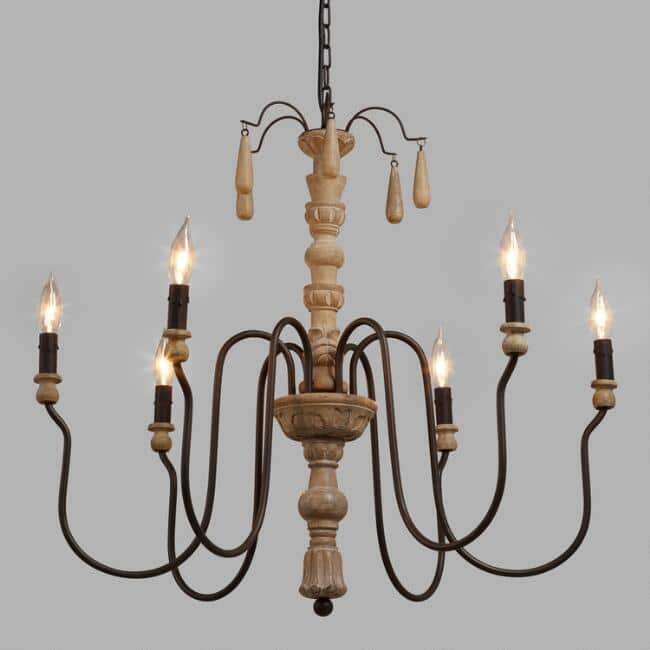 This simple french country chandelier is inspired by a French-style silhouette but paired with natural wood materials. This light fixture is made to go right above a dining table to bathe your party in a flattering light.
Cottage Chic Crown Wood Chandelier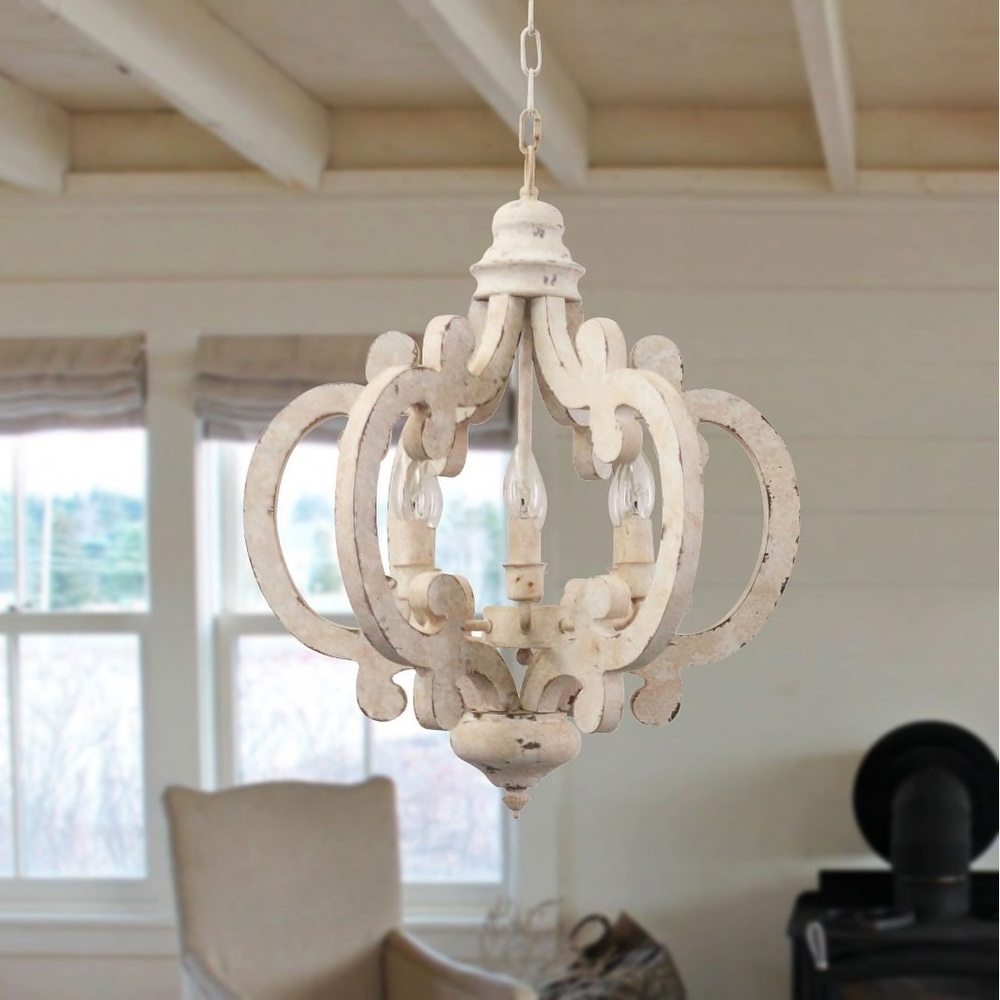 This light fixture is one of my favorites on this list! It's hard to tell from photos, but this shabby chic chandelier spans a foot and a half wide, and over two feet tall. At under $200, this is the perfect addition to any space in your home where you want to add some cozy farmhouse style.
Wood Bead Chandelier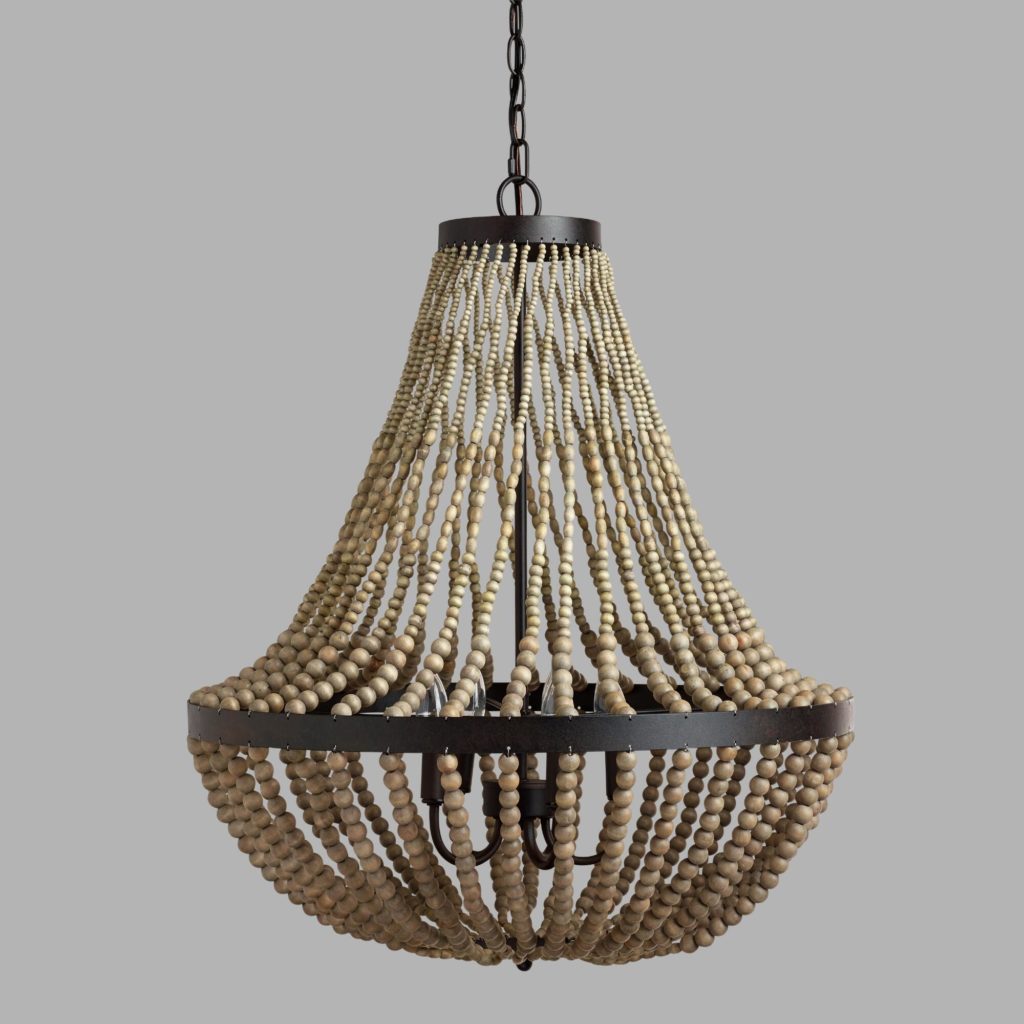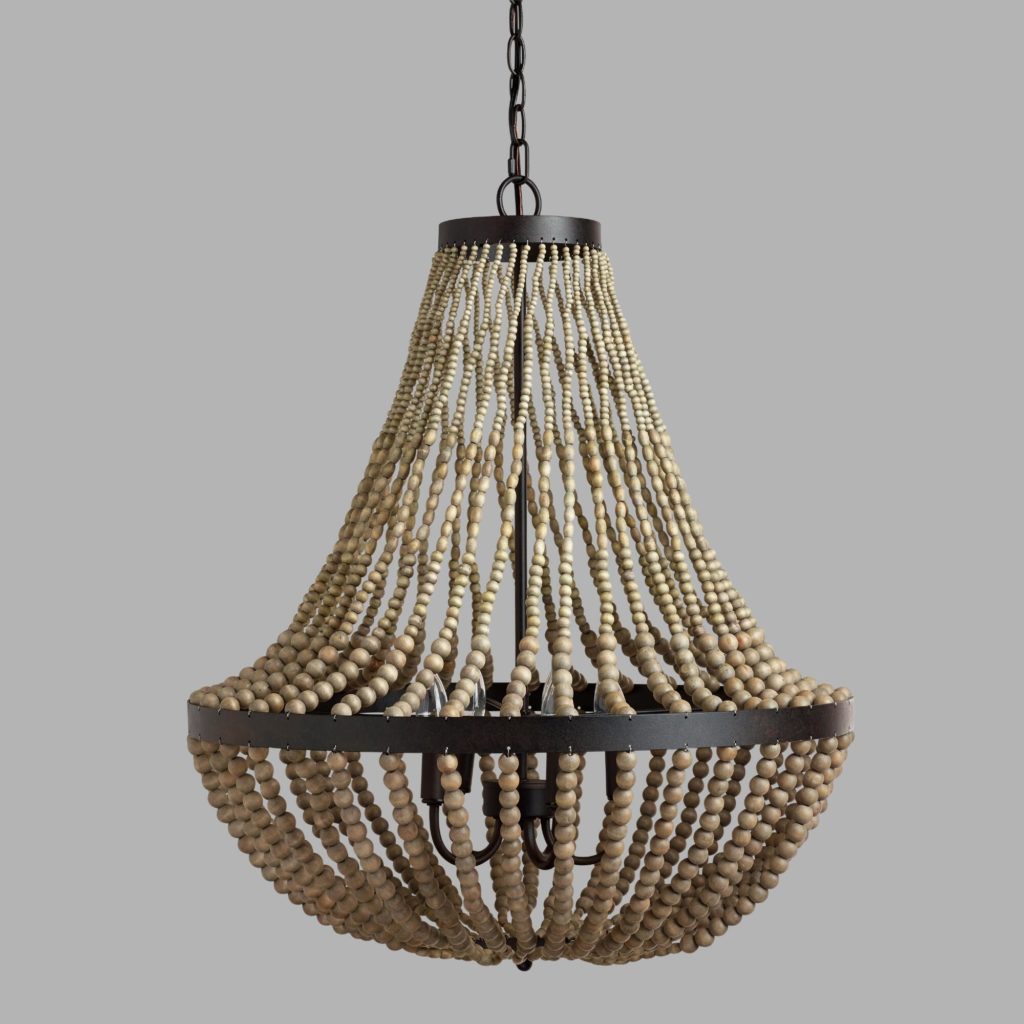 This style of beaded chandelier is so on-trend right now! The nice thing is, it has a lot of classic appeal as well, so I don't foresee this one being out of style anytime soon. The wood beads are taupe-toned, so this also would pair really well with a coastal farmhouse vibe.
MORE WOOD BEADED CHANDELIERS:
Click on any image below to shop:

Ventura Chandelier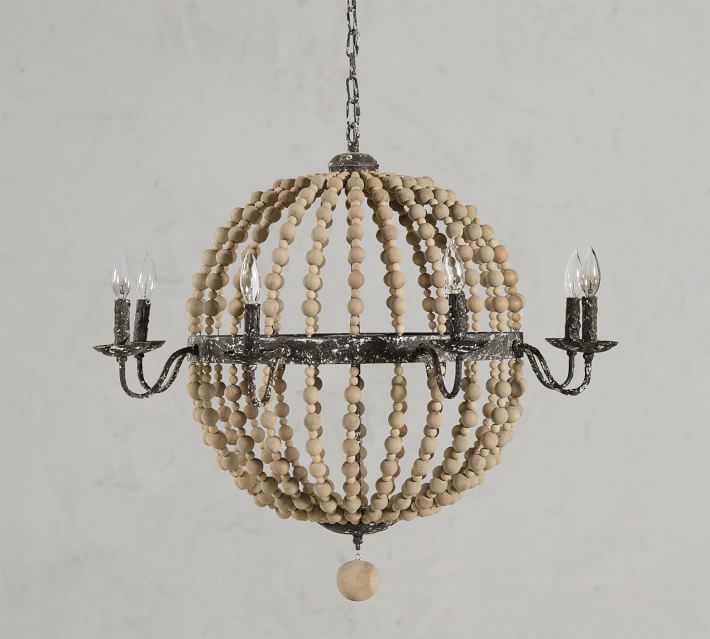 This beautiful farmhouse light fixture from Pottery Barn is definitely one that will draw the eye in any space. It's made with a metal frame that's been hand-painted with a classic distressed finish. This is one of the largest light fixtures on the list with a span of three feet wide, so snatch this one up if you have a large space to fill.
4-Light Lantern Pendant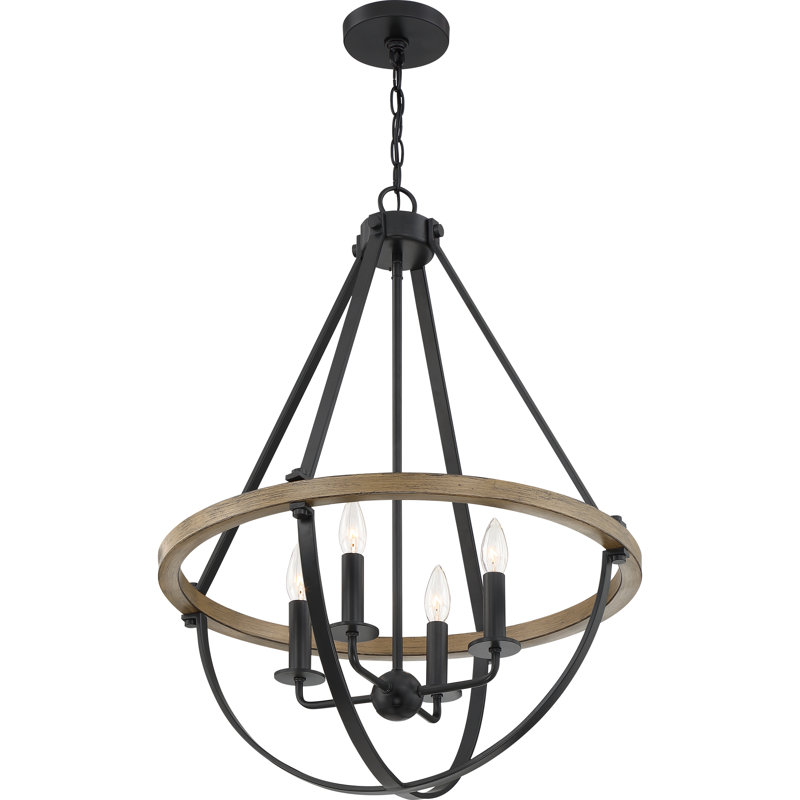 Elevate your dining room with this beautiful teardrop-shaped fixture with farmhouse flair. The combination of metal and wood makes this chandelier equal parts rustic and modern, making it an easy option for a couple who might be divided on style.
6-Light Island Linear Pendant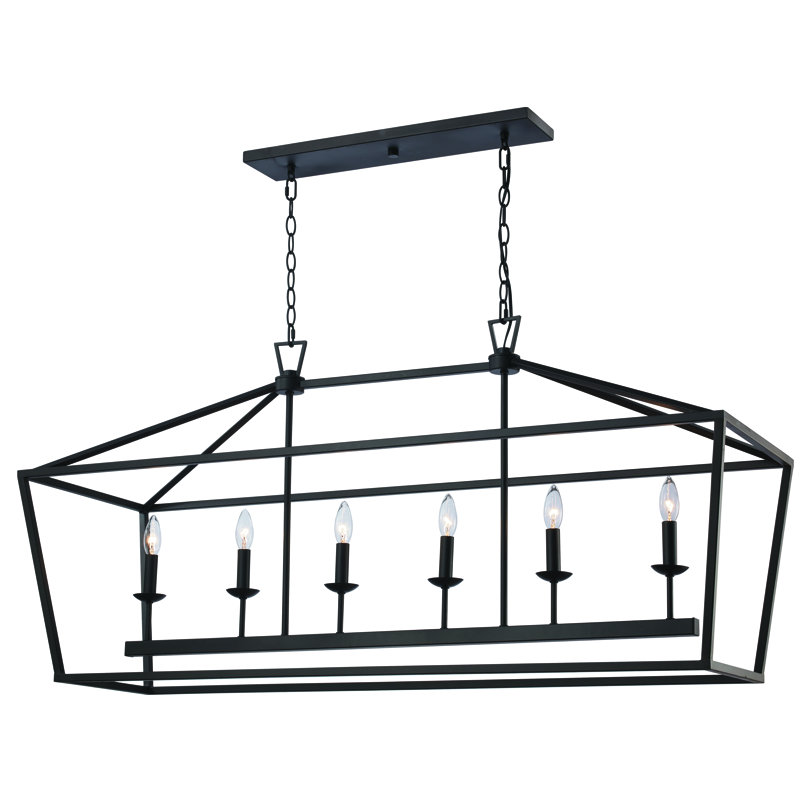 Technically, this wide chandelier is meant to go over a kitchen island. And make no mistake—it would look fantastic over one! However, I'm 100% sure that it would look just as good, if not better, over a rustic wood rectangle farmhouse table.
Open Cage Black Square Pendant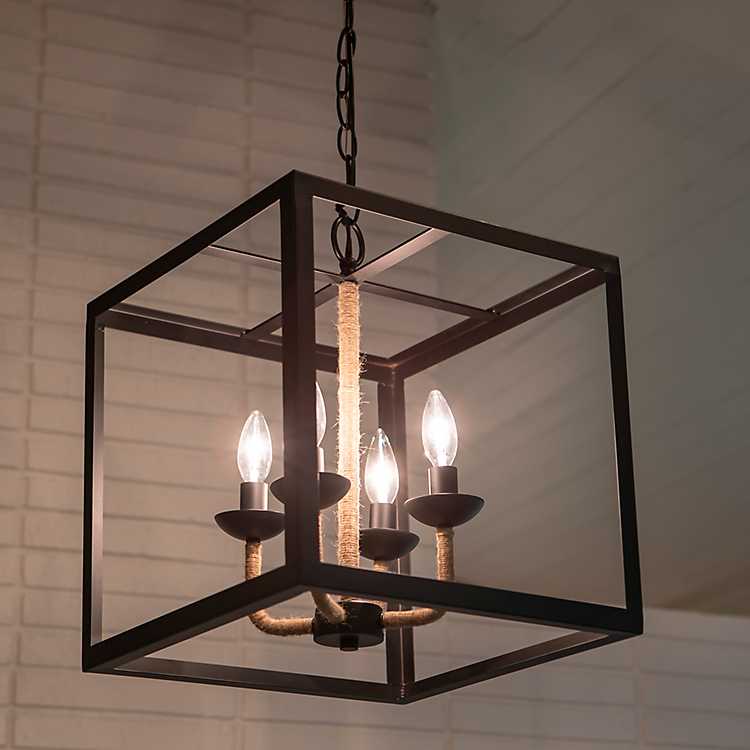 I love the texture the twine interior gives this modern farmhouse chandelier. This fixture has a touch of rustic style, as well as industrial sleekness, thanks to the oil rubbed bronze metal finish. This pendant would work well paired over a kitchen island, or over a small dining table.
Classic Antique Black Metal Chandelier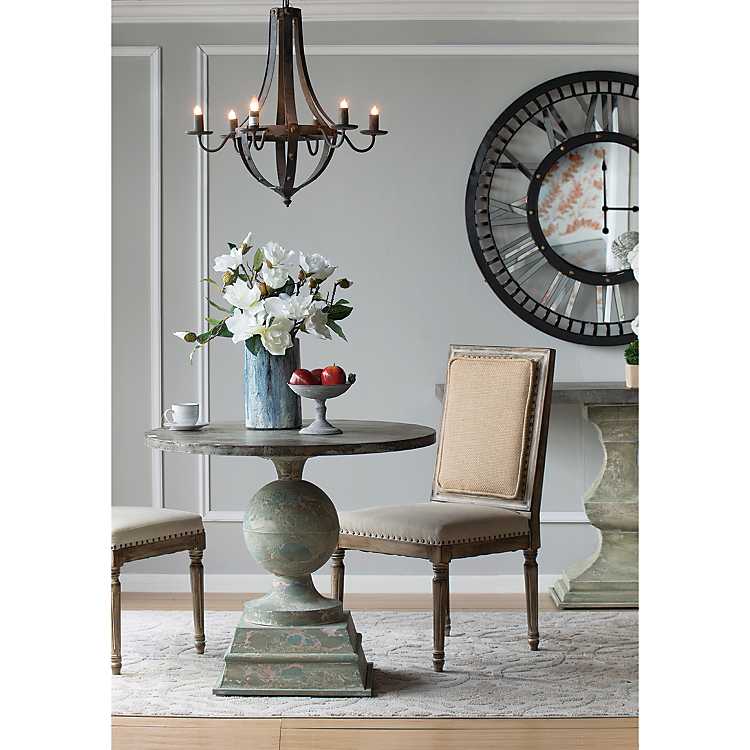 This elegant farmhouse chandelier has plenty of curves and swoops for that classic antique style. The six bulbs are perfect for illuminating any space from a fancy office to a laid-back dining room.
Craftsman Style 6-Light Chandelier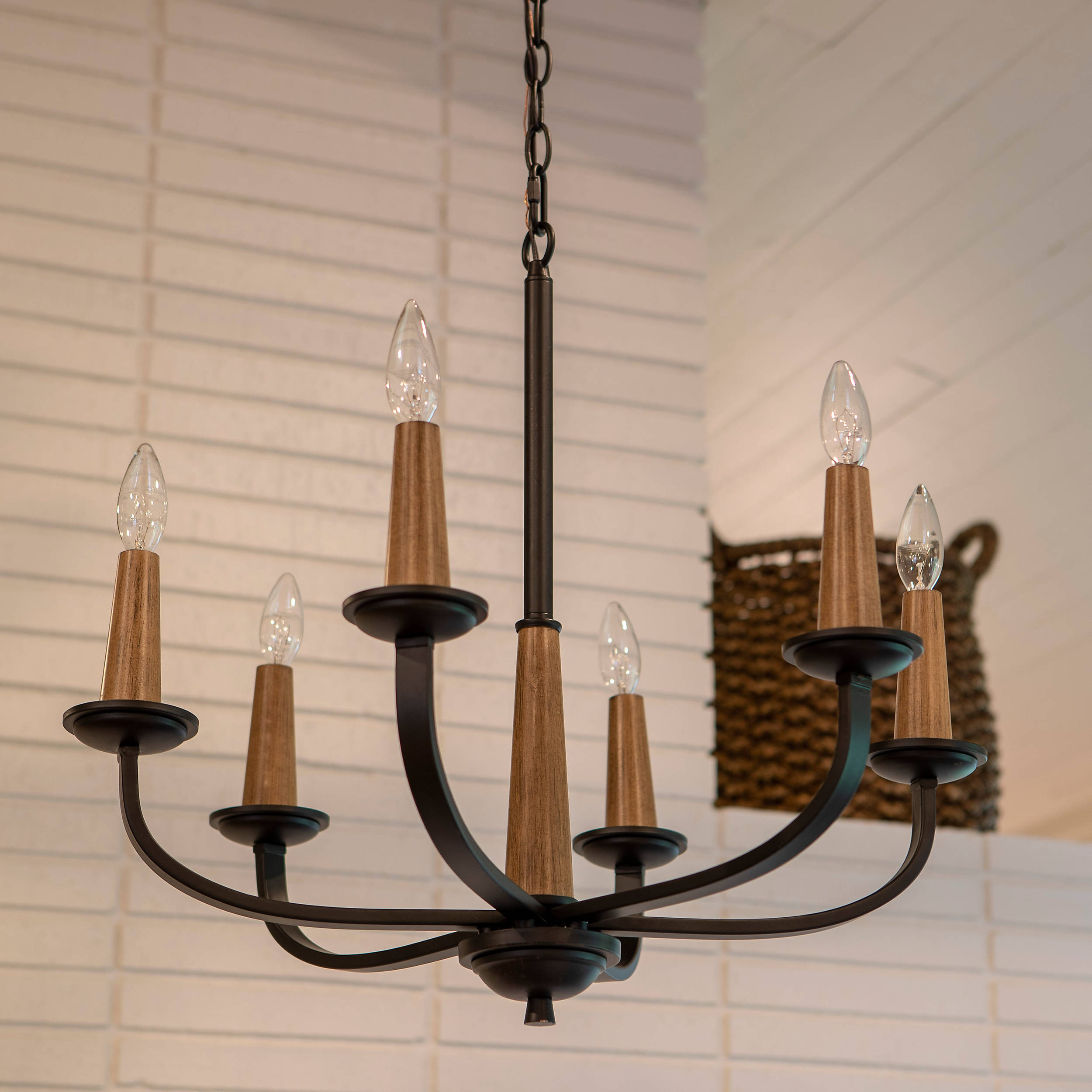 Make a stunning statement with this rustic glam farmhouse chandelier! I truly think this fixture would work well with so many styles—midcentury modern, beachy, boho, and—of course—farmhouse. This sleek light will be the star wherever you place it. I think it would be beautiful even in a living room!
Avelina 6-Light Chandelier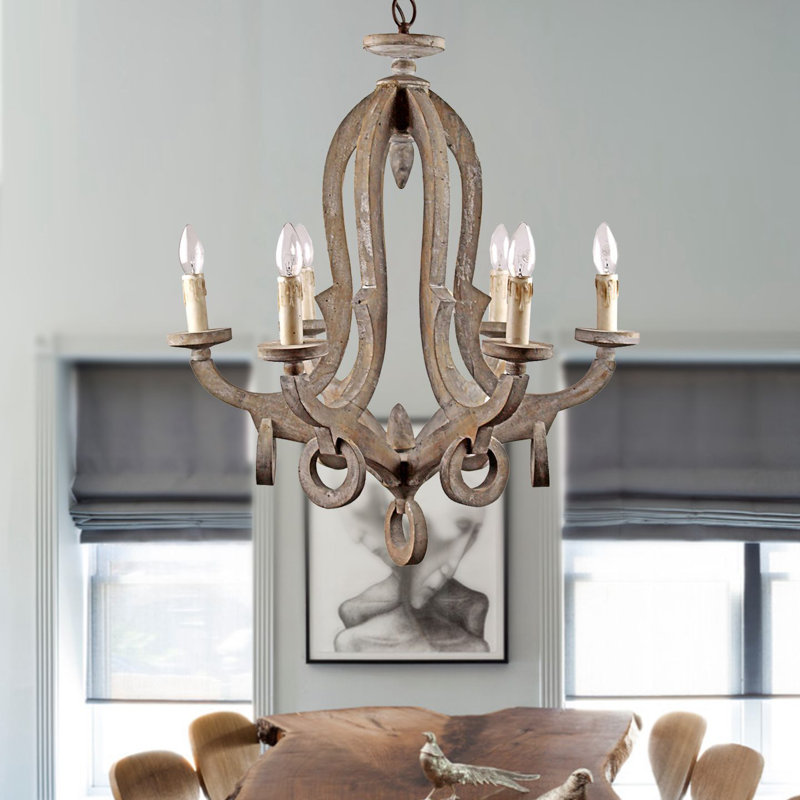 This stunning, eye-catching chandelier is sure to make mouths drop. This timeless candle-style fixture will add farmhouse style in any home. Place this pretty fixture over your dining table for some gorgeous farmhouse dining room lighting.
As you can see, there's no shortage of versatility when it comes to farmhouse chandeliers. Each one of these is sure to infuse any space with warmth and style.
Looking for farmhouse lighting on a budget? Here are some of my top picks! And if you're in the market for a farmhouse ceiling fan, I've got you covered there, too! ☺️
MORE POSTS YOU WILL LOVE:
Get Instant Access to my Guide to Customize Your Home on a Budget
Grab your FREE guide for 10 Ways to Customize Your Home on a Budget: simple projects to transform your home from builder beige to a home with character and charm!