17 Stunning, Easy-To-Install Entryway Lighting Fixtures
These beautiful entryway lighting fixtures will greet visitors and set the tone for the rest of your home. There's one for every budget and style here!
I'll admit it. It's super easy to gloss over entryway lighting. For many of us, we are running in the door and don't stop to think about the lighting situation in the entryway at all.
Until now, that is! I have been seriously impressed by some of the entryway lights I've seen lately, and am here to share them with you all. I have basically made it my personal mission to get you excited about the humble entryway light!
This post contains affiliate links for your convenience. See my full disclosure policy.
Shop Entry Way Lighting

The Foyer Pendant Lighting I Chose
I've been working hard to replace all of the light fixtures in my home that I don't really like or that bother me the most. I think that because I didn't take the time to replace the lighting when we moved into our last home, I'm making a priority on the front end now.
I lived for way too long in my old house with ugly lighting. And I regretted not changing them out sooner. It also helps that my husband has gotten really good at changing them, so that helps, too!
When I was looking for something for my new foyer, I wanted something with some curves. There are so many straight lines in this part of my home, that I thought a round entryway chandelier would be my favorite.
But the round chandelier I fell in love with was almost $2,000 and NOT in my price range. Womp. Womp.
As a refresher, this is what was hanging in the foyer when we moved in. I know so many people that love this style, but it wasn't my taste. (My girls have requested to hang it in their closet. 💗)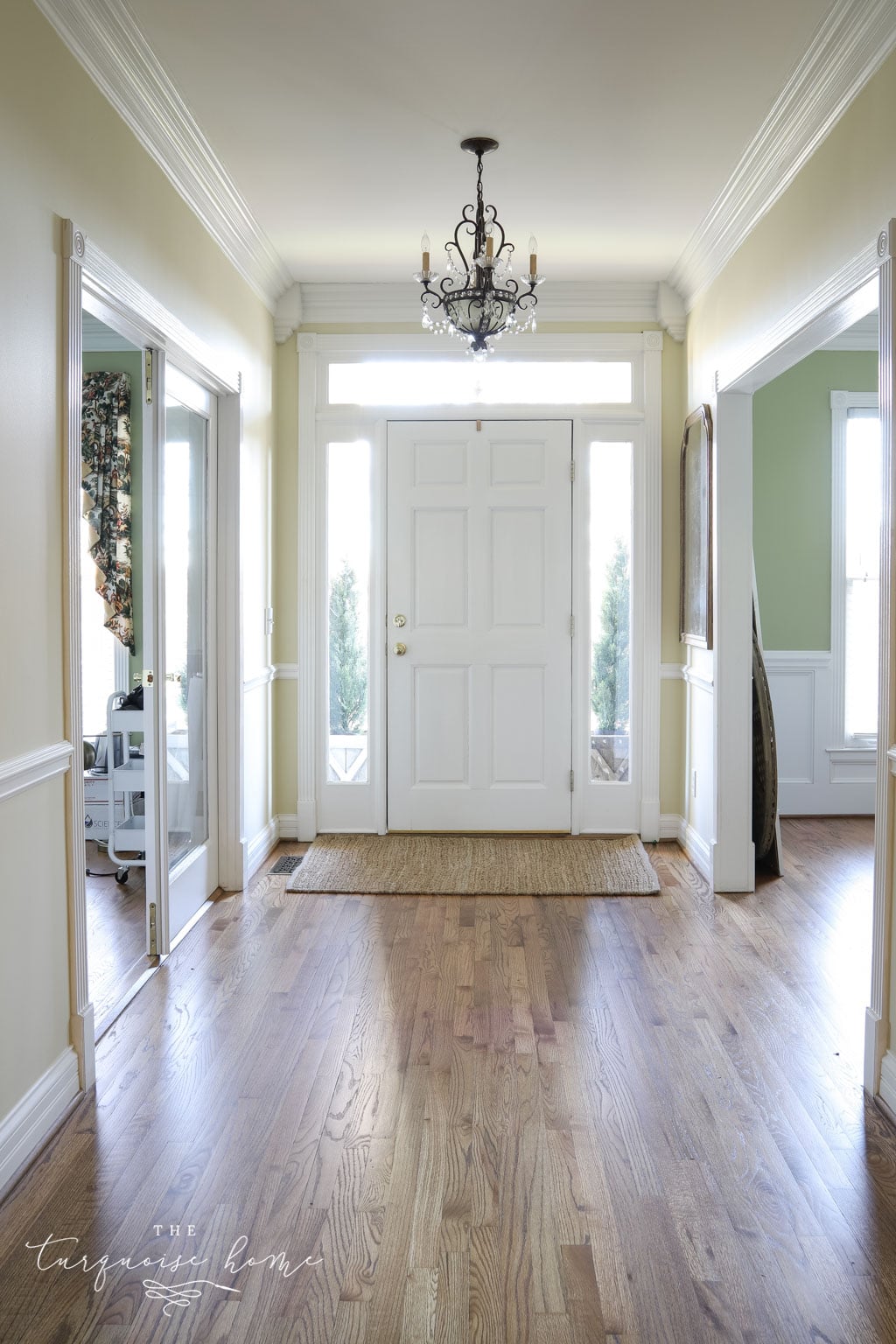 So, I set on a search for a compromise that I still loved…
The lantern foyer lighting I chose had the open, modern lines of the previous light fixture I had in my old house, but also had those curved lines at the top. 😍 #swoon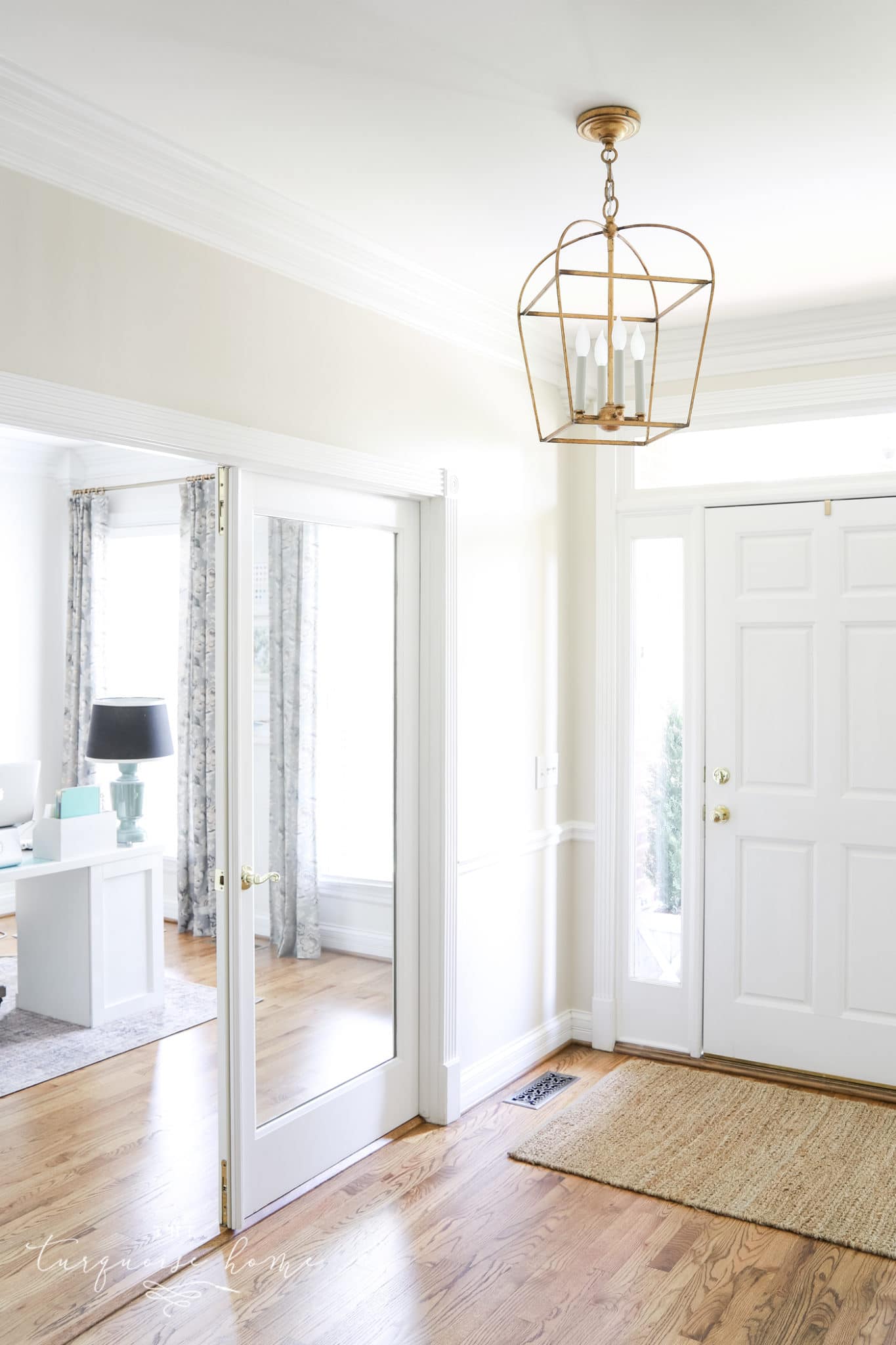 I love everything about it! The gilded gold finish, the curves, the lack of glass (less cleaning ) and the 4 candelabra lights so that it's nice and bright! I'm so glad I found something I love in my budget.
And if you're in the market for a new foyer light fixture, keep reading!\
How to Choose An Entryway Light? and FAQ's
Finding the right light for your foyer can often seem overwhelming or complicated. Unlike other rooms in your home, you are likely working with a small entryway space that has high-traffic.
It's not hard to see how the entry way can become overlooked and ignored. However, this is a space that you can have a little bit of fun with and give some personality.
Here are a few tips to help you begin to narrow down your options:
Hang your fixture in the center of the room. This means it should be center to the width of the foyer as well as the length.
Make sure the bottom of your entryway light at least seven feet off the ground. A tall friend coming to visit will thank you!
You'll need to consider your lightbulbs as well. A smaller foyer can easily get away with diffused softer lighting while a large space needs more brightness.
What is the Best Lighting for a 2-story Foyer?
If you have two stories that open to the foyer, the standard design practice is to hang the fixture so that the bottom is level with the second story.
How big should a light fixture be in an entryway?
The light shouldn't be so large that it extends lower than 7 feet off the ground. I had to choose the small version of the light for my entry way, because otherwise it would have been to tall and people would have bumped their heads on it!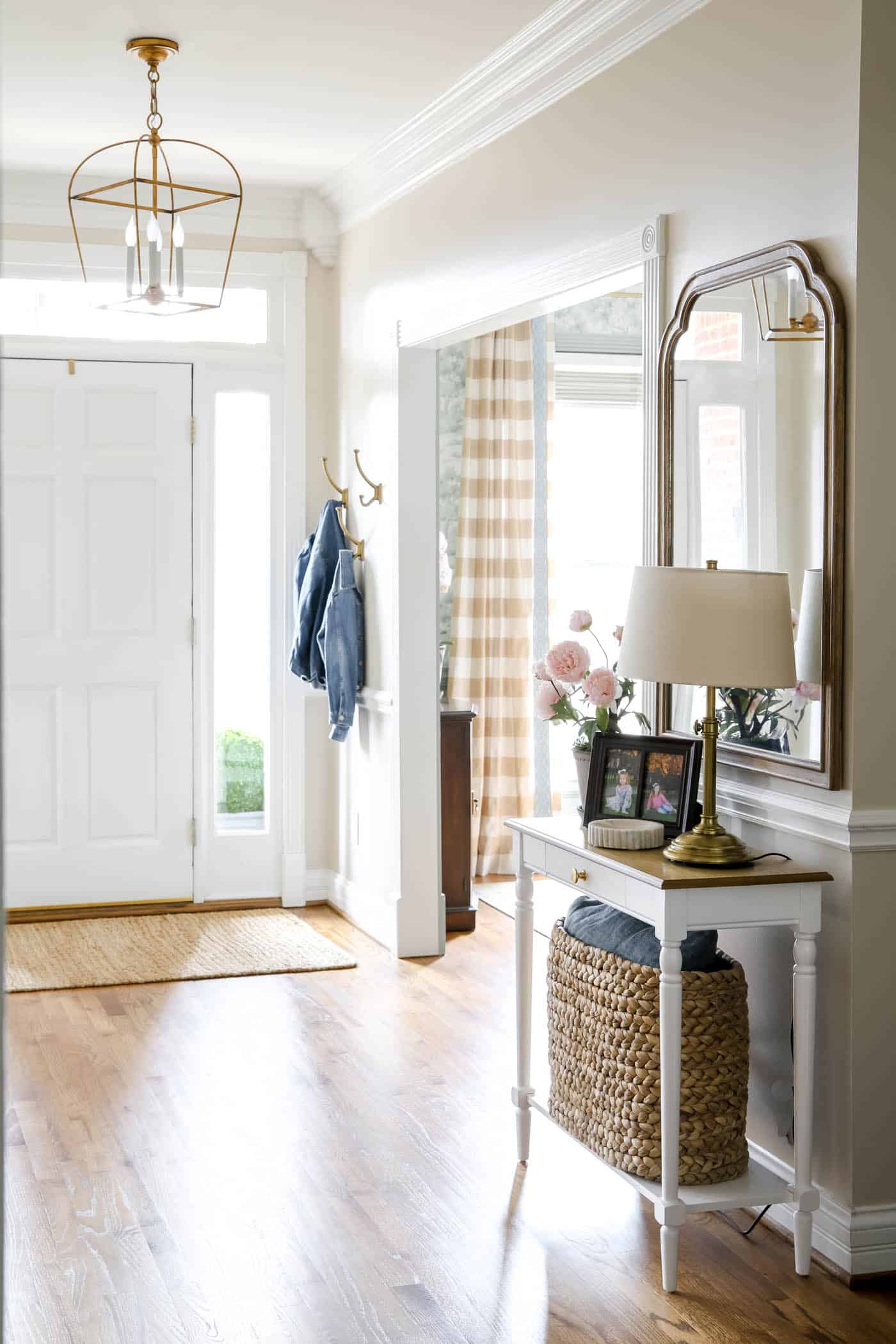 The Best Entryway Lighting Fixtures
Now that you have some quick tips for choosing the right entryway light for your home, let's start shopping! There is truly something for every home on this list as a variety of styles work in the foyer.
Here are some of my favorite entryway lights to consider.
Capiz Pendant
This pretty Capiz Pendant is such a statement piece! The light is diffused by the hundreds of capiz shell petals that make up the exterior, and it casts the prettiest shadows on the wall. Honestly, you can put this one anywhere in your home (like in the bedroom pictured below!) but I like it for the entry area.
If you have an entryway with a lower ceiling height, you can still get this look by purchasing the Capiz flush mount light.
I love these pretty Capiz lights in any home that's going for that coastal vibe!
Tap the Images Below to Shop:

Manor Indoor/Outdoor Glass Pendant
If you are looking for something more traditional foyer lighting ideas with cleaner lines with a touch of modern farmhouse, this round glass pendant is worth looking at. I particularly love the combination of dark bronze and glass, but you can also grab this entryway light in white or nickel.
The round chandeliers are perfect for breaking up a foyer with a lot of straight lines!
Tap the Images Below to Shop:

Drum Pendant
I mentioned this above, but the entryway sets the tone for the rest of your home. That includes the entryway ceiling lighting! I have been eyeing this woven drum pendant for quite a while—I think this would be perfect for those who have beachy or traditional style in their home.
Tap the Images Below to Shop:

Modern Contemporary 4-light Lantern Chandelier
Do you and your significant other disagree a teeny, tiny bit on home decor and style? If so, this entryway pendant can be the perfect compromise for you both.
This pendant light combines transitional curves and modern straight lines, and is very similar to the light I chose! It's even made of two different colored materials!
Whitewashed Wood Draped Beaded Chandelier
In case you haven't noticed, beaded chandeliers like this one are super on-trend right now. However, I think they look classic enough to stand the test of time, so you won't have to worry about replacing it a few years from now.
I particularly love the texture this light has—there are more than 1,000 whitewashed beads in this beautiful foyer chandelier. It's perfect for a coastal, beach vibe!
Tap the Images Below to Shop:

Kentfield Pendant
This traditional pendant looks beautiful over this dining room, of course. But I could see this one hung in the entryway of a home just as easily. There's no glass panes in this light, so it feels a bit more modern and airy than some of the other options. (Also, no glass means less to clean!)
Plus, I love the finish on this large pendant. It's made with a gilded finish instead of the typical brass or painted gold. The details make a big difference here. I actually chose a similar lantern light fixture for my own entryway in the last house!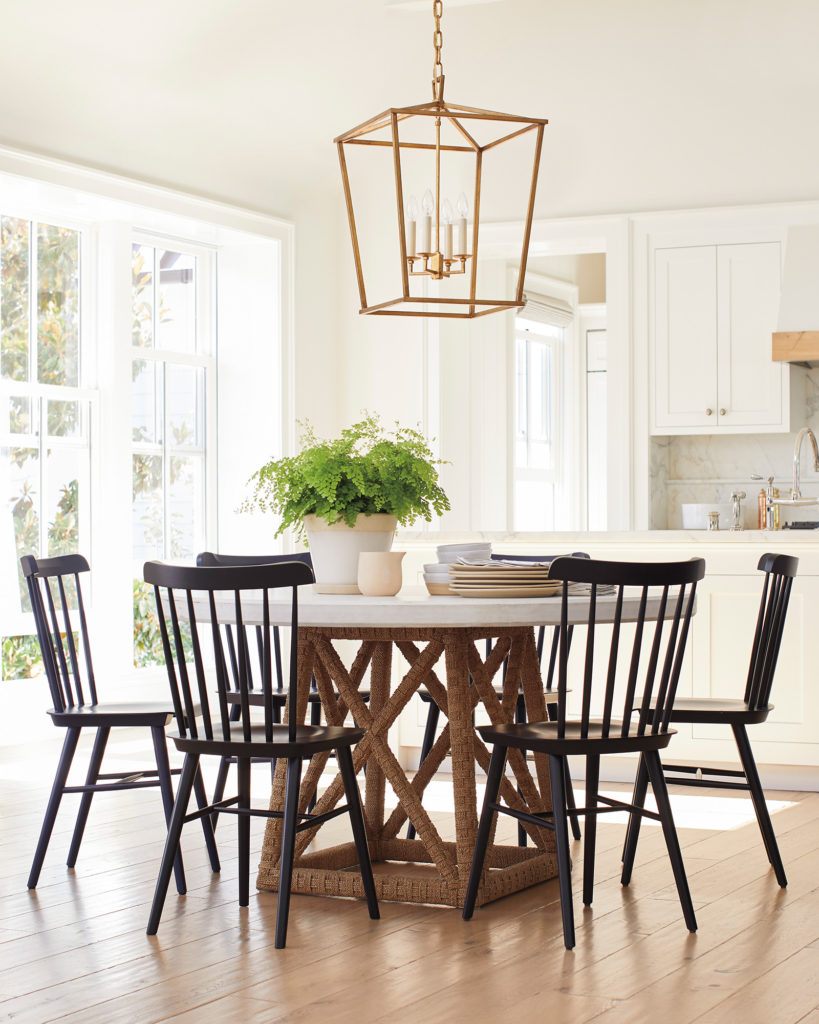 Tap the Images Below to Shop:

There you have it! Aren't these entryway lights gorgeous? Trust me, you'll take notice of the lighting every time you walk into a new home now.
Which one is your favorite? I'd love to hear in the comments!
More Posts You Will Love: