Farmhouse Ceiling Fans We Love!
Here in the South, a ceiling fan is a necessity. Girl, it is HOT! But despite the bad rap that ceiling fans can get, there are some really cute farmhouse ceiling fans on the market. The lighting companies have come a long way from those old, ugly white ceiling fans we all had in the 80's and 90's. Remember those??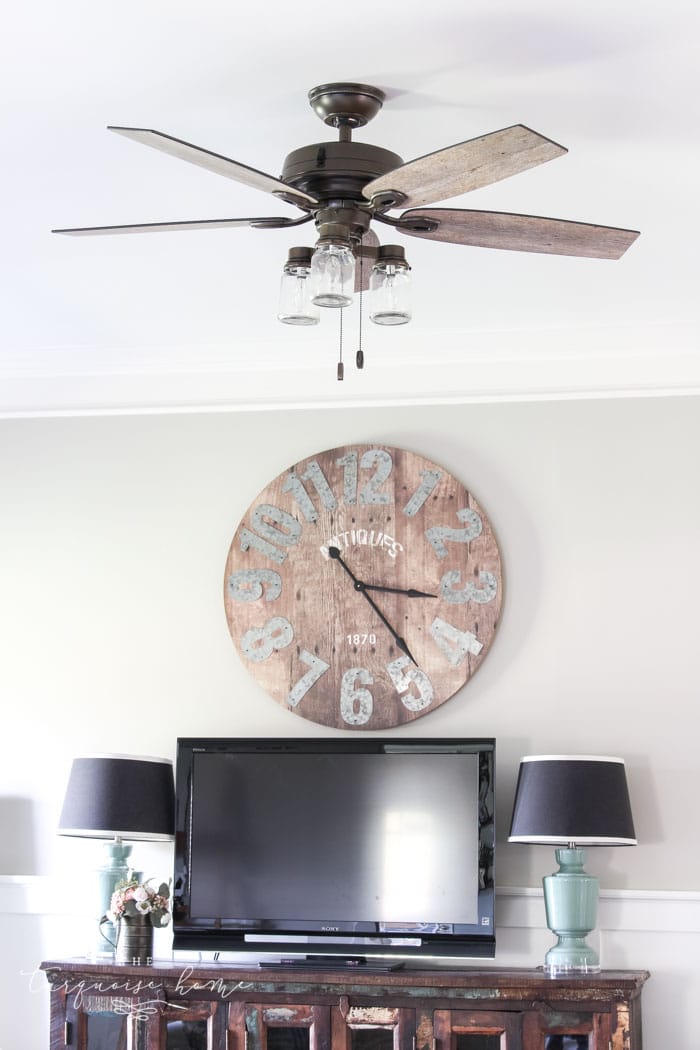 I've long loved the farmhouse lightning look and you can see my Budget Farmhouse Lighting Faves and How to Add Old House Charm with Schoolhouse Lighting. Using these guides, you'll be replacing all of your builder-grade lighting in no time – and on a budget, no less! 😉
This post contains affiliate links for your convenience. See my full disclosure policy.
But I recently upgraded the ceiling fan in our living room to this gorgeous, rustic farmhouse-style ceiling fan with mason jar-like globes. The price cannot be beat and I loved the wood tones on the fan blades, and the simplistic style.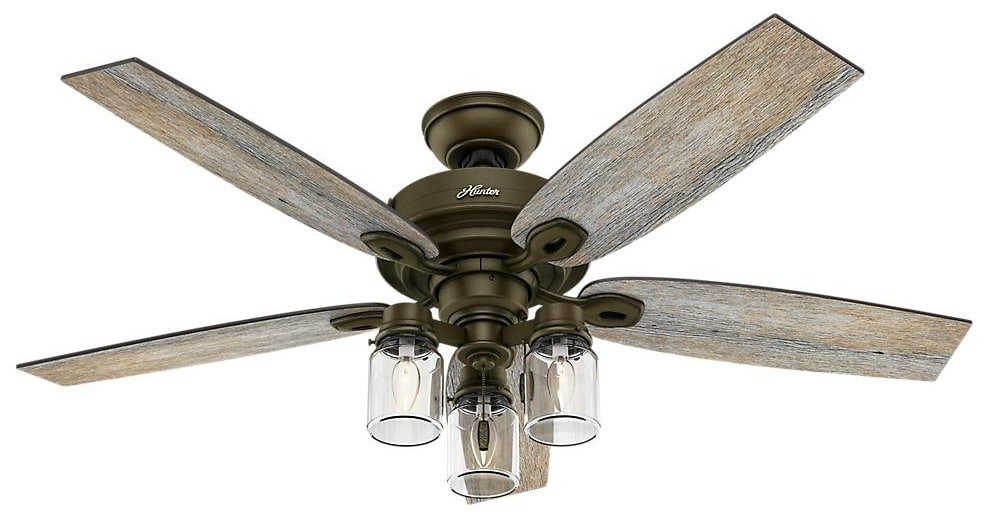 The change was a loooong time coming, because I wanted to take down the old ceiling fan since the day we toured the house. And I'm happy to say that this lighting switch completes the lighting changes in our open-concept living area! Woohoo!!!! It only took 6.5 years. LOL
We changed our kitchen lighting in this post and our entry way lighting in this post.
But back to today's topic! We love this new farmhouse ceiling fan!
I love that this ceiling fan is silent and doesn't shake. I think it's due to the quality of the fixture and the heaviness of the base. It's really solid, which is nice. I was worried that being heavy duty would make it hard to install.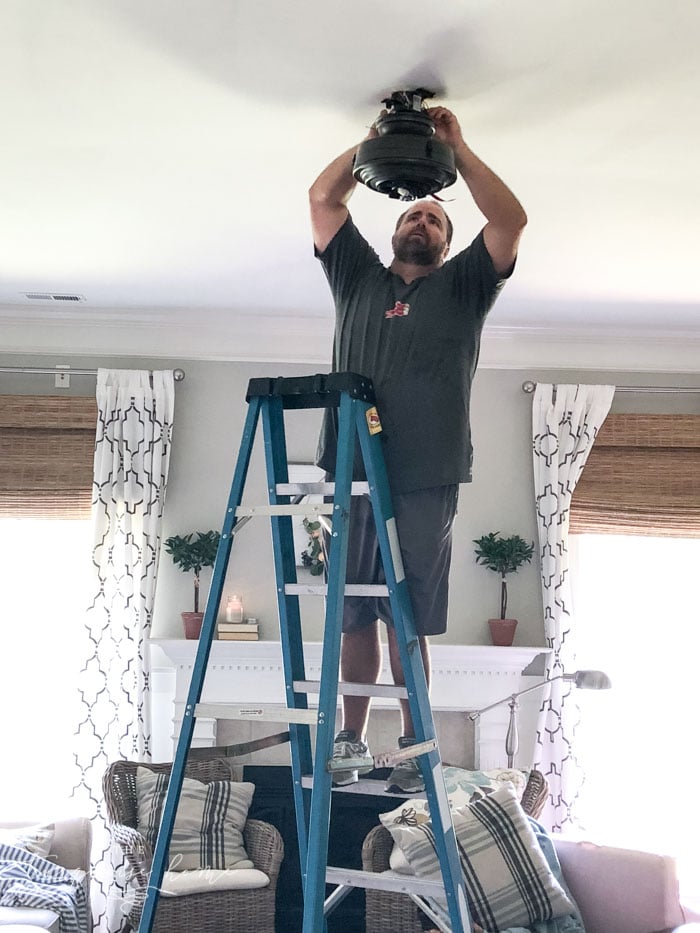 Have you ever tried to put in a light and you have to hold the lighting kit up near the ceiling while you connect all of the wires?
It's so hard and can be quite painful. But these engineers were geniuses and made it so that you can hang the fan up while you're attaching the wiring and don't have to hold it. There's also plenty of room at the ceiling to move the wires around. My husband, Coach, was happy he didn't have to stuff the wires up into the ceiling, too.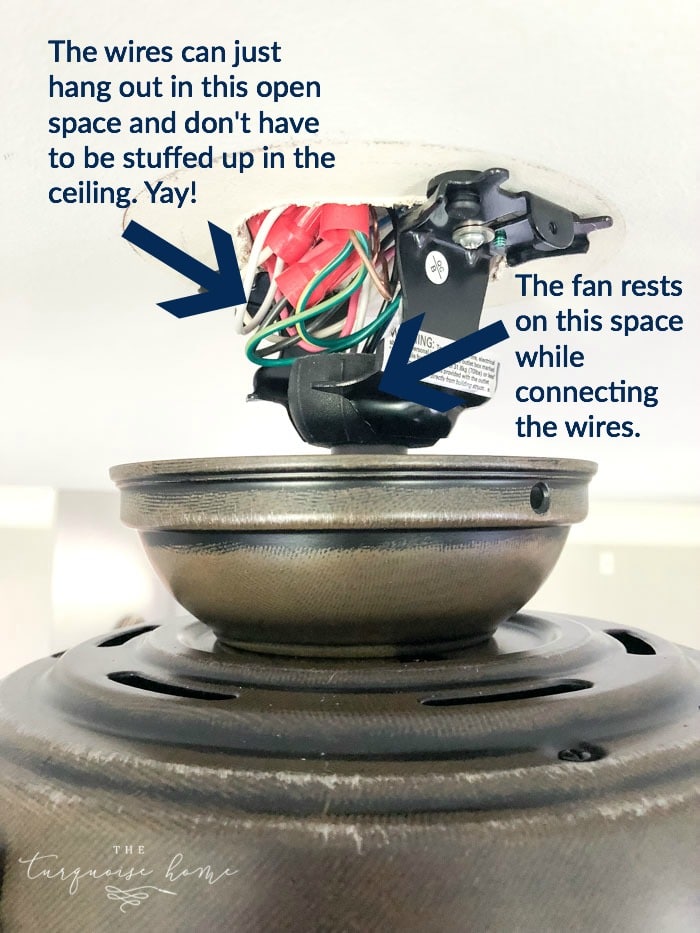 Coach said it was the easiest installation he's ever done!
And now it's so much prettier than the light before!
This was the light before. It wasn't awful, but what you can't see is that two of the fan blades had noticeable gashes on them (from the previous owner) and it wasn't my style at all!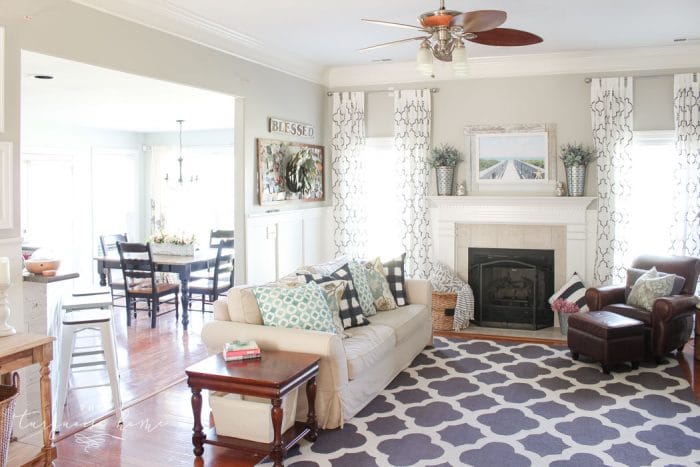 It was hard to find a good photo of it, because I normally tried to crop it out of every photo! Ha!
And now look how pretty and cohesive with my style! I looooove it!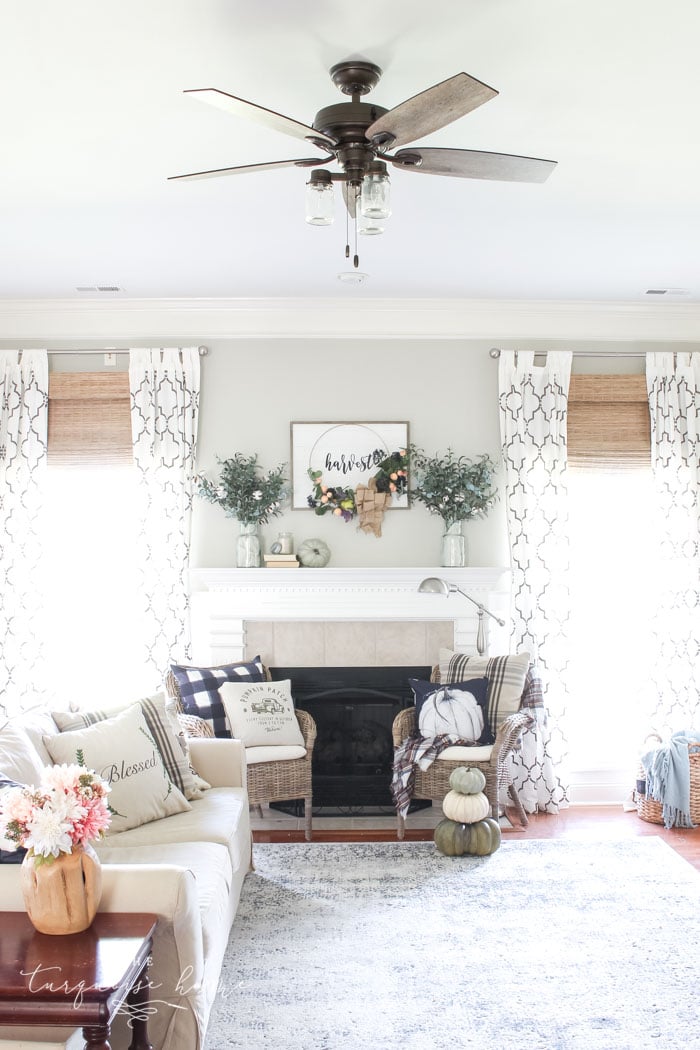 And since I found my lovely ceiling fan brings me much joy, I thought you might need to bring yourself some of that same joy! We're going to be replacing the ceiling fan in our bedroom soon with one of these I've shared below and I can't wait! (Our current fan is broken.)
I'll tell you at the end which one it's going to be! 😜
The Best Farmhouse Ceiling Fans
Ceiling fans aren't going away here in the south. For a while there many designers were trying to eliminate them altogether. But Joanna Gaines' ceiling fans in Fixer Upper let us know that it's OK to use them when it's blazing hot outside 8 months out of the year!
Helloooooo all the southern states. 👋🏻 We all just breathed a collective sigh of relief. We can keep our cooling contraptions after all – and by golly these are super cute!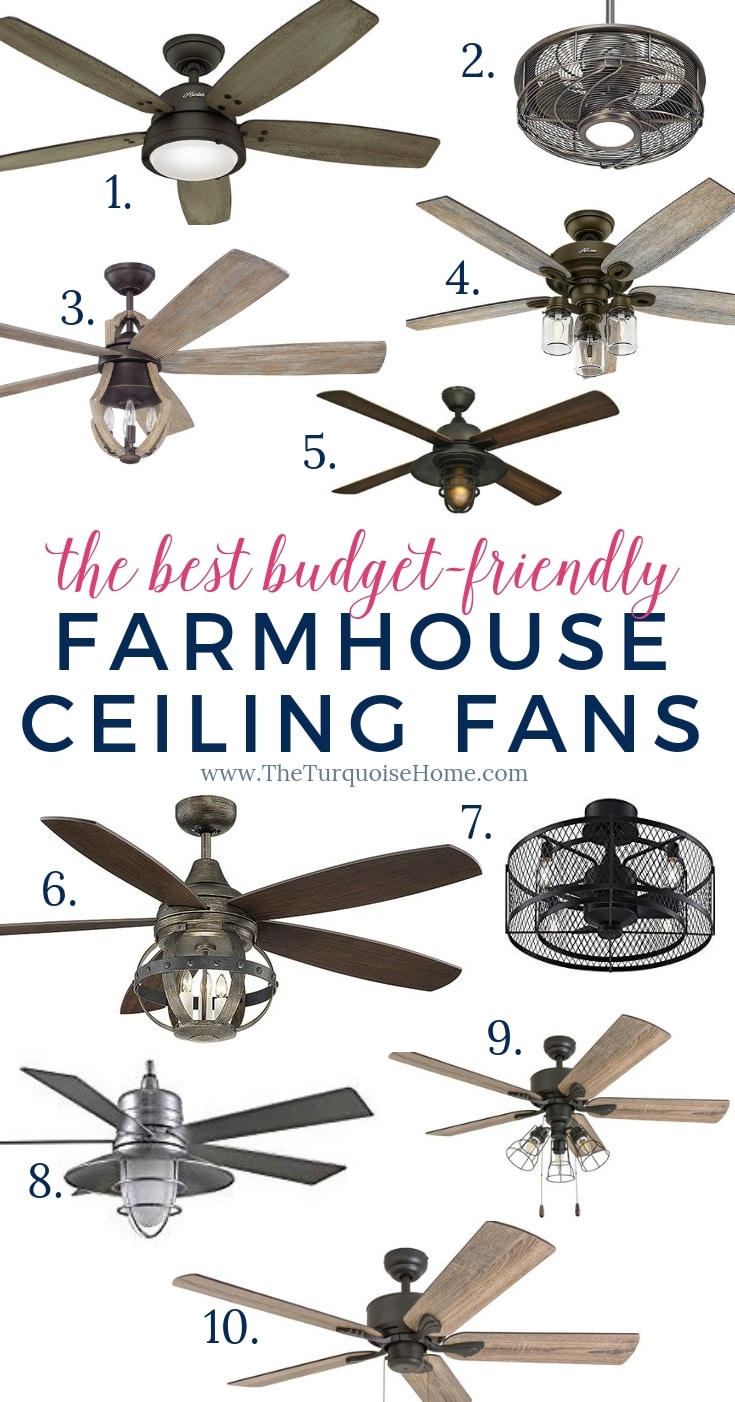 1. Hunter Channelside Bronze Ceiling Fan. This rustic industrial fan's laidback, low profile is perfect for the casual space! (Psssst … this is the one I'll be using in our bedroom very soon!)
2. Casa Vestige Antique Bronze Cage Ceiling Fan. This eclectic, industrial style ceiling fan would be perfect for a kids bedroom with bunk beds!
3. Craftmade Modern Farmhouse Ceiling Fan. Isn't this one just a beauty?!? I love the candelabra style with weathered pine blades and a rich bronze finish. Be sure to read the reviews on this one before purchasing, because the fan blades seem to be darker than the photo. It's still very gorgeous!
4. Hunter Crown Canyon Bronze Ceiling Fan with Mason Jar Style Lights. This is the fan I just installed in my living room and it was love at first sight! Everything from the color of the fan blades to the mason jar style lights, it's my fave. The fan is very steady, puts off a nice glow, but not too bright and moves a LOT of air!
5. Westinghouse Great Falls Ceiling Fan. (The exact fan in the photo is not longer available, but this ceiling fan is very similar!) This indoor/outdoor fan would be perfect for a covered porch or patio. Or put it inside for a rustic, casual farmhouse vibe!
6. Savoy House Ceiling Fan. This Farmhouse Ceiling Fan has a gorgeous metal barrel around the lighting! Love the candle-style lights as well!
7. Animation Studio Collection Ceiling Fan. This vintage-style cage drum fan is so cool!
8. Galvanized Farmhouse Ceiling Fan. The simple, farmhouse-y style of the indoor/outdoor fan would look perfect in your real (or aesthetic only) farmhouse!
9. Gracie Oaks Industrial Ceiling Fan. This industrial cage light fixture ceiling fan is perfect for the farmhouse lover and budget-conscious shopper.
10. Gracie Oaks Ravena Ceiling Fan. A basic ceiling fan with no light kit is a budget friendly option for farmhouse style for less than $130!
Let me know which ceiling fan is your favorite in the comments!
And if you found this post helpful, or want to save it for later, please feel free to pin the image below!
Happy shopping!!