Farmhouse Light Fixtures make a beautiful statement in any home. And this roundup of gorgeous and budget-friendly farmhouse lighting ideas will not only look stunning, but be kind to your wallet as well!
Hey hey, my friends! Did y'all see the new modern farmhouse lighting in my kitchen? I love both of them so much, I thought I'd share some of my budget farmhouse lighting finds that I found in my searches for new fixtures!
Bonus: most of these can be found at Amazon with free 2-day Prime shipping! Yay!!
If you are also looking for budget farmhouse ceiling fans, I've got you covered right here!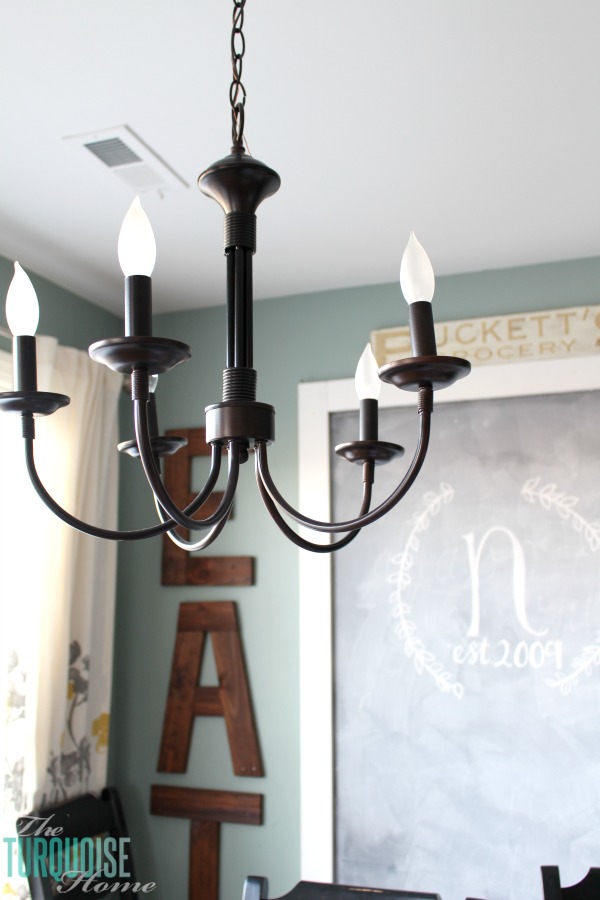 I know Fixer Upper is all the rage these days, as is the farmhouse trend. I'll be honest that in the past year, I almost talked myself into shying away from the farmhouse look. I thought I might just like it because it's so popular.

But then I remembered that my very first DIY project, almost 4 years ago was a night stand that has very much a farmhouse vibe.
Oh, and then there's my farmhouse headboard in my bedroom.
And then I can't forget about my farmhouse table that I built more than 3 years ago.
And even more? I've been drooling over Pottery Barn and Ballard Design catalogues for decades now. (Hello … from watching Friends back in the day.)
The ear-marked and worn out catalogues that covered my floors in high school were my first exposure to the farmhouse style. Yeah, I think this 90's girl loves it.
So, I've decided to embrace it, in spite of its cultural obsession popularity. My kitchen is decidedly going in the farmhouse direction with white cabinets, industrial farmhouse lighting, a huge chalkboard … and much, much more to come!
Favorite Budget Farmhouse Lighting Finds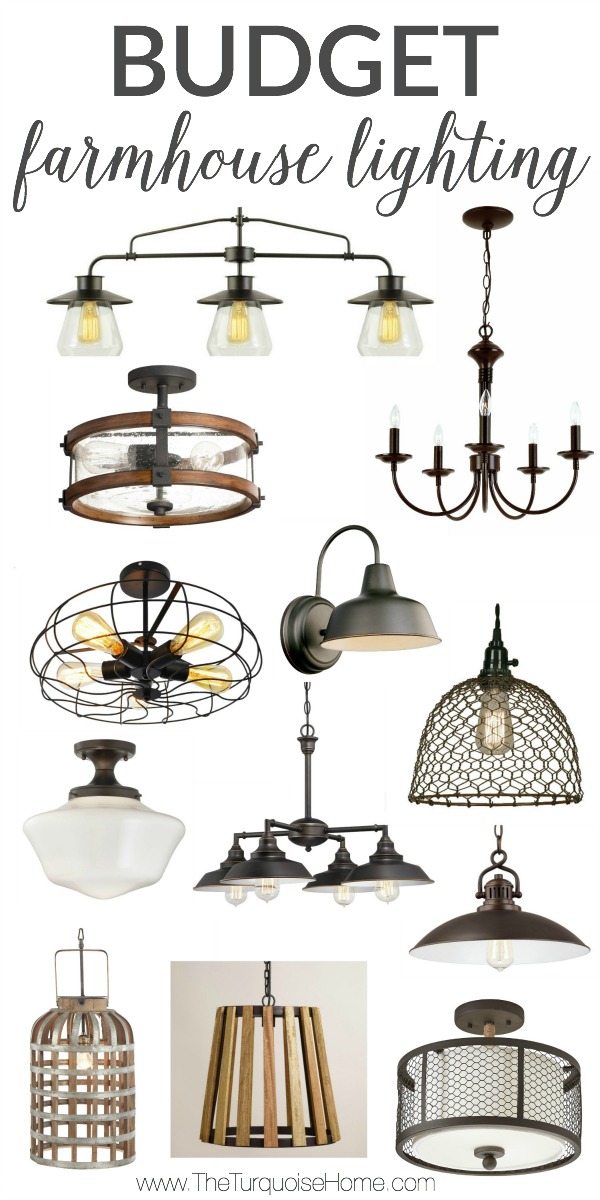 I've grouped these into groups of 3, so that it's easier to find which one you're searching for:
First "Row":
3 Light Vintage Hanging Pendants // 5 Light Bel Air Chandelier // Distressed Black and Wood Semi-Flush Mount
Second Row:
5 Light Vintage Barn Metal Semi-Flush Mount // Oil Rubbed Bronze Outdoor Downlight // Chicken Wire Dome Pendant Light
Third Row:
Bronze Schoolhouse Ceiling Light // Oil Rubbed Bronze 4-Light Chandelier with Metal Shades // Burnished Bronze Metal Pendant
Fourth Row:
Aluminum and Wood Pendant Lamp // Wood Slat Pendant Lamp // Burnished Bronze Chicken Wire Semi-Flush Mount
Y'all know which ones I picked. If not, check out the new farmhouse chandeliers in my kitchen right here.
Which one is your favorite?!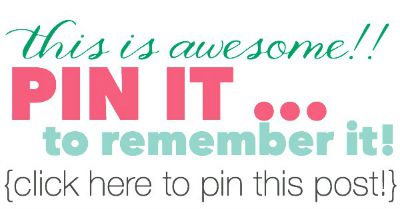 Get Instant Access to my Guide to Customize Your Home on a Budget
Grab your FREE guide for 10 Ways to Customize Your Home on a Budget: simple projects to transform your home from builder beige to a home with character and charm!