Are you shopping for the best artificial Christmas trees this year? Take a look at these evergreen beauties just waiting to decorate your home!
I'm nothing if not an aficionado of the best fake Christmas trees. Why?!? Well, I have never had anything but fake Christmas trees in my home and I think my parents had real trees when I was a preschooler, but around the age of 5 or 6, they switched to artificial and never looked back.
This post contains affiliate links. See my full disclosure policy here.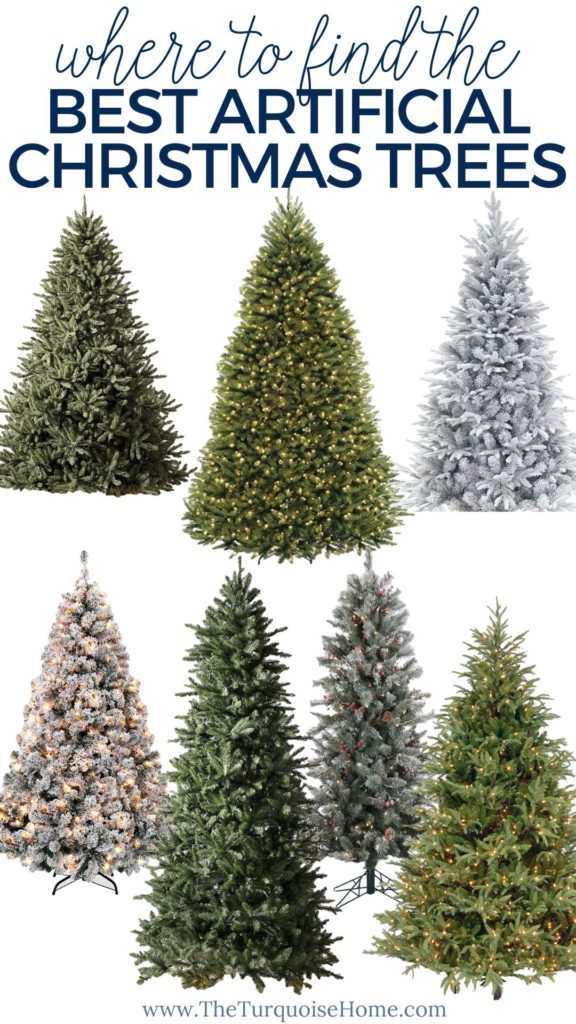 Top Row (L-R): 1 // 2 // 3 | Bottom Row: (L-R): 1 // 2 // 3 // 4
And I've been decorating with faux Christmas trees ever since I first decorated my apartment in college, so I've got a few years of experience under my belt. By the way, I'm allergic to the real thing and so is one of my kids. Hence the "never been to a tree farm" life I live.
It's safe to say a faux tree is not going to hamper the holiday glow in your home. (And if you want the real tree smell, I highly recommend these "Tree Farm" candles. Ahhh-mazing!!) Look for beautiful trees with hinged branches and "true needles" or "real feel" branches if you want the most natural look.
And best of all, the options are unlimited with pre-lit, snow-covered, and varying heights. So, I'm here to help narrow down your choices in case you feel overwhelmed!
Let's take a look at some of the best Christmas tree on the market this year!
The Best Artificial Christmas Trees of 2021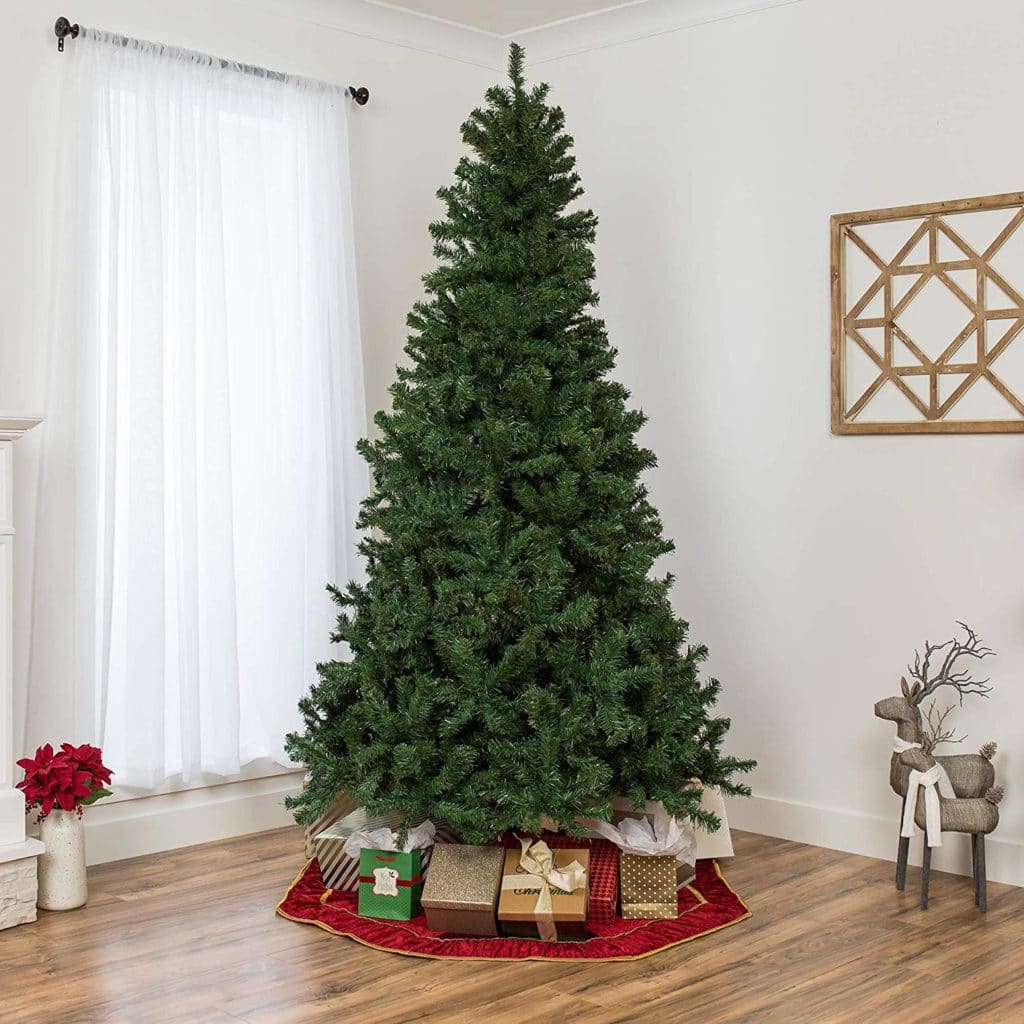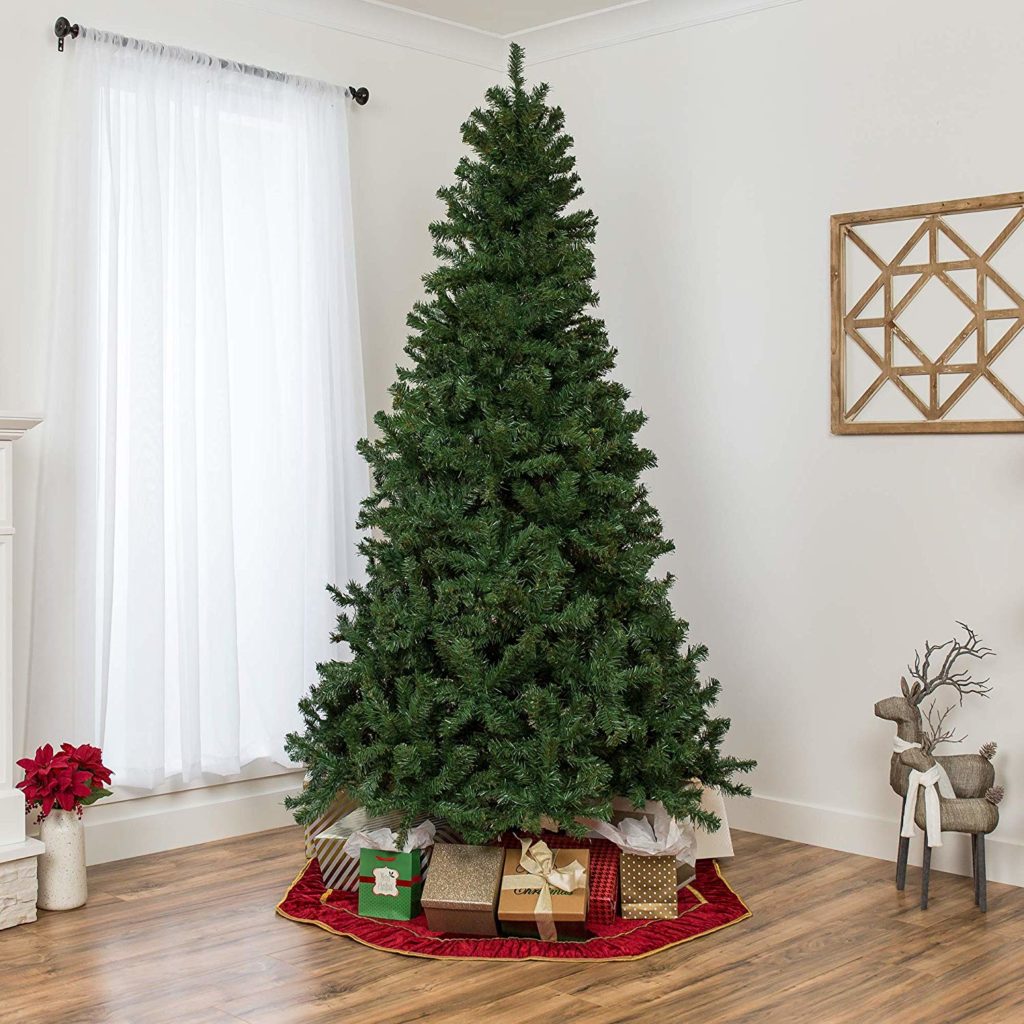 Best Value Overall: Best Choice Premium Spruce Hinged Artificial Christmas Tree – This is the non-flocked, non-lit version of my favorite flocked trees below. It's easy to set up, and truly the best overall value and best looking tree overall!
Want to know the BEST way to string lights on a Christmas tree so that it glows? Click here!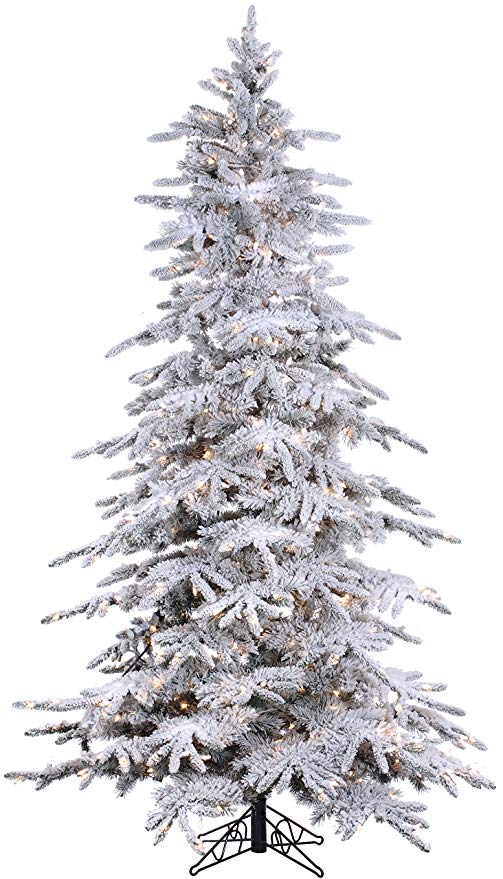 Best Flocked: Artificial Flocked Realistic Pine Tree – Snow-flocked tips create a unique wintry feel, making this 7.5-foot Christmas tree an eye-catching addition to any room during the holidays.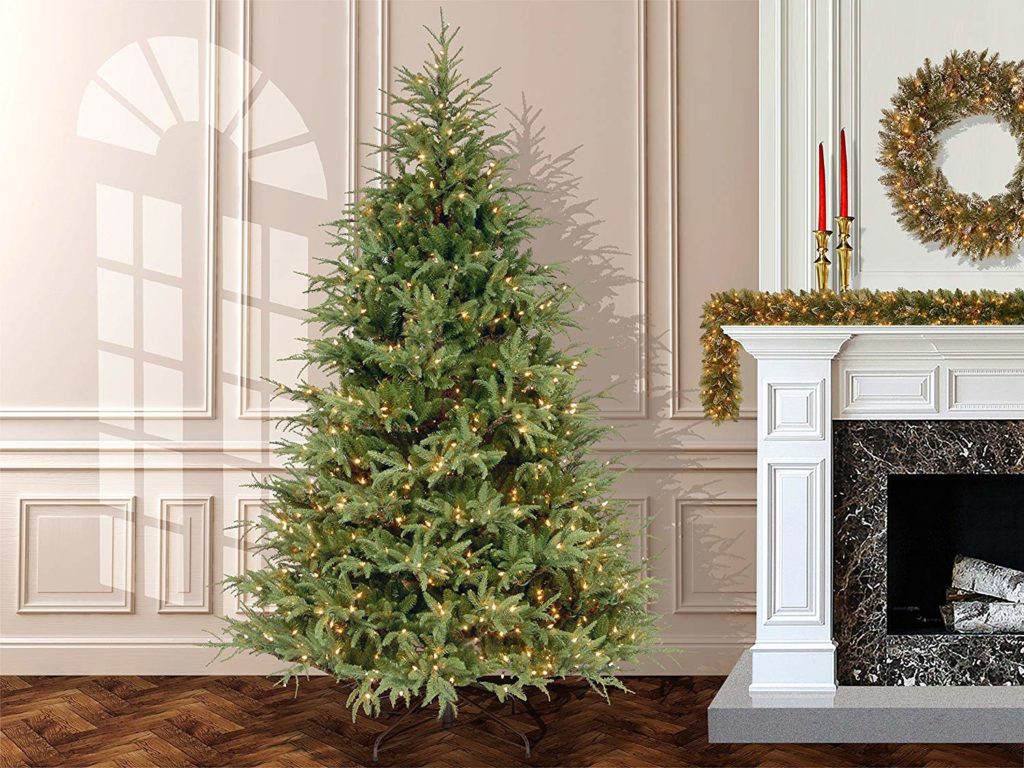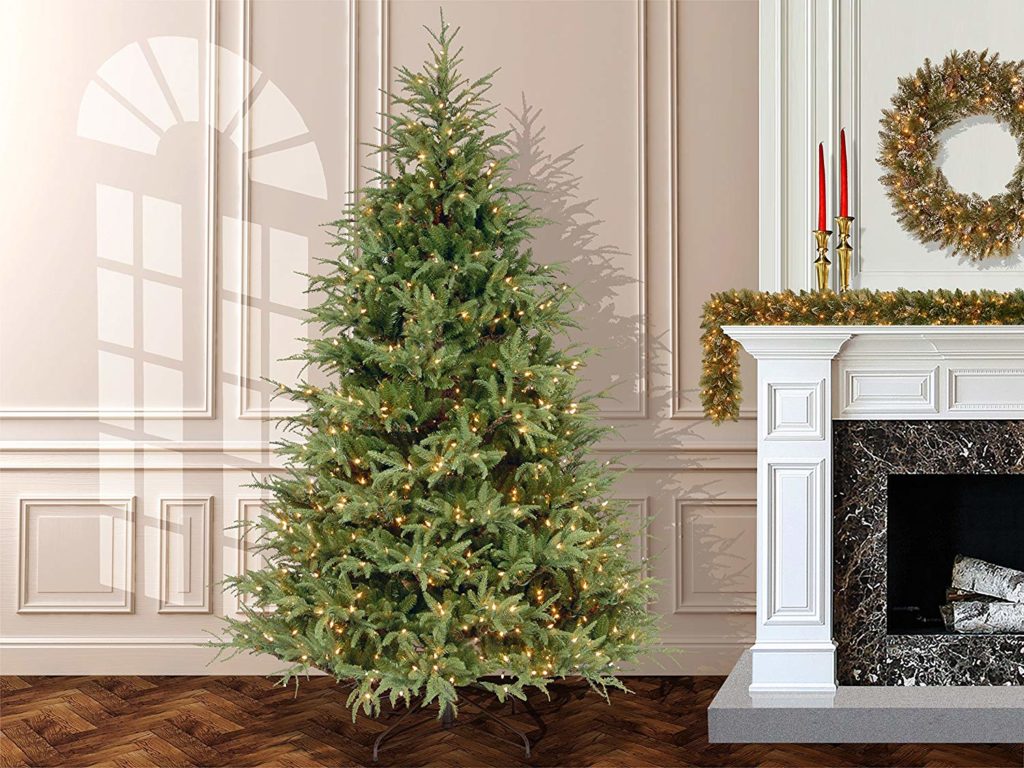 Best Pre-Lit: National Tree Company "Feel Real" Frasier Grande Tree – The "feel real" branch tips come with 1,000 clear Christmas lights. This is the tree I bought for our new house last year and it's gorgeous!!! Another great option is the National Tree 7.5 Foot "Feel Real" Downswept Douglas Fir Tree.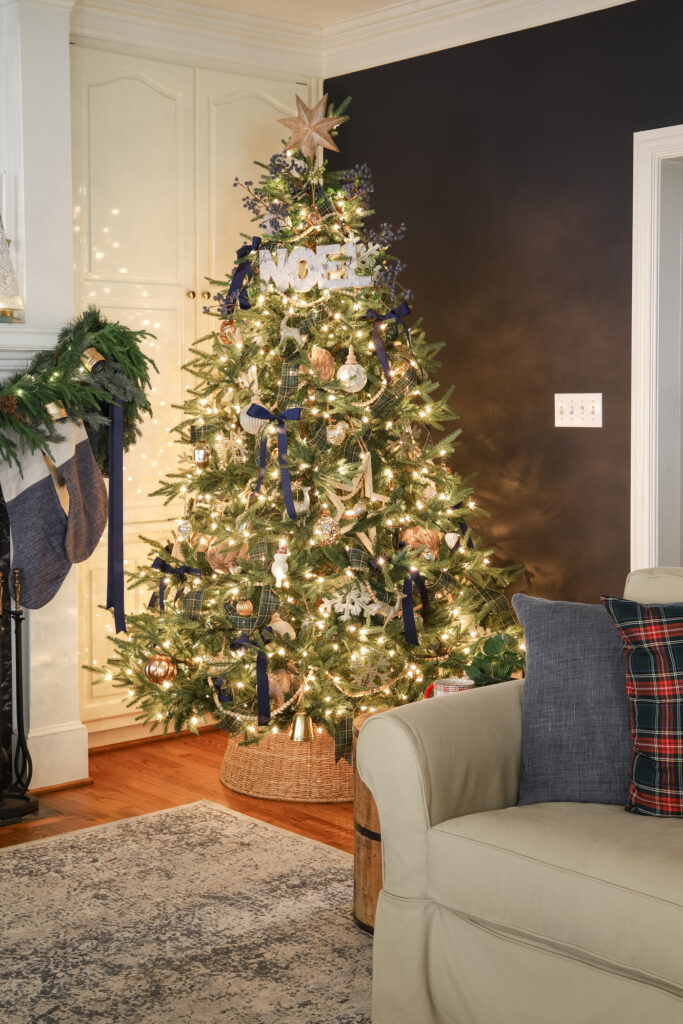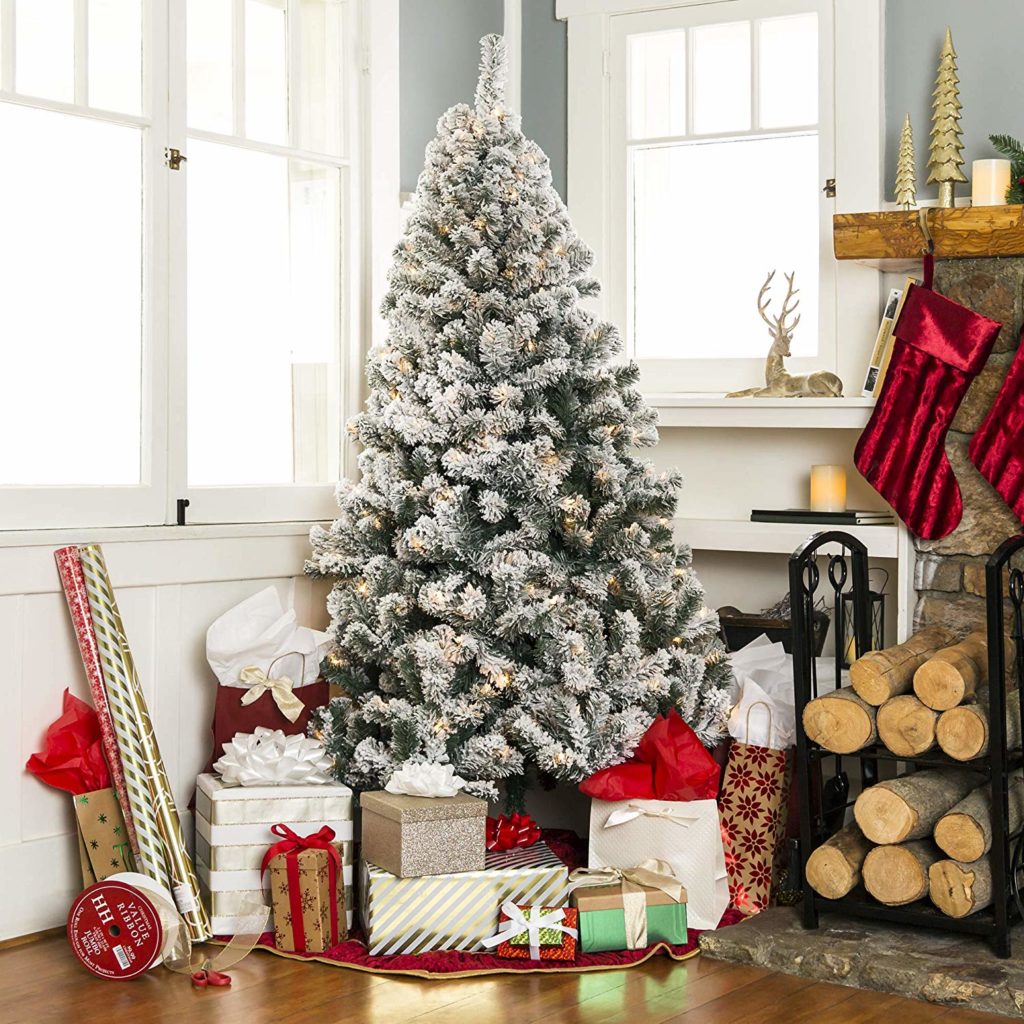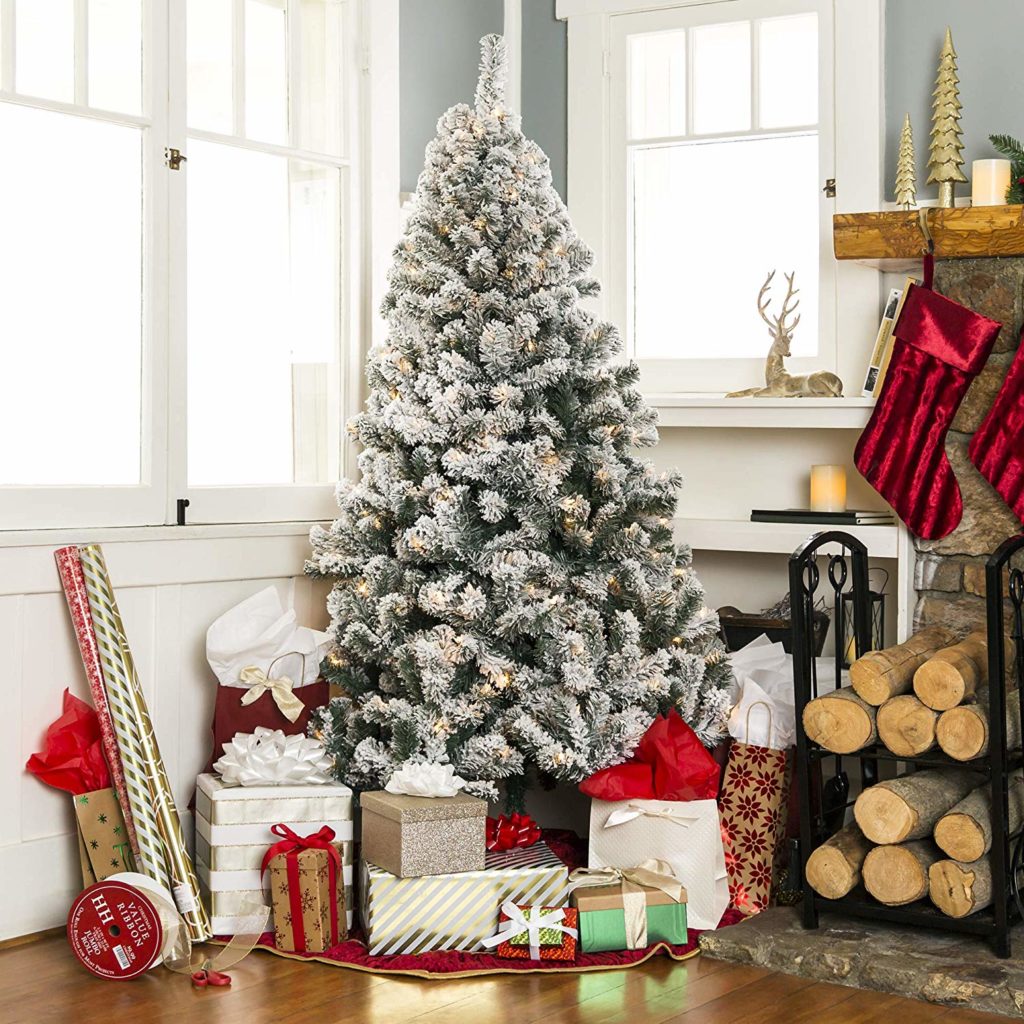 Best Pre-Lit, Snow-covered: Best Choice Pre-Lit Snow Flocked Hinged Artificial Christmas Pine Tree. I have several of these artificial trees and you cannot find anything better for the price! I also have this pre-lit flocked tree and love it, too!
My first Best Choice flocked pre-lit tree came home with me more than 4 years ago and the lights are still going strong!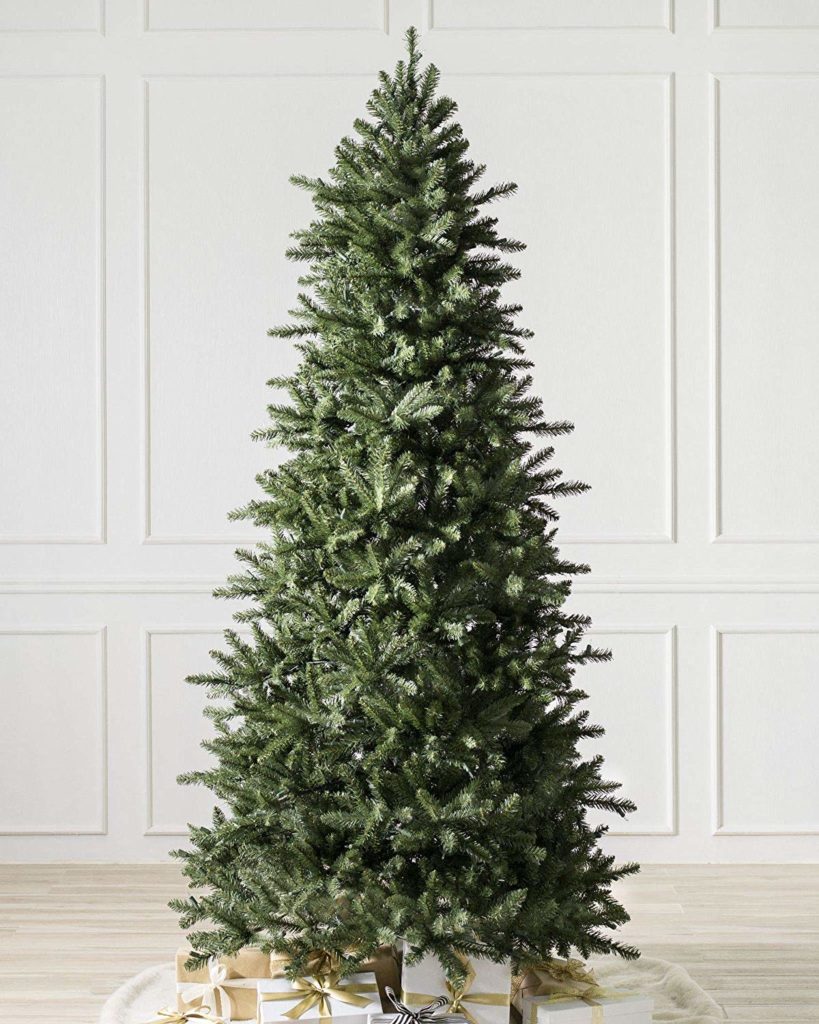 Best Slim: Balsam Hill Berkshire Mountain Fir – If you're limited to small spaces, try a slim tree! I've always loved a slim tree because it's beautiful, but there's still room to move around your living room. Psssttt… it's so much easier to add tree decorations to a slim tree. Extra bonus!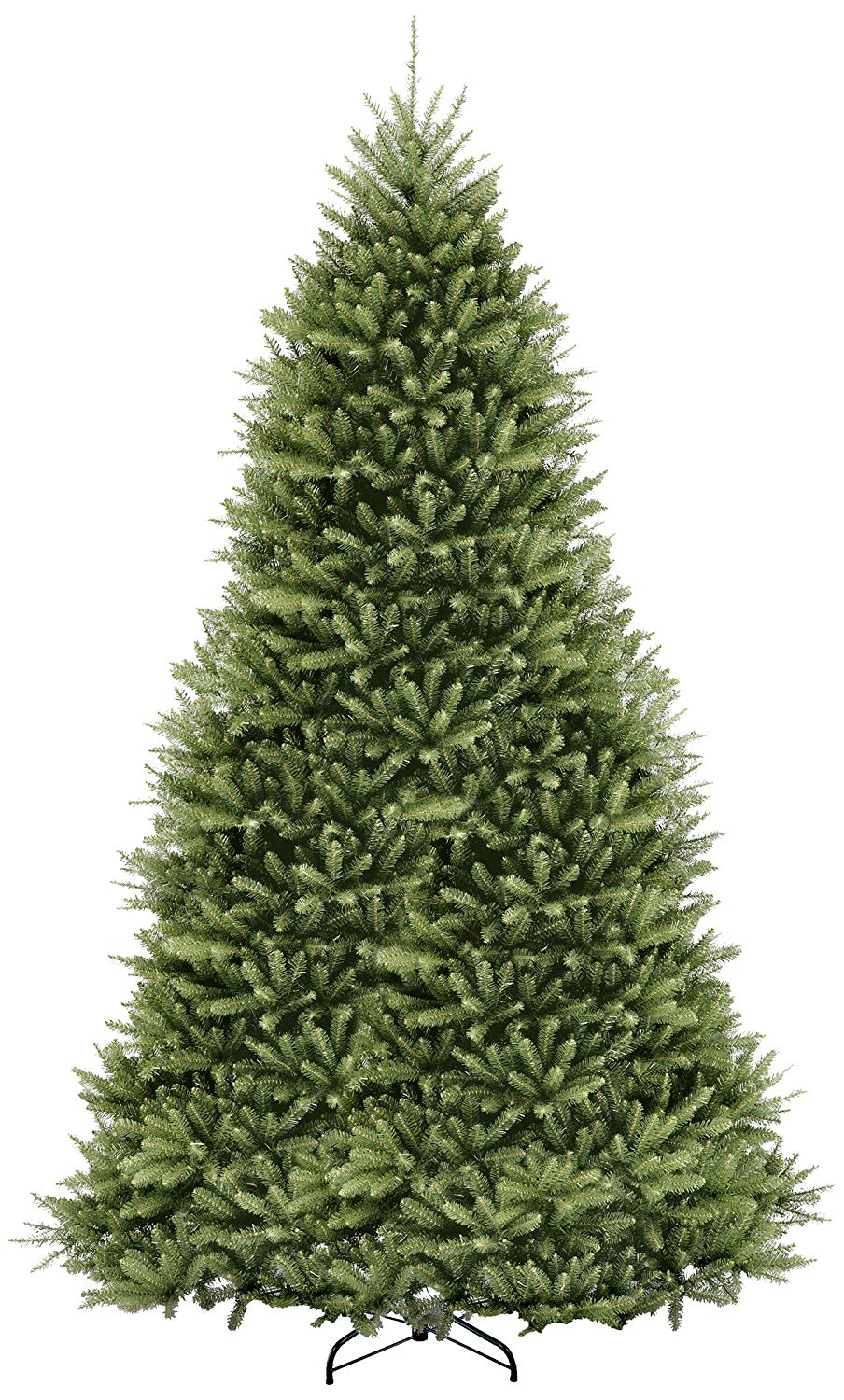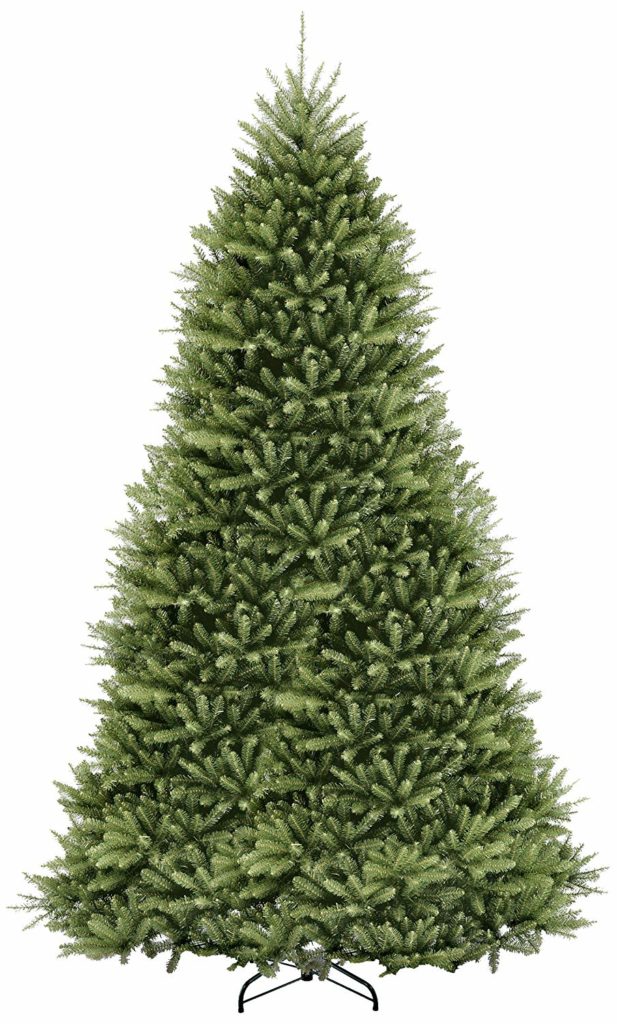 Best Tall: National Tree 12 Foot Dunhill Fir Tree – Need a super tall beauty for your home? This gorgeous tree at 12 feet tall will be just the ticket! Hinged branches make assembly easier and help you fluff each layer of branches one at a time as you set it up. It's fire resistant and non-allergenic, too!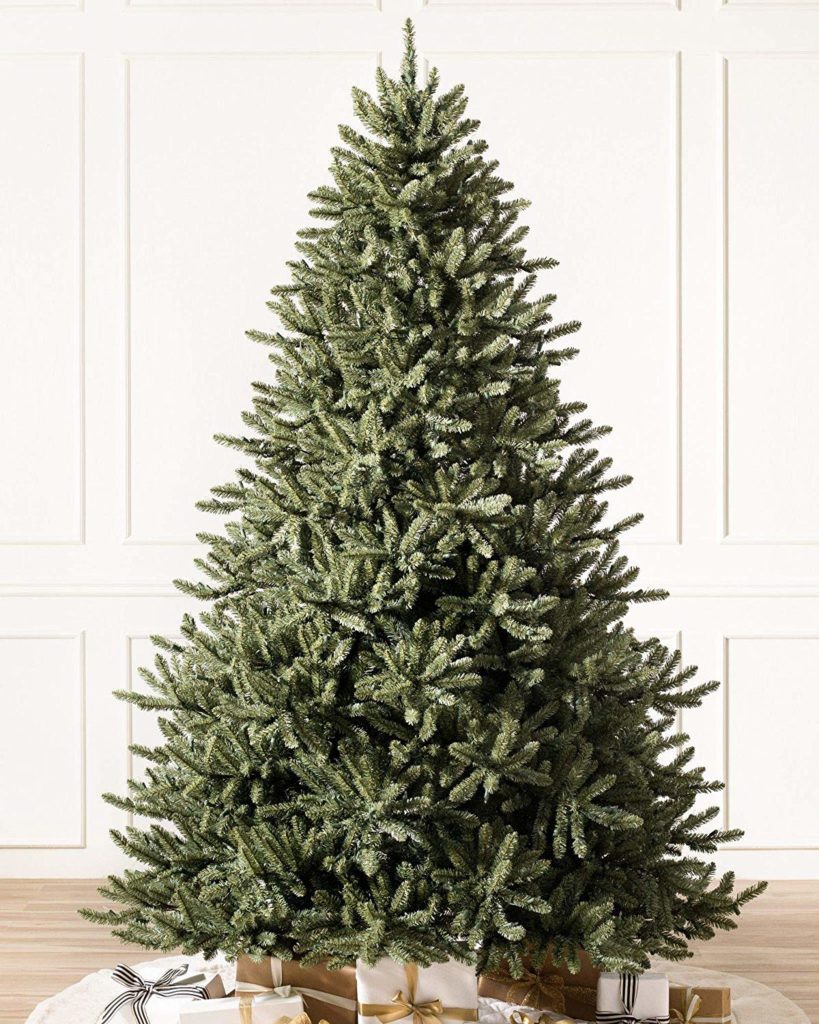 Best Classic: 6.5′ Balsam Hill Blue Spruce – This tree is full of classic style needles, just like the ones you had growing up! So if nostalgia is your jam and beautiful, full trees are on your list this year, you'll love this tree that comes with a tree stand, storage bag and gloves for fluffing!
Best Full-Body: 9 Foot Dunhill Fir Tree with 900 Dual LED Lights – If you have high ceilings and a large space to fill, this is your girl! With four sections to put together and a 66″ diameter, this beauty will make your room so full and festive. The "real feel" tips with make people think you cut it down yourself. And 9 different light settings will help settle the argument over colorful lights vs. white lights – because with this tree you can have both!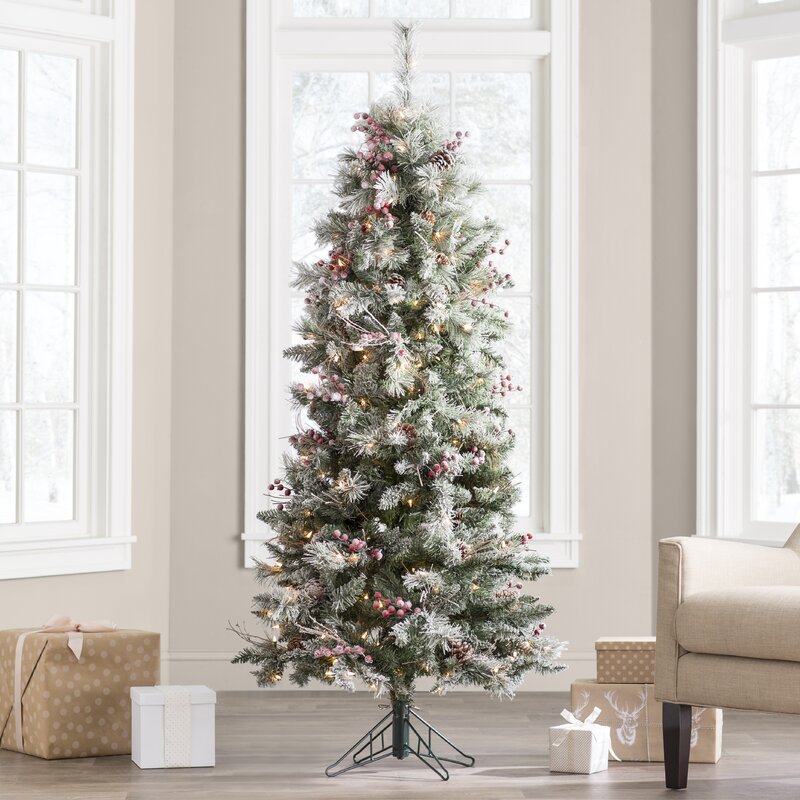 Best Pre-Decorated: Frosted Berry Green Pine Christmas Tree – Wanna skip the decorations this year and have a gorgeous tree as soon as you put it up and fluff it? Grab this adorable tree already decorated with twigs, berries and pine cones. It's so pretty! I love that it's 6.5 feet tall, but slender and will add Christmas cheer to any room in your home.
Tips for Decorating with an Artificial Christmas Tree
Tip 1. How to Fluff my Christmas Tree. If you've never bought a fake tree before, then you may not know that fluffing the tree is part of the equation. You will have to "fluff" each and every branch on that tree. What you pull out of the box is not what you saw online. There's some zhuzhing involved.
It's not always the most comfortable job, because tree branches can be prickly and even sharp. Some people use gloves. But I find that if I put lotion on my hands before I fluff it, then it keeps them from getting roughed up too much during the fluffing process.
Tip #2. How to String Lights on the Tree. If you don't buy a pre-lit tree, then you will obviously need to add lights. I have started buying pre-lit trees in recent years, because it saves time. But you always run the risk of having a strand go out and then you have to attempt to troubleshoot it, re-string lights or buy a new tree altogether.
If you want to tackle the job of stringing your own lights. It's not hard, but I've shared the BEST way to string lights on a Christmas tree so that it glows.
Always, always, always check your light strands BEFORE you put them on the tree. There's nothing worse than putting lights on a tree and then finding out they don't work!
Tip #3. How Many Lights to Buy for My Christmas Tree. For an unlit tree, the standard answer is to buy 100 lights per foot of tree. I like to go bigger than that and will buy 200 lights per foot of tree and then take back what I didn't use. I'd rather have to return some later (or use them on another tree) than have to stop in the middle of decorating to run to the store again.
Happy shopping! I hope you find the perfect tree for your home! I'd love to hear your thoughts on any of these trees below in the comments.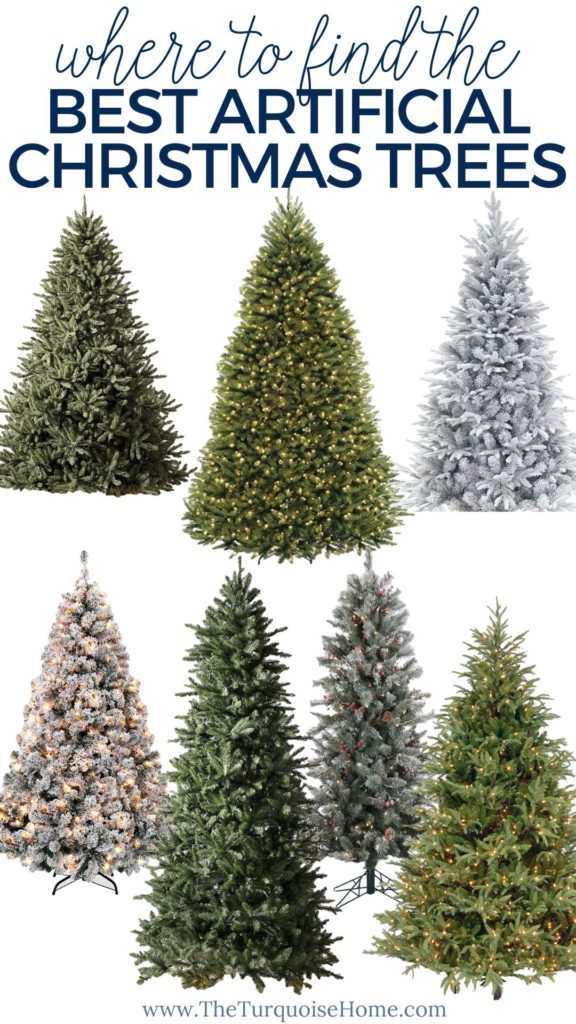 MORE POSTS YOU WILL LOVE: