Navy Buffalo Check and Turquoise Christmas Tree
I love, love, love decorating a 12-foot Christmas tree in the front window of my home. I like to change things up a little bit each year and this one is no different. I decided to decorate with a navy buffalo check ribbon and various shades of turquoise and blue glass ornaments. I added them to my previous year's decor, but get a totally new look with a couple of budget-friendly changes!
************************************************************************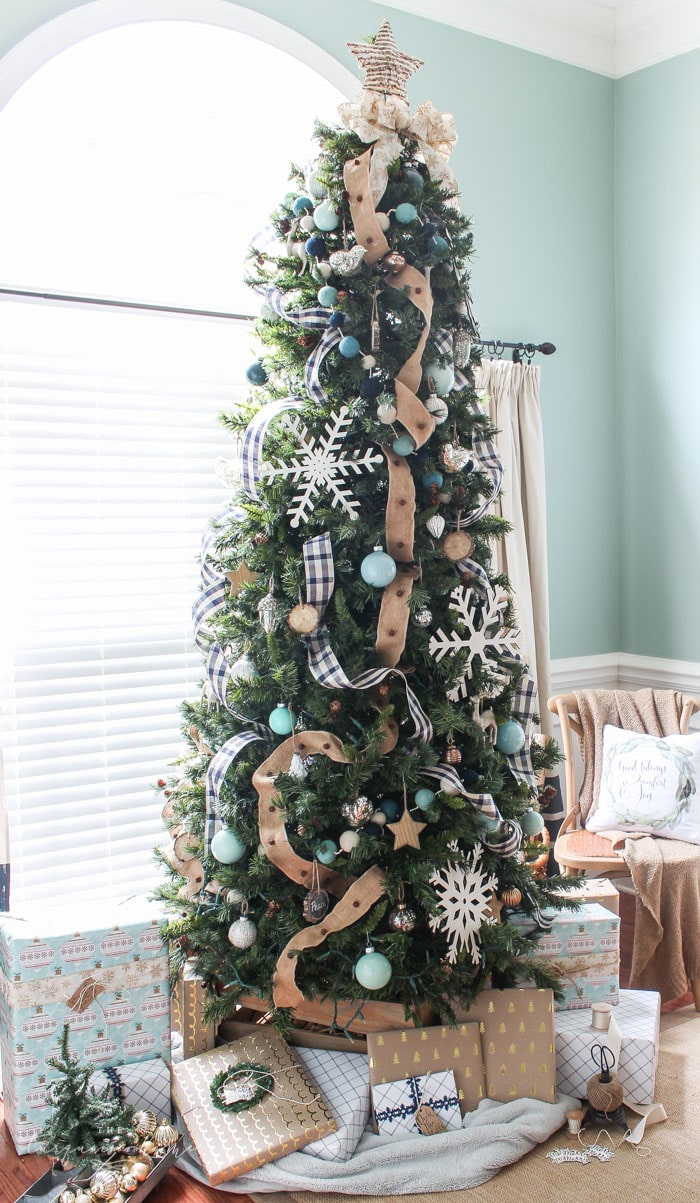 Here's a little something about the behind the scenes of a blogger's life. It takes me a while to figure out exactly how I want to decorate certain spaces. And for some reason the pressure of some of those spaces almost paralyzes me every year. One such space is the large Christmas tree in my front window. I also get this way when it comes to my mantel.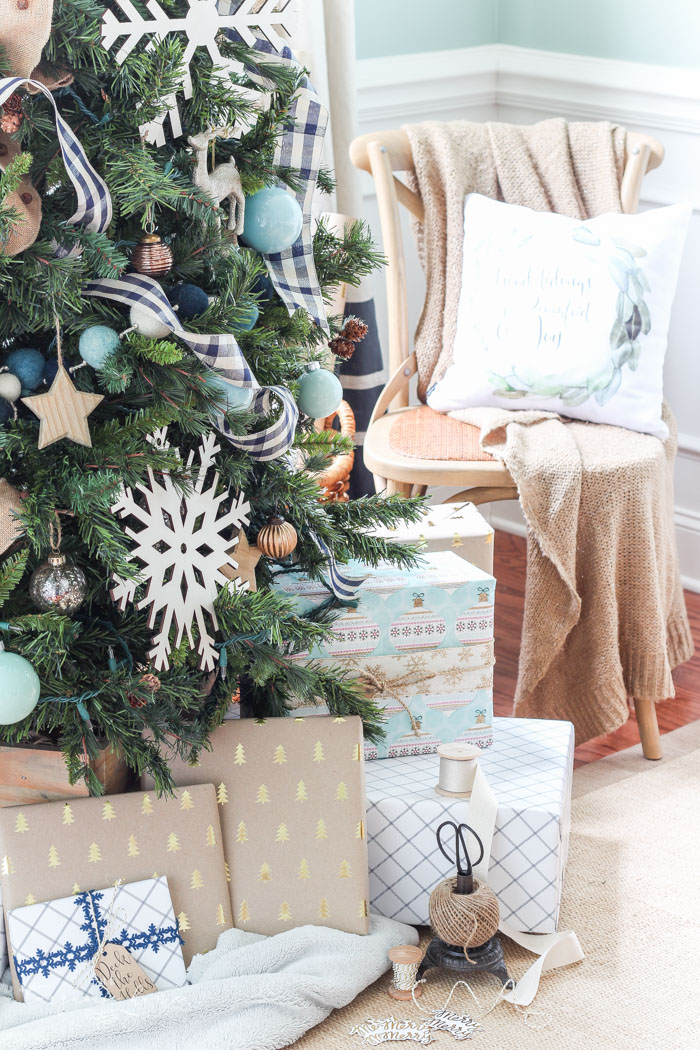 I like to make big and bold, coordinated statements in these spaces and sometimes it's just too much for my brain to think about. Ha!

You're probably scratching your head trying to figure out what the crazy blogger lady is talking about. But here's the bottom line. I've been working on this large Christmas tree for 2.5 months now and I finally finished adding the last touches yesterday! We can enjoy it for nearly a week before Christmas. LOL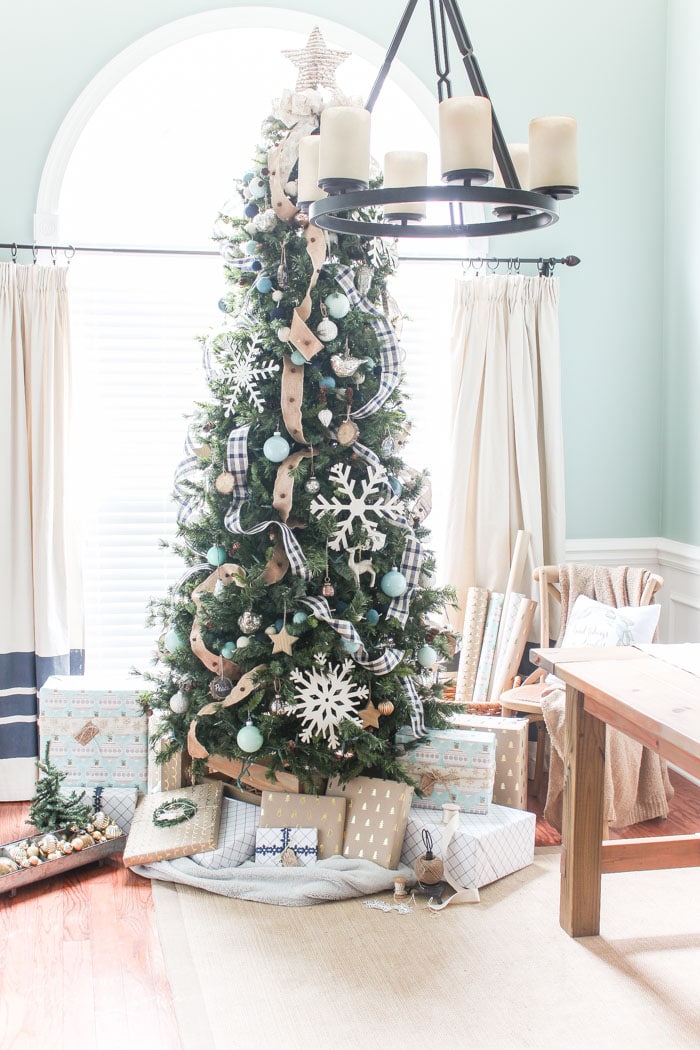 Shop This Post:

OK, here's what I don't want you to take away from this post. I don't want you to think that you have to have this big elaborate tree that you have to completely overhaul every year. Heck no!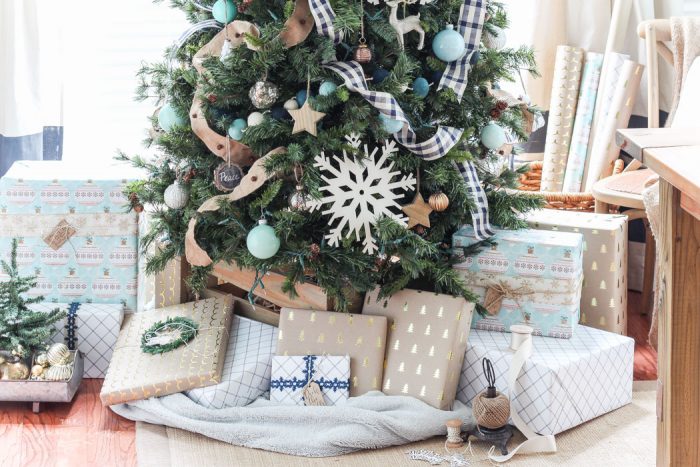 I highly suggest investing in favorite pieces over time that you just absolutely love. For me, I've purchased or made almost every ornament on this tree over the past 6 years. I love them and use them every year. They include the glittery deer, mercury glass birds, mercury glass balls, DIY wood slice chalkboards, DIY paper-machied ornaments, antique ornaments, wooden stars and a few more special ornaments.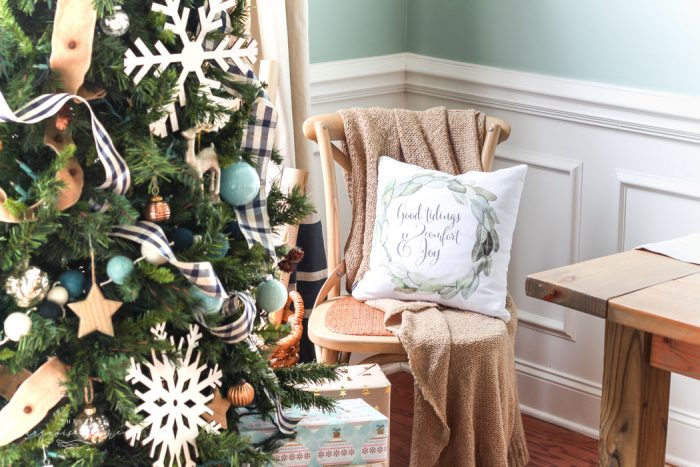 But I enjoy changing out the look, so I like to spruce things up with different ribbon. I used about 20 feet of the navy buffalo check ribbon. I also used a burlap and jingle bell ribbon that I've had for 3 years now (from Hobby Lobby).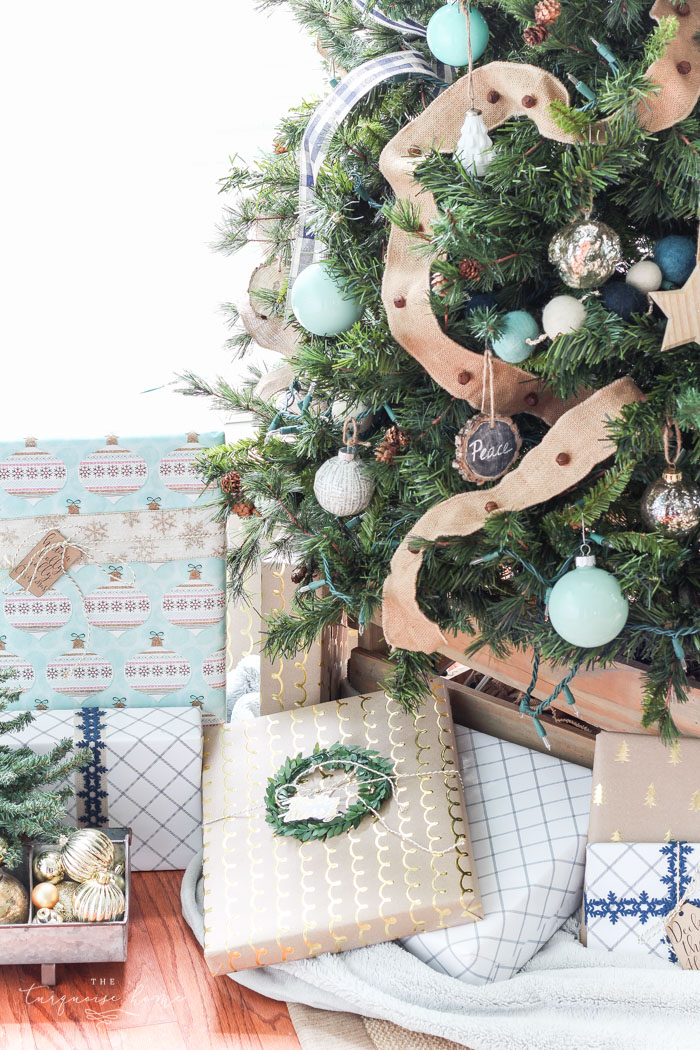 So what else did I change out this year? I made some super easy DIY glass ornaments with empty craft glass ornaments from Hobby Lobby and some paint! See? So easy!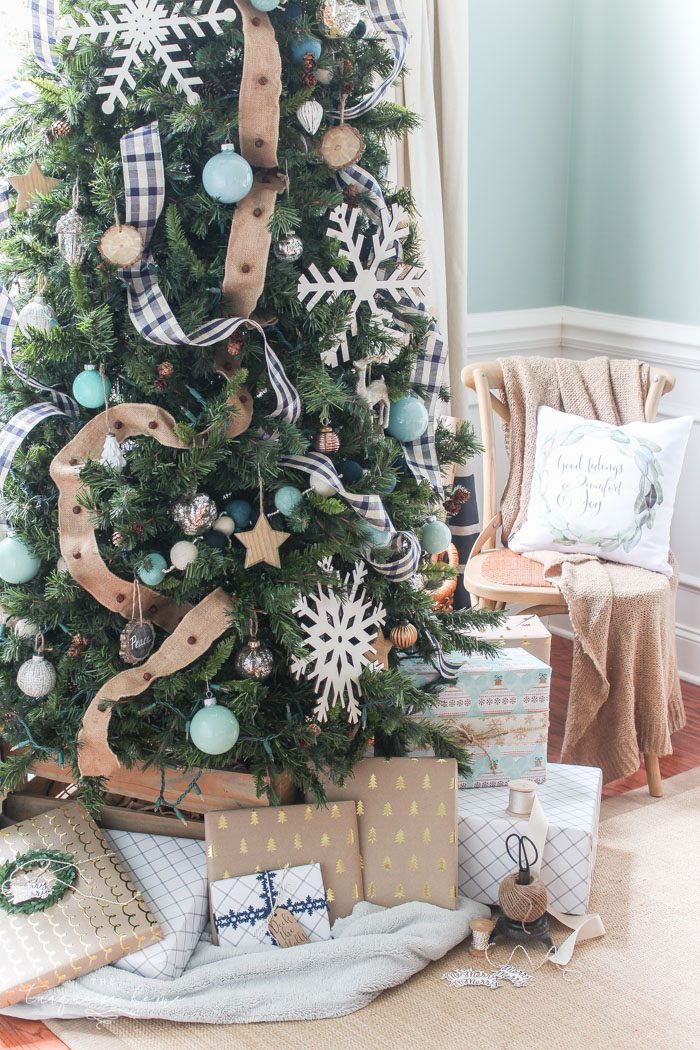 I had various shades of turquoise and blue paints, so I just poured some paint in the empty, clear ornaments and rolled it around until it covered the entire inside of the ornament. Then I let it dry for a few days, popped the tops back on and hung them on the tree! Easy peasy!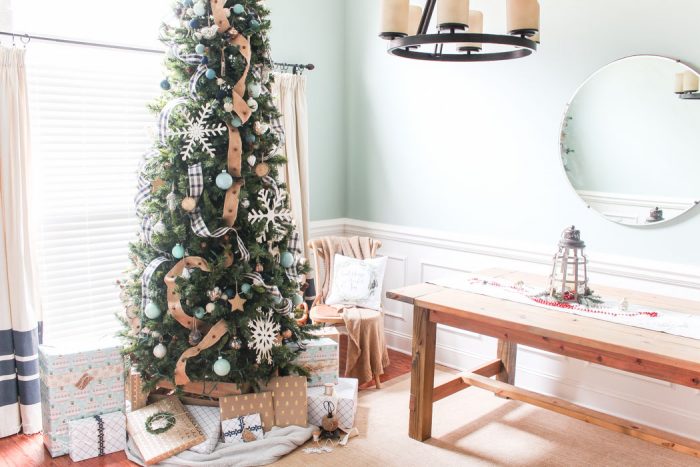 I also couldn't resists this adorable blue felt pom pom garland from Target. It's totally not necessary, but I loved hanging 3 of them on my tree.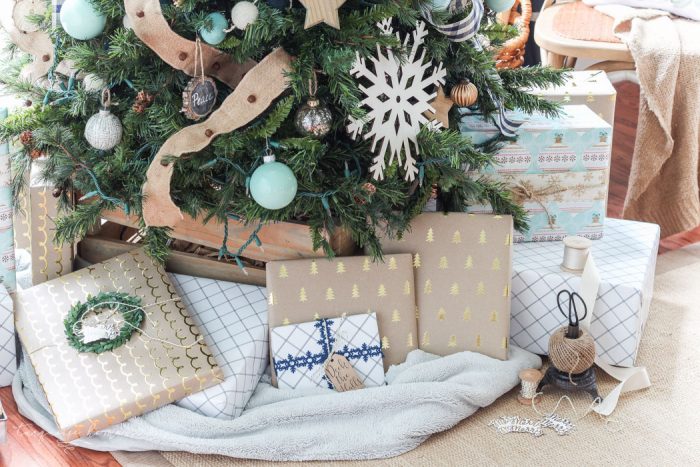 That's all I added new this year. And see how much different it looks than last year!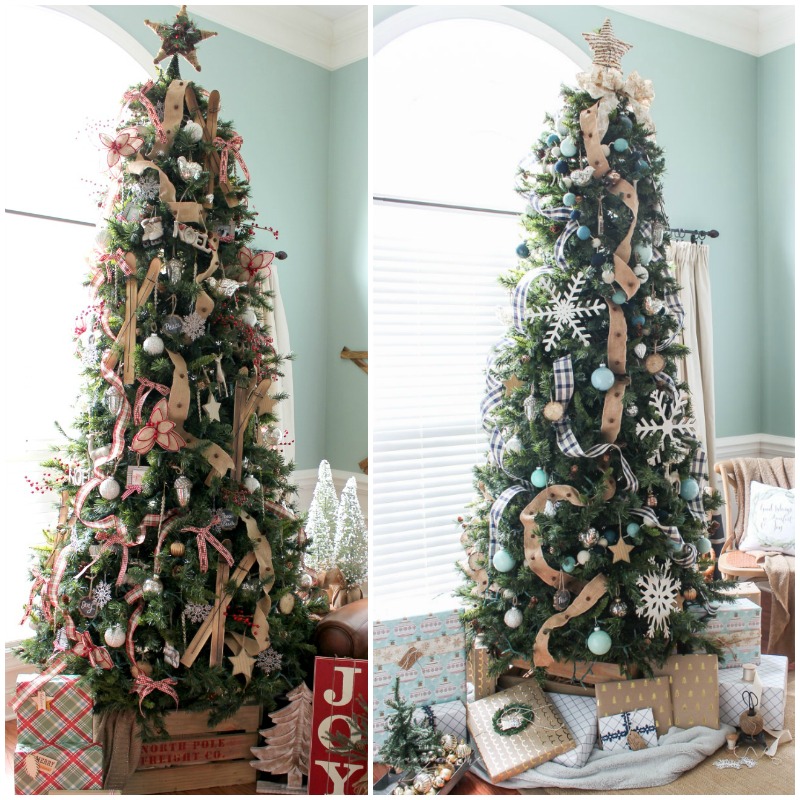 Then let's talk about wrapping paper. I moved away from the traditional reds and green and went for blues, browns and metallics. I just walked into Target and found some papers that I loved and made sure they coordinated. The non-negotiable was the navy plaid paper from Sugar Paper. I just love their stuff, which includes their ribbons and washi tape, too!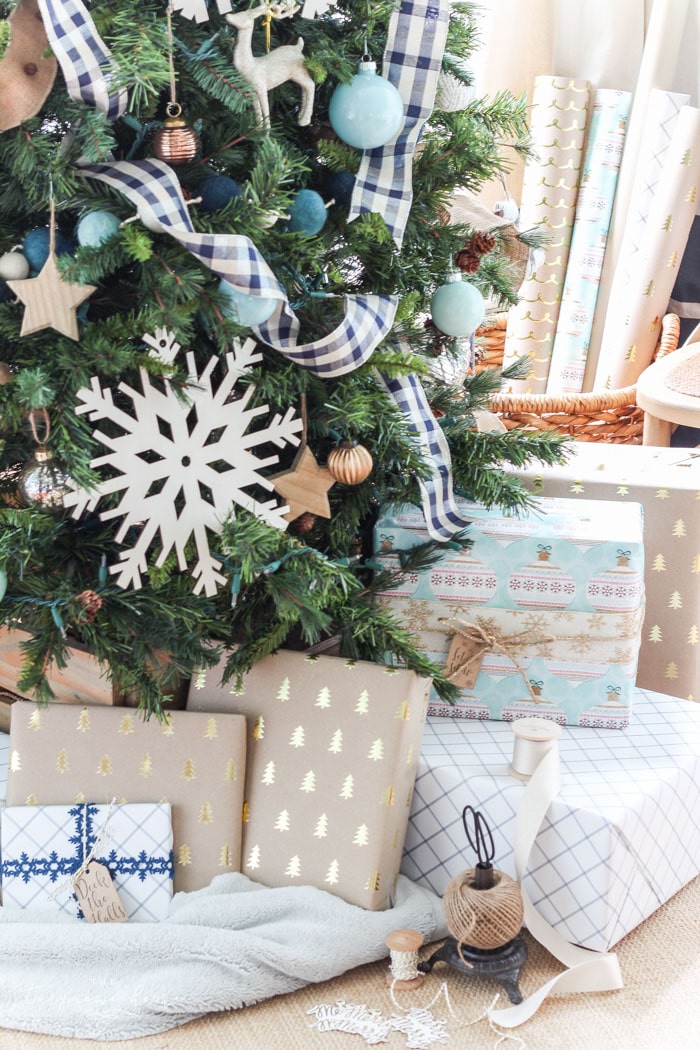 The kraft and gold wrapping papers (tree paper & swirl paper) are from the same designers. The turquoise, glittery pastel ornament paper is just another wrapping paper at Target, but I love it for wrapping the girls' presents! Although I didn't realize how glittery it really was and now my floor and table are covered in glitter!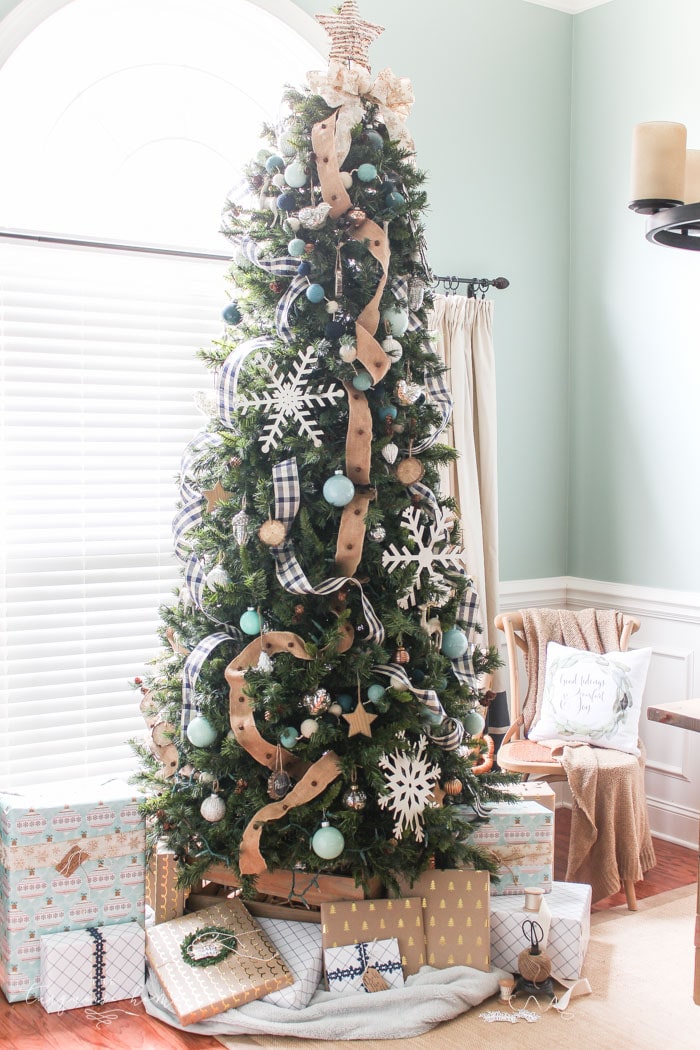 I like to use a wide ribbon to embellish the gift and smaller twine to tie on the gift tag. See my favorite round up of FREE printable gift tags here.
I'm happy to say that I am done shopping and almost done wrapping my gifts! Yay!! Now for the baking and enjoying the time off with my kids for the next two weeks!
Do you change out your tree decor every year? Do you love wrapping gifts??