Benjamin Moore Classic Gray
Benjamin Moore Classic Gray is a no-fail, neutral shade. This light gray has warm undertones so you get all the style of gray with all the warmth of your favorite creamy shades. Best paired with fresh white trim!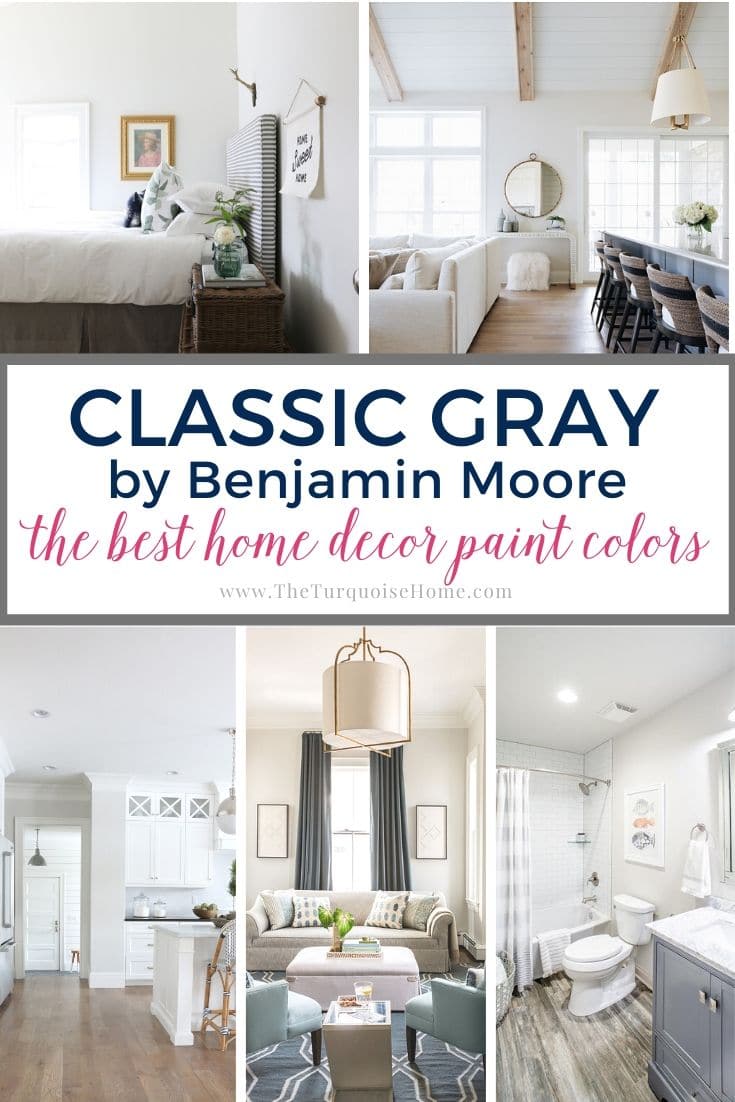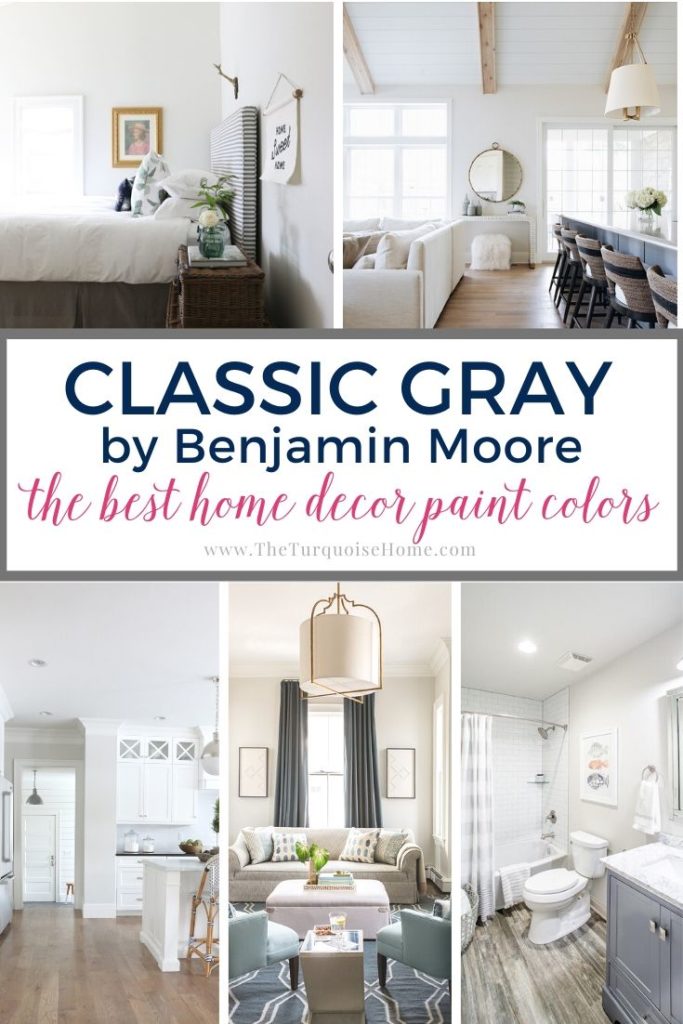 This post contains affiliate links for your convenience. See my full disclosure policy.
What Color is Classic Gray?
Benjamin Moore Classic Gray is one of my favorite off-white paint colors. You all know that I have a love for all kinds of paint, but this stunning pale gray with warm undertones is a top contender. This shade may be just what you need when giving your space a sophisticated look.
Choosing BM Classic Gray is always going to be a great idea because it's a no-fail color. It looks lovely with other grays, whites, and even bright colors. Plus, it makes a good interior or exterior paint.
NOTE: If you're painting the room yourself, these tools will help tremendously. And this post will give you my best tips for painting a room in 5 easy steps.
Benjamin Moore Classic Gray Undertones
If there already isn't enough to love about Benjamin Moore Classic Gray, check out the undertones. You won't be finding any blueish or purple undertones like many gray paint colors.
Instead, Classic Gray is warm and comforting. You could almost think of it as a soft, sophisticated off white. You will notice at times when the sun is shining just right, that it looks like it is white. Once the light shifts, you are left with that lovely warm gray once more.
Tip: Use Real Paint Samples
Any time you are choosing a new paint color, you need to try out the real paint color in your home first!
The easiest and quickest way to do that is with Samplize! I solely use them for paint samples now. There's no mess, no leftover sample pots of paint. Plus, these no-mess, peel and stick rectangles made from real paint, are easy to move around the room and easy to save for future reference!
Is Classic Gray warm or cool in tone?
Classic Gray is definitely a warm gray with neutral undertones, maybe a slight hint of pink. As you can see in the comparison below, it doesn't pull quite as pink as Shoji White, as green as Gray Owl or as dark as Repose Gray.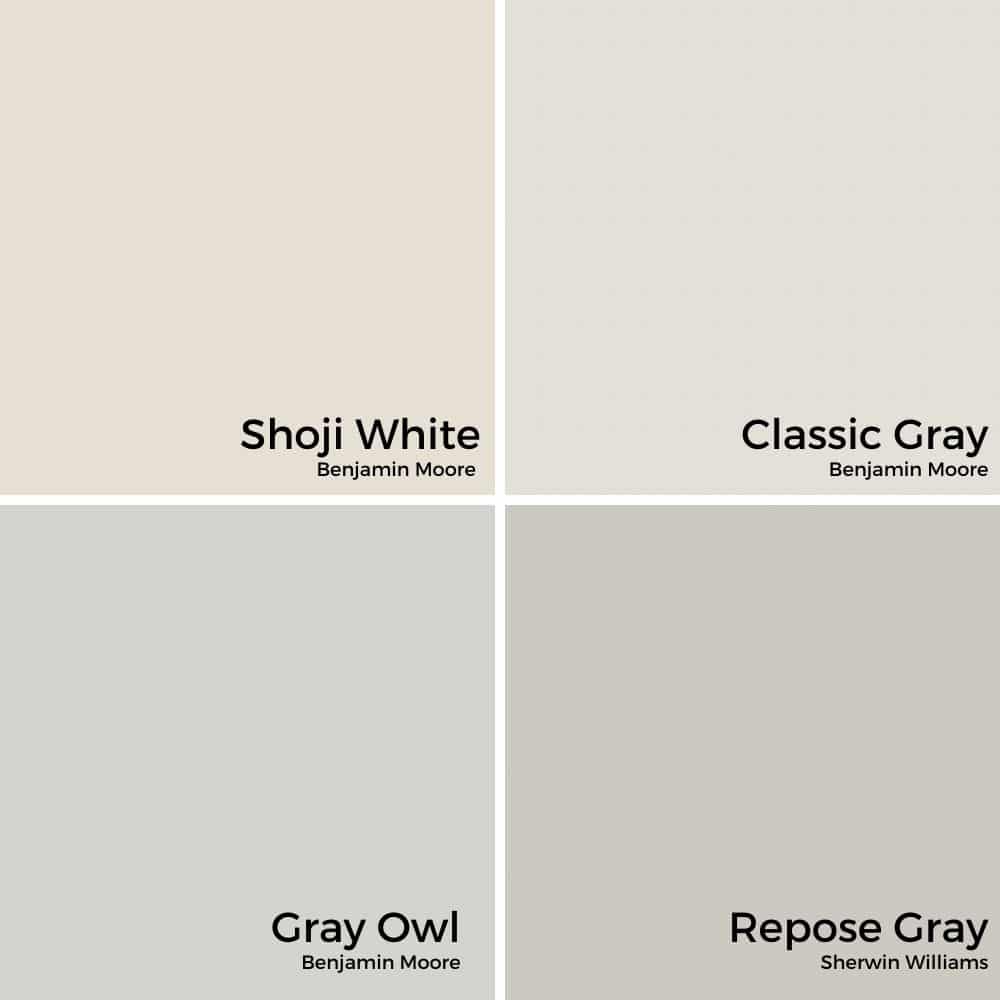 Classic Gray LRV
What does LRV mean? LRV refers to the light reflective value of paint color on a scale of 0 (pure black) to 100 (pure white). Essentially, colors with an LRV rating close to 0 will be darker, while numbers closer to 100 will be lighter colors.
Classic Gray paint has a Light Reflectance Value, or LRV, of 74.
 This means it's more like an off-white than a true gray color. If you put it in a room with too much natural light, it'll probably look like a muted white. But if you pair it with stark white trim, you'll be able to see the contrast.
Coordinating Colors
You can't go wrong using BM Classic Gray if you are looking to make your space appear clean, soft, and tranquil. Benjamin Moore recommends these colors:
Slate Blue
Midnight Blue
Beigewood
Byzantine Gold
Some of my go-to colors that look good with classic gray include the following:
Chantilly Lace
Sea Haze
Jet Black
It looks so serene when you paint the walls Classic Gray and the trim either Chantilly Lace, Simply White or White Dove. You won't want to leave the room because it's so welcoming and inviting.
Rooms With Classic Gray
I'm excited to share with you some various looks you can achieve using Classic Gray. Each photo will show you what you can see if you pair it with different colors. Remember, thanks to those warm undertones, BM Classic Gray goes well with multiple colors.
Bedrooms With Classic Gray
Annie at DIY Decor Mom shares this beautiful bedroom using Benjamin Moore Classic Gray with a few accents. It pairs perfectly with the pops of navy blue and green colors in the room. Plus, with a lot of natural light coming in the windows, you can really see the stunning gray color.
Studio McGee used Classic Gray, and you'll notice that the walls take on almost a white color. When pairing it with other grays as they did with the headboard and pillows, it's the perfect compliment.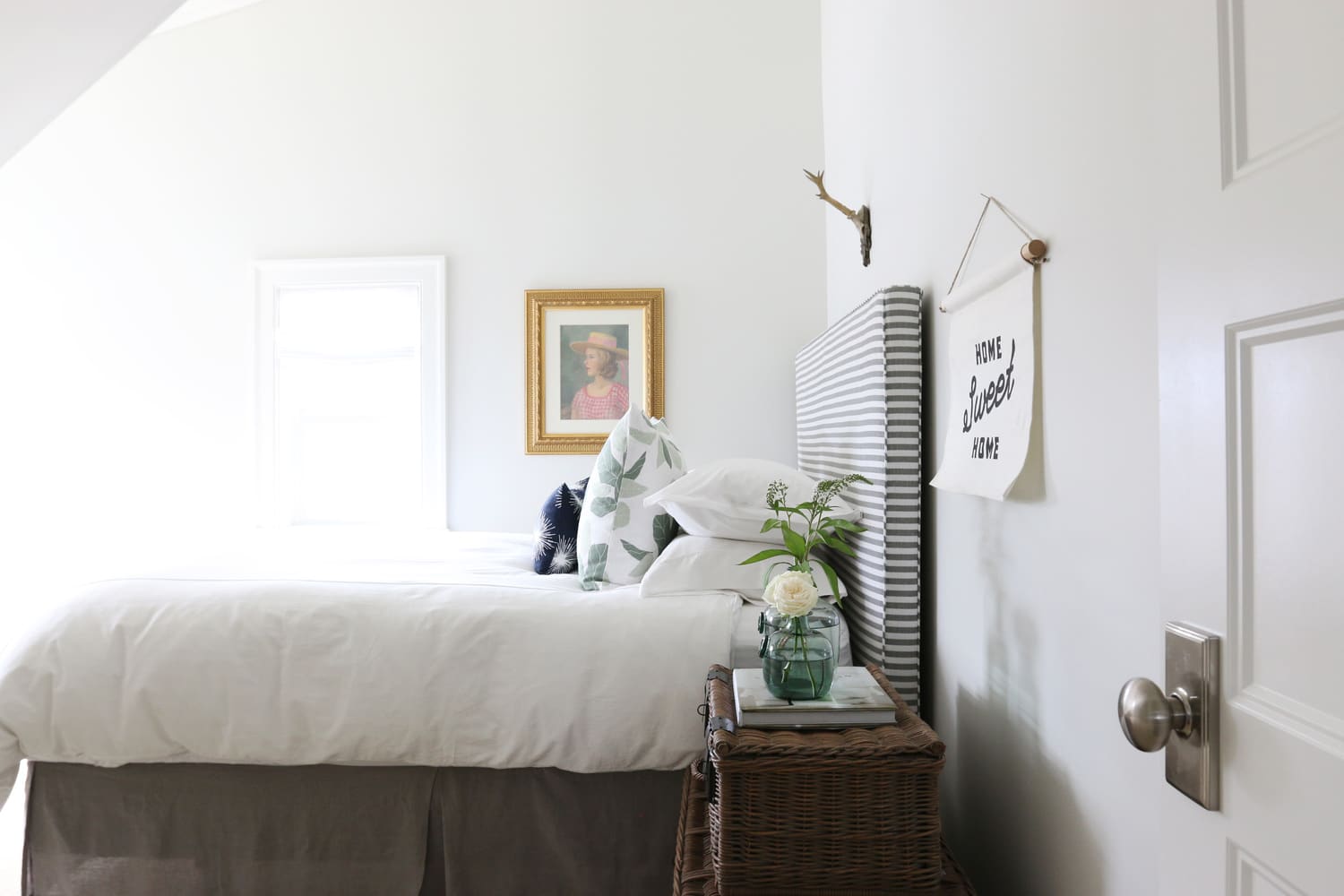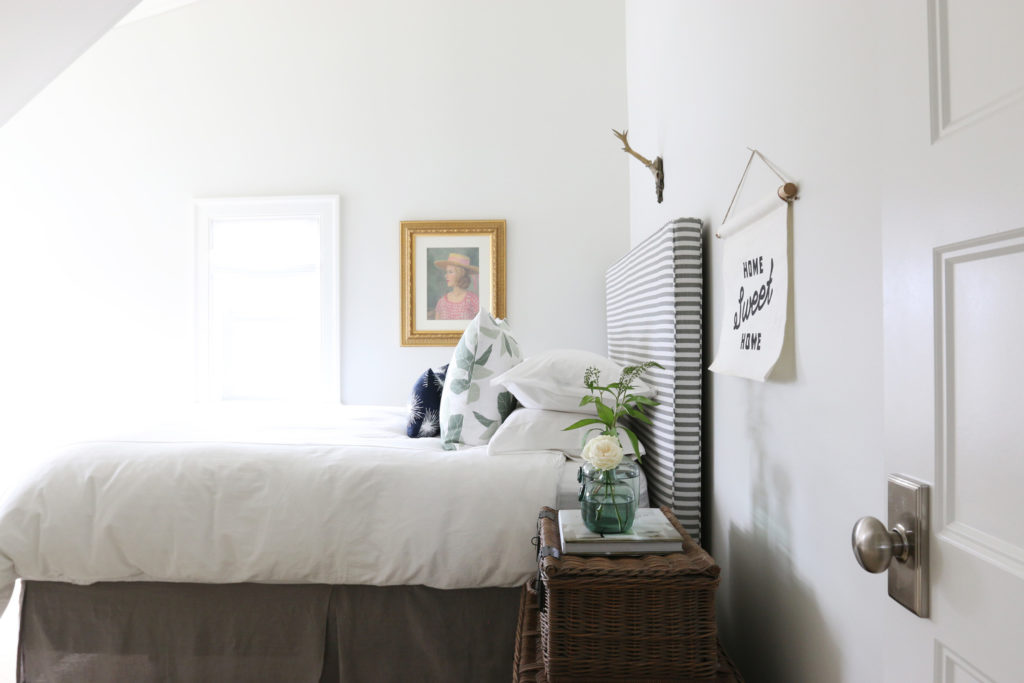 Classic Gray in the Bathroom
As you can see, using Classic Gray on the walls and adding marble with grays and white tones was the perfect way to go. Over at Decor Pad, they show us this gorgeous bathroom designed by Jesse Bodine, and it looks amazing.
I love how it pairs with those bright white subway tile and the nickel faucets give the entire room a clean, fresh look to it.
Julia Ryan gives us the perfect example of why Benjamin Moore Classic Gray was the way to go in this updated bathroom. The top portion of the walls are painted with Classic Gray, and it turned out incredible.
Using the natural light in the room, painting the trim with white and having white countertops as well as the cabinets gives the space a sophisticated theme.
This look is easy to replicate without breaking the bank!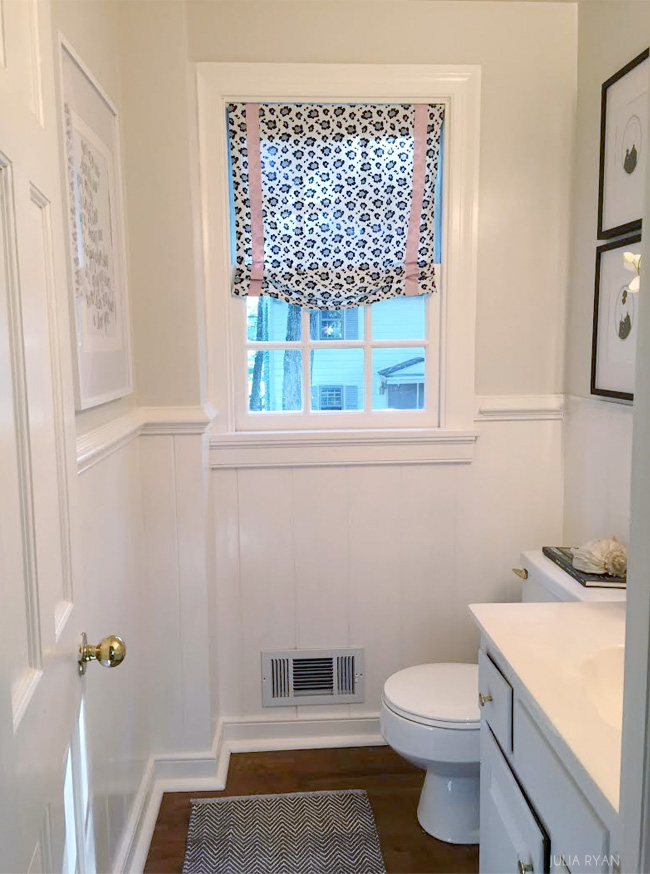 Classic Gray Featured In Kitchens
Using the off-white color of Classic Grey in this large kitchen makes it look even bigger. It's bright, but not too bright. Baton Rouche Architects & Building Designers created this fun, playful space.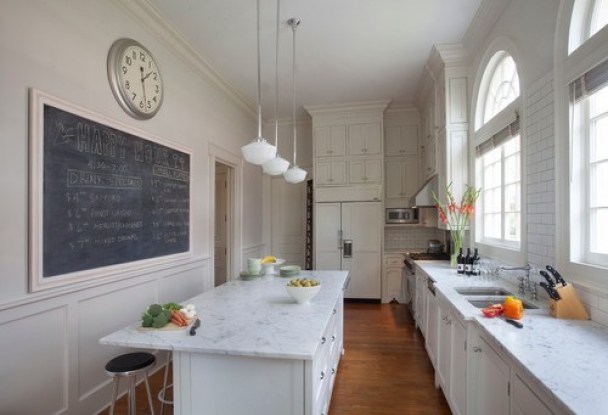 Studio McGee went with white cabinets, dark countertops, and classic gray in this stunning kitchen. The combination of colors and light are amazing for this space. You can see that the gray blends in but also gives a subtle color to the room.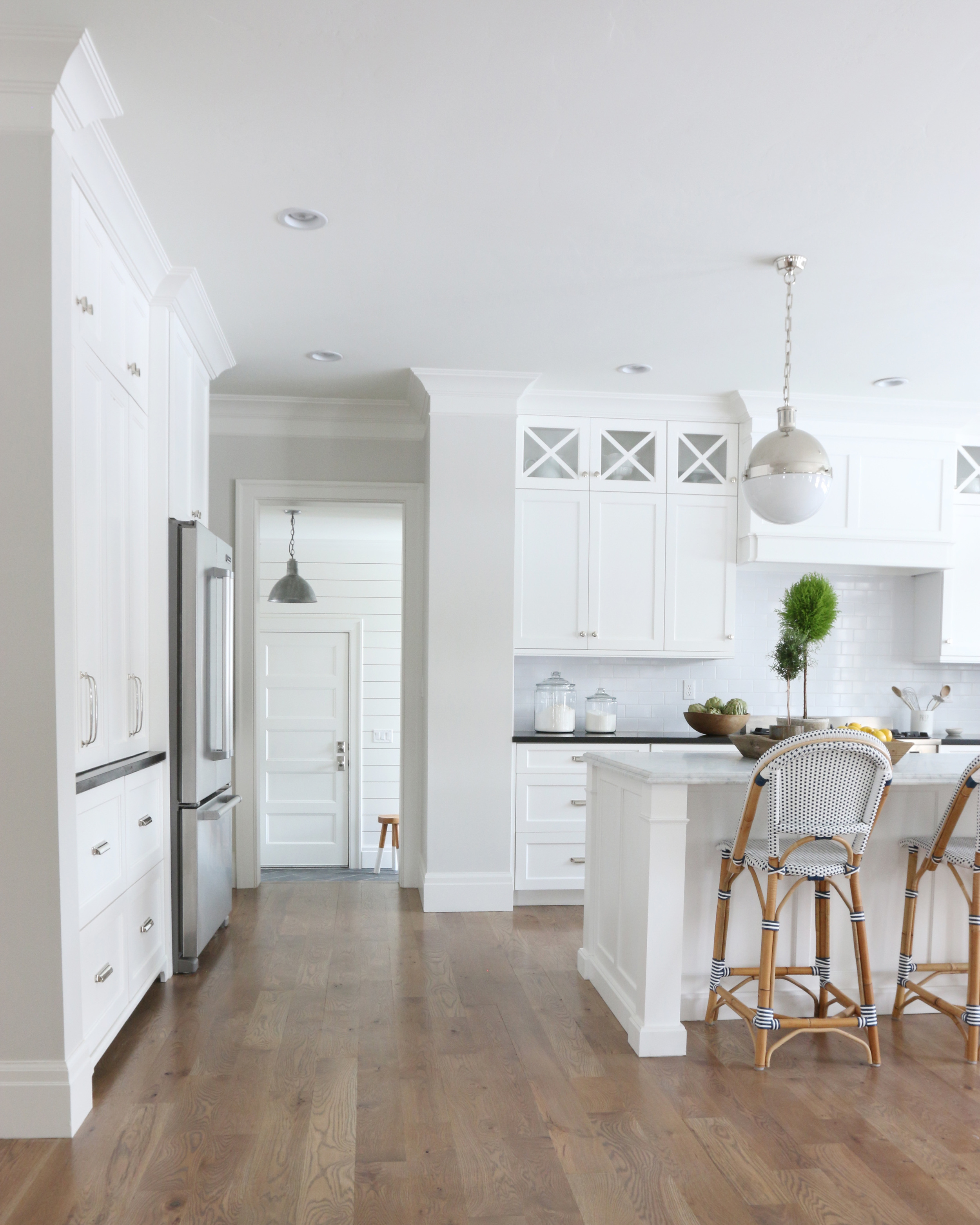 Living Rooms With Classic Gray
When you lay your eyes on this gorgeous open floor plan with Classic Gray walls, you are bound to fall in love. The look is so comforting, inviting, and welcoming!
The ceiling is painted Ozark Shadows by Benjamin Moore, and it couldn't be any prettier. This is a timeless look that is impossible not to enjoy.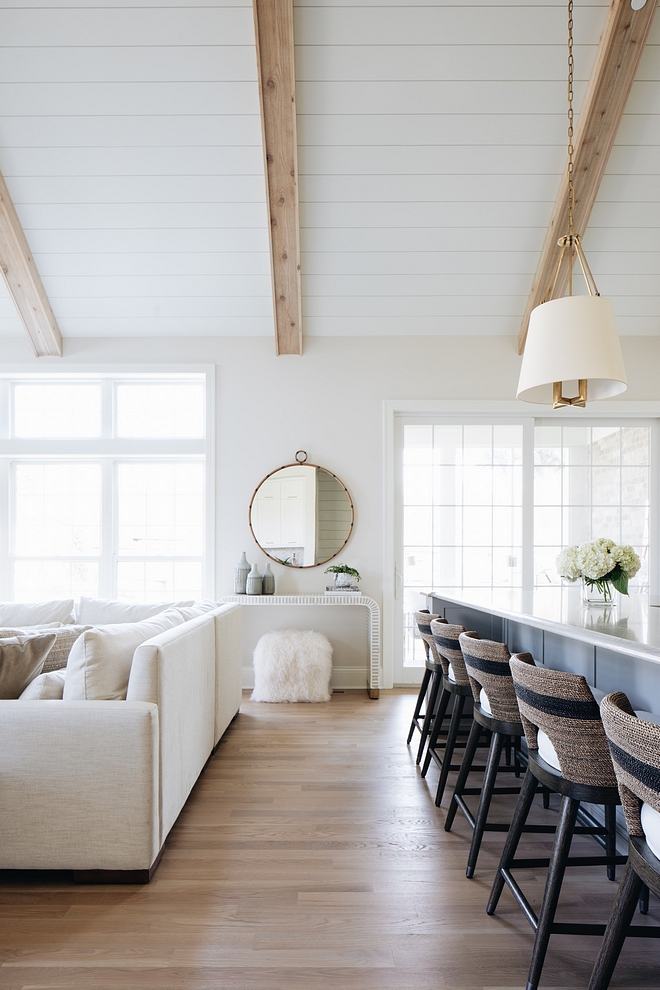 Over at Home Bunch, they give you a great example of what it looks like to pair Classic Gray with blues that have gray tones.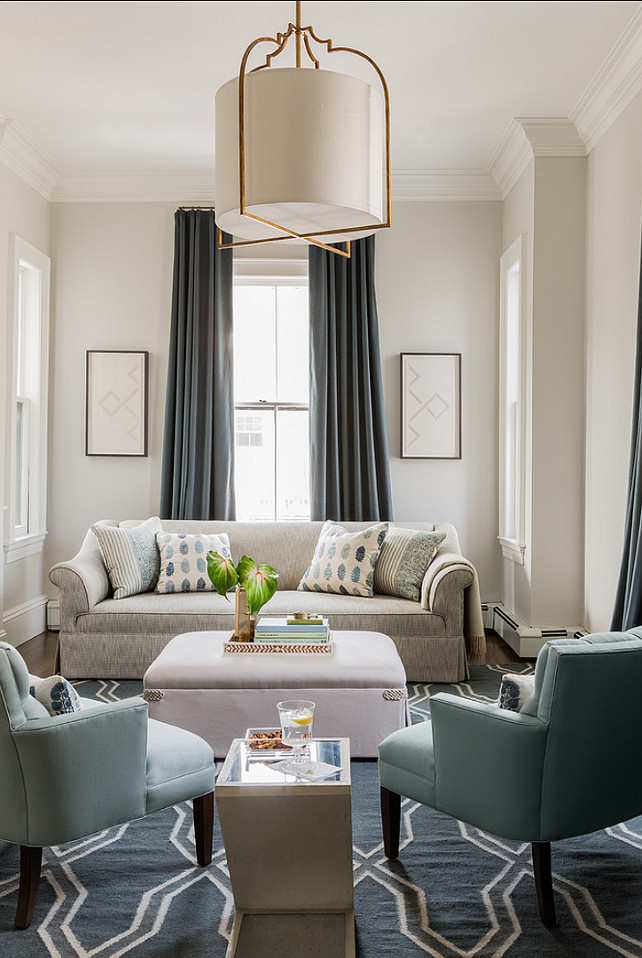 Aren't you fascinated with this stunning color yet? It's clean, bright, tranquil, sophisticated, and so much more.
Final Thoughts
Classic Gray is a beautiful off-white gray color that works well with fresh white trim and any decorating style!
Tools To Help Complete A DIY Paint Project
It would be nice if you could just toss paint on the walls and call it a day, wouldn't it?
Because it does take some work, you're going to want to invest in the proper tools to make your space as gorgeous as it can be. Plus, you want the walls to turn out perfectly every time.
Take a look at my tool recommendations to get you started!
Roller Tray: Cleanup is so simple with these roller trays. Plus, there is a magnetic piece that will allow the roller to stay in place. This is a sanity saver, too.
Drop Cloths: Using some drop clothes will keep paint off of your floor, furniture, and other items you don't want getting messy.
Paint Cup: I can't get enough of this paint cup. It makes painting so much easier, and you're going to be hooked, I promise!
Painter's Tape: If you want clean, straight paint lines, then the painter's tape is going to be your new best friend. It's a must-have!
Paint Brush: You will want a variety of paintbrushes to paint. You want to have something that is of great quality too. Otherwise, if you go for something that's not well made you may end up with lost bristles in your fresh paint, and that's so frustrating.
Other Paint Color Posts
Check out some of my other favorite paint color posts:
If this gray isn't the color for you, check out this section on the blog to find the perfect paint color.
MORE POSTS YOU WILL LOVE: