The Perfect Bedding for Bunk Beds & our New Loft Beds!
Do you hate wrangling the sheets onto a bunk bed or loft bed? These awesome zipper bedding sets from Beddy's are the perfect solution for any bed, but especially one that is hard to make!
My girls have begged for bunk beds for years! When we lived in our old house, it just wouldn't work because the rooms were pretty small and I kind of liked that they had their own rooms.
Up until they started school together this past fall, they had different sleeping schedules. I also dreaded the idea of having to make the beds on a bunk bed. No thank you!
Fast forward to now. We're living in a new house with larger rooms. They have been on the same sleep schedule for this school year. AND they've been sharing a room for the last 6 months without any issues. They love it and I love it, too!
This post contains affiliate links for your convenience. See my full disclosure policy.
The Best Bunk Bed Bedding
So, when it was time to think about buying bunk beds (or a loft bed with a bed underneath it, in our case), I knew I had to find a good bedding solution. I wasn't about to have to climb up and wrestle the sheets and comforter every day.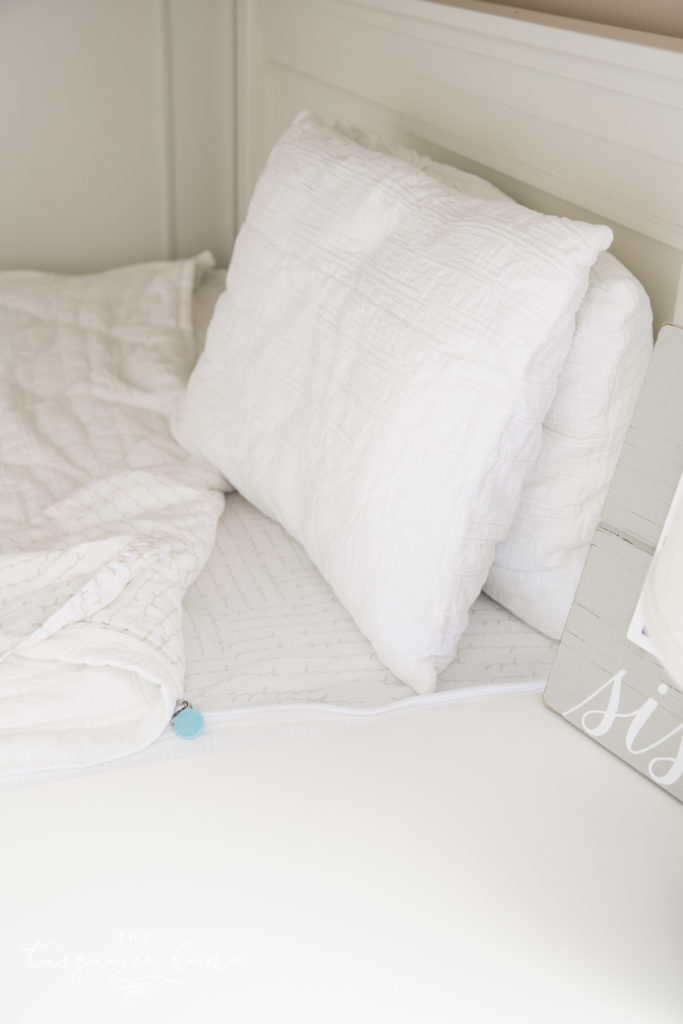 Enter Beddy's: the all-in-one bedding solution for bunk beds, loft beds and regular beds, too! They are a fitted sheet, flat sheet and comforter all in one bedding set that makes it easy for anyone to make their bed look amazing with a simple, easy zip.
I was intrigued the first time I ever saw them – and swore I'd never get bunk beds without them!
Neither of my girls have ever really slept under a flat sheet. They would always just kick the flat sheet to the end of the bed and sleep with their comforter. But now that the flat sheet and comforter are one piece, it's the perfect solution!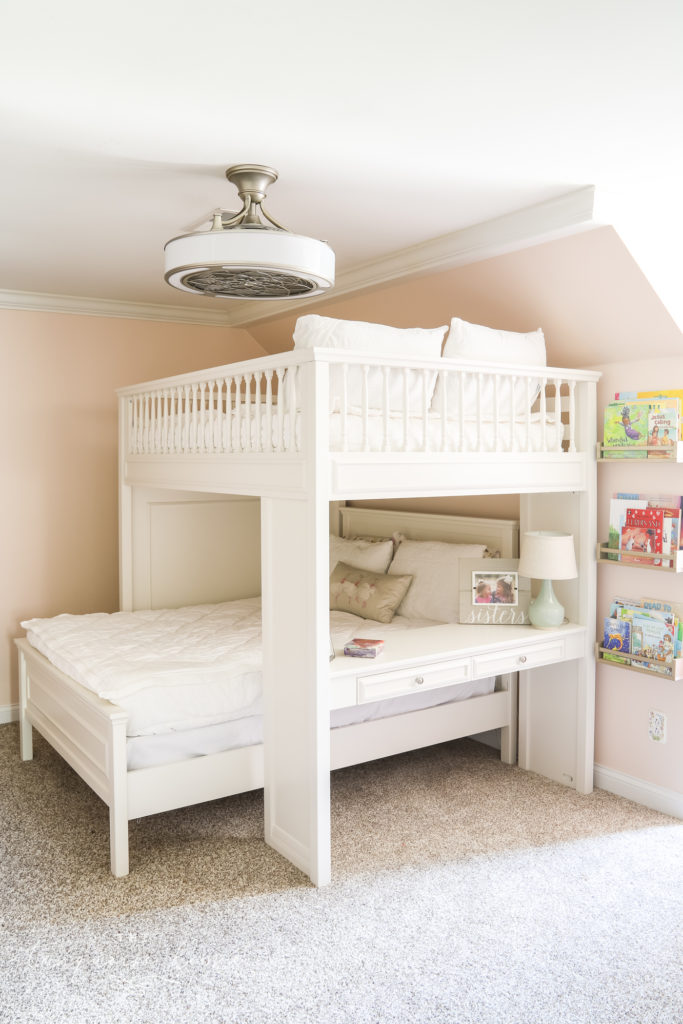 I got them the "Love at First White" All Cotton sets, which are white on the outside with a fun crinkly texture. And they have this gorgeous scripted "goodnight" and "good morning" print on the inside cotton sheets in a gold color way. I love how versatile it is with their decor.
I wanted the all white bedding since their walls are pink. See the girls' full vision board for their room makeover for more about the plans for the room.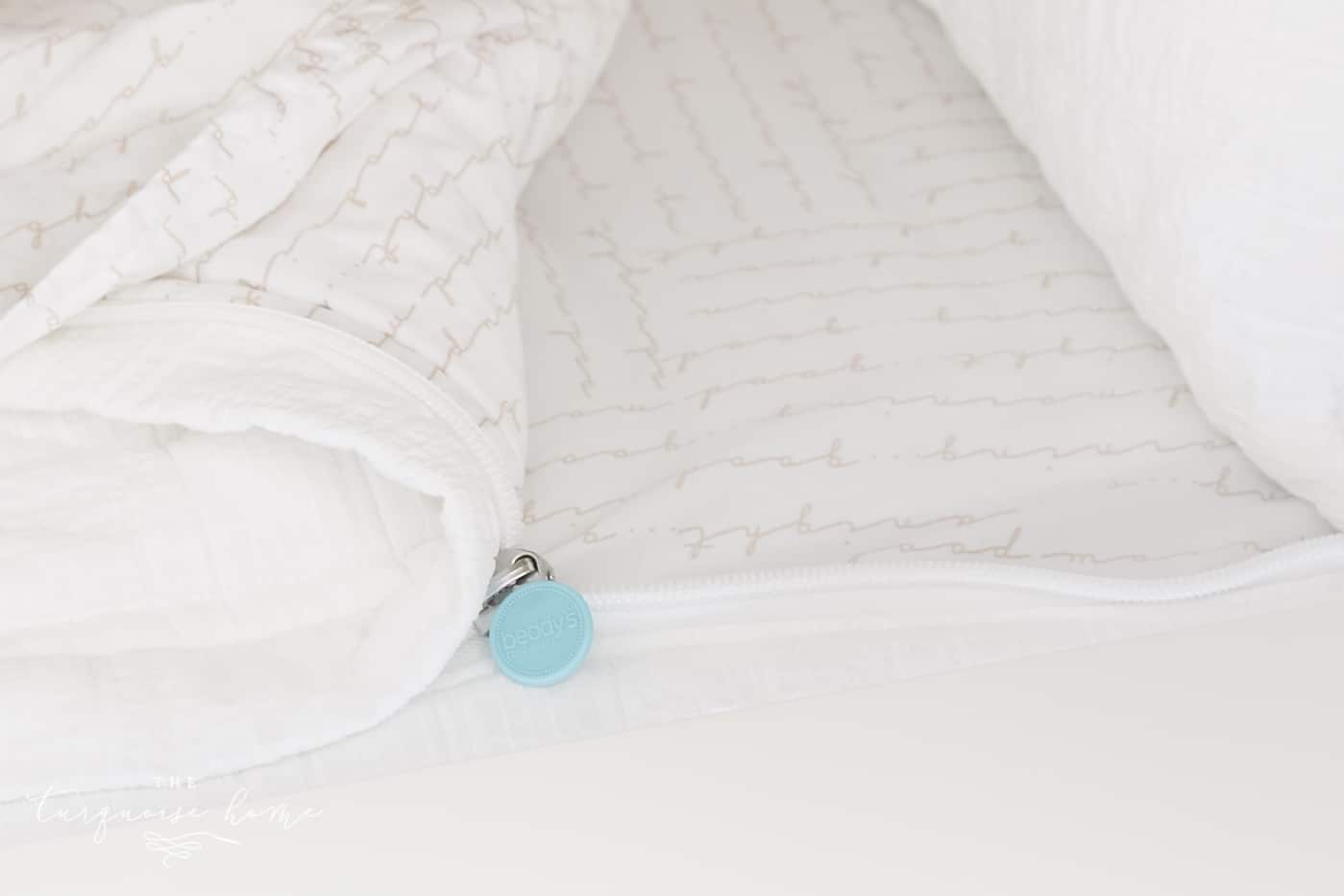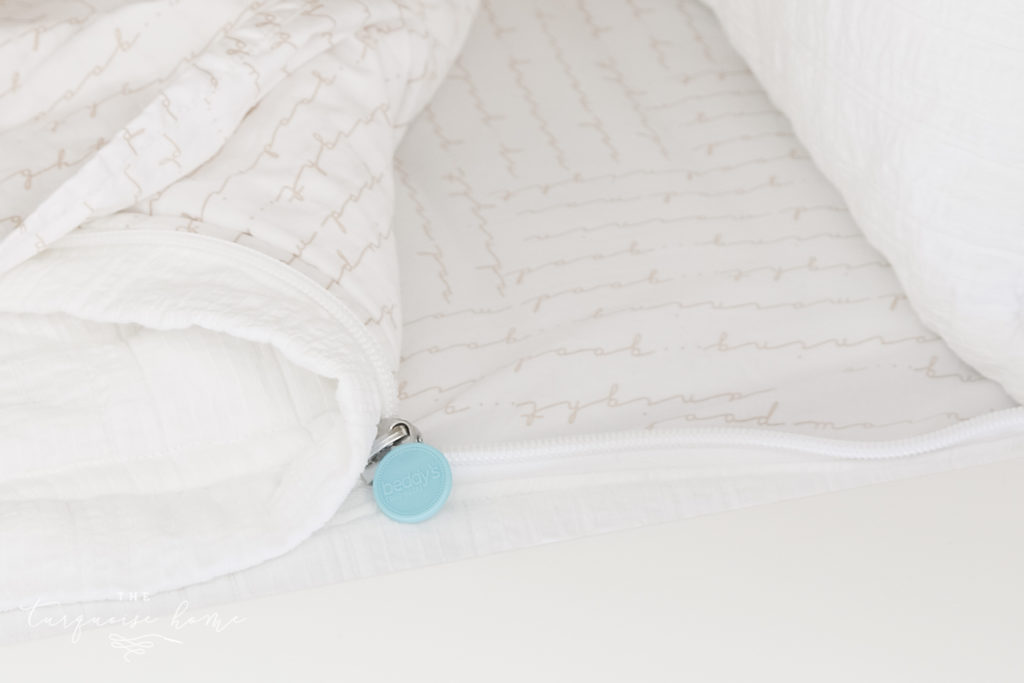 My girls can now quickly zip up the sides of their bedding with no problems and it makes my job a WHOLE lot easier because I'm not trying to bribe two kids to wrestle their sheets back on each night. (Seriously, my older daughter used to spend 15 minutes before bed each night putting her old sheets and comforter back in place. Now? They stay in place and just have to zip them up to make them!)
Each bedding set comes with pillowcases and shams, too! The full bed set that I got has two pillow cases and two shams. So, it's a complete bedding set.
They come in every size from toddler to king and are perfect for any bed, but especially ones that are hard to make!
The Loft Bed and Full Bed
When I was searching for just the right beds for my girls, I knew we wanted a full set of stairs for my daughter to climb down in the middle of the night. Climbing down a ladder in the dark just seems a little daunting to me, so we narrowed our search to a bunk bed or loft bed with stairs.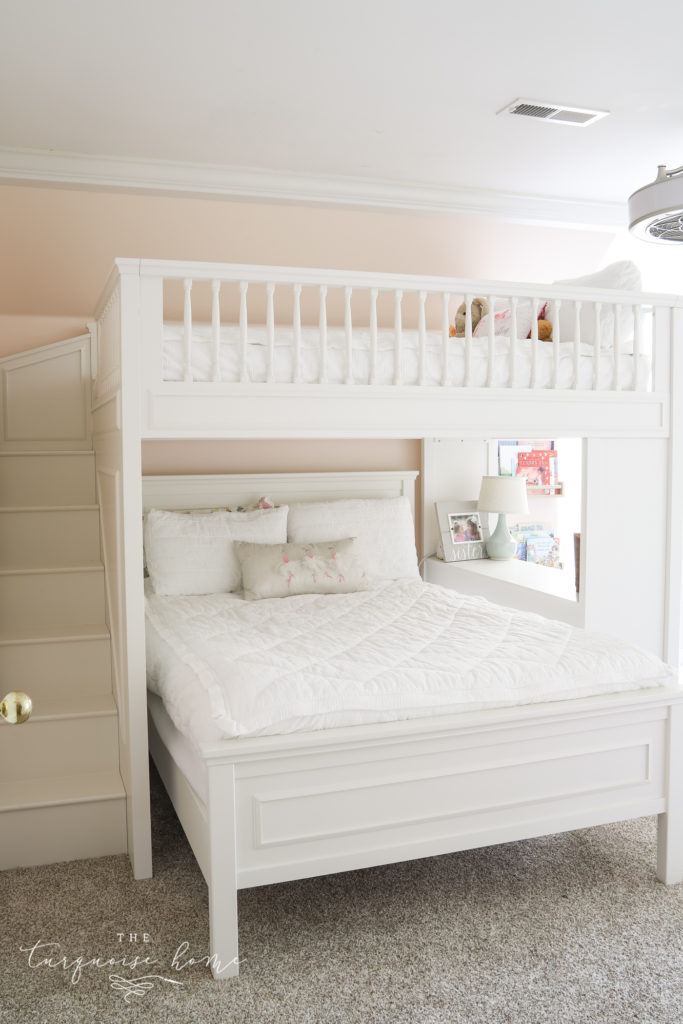 In some sets you can get additional storage in those stairs, which would be nice. But there's no storage option in the bed we chose. (But I love that there is space for storage under the full bed below, in case you have storage needs!)
And in the end I chose this loft bed with a separate full bed beneath it. This way, if the girls ever decide that they don't want to share a room anymore, we can easily separate them. And the the area under the loft bed will become an additional space for hanging out or playing.
Another thing I love about this loft bed is that it has a a desk with two small drawers on the opposite side from the stairs. This is perfect for a homework station or a place to draw or write in their room.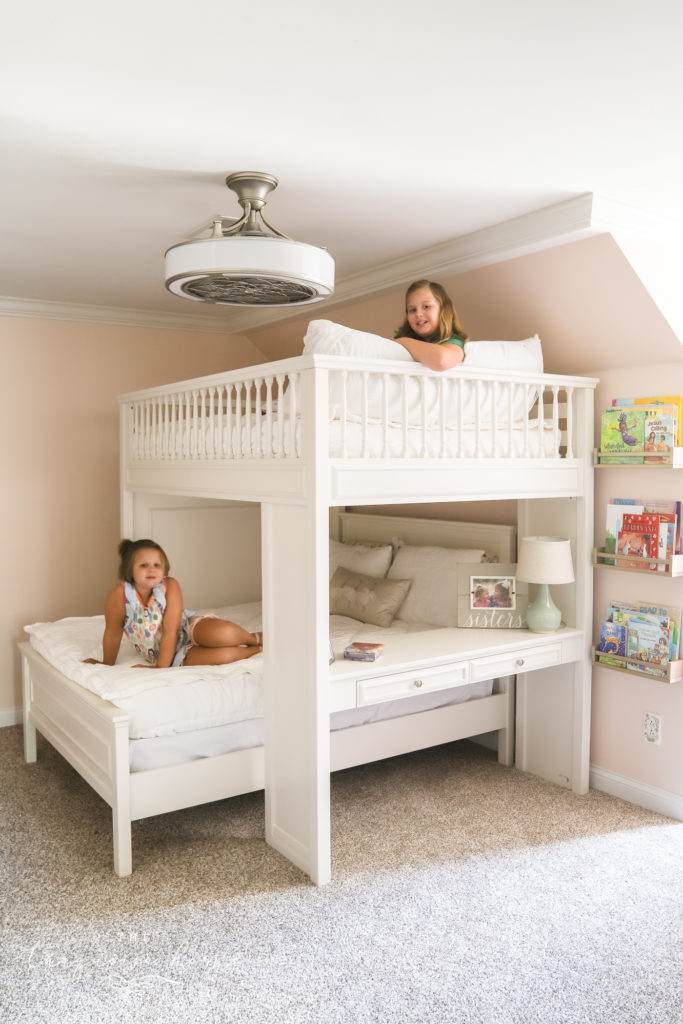 Lastly, I love that both of their beds are full size, so they can grow into them for years to come. The Simply White color on them matches my oldest daughters' old trundle bed from Pottery Barn Kids, as well as her tall dresser. So, that was a big factor in choosing this bed set as well.
I'm still waiting on a desk chair to arrive and get the room arrangement right before I decorate the walls. But the room is coming along (like how their DIY bookshelves fit perfectly next to the desk area and their new ceiling fan is safer) and we are loving that it feels more and more like them!


MORE POSTS YOU WILL LOVE: