How to Choose Living Room Curtains
Are you struggling to find the perfect pair of living room curtains? Finding the right balance between design and functionality can be tricky, but these tips will help you narrow down your search for the right curtains for the living room.
When I first decorated my living room, one of the first things I knew I wanted to do was remove the blinds. I get such good light in my living room thanks to the big windows, and I wanted to brighten it up as much as possible. I also wanted to add curtains that would make the room feel extra soft and cozy.
Because my living room is Hale Navy, which is a darker color, I wanted to balance the tone out and keep things simple and bright with solid white curtain panels. Plus, navy and white are just one of the best color combos, in my opinion.
While I naturally settled on white curtains, I know just how difficult it can be to find those perfect curtains for your living room. There are endless options ranging from different designs, textures, fabrics, and sizes. It can get overwhelming quickly!
Here are some of my best tips for learning how to choose curtains for the living room.
This post contains affiliate links for your convenience. See my full disclosure policy.
Consider the Surrounding Space
Of course, the first thing you want to consider is the curtains' design! The color should tie into the room's existing home decor and color palette, whether that's through accents like pictures on the walls and throw pillows or with the furniture itself.
Patterns on curtains can be trickier than solid panels. Since they take up tons of wall space, you can easily make them a focal point if you wish to add weight to the room and really reflect your personal style. For instance, floral patterns look lovely in traditional living rooms, while dark-colored geometric shapes could reflect an art deco inspired room.
Patterns can easily make the room feel over the top – this rule also applies to bold, solid colors as well. Consider what else is in the room first to find that perfect balance.
In fact, curtains tend to be one of the last design decisions I make because they're versatile and simpler to swap than furniture.
You can change out curtains as often as you like, even swapping out depending on the season. Cozy up in the winter with thicker window treatments and then swap out for sheer ones for the summer breeze. I've done this plenty of times before!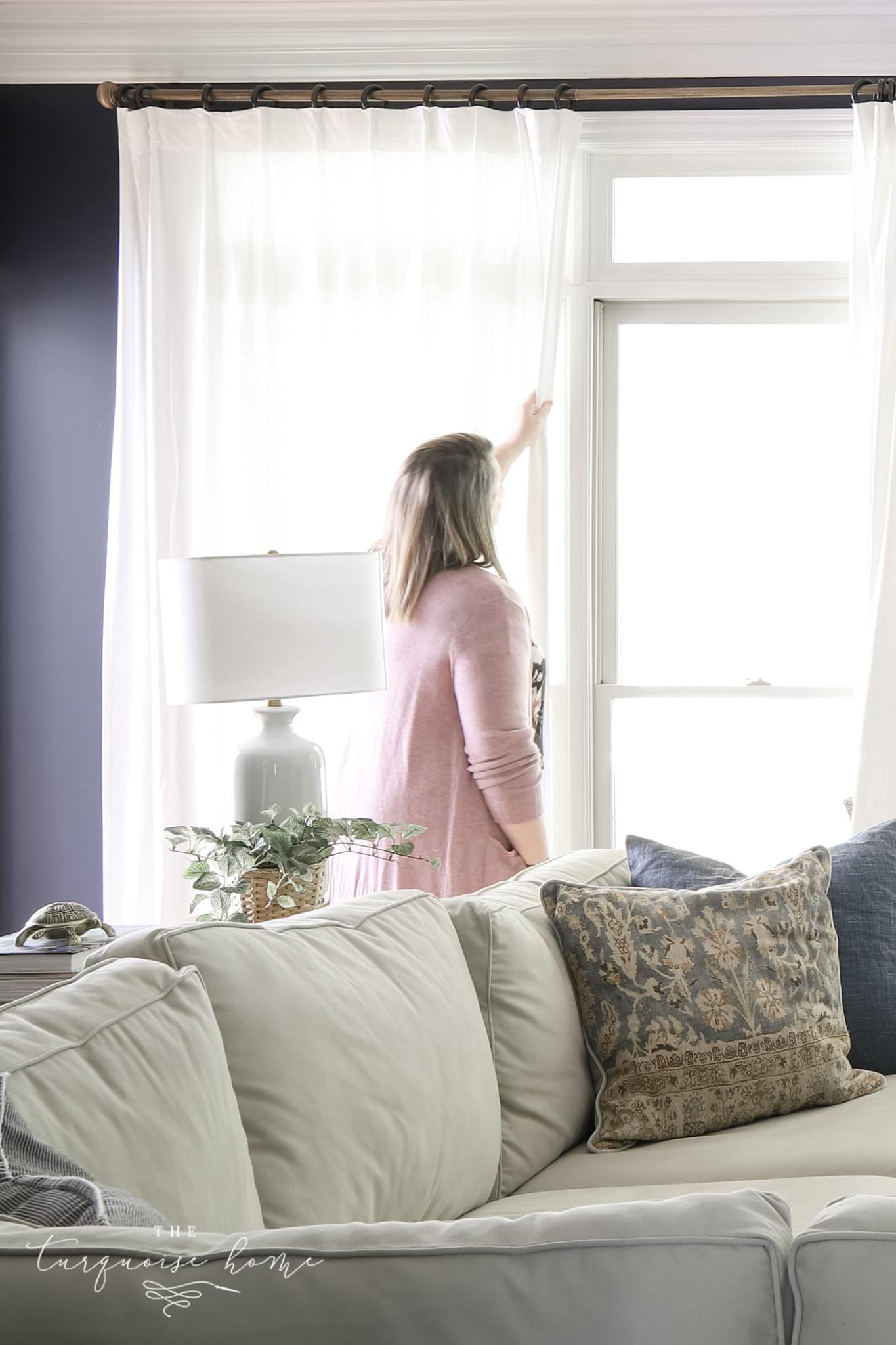 Decide the length of curtains for the living room
When it comes to living room curtains, you usually want something long and sweeping. Shorter curtains and valances are better for rooms like kitchens, bathrooms, and hallways.
Here are the standard curtain lengths by style:
Many people also like to hang their curtains higher than the window needs. This creates an illusion of space, offering a very grand and elegant look. This style would look amazing in a formal living room as it makes the ceilings look higher than they actually are.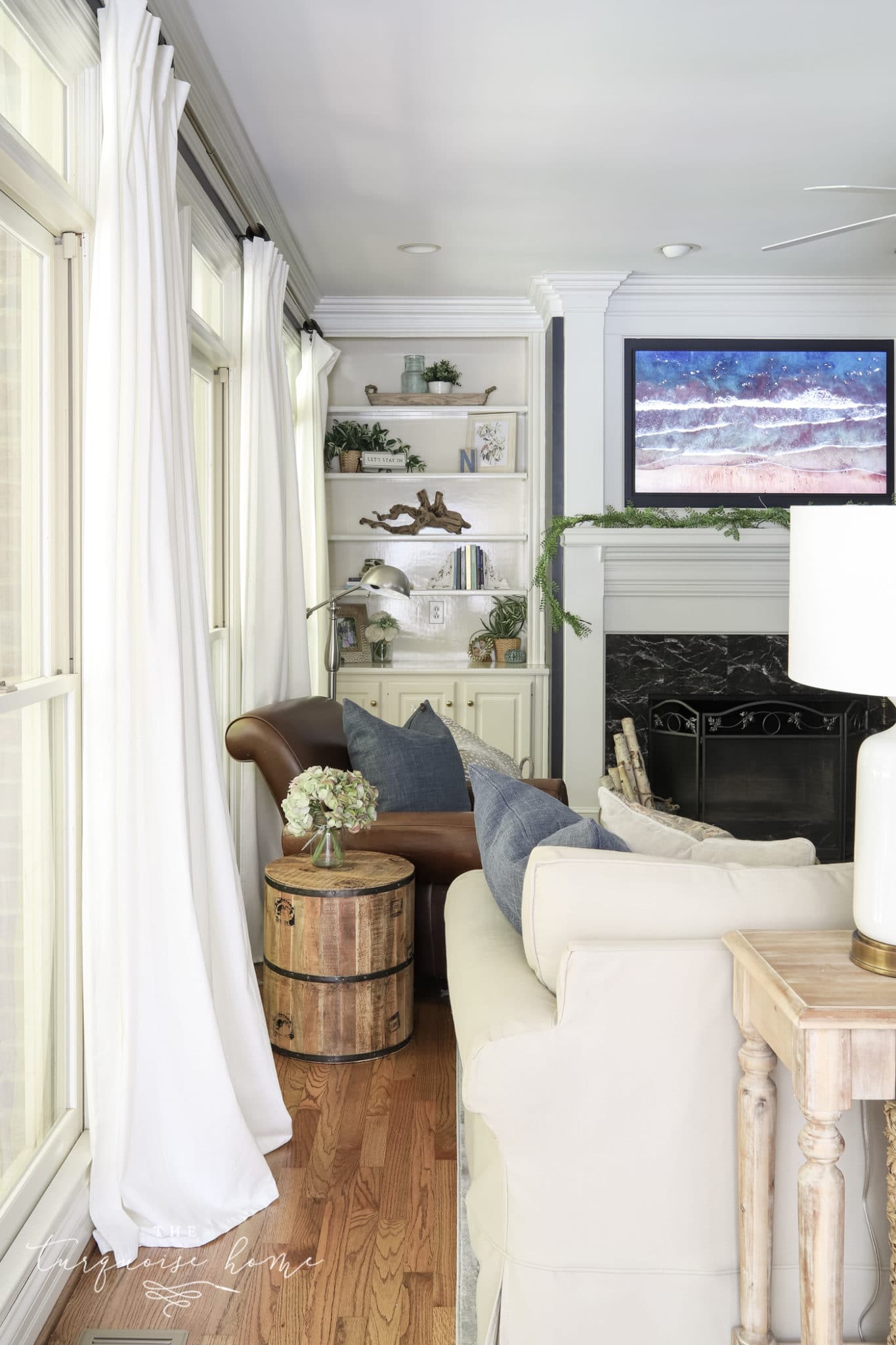 Width of Window Curtains
The width of curtains should be 1 ½ to 3 times the width of your window. This all depends on the style you're looking for. The longer the width, the fuller the curtains will look. Opting for a shorter width will give a more tailored appearance.
The thickness of the material will also affect how full the living room curtains appear.
Choose a Curtain Fabric
Know exactly how you intend to use your curtains. How much light do you want to come through to your curtains? Do you want your curtains to be decorative or functional in providing privacy and blocking light?
The thickness will vary based on the type of fabric you choose. You can go with thick material like heavy velvet for dramatic and glamorous living room curtains. Or choose lightweight fabrics like lace and sheer fabrics for a welcoming and boho atmosphere.
You also may want to consider maintenance for your curtains. Some heavier fabrics are more high maintenance than others. Are you able to machine wash your curtains? Will you need to dry clean, hand wash, or even iron your curtains to retain their shape?
Types of Curtains
Popular fabrics for living room curtains include linen, velvet and a linen/cotton blend. I prefer a linen sheer, linen with a blackout curtain liner or a linen/cotton blend in my home.
Curtain Headings
You can change the whole look of your room with curtains their curtain headings. You may thing it doesn't matter, but the headings will dictate how your curtains attach to the curtain rod. And
Protective lining
You may want to also include a liner inside your curtains. For instance, if your curtains receive direct sunlight, they may fade faster than others, and a liner can help them last longer.
Curtain liners can also help to control the lighting in the room as well as the visibility. Sometimes an extra sheer liner is a nice touch. You can easily add multiple layers to your curtains for different effects!
Add final touches with living room curtain hardware
Here are a few additional things to consider when selecting your living room curtains (or curtains for any other room in your home!).
Curtain Rods
Curtain rods are an important style element all on their own! Their color, finish, and finials are all decisions that can tie into the final look of your curtains.
Finials are the decorative knobs you place at the end of the rod. I'm very partial to intricate and ornate designs for a subtle touch of glamour. But I also like simple finials when going for a more casual look.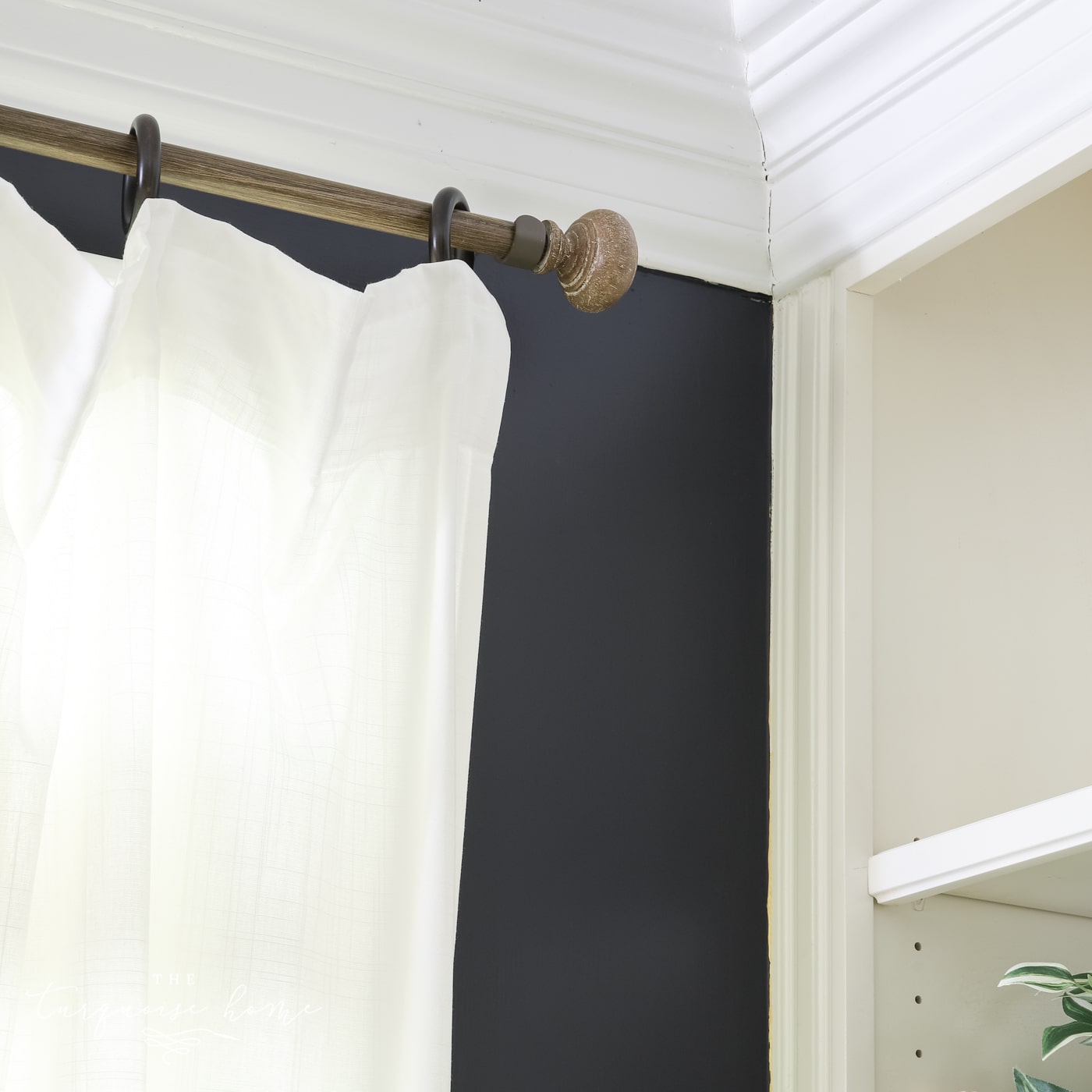 Where to Mount Curtain Rods
Another important thing to consider is where you want to mount the curtain rod. You can mount them outside either end of the window frame or inside.
Mount the curtains 1-2 inches from the ceiling or crown moulding. Otherwise, hang the curtains high and wide for the most visually appealing look.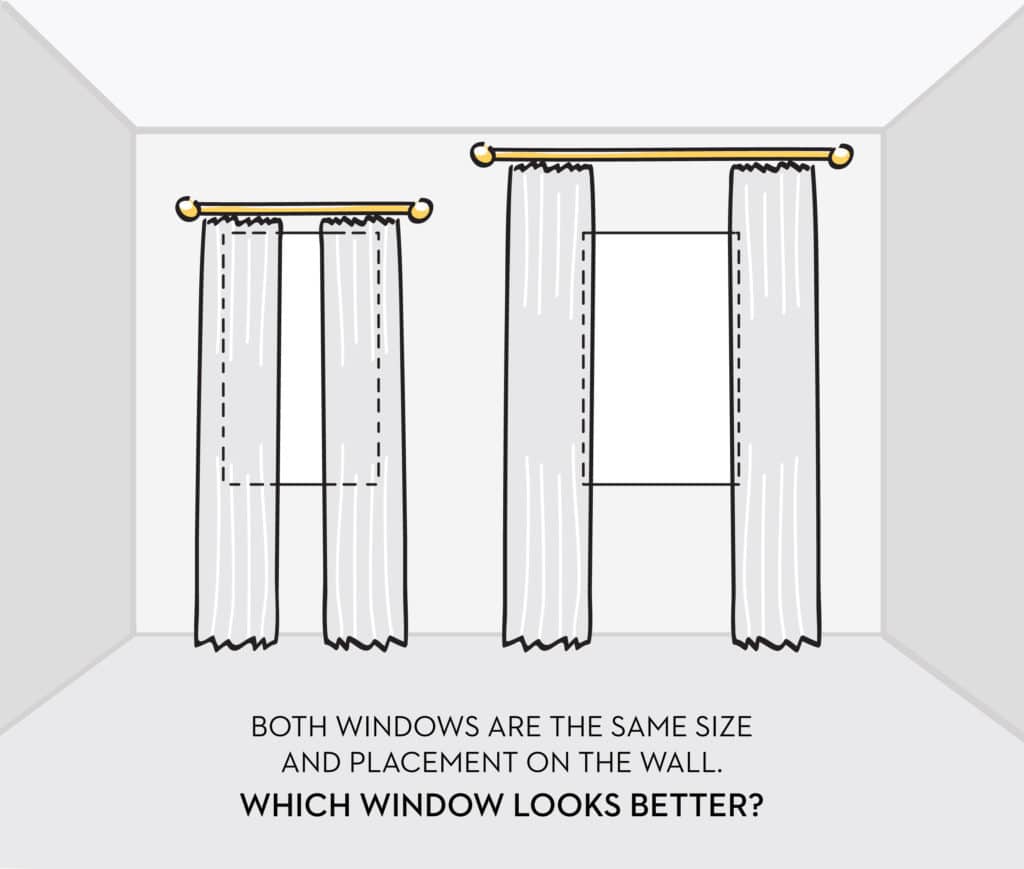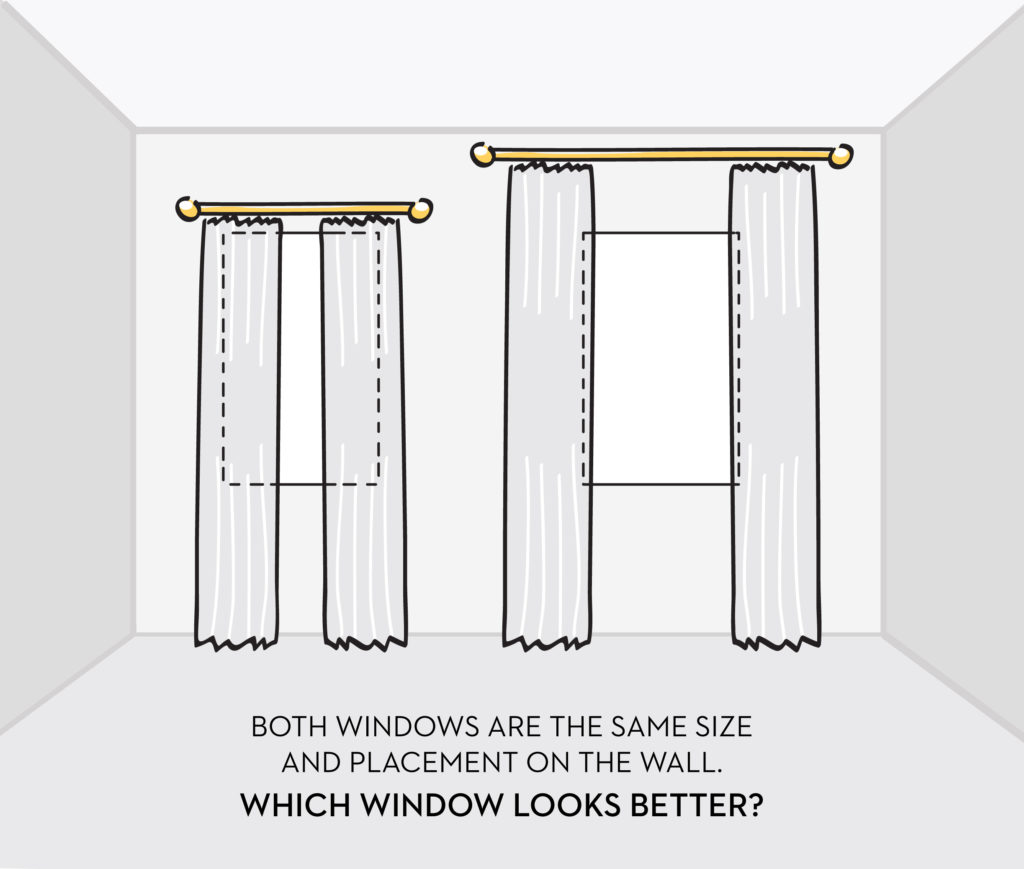 While inside is not as common, it provides a distinct look. In most cases, the curtain rods extend 3-6 inches past the width of the window frame. The curtain rod itself should be at least 1 inch thick to avoid bowing in the middle.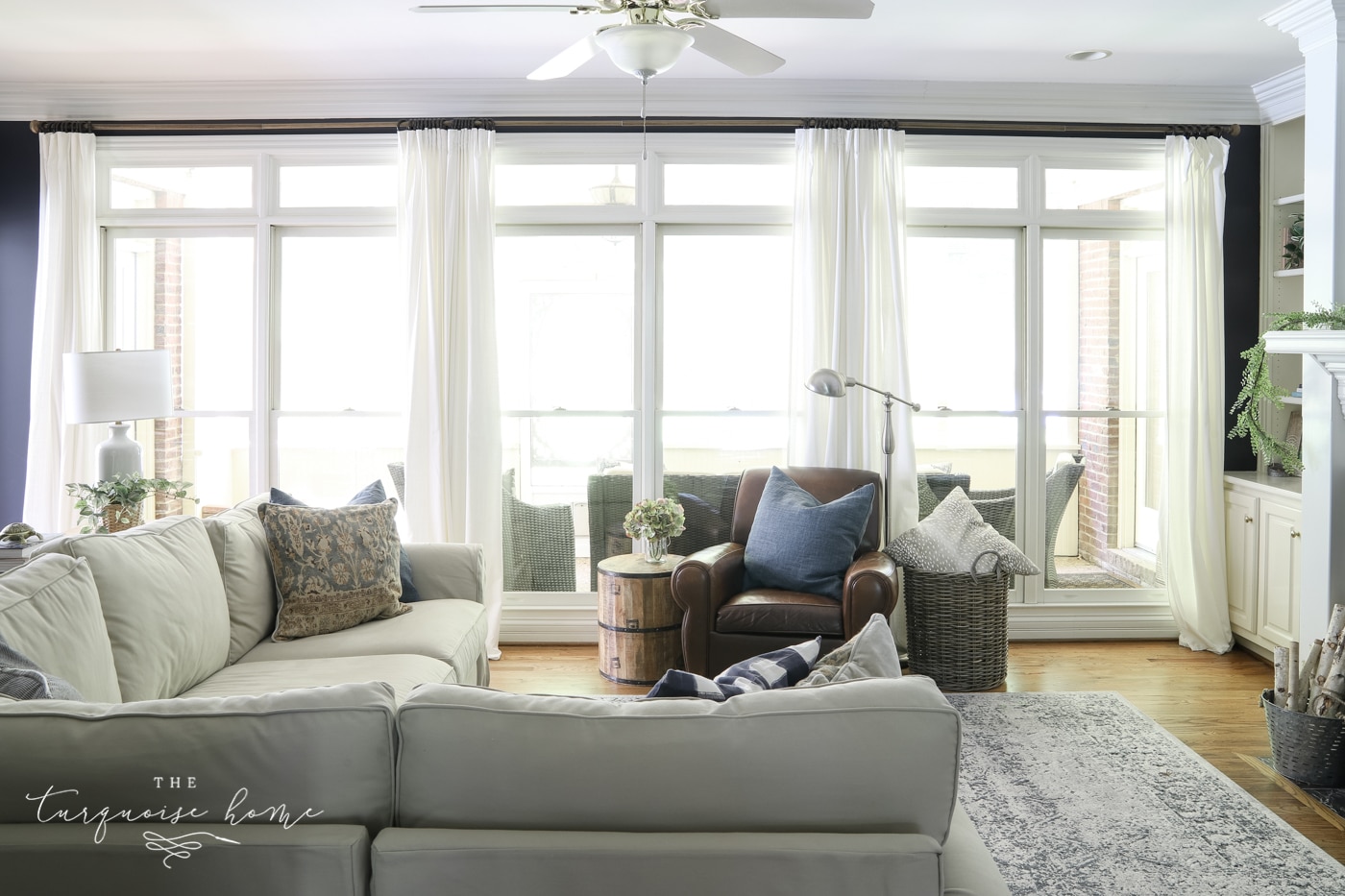 Other Living Room Curtain Hardware and Accessories
Beyond the curtain rod, there are a few more design and functionality decisions.
Altogether, these can piece together the final look of your curtains.
Types of Curtains We Love for Living Rooms
While you could choose any color or style of curtains for the interior design of your home, we love these living room curtain ideas the most!
Pinch Pleat Linen Drapes
The pinch pleat is a classic style that works for any home decor! It will elevate your space and the beautiful, yet durable linen with give it a comfortable vibe. You can get these in light-filtering or blackout liner options. I wish I had chosen these for my living room to start with!
Pinch Pleat Faux Linen Curtains
Get the high end linen look, but without the cost! These faux linen curtains really can pass for the real thing, but no one will know, but you! These come with a room darkening liner, which lets in about 30% of the natural light.
Pinch Pleat Sheer Curtains
Again with the popular pinch pleat style, but in a sheer curtain! Most living rooms don't require blackout curtains. If you simply want the look of curtains without them being opaque, these curtains would be perfect! You could keep them opened or closed and still get lots of light.
Flat Panel Linen Window Curtain Panels
Create a more casual vibe with flat panel linen curtains, hung up with drapery rings and hooks or clips. This is the style I predominantly have in my home. And this is the closest match to what I have in my living room (but in white).
Final Thoughts
When figuring out how to choose curtains for the living room, you have to keep two essential ideas in mind. Do you like the design? And do the curtains function properly in the living room? If the answer to both of these is yes, then you're good to have fun and experiment with your style!
More Posts You Will Love: