Home Office Decor: Create a Stunning Workspace
These home office decoration ideas will have you itching to turn your spare room into a chic, stylish place to get away and do a bit of work (or play!).
Every home has a few spaces where design can be a challenge. In my experience, the home office is near the top of that list because my home office doubles as my guest bedroom. Because of this, I've found that home office decor must be both pretty and functional, which can be a tough combination sometimes.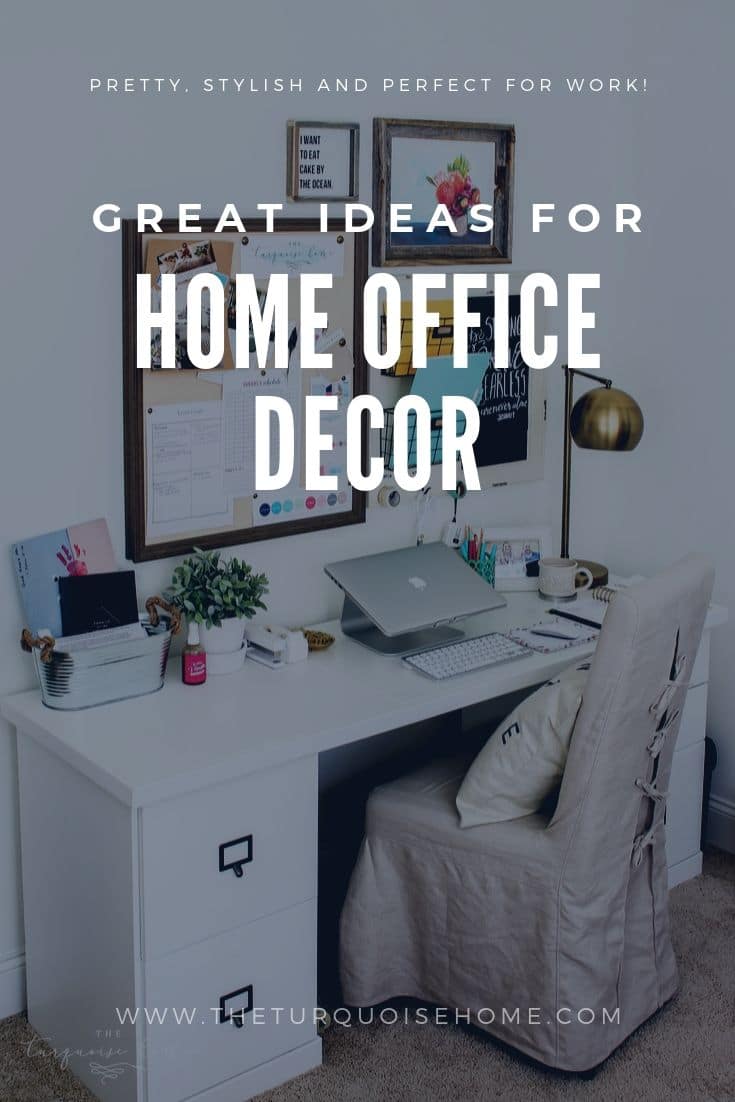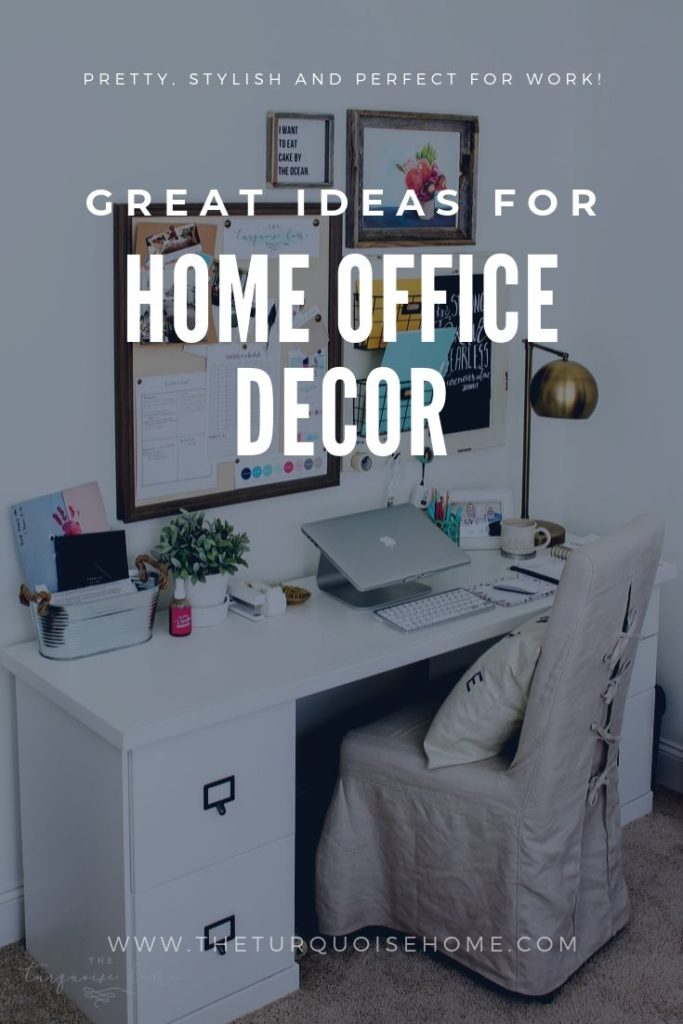 Plus, when it comes to decorating your home, you may not always be thinking about your home office. We all have that one space in our home where everything without a space to go ends up, and for so many people, the office can serve as a dumping grounds of sorts.
How I Changed My Home Office Decor
If I'm entirely honest, I used to struggle with my home office too. Trying to juggle my family, work and home – my office got the back burner and was one of the last spaces in our home I got to decorate.
Eventually, I was tired of working in a less-than-lovely space, staring at beige walls. I decided it was time for a change, and for me, it all began with a piece of furniture: my amazing desk!
You can read the entire story and see inspiration images of my home office decor here, but once I had the most important piece of furniture, I arranged everything around that. It's a great starting point, but if you need more inspiration, I've got you covered!
The Best Home Office Decor Ideas
This is how much updated office space turned out. It's just a corner of the guest bedroom, but it works for me! (See more pics of my finished home office in this post.)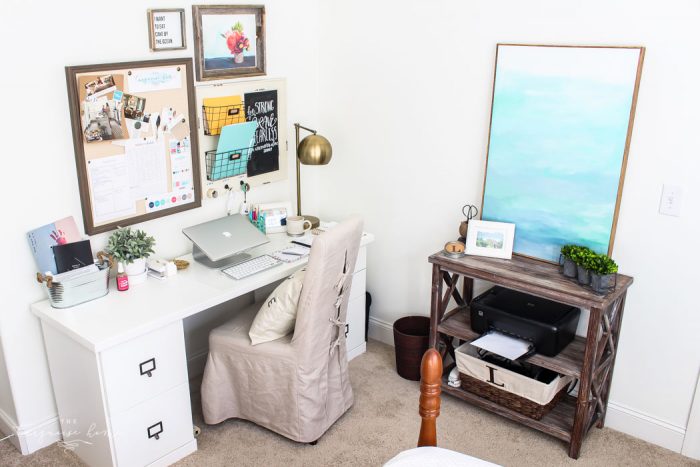 Since I spent a lot of time struggling with this room, I thought it would be a good time to showcase some of the inspiring ideas and images that helped me along the way so you could give your space a makeover too!
When it comes to home office decor, the options are endless. Think about it — you can add all sorts of items into your space, like throw pillows, rugs, lamps, plants, photo frames, and so much more to transform the look.
Whether your office is small or just a corner nook, you can glean a few takeaways from this post. If you have to work, you might as well make your space amazing, right? 🙂
See my BEST Work-From-Home Tips HERE!
Try Bohemium Home Office Decor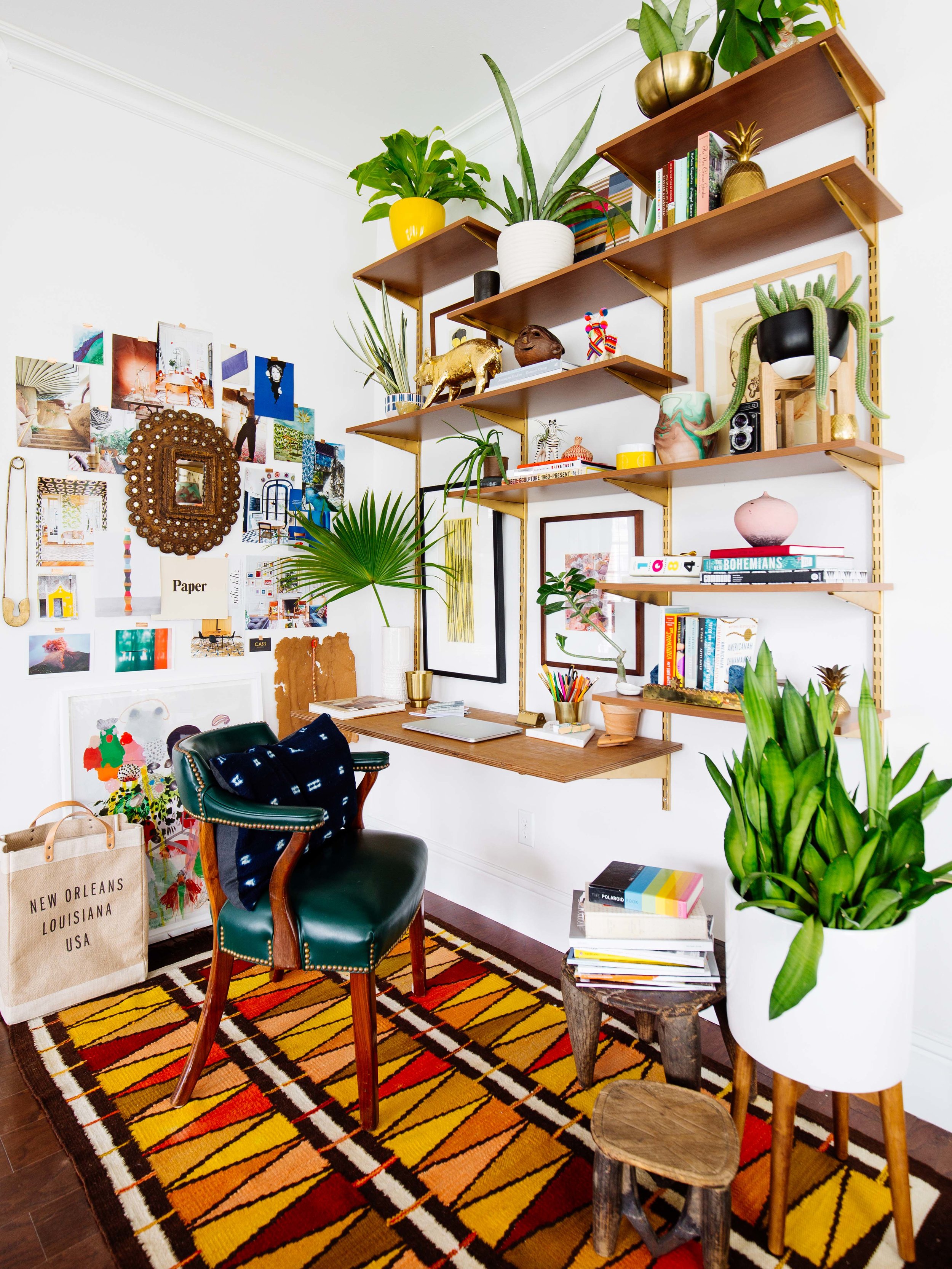 The bright colors, bohemian rug, plants, and accessories really showcase this style of decorating. Even though I don't have a boho style, I still found this pretty home tour so inspiring!
Don't be afraid of bold colors and patterns like Dabito from Old Brand New used in this home office. It turned out splendid and I'm sure you will get lots of compliments from friends and family.
My favorite part of the space has got to be a tie between the clever shelving-desk hybrid and the fun gallery wall. Greenary keeps everything looking nice and fresh, too.
Think About Metals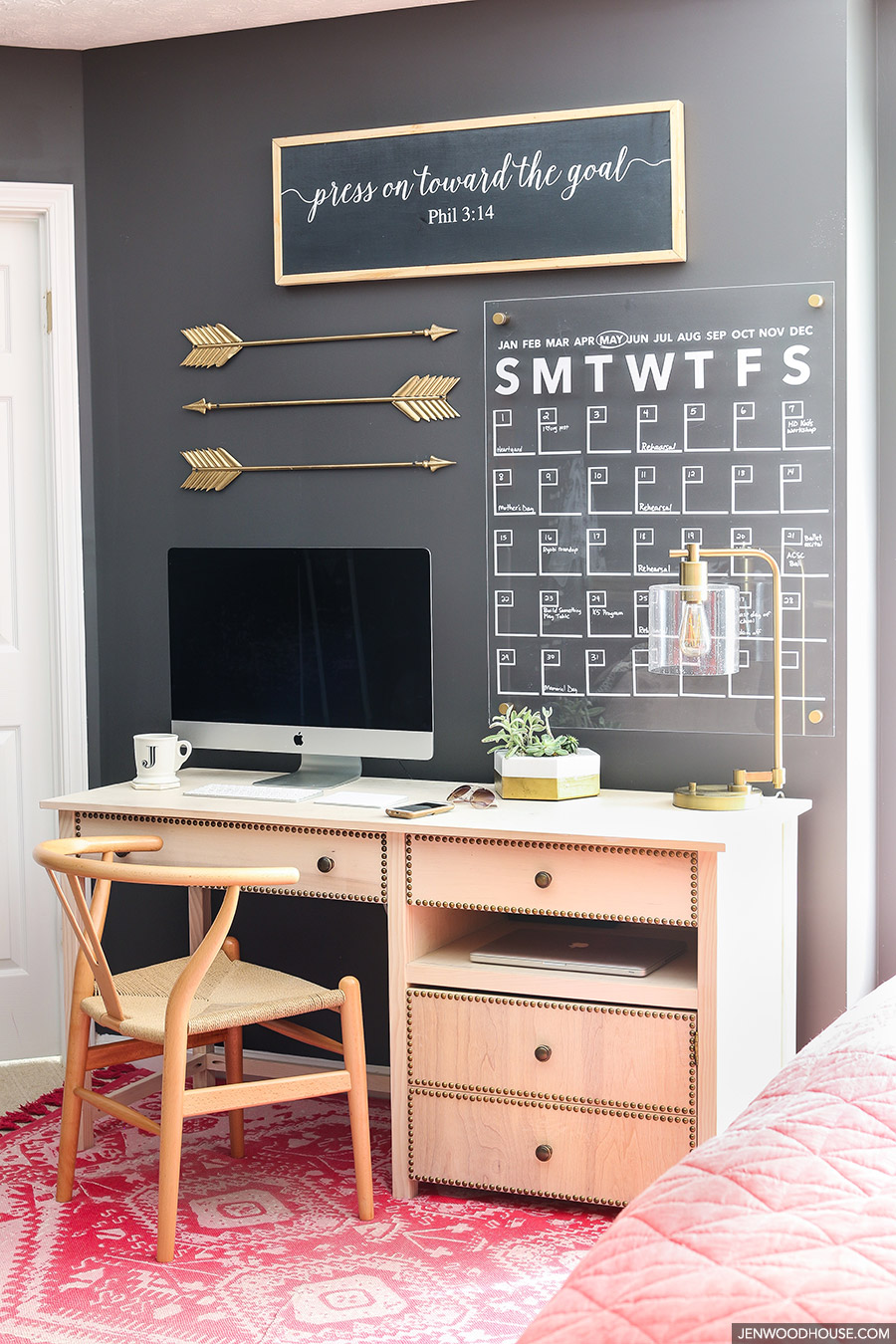 Add a touch of glam home office decor with gold accents just like this pretty space from Jen Woodhouse. The dark gray paint color makes the gold stand out beautifully, while all those pink accents soften and round out the design. I just love how her space turned out!
Don't be limited just by gold, however. There are so many lovely metal accent options these days, from shiny chrome to a rustic brass. Metals add an expected pop in any space, but particularly in a home office when people expect more function than form.
Recreate this look by bringing in some fun gold finishes for everyday office decor pieces such as:
Utilize and Decorate Wall Space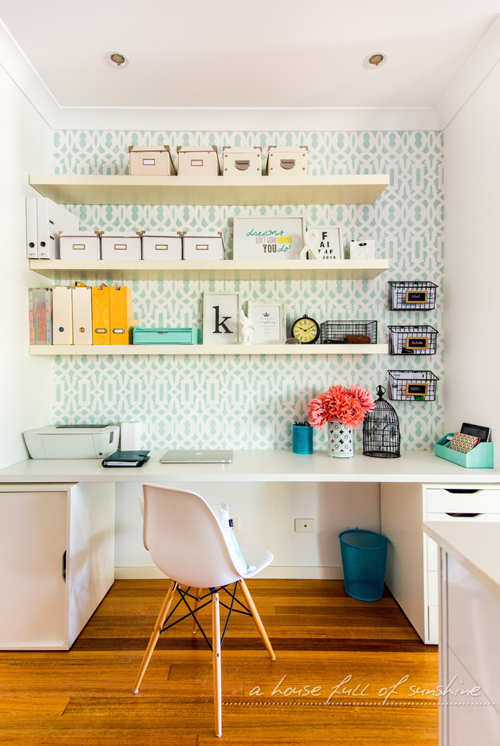 One of the best home office ideas is to utilize the wall space that's available to you. This is universally true whether you have a closet you've transformed into an office (AKA cloffice), or an entire room to utilize.
Having shelving that you can use for cute office decor as well as staying functional is a huge plus. Jen at I Heart Organizing did an amazing job creating a cohesive home office space by utilizing colorful wallpaper to act as decor in the space behind the shelves, then layering neutral boxes on the shelves that contain various odds and ends.
Keep Things Earthy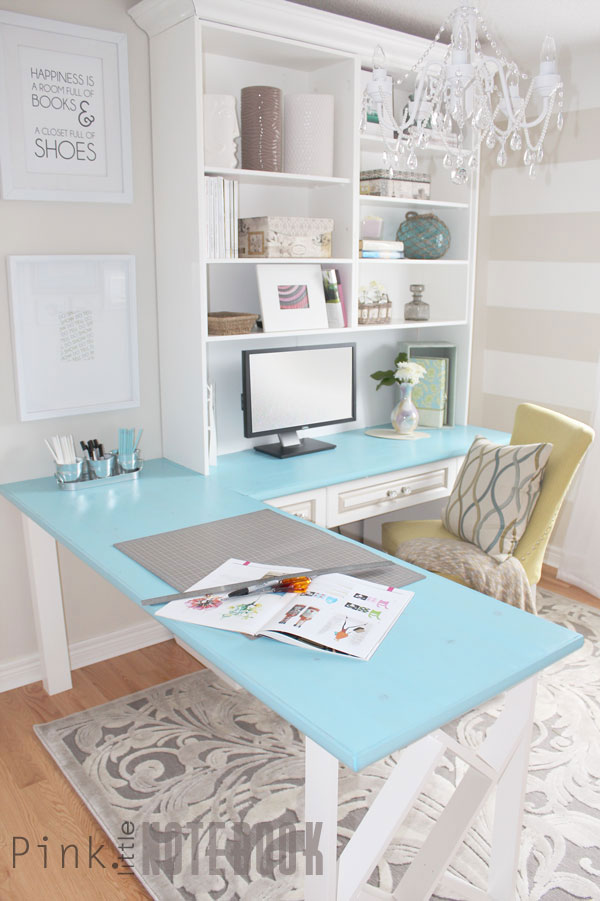 If having tons of color isn't your thing, there is nothing wrong with that. For many people, decorating a home office is all about creating a soothing, relaxing space just like this one. What better way to do that than by focusing on earth tones?
The bookshelf serves double duty as a place for both decor and cleverly hidden office supplies. Sabrina at Pink Little Notebook really knew what she was doing when she put together all this home office decor!
Keep Home Office Decor Minimal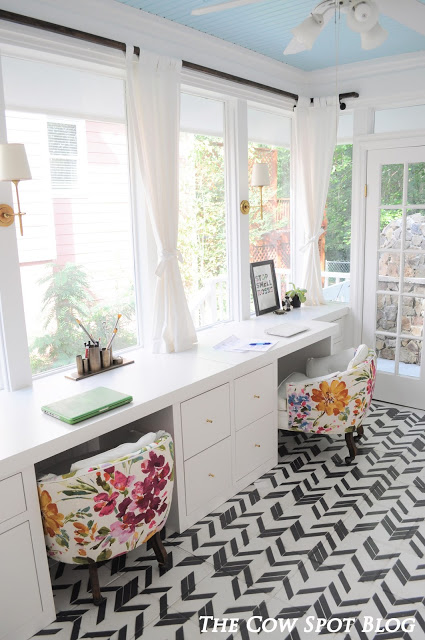 If you are fortunate enough to have an office with natural light, be sure you use it to its full potential. Brent at The Cow Spot did a great job keeping home office decor minimal to allow the massive, beautiful windows to stay the star of the show.
Billowy white sheer curtains help soften the room while adding the helpful function of filtering light to avoid eyestrain. Plus, when your decor is minimal you can add fun accessories like the floral office chairs!
Add Some Fun Color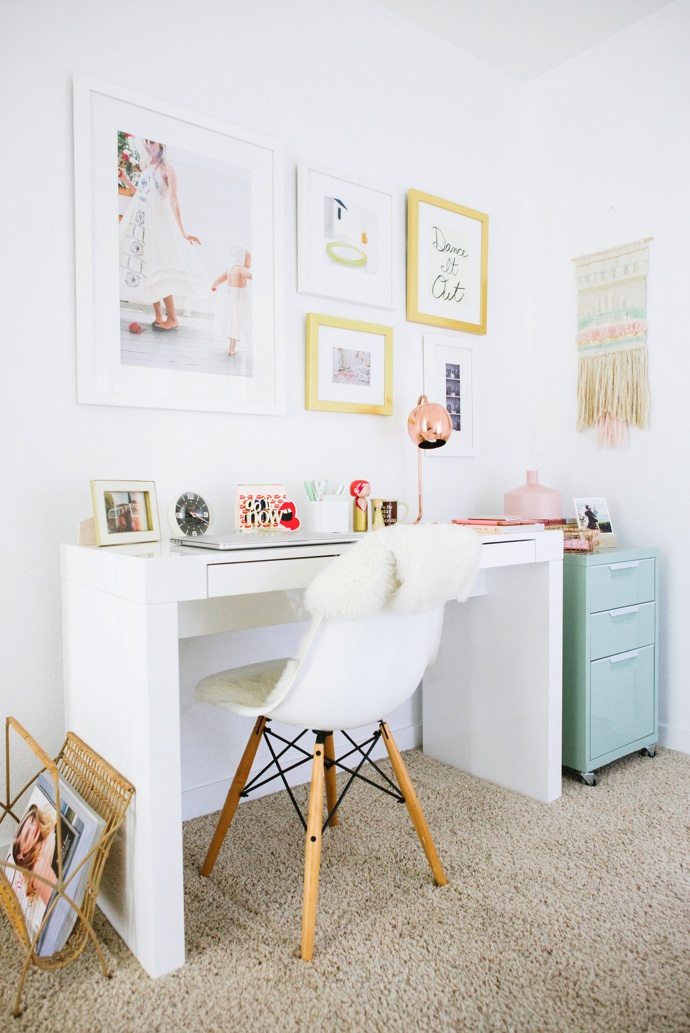 Oh, how I love the office ideas that are in this photo. Hang up photos of your family and inspiring words in bright frames to give the office a personalized touch while also providing you inspiration to get through the workday.
You want the room to feel warm and inviting, not cold and stark. This playful workspace is filled with touches to help keep it fresh, like this fun aqua filing cabinet. Taylor at Glitter Guide went with a simple approach to decorating in her stylish home office, but it has a huge impact on the room.
In conclusion, it's SO nice to have a room that is quiet, lovely, and somehow almost makes work an escape, ya'll. (A door that is able to be locked is always a plus, too. 😂) Don't be afraid to add your personal touches and make it a room you want to be in.