How to Paint a Drop Cloth Rug & Nursery Update
Yay! I finally finished another part of sweet Baby G's nursery. I can't wait to get it all done and do the final reveal. Now that she's sleeping in there, I'm really excited to get it finished and looking put together.
Can I just say that it takes 10 times as long to do a project with a newborn? Cause I just need to tell somebody that. When Miss A was born I didn't have a blog or do many DIY projects. I was employed full-time outside the home and thoroughly enjoyed a full 3 months of maternity leave to do nothing but cuddle a newborn. Dare I say, I was bored then?
This time around is much different. I am a work-at-home mom with a preschooler and a newborn. I have no time to do anything but survive around here. Somedays I look around and think, if we can just stay home and make it through another day alive, well, fed and warm, then I'll call it a success. We've had many successful days around here. Set the bar low, people.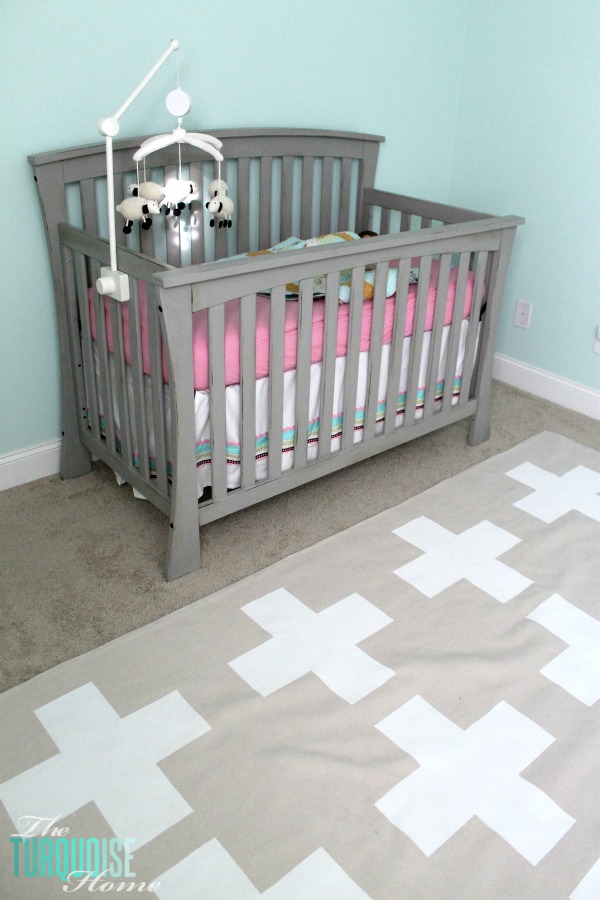 OK, so this rug. I loved the swiss cross rug in the vision board I put together. But I didn't want to spend the cashola. So, I found a much cheaper solution with the same stylish impact. Ace Hardware challenged us to break the rules with our post this month. Is there a rule out there that you can't paint a rug? Well, if there is, then I broke it. Whether or not it's a rule, it's definitely an unconventional way of covering your floors. 🙂 I thought it would be a great way to DIY a fun pattern for the nursery!
What you'll need:
– Drop cloth (I got a 12 x 9 foot drop cloth and folded it in half to make a 9 x 6 rug.)
– Super 77 Spray Adhesive
– Paint (I used Whisper Softly from Ace Hardware's Valspar paint line.)
– Purdy paint brush
– Frog tape
Step 1 – Prep.
You'll want to wash and dry. That will make sure that if you ever need to wash it, which I'm sure you will, it won't shrink on you. Then iron the heck out of it. My mom ironed mine while I took a nap. Thanks mom!
Step 2 – Fold it in half.
I highly recommend having someone help you with this step and the next two. My mom and I folded the drop cloth in half and matched up the corners and sides as best we could. (Like I said, I got a 12 x 9 foot drop cloth and folded it in half to make a 9 x 6 rug.) Since drop cloths don't exactly have straight edges, just do the best you can. Then we pinned the sides and about 6 inches from the folded seam. And then we ironed the folded seam. This was key for the next step. Thanks Mom for being a hand model.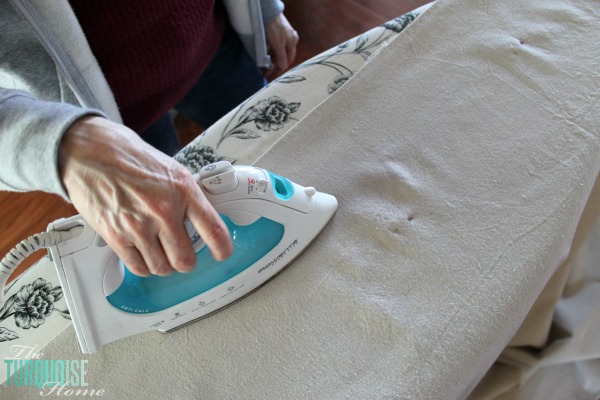 Step 3 – Spray adhesive.
We took the folded drop cloth outside and laid it down in the garage. Lucky for us it wasn't too cold outside last weekend. We had spread out a sheet and some newspapers to put under the drop cloth. This kept us from getting spray adhesive on the garage floor, which I imagine would have been a sticky disaster. And it kept our drop cloth from getting dirty. We opened up the folded drop cloth and sprayed the adhesive all over one side of the drop cloth. It I had it to do over again, I would have sprayed both sides, but you live and learn.
Step 4 – This is tricky. Stick the two sides together.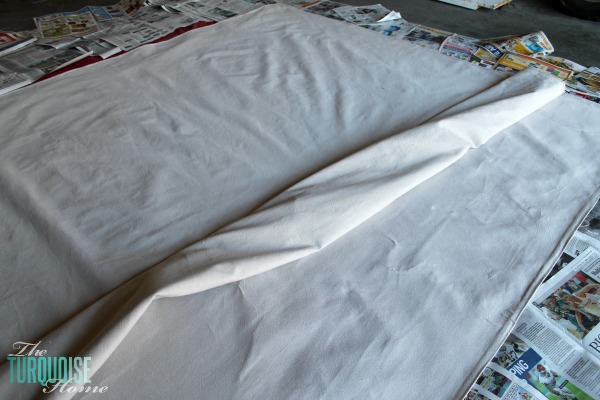 Once I had sufficiently sprayed one side, we carefully laid down the top side over the bottom. This step definitely needed two people. We started in the middle and made sure to press out any wrinkles as we went along. Sometimes we had to pull the sides apart and start a section over, but nothing too bad. The wrinkles you see in the picture above were from the sheet underneath.
I can't imagine doing this one by myself. I would have pulled my hair out.
Step 5 – Plan your design.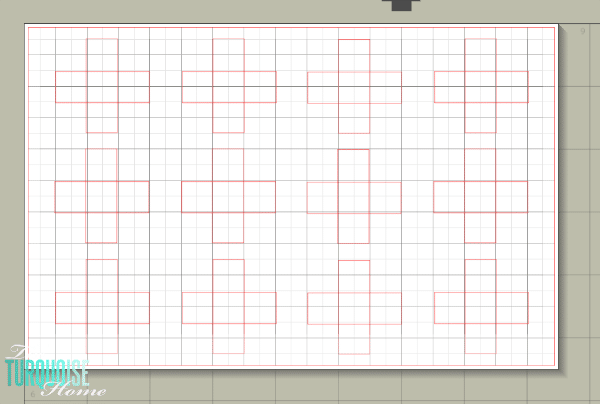 I used my Silhouette Studio software to map out my design. I had to make sure the crosses would be as centered and evenly spaced as possible. The math kind of hurt my brain. 🙂
Step 6 – Tape off your design.
I used frog tape to tape off my designs. And I used a long board from my scrap wood pile as a straight edge. Make sure your board it actually straight before you start using it. I started with another board and after a few lines, I realized it wasn't straight. Ugh.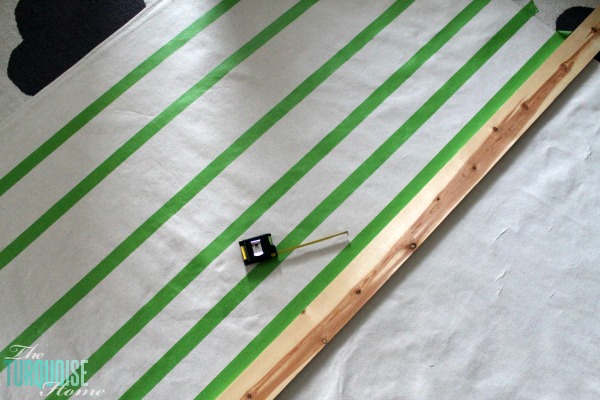 Actually I ended up having to take up tape three times during this process because I kept getting confused about how far apart the lines should be. The math was a little much for this mom with newborn brain fog, but I finally got it all done! Taping was definitely the most time-consuming part of this project.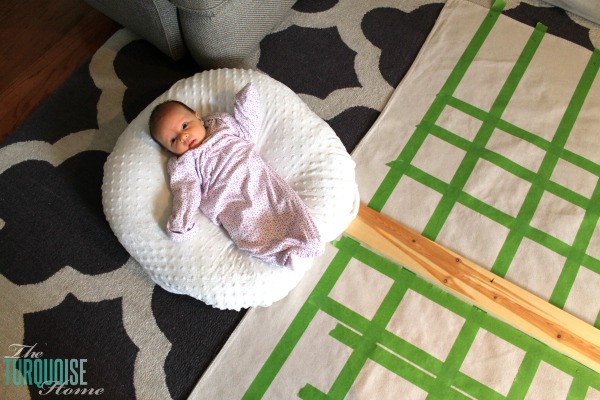 I had a little helper with me for most of this part. She's cute, but isn't a big fan of being put down. This was the calm before the storm. Hence the DIY projects taking 10 times longer than they used to. 😉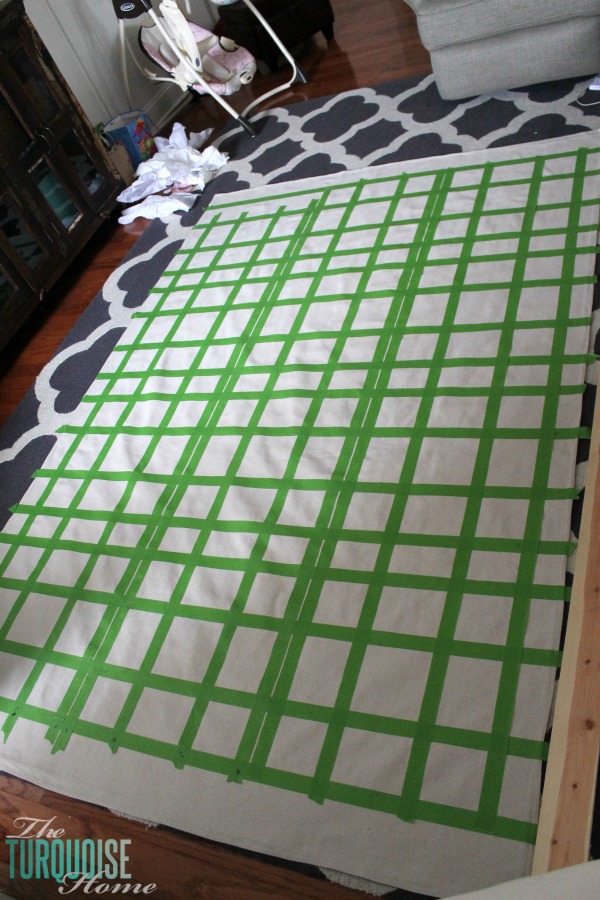 Note: I highly recommend doing all of this on top of another rug, like I did. Yeah, it was inconvenient to work in the middle of the living room with my family all around, but my knees thank me for not trying to do this on the hard wood floor.
Step 7 – cut away unnecessary tape.
Once I had all of the lines taped down, I cut away the tape I didn't need. I used my box cutter, which worked great. Just make sure to only cut through the tape and not cut the drop cloth, too!
Yay! Now it's time for painting!! You can finally see the design start to take shape.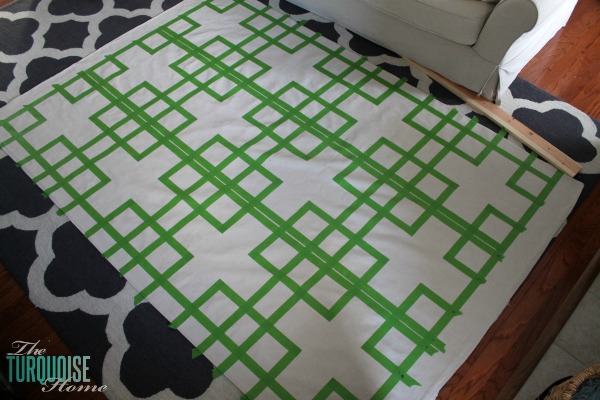 Step 8 – paint!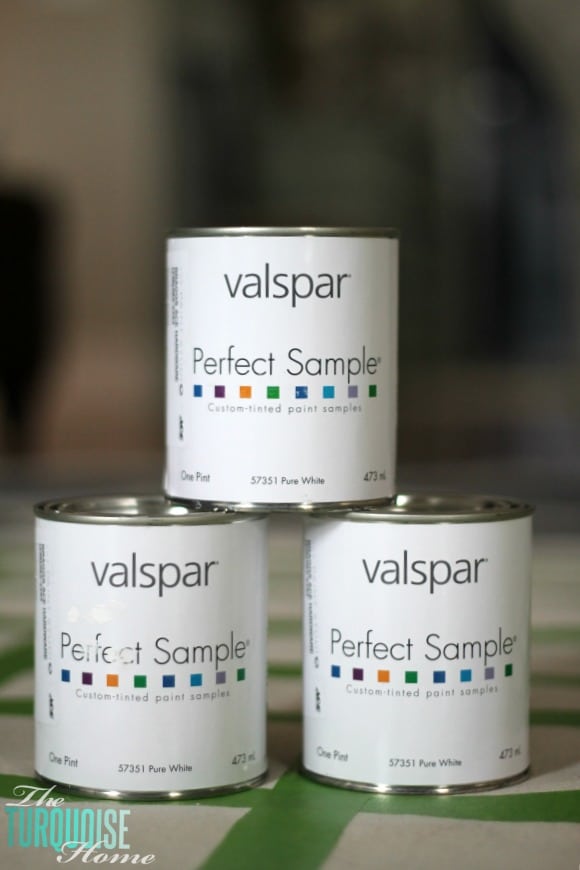 I grabbed a sample pot (which is a pint) of Whisper Softly from my local Ace Hardware. It's a pretty neutral that looks white, but has green undertones and makes it look slightly gray in the right light. I thought it was the perfect name for a paint color in a nursery. And I think I'd like to paint a wall this color at some point – not in the nursery, but somewhere.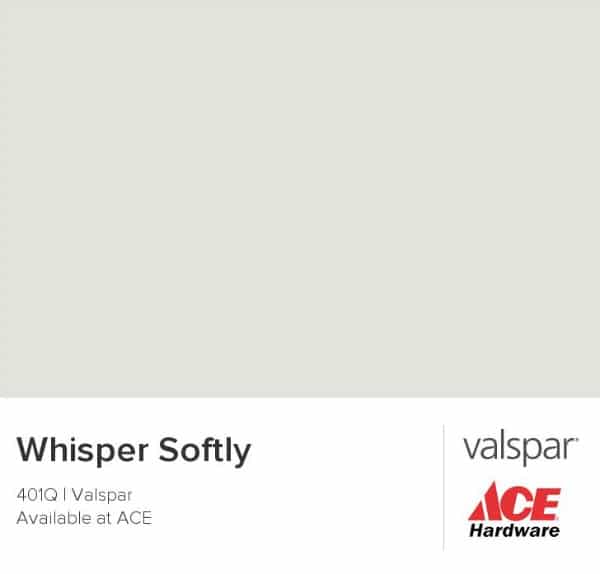 Painting on fabric can be a bit tricky. You want to make sure you press down the tape really well, and never paint toward the tape lines, only away from it. Otherwise the paint will be pushed up under the tape and you won't have straight lines.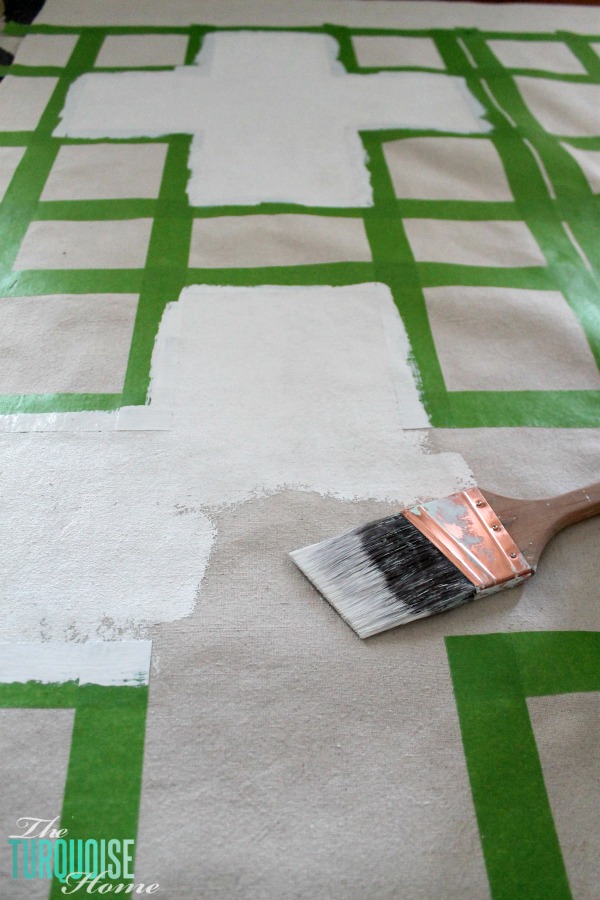 This project took the whole pint of paint.
The last thing to do is just remove the tape after the paint has tried. And voila! You have a pretty, fun canvas rug!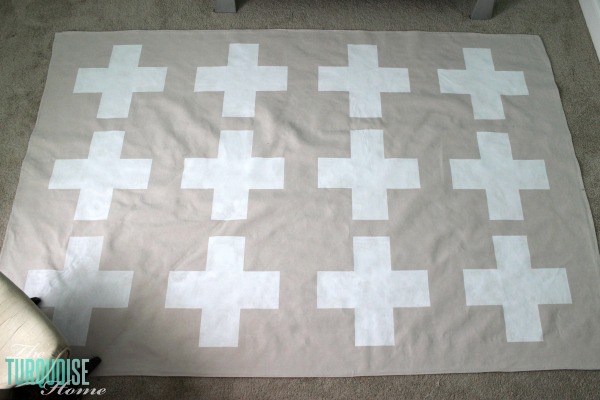 It was hard to get a picture of the whole thing because it's so large.
I love it! I can't wait to finish all of the nursery projects and get them all in the room together.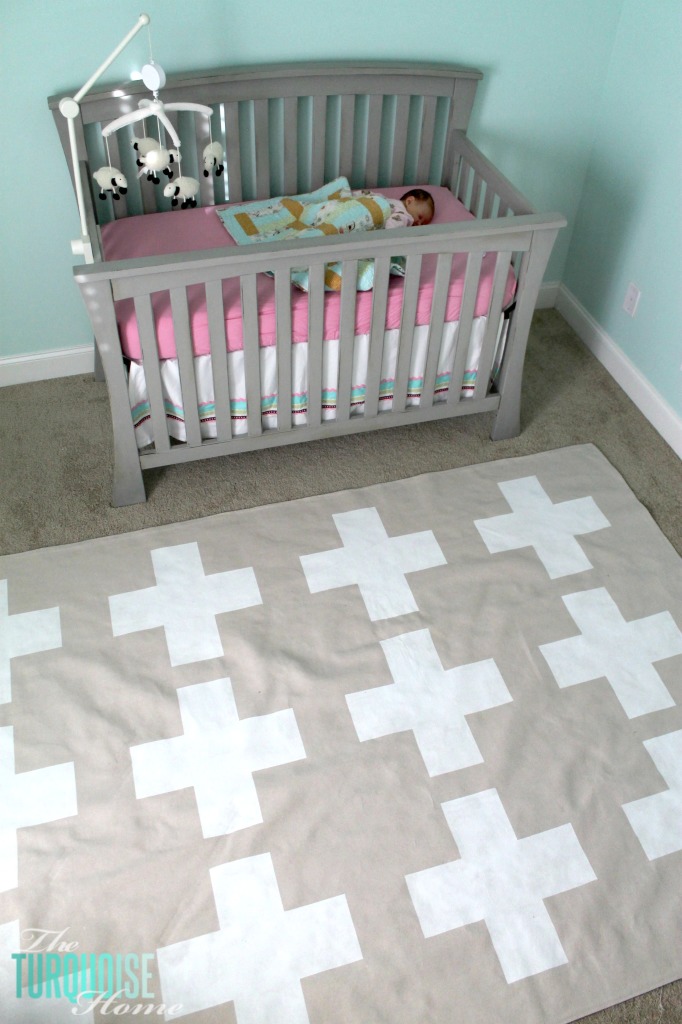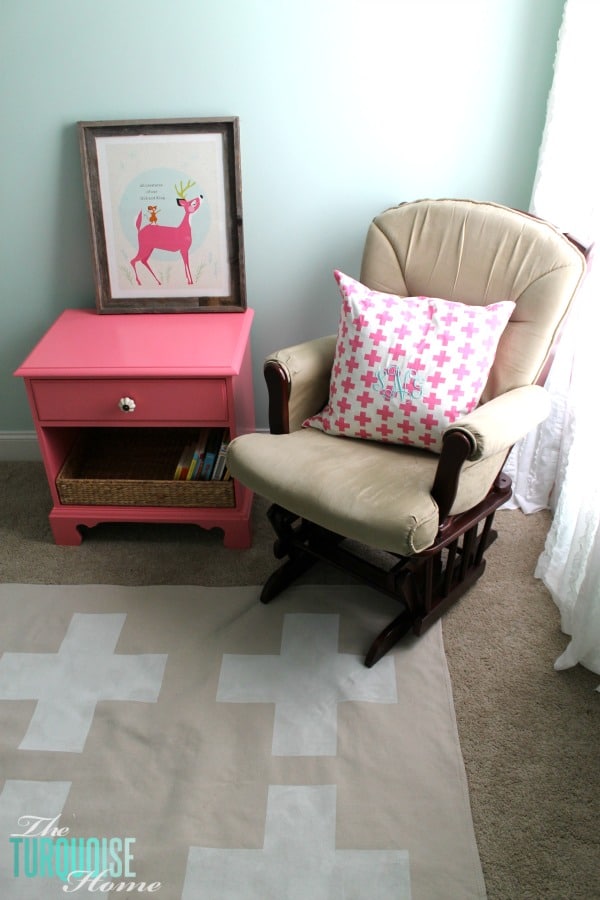 Now, I will say that the painted crosses are a little stiff. I'm thinking about sanding them with my orbital sander a bit to soften them. Another good idea would be to add fabric medium to the paint before putting it on the canvas. I used fabric medium when I painted my curtains, which helped to make the fabric part less stiff. Just some after thoughts.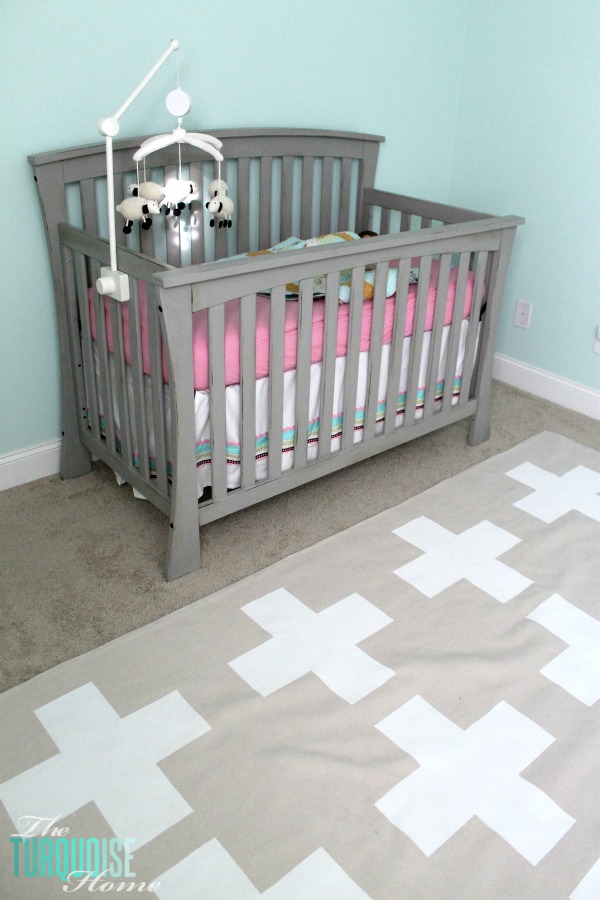 I also plan on stitching the sides of this rug once I get a chance. It sticks together fine with the spray adhesive, but it could be pulled apart if I tried.
What do you think?
Would you try this type of "rule-breaking" rug?
What kind of design would you choose?
I have only a few more items on the nursery to do list and then it'll be done!!