Nothing says summer quite like an adorable, citrusy lemon, right? You will love this DIY lemon wreath for summer because it's easy, inexpensive and fun to make – not to mention: super cute!!
When you think of lemonade, you probably associate it with the dog days of summer, right? Sipping lemonade outside while taking breaks from playing in the sprinkler. It just takes me back to those good ol' childhood days.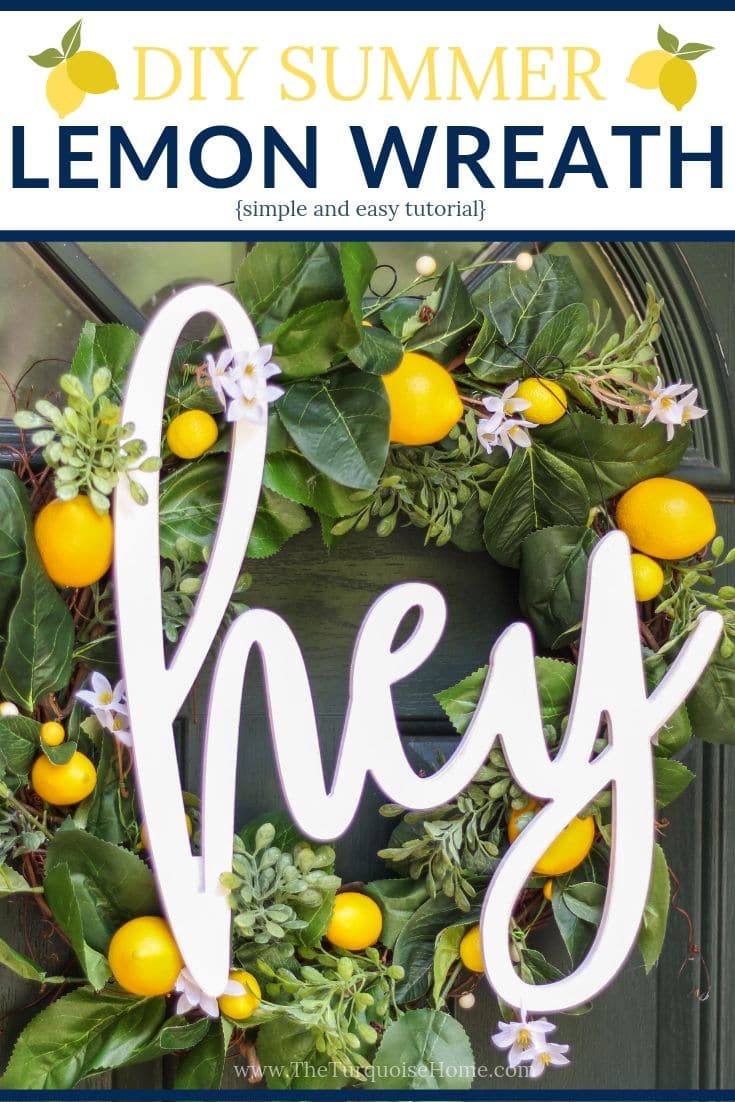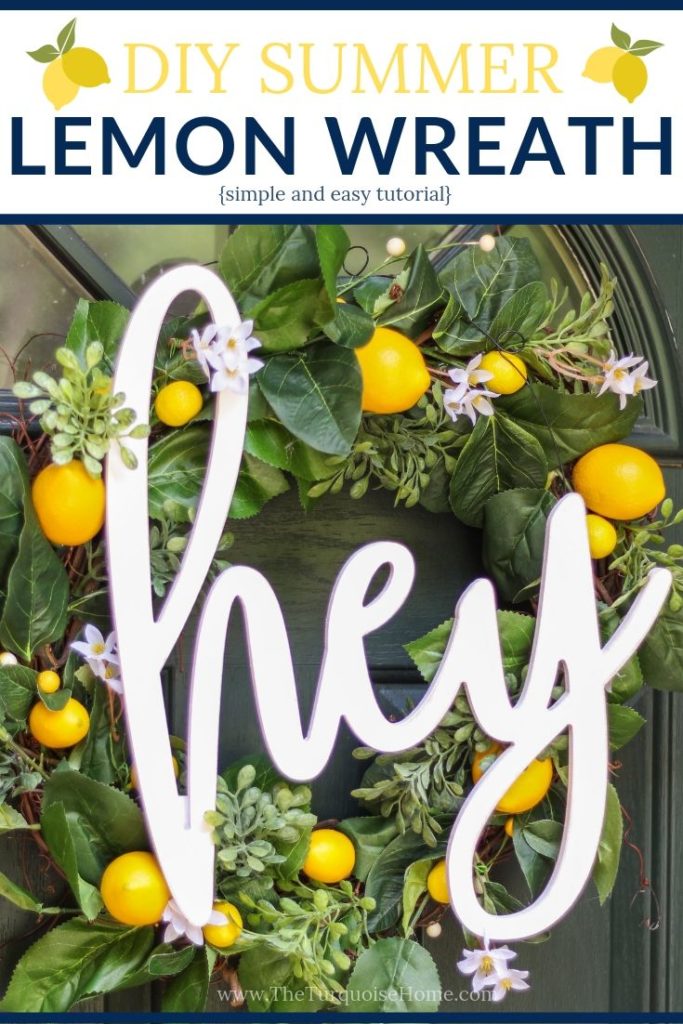 In decor, there's nothing quite like some lemon decor to help usher in summertime. It's super trendy right now, which I love!
I bought this adorable lemon wreath at Target a couple years ago and I've held onto it because I love it! But it sold out quickly, as seasonal things do at Target, and I never could find another one just like it.
So this year when I wanted to make a new wreath for my front door, I thought it would be fun to recreate my original lemon wreath, but a little bigger and with a fun twist. That way you could have one, too!
This post contains affiliate links for your convenience. See my full disclosure policy.
Supplies You Will Need for Your DIY Lemon Wreath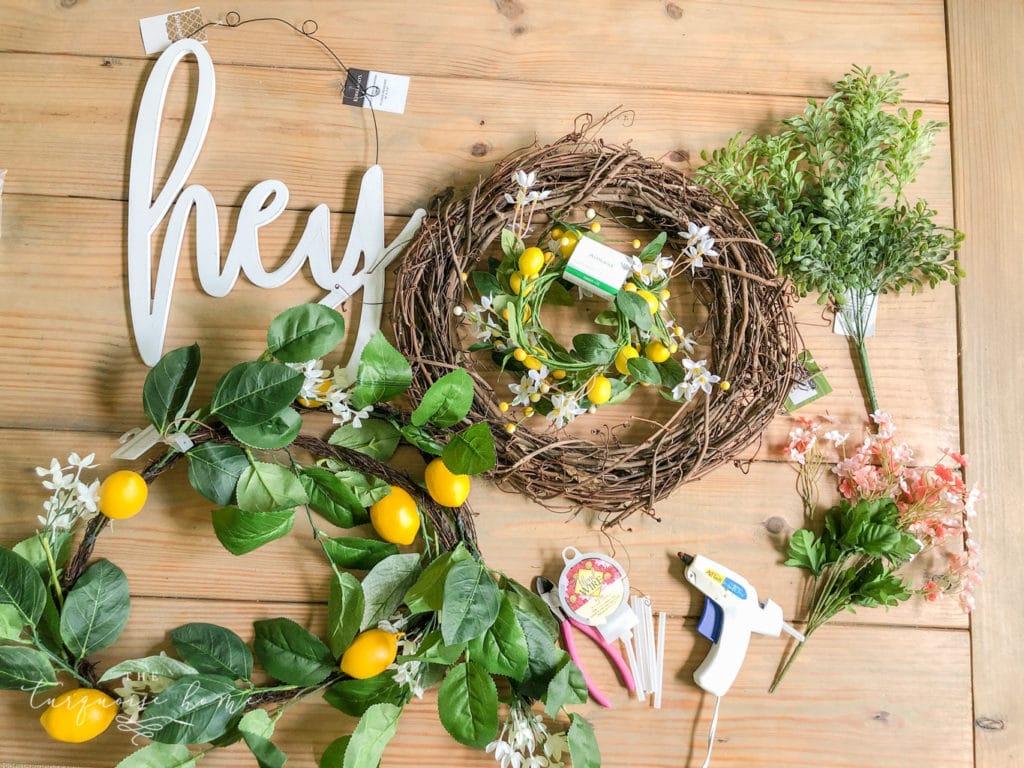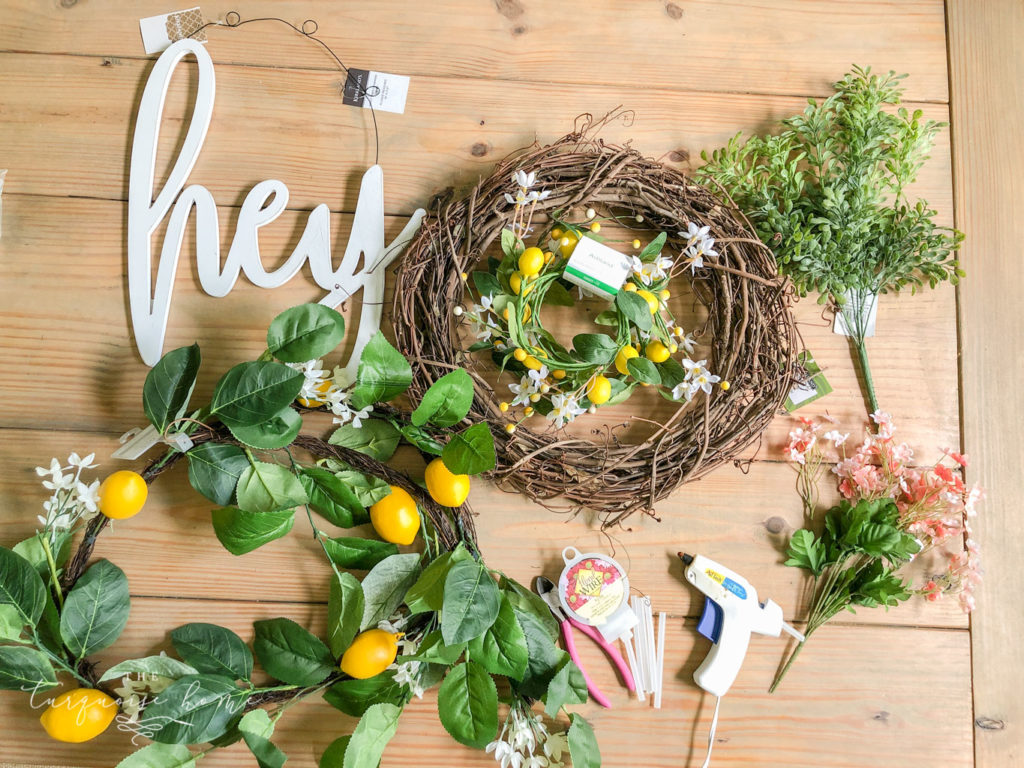 Some lemon garlands or faux lemons.
Other faux greenery and stems of your choice (I ended up just using the two lemon garlands and the greenery, not the pink faux blossoms.)
Hot glue gun & glue sticks (or floral wire)
"Hey" sign, optional (I found mine at Kirkland's, but found this cute one online.)
How to Make a Lemon Wreath
Step 1. Cut apart your garland or stems with the floral cutter that you're going to use first.
Don't cut everything up just yet, because you may find – like me – that you don't use them all. 😉
Step 2. Start with the larger greenery and place the pieces around the wreath until it looks full and balanced, or until you run out of greenery!
Glue them into place with hot glue.
Step 3. Place the lemons around the wreath evenly (or you could do the clustered look if you'd like) and then glue them into place with the hot glue.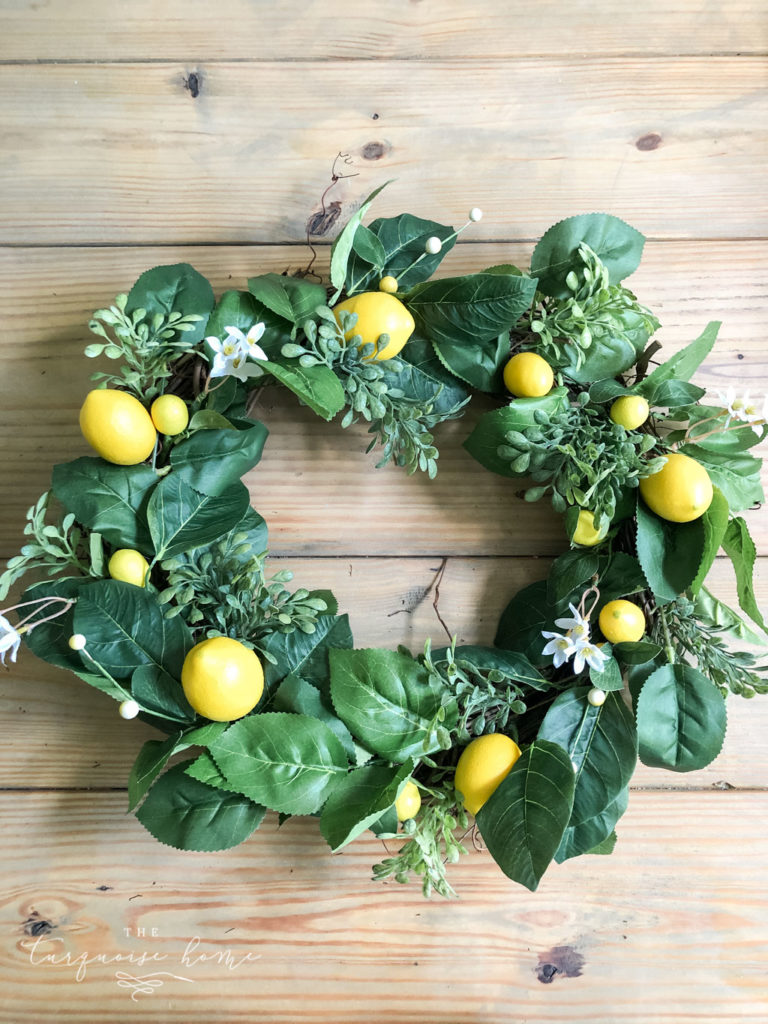 Step 4. Add in any other floral elements you'd like.
I used some of the little lemons from the smaller garland and the flowers that came with it. I was going to use some other pink blossoms, but that seemed like too much. Glue everything into place.
Step 5. Hang your "hey" sign – or other sign you like – to the top and attach with floral wire.
Then hang on the door! Easy peasy, lemon squeezy. Haha! You know I couldn't write about lemons without throwing that phrase out there. 😜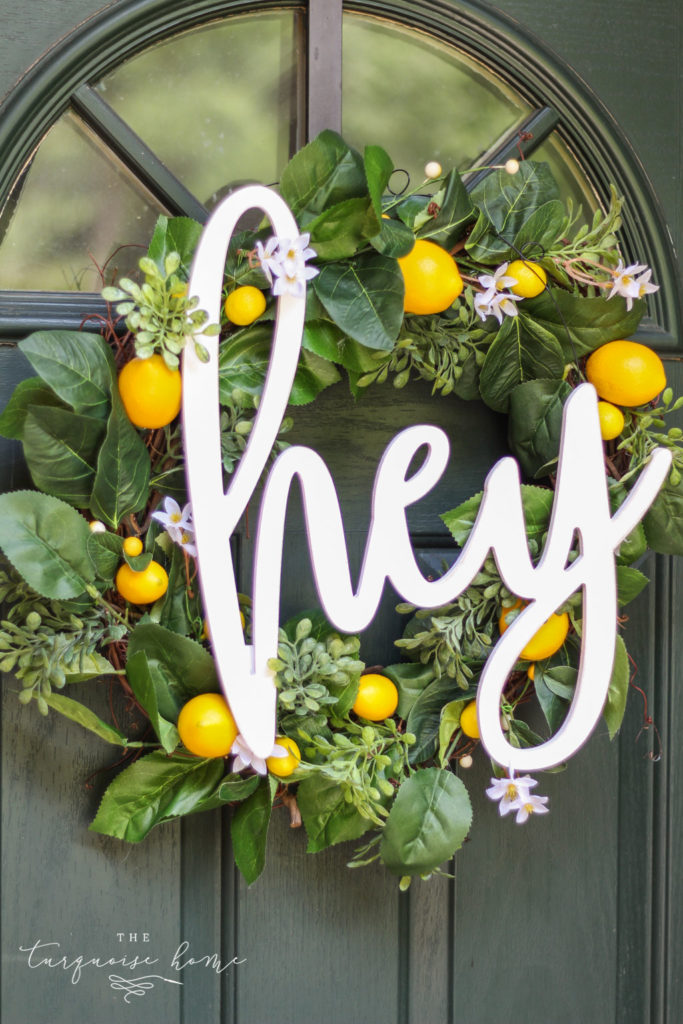 That's all there is to it! It took me maybe 45 minute to make the wreath and cost me about $30. I love how it turned out!
And remember that original lemon wreath I told you about? Well, I put the two wreaths side-by-side, and I love them both!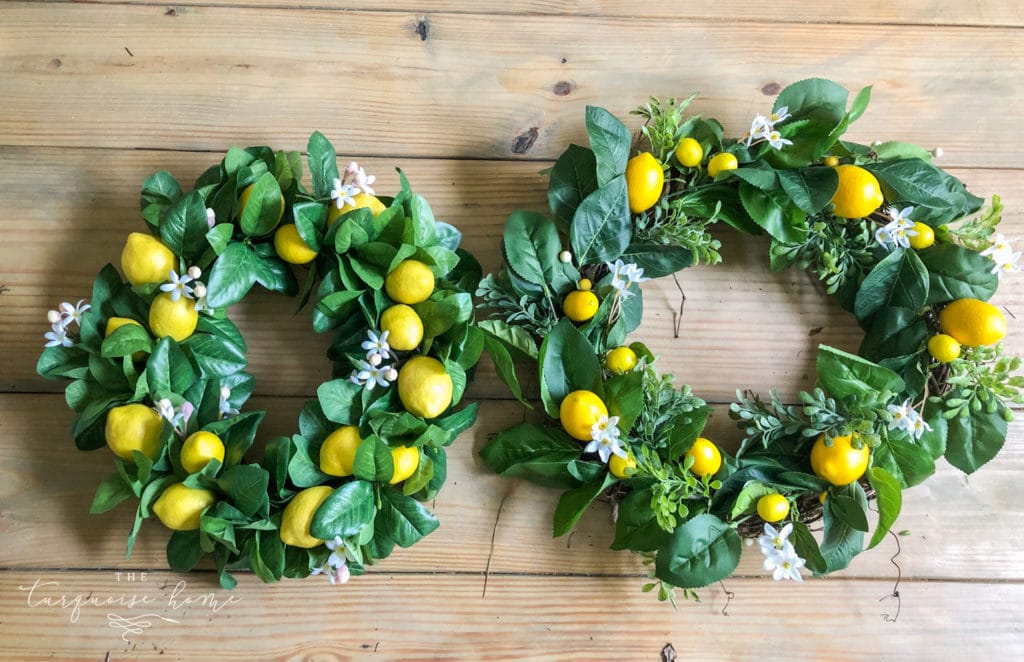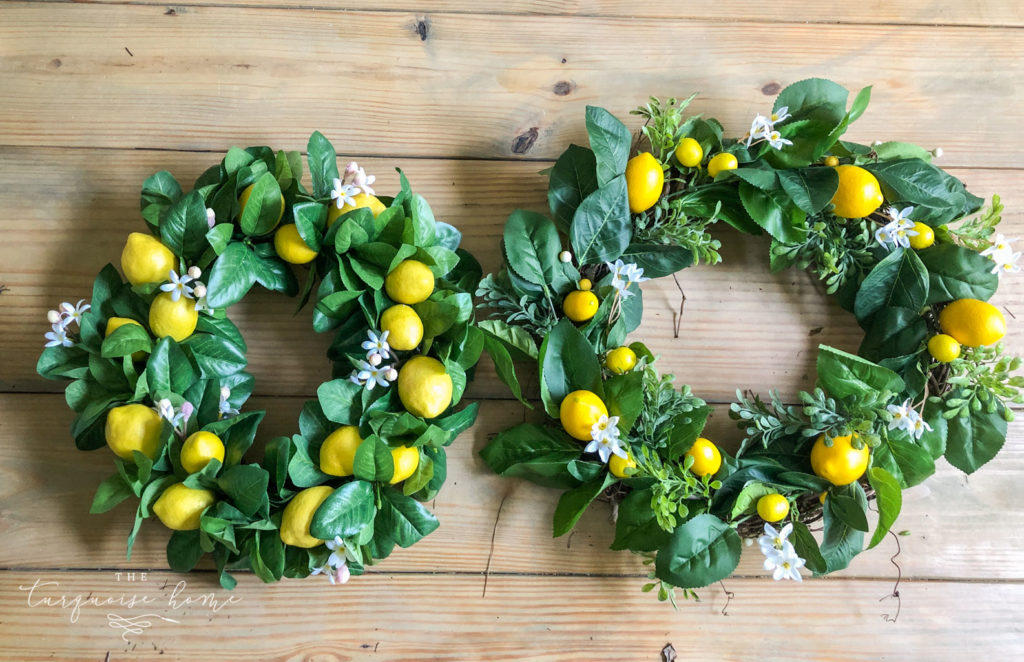 If you're not the DIY type, check out these lemon decor items for purchase!

MORE POSTS YOU WILL LOVE: