Style Trend: Industrial Farmhouse Kitchen
Hey y'all! It's the end of the first week of the new year … yay! We made it! Did you survive getting back into the routine of life? I admit we were on the struggle bus for a bit, but we're getting there. I'm practicing my #1 tip for making the most of my to-do list, so I've been quite productive.
But now it's time for some fun and relaxation this weekend. I know I've been hit by the starry eyed gaze of a new kitchen. 🙂 So I spend my downtime looking at pretty kitchens and dreaming about what I want as the budget allows. And that means lot of online window shopping (and some real shopping, too).
If you read my home goals post for this year, the kitchen is at the top of the list! YAY! I've painted the cabinets white (post coming soon) and have purchase two new lights: one chandelier for over the table and one flush mount for in the kitchen. I'm hoping we can install them this weekend.
I'm currently obsessed with this DIY Farmhouse Kitchen!
I can't wait to get the lights up, but Coach is going to have to help. I can use a power saw all day long, but wires and electricity? No thanks! I'm a scaredy cat.

We went to a big box store to get pricing on new counter tops last weekend. I was thinking that we could most definitely swing the laminate counter tops, but would look into a solid surface option too.
Woah!! They are all too much for this beer pocketbook kind of girl. We'll be DIYing some of it, and saving up a little more money. I'm seriously thinking about installing some butcher block counter tops ourselves. I love the look and I think we could do it. In the meantime, I have a few smaller projects to work on.
So with kitchen stuff on the brain, I've been trying to figure out exactly WHAT I want my kitchen to look like. I posted a post a looooong time ago (3.5 years ago) about my kitchen dreams. I still love most of those dreams, with a few farmhouse tweaks here and there. White subway tile is still my love, but I may go a little more country with the accents and accessories.
As I've been bookmarking, pinning and dreaming, I thought I'd share some of my favorite industrial farmhouse looks with you for some weekend shopping fun. 🙂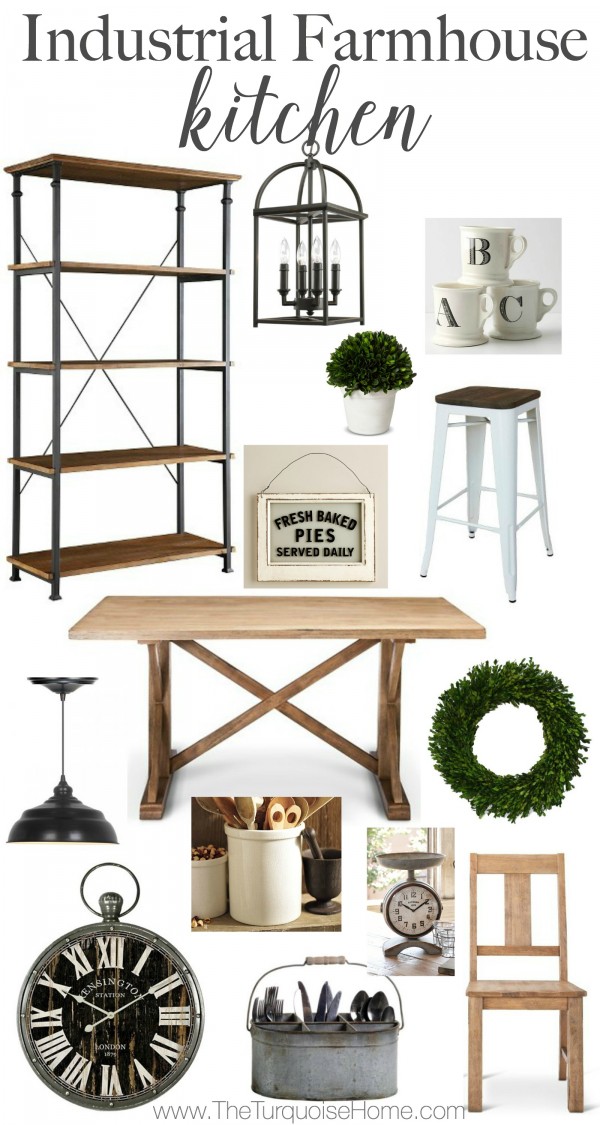 Industrial Bookshelf (here) / Lantern Pendant Light (here) / Monogram Mug (here) / Boxwood Topiary (here) / Wood & Glass Pie Sign (here) / Hampden Industrial Bar Stool with Wood Top (here) / Farmhouse Dining Table (here) / Industrial Pendant Lamp (here) / Boxwood Wreath (here) / Wall Clock (here) / Ceramic Utensil Crock (here) / Farmhouse Scale Clock (here) / Galvanized Utensil Holder (here) / Farmhouse Dining Chair (here)
Little side note: About that industrial bookshelf – I am in LOVE! The price is super great (and on sale this week), but I'm thinking about it for my living room. Whatcha think??
I hope it's a fabulous weekend with the ones you love. Have a good one, my friends. And I'll see you back here on Monday with my post on my white cabinets!! Eeeekkk!!!!
You may also like …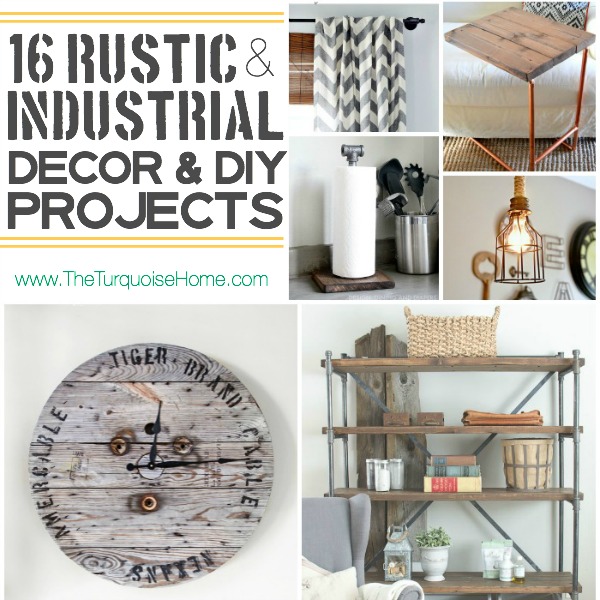 16 Rustic and Industrial DIY and Decor Projects