Two Years: Before & After Home Tour
Get a glimpse of the journey to transform a traditional, Cape Cod-style home, with lots exterior cosmetic changes and a few interior changes for good measure!
Welcome back to another year of transformations in our home! I'm sharing all of the makeovers we did in 2021, the second year in our home. See year 1 right here!
I love writing these because it helps me see how far we've come over the last 12 months. Sometimes, I can forget just what we've done, but laying it all out with before and after photos shows just how much we accomplished this year.
But my other purpose is that I hope this inspires you to transform your home into the home you love! It's not always easy to tackle home projects in between work, school, family and life. But the key it to make small, attainable goals and to stay focused! I do that by updating my home goals every 3-4 months.
You can get an idea of how to set your own home goals in my home goal posts from 2021:
I'll be sharing my new home goals for 2022 very soon, but first, let's take a look back!
Before and After Home Tour: 2021
As a refresher, this house was built in 1996 and most rooms were painted either yellow or green when we bought it. The previous owners were big fans of hunter green.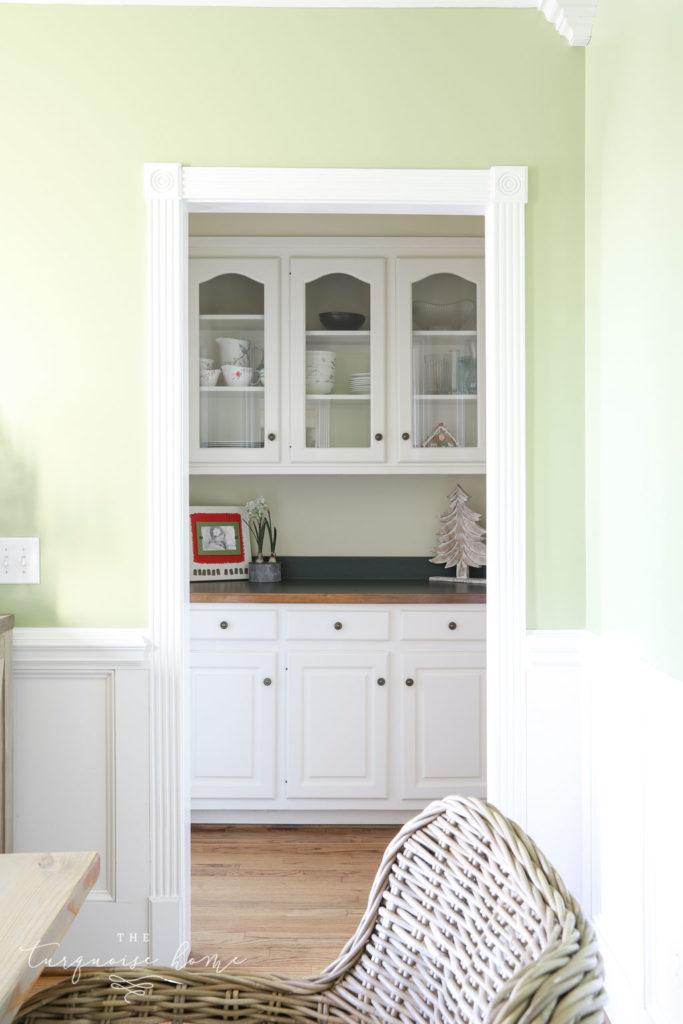 There is STILL some hunter green and yellow in this house, but hopefully it'll all be gone this coming year. I will say that the color green is making a huge comeback, so we're adding it back in, just not in the hunter green variety. 😉
But the bones of this Cape Cod style house are wonderful. The previous owners had the wood floors refinished before we bought it. The carpet upstairs was new, too! And the layout is perfect. So no major changes are needed, thankfully.
I mostly just have to do cosmetic changes to bring the house up to my style and taste, like lighting, paint and wall treatments. The fun stuff! Sometime in the next few years we will gut the primary bathroom, but other than that, we're just putting on new lipstick for now!
In 2020, my goal was to paint as many walls as I possibly could. And I did. (See it all here in the One Year Home Tour.) I wanted to tackle the "biggest offenders" and I think I accomplished that.
In 2021, my goal was to make the outside if our home match the inside! And I am so pleased with how far we've come. The bulk of our budget, time and energy went to making the outside look the way we wanted.
I now drive up to my home and it makes me smile. The yellow trim and green shutters are gone and we have beautiful grass! It's all my favorite. Let's dive in! (Click on any of the numbered room titles in hot pink to see the full reveal posts.)
This post contains affiliate links for your convenience. See my full disclosure policy.
Ahhhh, yes!!! The outside of our red brick Cape Cod-style home has beautiful symmetry and structure. But, I wasn't a big fan of the yellow trim and green shutters. While it totally matched the inside of the home when we bought it, my goal was to change the colors to a classic black and white.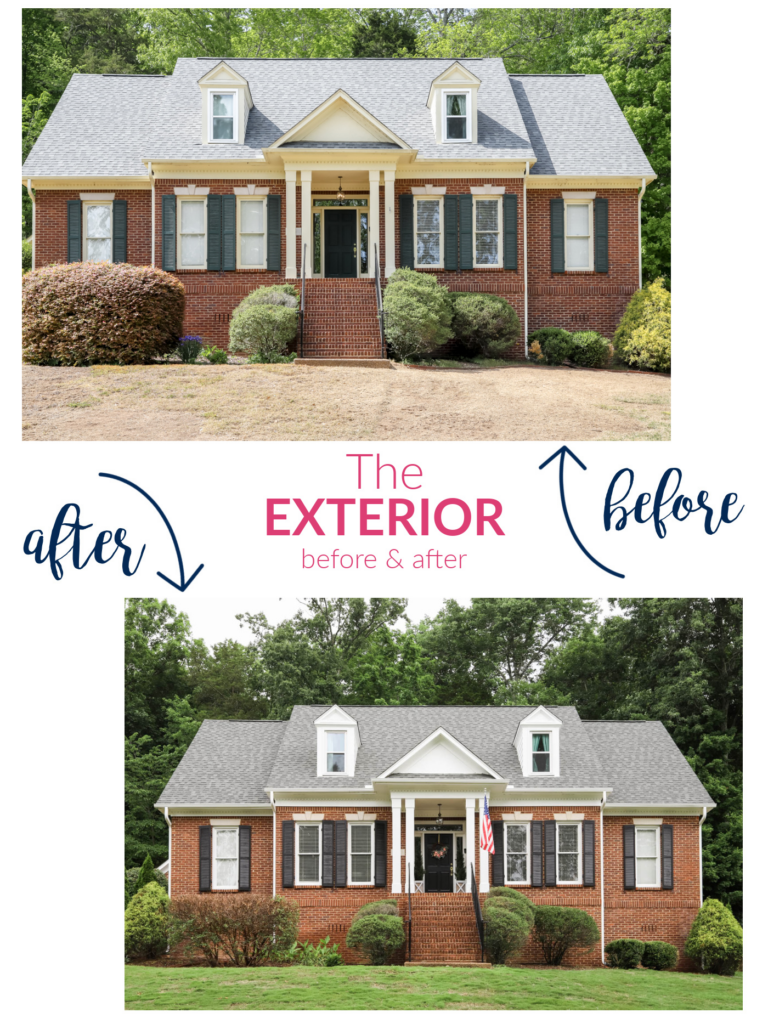 The outside got a new paint job, some pressure washing on the steps and a whole lotta new zoysia sod.
We needed new sod after a lawn care company ruined the grass. It was a costly and time-consuming project, too. It has filled in beautifully, even since the above "after" photo and we love it.
Some days I still pinch myself that I get to live in this beautiful home.
In the future, I will probably have to replace the boxwoods on either side of the steps, but for now we're living with the landscaping and enjoying the changes we made this year!
Pssstt… just for fun, we got our first real snow since we moved in this week and I couldn't resist getting a glamour shot!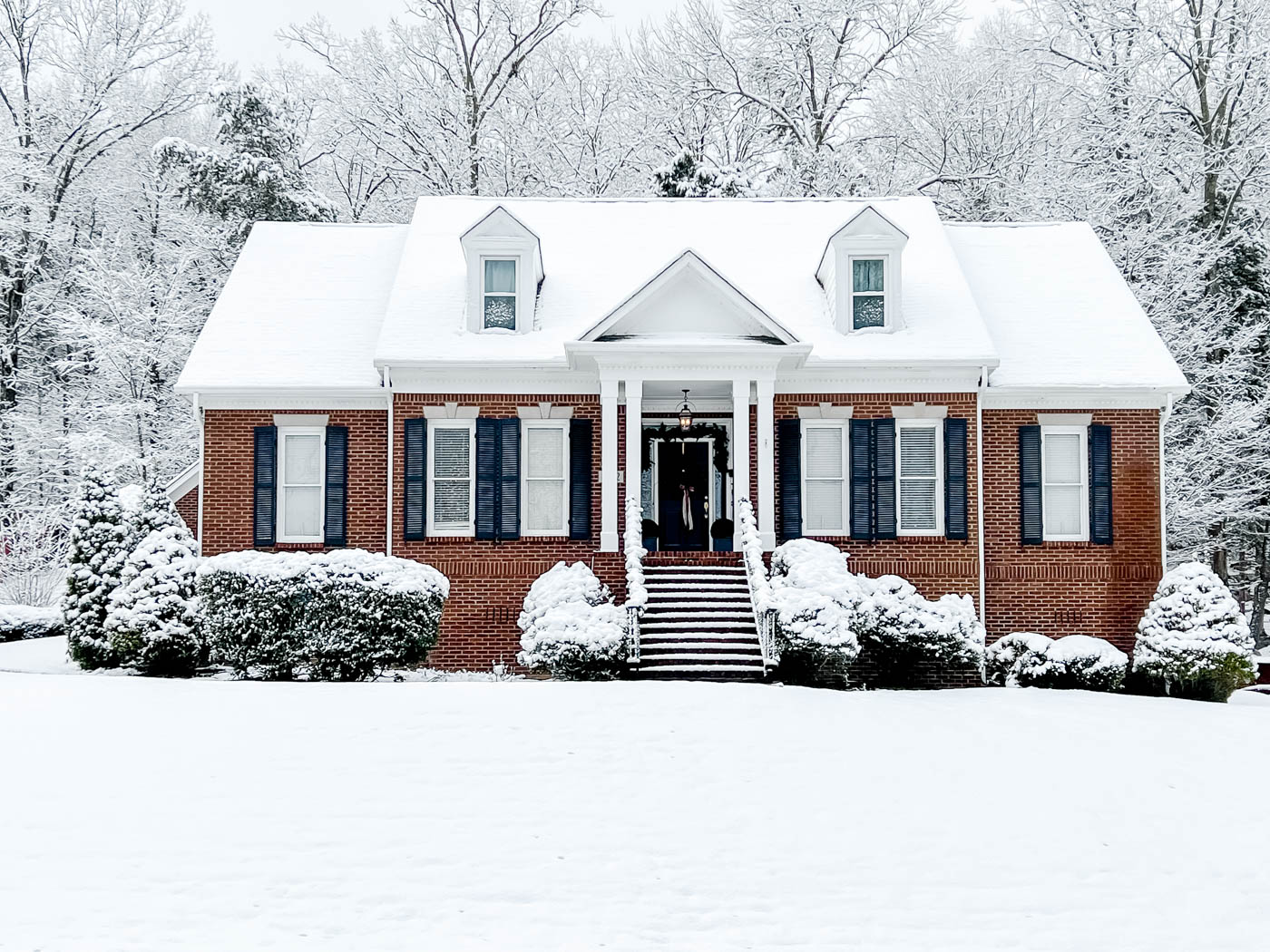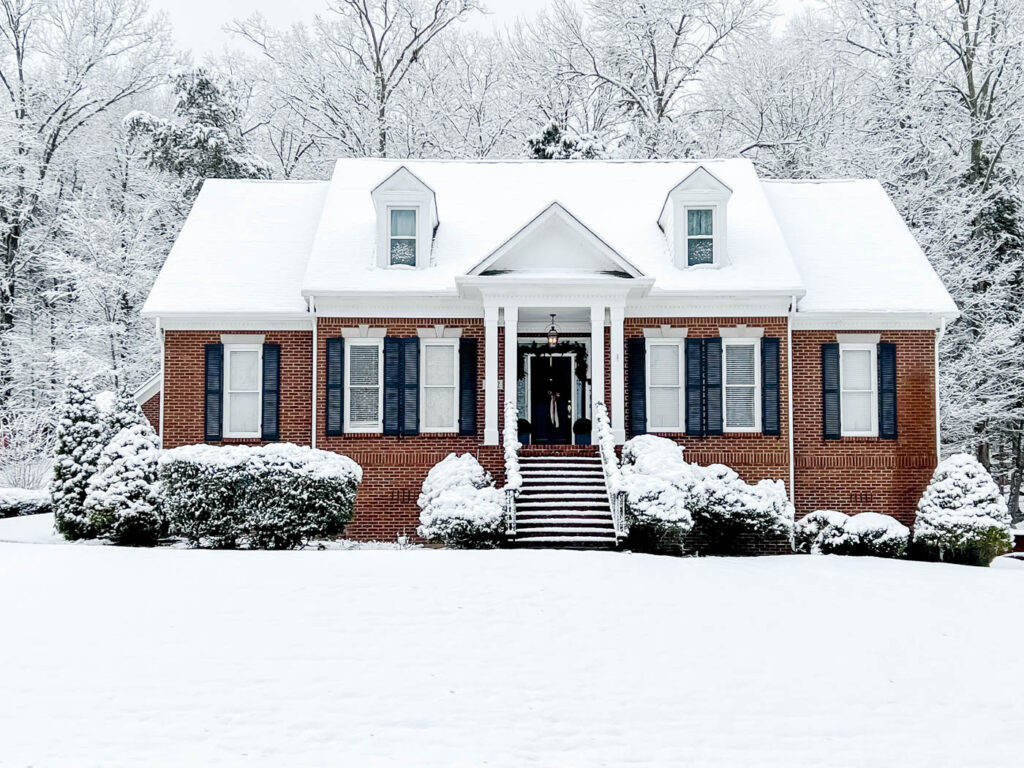 I couldn't well leave the front stoop/porch alone while I was updating the outside of the house. The original light fixture was just beyond cleaning. While it still worked, I loved the idea of replacing it with a New Orleans style lantern.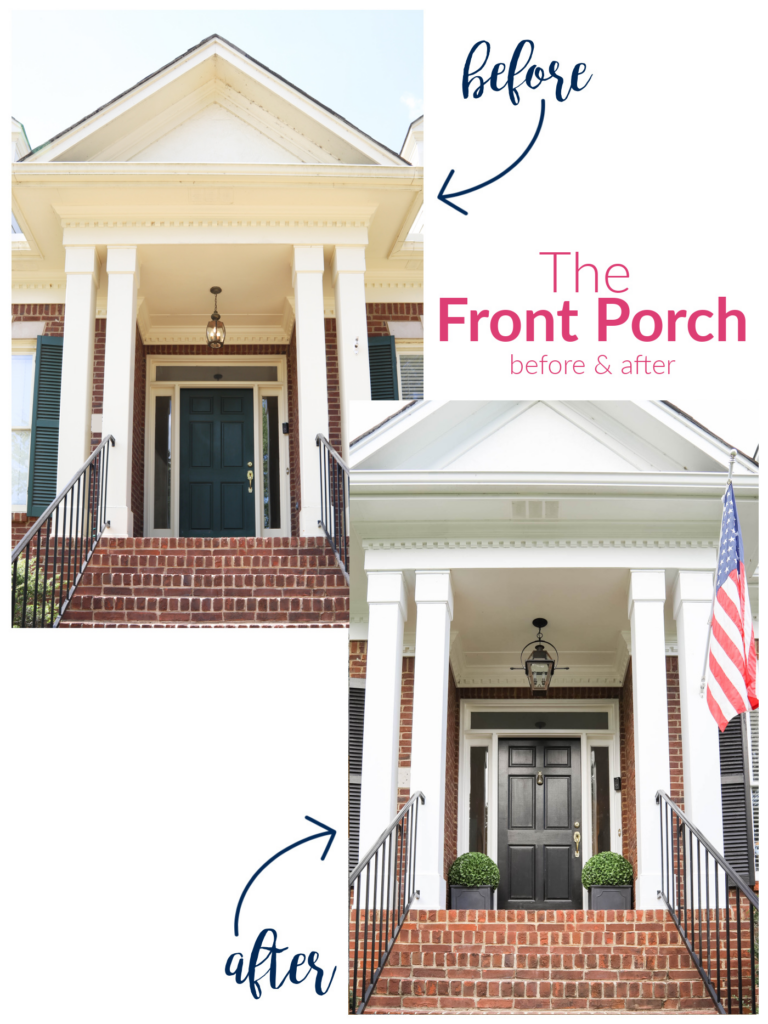 I also got some classic planters and the easiest plants to fill them. Faux front porch plants are my favorite! 😜
I also added a new doormat and a gorgeous brass knocker, but you'll have to head over to the original "How to Add Curb Appeal to Your Home" post to see all of the details!
My kitchen makeover spanned mid-2020 to mid-2021 because of a variety of delays and missteps along the way. The original bar stools I ordered (that took months to arrive) weren't what I had hoped, so I had to return them and order more and wait that many more months for the new ones to arrive.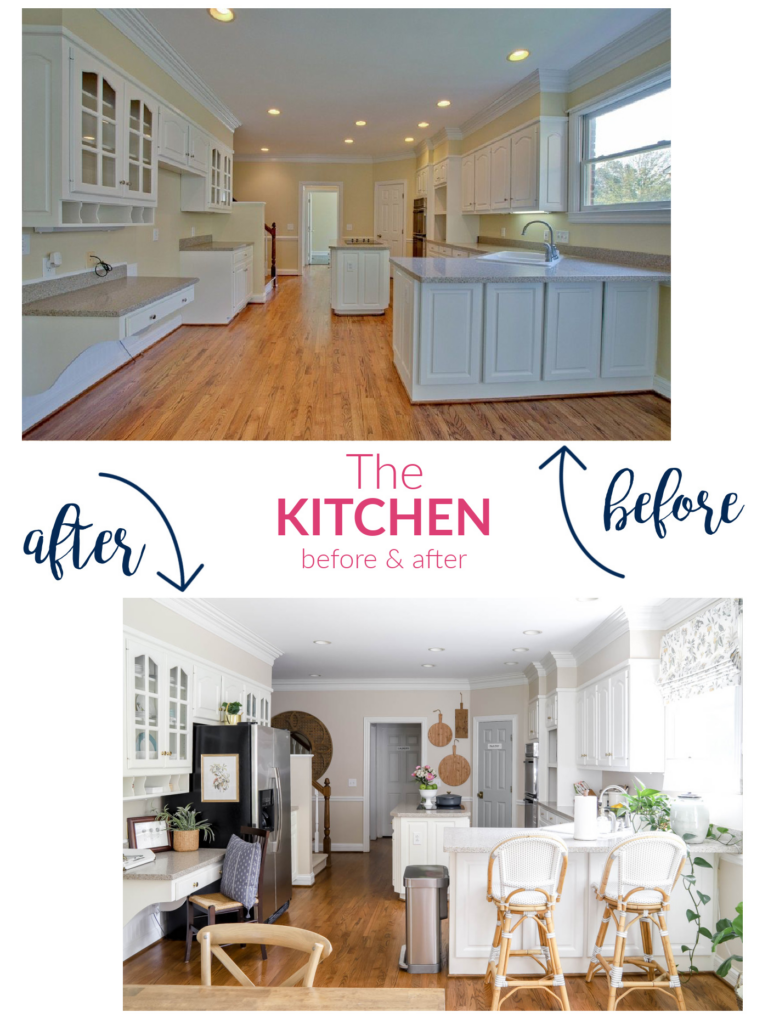 I also waffled about the stair runner, which I'll share in its own section below. But overall I'm so happy with how the kitchen turned out! And even though it was all simply paint and decor, I really love this room!
In the future I may replace the faucet and sink and get a counter-depth fridge, but for now the ones I have work just fine.
I have a TON more before and after shots of the kitchen in the full reveal post, so head on over there to check them out! I also have a full post dedicated to the eat-in kitchen area makeover.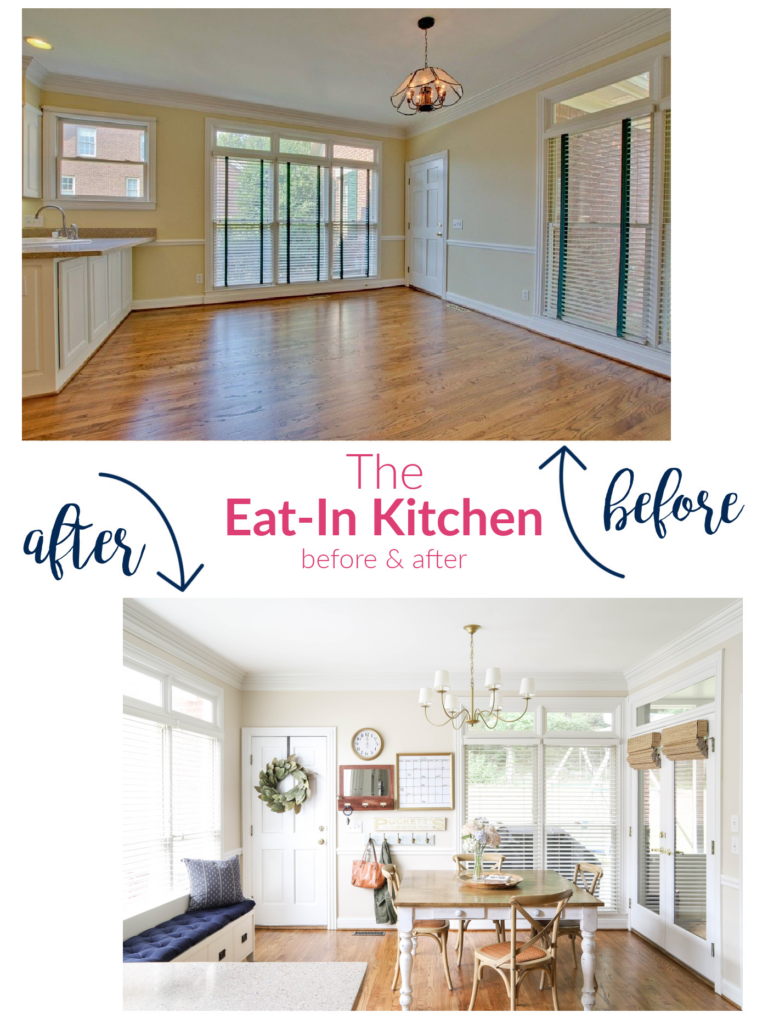 My favorite makeover ever is all wrapped up in this tiny little room in my house! It was so fun to venture out of my comfort zone with painted trim and wallpaper. It was also the first time I tried DIY picture frame moulding. And it's the only space I painted this year. Crazy, huh??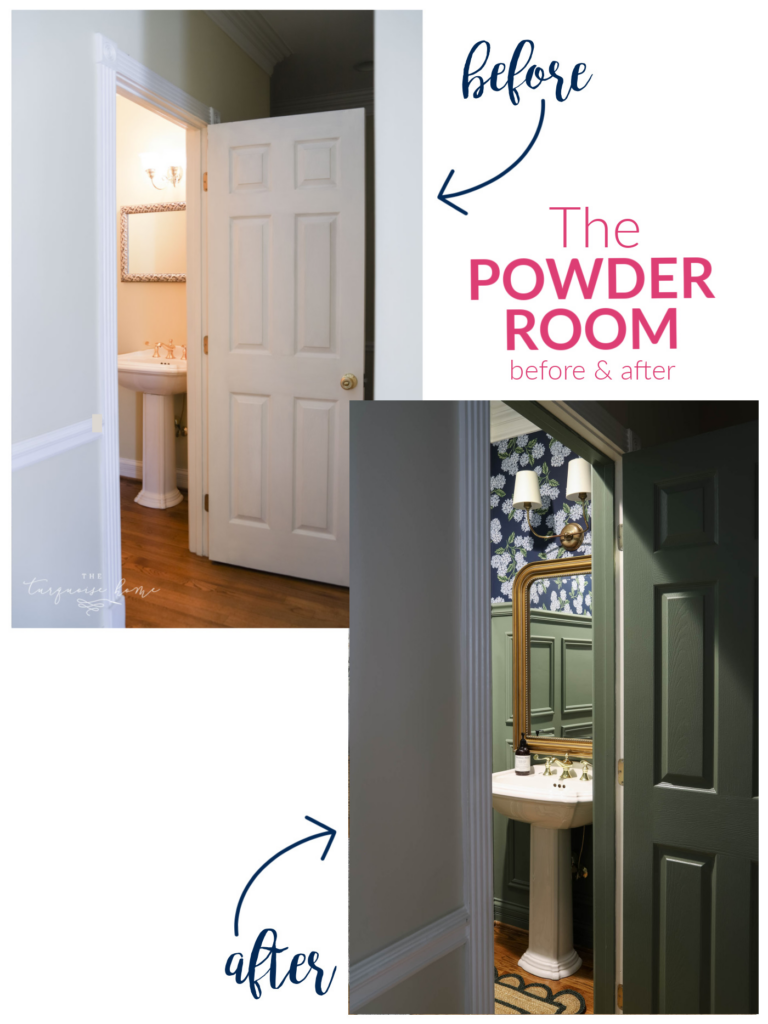 It was also how I sampled my vision for the dining room makeover, coming soon!
I mentioned before that I waffled back and forth with the stair runner that leads into my kitchen. There are some beautiful DIY runners from other bloggers out there. I even ordered a couple of runners to see if I could DIY it.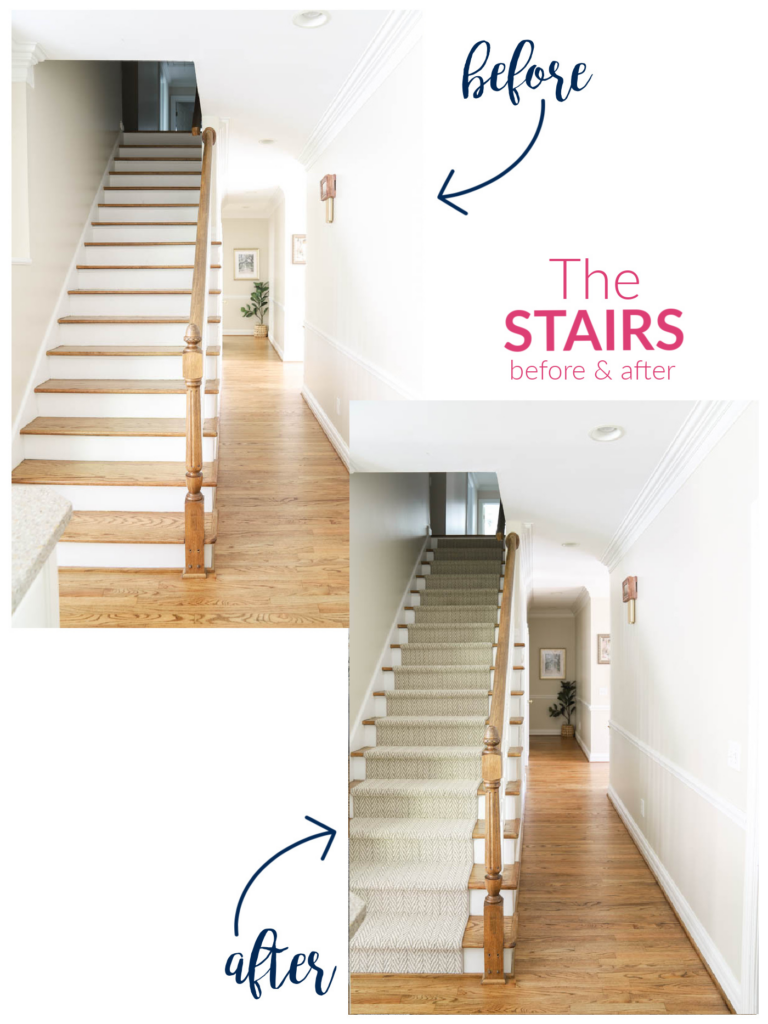 But in the end I hired out a design company to install the original carpet runner I fell in love with. And all these months later I'm still so happy with my choice!
I guess I did have one more space painted this year besides the exterior and the powder room. And that is the porch ceiling in our back porch! It's a subtle blue, so it's hard to see very well in pictures. But I promise the ceiling looks blue in person.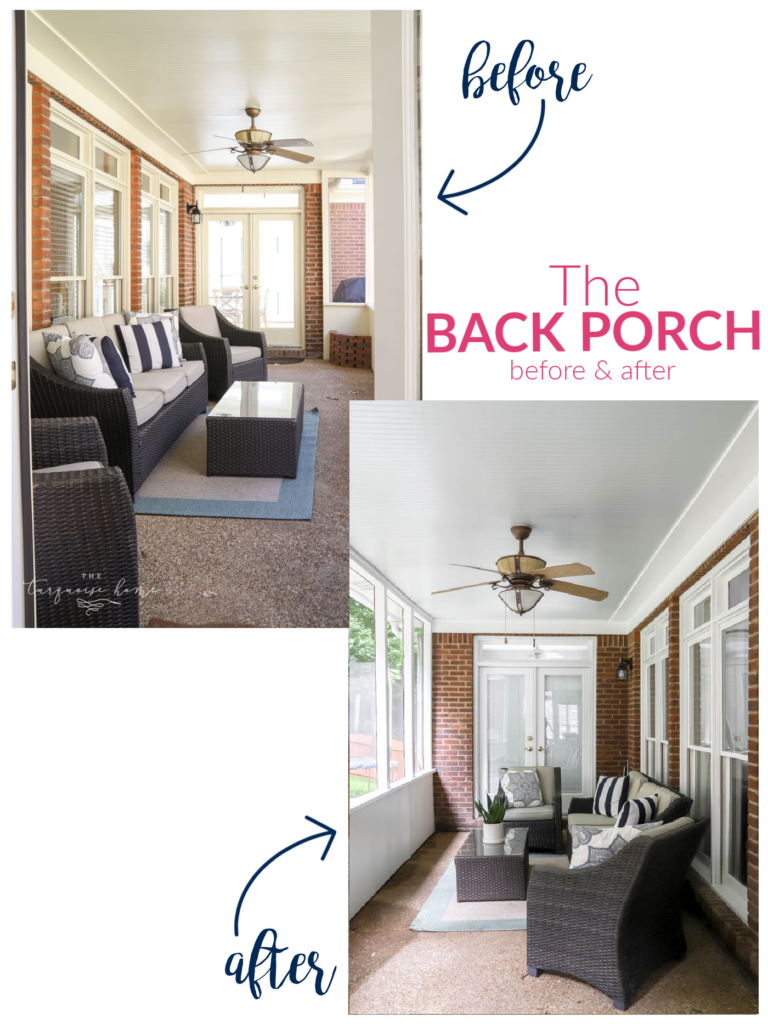 And obviously all of the yellow paint in the before picture was covered with white paint when the exterior makeover happened. We love the final result and my husband has asked me many times to paint the front porch ceiling blue, too. Maybe in 2022!
And finally, this past year, we said goodbye to my DIY farmhouse furniture I made for our old house. It was too large and not the right style for our new home. I had sold the table and media cabinet before I knew what kind of furniture I would put back in this room.
But I knew I needed smaller furniture and something more in line with the traditional style of my home.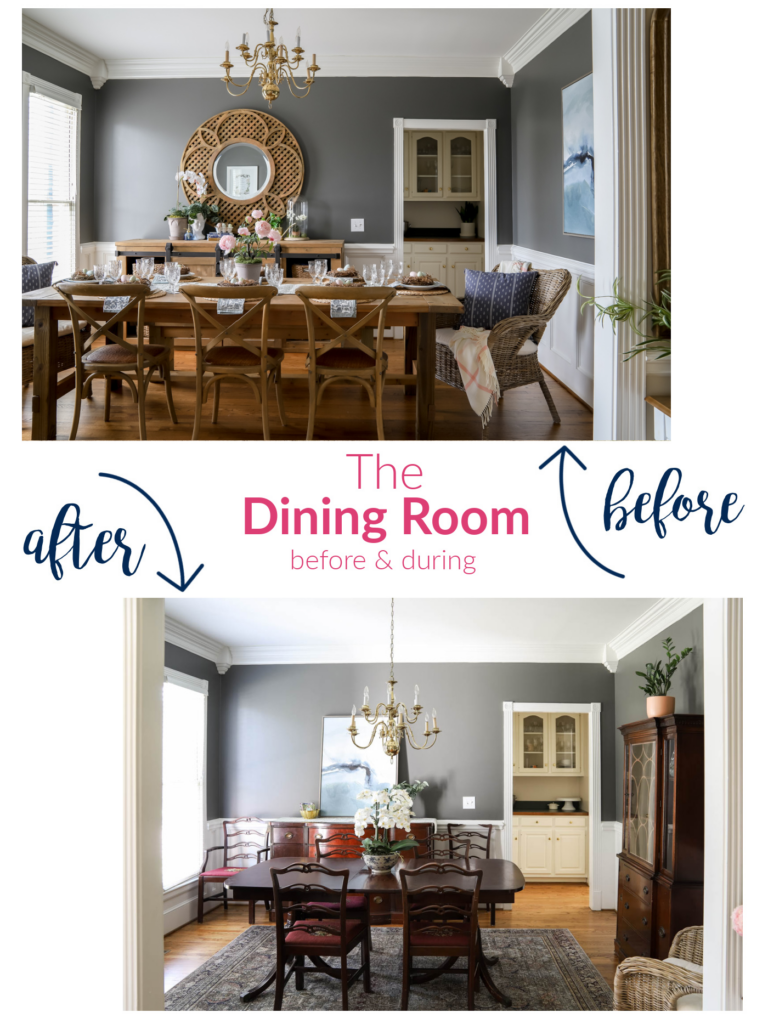 So, when my mom offered me my great-grandmother's (passed down through my grandmother) dining room furniture, I took it!
I realize that the "before" photo above may look more appealing to you. But that's because I chose the paint color based off the farmhouse furniture. I promise that when I'm finished with the dining room makeover, the new furniture will be perfect!
I already ordered most items for the makeover and I'm ready to get started ASAP!
More Dining Room Posts:
---
Two years ago I did a lot more painting and changing out light fixtures. I wanted to level up each space to a good phase 1 space. And I did that.
And last year it was all about the exterior with just a handful of interior projects. Now that the outside is at a good stopping point, I'm excited to get back to the interiors this year and really make some more rooms show stoppers, like the powder room. I'm so excited about this upcoming year and the makeovers we have in store. I can't wait to share more soon!
Thanks so much for taking this journey back through 2021 with me. Stay tuned for more!