Painted Kitchen Cabinets with Benjamin Moore Simply White
Use Benjamin Moore Simply White paint to transform your kitchen with just a little time and effort. You will love this budget friendly makeover for years!
Oh y'all!! I can't believe this day has finally arrived! My kitchen cabinets are white! Cue the angels singing the Hallelujah Chorus, because this girl is happy, happy, happy!
Let's just say that it's been a long time coming – almost 4 years of wishing and waiting – and not to mention the long, painful process of actually painting them. We'll get to the nitty, gritty DIY details another day, but for now I just want to show them off! OK?
Shall we look back at where we started? I think we shall. 🙂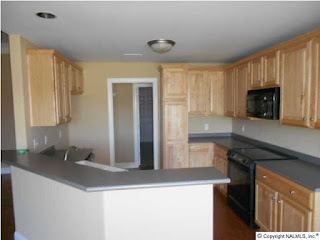 Sorry for the teeny, grainy picture, but this is from the real estate listing when we bought the house. Plain, old regular kitchen. Nothing fancy, nothing special. And the minute I walked through this house, I knew that if we bought it, I would paint those cabinets white.
That was 4 years ago this month.
Nothing like a real-life budget and kiddos to keep the home to-do list moving at a snail's pace. But that's OK. We'll get there a little at a time.
Another reason for the long time coming? Let's just say I was skeeeeered with a capital S. So, I painted my bathroom cabinets for a small practice project. And that went great! I still love them and they look awesome. But I was still scared. My kitchen is not super big, but I knew it would still be a pain.
I have very few pictures of my kitchen in my files or on this blog because I just wasn't proud of it. It didn't reflect my style or what I wanted. So, I would take pictures of everything BUT it.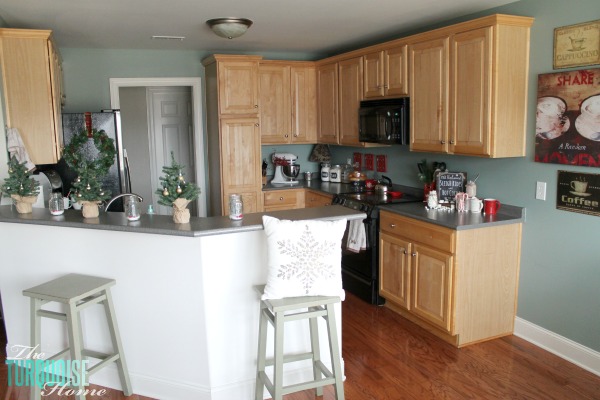 I finally decorated it and showed it off last Christmas. Not too shabby, huh? But still not the kitchen of my dreams. Totally functional, though.
And then last November, I was tired of sitting in the house with sick kids and I got the DIY bug. I thought it would take me 2-3 weeks to finish painting them by myself. (Haha!!) I started prepping for paint the first week of November. (I am crazy, for sure!)
I ended up hiring a babysitter to come every day the week before Thanksgiving and painted my heart out trying to get them finished before Turkey Day. I finally finished them on December 7. Not too bad, but I literally busted my tail to get them done.
And looking back?
I was an idiot.
The time I spent painting cabinets should have been spent shopping for Christmas gifts and decorating my house. Subsequently I was so rushed and crazy all through Christmas.
So learn from me… wait until January to tackle a big project like this. Although the warm weather in November and December made the prep work in the garage so much more bearable. But still, just wait.
OK, I'll stop talking now and let you see the pictures. EEEE!!!! I'm just so excited that they are DONE!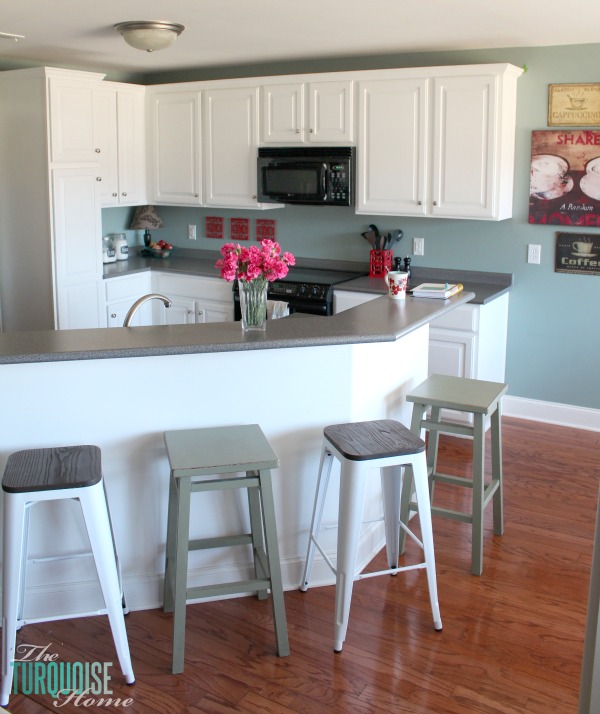 Paint Color: Benjamin Moore Simply White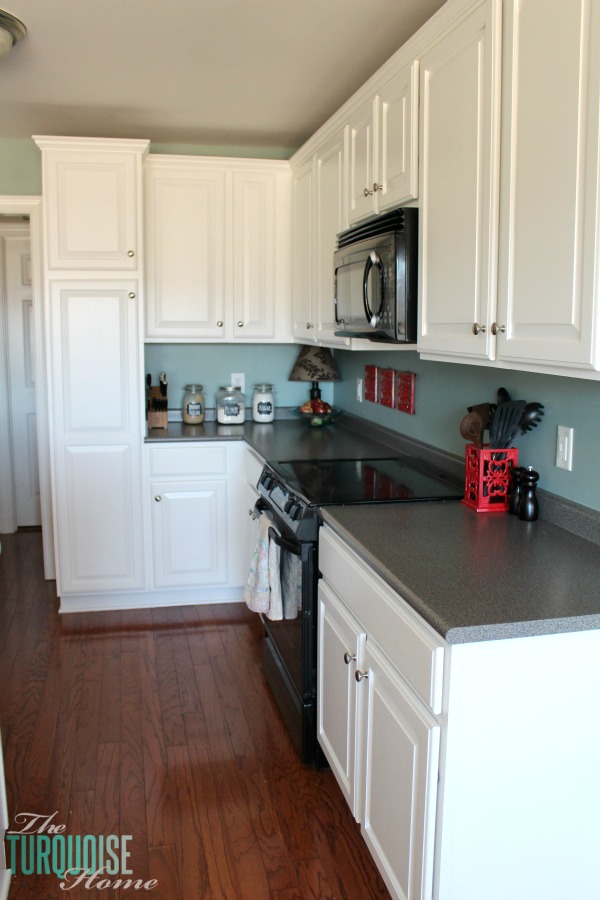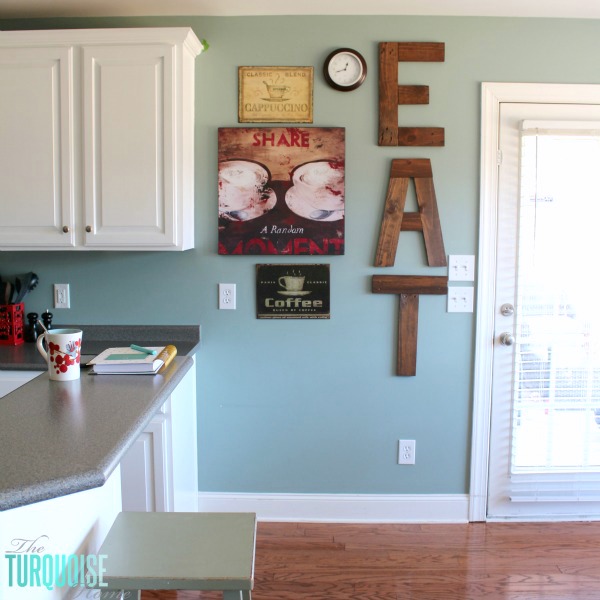 I will be changing this wall with the EAT sign very soon! I'm selling the art and moving the EAT sign to a new location and replacing it with some open shelving! I just need to make a trip to shop for some old barn wood first. Hopefully I can get there soon to get it and get them up.
I can't wait to have a place to store Miss A's art supplies and some other things we need close by, but don't have the storage. I'll also look forward to making them pretty and changing them with the seasons.
If you read my Home Goals post, then you know I want to change out the counter tops and add a pretty back splash, but those big projects may take a while. We've either got to figure out a DIY solution for the counters or save up some serious moolah.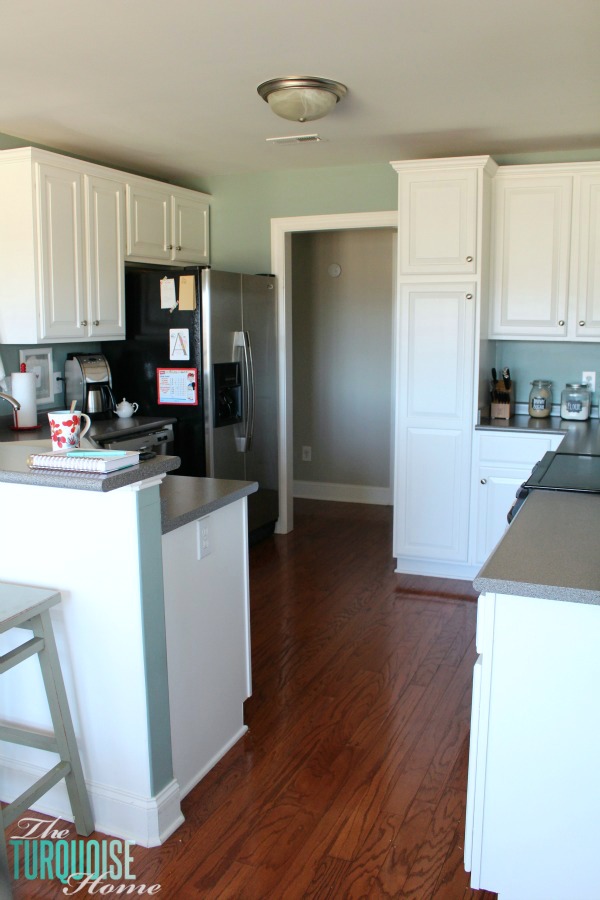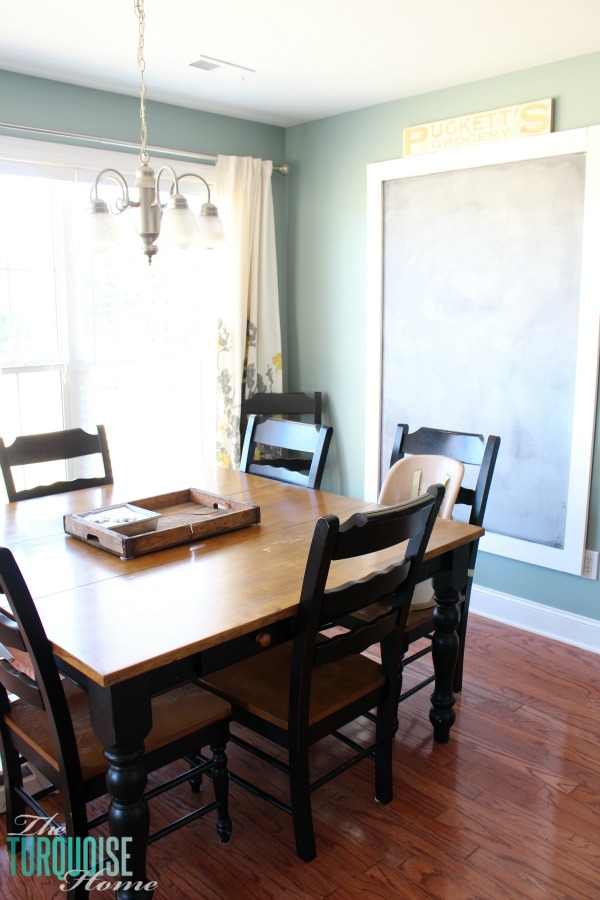 I know this picture is not of my cabinets, but I wanted to document it one more time. I'm about to change a bunch of things in here!! #giddy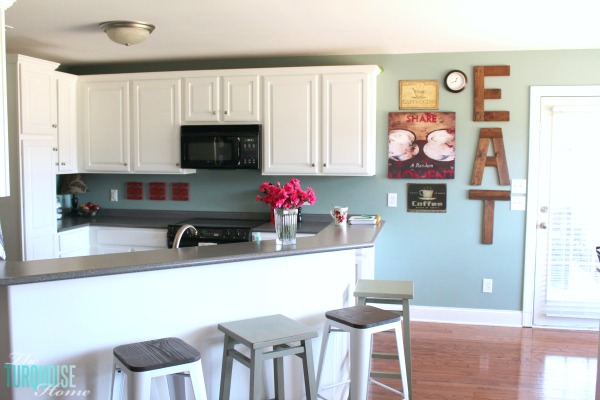 I just LOVE it! Now if it were only this clean all of the time and the pretty pink carnations would stay fresh forever. #itsneverthisclean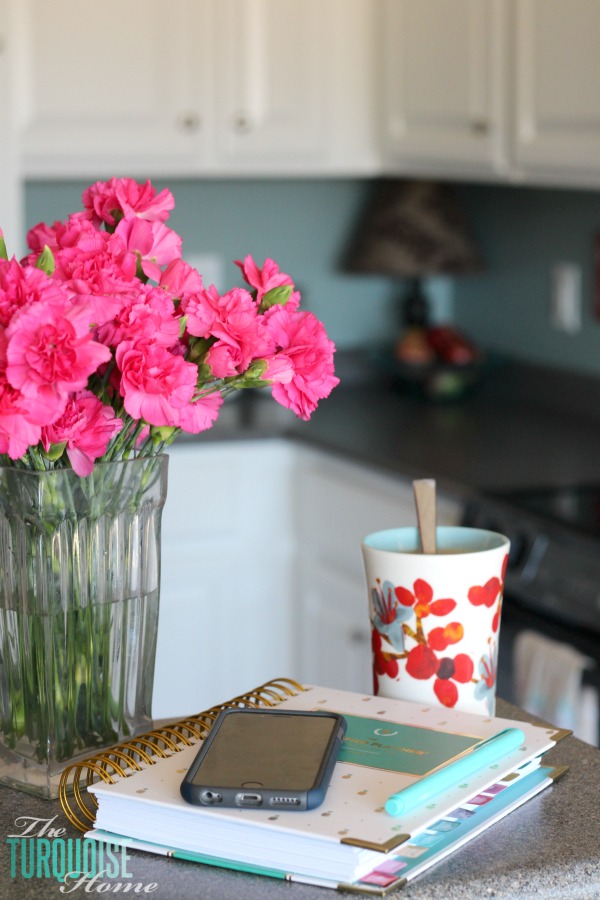 A pretty close up of my pretty flowers and favorite new daily planner! It's the Simplified Planner from Emily Ley. I'm exercising my #1 tip for making my to-do list more effective. It's working so far this year.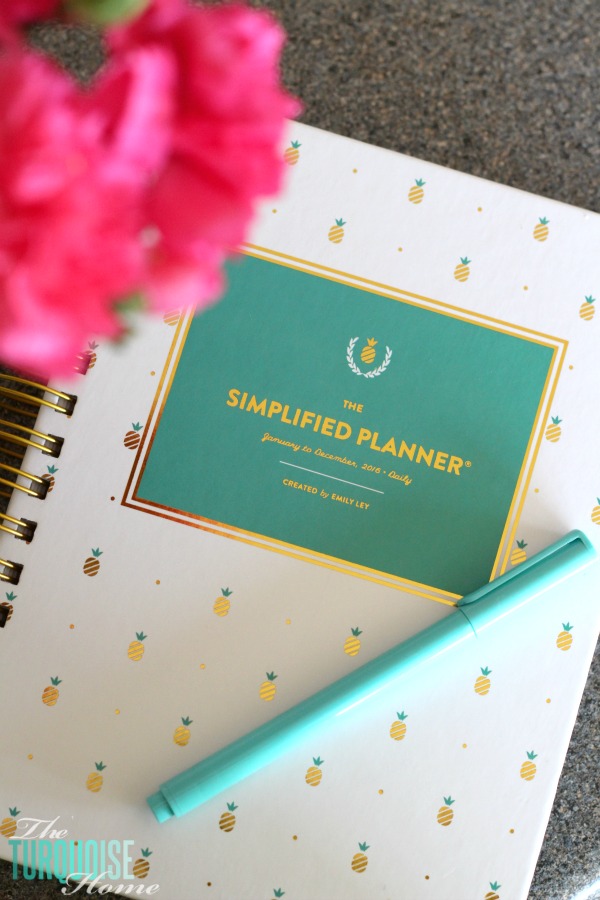 And one final look at the before and after together. I love this picture so much, I could kiss it!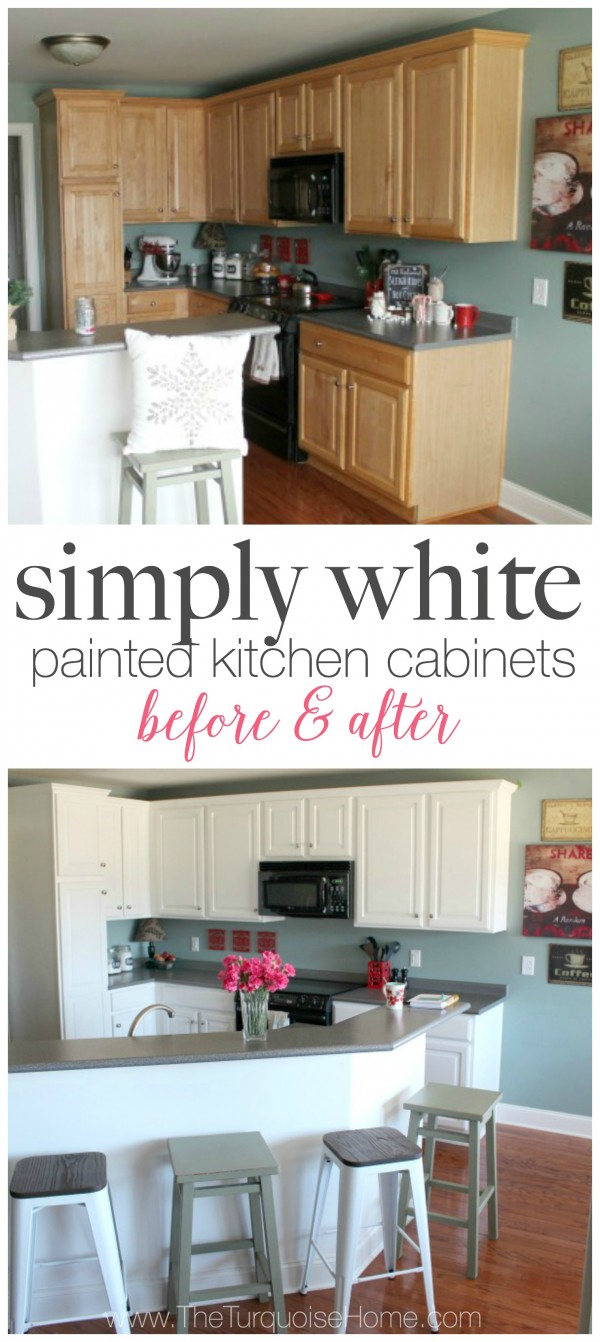 I'll be sharing the DIY how to soon, so stay tuned! It'll be called "How to Paint your Kitchen Cabinets in the Middle of the Holidays with Two Little Kids and Not Go Crazy!!" 😉
Update: I posted it! How to Paint Your Kitchen Cabinets Tutorial
Kitchen Sources:
Curtains: Target (here)
Kitchen mat: Target clearance (similar here)
White and Wood Bar stools: Target (here)
Green Bar stools: they were given to me and I painted them (tutorial here)
Share a Random Moment art: Here or Here
EAT sign: DIY tutorial (here)
More Posts You Will Love: