I recently added some simple shelving to our walk-in coat closet and turned unusable vertical space into a much-needed pantry! It's a prime example of making your home work for you with simple, smart projects.
This little project is so simple that it's less about a "how to" and more about kicking you in your rear to DO the thing you KNOW would help improve the functionality of your home. Probably when you just read that last sentence, the project you've been putting off for years popped into your mind. It's probably not sexy or fancy and definitely not fun. But you know that if you give up a little bit if time, the rewards will be so worth it.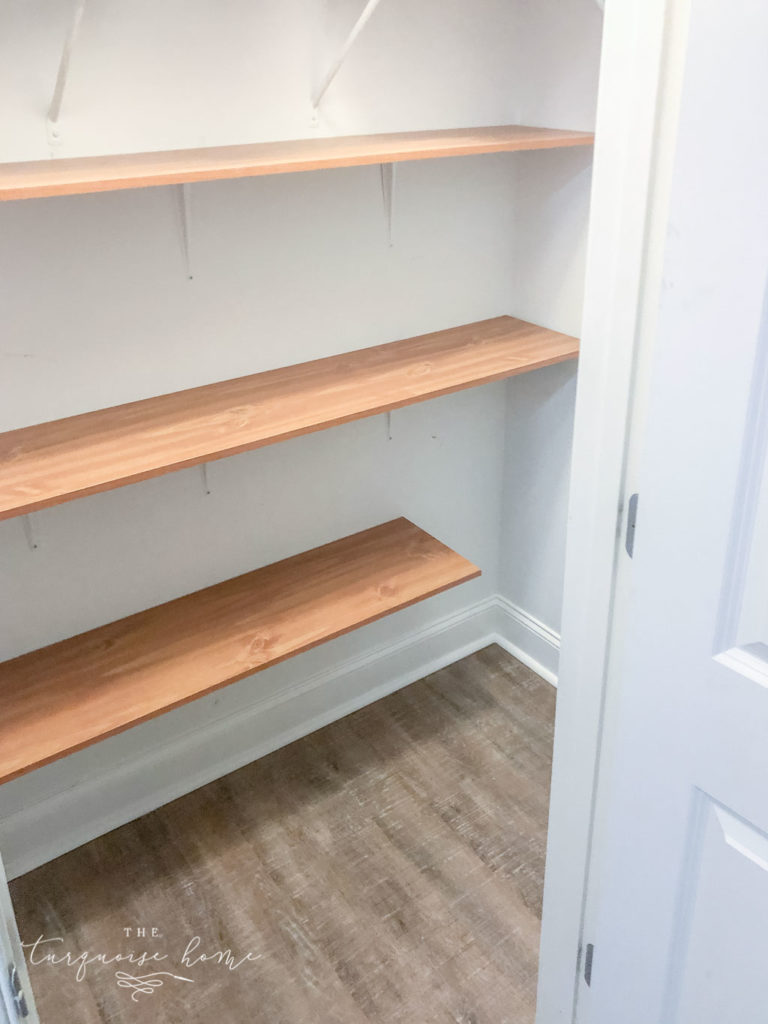 Like my coat closet that I've been eyeing for SEVEN years and thought about adding shelves, but never did. You see, our home didn't have a pantry. And my food storage consisted of 4-5 cabinets between my kitchen and my laundry room. It wasn't nearly enough for this family of 4 with a Costco membership. 😜
You know how when you move you're forced to purge and make your life more efficient? I love that about moving (as in I'd like to move every few years to force myself to deeply declutter, but that's silly and impractical.) Well, when your floors were redone, we had to move everything out of this little coat closet in our hallway. And that gave me the kick I needed to finally add the shelves I'd been dreaming of for so long.
This post contains affiliate links for your convenience. See my full disclosure policy here.
Supplies I used to Make a Pantry out of a Closet:
12″ Laminated Wood Shelves. I chose these because I didn't have to stain or seal them and the laminate makes them easy to clean up spills or food crumbs. (They come in multiple lengths: 72 inch, 48 inch, 36 inch)
Screws – I used 1 1/2″ screws for the walls and 3/4″ screws for the boards
Saw – If you need to cut down any of the boards. I love my miter saw and recommend it to anyone who ever needs to cut boards at home.
My Tool Store lists a ton of my favorite tools if you are ever in the market for a new tool!
Tips for creating a pantry out of a closet:
Measure the items you plan to put in the pantry to make sure the shelves are the right height to accommodate them.
Find the studs and screw the brackets into the studs. Even the best screw anchors will fall out after some time under the weight of pantry items. You don't want that!
Customize the shelves to fit your needs. For example, we have a card table we like to keep in that closet and it wasn't going to fit in there if we made all of the shelves the width of the closet. So we made the bottom shelf a less wide and made the middle shelf tall enough so that the table will fit under it. Make your home work for YOU!
How to Add Shelves to a Closet:
I got the idea for how simple these shelves could be from my open kitchen shelves, which are just a 1 x 10 board held up with decorative brackets. I made a more elaborate shelving system in my guest bedroom closet because I wanted those to look more "built in". But I kept this shelving project simple, like my kitchen shelves.
Step 1. Find the Studs. Before I went shopping for supplies, I found the studs in the walls in order to know how many brackets I would need. I recommend using brackets at every stud available because these shelves will bear a lot of weight. I normally use my stud finder, but I couldn't find it, so I located them by hitting the wall. When you hit the wall looking for a stud, you'll notice that the wall has some give to it until you're hitting a stud and then it feels firmer behind the wall.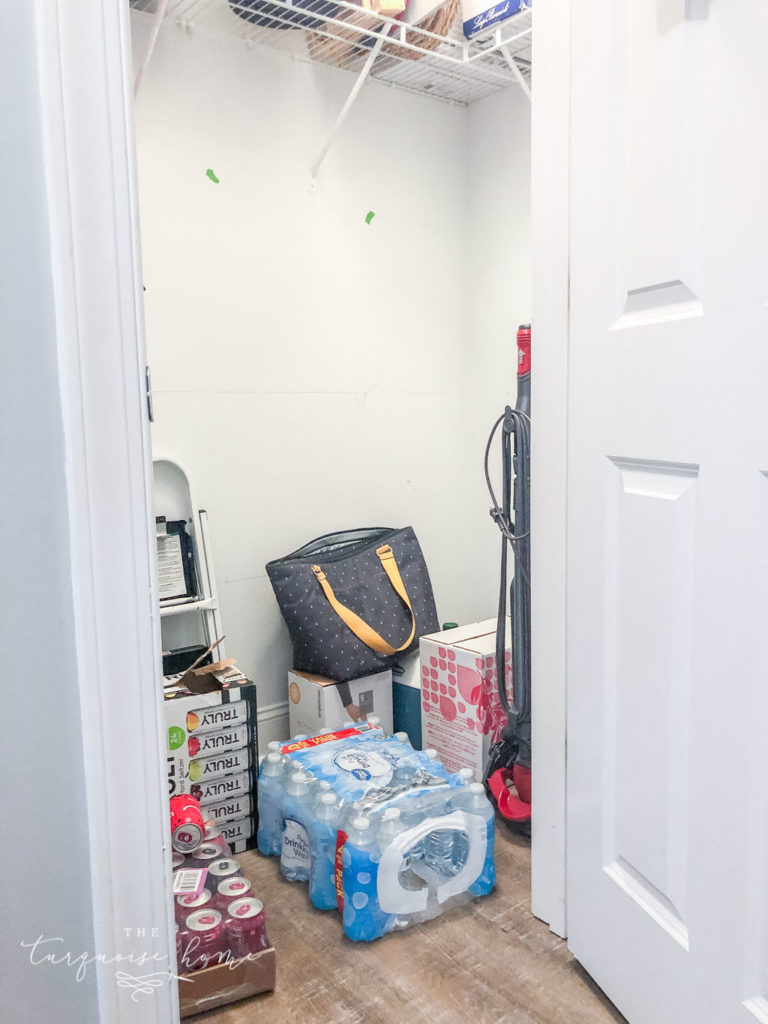 Step 2. Mark the line where you want your shelves and draw a line across the wall, using a level to make it straight.
Step 3. Cut the boards to the size you need them to be. I got the laminate shelves because I didn't want to have to bother with staining and sealing them. And I knew these would be awesome for cleaning up leaks or crumbs. They are perfect for a pantry!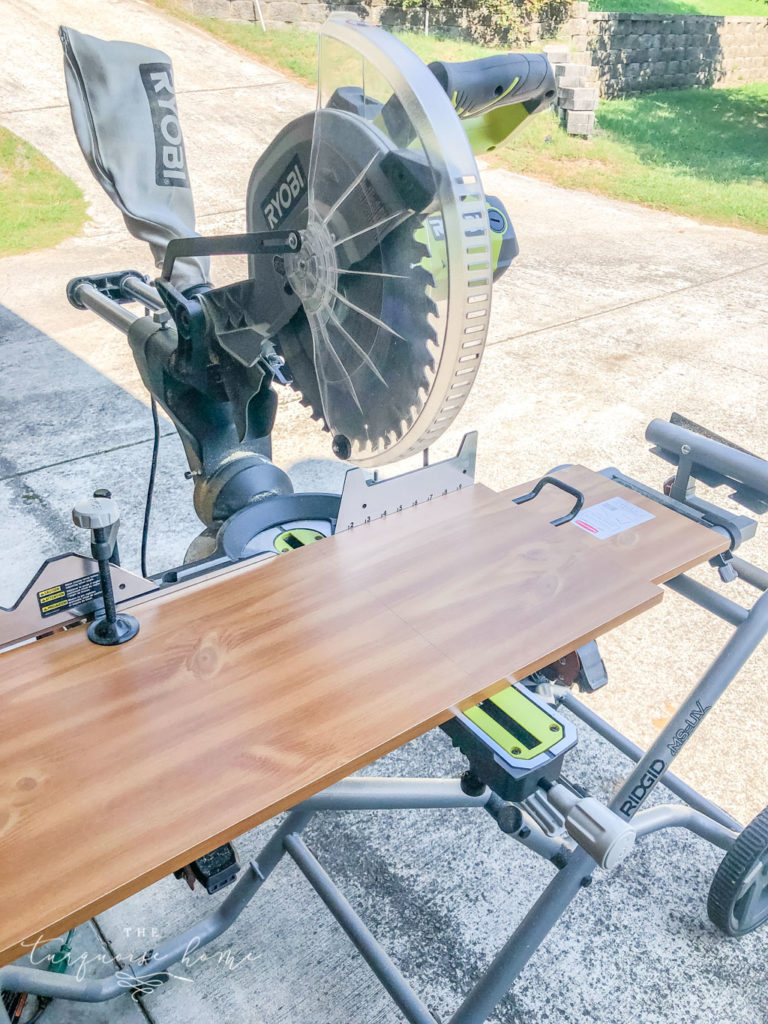 Step 4. Place all of your boards in the closet before installing the brackets. If your closet isn't very deep, you won't be able to get the shelves inside the closet once the brackets are up. Just trust me on this!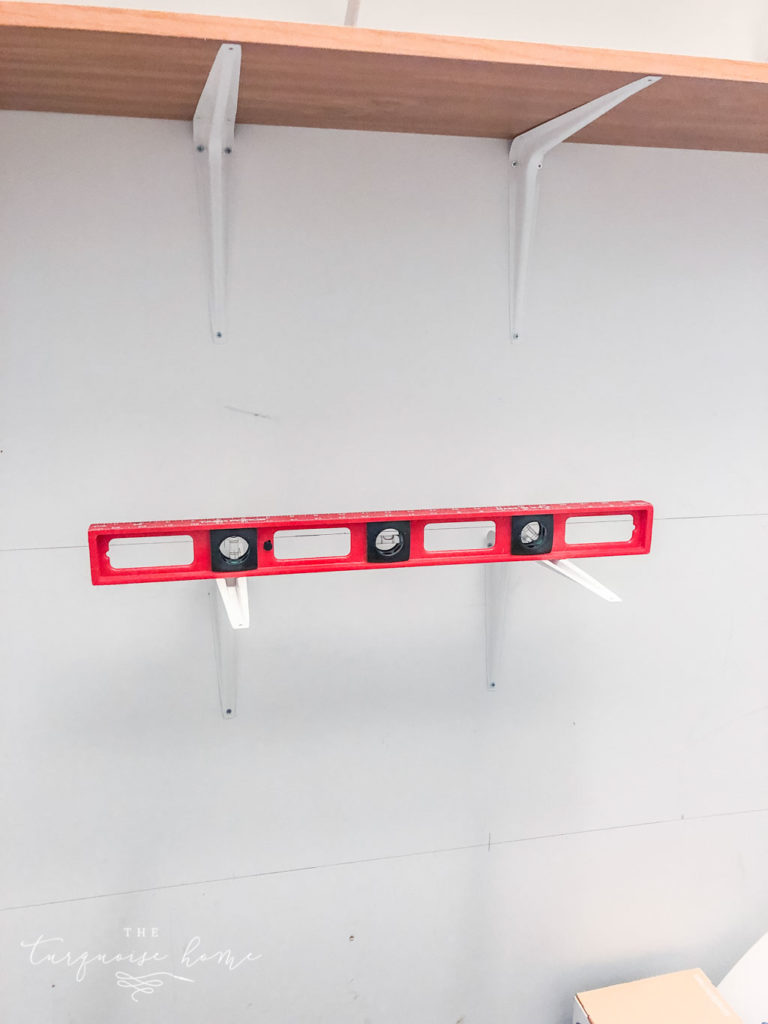 Step 5. Screw in the first bracket where you want it to go, then use a level on top of that bracket to see where to install the next bracket. Remember to screw them into the studs so they won't crash down later! Continue installing all of the brackets for the first shelf.
Step 6. Put the shelf on the brackets, then screw it into the brackets from the under side.
Step 7. Repeat until all shelves are installed.
Yay! You're done!
I still need to figure out what all I'm going to put into my new pantry and find a nice way to organize it for how we use it. But I'm going to use it for a while before I go out and buy a bunch of bins and brackets for it. I will also try to use containers I already have on hand!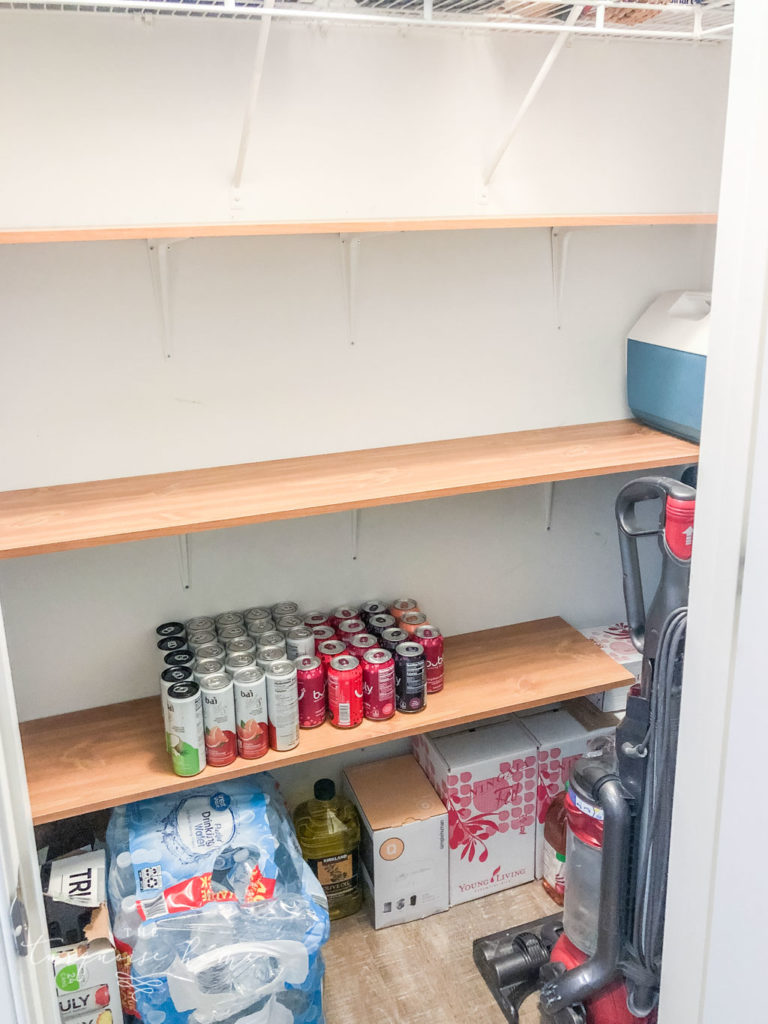 But for now I'm just LOVING the space and walk into it multiple times a day just to enjoy the new room. I've been able to move stuff off of the top of our fridge and dryer where we tended to keep overflow items. And that's been so great!
No more piles all over the floor of the closet! And no more overstuffed cabinets in the kitchen and the laundry room. This means I'll actually be able to see what I have instead of losing things in the back of the cabinets. Yay!
Making Your Home Work for You
I love it when my home becomes more efficient and works for our family.
That's what I always hope to inspire through this blog, is to encourage you to make your home work for you. It's hard to slow down and make a note of how things aren't working for you when you're doing life and running around trying to make sure everything runs smoothly.
But it's so important to take a step back and assess how efficient (or inefficient) your spaces are. Then changing them to make them work for you.
Think of your home as a work horse that can be harnessed and utilized. But if you don't harness it and use it, then it's wasted power and energy that could be working FOR you and not against you.
This simple project was so easy to do, yet took me so long to do it. So, I'm preaching to the choir here. 😉
Also… always, always, always look for ways that you can utilize vertical space. Maybe it's getting an additional bookcase or adding shelves in a room or closet or above the toilet. Shelves are such an easy thing to add, yet they help us make the most of our space.
MORE DIY SHELVES…
I have written several posts about shelves and how I have installed them in my home:
Get Instant Access to my Guide to Customize Your Home on a Budget
Grab your FREE guide for 10 Ways to Customize Your Home on a Budget: simple projects to transform your home from builder beige to a home with character and charm!