Here you'll find a list of guest room essentials to make your guests feel welcome and at home – away from home.
Having a dedicated guest bedroom is such a nice luxury for when guests come over. When we lived in our old house, I had my office in the guest bedroom. And when guests came over, I either had to clean up and move out. Or, I would have my girls room together and let guests stay in one of their rooms.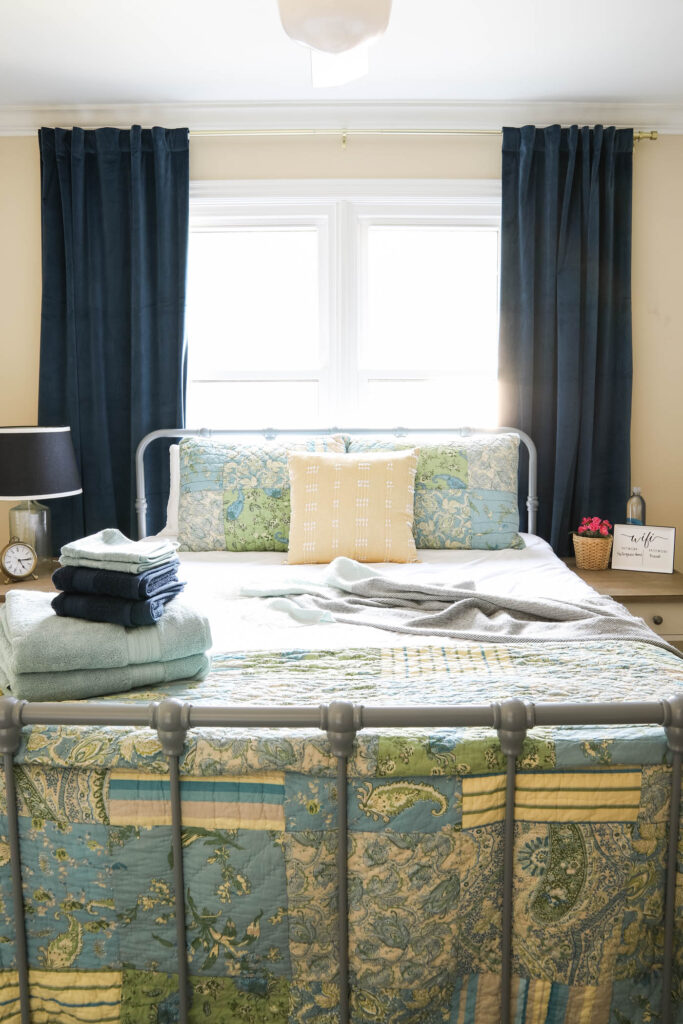 This post is sponsored by Walmart and includes affiliate links for your convenience. See my full disclosure policy.
Now, I have a dedicated office on the first floor. And the guest bedroom has a dedicated en suite bathroom. It's such a luxury that I don't take for granted. I've been so thrilled anytime anyone wants to come stay with us because hosting them is so much easier with this set up!
This room was thrown together with items I already had or something I could purchase quickly. When we moved in, several family members came to help us get settled, so I had to get it put together quickly. I still haven't painted the walls!
But for now, this space works and we're hosting with what we have, plus some great finds from Walmart Home! I've loved the welcome items like plush towels, extra phone chargers, wifi password sign and cute baskets to corral the extras! There are so many great things at your local store or online for sprucing up your guest bedroom and making it feel homey!
And it's been great to "not wait" and just invite people over! Love it!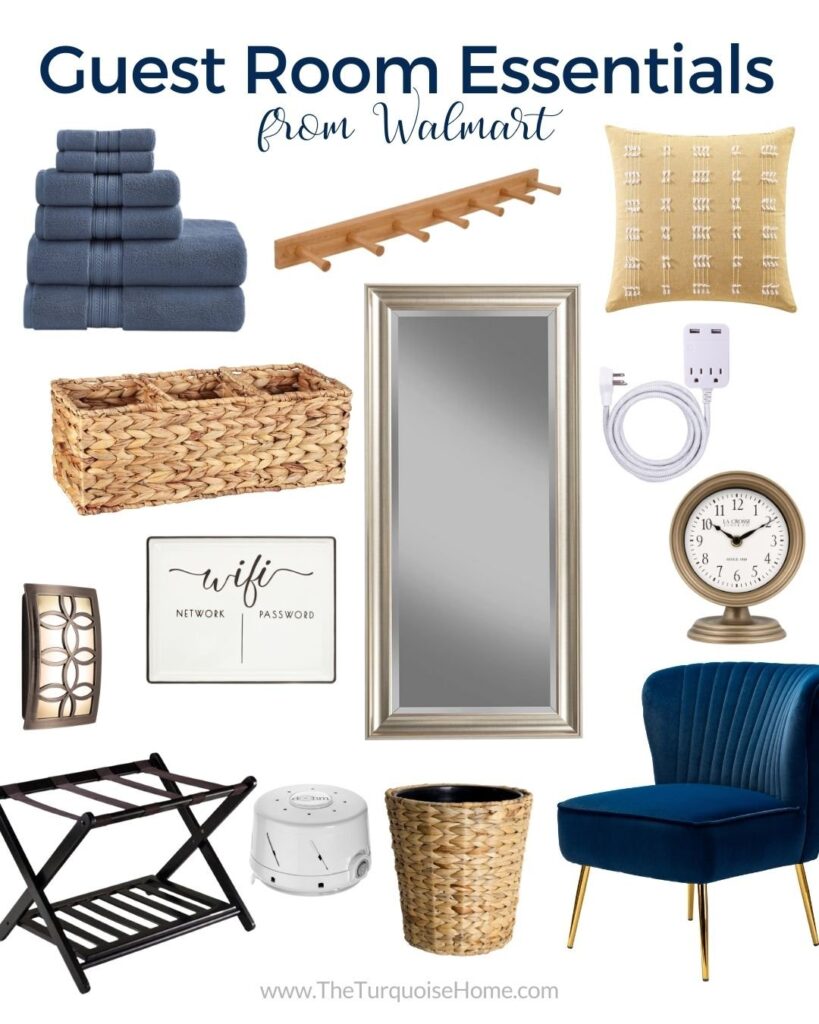 Towels | Peg Board Hooks | Throw Pillow | Hyacinth Basket | Mirror | Extension Cord | Wifi Password Sign | Night Light | Clock | Luggage Rack | Noise Machine | Waste Basket | Chair

So, I've rounded up a few favorite things I like to have in the room when people come over. I've always loved seeing others share their guest bedroom must-haves, like the wifi log in information. Or having a basket of extras in case they forget something.
So, lets' dive in, shall we?
Guest Bedroom Essentials to Make Guests Feel at Home
Having a place for your guests to put their luggage is crucial. Even if the room is too small for a luggage rack, leave enough floor space for a bag to fit. I know I always appreciate it when there's a place to leave my luggage open. I like the luggage rack I have because it also has a lower shelf for shoes or another bag!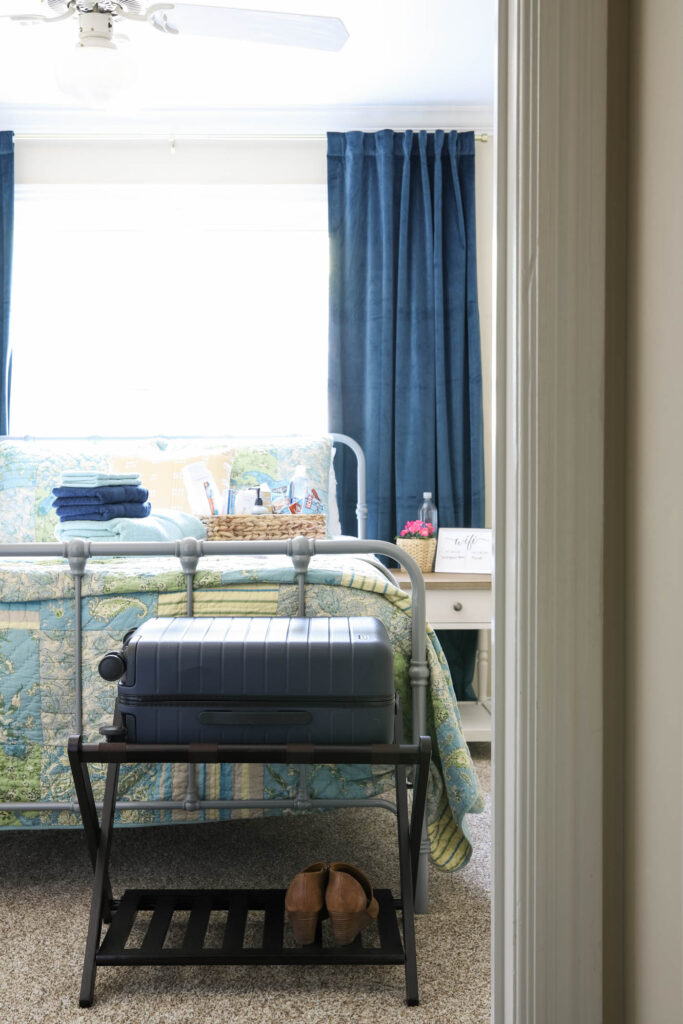 2. Plenty of towels and wash cloths
If your guests are planning to spend the night, then chances are they are going to need to use the shower or at least need something at night to wash and dry their face. Having plenty of plush towels and wash cloths is key! These beautiful blue towels and cloths from Walmart are great, but don't break the bank!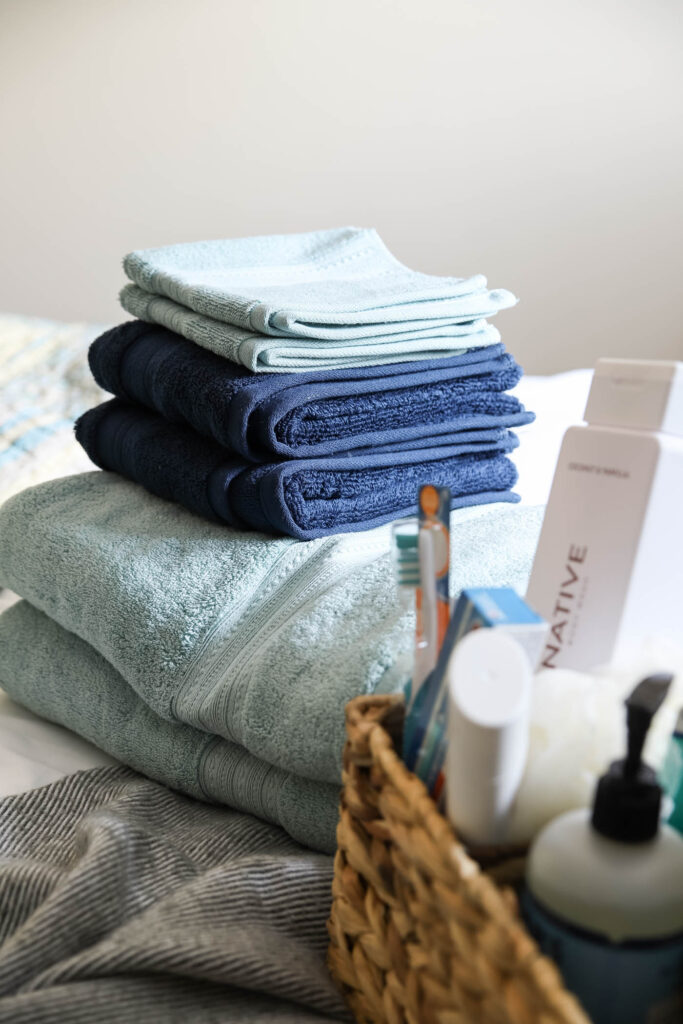 3. Space in a Closet or Hooks
In addition to space for luggage, a guest room essential is giving them somewhere to hang up their hanging clothes. So, leave a space in the closet, or use a hook system on the wall.
These peg board hooks are perfect for guests hang up clothes, or hanging a bag. Or even a place to keep a spare robe for them to use!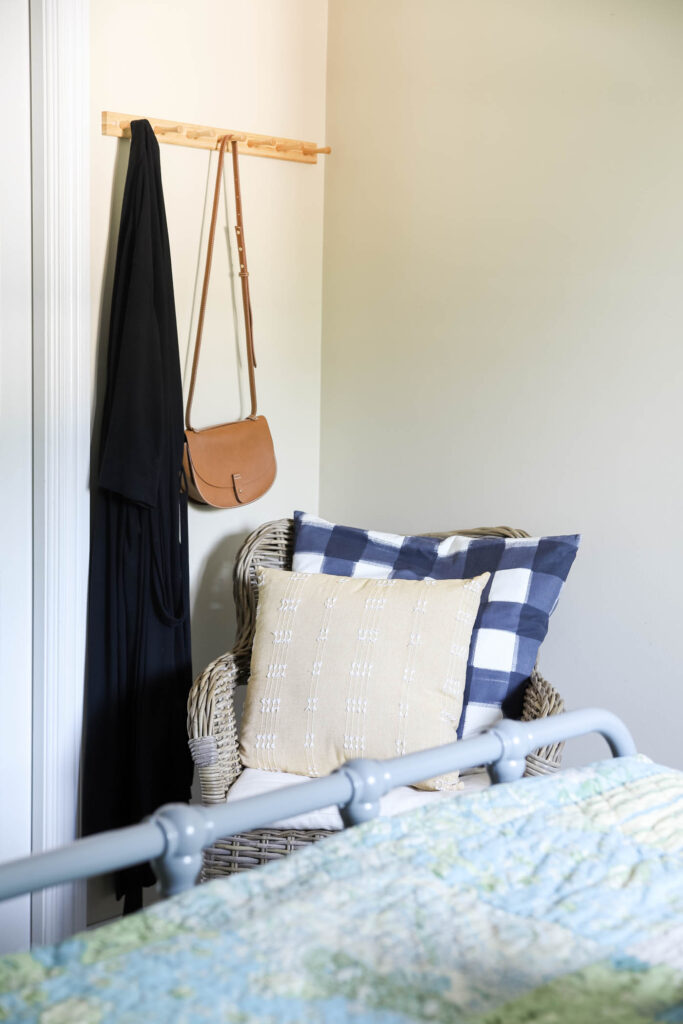 4. A Chair
Obviously your guest room will have a bed for your guests. But it's also nice to include a chair for them to relax or a place to sit while they are putting on their shoes.
5. Wifi Network & Password
Doesn't it make you feel like home when your phone automatically connects to the wifi? Make it easy for guests to get on your network by providing the network name and password right there in their room!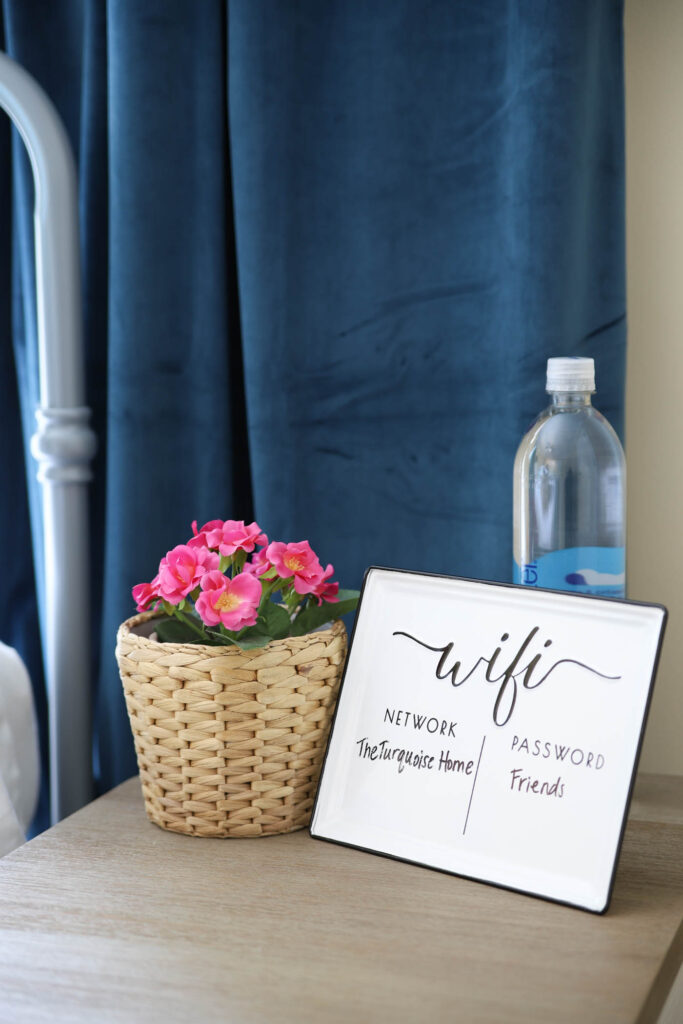 This adorable wifi password dry erase sign is perfect for making your guests feel right at home!
Shop My Guest Room Essentials by Tapping the Images Below:

6. Extra Toiletries
If you've ever forgotten a toothbrush or deodorant at home, you know how nice it is when you have that waiting for you at your destination. I love this hyacinth basket for keeping them corralled together.
Providing these incidentals keeps your guest from having to make a trip to the store. Thus giving you more time to spend together!
Great ideas for extra incidentals are: toothbrush, toothpaste, deodorant, tooth floss, hair spray, mouth wash, medicine for a headache, nail clippers, feminine hygiene products, hair dryer, q-tips, cotton swabs, etc.
I keep extra body wash, shampoo and conditioner in the guest bathroom all the time.
7. Water Bottles
I always need a water bottle by my bed at night, so I want to make it available if someone needs it and forgot their own!
8. Snacks
Whenever I travel, I get hungry. And if I didn't pack snacks, it's nice to have a granola bar or something when I get to where I'm going. Or maybe someone gets the midnight munchies, but doesn't want to dig around in an unfamiliar kitchen.
9. Extra Phone Charger
We've already had guests that have forgotten their chargers. So, it's always a welcome surprise when I tell them there's already an extra charger in there!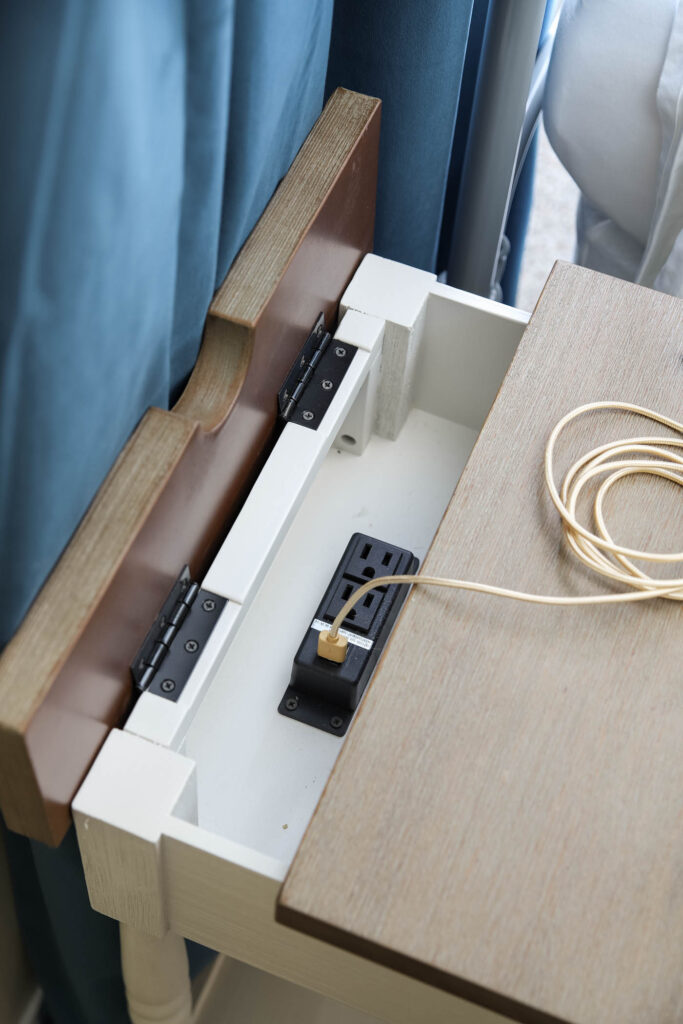 We have additional plugs and USB ports in the back of our night stands, but if you don't have that, maybe offer an extension cord like this!
10. Clock
Most people use their phones for a clock, but phone fatigue is real. And it's nice to be able to put your phone down and still see the time in your room.
11. Tissues
This is something every bedroom needs, in my opinion!
12. White Noise Machine
We are big white noise fans! And while you can use an app on your phone for white noise, it's also nice to have on in the room!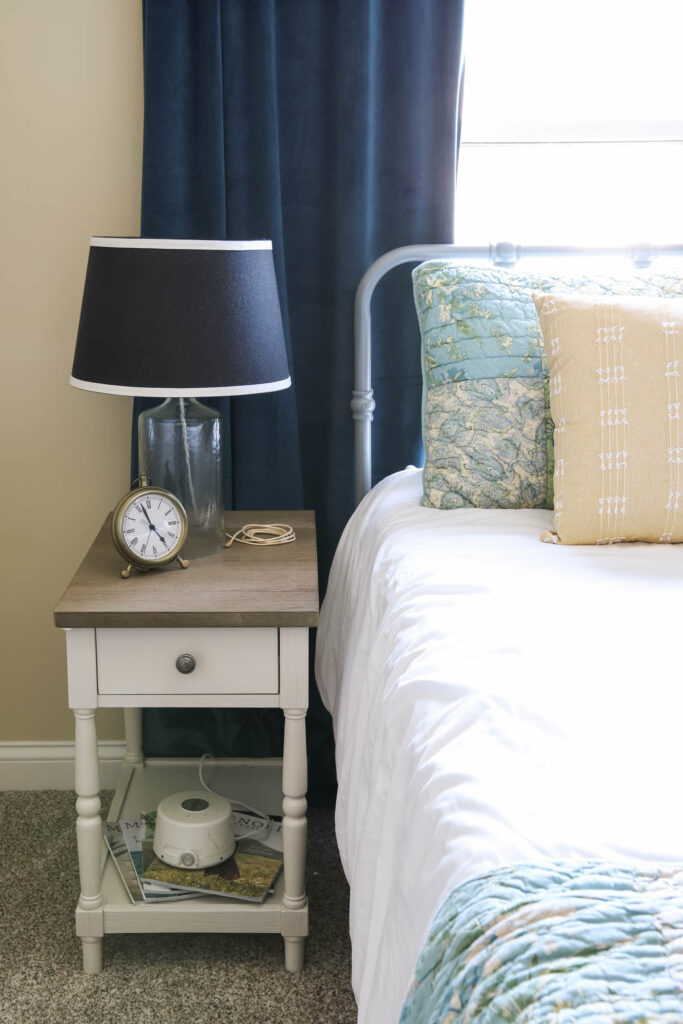 13. Fan
I have to sleep with a fan because I have to feel the air flowing at night. If you don't have a ceiling fan in the guest bedroom, consider offering a floor fan. Some people might like the air to be cooler than you keep it at night, and a fan always helps!
14. Extra Blanket
Just as some guests are hot natured, others are cold natured and might need an extra blanket.
15. Night Light
Giving someone the option to have a night light in a new place is always a good idea. I love these decorative night lights that look good, come on when it gets dark, and can be easily removed if not needed.
16. Full-Length Mirror
Any mirror is better than none, but a full-length mirror is best! I don't have one in our guest room yet, but I've been eyeing this one!
17. Trash Can
There's hardly anything worse than having trash with nowhere to put it. Don't leave guests without a place to put those baggage stickers or wrappers. This hyacinth waste basket is so cute and has a built-in liner.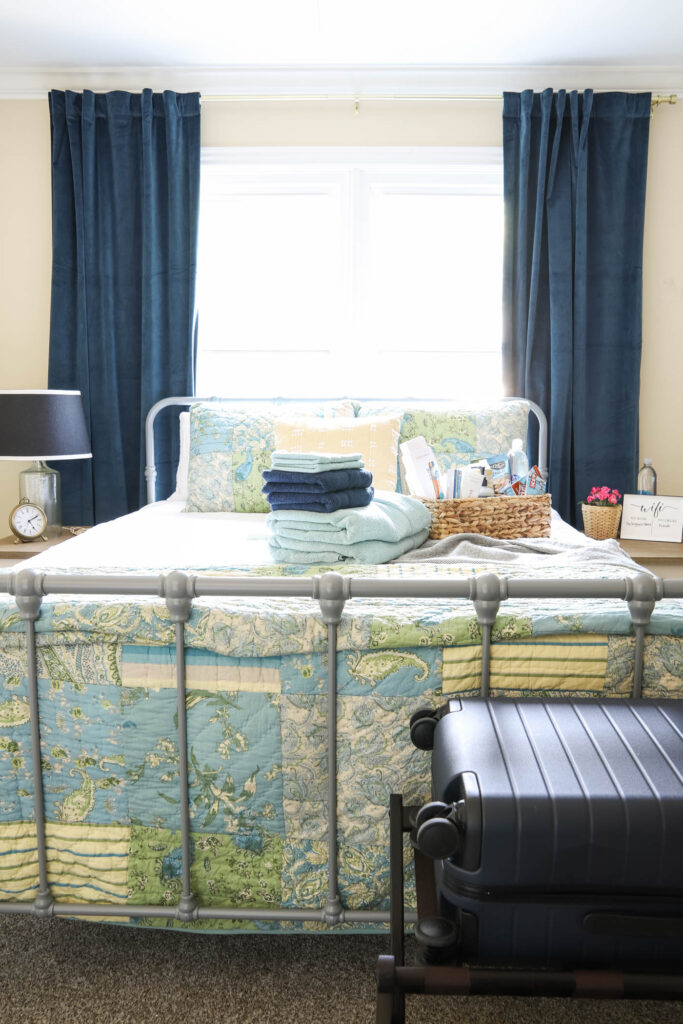 MORE POSTS YOU WILL LOVE: