Luxury Vinyl Plank Flooring Review
After living with our new floors for a couple of weeks, I'm sharing the pros and cons of choosing Luxury Vinyl Plank floors!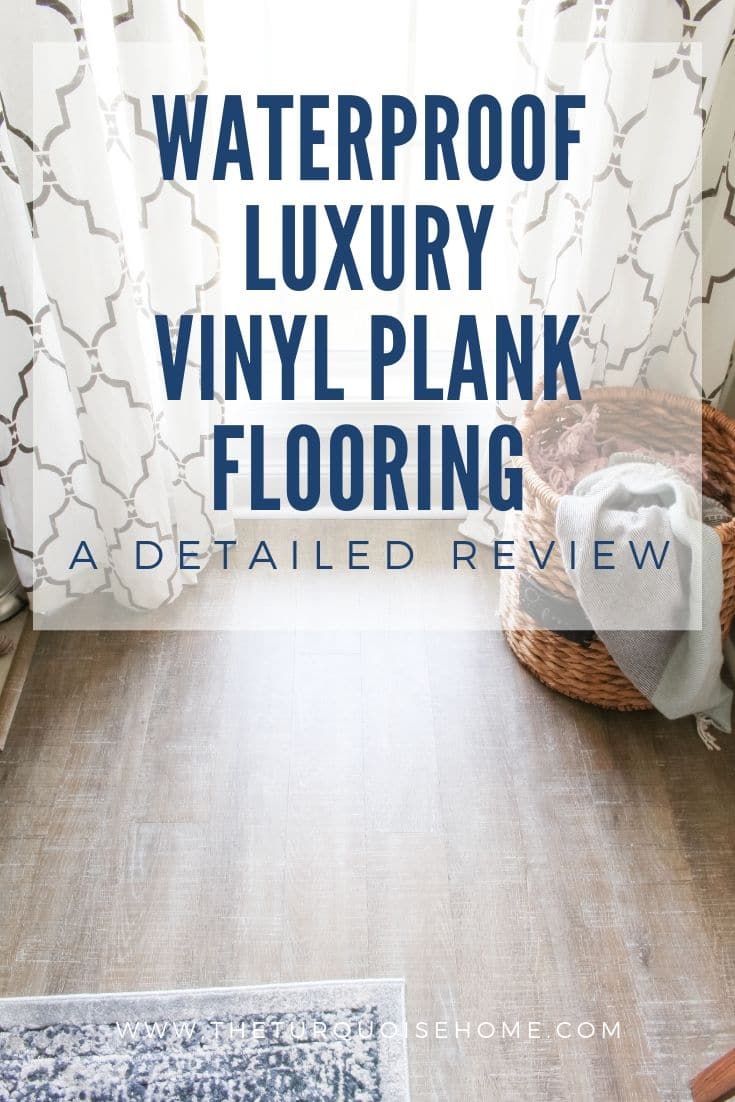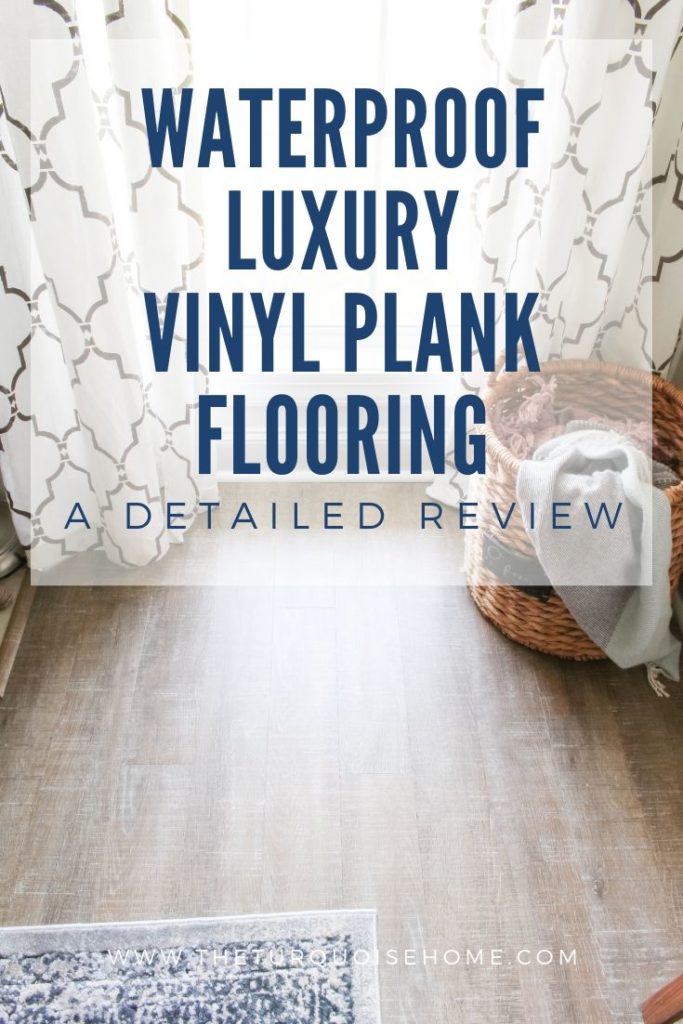 If you missed the beginning of the new flooring drama and why we had to have our engineered hardwood floors replaced, go read my post on picking out new flooring. It was not something I expected to have to juggle this summer, but it's done and I have thoughts. 😂
We had old reddish-brown engineered hardwood floors that had seen better days. They were rough (and pretty ugly from wear & sun exposure) when we moved in, so I've had "replace floors" on my wish list since we moved in 7 years ago.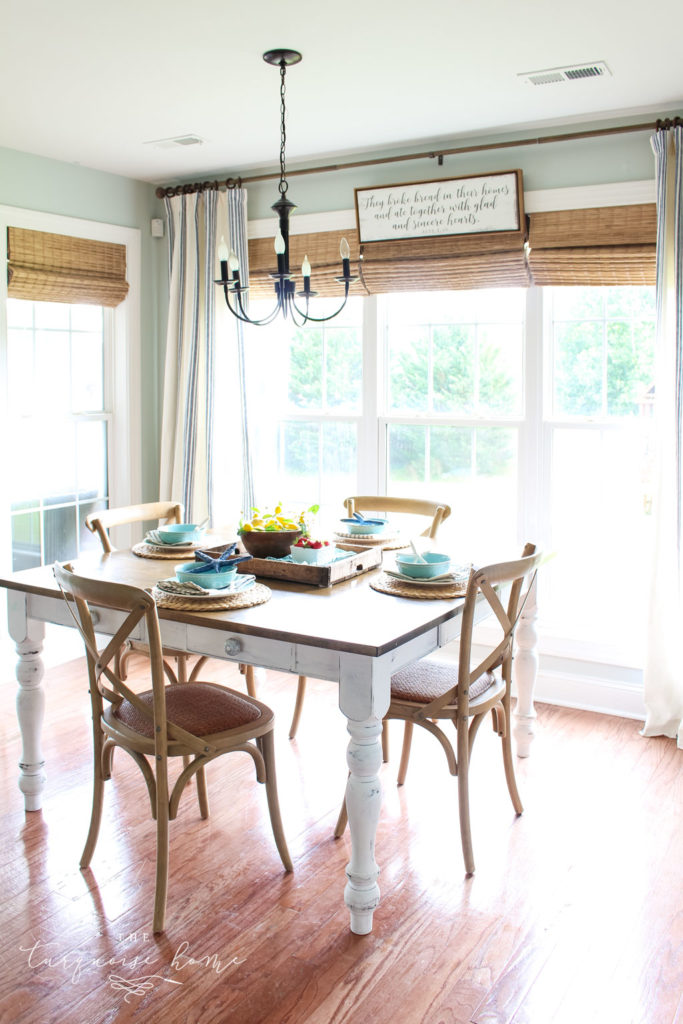 Even though I had always wanted new floors, I hadn't done any research into what flooring option I wanted to replace them. So I walked into this decision with no prior research and had to make a decision in a couple of weeks. It was overwhelming and I went to several flooring stores to see options and talk with professionals.
I went into the process thinking I would choose another engineered hardwood product. But then I started reading and hearing about luxury vinyl plank floors and I was intrigued. Waterproof, pet-proof & kid-proof are definitely qualities I'd like in my home. While we don't have a pet, we do have a 4-year-old who plays with water all the time and likes to make "science experiments" in the kitchen when we're not looking. Ha!
The floors were finished more than a week ago, but I wanted to live with them for a couple weeks before giving my thoughts and opinions.
What is Luxury Vinyl Plank?
Luxury Vinyl Plank, which is also called LVP flooring for short, is a man-made vinyl luxe plank product. In 2012, US Floors introduced the first engineered vinyl plank product with their COREtec Plus line of flooring. (This is what we chose for the high quality product and cork backing, which helps with cushioning and is a naturally anti-bacterial product. This is not sponsored in any way, we just chose to use this product.)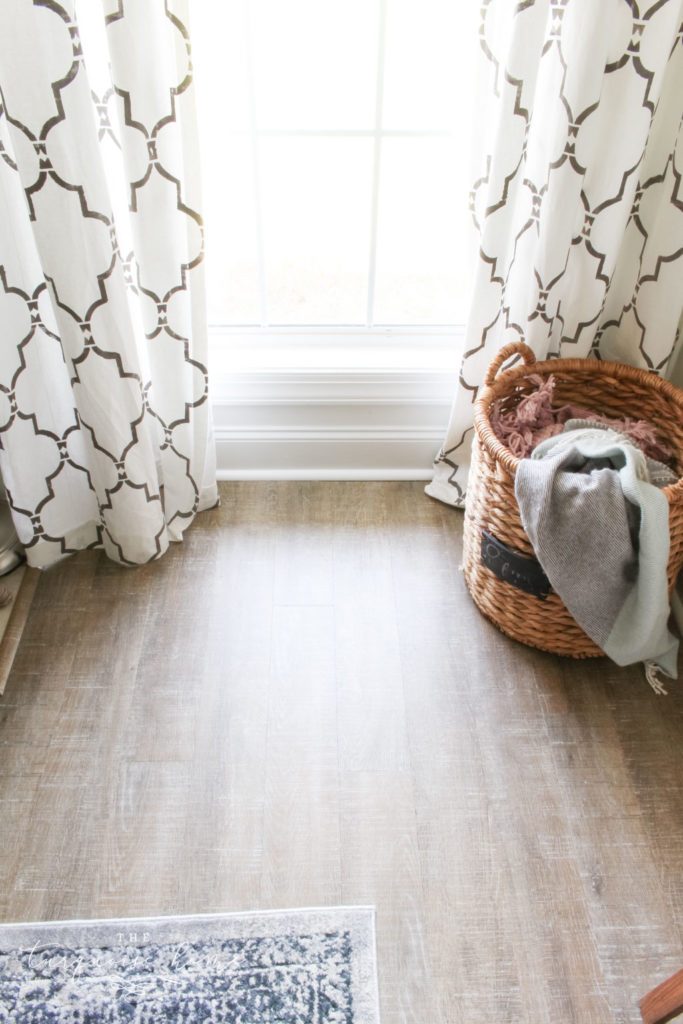 This engineered vinyl plank looks like real wood floors, but is water resistant (many times waterproof) and easy to install over existing (flat) flooring.
The Pros of Luxury Vinyl Plank
The Look.
When I walked into my house for the first time with the new floors, it was love at first sight! The color of the vinyl looks just like a rustic weathered wood with warm brown tones and cooler gray tones all mixed together. We chose COREtec Boardwalk Oak for our floors. It has a beachy farmhouse vibe, which I LOVE and it works so well with the colors and tones already in my home.
The pattern of the vinyl has low variation, so there's not an additional pattern on the floor competing with my home decor. There are no places of dark or light, just a beautiful uniform rustic gray/brown color that works with my home perfectly.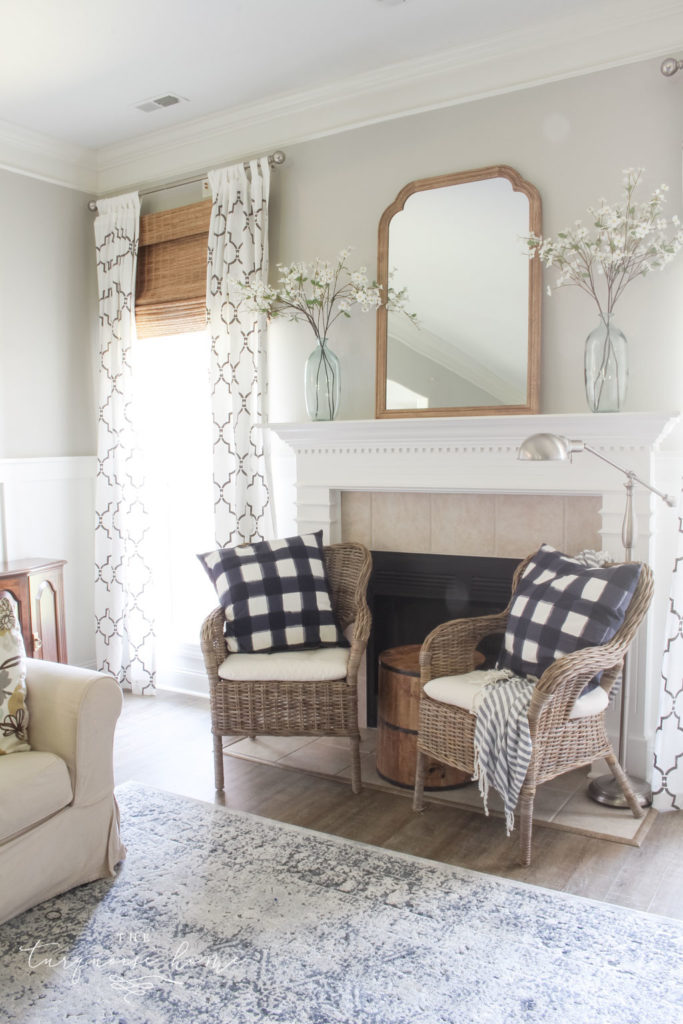 If you are looking for a similar look, but a wider plank, then I would suggest Nantucket Oak by COREtec.
This is the #1 reason I chose luxury vinyl plank – they had the look I wanted in the price range I needed. If I had gone with a similar look/style in the engineered hardwood, I would have paid at least $2 more per square feet.
You can find the most stylish colors on the market, like grays, weathered woods and farmhouse looks in the engineered planks. This makes this type of flooring an obvious choice for updating the look of your home.
Cleaning.
Cleaning these luxury vinyl plank floors has been a dream. You can sweep or vacuum or wipe them with a damp rag. I personally use the Norwex mop system, which I just use water with the mop pad and it cleans up anything that we've spilled on the floors. (And we spill a LOT – remember our 4-year-old who loves to do experiments in the kitchen?) Or I use my Thieves Cleaner from Young Living. It's safe for our family and is a great degreaser.
The maker of our floors, US Floors COREtec Plus, recommends Bona Stone, Tile and Laminate Cleaner. So, if you don't have a Norwex mop or Thieves Cleaner, I'd go for that!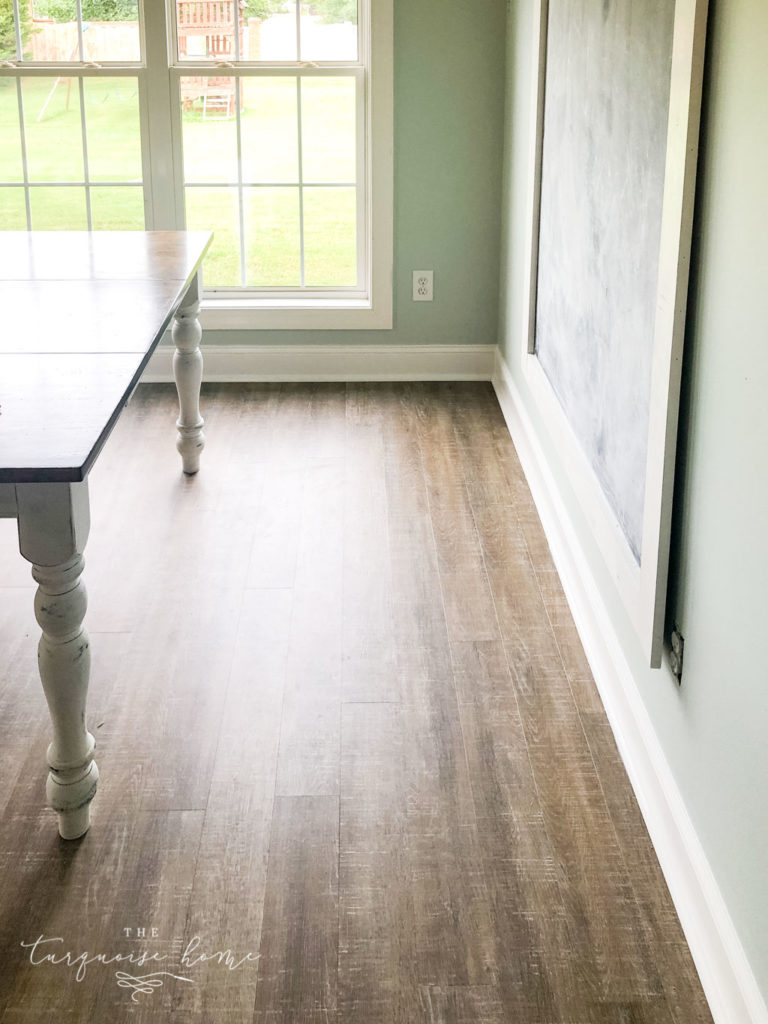 Installation.
We did not install these floors ourselves because our insurance was paying for them to be installed and we just didn't have the time this summer to try to tackle that huge project. But I know plenty of people who have DIY'd their installation of luxury vinyl plank. It's evidently really easy and there are some great tutorials online – just do a search and you'll find them!
The great thing about LVP is that if you have flat floors, you can install them as floating floors over your concrete slab, existing tile or existing hardwood. This is especially ideal if you have asbestos tiles or sub flooring.
The thinner size of LVP makes it easy to install with cabinets and appliances in place.
Our old floors were ripped out because they were damaged and our insurance paid for it and installed over our concrete slab. But if we were doing these ourselves, we would have totally put them in on top of our existing hardwood floors.
It's Popular.
I was told over and over again that many new homes in our area are putting in Luxury Vinyl Plank as the main flooring throughout the home. In fact our good friends are building a beautiful, large home and chose LVP for their main flooring.
This means that when we go to sell our home it will be a great option for a new homeowner and they will be seeing these floors in the newer homes in the area.
I've heard that LVP doesn't improve the value of your home like a real hardwood or engineered hardwood does. But I think the perks of being waterproof floors, plus pet-proof and kid-proof will appeal to new buyers.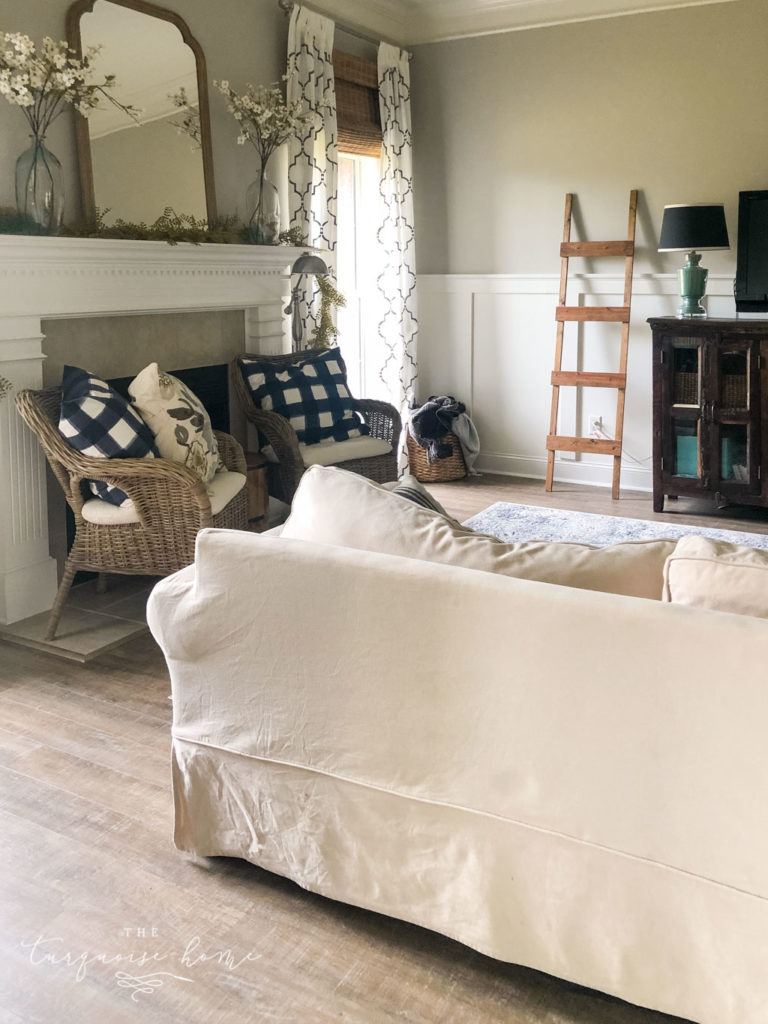 The Cons of Luxury Vinyl Plank
The Sound.
While I've heard the sounds of luxury vinyl plank has improved greatly in recent years, I was most concerned about this issue. You know the hollow sound of walking on a non-wood floor? I was worried about this because I'm super sensitive to sounds.
Welllll … it's not been my favorite thing about these floors. While I've found shoes in my closet that don't make as loud of a sound when I'm walking across them, they are still louder than my previous engineered hardwood floors.
I hear our feet in the floor more than before. I could be totally silent walking on our old floors, but it's almost impossible to be silent walking on these floors. (Think of this as a problem if you're trying to sneak outside a child's room to be the tooth fairy, or go to bed after your spouse and trying not to wake them.)
I think choosing a more textured floor would cut down in the sounds, so I wish I'd chosen Nantucket Oak instead since it has more texture.
This sound hasn't bothered my husband one bit. And my good friend came over and said she couldn't tell a difference. It's probably just me being super sensitive, but I want to be honest about the sound. It won't sound like the rich tones of walking on real wood.
I'm going to add some runners in my hallways and a large 9 x 12 are rug in our bedroom to help break up the sounds. So hopefully those will help me get used to it. And I will say that in the 2 weeks we've had them, I have gotten more accustomed to the different sounds. So maybe it will just take time to get used to them.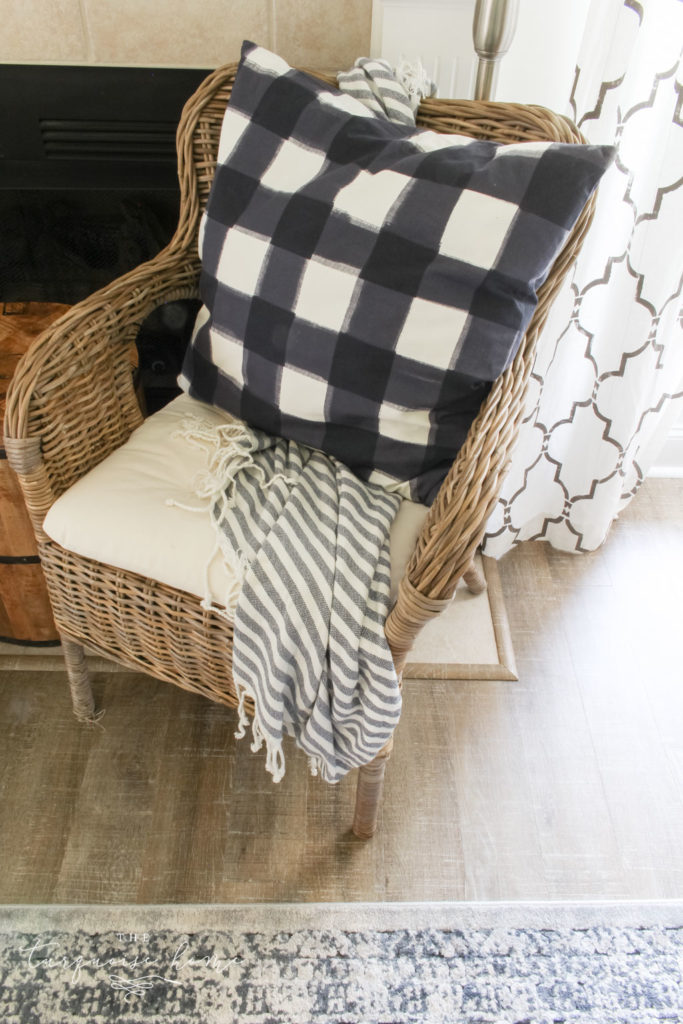 The Feel.
This probably would be different with a different style of LVP, but our floors are pretty smooth with a matte finish. They are soft on the feet, which my husband likes, thanks to the cork backing. But I find that they feel too soft for my taste. I wish they had more of a wood feel. Again, this could be improved with a different style of LVP with more texture and more of a glossy finish.
Spills and Dirt.
I thought that this medium/light flooring color would make the dirt and spills less obvious. Not that I want to have a dirty floor, but let's face it – floors are pretty dirty. And I don't want to see every single crumb.
Unfortunately the matte finish on these floors shows every drip, spill and mess. That can be a good thing so that you can see them and clean them up. But I don't want to notice every little thing and spend my whole day cleaning the floors.
Thankfully they ARE easy to clean and it's a quick process. But again, I tend to see the crumbs more than before. I think the additional rugs will help, but we'll see.
I guess the worst thing that can happen in this case is that I'll be forced to clean the floors more often and they will in fact be cleaner. LOL
Final Thoughts
I love the look of these floors. They are my dream come true in that department and I'm so thankful we were given the opportunity to replace them.
When and if we ever build a home, I'll most likely pay the extra money for the engineered hardwood flooring of my dreams. The engineered hardwood that was in our budget (that I saw) wasn't the look I wanted. So, I sacrificed material to get the look I wanted.
And in the end I wouldn't change a thing. Every new major change takes time to get used to, so this is no different. We feel like our home is updated and new and fresh and will love the look for years to come!
More Posts You Will Love: