My Tried & True Nordstrom Sale Favorites
This post contains affiliate links for your convenience. See my full disclosure policy.
Yay!! It's HERE! The most amazing clothes and beauty sale of the year is live! It's finally time to preview the Nordstrom Anniversary Sale Early Access 2021 for and I'm so excited!
I've found some great staples for my home and my closet over the years thanks to this sale. So, I thought I would share some of my tried and true purchases that are on sale again this year! In the past I've ordered a ton of stuff, tried it on and shared it. But I thought it would be fun just to share the best of the best this year!
I'm be able to shop the sale on July 16, as an "Influencer" card holder. And the public access for non-Nordstrom card holders is July 28.
If you're not a card holder, you can get one here.
My Tried and True Nordstrom Sale Favorites
These are items I own and love AND are on sale during the N Sale!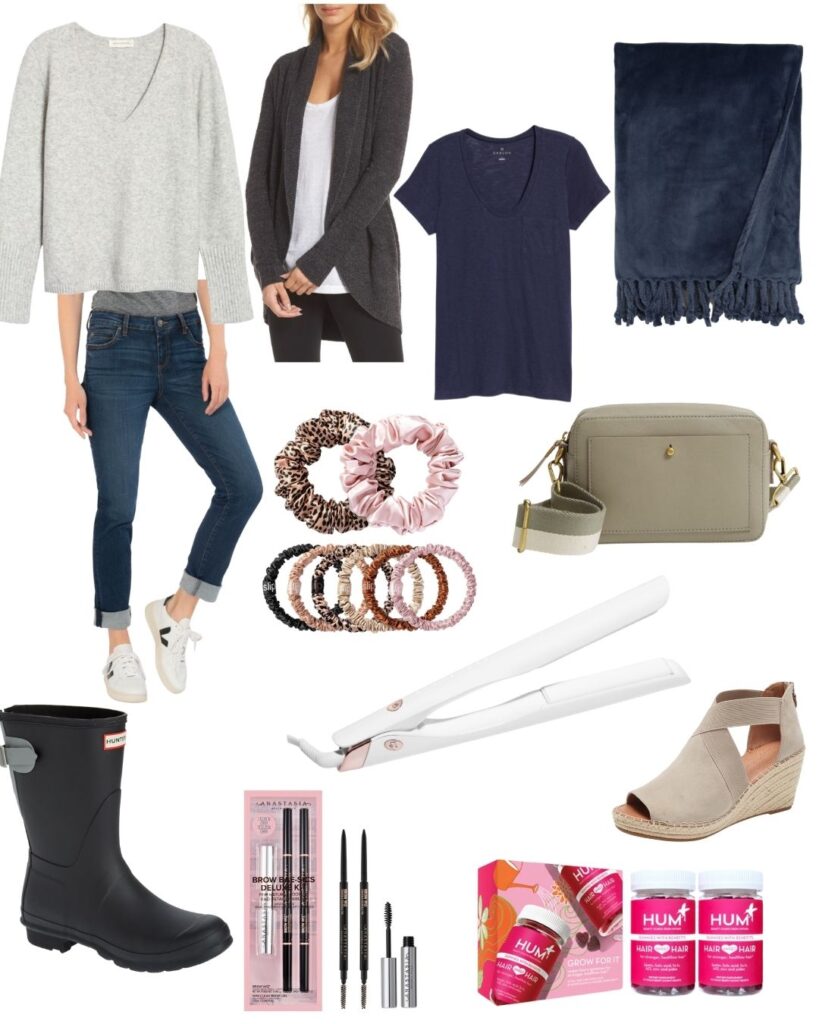 V-Neck Sweater / Sweater Cardigan / Scoop Neck T-shirt / Plush Throw Blanket / Boyfriend Jeans / Silk Scrunchies / Cross-Body Bag / Hunter Boots / T3 Flat Iron / Brow Wiz + Brow Gel / Gummy Hair Vitamins / Wedge Sandal
V-Neck Sweater – This is the v-neck version of the crew neck sweater I bought last year. I ended up buying 3 colors and they are my favorite sweaters, ever! You better believe I got a v-neck version headed my way!
Sweater Cardigan – This dreamy, cozy sweater has been a staple for several years now. It's my go-to for lounging around the house or running out with leggings!
Scoop Neck T-shirt – I own this thin t-shirt with a pocket in 3 colors as well, and it's perfect for laying under jackets or wearing alone!
Plush Throw Blanket – I bought this for so many people last Christmas and it's a favorite cozy blanket among my family and friends!
Boyfriend Jeans – These stretchy jeans are so comfortable! I love wearing them year-round! I love them so much that I bought a couple pair of the shorts as well!
Silk Scrunchies – These are a nightly staple! I put my hair up in a pony tail with these every night to keep my hair fresh and not have to wash it as often. These scrunchies hardly leave a crease in my hair!
Cross-Body Bag – I have this in leather and want this color as well! It's the perfect size cross-body purse for carrying the essentials.
Short Hunter Boots – I use these all of the time in the fall/winter/spring here in the south, when it's really rainy. I love them! Easy to slip on and don't make me hot.
T3 Flat Iron – I've had my T3 flat iron for 3 years and still love it as much as the day I bought it!
Brow Wiz + Brow Gel – I've been using these products on my brows for years and love them!
Gummy Hair Vitamins – These are the best hair gummy vitamins I've ever found!
Wedge Sandal – I bought these last year (in mushroom suede) and they have gotten so much wear! I love that they easily transition from summer to fall and spring to summer. They are so comfortable, too!
I've come to love this sale because I've gotten some fabulous deals, which have been the best staples in my closet. All of my favorite sweaters over the years come from this sale. So, I really think it's a great sale to shop! See how I shopped the sale in 2020, then again in 2019 and 2018 and then my top things I bought and loved in 2019.
There's a lot of stuff to share, so here's what we'll cover:
– Tips for Shopping the Sale
– Why I LOVE shopping the Nordstrom Anniversary Sale (#NSale)
– What is the Nordstrom Anniversary Sale & What does it mean to be a Cardholder?
– #NSale Sale Dates

Tips for Shopping the Nordstrom Anniversary Sale
Have a Budget. It'd be so easy to get caught up in the drama of it all and just splurge on all the things. Set a limit and stick to it.
Pull out your fall and winter wardrobe and find the holes you need to fill? Do you need a new pair of jeans or booties or a sweater? Did you forget you already have 5 cardigans? It's helpful to take a look at it all first so you don't overspend.
Shop early the first day of the sale and place your order online. If you're not sure about sizing, order two and send back the one that doesn't work. They have the BEST return policy out there. It's free and easy!
If you are using the Nordstrom card, make sure to select for it to be your double points day so you early 2x the points on your purchases.
Shop the most coveted brands first to stave off sell-out-itis. 😂 These are: Adidas | Anastasia Beverly Hills | Barefoot Dreams | Charlotte Tilbury | Hunter Boots | Madewell | Nike | The North Face | Steve Madden | Tory Burch | UGG | Vince Camuto | Zella
Then shop the most coveted sections of the sale: Women's Jeans / Women's Shoes and Booties / Beauty.
Why I Love Shopping the #NSale
I only started shopping at Nordstrom (during the Anniversary Sale) in 2017 when I heard about it from every blogger/Instagrammer ever. What was all this fuss about? I bought a couple things (like my favorite winter cardigan) and was intrigued by the deep discounts for newly released clothes.
Since I do 95% of my shopping online, I LOVE their free shipping/free returns policy. It's so easy to try on clothes and send them back if they don't work out. Tip: I often order 2 sizes and send back the one that doesn't work. So, I love shopping Nordstrom. (The closest store is 2 hours from me, so I'm limited to online shopping unless I'm in Nashville or Atlanta.)
Then in 2018, I went all in. I got the credit card in order to shop the early access sale. I bought my first pair of Madewell jeans 4 years ago. And have since bought 6 more pairs – yes, they are THAT good.
What is the Nordstrom Anniversary Sale?
In short, it's THE sale event of the year for clothing and beauty favorites. It's Nordstrom's biggest sale of the year featuring new fall clothing styles, accessories and shoes plus some beauty and home deals. These must-have fall and winter staples will be at their lowest prices of the year, so it's a great time to buy ahead of the season.
Once the sale is over, most everything goes back up to full price.
The Sale always opens first to card holders before Public Access opens on July 28, 2021. In the past, many of the hottest items have sold out in the first day of the cardholder's sale. If you've been eyeing a hot item for a while and want to make sure you grab it, it might be worth it to get a Nordstrom Card as the hottest items can sell out before Public Access starts on July 28th.
Note: I don't necessarily recommend the credit card if you're going to buy things you wouldn't normally buy or that you can't pay off immediately. Know yourself and don't go into debt for some jeans. But if you're able to show some self control and not overspend, then it's a great way to get some good deals before they sell out.
When is the Nordstrom Anniversary Sale?
July 12th-27th – Nordstrom Anniversary Sale Early Access (cardholders only)
July 28th – Nordstrom Anniversary Sale opens to the Public
August 8th – Last Day of the 2021 Anniversary Sale
Happy Shopping!
xo, Laura
SaveSave
SaveSave
SaveSave
SaveSave
SaveSave