I thought it would be fun to go through and see what my top favorite purchases are over the past year or so. There were so many good ones that I couldn't stop at 25 and had to keep going! These aren't necessarily in order of favorite to least favorite. I just went through my orders from the past year and chose my top 30+ faves!
This post contains affiliate links for your convenience. See my full disclosure policy here.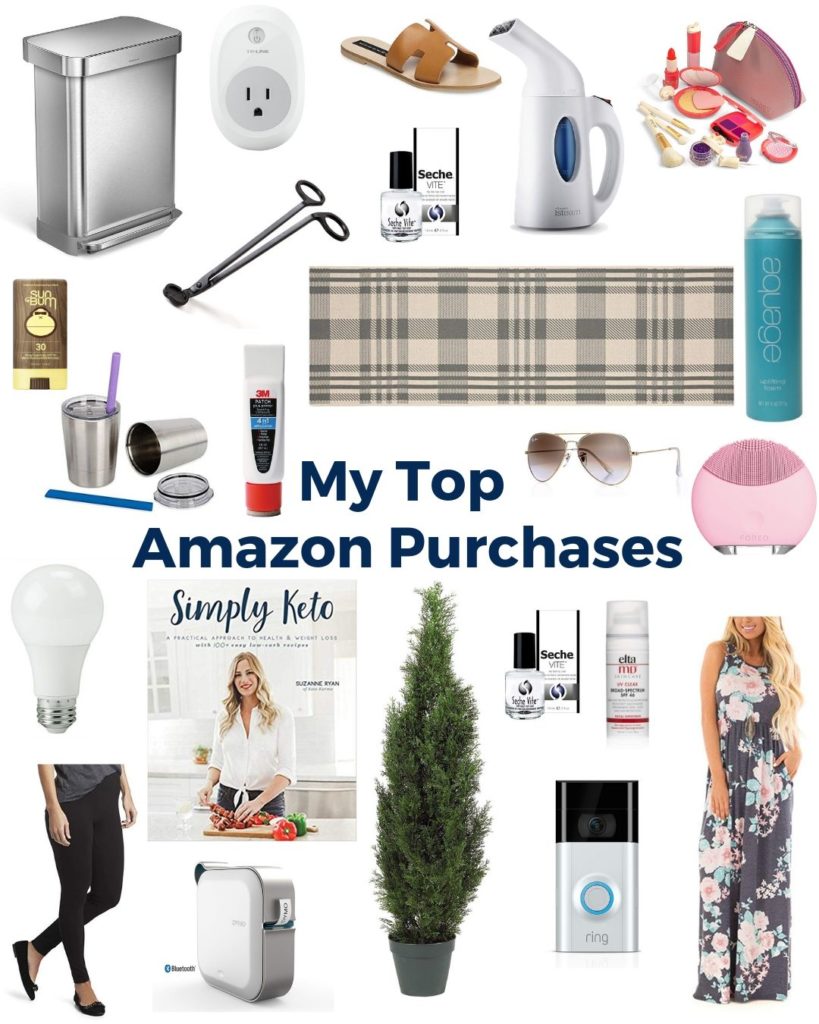 Top Amazon Purchases of the Last Year:
Women's Sneaker – I wear these all the time during the fall, winter and spring! A year later, I still wear them allllll the time!
Sleeping Queens – Hands down our favorite game to play with our girls (ages 5 & 9) after dinner!
Yeti Tumbler – I finally bought my own water/cold drink cup, so I wouldn't have to fight other people in my family for a cup. I love the magnetic lid closure. This one is that gorgeous seafoam green color. Love it!
Cooling Neck Gaiter – These face coverings have been a life saver for my husband who can wear these while he's coaching or doing work outs with his students in the Alabama heat. He swears by them!
Yoga Mat – I've been loving Peloton yoga and these mats are the best! So thick and comfy under my old lady knees. 👵🏻
Math Cubes – Perfect for helping both my girls learn math.
Plastic Pattern Blocks – My girls love using these blocks to create patterns on these activity cards. It's a great educational activity.
Tablet/iPhone Stand Holder – Hands down the BEST iPad/iPhone holder stand in one! We use this all the time during virtual school for Zoom calls for my kindergartner. And I use it for hands-free Instagram stories!
Touchless Forehead Thermometer – perfect for checking the kids' temp before sending them to school!
Milk Frother – We started drinking heavy cream (only without sugar) in our coffee and this milk frother makes it tastes extra fancy and creamy.
Simple Human 14.5 Gallon Trash Can – Changed my life!! I wrote more about it in my January Faves post.
Sunscreen Stick – I put this on my kids' faces every day before swim team practice and they never complain! (They ALWAYS complained about sunscreen on their face before this one.)
Clear Facial Sunscreen & Moisturizer – My face sunscreen/moisturizer that protects my face and keeps me looking young. Also great for skin that is prone to breakouts!
Coco Reàl, Cream of Coconut – If you're making any summer drink, you'll love this real coconut cream syrup. Try it in my Lava Flow Cocktail!
Foreo Luna Silicone Face Brush – Over the past year, I started spending more time on my skin. This face brush keeps my skin feeling smooth and fresh – free of clogging dead skin cells!
Steve Madden Greece Sandals – Super cute!
Clothes Steamer – I will never use an iron again and I love it!! I would shout my love for this thing from the rooftops. Especially great for clothes with ruffles and getting the wrinkles out of curtains!
Smart WiFi Plug – Gah! This Smart Wifi plug changed my life this past Christmas when I used it behind the Christmas tree. Read more about how I use them to make my life more efficient here.
Patch Plus Primer 4-in-1 – I walked around my house recently patching up holes before the painters. It was SO easy and quick!
DIY Popsicle Bags – Check out my Lava Flow Cocktail and then come back. Did you know you can pour slushy drinks (alcoholic or not) into a disposable popsicle bag. LOVE it for making things ahead.
NYX Butter Gloss in Creme Brulee – My favorite lip gloss!
Felt Letter Board – So cute for spelling out fun messages at home. Gonna use it for back to school pictures for my kids.
Aquage Uplifting Foam – I apply this to the roots of my hair when wet every single time I wash it and I get an extra day out of each wash. #momwin
Ring Video Doorbell – We've had this since Christmas and love being able to see what's happening outside our front door.
Magnolia Table – Such a cute coffee table/recipe book. Try the pancakes!
Aviator Sunglasses – These are a great, inexpensive aviator sunglasses. I've had mine for years and they look great!
Candle Wick Trimmer – Perfect for my Antique Candle Co. addiction.
Seche Vite Dry Fast Top Nail Coat – Put this top coat on your newly painted finger nails and you'll be able to do anything without messing them up. It dried them completely in about 3 minutes!
Faux Cedar Tree – These look pretty real and I use them in my DIY planters at the front door.
Litti Pritti Pretend Makeup for Girls – I got this for my youngest daughter for Christmas and she's still playing with it 6 months later.
Microfiber Hair Towel – Great for wrapping around wet hair without adding a ton of bulk or weight. I use it every time I step out of the shower.
Wireless Label Maker – Love it for adding the girls' names to things. Especially helpful during back-to-school season.
9W LED Light Bulbs – These bulbs are the perfect warm glow for interior light bulbs. We love them compared to the old 60 watt incandescent light bulbs.
Soothe & Sleep Lavender Body and Bath Oil – I put this in my girls' baths to help their skin stay soft during these harsh summer months at the pool. My youngest used to have such dry skin, but not anymore.
Floral Long Maxi Dress – I've had this for a couple years and it's still one of my favorite dresses for the summer. I'm 5'7″ and the length is perfect on my when I am wearing wedges.
Stainless Steel Sippy Cup with Lid and Straw – Perfect for kids-sized smoothies!
Black Leggings with Wide Waistband – Gah!! These leggings suck your tummy and hold everything in place. They are thick and no see-through. I'm obsessed!
Grey and Bone Indoor/Outdoor Area Rug – My front door layered mats are one of my favorite things. I have the 2'7″ x 5′ size layered under a cute mat with a drying and it's just so cute. See what I'm talking about here.
MORE POSTS YOU WILL LOVE!