My Honest Ruggable Rug Review
My honest Ruggable review (not sponsored) about my kitchen runner. Also, answering frequently asked questions, plus is a Ruggable rug "worth it?"
Have you ever wanted to put a rug in your home, but you know that it will probably get dirty in less than 30 minutes? Especially if you have dogs, little kids or like to live in your home, am I right?
This post contains affiliate links for your convenience. See my full disclosure policy.
If that all sounds familiar, let me introduce you to a rug with super powers! It looks like a regular old rug, but its super power is that it's machine WASHABLE! 🧺🙌🏻🎉
I'm sure you've heard of these Ruggable rugs before, but if you've ever wondered how they are really, I'm here to spill* all about my own experience.
*pun intended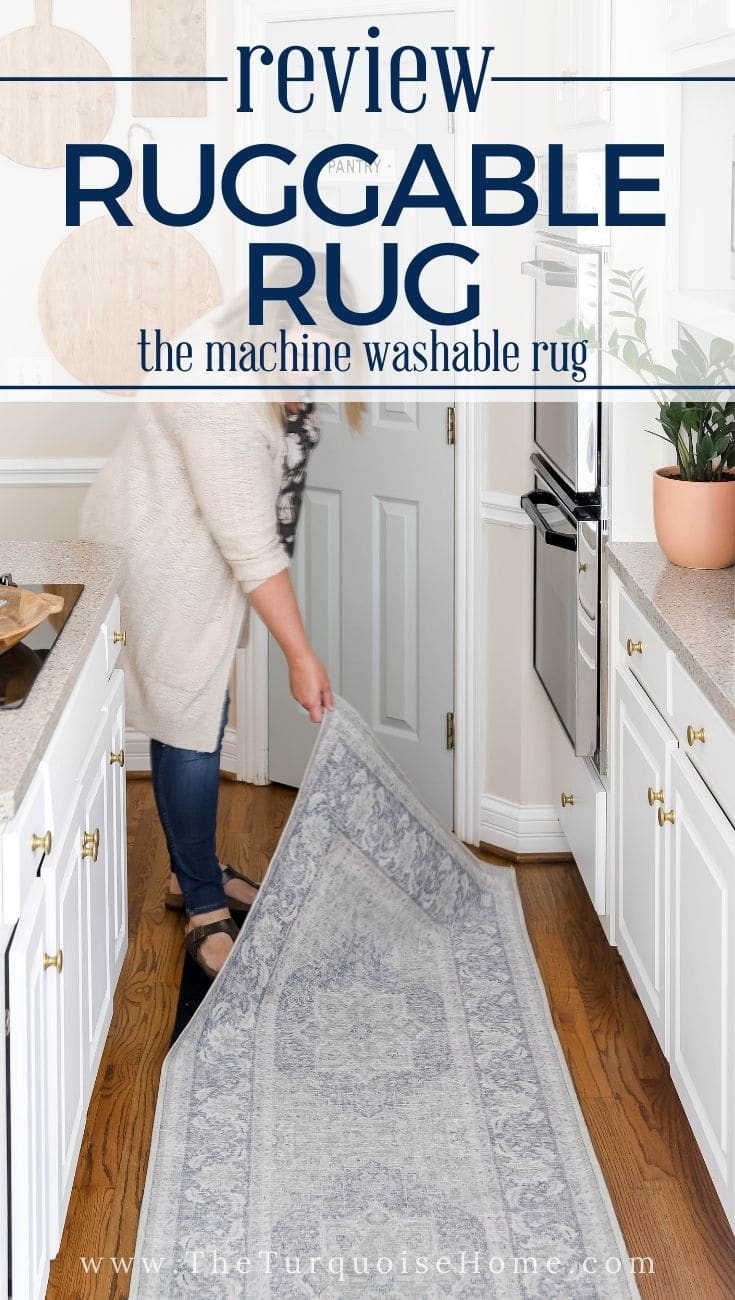 Why I Chose a Ruggable Rug
So, when I began my kitchen makeover, I knew I wanted to add some comfort and colorful interest to the floor between my kitchen cabinets and island by way of a runner.
I have had enough experience with a kitchen mat in front of the sink to know that kitchen rugs get dirty fast. So, a runner next to my stovetop and oven would surely get nasty quick.
It's the spot where I stand to cook on the stovetop, so I thought it would also be nice to have something padded under my feet.
I was drawn to these Ruggable rugs because they are machine washable and spill proof!
My best friend happened to be visiting around this time and I brought it up with her. She mentioned that she had several Ruggable washable rugs in her home and that she loved them! She has small dogs, so washable rugs were much needed!
So, I bought one! Totally spent my own money and the company knows nothing about me. Not that my review would be any different if it were, I'm just saying. 😜
That was more than 9 months ago! And I've been promising a Ruggable rug review ever since. But I wanted to wait a little while and see how it held up over time. I get lots of questions every time I mention it on Instagram stories.
So, I'm going to share my experience with this easy-to-clean rug and answer your most frequent questions about them. If I don't answer your question, be sure to leave a comment and I'll do my best to come back and get your answer for you!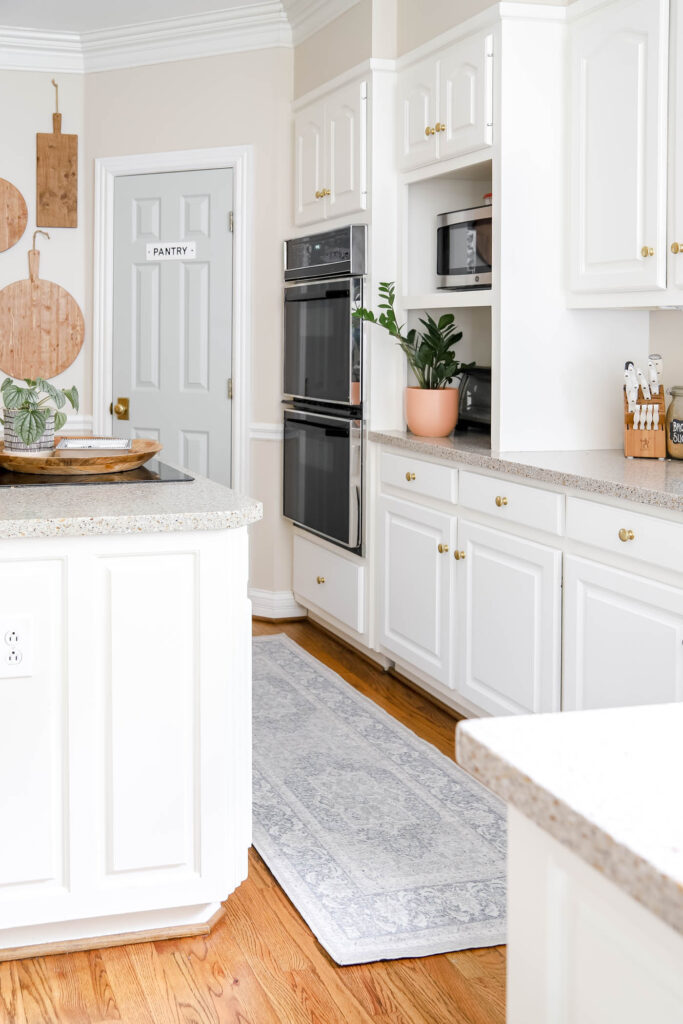 My Ruggable Rug Experience
I purchase this beautiful Hendesi Heriz Abalone Runner in a 2.5′ x 7′ size with a classic rug pad for my kitchen. The runner fits between my cabinets and the stovetop. (If I had realized there was a cushioned rug pad option, I would have bought that one instead since I stand on it to cook.)
I knew it would get spills from cooking over top of it. We've spilled pink icing, watermelon and strawberries on it and they've all come out easily! I wash it about once a month, whether it looks dirty or not, because I know it needs it!
I wash it according to the directions: by itself in cold water, on delicate with the design facing out in my washing machine.
And then I dry it a couple of times on the delicate/low heat cycle. It will get mostly dry in the wash, but I will then hang it on my drying rack for about 24 hours to finish drying all the way before I put it back on the floor.
When I get ready to put it back on top of the rug pad on the floor, I roll the rug cover up and line up the one end with the rug pad. Then I unroll it on top of the pad!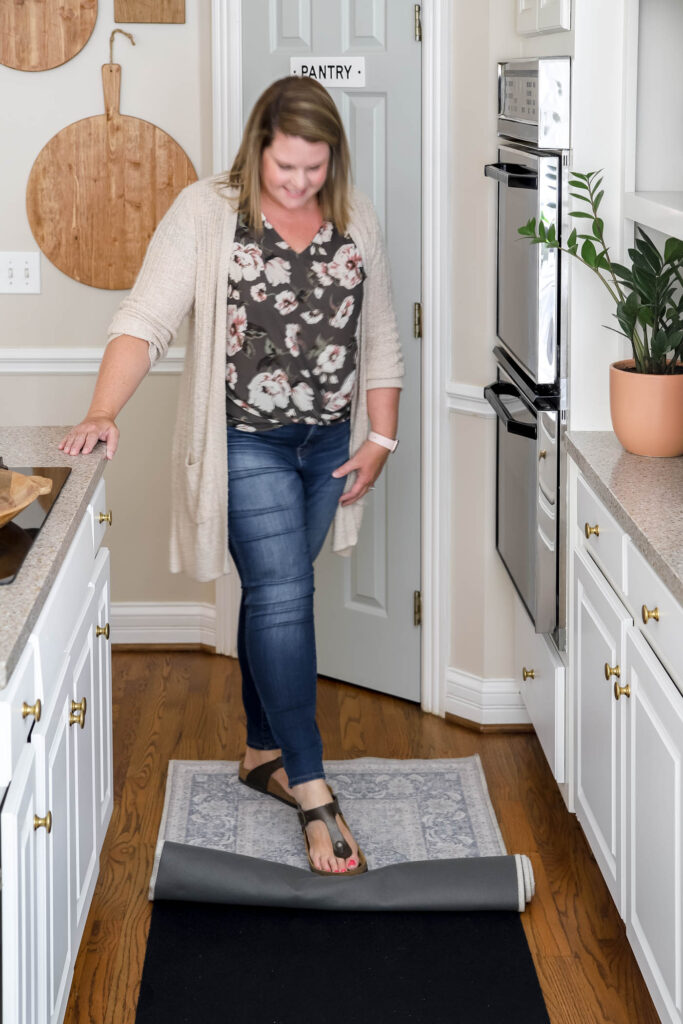 So easy, and I have a new, clean rug in my kitchen!
I haven't noticed any fading, but I have noticed a little pilling around the edges where the seams are. It's not enough to notice when the rug is on the floor. But I notice it when I'm up close as I wash it.
I just know that so many have wondered if these rugs hold up and are actually worth the money.
And after owning mine for almost a year, I believe they are! They live up to the hype.
A good friend recently visited and asked how I keep a runner clean in that spot in my kitchen. She went on to tell about buying a nice rug for her kitchen, only to ruin it with a spill the first day she had it! I had to share my secret. It's soooo worth it to know that I'm not going to ruin my rug in the kitchen.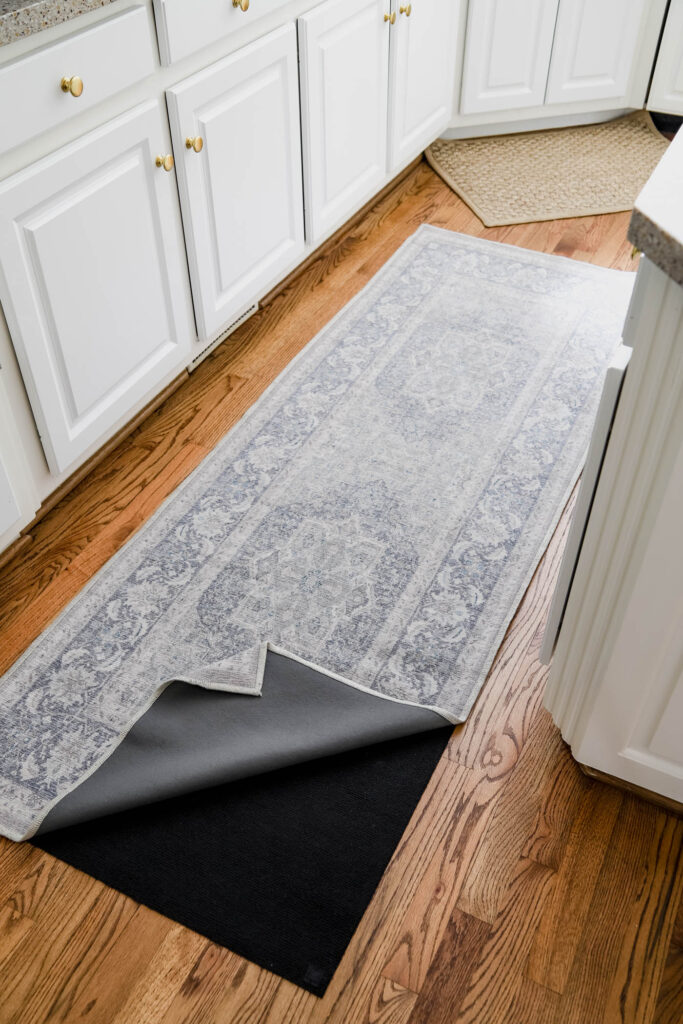 Ruggable Washing Instructions
First of all, a Ruggable rug is a patented 2-piece system that consists of a rug cover and a rug pad. Only the rug cover is machine washable and the rug pad can be spot cleaned.
But washing the cover is pretty simple. First you need to pull the rug cover off the rug pad.
You're supposed to wash the chenille rugs in cold water on a delicate cycle, design side out. And then dry on low heat and hang to air dry. It takes a while for the rug to air dry, so I will run it on delicate first. Then air dry the rest of the way.
It will most likely take longer to dry an 8×10 rug than my 2.5×7 runner. I would take that into consideration when buying your rug.
You can find more washing guidelines on the Ruggable website for their other types of rugs.
Common Questions About Ruggable
Do ruggable rugs curl up?
I have washed my rug more than a dozen times and I haven't had it curl up. It might curl up a little after it's dried, but the velcro on rug pad keeps everything flat on the floor.
How do Ruggable rugs work?
Before I bought my rug, I was a little bit confused about how it works. But Ruggable operates with a patented 2-piece rug pad with a rug cover (the patterned piece) and a rug pad.
I originally thought the bottom layer was adhered to the floor. 🤷🏼‍♀️ But it's a thin rug layer with a rubber bottom to hold it in place, and a velcro-like material on top to cling to the top, washable layer.
The bottom rubber layer also has heavier material around the corners and extra velcro to keep the rug cover held down and in place.
How thick is a Ruggable rug?
The top layer of the rug (rug cover) is very thin, which makes it easy to wash and dry. The rug covers come in 4 different fabrics: chenille, shag, re-jute and outdoor rugs. So the thickness will depend on which fabric you choose. But the chenille rug covers are only 1/8 of an inch thick.
There are two different rug pads that you can choose from when you order your rug. The cushioned rug pad is 2/5 of an inch thick, while a classic rug pad is only 1/8 of an inch thick.
I hope my Ruggable review helped you to decide if it's right for you! If you have any questions, feel free to leave a comment below. Or send me an e-mail!
More Posts You Will Love: