9 Simple Ways To Decorate Your Home For Spring
I'm sharing the best spring decorating ideas to spruce your home up for warmer months! Everything from art to blankets, wreaths to table decor, I've covered it all!
The weather is getting warmer and the days are getting longer (yay!!) and that means it's time to sprinkle some spring decor around the house!
It's been a minute since I shared my spring home decor and while I don't go all out on my fireplace mantel like I used to, I still like to add pretty touches here and there. Let's take a look!
This post contains affiliate links for your convenience. See my full disclosure policy.
The Best Spring Decorating Ideas
1. Dress up the Mantel
Whether the TV hangs above the mantel or not, you can add spring touches to your mantel space. If you have a Frame TV like me, then it's fun to change out the art for something more spring-like.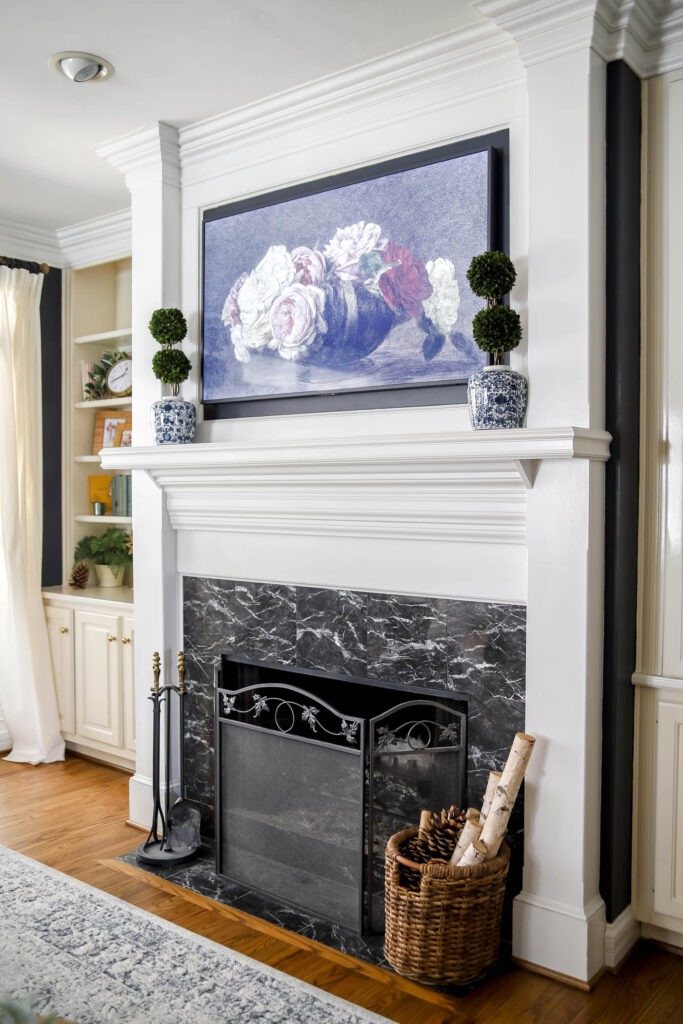 SOURCES: Firewood Basket (similar) | Ginger Jars | Boxwood Topiaries | Frame TV | Frame TV Art | Vintage Style Blue Rug
Add a matching set of boxwood topiaries or some pretty faux spring stems in a vase. This year I bought some blue and white ginger jars and added some double boxwood topiaries.
Side note: I knew I wanted blue and white vases with boxwood topiaries and I couldn't find exactly what I wanted, so I created it! I cut the boxwood topiaries out of the containers they came in and put floral foam in the ginger jars to keep them straight. 😉
If you don't have a TV over your mantel, you can get a big focal piece and add in other spring decor items, like I did when I shared how to decorate a mantel for spring.
2. Change out the Front Door Wreath
Obviously a great place to add a pop of color and pretty is to the front door. I have a simple spring wreath I made years ago and I still put it on the front door every spring. I love how the pink pops off the black front door. And It just makes the front porch look so much more cheery.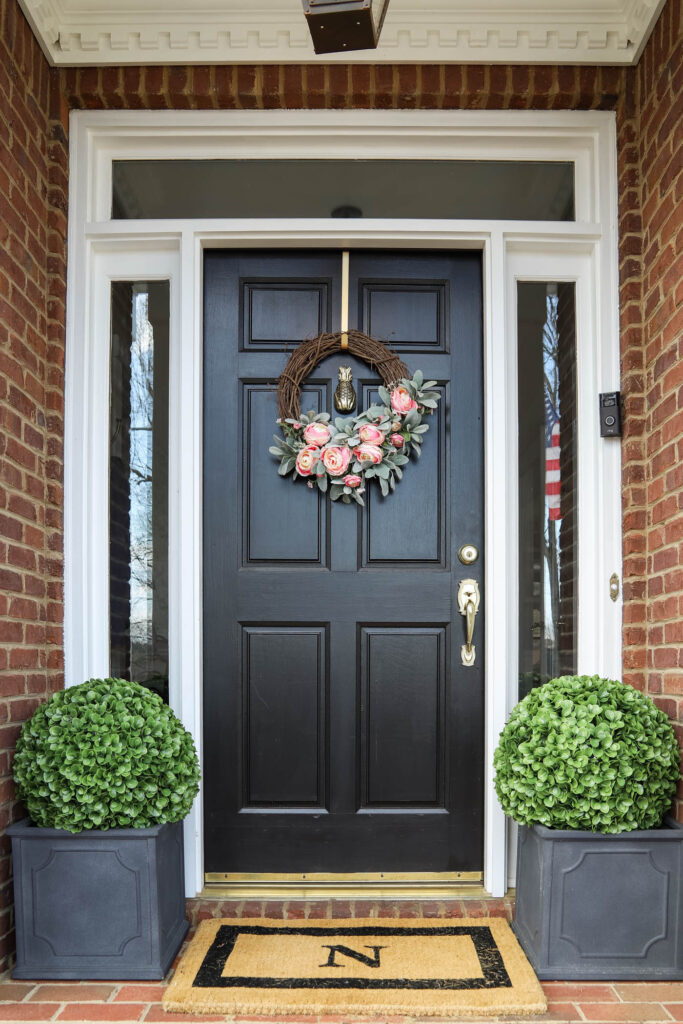 FRONT DOOR SOURCES: Monogram Doormat | Faux Topiaries | Planters | Brass Pineapple Door Knocker | DIY Peony Wreath | Black Paint Color: Onyx (BM) | White Trim: Simply White (BM)
I also change out my faux greenery topiaries that flank my front door. In the fall and winter I have cypress topiaries and in the spring and summer I use brighter green jasper topiaries.
You might also like:
How to Add Curb Appeal to Your Home
3. Add a Light and Airy Throw Blanket to the Back of the Sofa
If you have a sofa in the middle of a room, adding a colorful blanket to the back of the couch is a great way to add some interest and color! I don't love that you can see the back of the sofa from the front door, so I like to dress it up with a pretty throw blanket.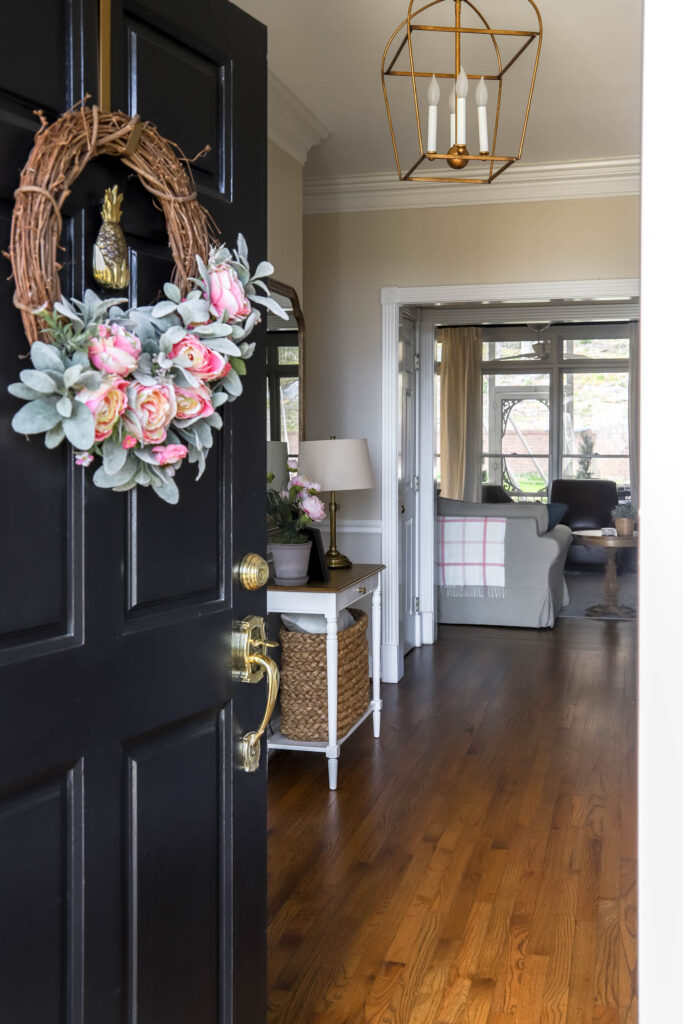 SOURCES: Pendant Light | Entry Console Table | Console Basket | Adjustable Lamp | Faux Peonies in Planter (local shop)
Think pink windowpane blanket is soft, pretty and adds a focal point besides the back of my couch. (Nevermind the back corner of the sofa that needs to be steamed. 😜)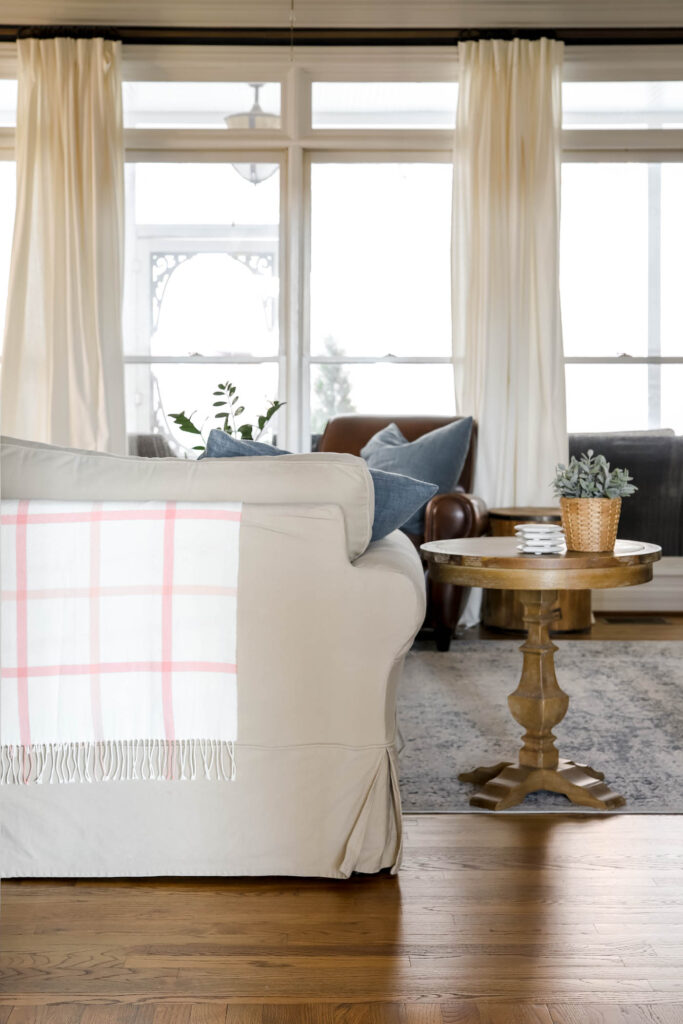 SOURCES: Pink Windowpane Blanket | Sectional Sofa (in Twill fabric, color: parchment) | Blue Vintage-Style Rug | End Table (discontinued) | Marble Coasters | Faux Lambs Ear in Woven Planter (old from IKEA) | Linen Throw Pillows (in midnight)
4. Change Out Your Art
I've always been a proponent of changing out art seasonally. It's an easy way to decorate for the spring season and can be done on any budget! Everything from free printable art to changing out art canvases, it's a fun way to celebrate warmer months!
I changed out my winter canvas for this "Follow Me" canvas in our pass-through to the living room. I've wanted it for this spot for a long time and I'm so glad I finally got it! I framed the canvas it myself after the spring home tour last year, along with our Frame TV.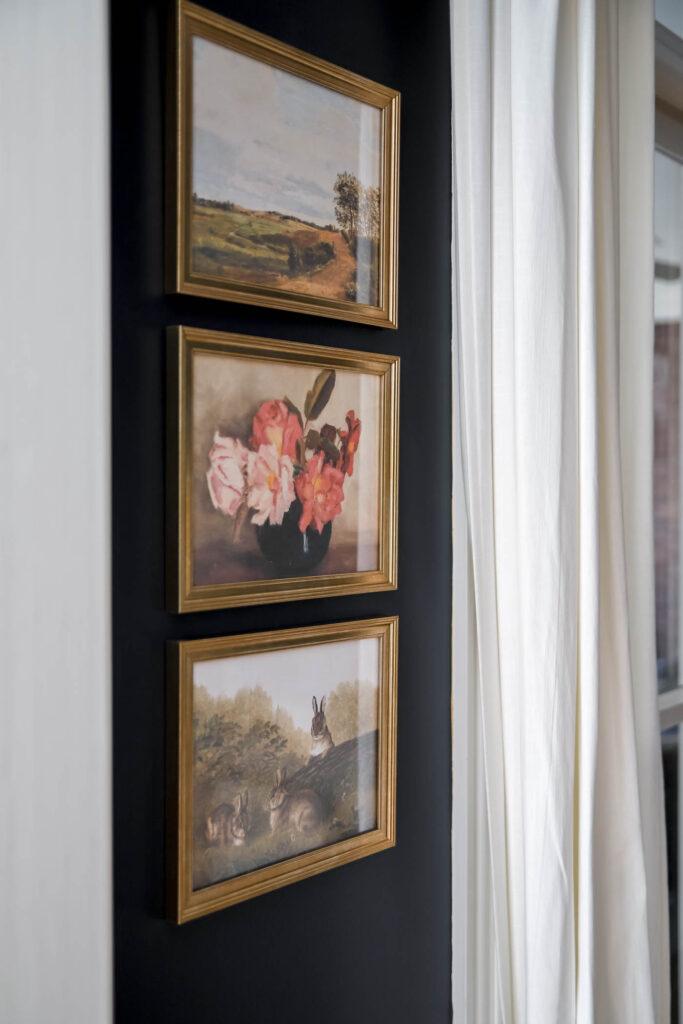 And then in the doorway from the kitchen to the living room, I have these inexpensive frames filled with printable art. I change them out for the seasons, always!
I bought art prints these as digital printable, but now they are only sold as shipped prints:
5. Add A Floral Arrangement or Faux Stems
Liven up your home for spring with real or faux plants and flowers. I have a stash of spring faux stems that I like to reuse every year, but it's also fun to grab a fresh bouquet, too!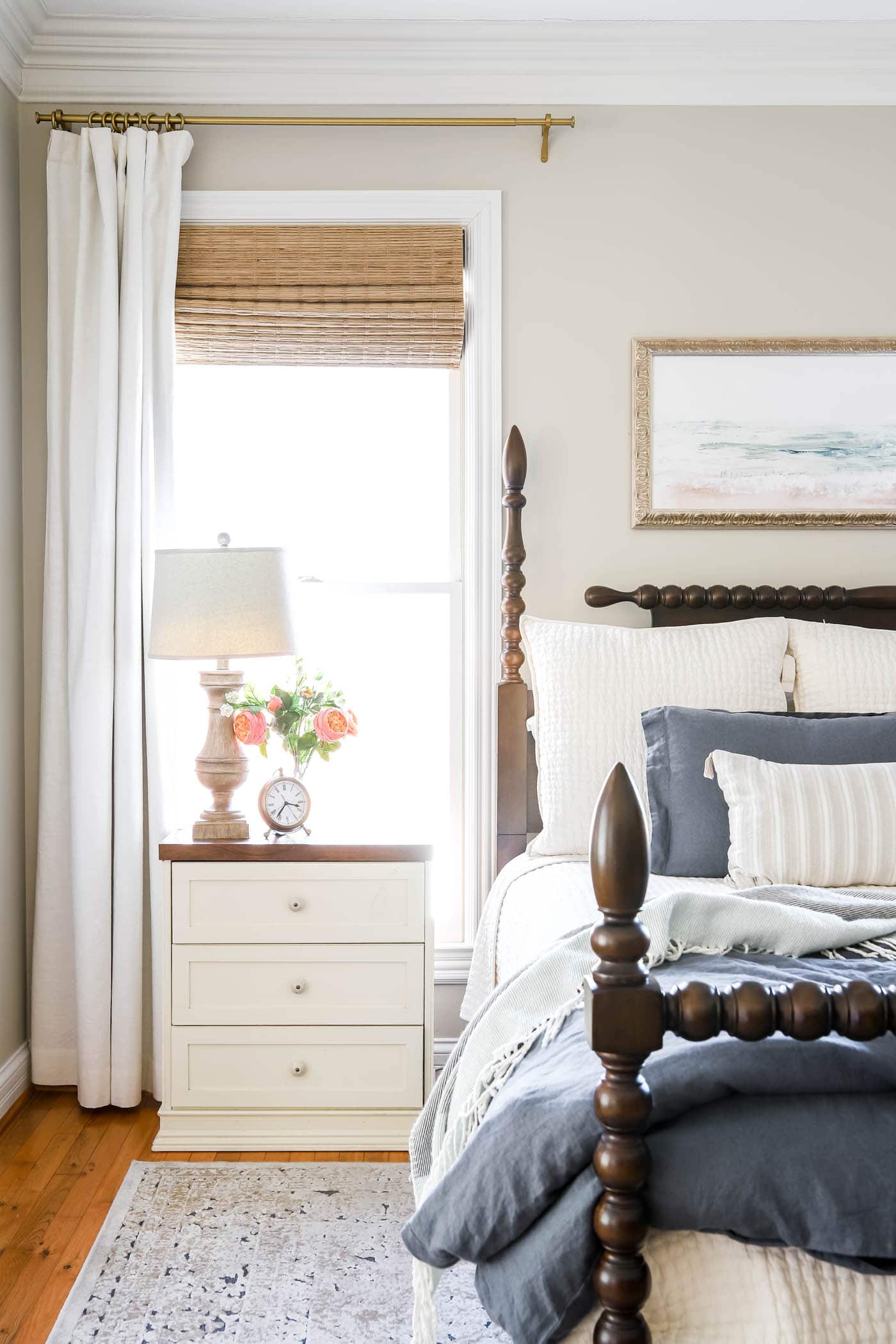 SOURCES: Linen Curtains (in ivory) | Brass Curtain Rods & Curtain Rings | Bamboo Blinds | Four Poster Bed | Pick Stitch Quilt (in ivory) | Linen Duvet Cover & Shams (in steel blue) | Faux Spring Stems (local store) | Pocket Watch Clock (small) | Lamp (old from HomeGoods) | Beige Antique-Style Rug | Coastal Art | DIY Nightstands
It's easy to add faux or fresh flowers throughout your home: on a night stand, a coffee table, side buffet, kitchen table or mantel. The locations are endless!
I've had these faux dogwood stems for years and love to bring them out each spring. The console table behind the sofa is the perfect landing spot in this house!
SOURCES: Sectional Sofa (in Twill fabric, color: parchment) | Pink & Navy Throw Pillow | Antelope Throw Pillow | Linen Throw Pillows (in midnight) | White Lamp with USB port | Wood Mirror | Glass Vases (similar) | Dogwood Stems (similar)
6. Add Greenery to the Coffee Table (or any surface!)
This is a no-brainer, but spring shouts greenery! I love adding some stems to a vase or a potted plant to the coffee table.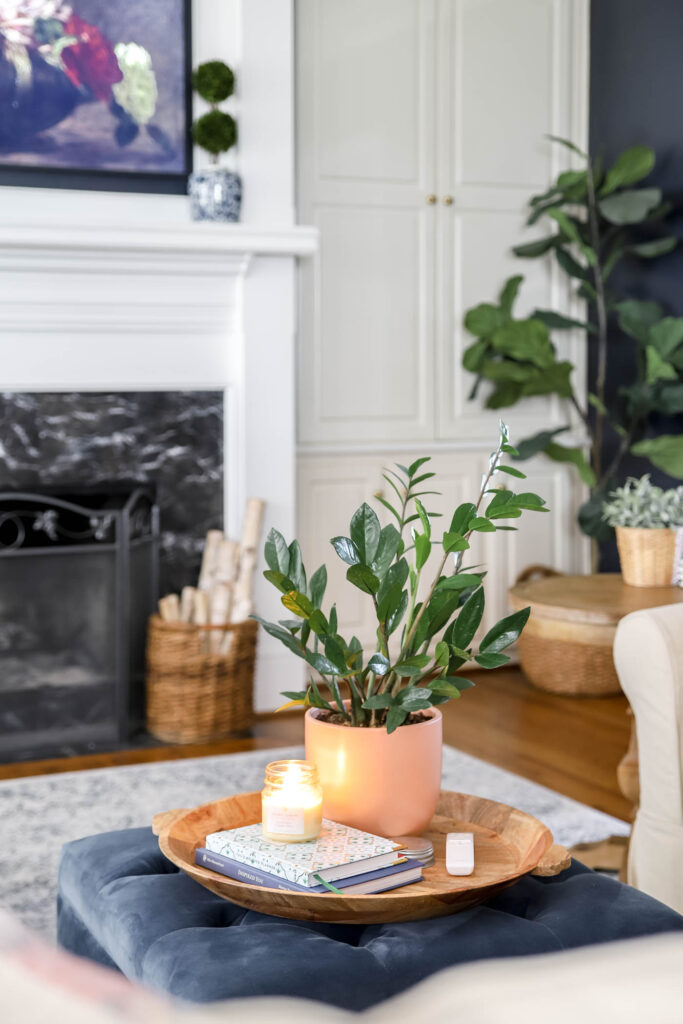 SOURCES: Fiddle Leaf Fig | Round Wooden Tray | ZZ Plant | Lemon Candle | Firewood Basket | Tufted Coffee Table
7. Bring in Color for Spring Decorating Ideas
I think of blush, light blue and green as beautiful spring colors. So, find ways to incorporate them in fabrics, flowers and art!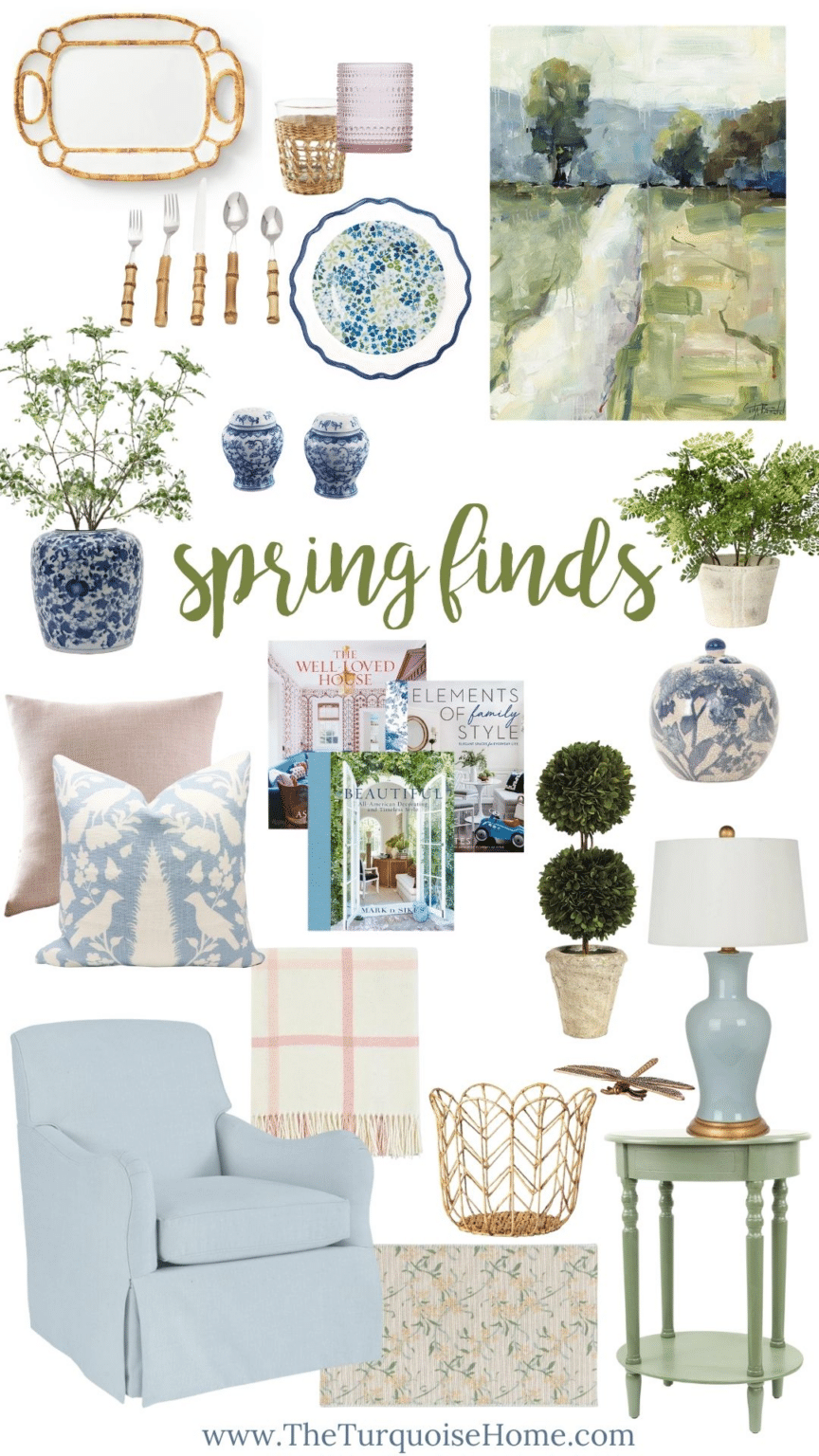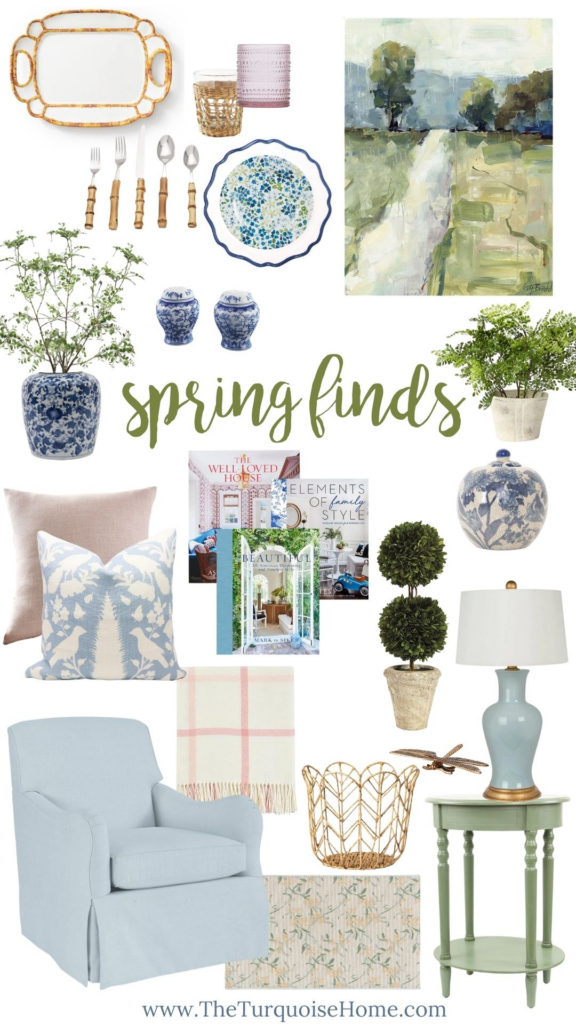 SOURCES: Bamboo Platter | Seagrass Wrapped Glasses | Pink Hobnail Glasses | Bamboo Flatware | Scallop Blue Plate | Floral Plate | Follow Me Art Canvas | Faux Green Leafy Stems | Blue and White Ceramic Ginger Jar | Chinoiserie Salt & Pepper Shakers | Faux Fern in Planter | Pink Linen Pillow | The Well-Loved House Book | Elements of Style Book | Beautiful Book | Blue & White Ginger Jar | Boxwood Topiary | Blue Swivel Glider | Pink Windowpane Throw Blanket | Tulip Shaped Woven Basket | Dragonfly Statue | Ceramic Blue Lamp | Floral Accent Rug | Green Accent Table
Nothing is cuter when it comes to spring decorating ideas than a bunny plate, pink glasses or a faux bird's nest in the middle of each plate. Even if you don't want to overhaul your whole dinnerware collection, a cute little accent bowl is a perfect touch!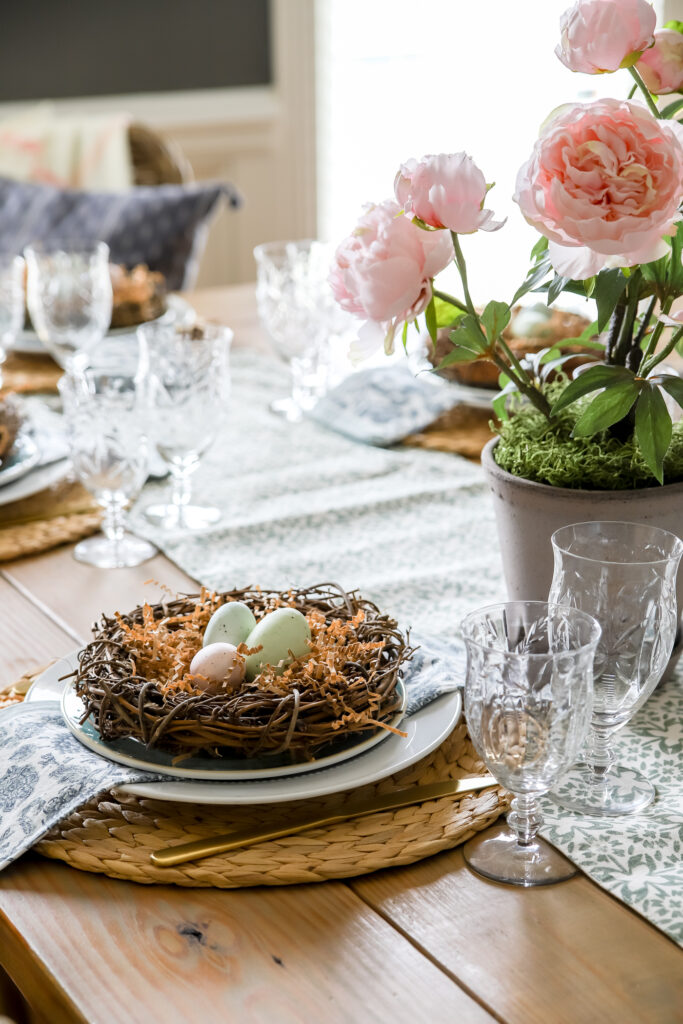 And the dining room doesn't have to look like Easter bunnies and birds landed in there, just a few simple touches of spring will be plenty!
9. Add Texture with Natural or Woven Materials
Rattan and seagrass are a year 'round staple in my home, but it's always fun to bring out more woven baskets, vases and other decor in the spring months. Something about the light wood tones make it feel more like spring!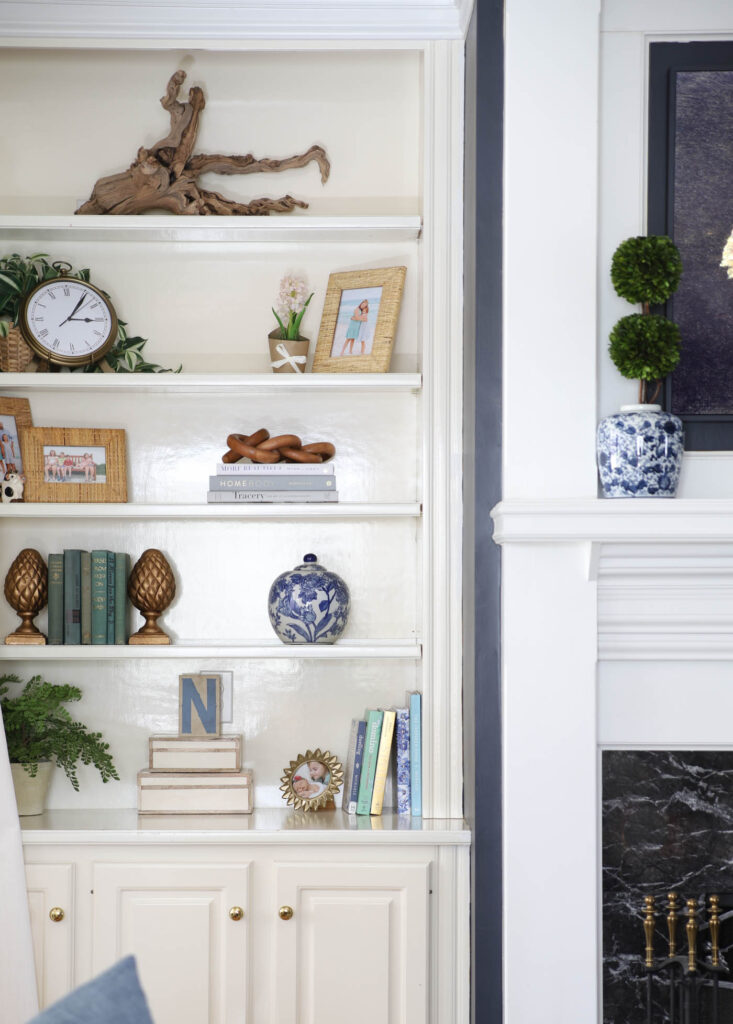 Sources: Woven Picture Frames | Dried Grapewood Branch | Faux Wandering Variegated Tradescantia Houseplant | Pocket Watch Clock (large) | Wood Chain Decor (similar)| Pinecone Bookends | Green Books | Blue & White Ginger Jar | Faux Fern in Planter
---
Those are my best spring decorating ideas! I hope you find it inspiring and find a few fun ways to add some color and beauty to your home this season.
Shop My Favorite Spring Decor this Year

MORE POSTS YOU WILL LOVE: