25+ Amazing Table Lamps For Your Home
Let's talk about table lamps! Small table lamps, bedside table lamps, end table lamps…the possibilities are endless. What goes into finding a great lamp and where can you find one for your home? Let's find out below!
When you're putting the finishing touches on your home decor, I often find that the smallest touches make the biggest impact, like throw pillows or area rugs, for example.
And table lamps.
Yep, table lamps definitely make a big impact on a room.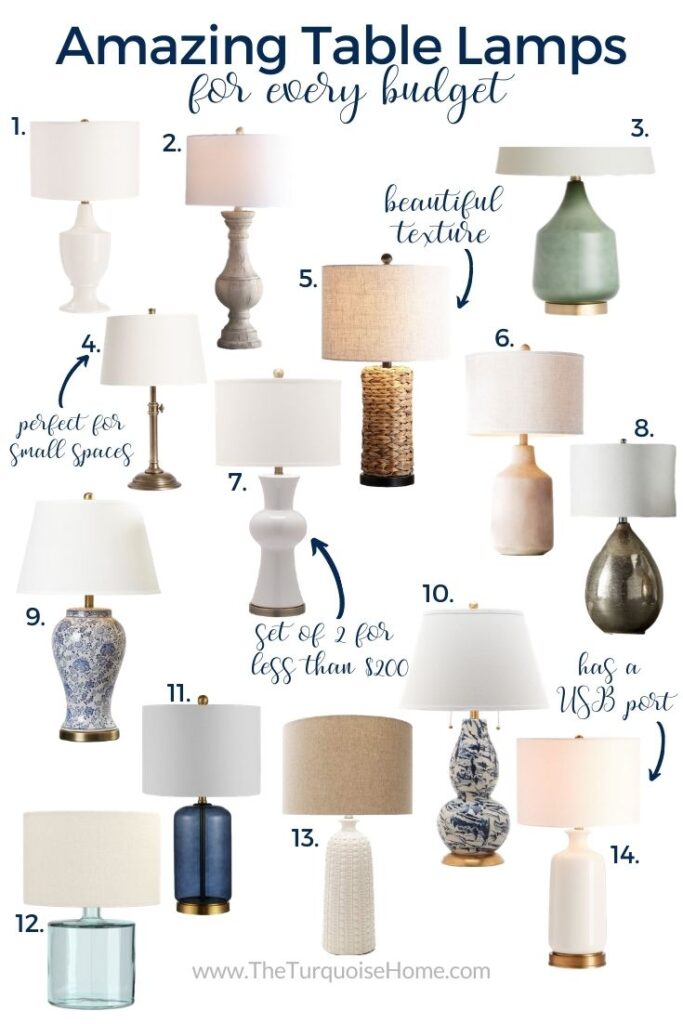 1. Emilie Ceramic Lamp (small) 2. White Wood Lamp (Set of 2) 3. Jade Green Lamp 4. Chelsea Metal Adjustable Lamp 5. Sea Grass Table Lamp (Set of 2) 6. Concrete Table Lamp 7. Ceramic Table Lamp (comes in 4 colors & a set of 2) 8. Mercury Glass Lamp 9. Blue & White Table Lamps 10. Marbled Blue & White Gourd Lamp (Set of 2) 11. Navy & Brass Glass Lamp 12. Turquoise Glass Lamp 13. Cream Textured Lamp 14. White Ceramic & Brass Lamp with USB port
Reasons Why I Love Table Lamps
I LOVE a good lamp! Putting good ones around your home adds more than just additional much-needed light. They also complete the look of an entire room.
Plus, they are very easy to swap out or move to another room when you feel the need to change up your decor.
Lastly, perhaps my favorite aspect of table lamps is that they create a warm and cozy ambiance when you use them in the evening. This is why I love the lamps behind our sofa so much – they give the perfect light at night while we're reading or watching TV after the girls go to bed.
TIP: I put all of our lamps on timers so that I'm not running around the house turning lamps on and off in the evenings. These wifi timers are our favorite! They work with an app on your smart phone using wifi and can even work with your Amazon Echo or Google Home devices.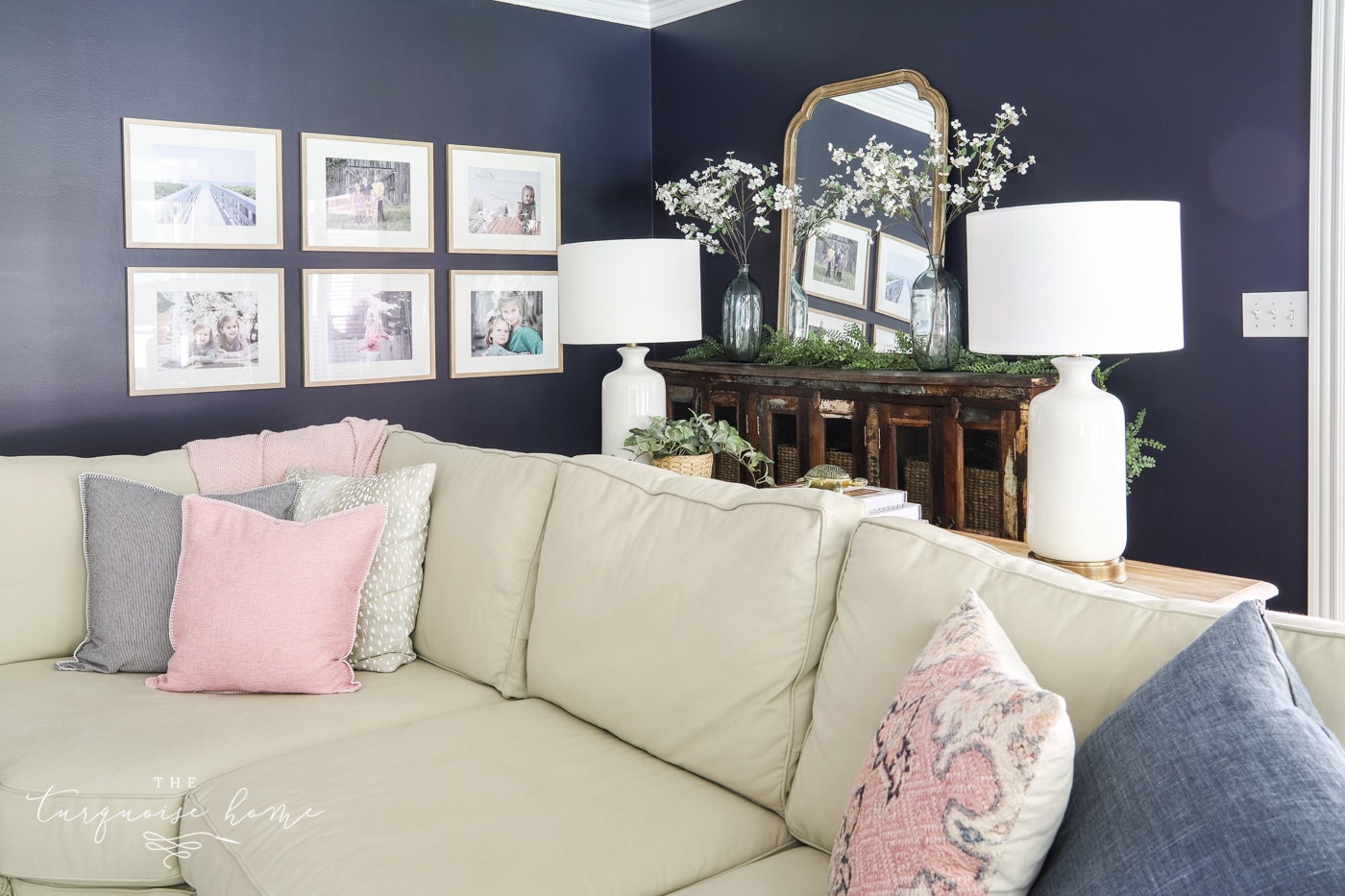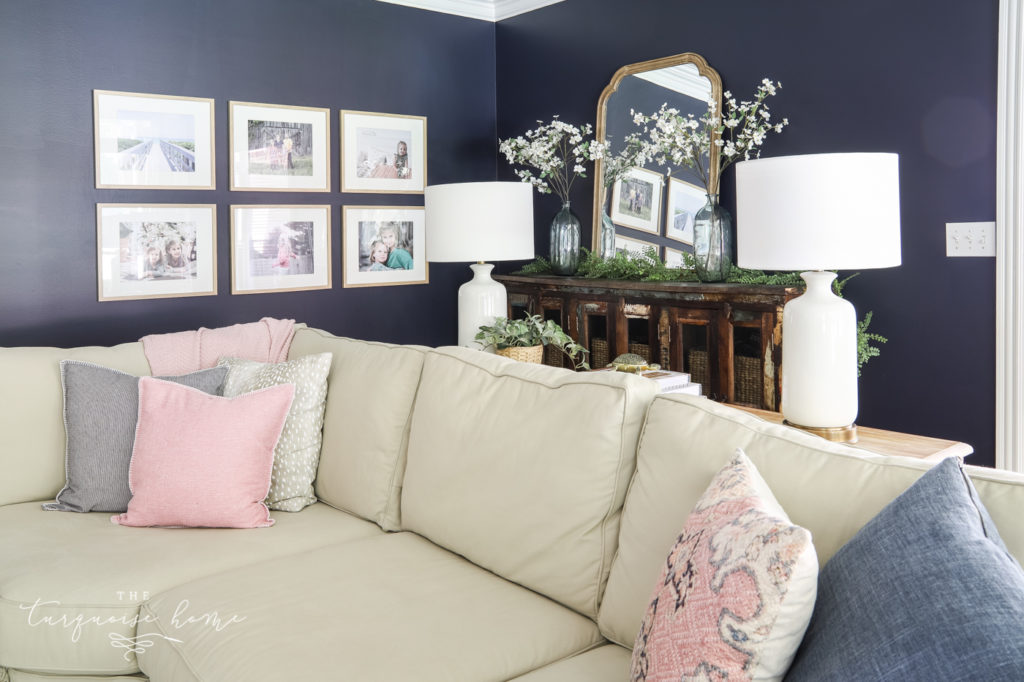 Click/Tap the images below to shop this space:

The decor of a room sets the overall tone of a room, but the lighting sets the ambiance. Sometimes changing that one detail can completely change the feel of a room. The common table lamp combines functionality and charm in a way that few other decor pieces can.
Adding table lamps can provide another opportunity for layering and texture as part of your home decorating.
Related Post: How to Decorate End Tables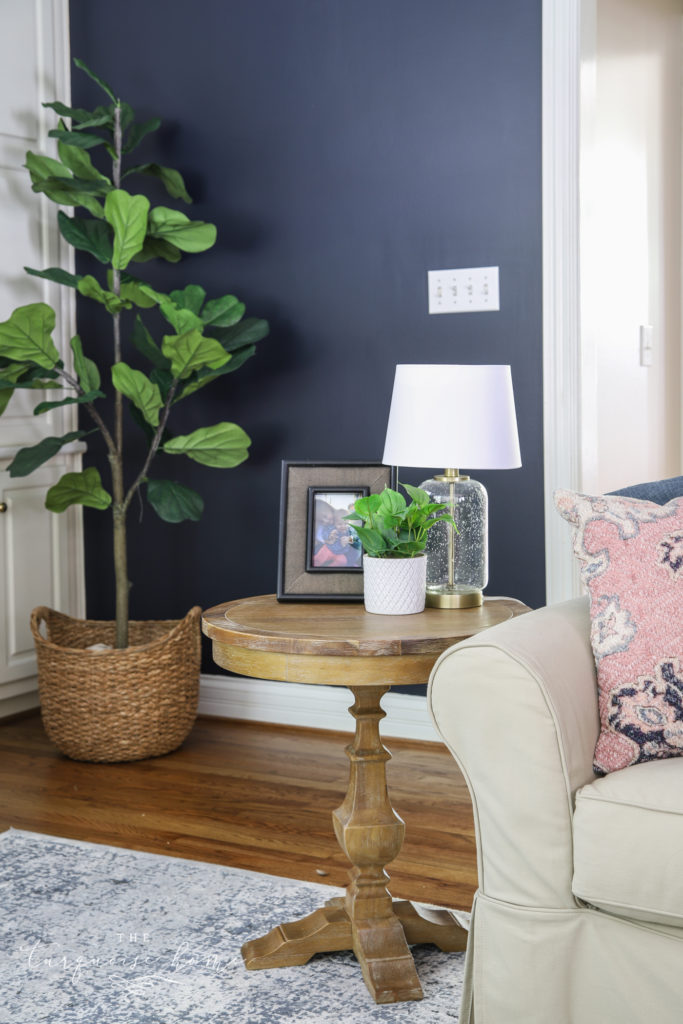 How to Choose The Perfect Table Lamp
At first glance, a table lamp may not be as eye-catching as a stunning chandelier or a stately floor lamp. However, a classic and stylish table lamp can add contrast, color, texture, and symmetry to any room.
But where to start? There are SO many styles of table lamps. If you simply walk into a store without a plan, I have a feeling that you will quickly feel overwhelmed and lose the purpose of what you're trying to do.
Instead, choose the right lighting option for your space with these tips to help you stay on track and pick the right lamp for your space.
Define the Purpose
Most people just buy a table lamp first and then find a place to put it later. But, in order to have it really fit the space where you want it, take some time to define its purpose so that you know exactly what you want.
Determine the Size
Buying a tall bedside table lamp that floods the bedroom with bright light or a lamp with a base that takes up your entire end table is too much and will leave you feeling frustrated over your choice.
First, measure the size of your space so that you can find a lamp that not only looks amazing but it fits the space and your purpose.
Decide on the Style
I often find that people think the lampshade determines the style of lamp that you buy and display. I won't argue that the lampshade is a consideration, but the truth is that the lamp body is just as much of a consideration!
Choose one that fits the style of the room – or choose one that contrasts it to add an interesting focal point to the room.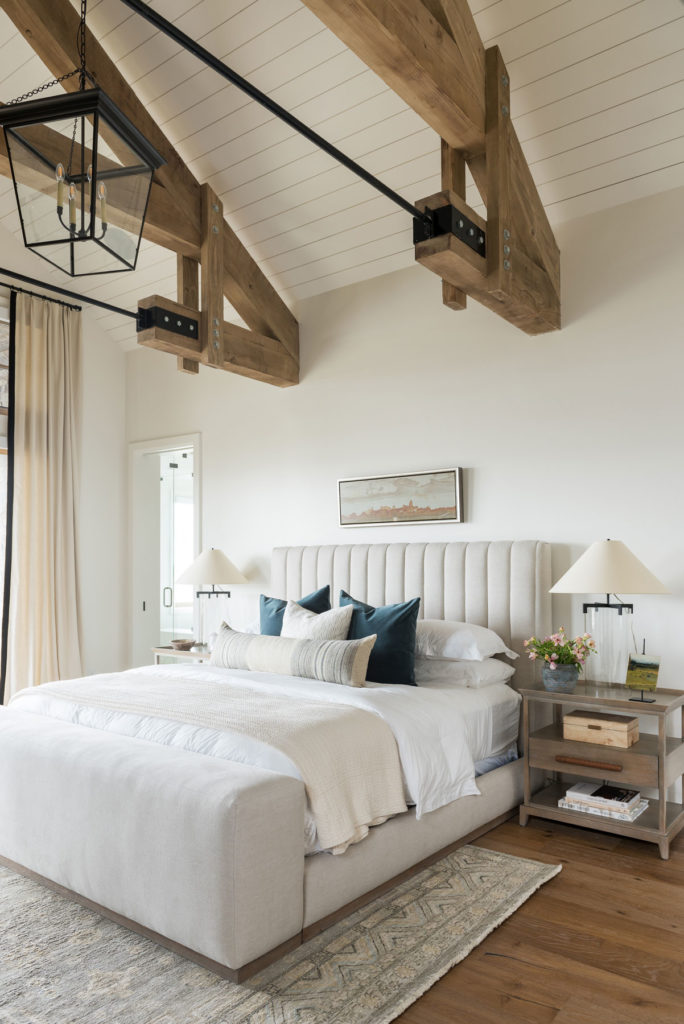 Empire Lamps from Studio McGee
Trend Alert: the empire (conical) lamp shade is making a major comeback in the design world. It totally reminds me of my childhood. While the drum shade has reigned supreme for the past decade or so, it looks like it's time for the tapered look to have a turn.
Choose the Color
A lamp is one of my favorite ways to add a pop of color. It's also an easy way to pull together several colors or add more of a subtle touch through texture or shape.
Consider what colors and textures will be behind the lamp. Do you want it to blend into the background or pop off the background?
Table Lamps For The Living Room
How tall should your table lamp be in your family space? Usually, in living rooms, they are 26-34 inches, which is the perfect height for a light source when you're sitting down to read or do a puzzle!
If you aren't sure how high that is, a good general rule of thumb for end table lamps is that the bottom of the shade should be right at eye level when sitting.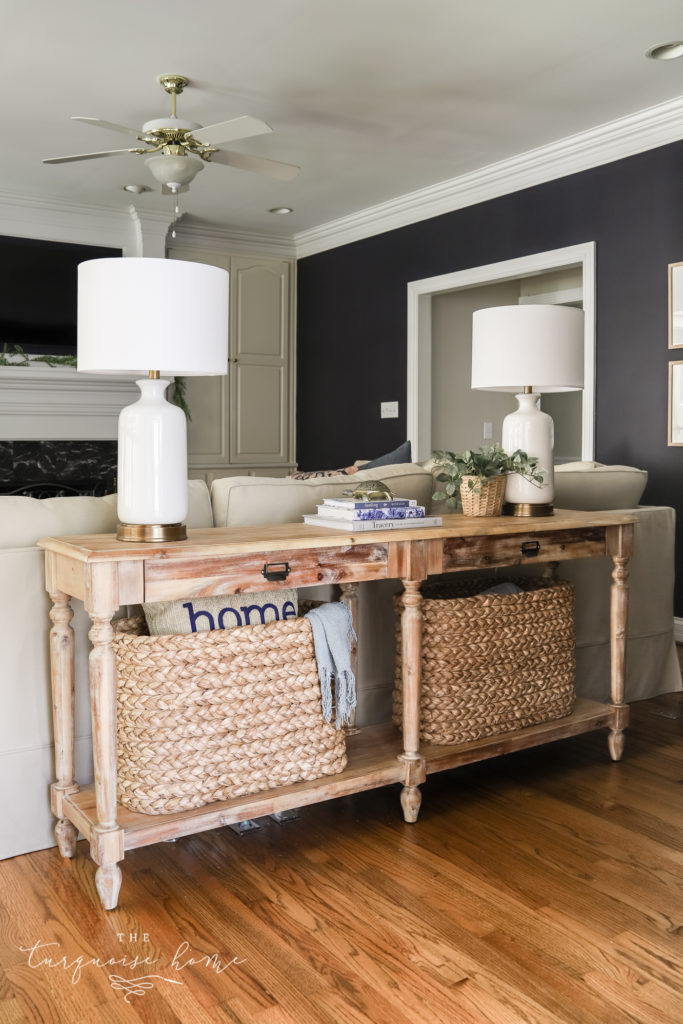 Click/Tap the images below to shop this space:

As far as lamp style is concerned, traditionally, if you have both a living room and a family room, table lamps for the family room are more casual and made of metal, pottery, glass, or wood. While lamps for living rooms tend to be more formal and made of glass or porcelain.
As you search for the perfect end table lamps for YOUR family room, keep in mind not only colors and style of your decor but also the textures. Are your lamps meant to mostly provide task lighting – or are they meant to be more of a decorative piece that adds ambiance and makes the room feel cozy?
Bedside Table Lamps
Nightstand table lamps also have a dual purpose: functionality and decoration.
But, there's one extra consideration with regard to bedroom lighting: keeping it bright enough so that you can read your book (or book-like device) while not being so bright that it bothers your bed partner.
A general rule of thumb for bedside table lamps is that the bottom of the shade should be roughly 20 inches above the top of your mattress. I personally recommend opting for smaller options in the bedroom unless you have a tall headboard that you want to offset. This photo from Amanda Teal design shows what I mean perfectly!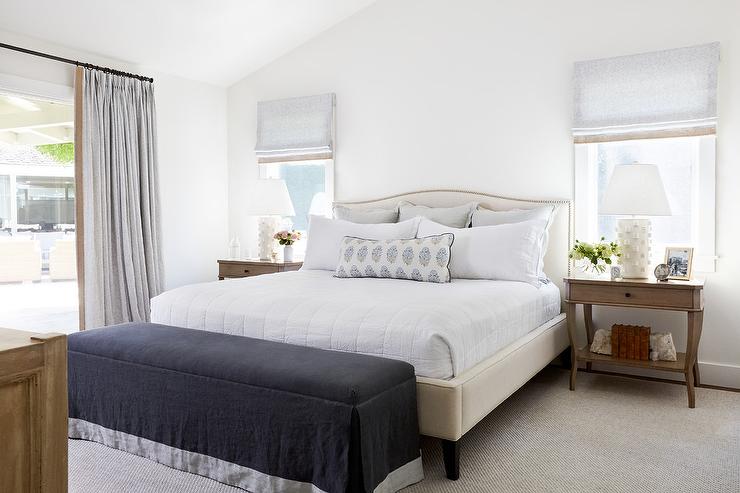 Pro Tip: Steer clear of using CFL bulbs in your bedside lighting, as they emit blue light which hinders the production of sleep-inducing melatonin. Instead, opt for using incandescent bulbs with low-wattage 40- to 60-watt bulbs.
Small Table Lamps or Tall Table Lamps?
There are areas of your home where you could use either size. Honestly, which one you choose entirely depends on your decor and how you want to use them.
Here are a few areas where you could go either soft and intimate with small table lamps or more dramatic with extra tall table lamps:
Your entryway
Console table in a living room
Dining room buffet or accent table
Hallway accent table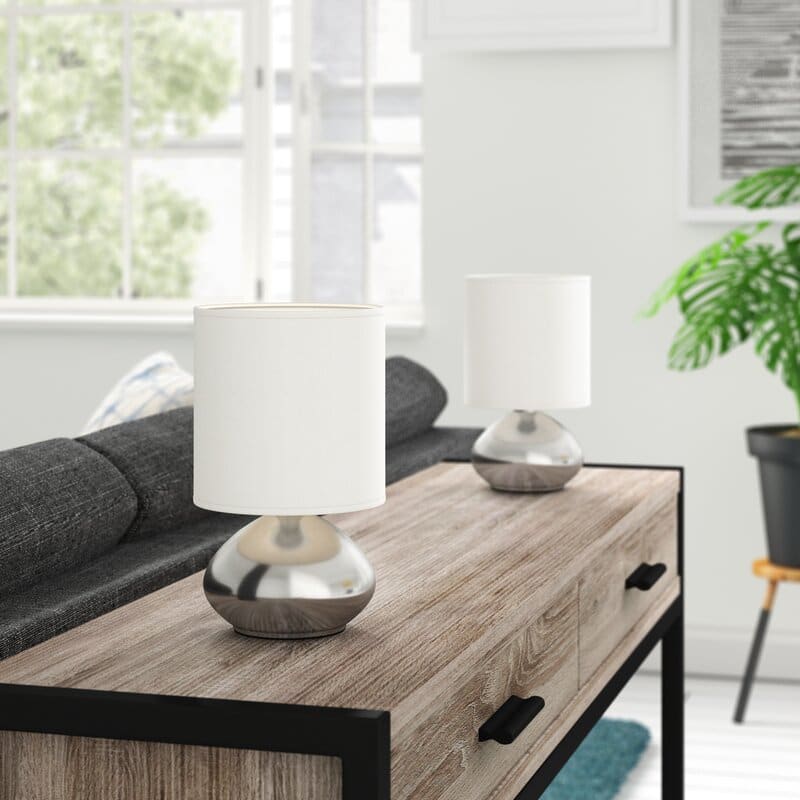 25+ Table Lamps to Consider for Your Home
Alright, now comes the fun part…shopping! I searched high and low to find this collection of lamps—there is truly something for everyone on this list.
To shop, just click the image below and you'll be taken directly to the manufacturer's website for more information. Which one is your favorite?
Table Lamps Under $100

Lamps Under $200

Final Thoughts on Choosing and Buying Table Lamps
Take a little time to consider your space and the purpose of your table lamps before you purchase any. To help you more, here are some quick reference tips to help you as you begin looking for your new favorite lamps:
Aim to keep all lamps that are in the same room at a very similar (if not the same) height.
If you want to have non-matching lamps on opposite ends of the sofa, that works as long as they are very close to each other in height.
If a lamp you love is too short, put it on top of a few stacked books to get it some height.
That's it! I hope that these ideas help to make the process of choosing your new table lamps a fun experience!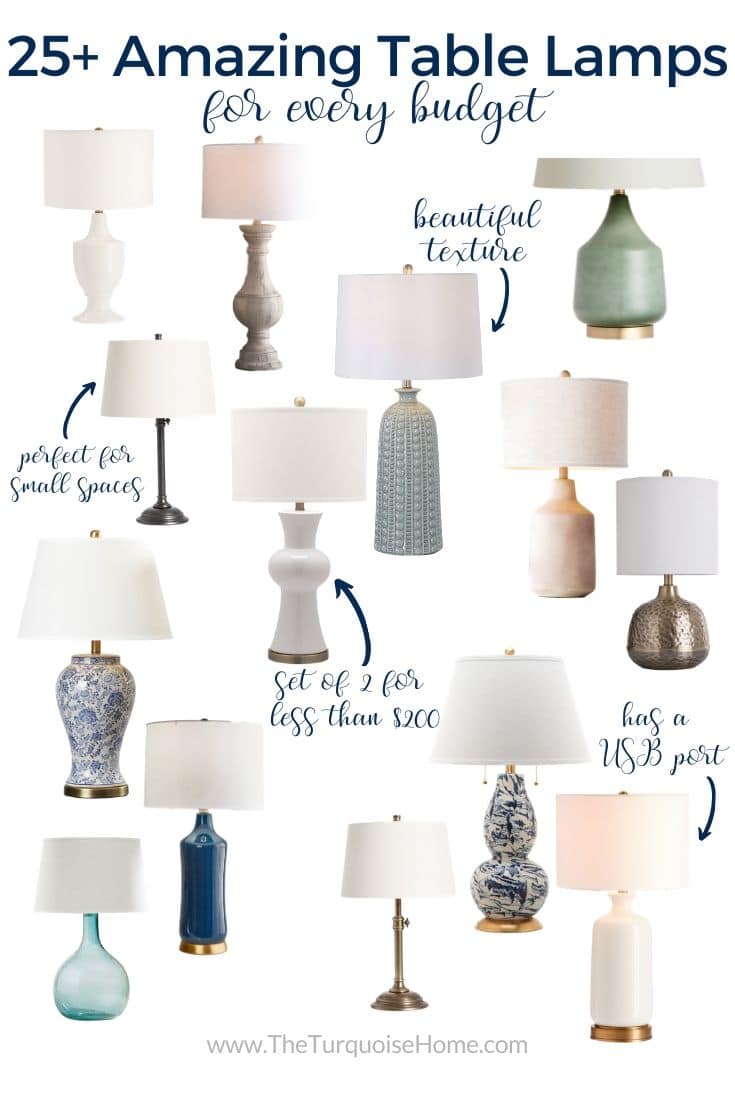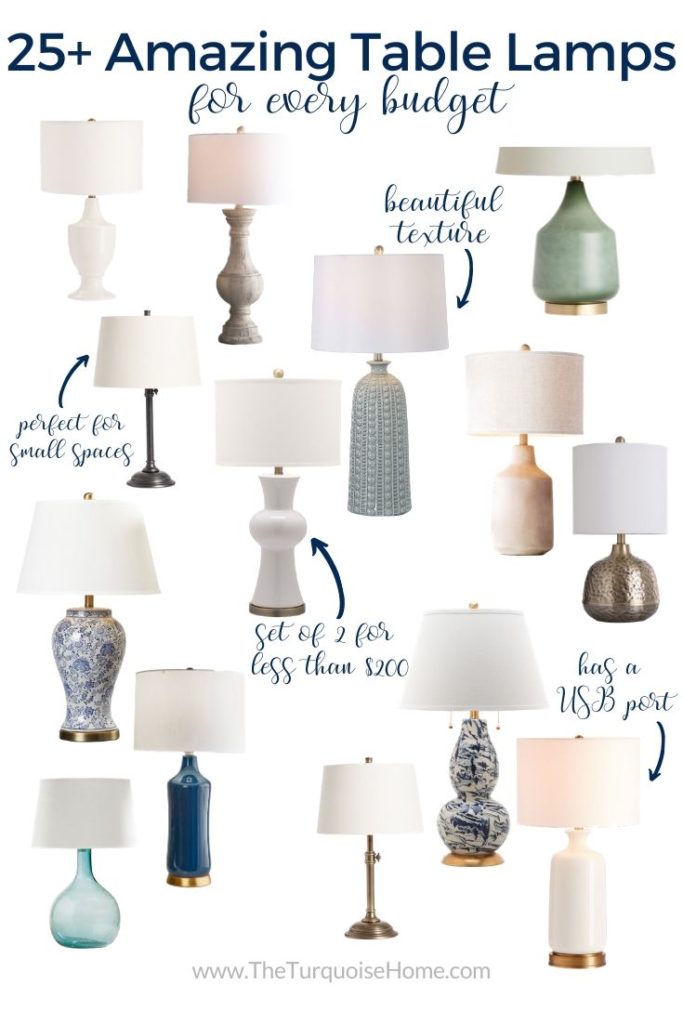 MORE POSTS YOU WILL LOVE: