5 Craft Supplies to Throw Away Today!
Welcome to Day 11 of the 30 Days to Less of a Hot Mess Challenge! We're decluttering, reorganizing and taking a breath of fresh air to create a home we love. If this is your first time at the challenge, you may want to start here at the beginning. Affiliate links used for your convenience.
**************************************************************
This post might come as a big surprise to you. I don't have a lot of craft supplies laying around. Well, not any more.
I used to!
I am the kind of person who makes a habit of saving broken home items because I might could turn them into a crafting project someday. Or I keep things I don't love because I could spray paint them and turn them into something else altogether. Or, I could go to the store and buy some Mod Podge and glitter and make it fabulous.
Whatever the case may be, it was always a case to save a lot of items for … someday.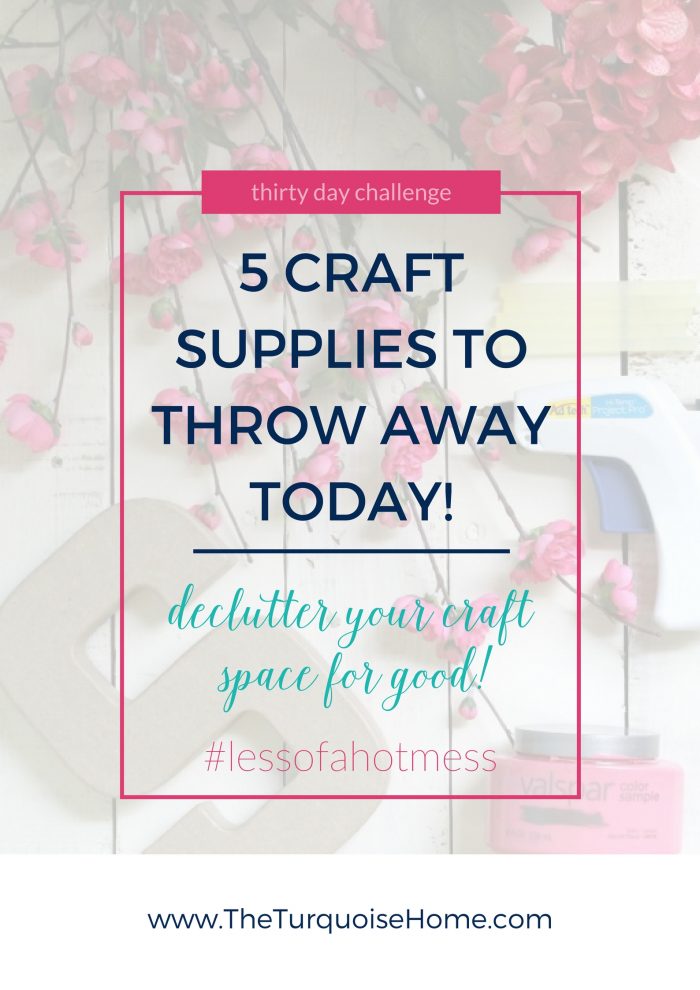 I love, love, love a good craft project, especially one that is free and involved items I already had laying around the house. Repurposing old items is a fabulous plan and one that I am whole-heartedly onboard with.

But. Not at the expense of your sanity and your home.
If keeping future, potential craft supplies around is keeping you from being able to open a closet door. Or it's making you not want to go into your spare bedroom, ahem, preaching to the choir here, then it's time to unload some of those goodies.
Crafting with repurposed items is all well and good, but if an item has been siting in your way for 3 years and the vision still hasn't come to fruition? Maybe it's time to part with said item. You know?
When I first started this blog we were living in our current home, but it had little to no personality and needed a lot of love to make it feel like ours. I was the girl who would stop on the side of the road to load up someone else's discarded home goods in order to bring them home and make them into something we could love.
I still have several items in my home today, and love them!
So, I know this may be an unpopular idea, but I'm giving you permission to throw some of that junk away. Lighten the load and move forward with peace instead of stress because the house is so junked up!
5 Craft Supplies to Throw Away Today!
Or you could donate them, instead. Whatever floats your boat! 😉
1. Yard Sale or Thrift Store Wishes & Dreams. Remember that time you went to the thrift store and found this awesome lamp base for $1? You had big dreams and visions of creating something beautiful. And now it's been sitting on the floor of your guest bedroom for 2 years waiting for inspiration to strike. Let it go! Give it to a new good home where that lady is ready with her spray paint. I've found that I may have had a good idea in the moment, but if it's taken me years to implement, then it's time to move on.
2. Broken things you think *might* make a good project one day. At one point we had to save everything, because financially we couldn't just replace things when they broke. I had to either fix them or try to turn them into something else. But those days are gone and we can replace items when they break. I can also wait until inspiration strikes to pick up the craft supplies. I don't have to be a hoarder crafter anymore. If you're financially not there yet, then that's perfectly OK. But if you are, lose the clutter!
3. Half used, old supplies and leftovers! It's time to go through your supplies and toss the old stuff and anything that doesn't work anymore. Also throw away any random leftovers from an old project. Chances are slim to none that you'll ever need 3 random black pom poms again. The mental energy it takes to "keep up" with that randomness is just not worth it!
4. Half-finished projects. I've started and stopped more craft projects than you can imagine. I have a beaded "chandelier" that I tried to make several years ago that is just sitting in a box collecting dust. I spent a ton of time trying to make that thing, but it just doesn't work! It's time for it to go and for someone else to be able to use those beads. The truth is, my style has changed so much since I started, I wouldn't even want to hang it up if I did finish it!
5. Nice craft supplies that have never been used. I had the cutest little stamp set that I bought at Target's Dollar spot years ago. I never picked up stamping. I have no intentions of picking up stamping. Sure I could have kept it around to continue to sit and be unused. I could have given it to my daughter, but she already has plenty of arts and craft supplies. So, I donated it. If the day comes that we want to start stamping, then we'll buy a new, nice kit then! Until then someone else can have fun with it. 😉
I hope this little list helps you as you're purging your home during our 30 Days to Less of a Hot Mess! I know I feel so much freer now with all of those half-done projects and random supplies hanging around.
What supplies are YOU getting rid of today?
The Messy Work: Pull all of your craft supplies out and divide them into 3 piles: keep, donate and trash. Then follow through with them immediately. A "someday" time is just clutter.
In the mess with you, Laura