These color engineer prints make a fabulous large wall decor solution on a budget! This print cost less than $12 and I adore both the end result and the price!
When I started to brainstorm my summer mantel for this year, I knew I wanted a large dose of color to be the main attraction. I had my DIY abstract art that I could have put up there, but I wanted something more horizontal than vertical. So, I decided that I wanted some art up there, but I didn't want to spend much money.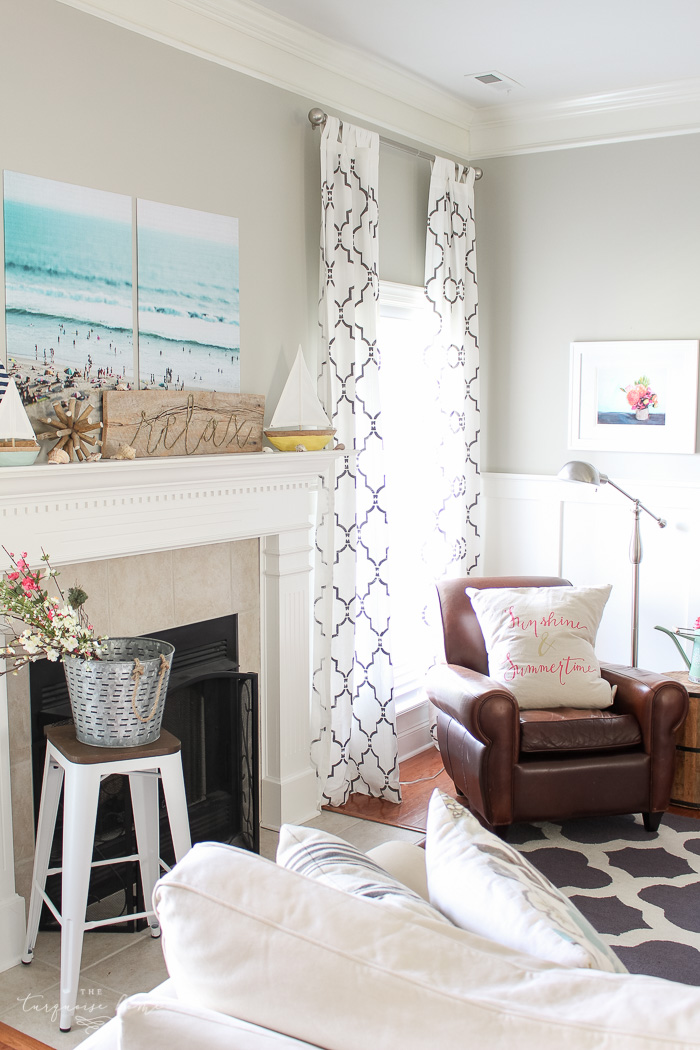 I started searching through my pictures from vacations at the beach in year's past, but I couldn't really find anything. And I knew that if I printed something out large enough to fill my space, then it would cost an arm and a leg to frame it. Of course I'm a DIYer, so I could build a frame. But that didn't sound like the right fit. This post contains affiliate links for your convenience. See my full disclosure policy here.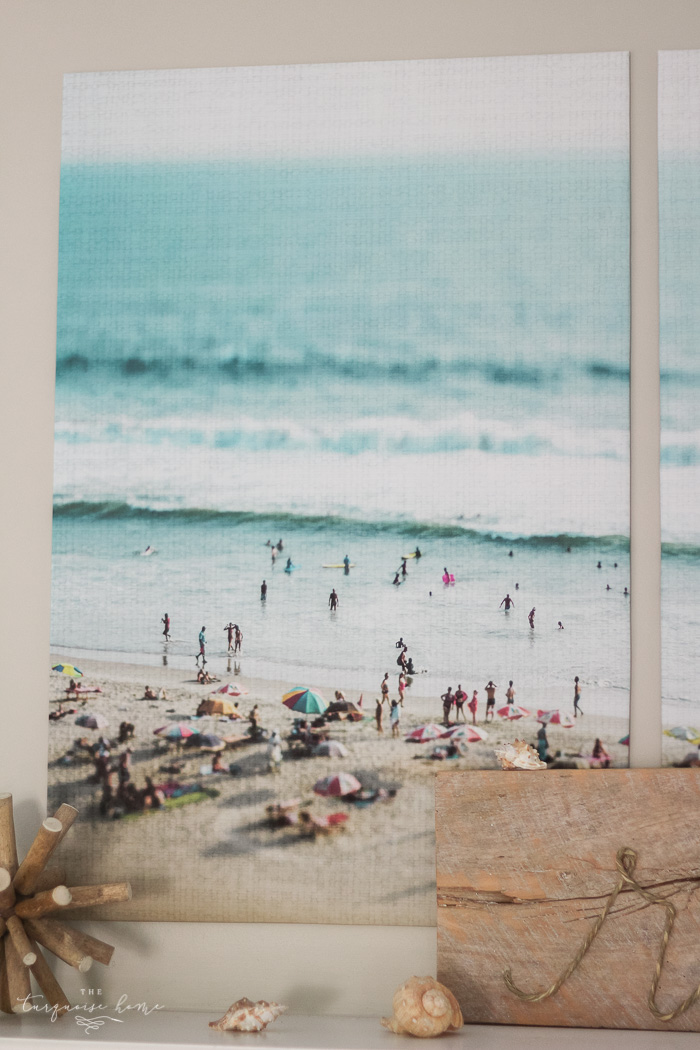 Then I remember this post from my friend April at House by Hoff. Yes! It was the perfect solution. Well, except for the fact that it wasn't a color print. I found that you can get engineer prints in black and white up to 36″ x 48″, but I didn't find anything about color engineer prints. But I did a little more digging, refusing to give up on my dream and found that you in fact CAN print them in color for a few bucks more. Hallelujah!

So, I did just that! I couldn't find a photo that I liked of mine, so I went to the next best place: Etsy! I found this fabulous, downloadable colorful beach scene on Etsy. The exact print isn't available any longer, but this one is very similar from the same photographer. Then I downloaded the photo quickly and sent it over to Staples for a next-day turn around. I couldn't wait to get my new art up on the walls!
I purchased two large pieces of foam board, but made sure they were smaller than my print, so that I could wrap the print around all of the sides.
What You'll Need to Make Large Wall Decor with Color Engineer Prints
That's all you need!
Here's how I created my large wall decor. It's so simple.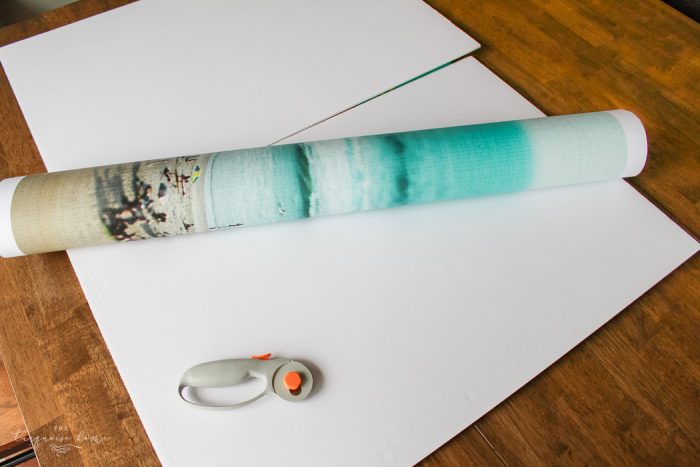 I rolled out my large engineer print on the dining room table. I made sure the table was nice and clean (and dry) since it usually has several-day-old kiddie food stuck to it. The engineer print is just regular printer paper, so if it gets wet or dirty it'll be ruined.
I cut the print down the middle and positioned my two foam boards on each section of the print, about 1-inch away from the middle cut line. I then drew a cut line about 1-2 inches around the foam boards and cut them down.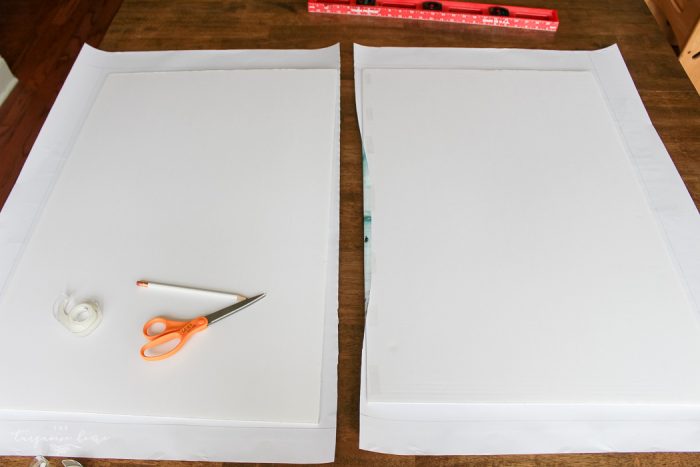 Then I grabbed my double-sided tape and taped down the 1-2 inch flaps down to the backs of the foam boards, starting with the middle of the long inside edge. Once all sides were glued down, I flipped them over, attached command strips to the back and hung them over my mantel!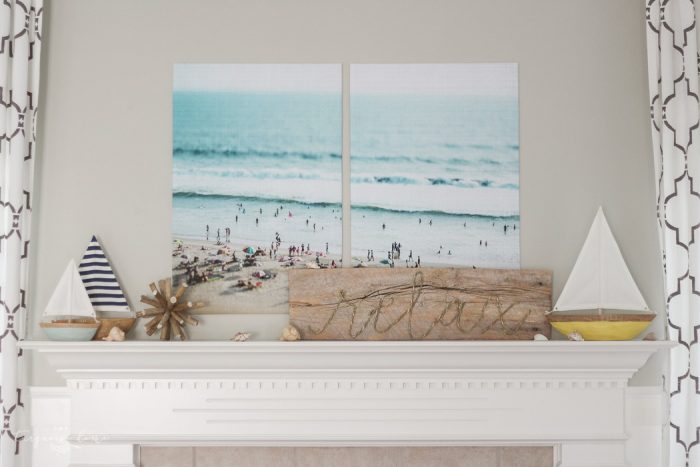 Yay!! I love the results and that the total cost was less than $20? You can't beat that! Now, I don't know if I'll save them for next summer, or hang them in another room when the season is over, but I'm OK with using them for this season and then throwing them away. Well, I'll keep the foam board. There isn't any reason to throw out perfectly good foam board!
Looking at my mantel right now, you'd never know that those were some cheap color engineer prints taped to foam. I love it!
What picture  would YOU print and put on your wall?