Organized Paint Storage | Day 29: 30 Days to Less of a Hot Mess
Use these paint storage ideas to keep your leftover paint organized and easy to re-use when you need to do touch ups!
Y'all. This project has been on my radar for years now. I knew that organizing my paint and storing it in a better way would help me out a ton, but it just seemed too daunting.
Welcome to the 30 Days to Less of a Hot Mess Challenge! We're decluttering, reorganizing and taking a breath of fresh air to create a home we love. If this is your first time at the challenge, you may want to start here at the beginning. Affiliate links used for your convenience.
I can't remember exactly when I first got the idea, but I think I was perusing Pinterest one night, like I normally do, and saw how someone had organized their house paints into new, clean quart-sized paint cans. I even printed out some labels and have held on to them all of this time. When I tried to go back and find the original post, I couldn't find it, so I had to make my own labels. So, lucky for you, I've shared them here at the end of the post! 😊
I have a lot of paint, at least I think so. I had all kinds of paint living under the utility sink in my laundry room. It was sticking out until the hallway that leads to our garage and I stubbed my toe every time I needed to wash something in that sink. Then, I had other gallons and random quarts tucked down in the bottom of my office/craft closet.
So, whenever I needed some paint, I had to check both places. And nothing was marked. So, I just had to guess sometimes to make sure I was using the right paint. Or I wouldn't be able to find something and just go buy another gallon. I'm pretty sure that's how I ended up with 4 cans of primer. 😁
I finally bit the bullet!
Supplies to Organize Your Paints
Quart sized paint cans. I've seen people use mason jars for storing paint, but I'm a little nervous about keeping paint in glass. I can just see my 2-year-old getting into them somehow and dropping them on the floor. It's worth it to me to spend the $3 for the new paint can.
A different paint stirrer for every color you have (unless you're going to let them dry completely between uses)
Printer
How to Organize and Store Household Paints
Gather all of your paints from around the house. I had two boxes of craft paints and paint supplies in my office closet where I keep all of my crafts and decor. I sorted through those and tossed several things, consolidated others and organized them. I put them back in the closet. Most of the larger gallon-size cans weren't full. I kept them, like most people do, in case I needed to touch something up later. I had a few full or almost full cans. Some of them I kept and others I donated.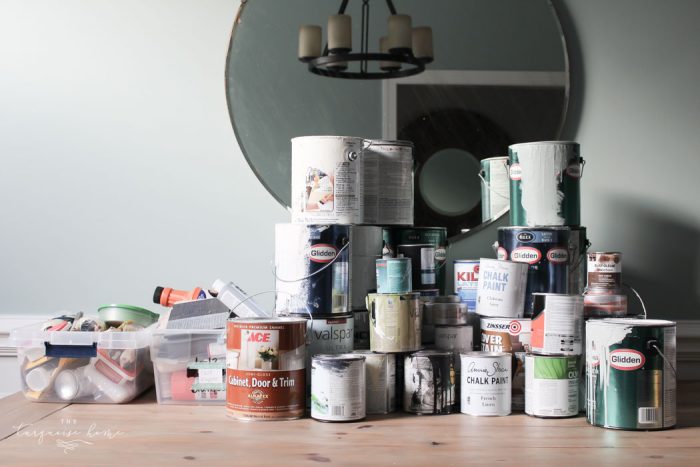 Decide which paint to donate or throw away. If you do throw away paint, do so responsibly. Find out how to do that here. (P.S. In that article, it says that paint doesn't last more than 2 years, but I disagree. Definitely check your paint before using it, but some of mine is 5 years old and is just fine once I've stirred it.)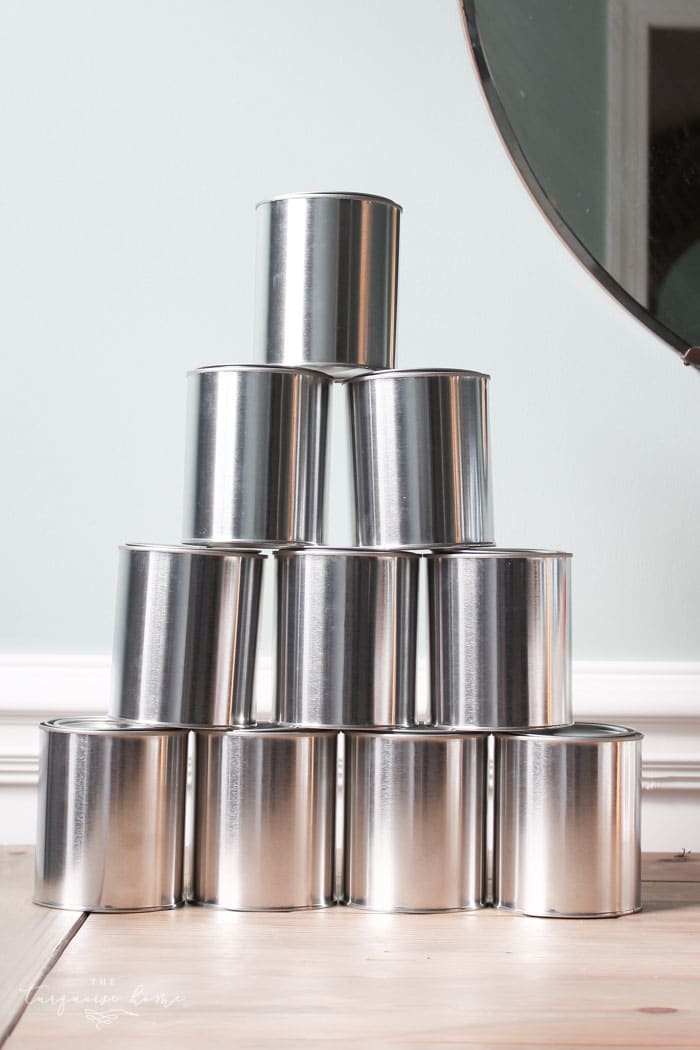 Consolidate it. I found that most of the paint cans leftover from painting my house had a quarter of a gallon or less in them. So, that's where my empty quart cans came into play. Not to mention most of the original cans had rusted around the rim and were just very dirty. It was good to clean them up!

I stirred the paint up really well and poured it into one of the new quart cans.
Then I filled out all of the information on the paint can labels I created and printed on my white sticker paper. I added a dab of the paint to the circle on the label, because, duh. 😉
I sealed them up and look how pretty! They take up considerable less space than before and now I know exactly what is in each one!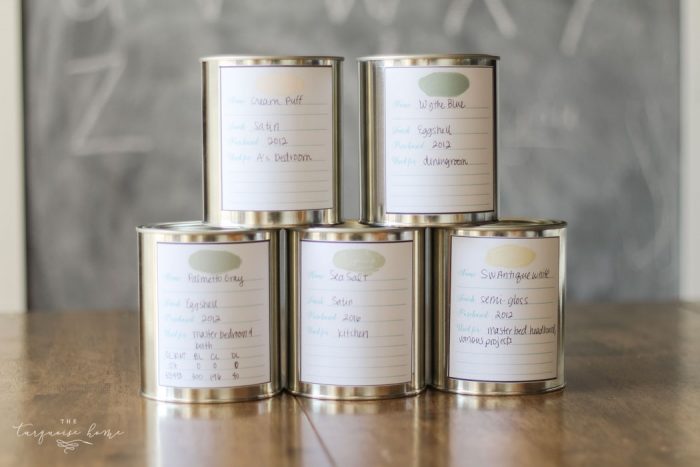 Organize Your Paints. Put the new paint cans and any other you chose to keep back in your storage place. I kept some full gallons and also some paint that was already in quart cans. I'm going to share my organized craft closet one of these days with awesome before and after shots. It's hard to get good pictures in there, but I'll do it and link back here!
Tip: Ask for extra paint info stickers when you're getting your paints mixed. Then put that and a dab of paint on a piece of cardstock or kraft paper in your Home Organization Binder. You can grab these cards when you're out shopping for fabric or furniture so that you can see how it coordinates with the wall color.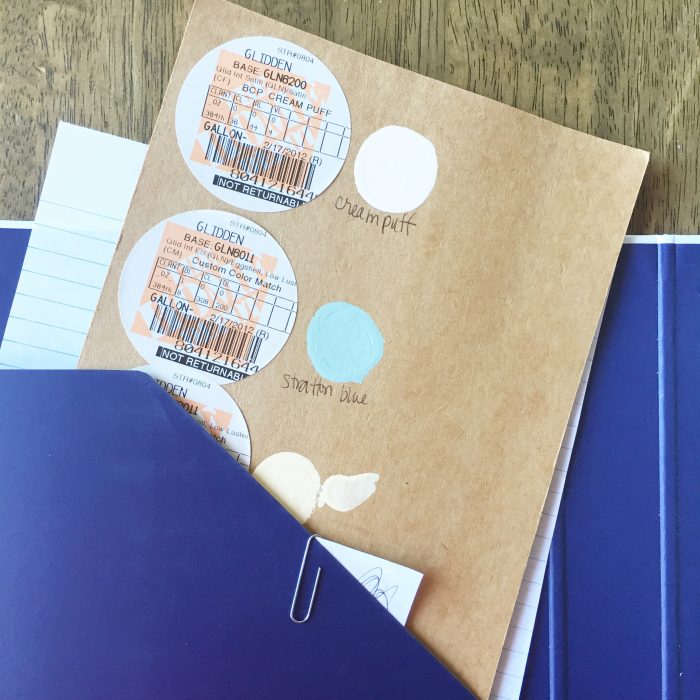 More Info About the Paint Colors in my Home

I get asked a lot about the paint colors in my home. I've shared all about them here in my Paint Colors post! Enjoy!
Free Paint Can Label Printable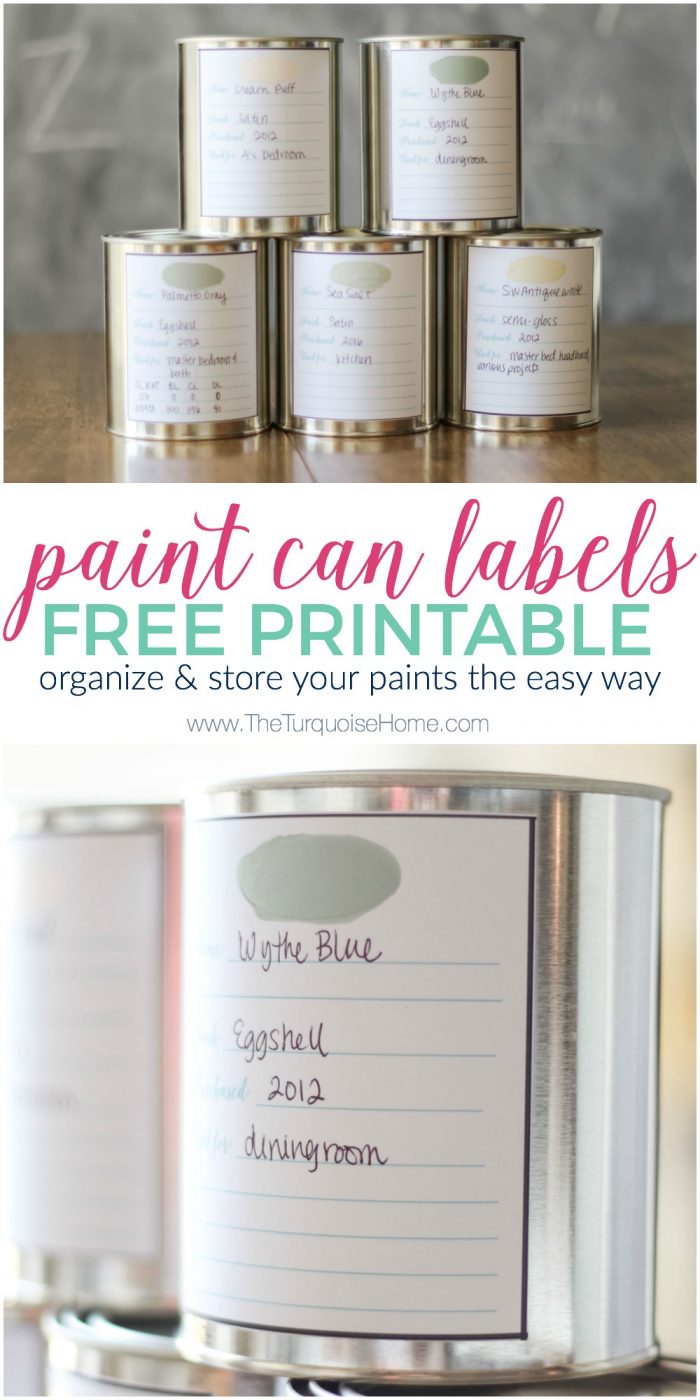 The Messy Work: This project can be a big one if you have a lot of paint like me. I recommend choosing a couple days on the calendar and scheduling time to get this project done!
In the mess with you, Laura
More Posts You Will Love: