Be Joyful Always Free Fall Printable
This Be Joyful Always free printable is encouraging as well as beautiful! The perfect way to brighten your home!
Printables are one of the most inexpensive ways to decorate for the new season, not to mention festive and fun! I love how it can change the whole mood of the room with a simple printable you can make in a few minutes at home!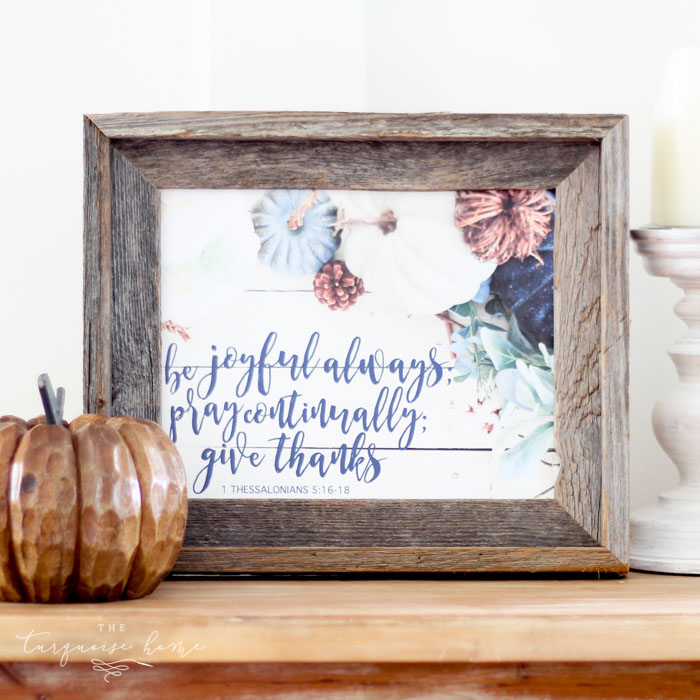 I recently made this wooden fall sign for my mantel and I love how it turned out, so I decided to recreate it – in a way – for you, my reader! I arranged some of my current favorite fall decor on a wooden backdrop and snapped a pic. Then I wrote the verse from 1 Thessalonians on the image.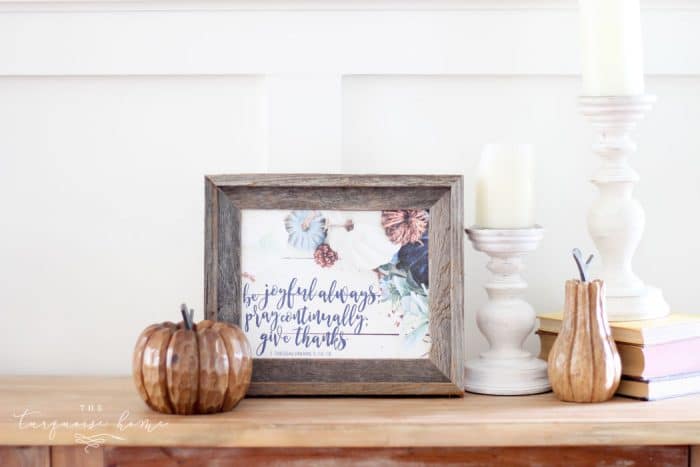 Now, if you don't have time to make the sign, you can have something similar in your home for free!
I love how it turned out, and I hope you do, too!
Grab Your Free Printables HERE
I also made a few different versions in case you like one of these better. Click the image to get your printables!

Tips for Printing a Free Printable
Obviously a letter size piece of paper is 8.5×11. And the standard large-sized frame is 8×10, so there will be a little bit of white space around the image.
But I designed the images to be 8×10, so that it should automatically print at the right size. You may have to adjust the percentage of the image, but hopefully not!
Use a white, bright card stock, ya'll. A pretty, white, crisp card stock give your printable some sturdiness and helps preserve it. I've kept some printables in folders for years and they still work great every year since I printed them on card stock.
My favorite printer is this one. It's a full color, wireless printer and I've had it for about 6 months now. It works great and I love that I don't have to connect my computer to it anytime I want to print. I can also print from my phone wirelessly. I used it to print this free printable.
I like to print my printables out on card stock, because it's less likely to get bent or damaged than regular printer paper.
And lastly, I use a small paper trimmer like this one to give my printable edges nice, clean lines. I use this tool all the time!
But don't even think about stopping here! I organized a group of 14 of some of my blog buddies and they are all sharing their gorgeous free fall printables with you, too! You can have one for every room in the house! 😉SaveSave