Asking open-ended questions is a great way to engage in meaningful discussion with your family and friends! Instead of merely asking "how was your day?," try these conversation starters! Have a lovely dinner!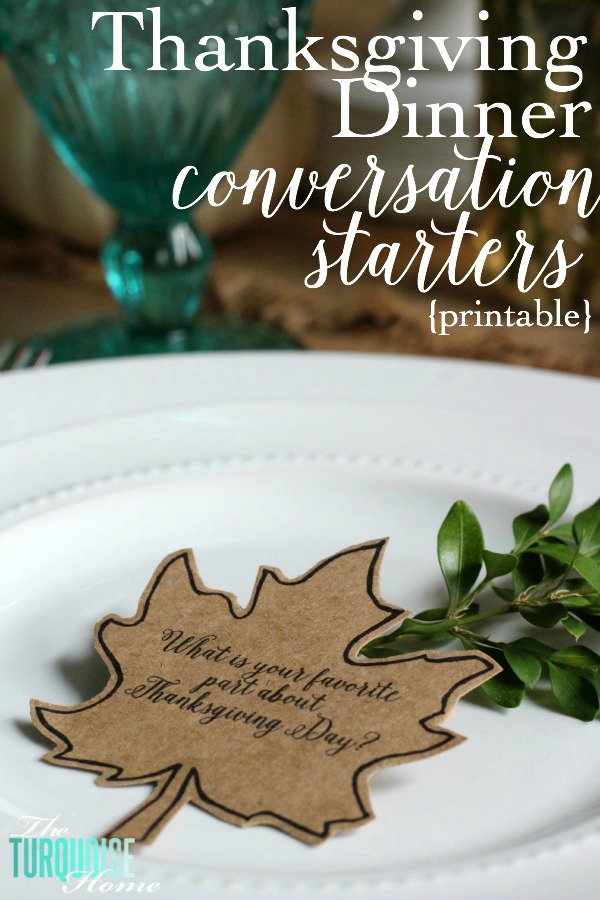 This is such a simple thing to add to your Thanksgiving dinner, but I think it will be one of the most meaningful.
I will be using these conversation starters with my family for the first time this year! My hope is that it will be a great way to get some good conversations going. Maybe we'll even make it a new tradition!
I typed up 8 seemingly not-too-deep questions or statements to inspire quality conversation surrounding this season of gratitude. I did throw in a "what do you want for Christmas" question. That's just to help people out of they are secretly needing some gift ideas for their family members. You're welcome. ☺️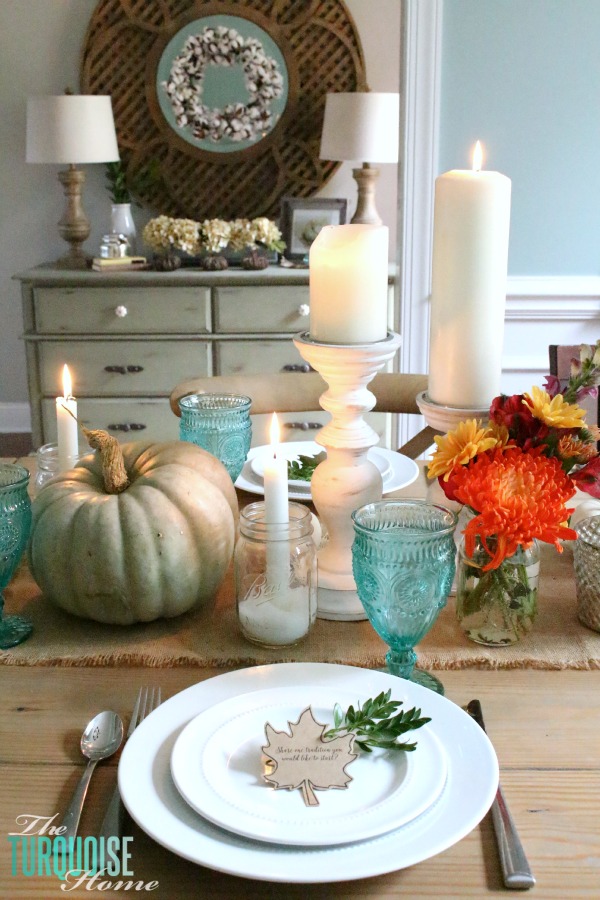 My husband added the "what's your most embarrassing holiday moment." I almost didn't include it because I couldn't think of anything embarrassing. But evidently he could come up with more than one for himself. We'll just say that he acknowledges that he sometimes suffers from the foot-in-mouth-syndrome.
I love the simple leaf outline and thought it looked pretty with a twig of boxwood. But it looks great by itself, too, if you're not keen on putting shrubbery on your plate right before dinner.
You could wrap them with a cloth dinner napkin or set them next to the plates. Or even just put them all in a bowl in the middle of the table and let people draw for questions.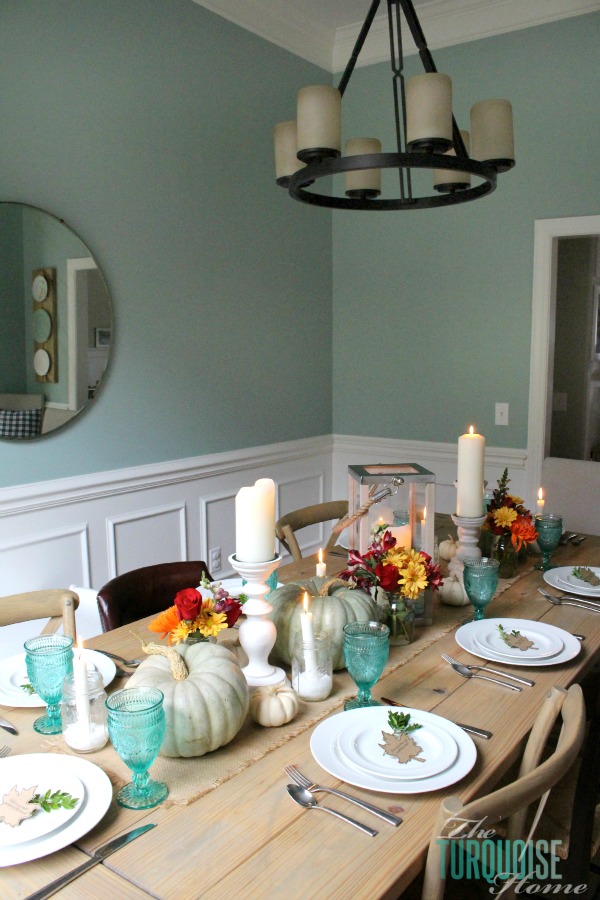 Recently I heard a prominent speaker talk about the idea of having one conversation at a large dinner party. It was a special occasion and the event had hosts at each dinner table. The hostess said that there was only rule that night: there could only be one conversation at a time at the table. No little side conversations would be permitted.
At the onset, I might think someone was rude telling me who I could or could not talk to! But his explanation made sense. One conversation forced everyone to get to know each other. And it forced people to listen to one another. He said it was one of the best dinners he'd ever attended. And now he and his wife implement the same rule in their home.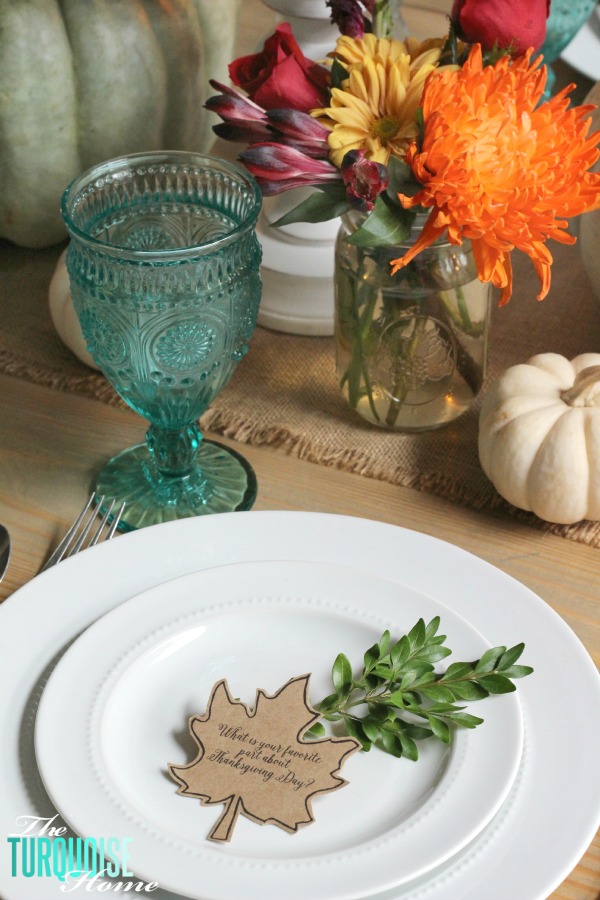 I'm not going to be implementing any new dinnertime rules in my house. Well, maybe that you have to sit up in your seat and eat all of your dinner. #lifewithkids
But, I think it's a superb idea for a larger social gathering like Thanksgiving. At least my family Thanksgiving is large since there are 24 people with just my parents, siblings, their spouses and my nieces and nephews.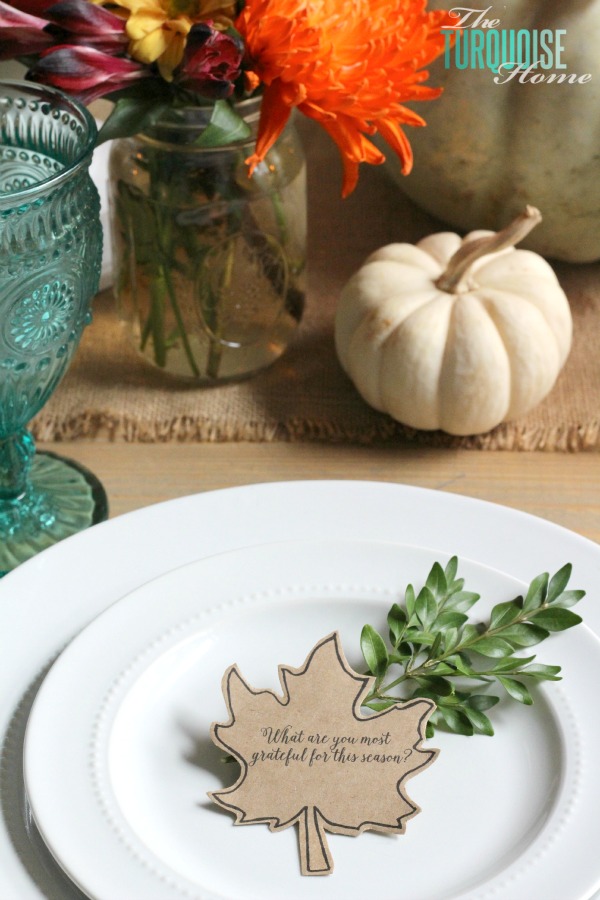 And these conversation starters will keep everyone all together.
Now, you can use them one of two ways, in my mind. You can have one person read the question and then answer it for himself and then move on to the next question. Or, you can read one question and then everyone gives their answer. It probably depends on how many people you have and how long you want to stay.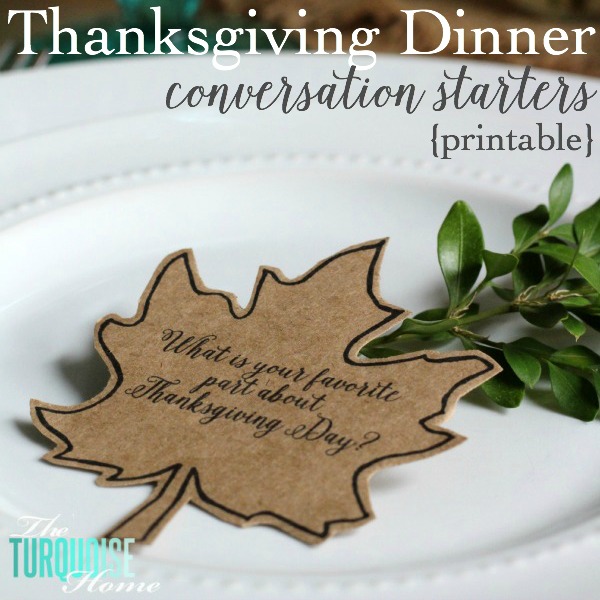 I hope you enjoy this free printable! I printed mine out on kraft paper, and cut them out by hand.
The printables include 8 pre-written starters and then left 4 of them blank for you to add your own questions. Remember, it's for personal use only! Thank you!
GRAB the FREE Thanksgiving Conversation Printables HERE!

Have a wonderful holiday!
MORE POSTS YOU WILL LOVE:
SaveSave
SaveSave