Easy DIY Planter Teacher Gift Ideas + Free Printable Tag
Teachers deserve so much! Grab one of these beautiful teacher gift ideas like these planters and free gift tags!
Did you know that teacher appreciation week is a thing? Every year there is a national Teacher Appreciation Day, but in many schools they celebrate it for a whole week! Teachers are some of the greatest servants in our society. I know because my husband is one and he gives tirelessly to his students and the kids he coaches. It's a gift that I do not have!
So, I'm happy to profusely lavish gifts on my kid's teachers next week for Teacher Appreciation Week. My older daughter is in kindergarten, so we are taking something small for her teacher every day next week. Monday is the day to bring in a flower, but we wanted to take things up a notch!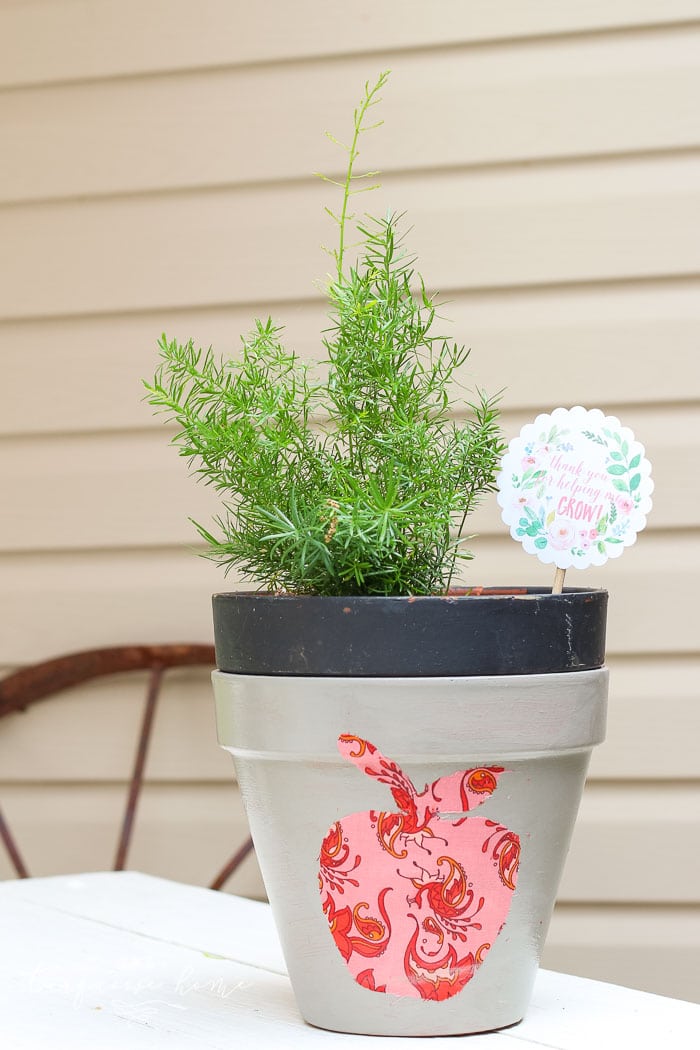 This simple DIY planter is a creative way to say thank you with a personal touch. And it costs very little to put a personal touch on a planter like this! My assistant is giving this to her son's teacher. She loves Matilda Jane clothing, so this fabric reminded her of his teacher. So cute!
I also got carried away with this cute little succulent that I picked up at the store. I loved how it fits in this itty bitty Ball mason jar. It's just adorable, don't you think?
And of course then I had to create a free printable tag for each one. You can print your own at the end of this post. This post contains affiliate links for your convenience. See my full disclosure policy here.
What You'll Need for these Easy DIY Planter Teacher Gift Ideas
Gift Idea #1
Terra Cotta planter
Paint & Paint brush
Silhouette Cameo (or cut out a shape by hand)
Mod Podge
Fabric – this is similar to the one we used
Plant
Skewer for printable
Printable (free at the end of this post!)
Gift Idea #2
Mini succulent – like these!
Paint (optional)
Skewer for printable
Printable (free at the end of this post!)
Planter Gift Idea #1
Ok, so this one is super simple. You just grab a regular old terra cotta clay planter and paint it the color of your choice. We choose a gray paint color that we had on hand.
I picked out an apple from the Silhouette design store to use to cut out an image. If you need help with cutting out fabric with the Silhouette, I have a tutorial right here.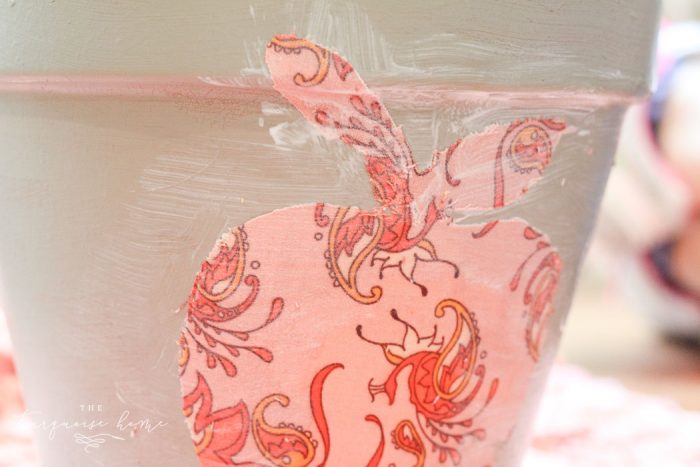 Cut out your apple design in the fabric either with your Silhouette or with scissors and then you'll just Mod Podge over it onto the pot.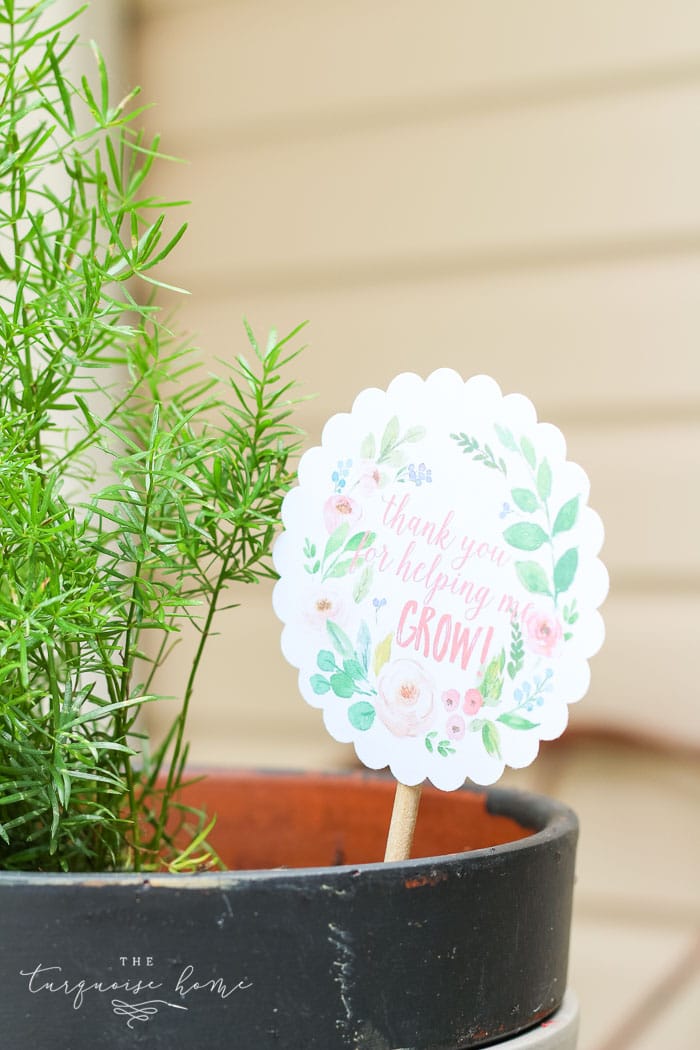 Let it dry, plant a flower or plant, print out the free printable and tape it to a wooden skewer. Stick it next to the plant and you're done! 😊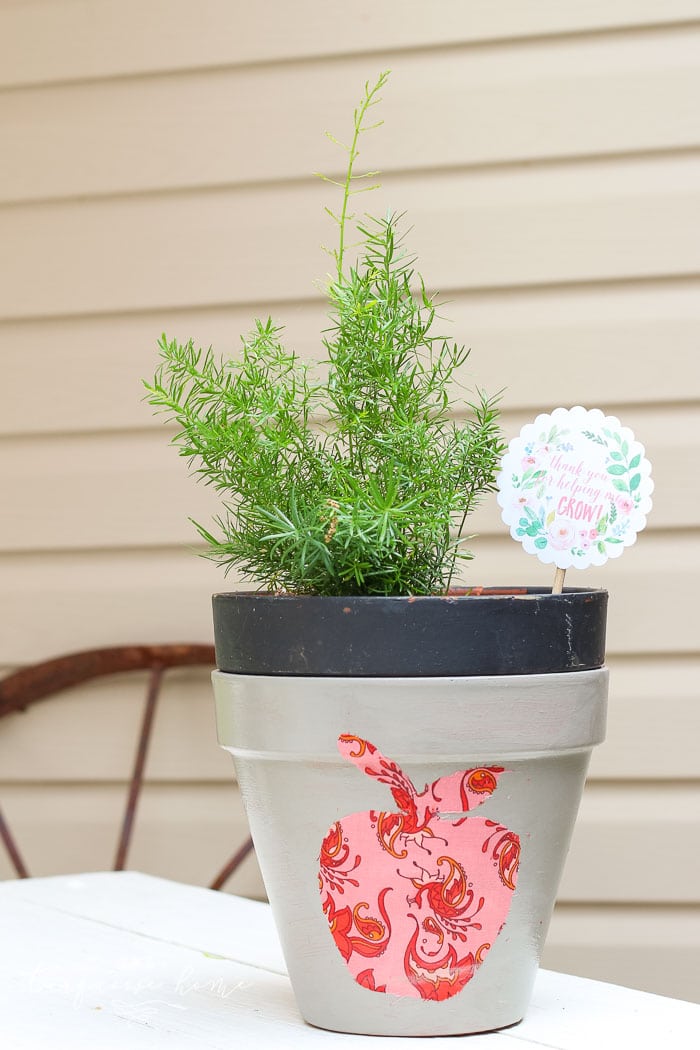 The black rim is just from the pot sitting inside the pot we decorated. We didn't have another plant to put in the new pot yet! 😜
Planter Gift Idea #2
This DIY succulent gift idea is as easy as that last one and is just so cute! It's probably my favorite and will be going with my daughter to Kindergarten on Monday.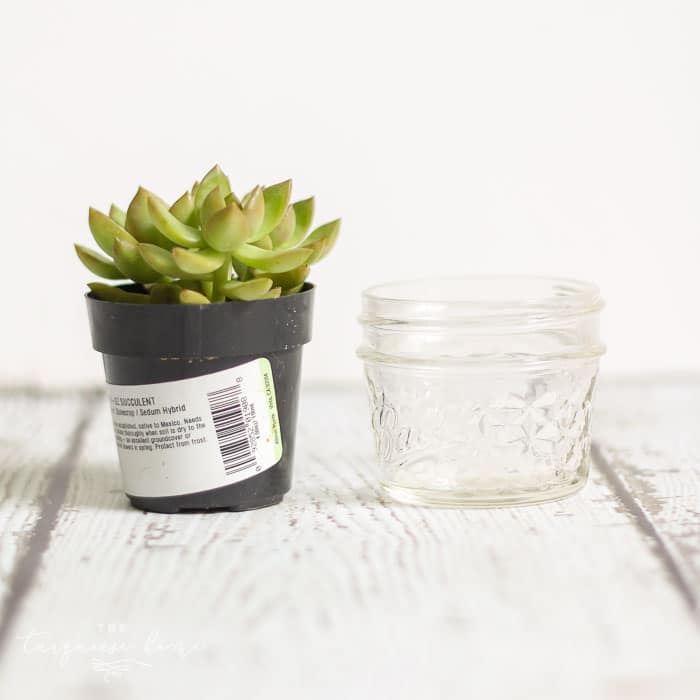 Just grab a mini succulent at the local garden supply shop or big box store. Bring it home and transplant it into a small Ball mason jar. I had some of these 4 oz. quilted jars on hand and it was the perfect size!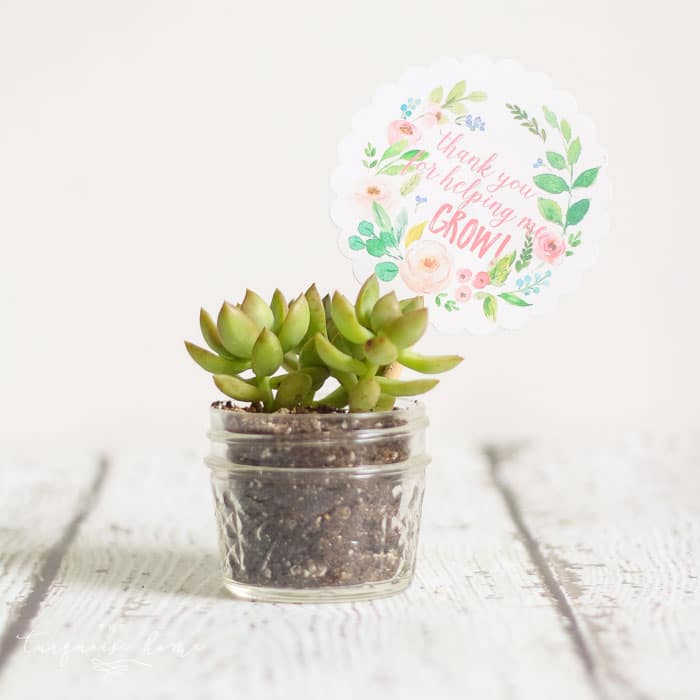 I then decided it would look even more fun dressed up a bit with some pink craft paint. But you could paint it a different color or not paint it at all. It literally took me 30 second to paint it.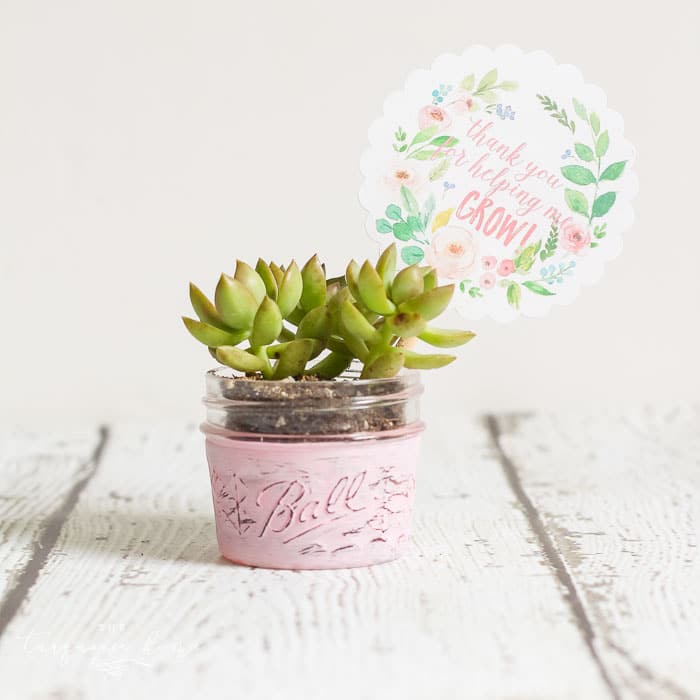 I then let it dry a bit and scruffed up the raised part of the jar to give it a distressed look. I like how it highlights the "Ball" part of the jar.
Then grab a wooden skewer and tape the free printable to it and stick it in there! I had to break off my skewer to make it shorter to fit, but it was easy!
Thank You for Helping Me Grow Free Printable Tag
I wanted to make a cute printable to add to our planter teacher gift ideas, so I whipped this up for you to use, too.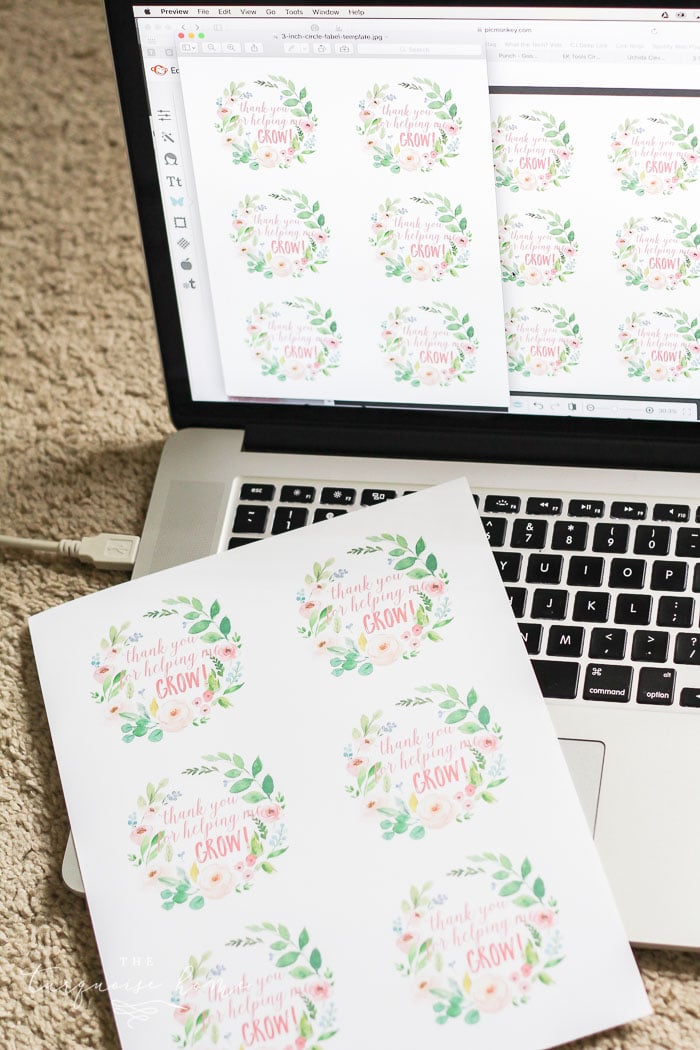 I made a sheet of 6 of them, so hopefully you have more than 1 teacher to give a gift to and less than 6. 😉 Otherwise you'll have 5 printables left over and you'll just need to make some Mother's Day gifts or something like that!
The tags are 3.5 inches around, so a craft punch like this one or this one works great. If you don't have a craft punch, you could use your Silhouette Cameo to cut the circles. Or just cut them out by hand!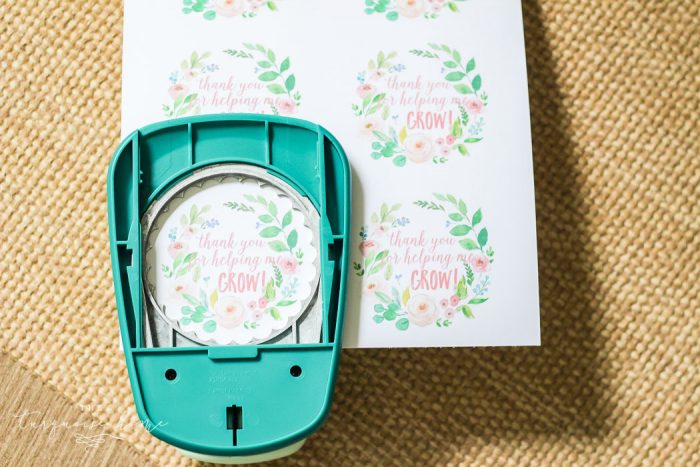 I had to cut off just a little bit of the bottom of the paper to get my punch to fit where it needed to be, but I made it work!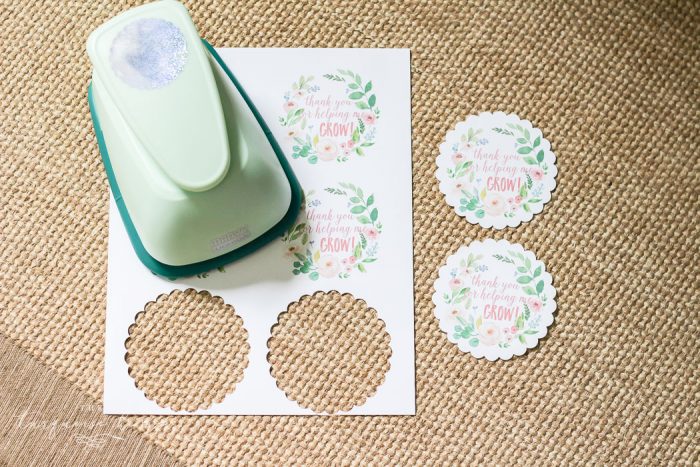 I love how they turned out and I hope you love them, too!

So whether you need a cute teacher appreciation week gift, an end-of-the-year teacher gift or even a Mother's Day gift – I hope these will give you some quick and simple ideas for sprucing up a plant in a pot. Quick and simple are my favorites! #MamaAintGotTimeForThat
Do you have a quick and easy gift for teachers (or moms)?!!? Do tell us in the comments!
More Posts You Will Love: