How to Decorate Your Table for Thanksgiving Dinner
Thanksgiving table decor – this may be your dining table's biggest moment to shine throughout the entire year. Use these ideas for simple Thanksgiving table decorations and layer in an extra festive atmosphere this November.
I know most people look forward to Thanksgiving because of the food. Yes, I love turkey and dressing as much as the next person, but something I also really look forward to? The Thanksgiving decorations.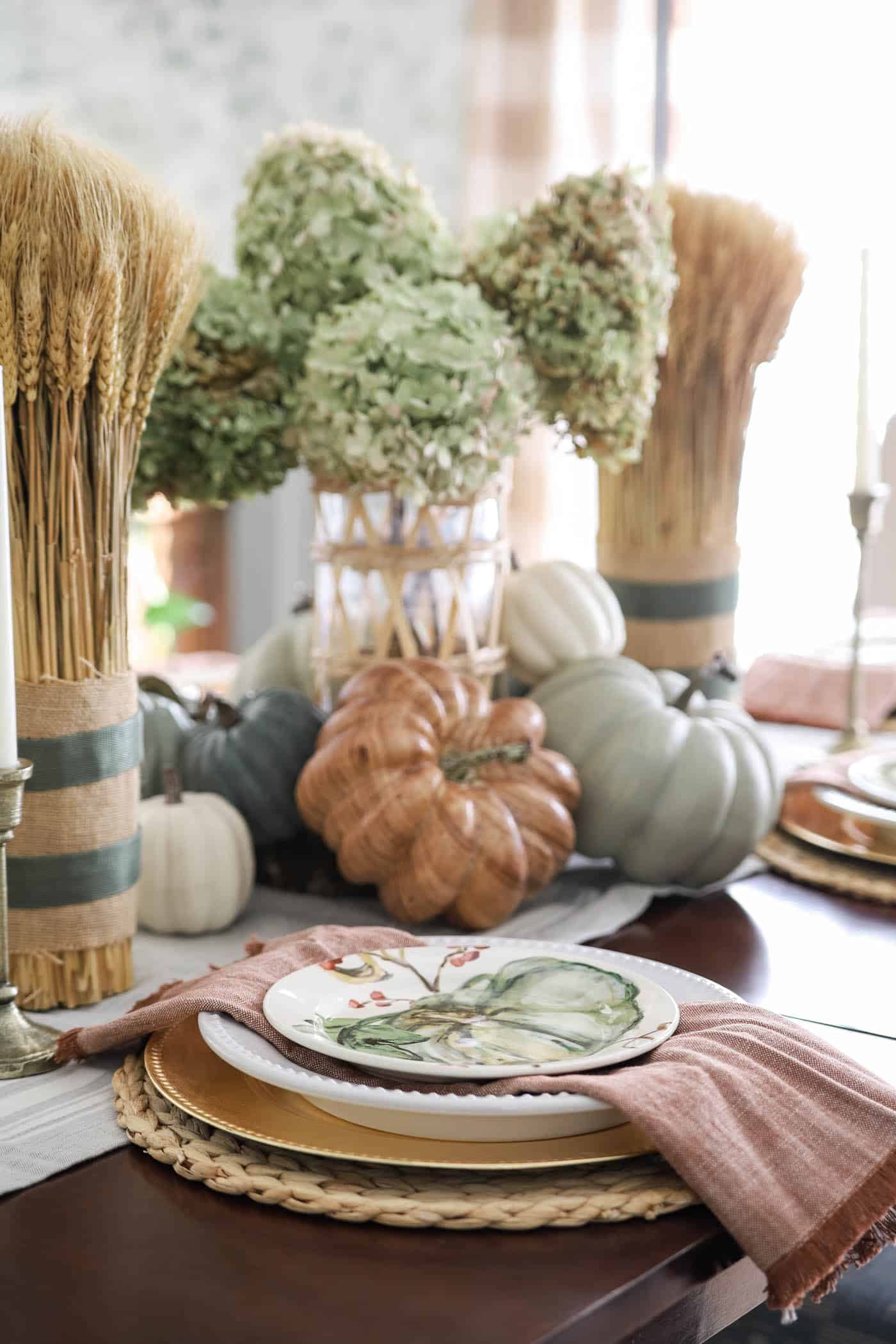 To me, Thanksgiving table decor goes way beyond plates, silverware, and glasses. With the right simple touches, you can make a spectacular and inviting dining space that will leave all your guests in awe, and keep them lingering at the table just a little bit longer.
Even better? Here's a little secret…it doesn't have to take a lot of work either! Have a look at some of these easy, fun, and elegant ways to spruce up your table for Thanksgiving this year.
The whole family will love these
Thanksgiving Dishes
If you're setting the table, then you're probably hosting the meal, too! I have my family's favorite Thanksgiving Meal recipes over on my food blog: Comfort Food at Home. Add some to your menu this year and your guests will be begging for the recipes!
This post contains affiliate links for your convenience. See my full disclosure policy.
Create a Timeless Thanksgiving Table with These Essentials
If you have never hosted Thanksgiving before, it can feel intimidating or overwhelming. But building a timeless tablescape is simple with these foundational pieces. I truly change very little about my dining table as the seasons pass because I have the right foundation and simply change out the salad plates.
Here's what you will need for some dining essentials:
How To Decorate Your Table For Thanksgiving Dinner With Style & Elegance
One of the fun things about Thanksgiving dinner is it's one of the few holidays you can pull decor items almost exclusively from nature to use as the main centerpiece for your table.
Not only is nature's bounty a beautiful way to add texture and color to the scene, but it's quite often free—often your only payment is an hour or two of collecting and rearranging. That's some easy Thanksgiving decorating!
Plus, when it comes to colors, long gone are the days of having to stick with basic orange, red and brown for this holiday. There are so many pretty color combinations to try. Personally, I love neutral tones and modern textures, mixed in with a few traditional elements too. Don't be afraid to try things out and see what you like best.
1. Green And Copper Are The Perfect Compliments
Here's a perfect example of how colors can be modernized. When you are planning how to decorate your table for Thanksgiving dinner, copper and green would be a solid choice for a modern color scheme. I love how soothing and relaxing this style is. The copper accents tie everything together without overpowering the look.
The fresh leaves paired with the white and green pumpkins are sophisticated and make you feel like staying a while. Lauren at Bless'er House thought of everything when she decorated this Thanksgiving table.
Worried that you don't have any pieces that are already copper and don't want to spend an arm and a leg on decor? Guess what, you can simply spray paint items you already own, and they will look completely new!
2. Add Conversation Cards
A beautiful and practical addition to any Thanksgiving table is with these free printable conversation starter cards!
I created these cards a few years ago and printed them on kraft paper to make them look like leaves. Cut them out and put one at each place setting. Then go around and share your answers as you're eating your meal. Not only are they pretty, but they will be the centerpiece of a beautiful conversation around your yummy meal!
3. Gourds And Pinecones Galore
The chic look of this natural centerpiece is gorgeous. Notice how stunning the bleached pinecones look and the contrast they offer to this Thanksgiving centerpiece.
If you love this decor as much as I do, you can easily replicate this look in as little as 5 minutes. Ananda at A Piece of Rainbow used Spanish moss as the base on top of a wooden tray. Then she filled it in with leaves, gourds, and some accents. Add some corn husks for an extra bountiful flair!
I love the pop of bright green here and there that peeks out. The overall style of this centerpiece is fantastic and will pair nicely with practically any china set or tableware.
4. Don't Be Afraid To Use Fruit To Decorate
It doesn't always get a lot of credit, but fruit is one of nature's most stunning beauties. You don't have to spend a lot of money to load your table with edible colors and textures, and the results are positively beautiful.
Melissa at The Faux Martha knew what she was doing when she decided to decorate her Thanksgiving table with fruit. What makes this scene especially pretty is the simple white tablecloth she used to really make the fruits and vegetables catch your eye.
One important tip to keep in mind is that it's essential to stick with using fruits and vegetables with color tones that compliment each other. You will notice the pop of orange, green, red, and even some brown with the food in the photo above. When arranged this way, it looks perfect together!
5. Fill a Vase with Dried Hydrangeas
Let Mother Nature help you out with a beautiful dried hydrangea centerpiece. These limelight hydrangeas were cut from the yard when they were fully dry and kinda crispy, but hadn't get turned brown. Stick them in a jar with no water and you're good to go for the season! Eventually they will turn yellow, but they are still gorgeous!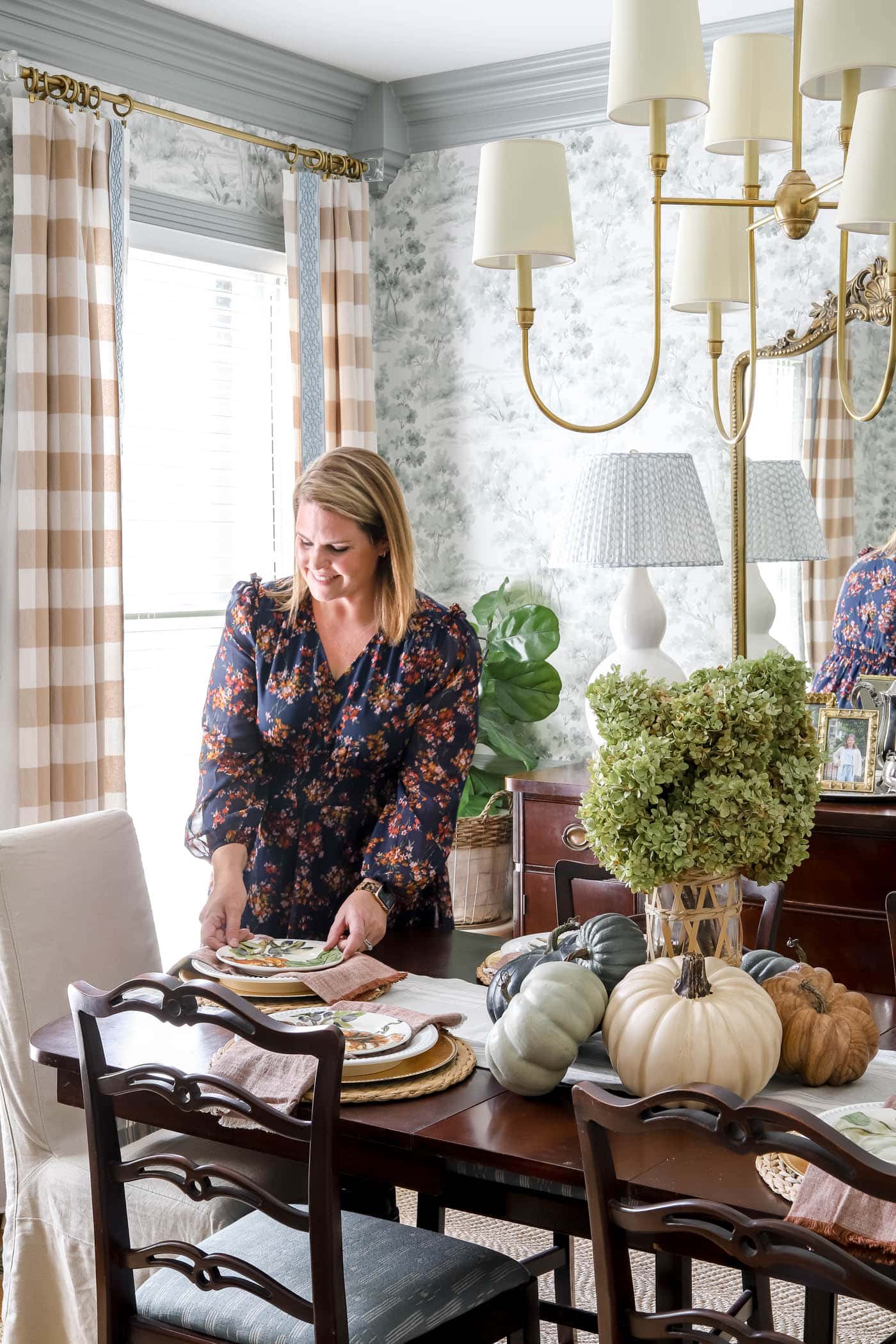 6. Consider Going Modern
I'm in love with this centerpiece. It's the perfect combination of traditional and modern. The rest of the table is subdued with some golds and patterned napkins, then you add the vibrant colors with the wheat, and it just pops.
Michael at Inspired by Charm understands that decorating with wheat will never go out of style on your Thanksgiving table. Wheat is so pretty on its own, and when you add some embroidery floss, it takes on an entirely new look. The gold mini pumpkins are so pretty, too!
If you aren't a fan of really bright colors, you could go for a more subtle look too. You can create different looks and styles by playing with the colors in this simple project.
7. Less Is More
This beautiful Thanksgiving tablescape shows you that you don't need large abundant decorations to have elegance. You can quickly, cheaply, and effectively replicate this simple stunning centerpiece by using some seeded eucalyptus, roses, and a pumpkin.
Julie Blanner brilliantly added grace and style to her dining table with this look, and I know you can do the same. If you are lucky enough to have a dining room that has lots of natural light, be sure to allow it to show through. Natural light will take the chill out of the room and be even more inviting.
8. Row of Pumpkins
Add some cloth napkins with a few sprigs of the seeded eucalyptus tucked in your napkin rings on the plates and you're good to go!
A couple of years ago I simply lined pumpkins and a few other items along the center of the room for a simple, Friendsgiving set up!
9. Go Vintage This Thanksgiving
I can't get enough of this beautiful dinner table decor with natural wood paired with the pumpkins. Thankfully white or off-white pumpkins are in style and are easy to find whether you opt for a faux or real version.
The baby's breath and yellow flowers give you just enough fall color and vibrancy to this pretty centerpiece. Replicate this look by Sarah Joy, and all your friends and family are sure to compliment your brilliance.
If you don't already have a long centerpiece box, you can easily make one with my tutorial HERE.
10. Make A Pumpkin Vase
If you want a showstopping centerpiece that absolutely everyone will love, this pumpkin vase is fantastic! Everything about this centerpiece screams rustic Thanksgiving in a classic, stylish way.
Again, this Thanksgiving centerpiece idea can be easily customized by the colors you choose, both for the pumpkin and the foliage within. Using browns, taupes, and neutral colors is the perfect way to get that farmhouse style we all love. A vibrant turquoise or even a burgundy would be a great addition if you want just a little bit more color.
Setting the pumpkin on top of a piece of wood completes the look—Crystal at A Pumpkin And A Princess thought of everything when she made this one!
Final Thoughts
In the end, the most important thing is the people and the time you spend together, but as you can see – a little decor can go a long way! Hopefully some of these Thanksgiving decorating ideas have inspired you to make your table simply beautiful, too!
However you choose to set your Thanksgiving table, your friends and family will enjoy gathering around and spending time together.
More Thanksgiving Posts You Will Love: