Turquoise Thanksgiving Tablescape
This turquoise Thanksgiving tablescape is full of beautiful pops of color to entertain your guests for the holiday!
Hi friends! I'm so excited to share with you my Thanksgiving tablescape today, full of pretty turquoise and other fun colors. I hope you'll see how easy it is to decorate a nice table for your family gathering.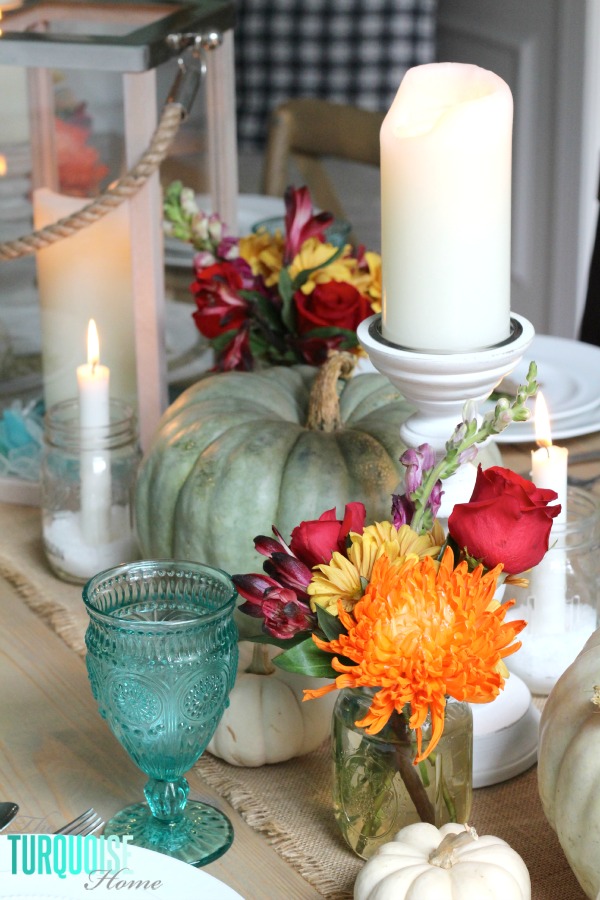 I also have a fun printable to share that will keep the conversation going during the course of your meal! And hopefully you'll get to know your dinner guests better through the process. It may just be your new favorite tradition to add to your Thanksgiving day!
I've never put together a big ol' fancy Thanksgiving tablescape. In all reality, I don't host Thanksgiving at my house, but I have been known to take some of my decor to my mom's house to decorate her table.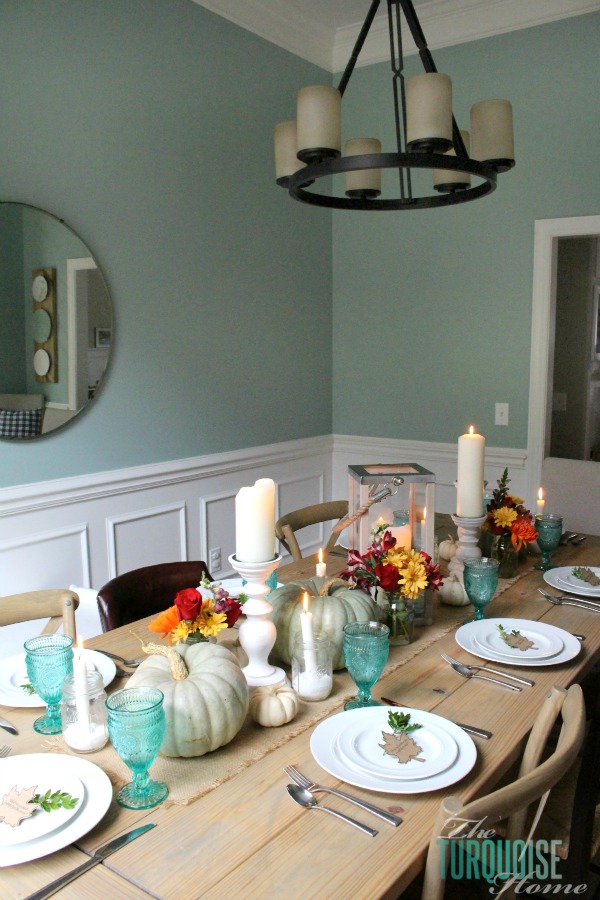 I think this year I'll grab some flowers and at least recreate that part this year. They are so pretty, right?!
And I just picked them up at Walmart the other day while I was shopping for my absolute favorite part of my tablescape. Excuse me while I GUSH over these gorgeous turquoise goblets. I mean, have you ever seen anything so pretty?? Well, yes, maybe from Anthropologie and entirely out of my budget.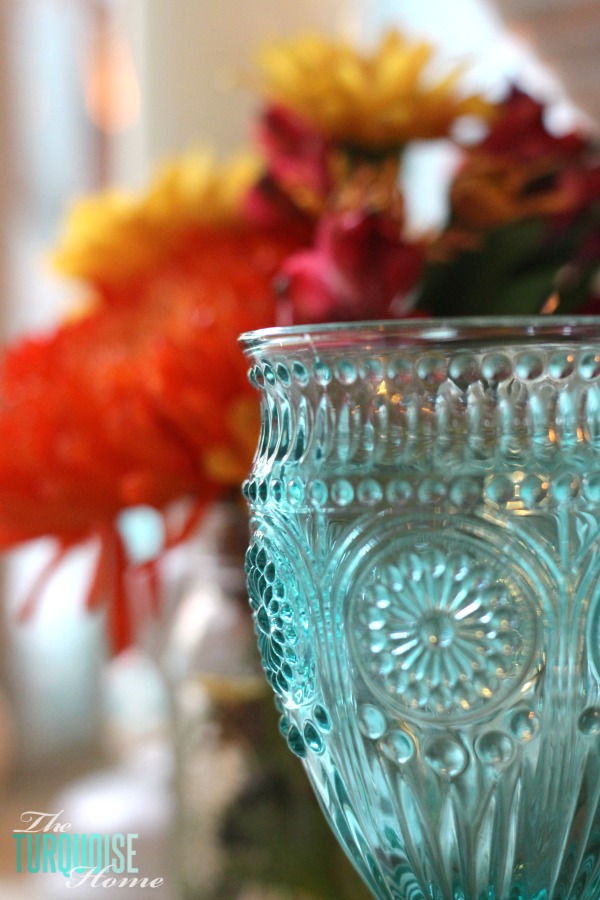 These beautiful turquoise goblets come from the new Pioneer Woman collection at Walmart, and y'all, they are just so cute and sturdy! I almost couldn't decide between the tumblers and the goblets, but I am really glad I went with the goblets. They are different from anything else I own and they remind me of the glasses my grandparents used while I was growing up. Only theirs were olive green. 🙂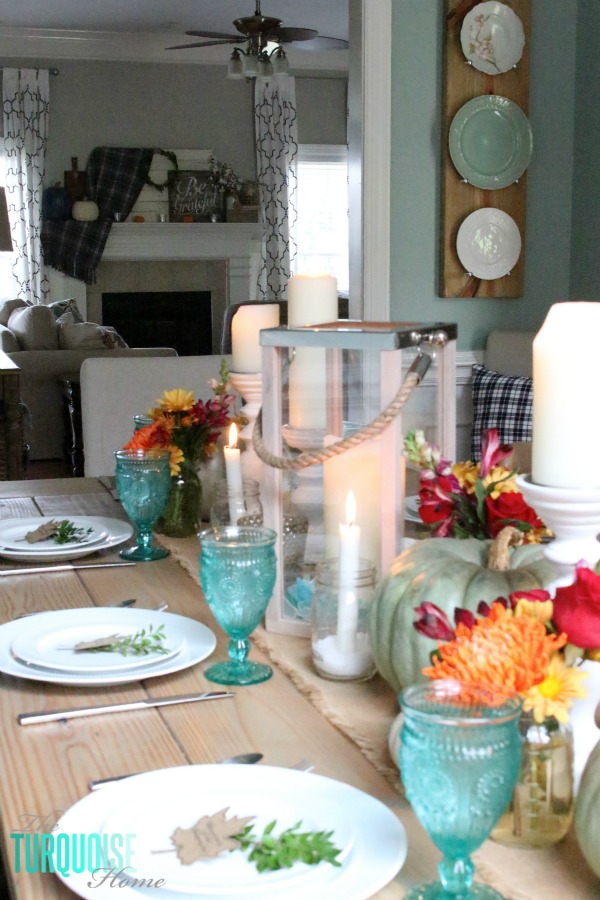 OK, and my close second favorite things about this tablescape are the white, distressed candle holders from Lowe's. (They are now sold out at Lowe's, but I found some similar HERE.) I've been looking for some chunky, distressed candle holders for a few weeks now, and I found some that I loved from here.
When I was shopping for my plate rack supplies the other day, I did a quick walk through the Christmas section at Lowe's. When I walked by these pretty, chunky holders (similar), they just fell into my cart. I didn't have the heart to put them back since it was so obvious that they wanted to come home with me. Sorry, Coach. It was an accident.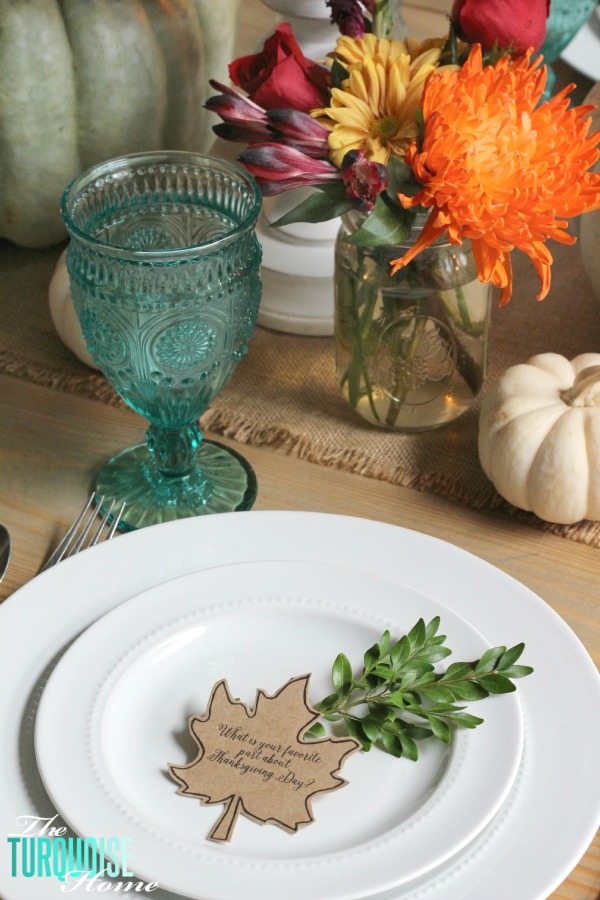 Everything else I already had on hand. The mason jars served as candle holders for my tapered candles. I just poured some epsom salts in the jars and stick my candles in there. And they served as vases for my flowers.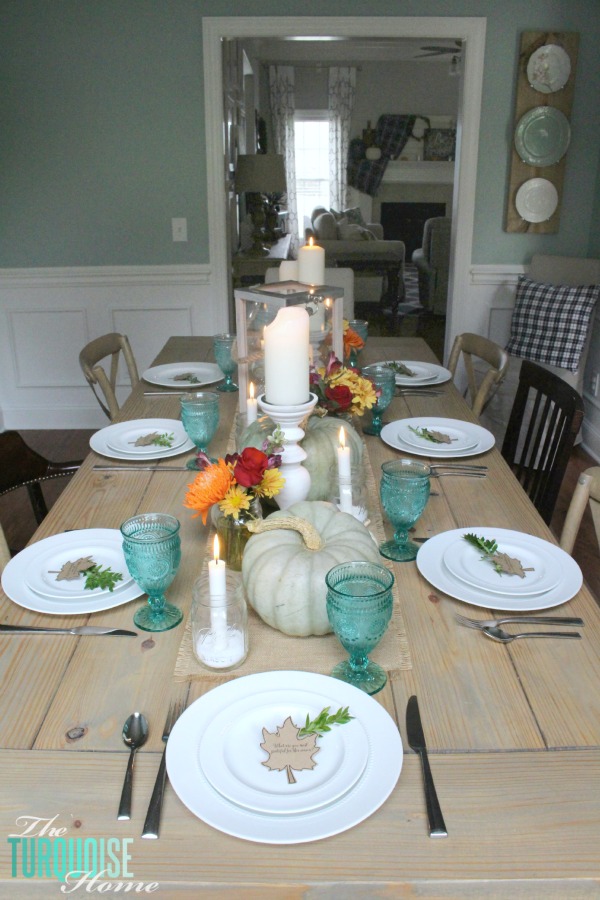 My everyday white dishes are The Threshold Round Beaded Collection from Target. I've had them for a few years and they are great! They will get some gray lines in them where the utensils scrape across, but I don't really notice it.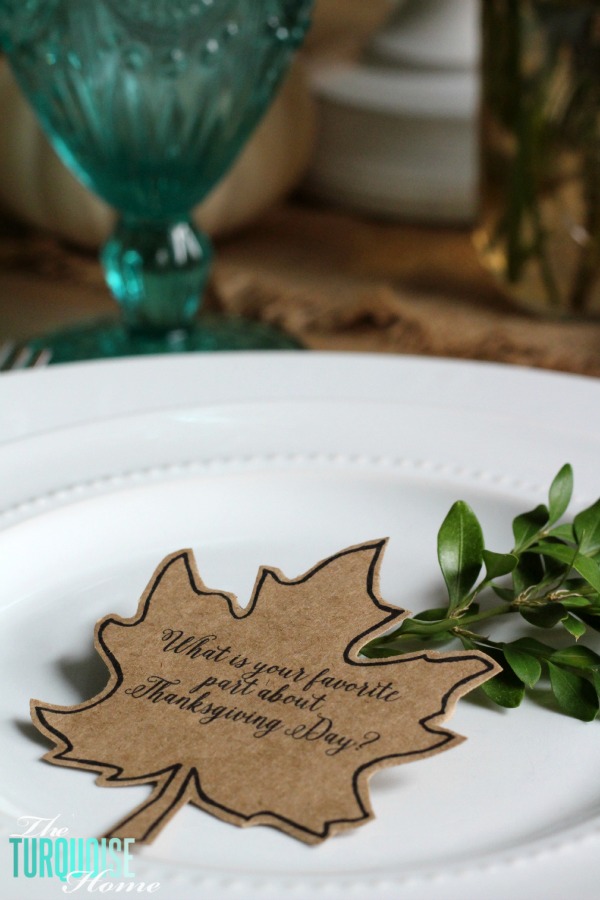 I bought the blue Cinderella pumpkins and white baby pumpkins at the local pumpkin patch in early October. I'm glad they lasted this long! I just love the blue/green and white combo.
The burlap runner is from Hobby Lobby and I pretty much keep it on the table no matter what I'm doing with it.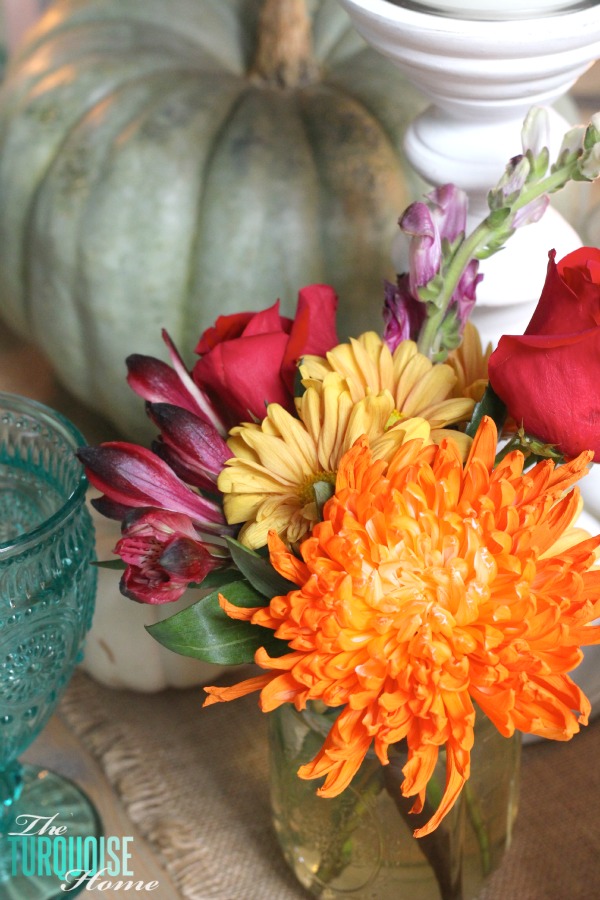 Now, if course when a family would sit down to eat at this table, you'd want to remove the tall pieces that would keep everyone from having a conversation. And then don't worry about having a place to put the food on the table. Just create a buffet line in the kitchen. It's easier that way!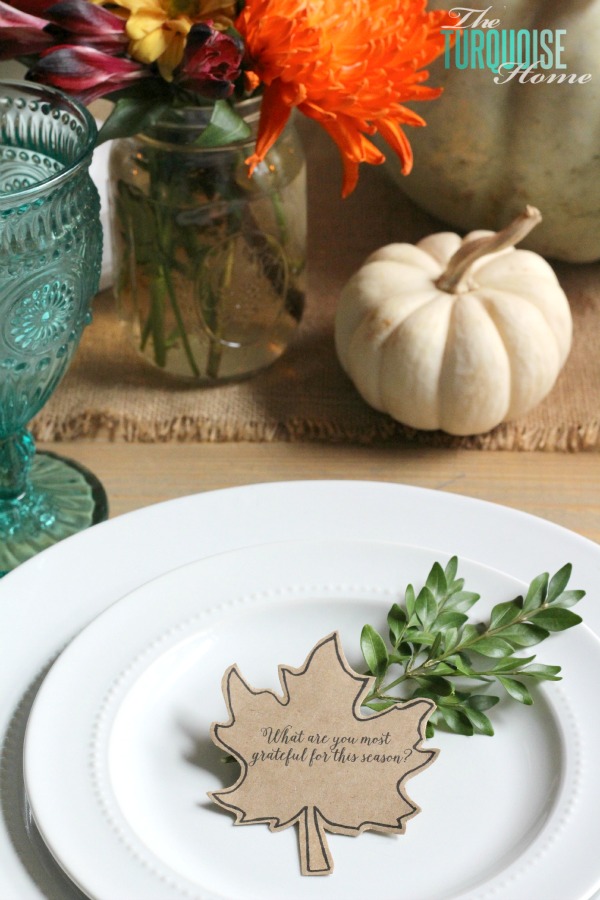 I created some leaf printables with questions on them for asking each other during the meal. Things like … "what do you want for Christmas?" And, "what's your most embarrassing holiday experience." Or, "how can you pay it forward this holiday season?" It'll get the conversation going, while keeping it mostly focused on the reason for gathering in the first place: to be thankful.
Stay tuned tomorrow, because I'll have those printables ready to go for your Thanksgiving meal! Update: here's the link for the conversation starters!
Thanks for coming to my table today. I had fun sharing it with you! If I forgot to mention something, just let me know in the comments and I'll be happy to share!
More Posts You Will Love: