Simple Fall Kitchen Decor
Simple ideas for adding simple fall kitchen decor to your home. Easy seasonal decorations that add cozy charm on any budget level!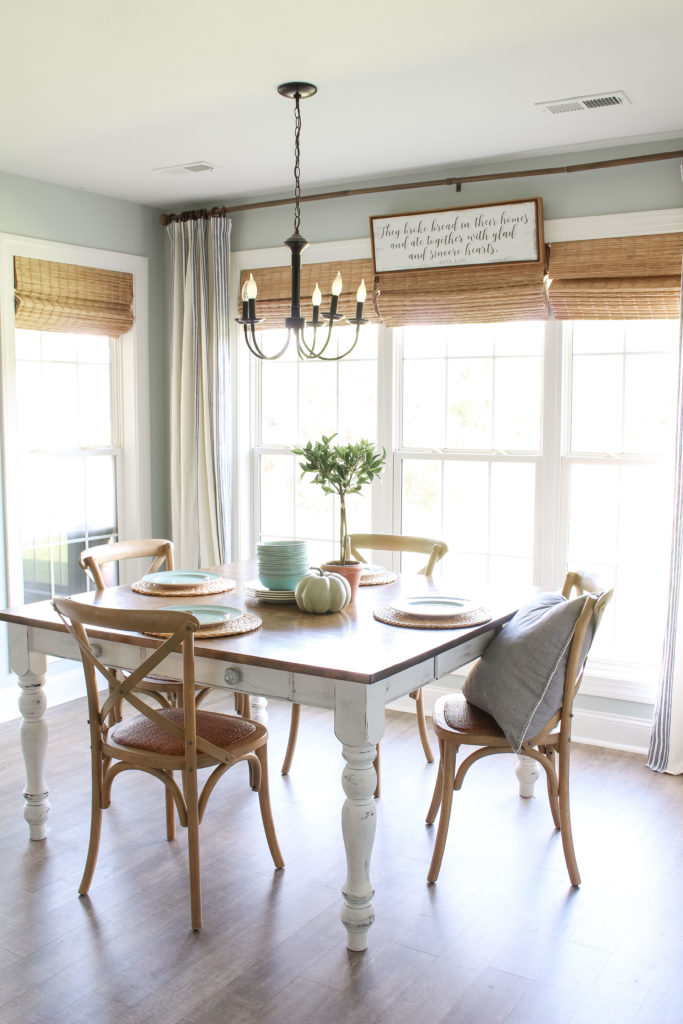 I'm so glad you're joining me for my fall home tour this year!
Find the rest of this year's fall series here:
This post contains affiliate links for your convenience. Find my full disclosure policy here.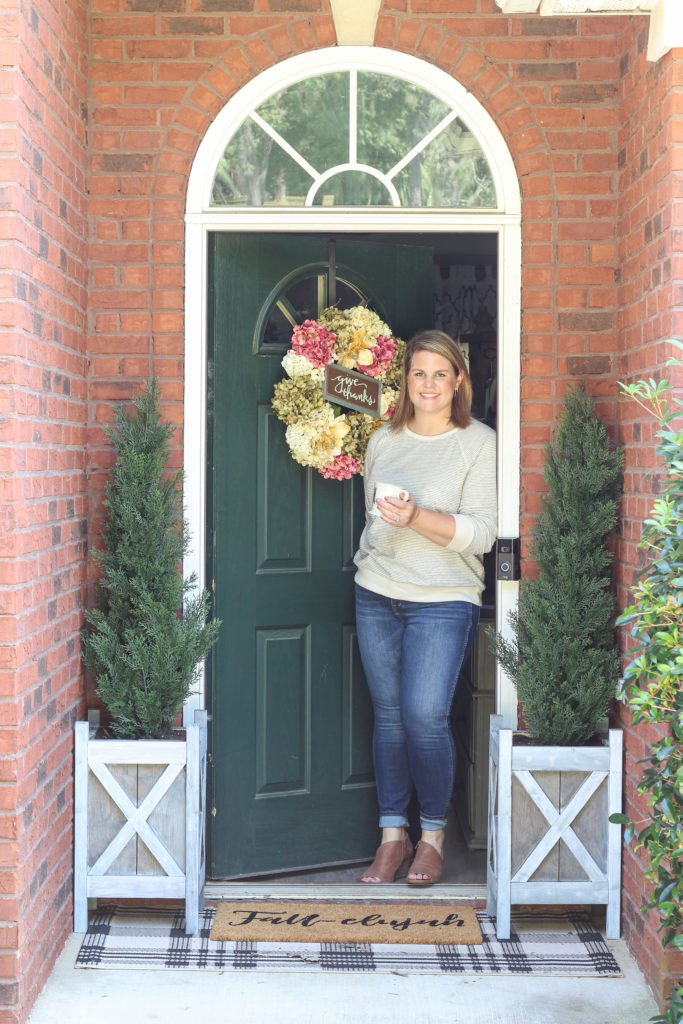 Let me just tell you – that getting yourself presentable to be in the photo is NOT for the faint of heart. It's it much easier said than done. I'm usually running around like a headless chicken in shorts and a ratty t-shirt while I'm getting ready for a "home tour."
I literally worked for two days getting those planters at my front door finished in order to take said picture. And moments before I had to snap the pic or else lose the right lighting, I was covered in planting soil from "planting" those faux trees and was sweating profusely in the 90-degree Alabama sun. Not cute OR picture-ready, let me tell ya!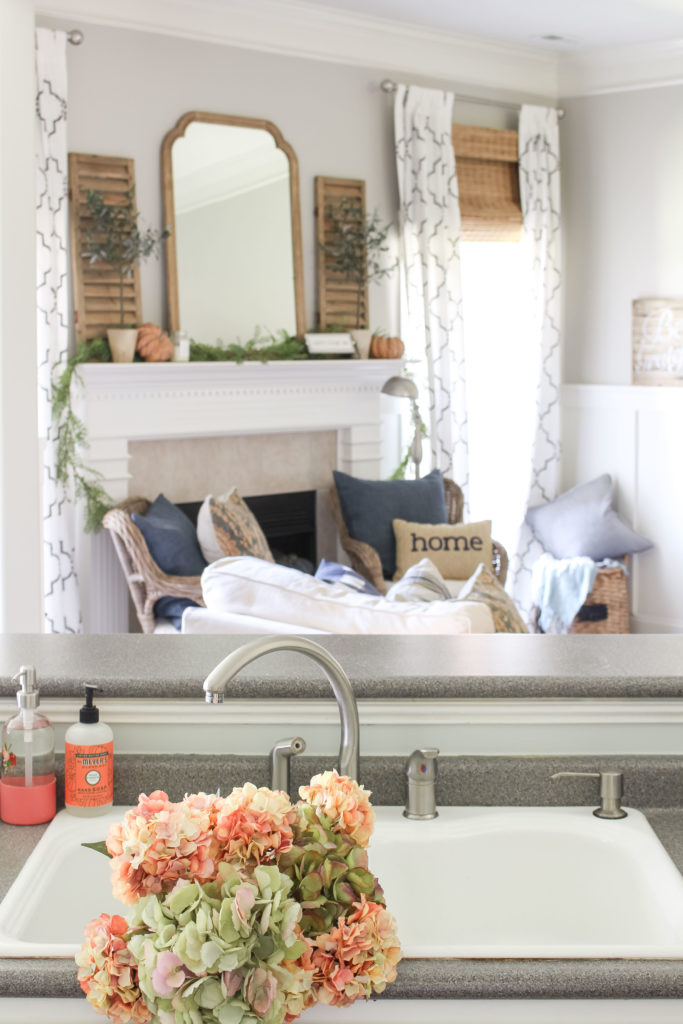 At this point I was cursing the idea of ever wanting to be in a photo, because I was bumping up against the time I had to leave to go to my daughter's school and relieve her teacher of lunch duty. Is duty-free lunch a thing at your kids' school, too? So, I get cleaned up, didn't get the photo yet, but made myself presentable to run up to the school.
Upon arrival, I found out that it's NOT a duty-free lunch day after all and I wasn't needed. Haha!! Now it was just comical.
Thankfully I was able to make it back home in time to change into a more fall-like outfit. (Weather, could you cooperate already?!?! Because this sweater/sweatshirt combo (similar) is soooo comfy! Yet still WAY to hot to be wearing it. Womp. Womp.) And I got the photo before the sun came too far over the house and was shining in my eyes. 😂😓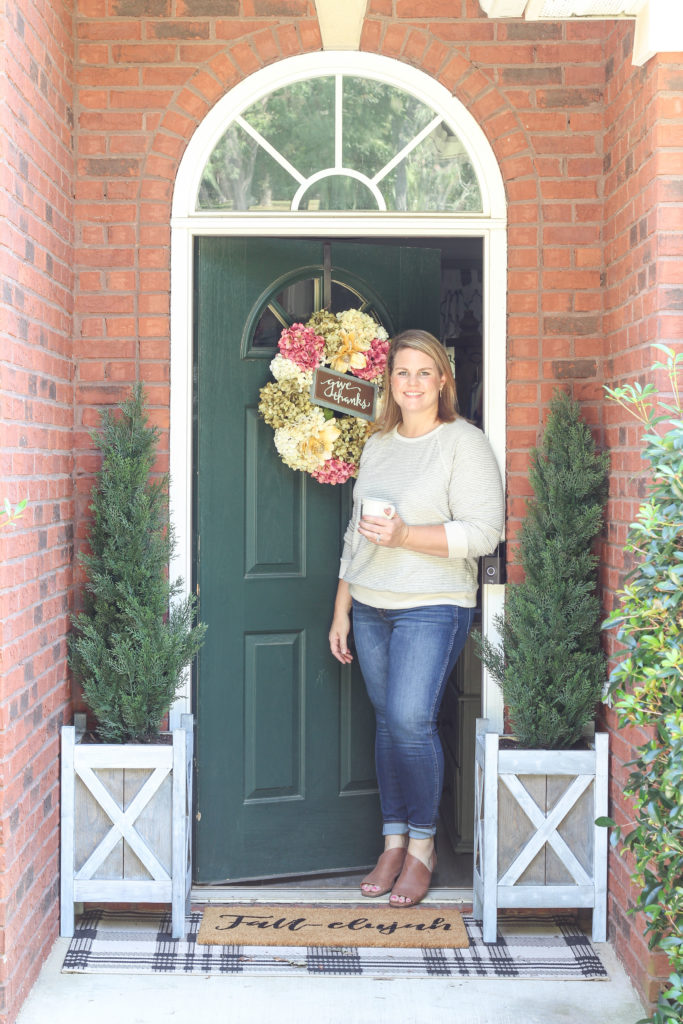 Miraculously I got the shot on the first try and didn't have to torture myself in the sweltering heat in order to get the perfect shot. LOL Another secret, though – I only put fingernail polish on one hand because I didn't have time to put it on both. And so I just put my other hand behind my back or by my side. I tell ya – the behind-the-scenes of this crazy life would be comical if anyone were videoing me try to get it all done.
But golly darn it!! Doesn't the above photo just make you want to come inside and have a cup of coffee with me? ☺️ We'll pretend that's what I was doing when I just hopped up and snapped this photo, mmmmkay?!
OK, let's chat about the home tour, shall we??
I shared my fall mantel with you last week and you got a peek at the living room along with it.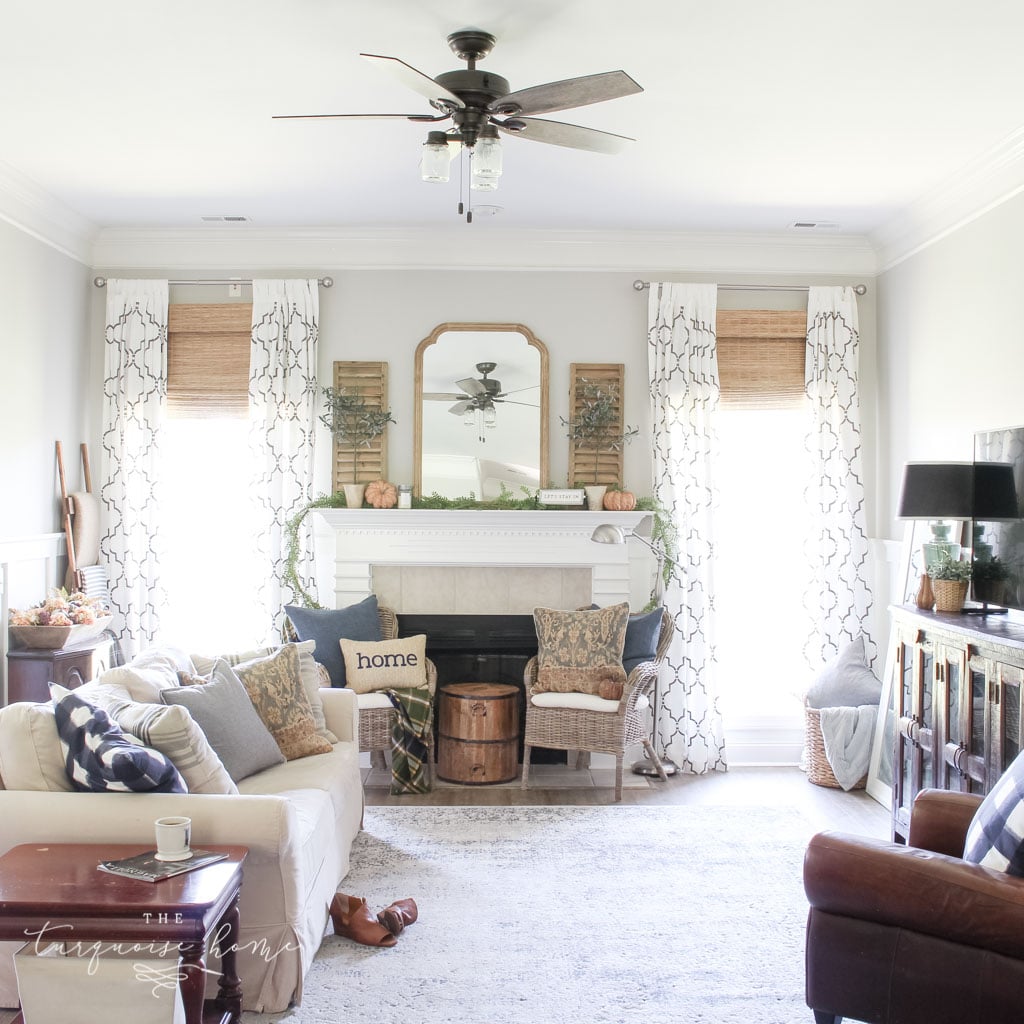 The kitchen is just to the left of the living room and pretty open to it. So, the first thing you see is my open kitchen shelves (which I DIY'd a few years ago).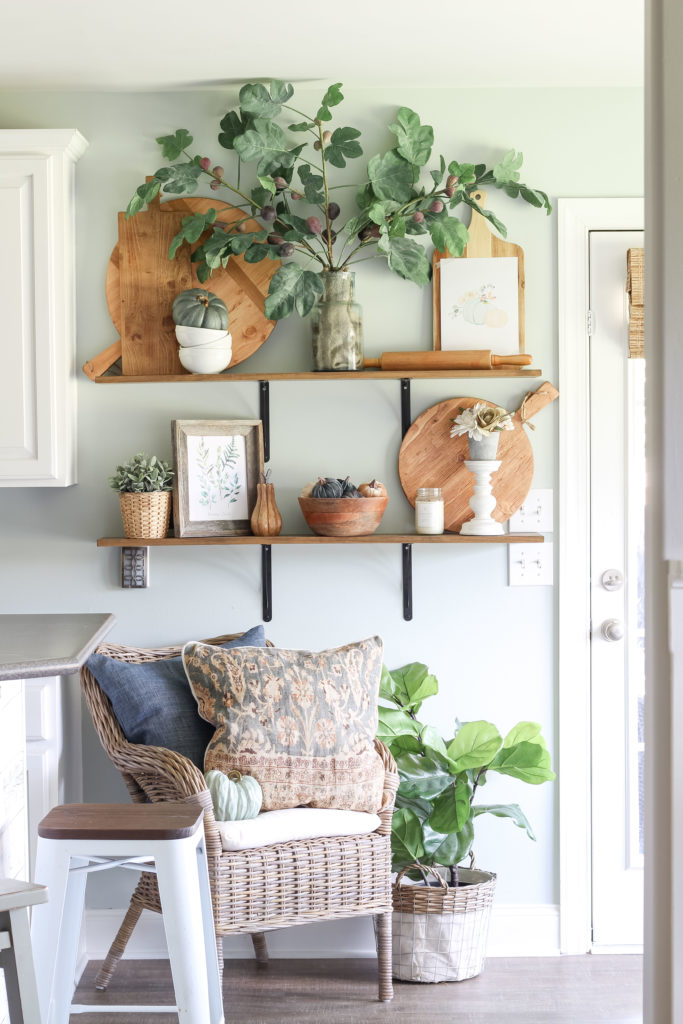 In the past I've filled up the shelves with lots of decor. A prime example – last year's kitchen shelves: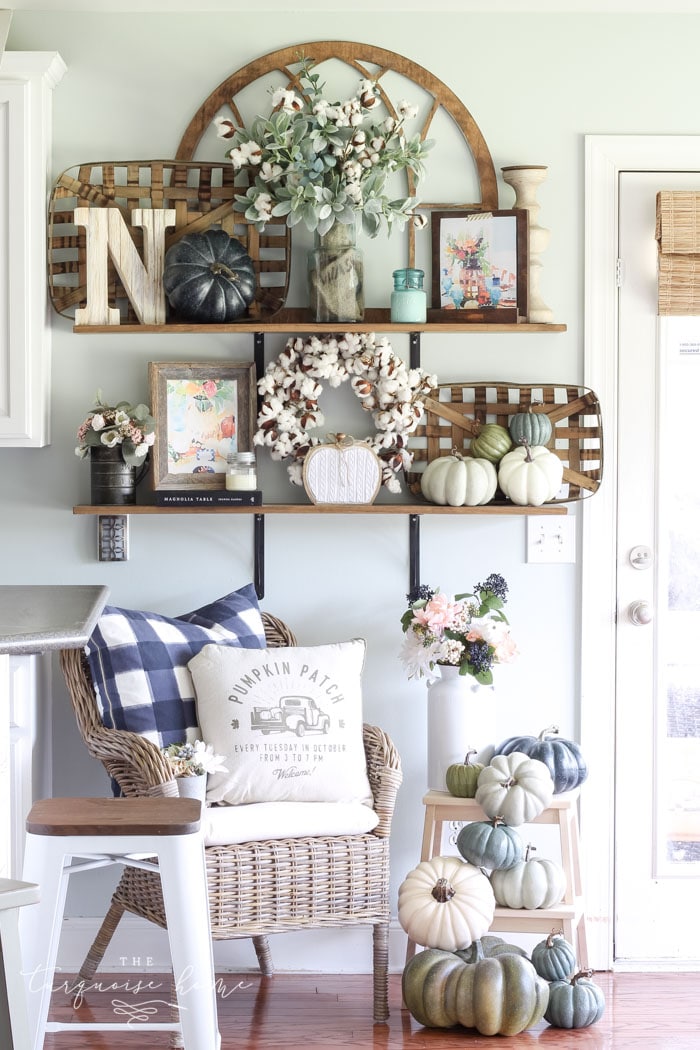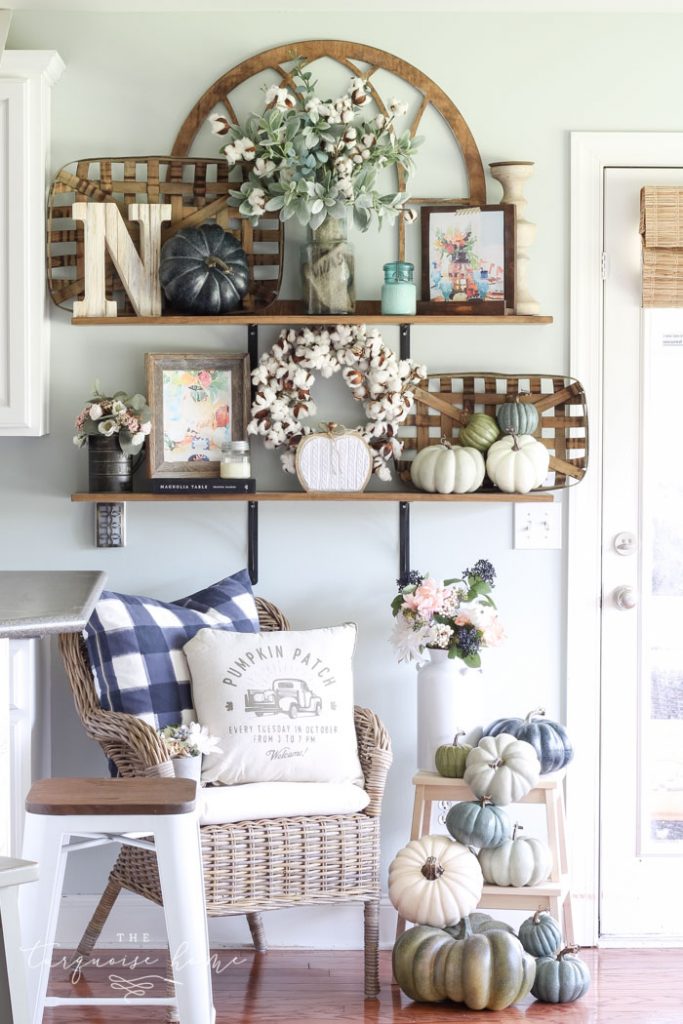 I just filled 'er on up! 😜 I loved them last year, though, and loved my cascading pumpkins. I quite like it. But I wanted a little more simple this year.
Also, I figured out that in the past I felt like I had to cover up the old telephone box, which was in the wall behind the printable art on the bottom left step. And then I had to balance out the rest of the shelves because I had to put so much in that corner.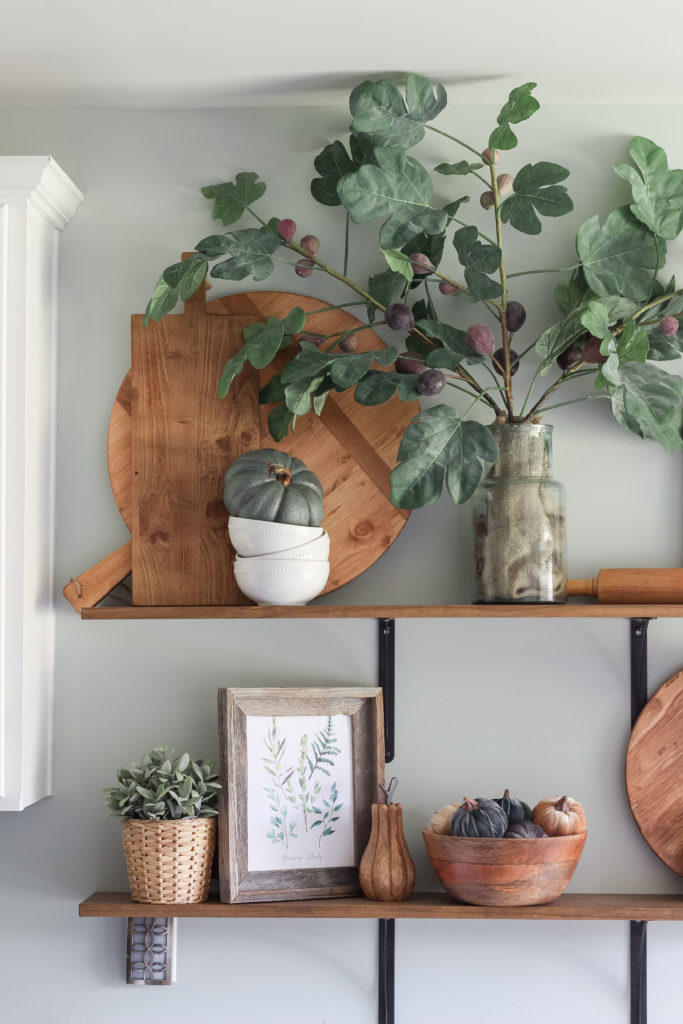 But we had the phone jack taken out when we had the walls painted as a part of the flooring being replaced this summer. So, I no longer feel the need to add a bunch of stuff.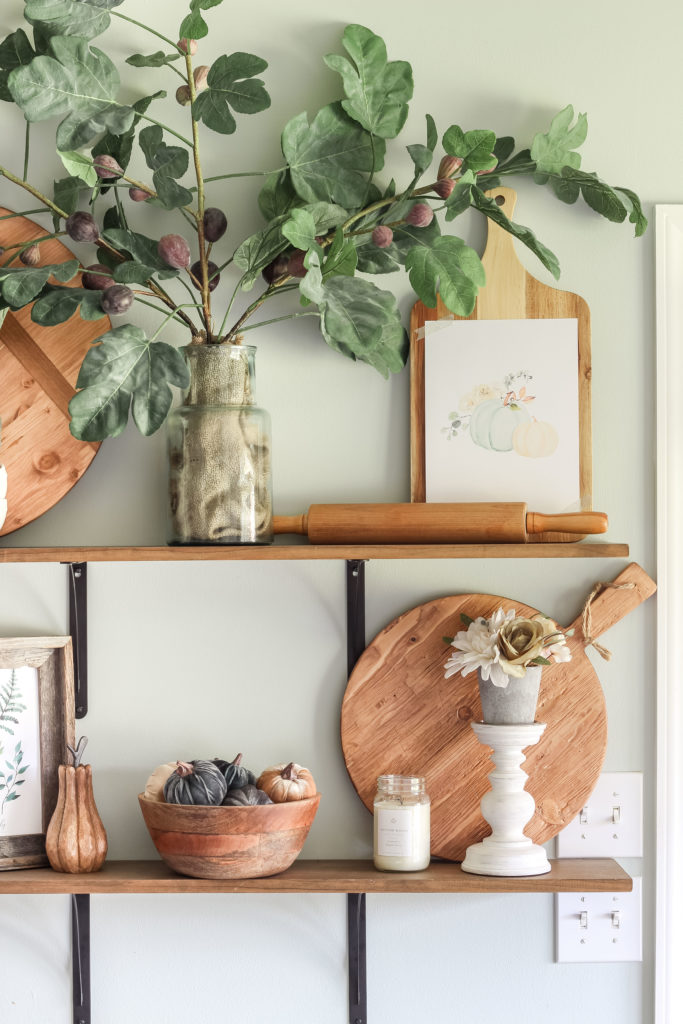 I really like a little less this year and just photographing the home in it's simple, natural state can be just as beautiful as a room filled up with season decor, in my opinion.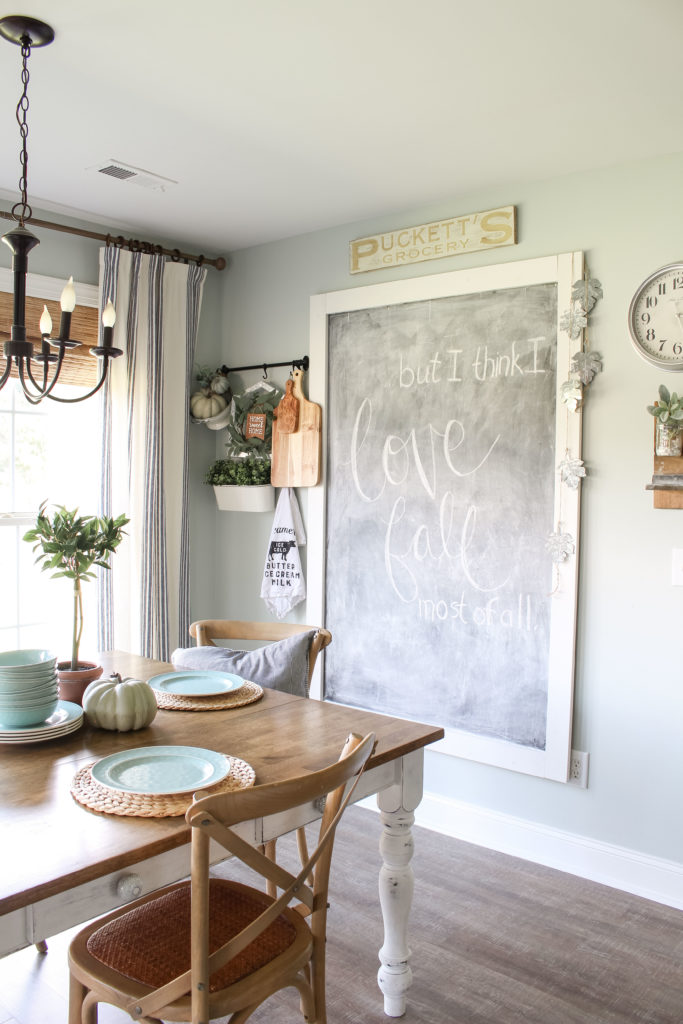 Now, I didn't just leave the home "as is," I definitely added a few fall touches, like writing a quick fall message on my DIY chalk board.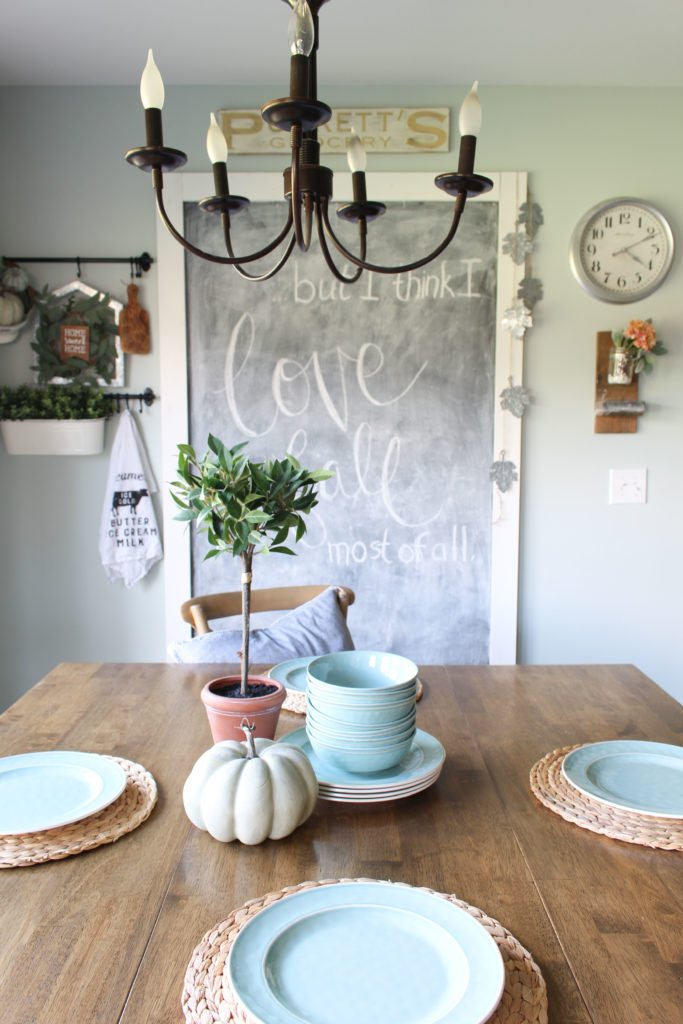 That's about it for my simple kitchen tour. If you'd like to see the other spots in my home dressed up for fall, check them out here:
I've also shared in the past about budget decorating, how to get organized in the fall and 11 ways to add Fall to your home!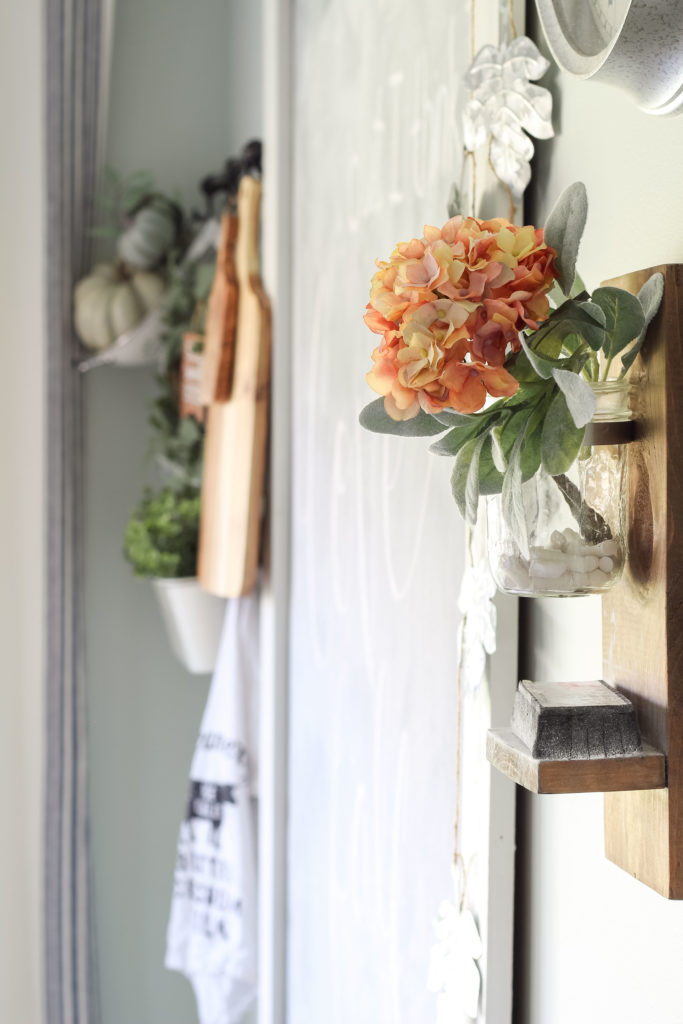 I hope you enjoyed taking a look at my fall kitchen – and I hope you'll take some time to hop around to the gorgeous home tours that are linked below, especially Doreen Corrigan's lovely home filled with beautiful greenery.
Shop This Fall Look:
Kitchen Nook
Kitchen Shelves
Front Stoop
Living Room View