The Best Fall Decorating Ideas for a Cozy Home
With fall comes changing leaves, changing weather and changing wardrobes. Fall is one of the most popular times of the year for decorating. I have many ideas for easy fall home decor that don't break the bank. Check them out here.
Fall is a much-loved season for many people as it brings with it cozy sweaters, warm drinks, and beautiful fall foliage. It's also an exciting time to refresh your home decor to embrace the feelings of crisp air and autumnal vibes.
Whether you're an avid fall decorator or just starting out, this post contains inspiring ideas and trends to elevate your home decor this season.
This post contains affiliate links for your convenience. See my full disclosure policy.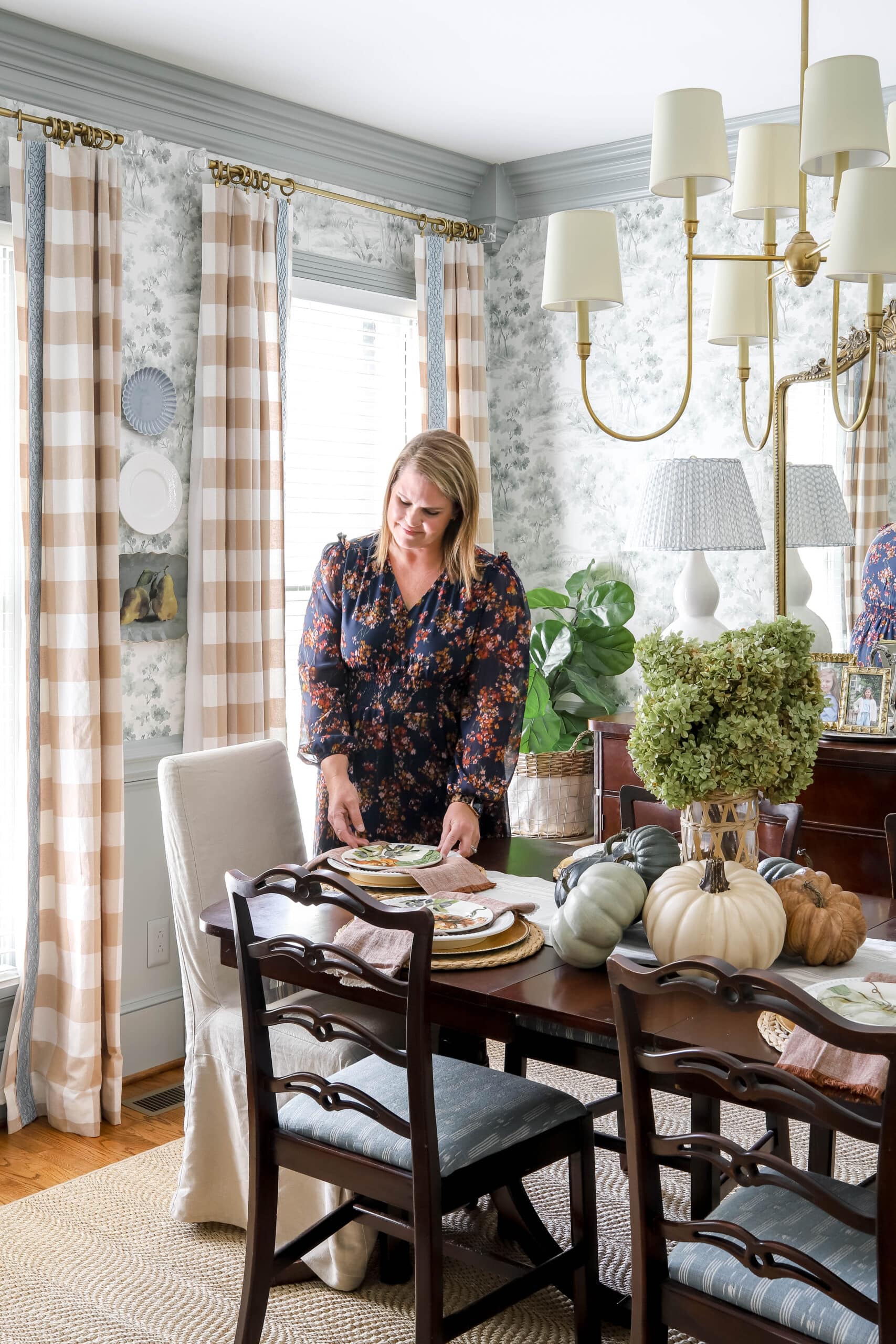 I've gathered so many tips from my own decorating for fall and Thanksgiving over the years to inspire you to decorate each room in your home.
And since it falls right before the holidays, it's not necessary to go overboard with autumnal decor. You can change out a few throw pillows, add some pretty faux pumpkins, change out some printable art and you're all set! I even have a simple starter guide for you below, if you don't know where to start!
Navigate this post by using the drop-down Table of Contents menu below. And don't forget to pin this for later so you can reference it again!
When to start Decorating for Fall
I firmly believe that you can decorate your home whenever you want, but September 1 is a good time to start. In some areas of the country, it may be cooler and some may feel like the summer. So whenever you feel like it's appropriate, I say start decorating!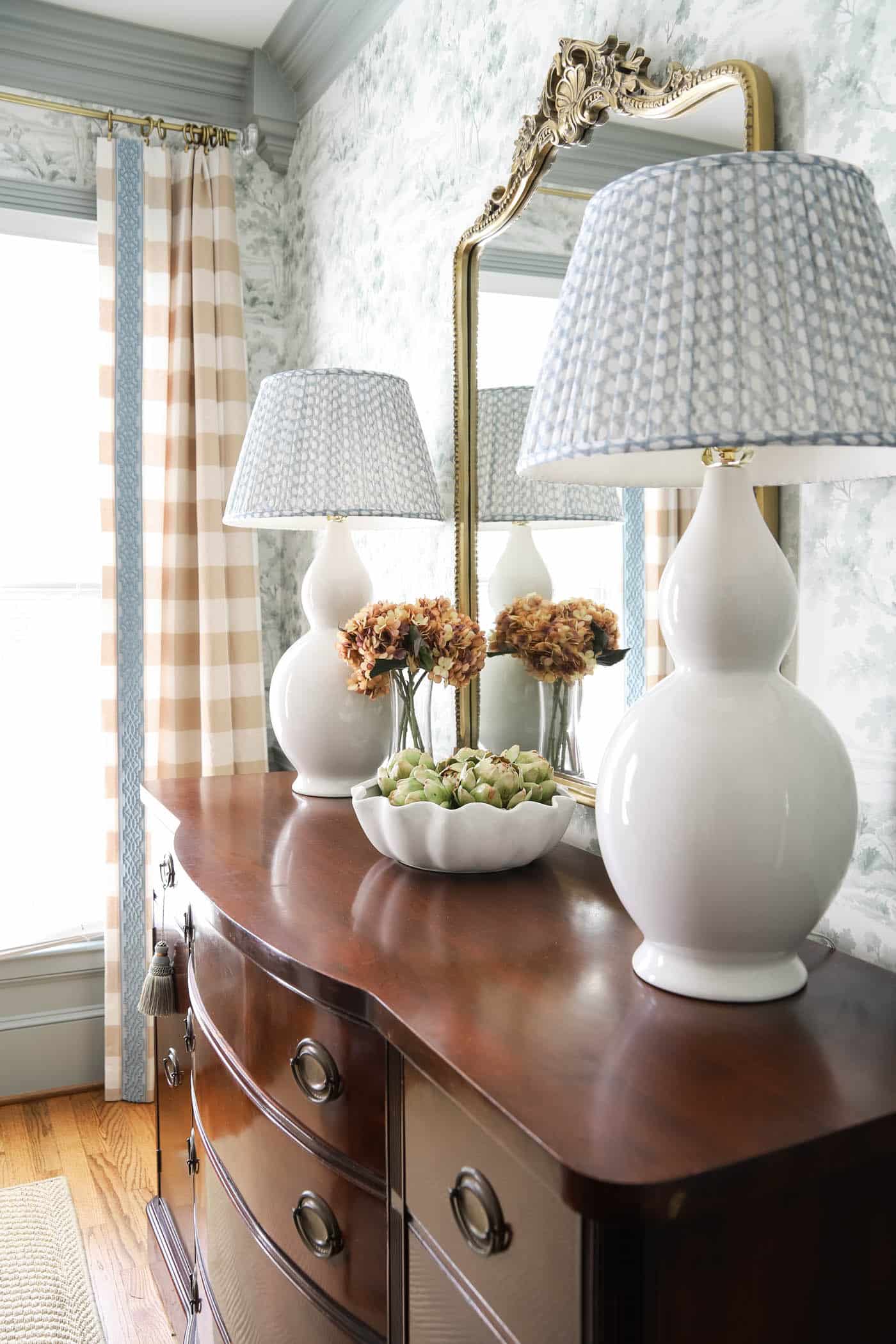 Fall Decor Starter Kit
If you are just purchasing a home, setting out on your own, or simply want to start decorating for the seasons, this fall decor start kit has all the essentials you'll need!
As I get older, and have spent years decorating my home for each season, I've realized that there are "essentials" that I change out every season. And I've grabbed a few of those for you if you want to have a "capsule wardrobe" for your decor.
Decorate for Fall on a Budget
Gather leaves and branches from outside for decorate for fall on a budget! Follow some of these tips to decorate your home on a budget.
Pick dried limelight hydrangeas and put them in a vase as a centerpiece. (No water in the vase!)
Collect leaves and acorns and fill a vase or bowl!
Throw out your pumpkins every year and watch new ones sprout up in their place next year.
Place apples in a tray or bowl for a pop of fall color, or line them up in the middle of a table for an inexpensive centerpiece.
Best Ideas to Decorate for Fall by Room
Change Out Fall Decor in the Living Room
1. Swap Pillow Covers
The first thing I do every season is change the pillow covers on my sofa. It's so easy to keep the same neutral, large pillows and then change the smaller accent pillows for every season.
2. Add Fall Stems and Flowers
This is a great way to add color and texture to your home with autumn stems and fall foliage. I've had the same stems for years and bring them out every fall!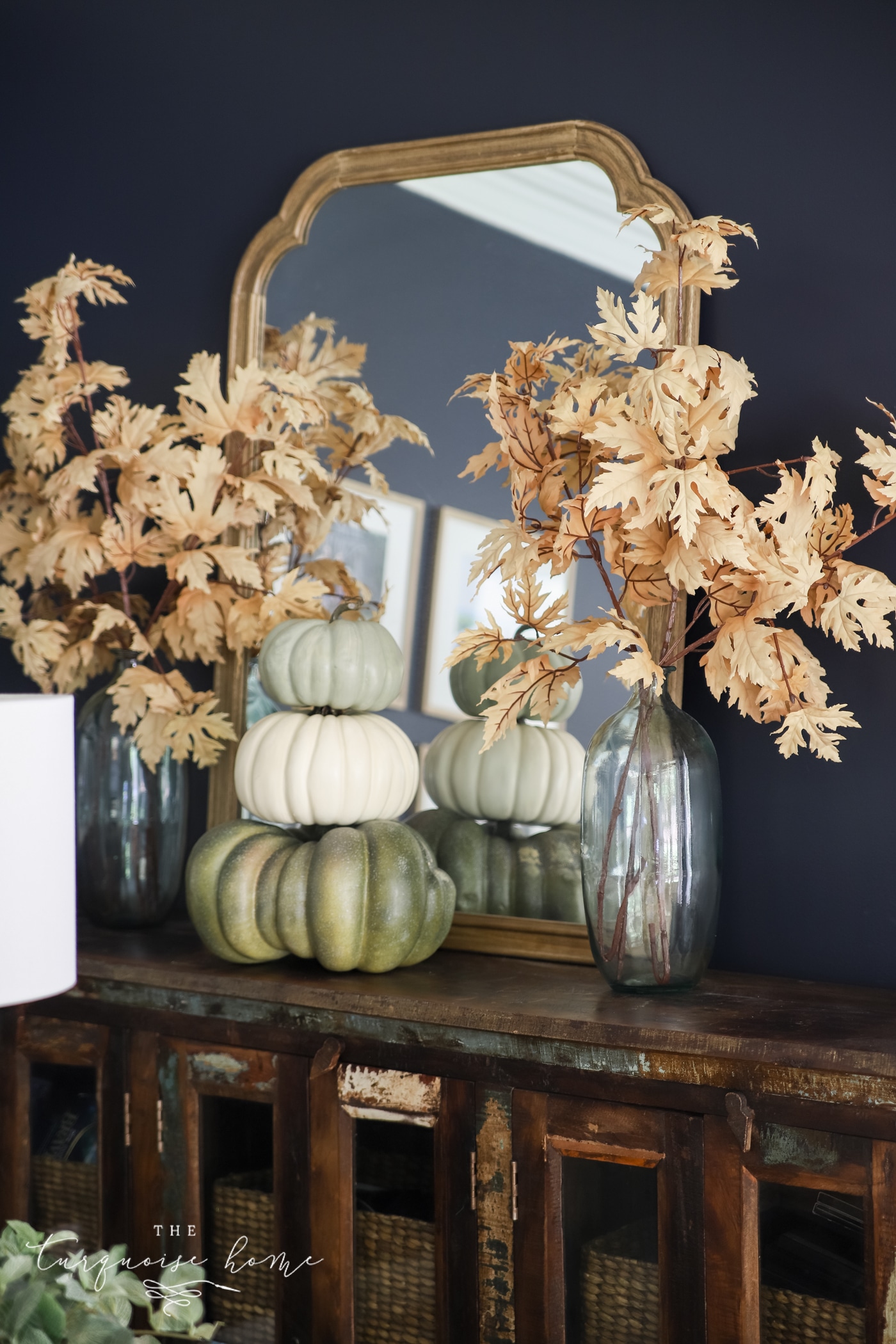 3. Warm and Earthy Colors
Fall is all about warm, earthy hues that create a cozy atmosphere in your home. Embrace these colors by incorporating ochre, rust, deep browns, and olive greens into your decor. Add a rust-colored throw or throw pillows to your couch or bed, or update your curtains or table linens in a deeper hue.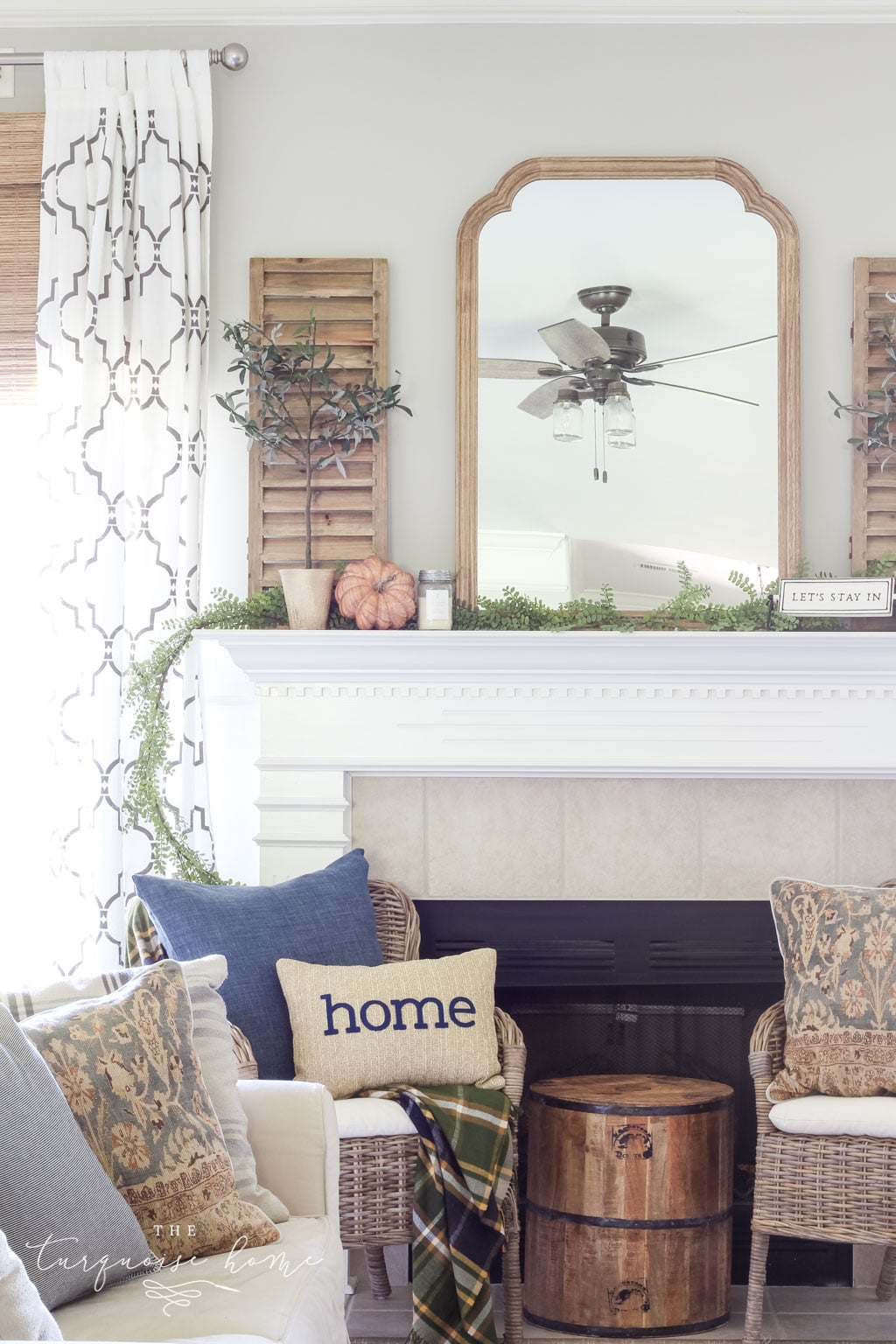 4. Mad About Plaid
Plaid just screams fall, so I love to have a couple of plaid throws in autumn colors to have around my living room. Since the view from my front door is of the back of my sofa, I like adding a plaid throw blanket to the back of my couch!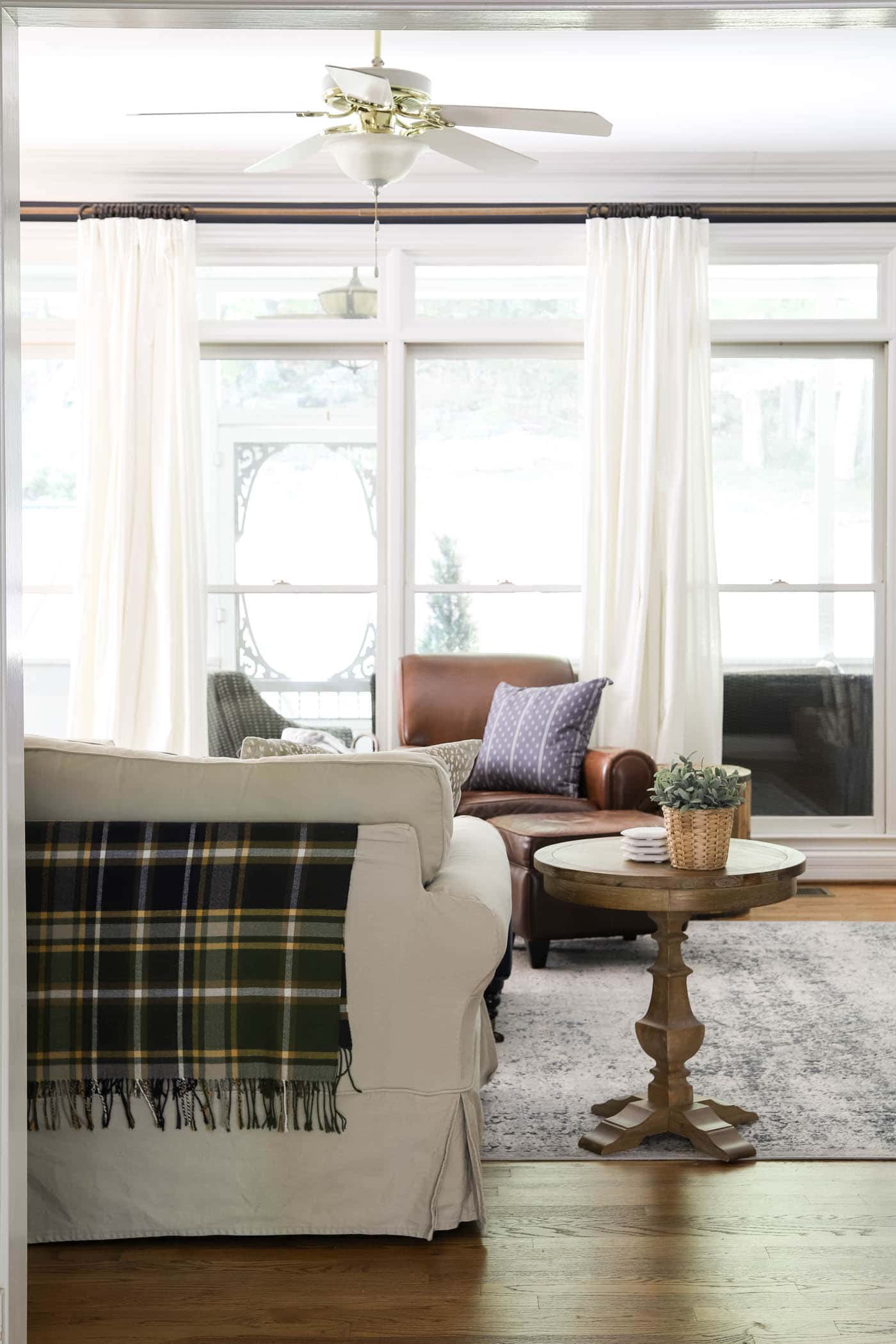 5. Fill a Bookshelf with Pumpkins
The living room is easy to update for fall decor. Change out the pillow covers on the sofa, or add some faux leaf stems in a vase. Add a plaid blanket to the back of the sofa for a pretty pop of color, and some pumpkins to your built-in bookshelves.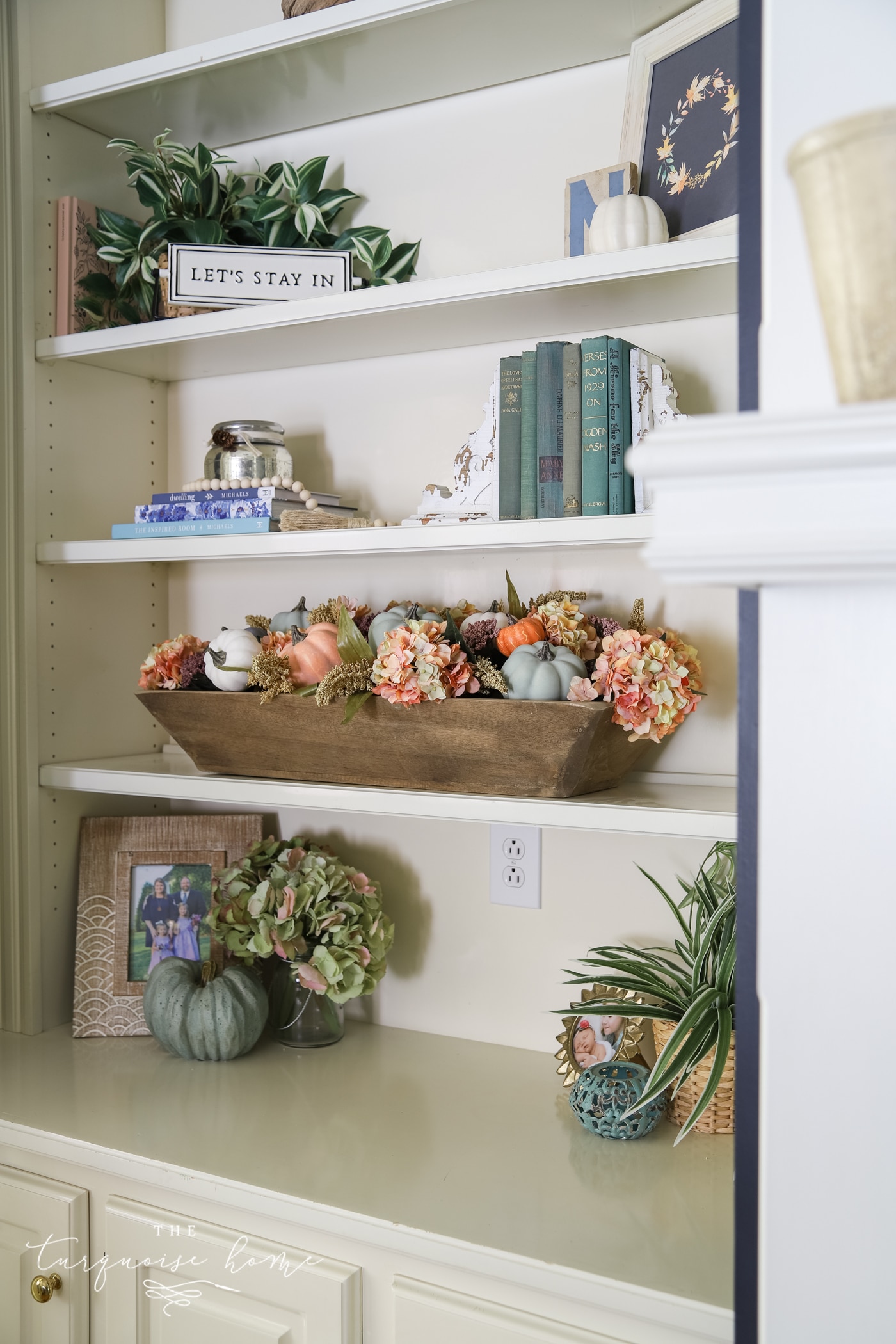 6. Change Up Your Art
One of the best and easiest ways to update your living room for fall is to change the art on your Frame TV. It's inexpensive to change the art for every season and a beautiful way to add seasonal decor to your living room or family room! Read my Frame TV Review.
I also have so many fall free art printables you can choose from:
7. Update the Mantel
If you don't have a TV above the fireplace mantel, it's always fun to change the decor for the seasons. I used to make a big display, but you could keep it simple and just add some pumpkins to what you alrrady have!
Fall Dining Table Decor
Decorating a table with a beautiful fall centerpiece is an easy and budget-friendly way to cozy up your home! Try one of these Thanksgiving Dinner Tablescape ideas and don't forget the free conversation printables, too!
8. Faux Fall Foliage Centerpiece
Fall centerpieces can be as simple or fancy as you can imagine. One of my favorites is the hydrangeas and pumpkin on a dough bowl centerpiece. It's beautiful, easy to make, and can be reused year after year!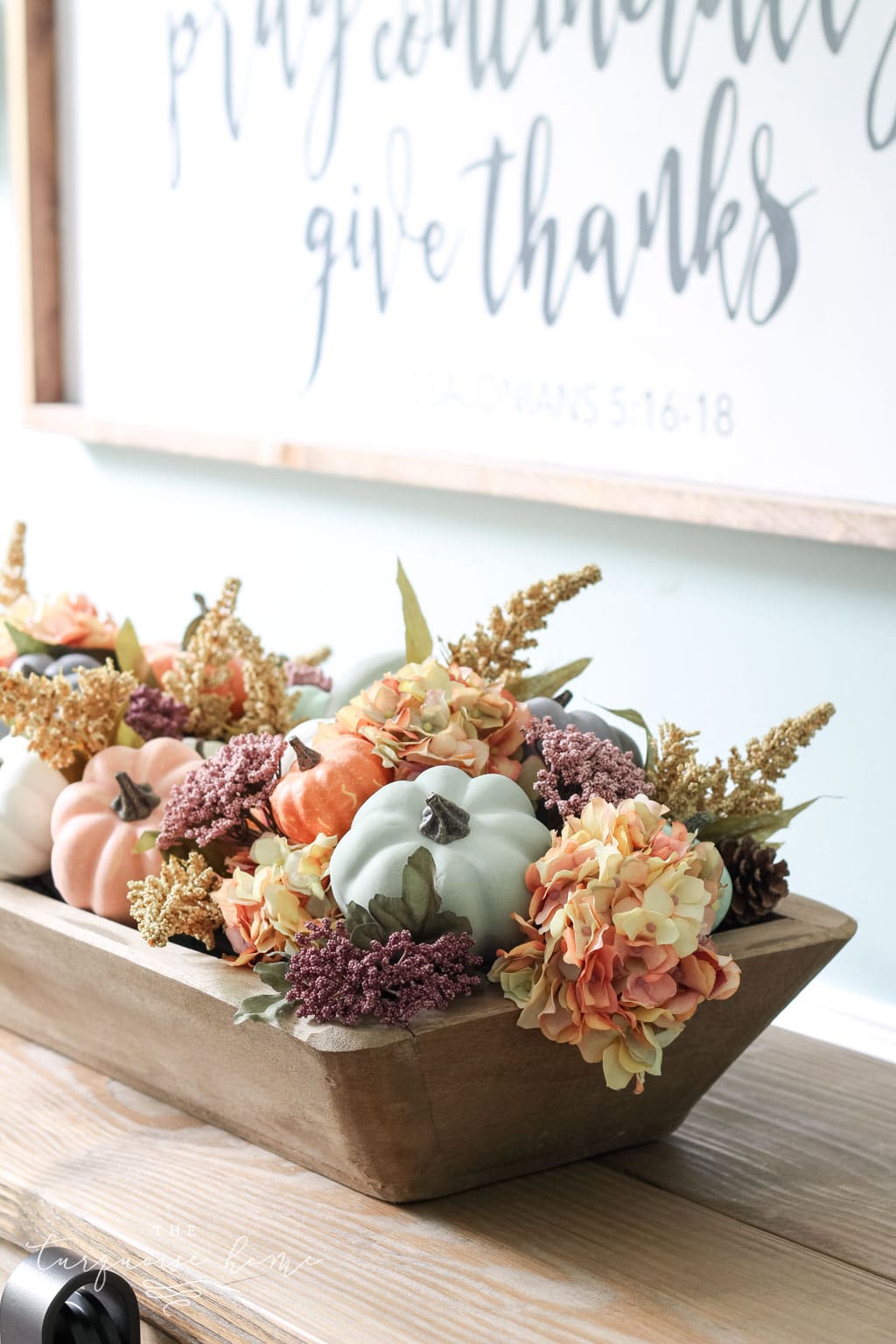 But if you want to create a beautiful tablelescape for Thanksgiving or any gathering in your home, keep it simple with a few pumpkins piled up in the middle, a bundle of wheat and/or candles. Or use a floral arrangement with jewel-tone blooms.
9. Add Dried Flowers to A Vase
Cut some hydrangea stems and let them dry in a vase for a gorgeous and organic fall centerpiece on the table. It's the simplest and cheapest way to dress up any space for autumn!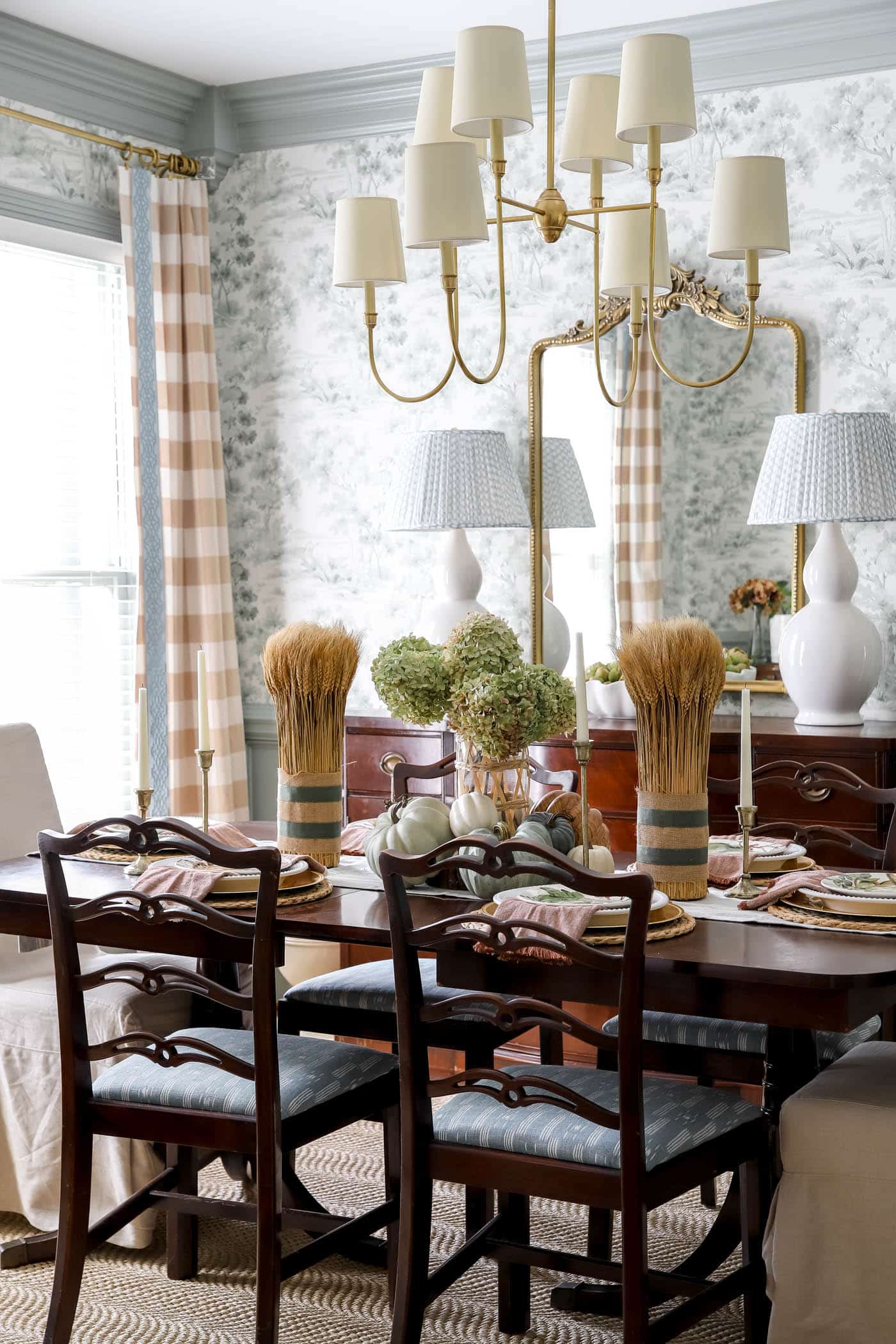 10. Change out the Salad Plates
One of the quickest, easiest and least expensive ways to dress up a table for the new season is to add a seasonal salad plate! You can keep everything else on the table neutral and basic, but by swapping out the salad plates, you have a whole new look!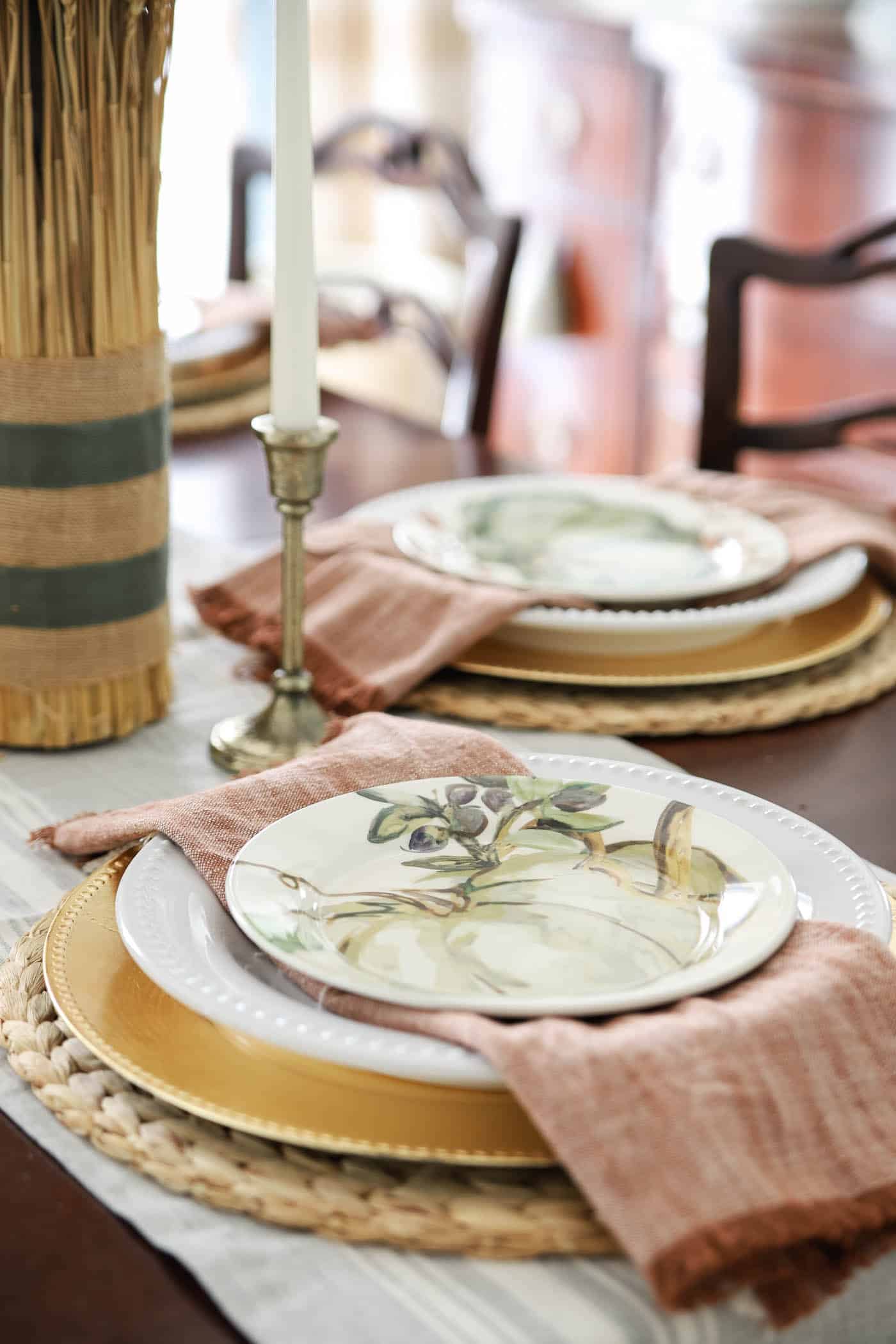 11. Cover Pumpkins in Fall Patterns
Use a simple paper napkin in a fall pattern and recover some cheap pumpkins for a quick DIY fall look! If you put a bunch of them in a bowl or long tray, it'll make a beautiful centerpiece or display.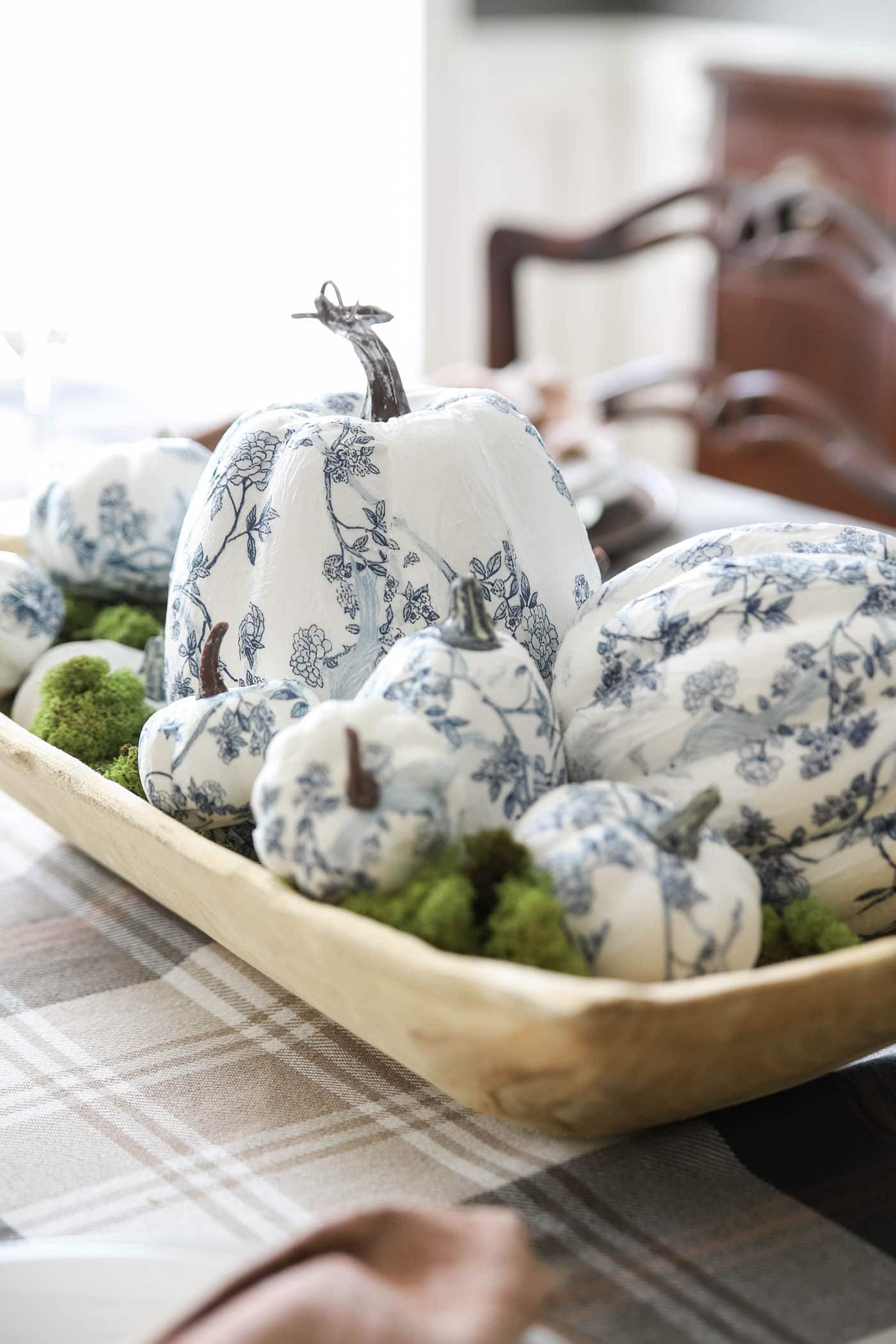 12. Bring Conversation Starters to Thanksgiving
If you find yourself dining with distant family, or just need to get the topics going, use these conversation starters at the holidays.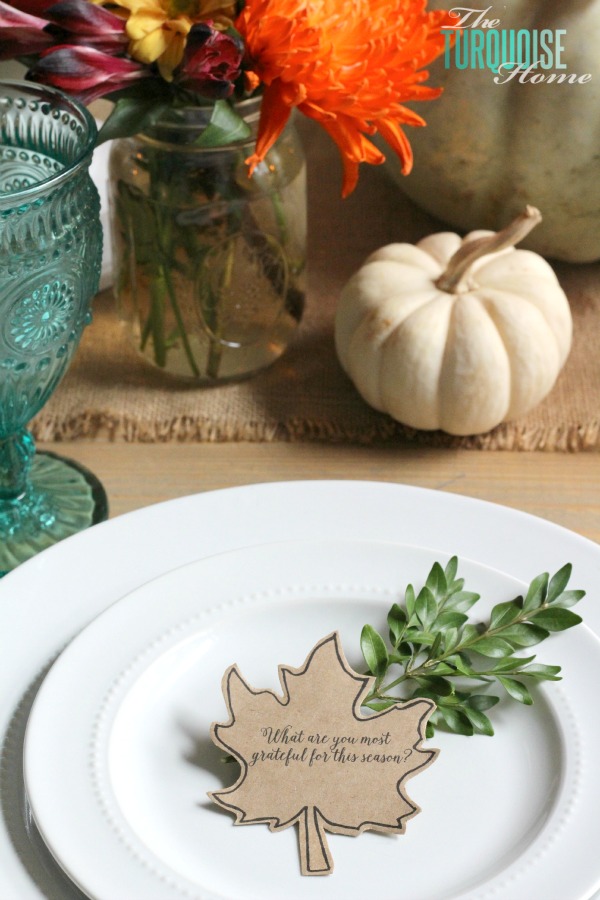 Fall Decorating Ideas for Outdoors
The simplest ways to decorate the outside of your home for fall is by adding a fall foliage wreath to the front door and some pumpkins and mums to the porch! You can go all out with more decor than that, but a few simple items go a long way!
13. Add a Fall Wreath to the Front Door
This is another fall favorite: every time the season changes, it means it's time to change out the front door wreath. I've made a beautiful hydrangea wreath for fall, but I recently bought this gorgeous wreath with autumn foliage on it. I love it!
14. Welcome Guests with a Fall Doormat
It's so fun to change the front porch doormat out for each new season. I love to do a fun saying or pretty design for the fall!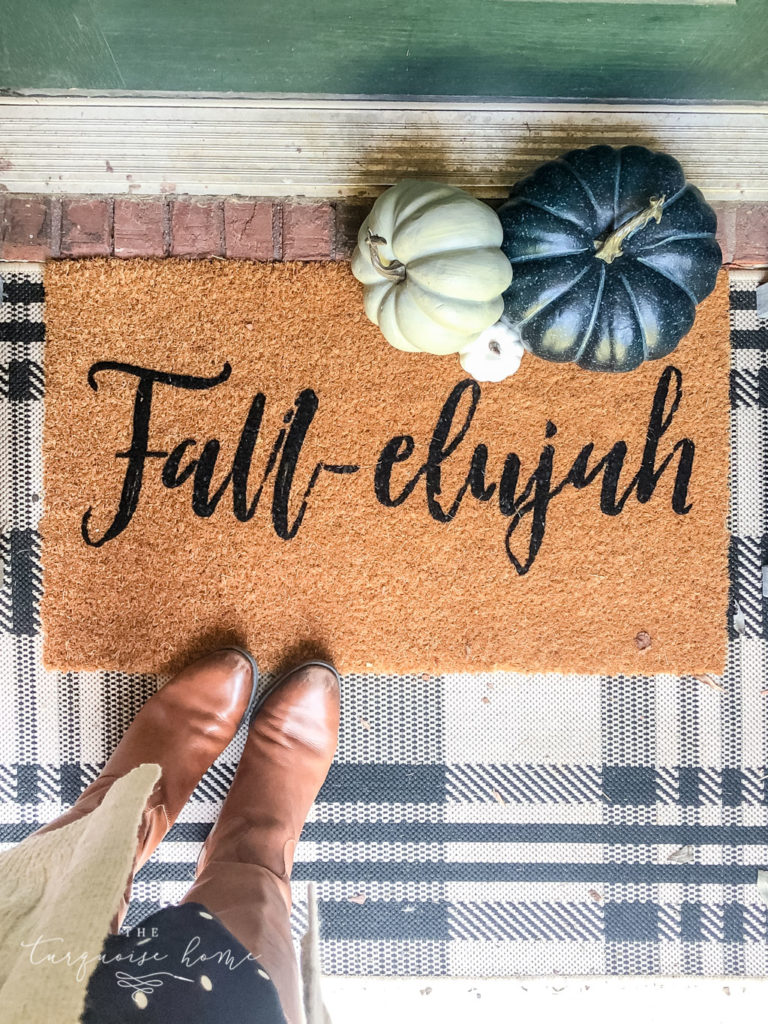 15. Bring Pumpkins and Mums to the Porch
Achieve a classic look by placing pumpkins, gourds and hydrangeas on the front porch or cascading down the front steps. I'm starting to collect faux pumpkins that can be used outside and can be reused year after year! And mums are staple of fall.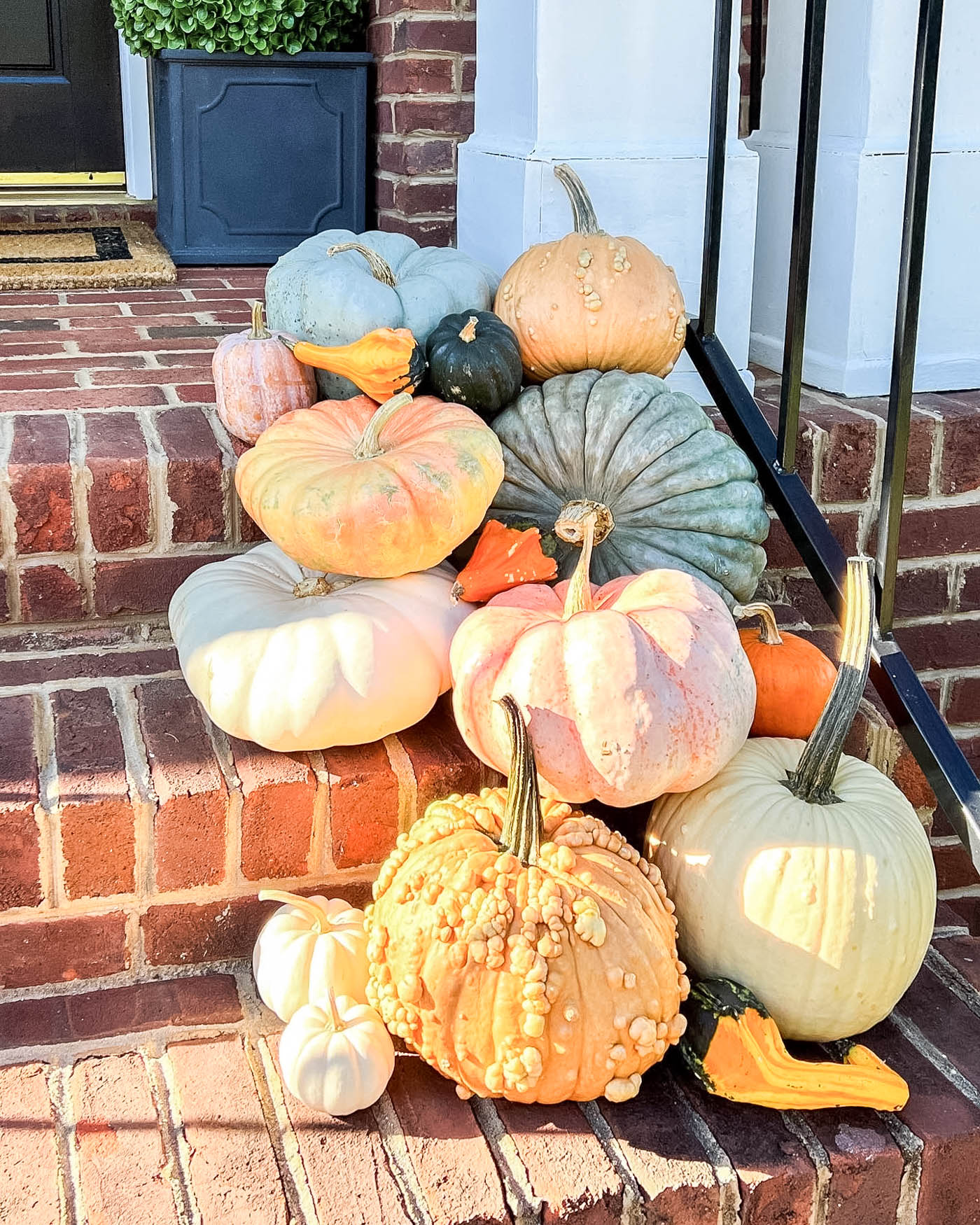 Mix together green, orange and white pumpkins together for an interesting vignette!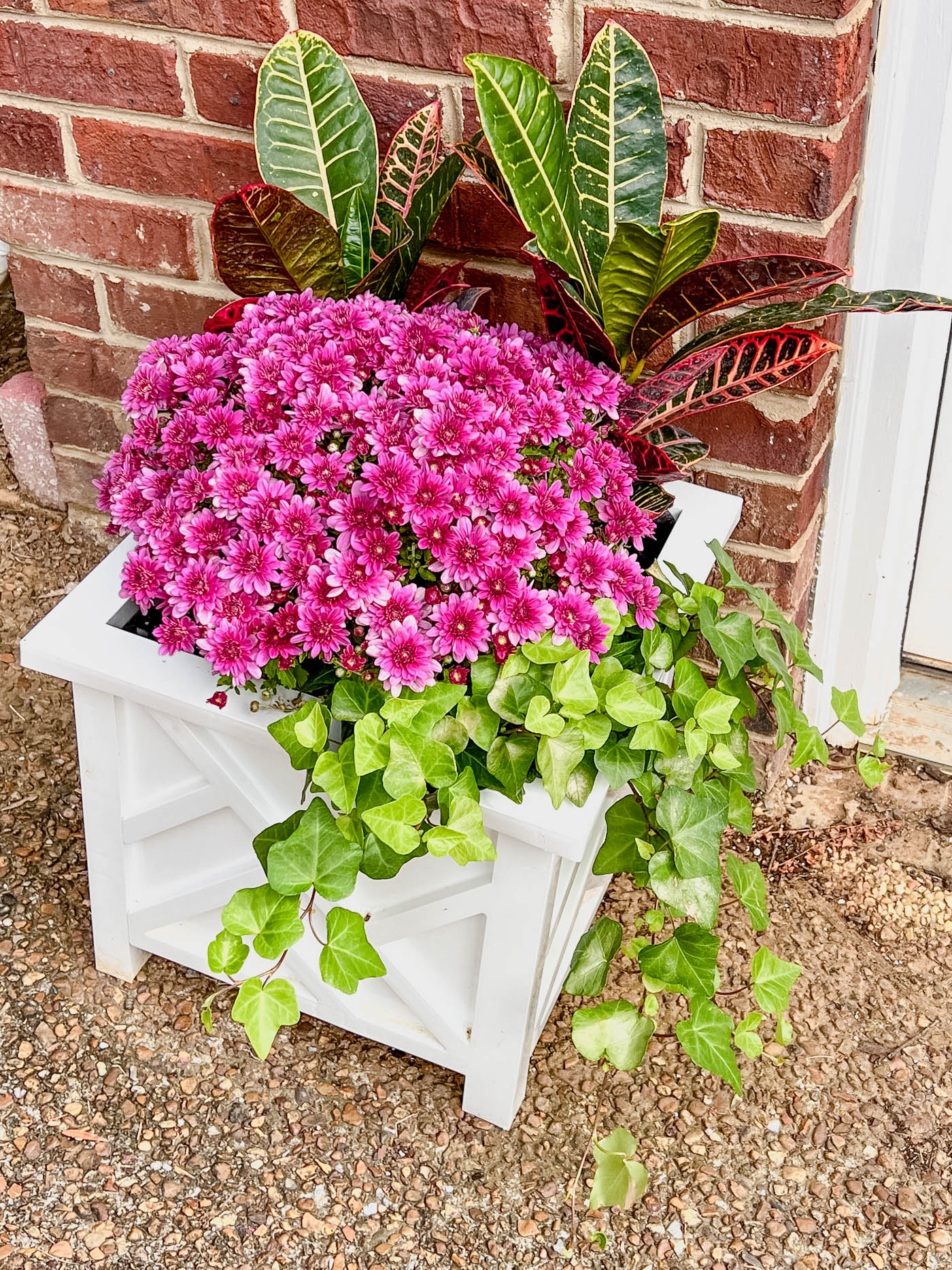 Fall Decor in the Kitchen and Dining Room
16. Vase with Fall Stems on the Island
A really easy way to decorat the kitchen while making it easy to move out of the way, is to create a vignette in a tray. This simple tray with a vase, stems and pumpkins can easily be moved off my island when I'm ready to cook!
But, it adds so much to the look and feel of the space when I'm not cooking!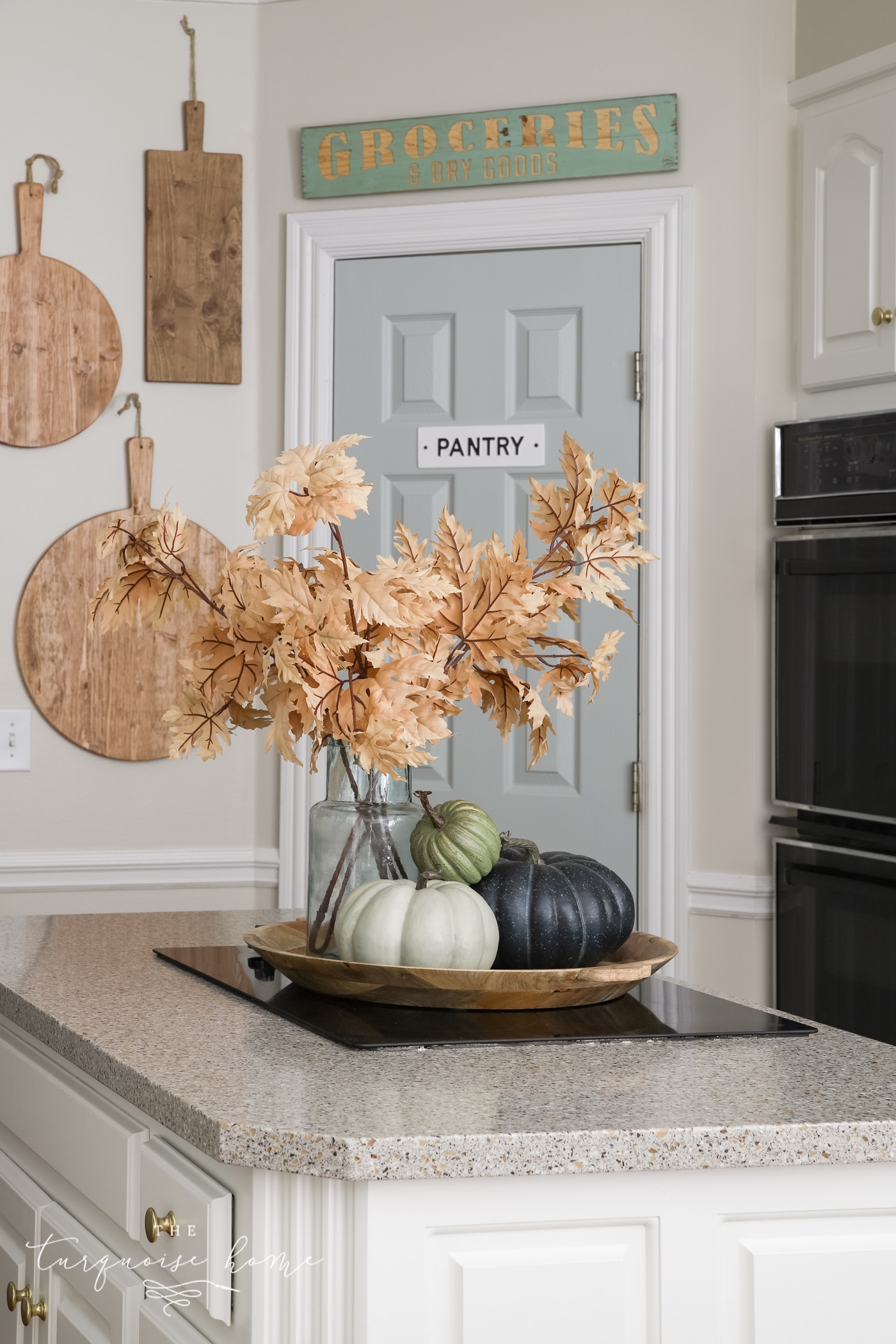 17. Make Fall And Thanksgiving Recipes
Obviously, this time of year is all about the comfort food! And while food isn't decor, it does bring the cozy smells and feels into the kitchen! A charcuterie board is both beautiful and delicious, right?
Some of my favorite Thanksgiving recipes include pecan pie, hashbrown casserole and cornbread dressing.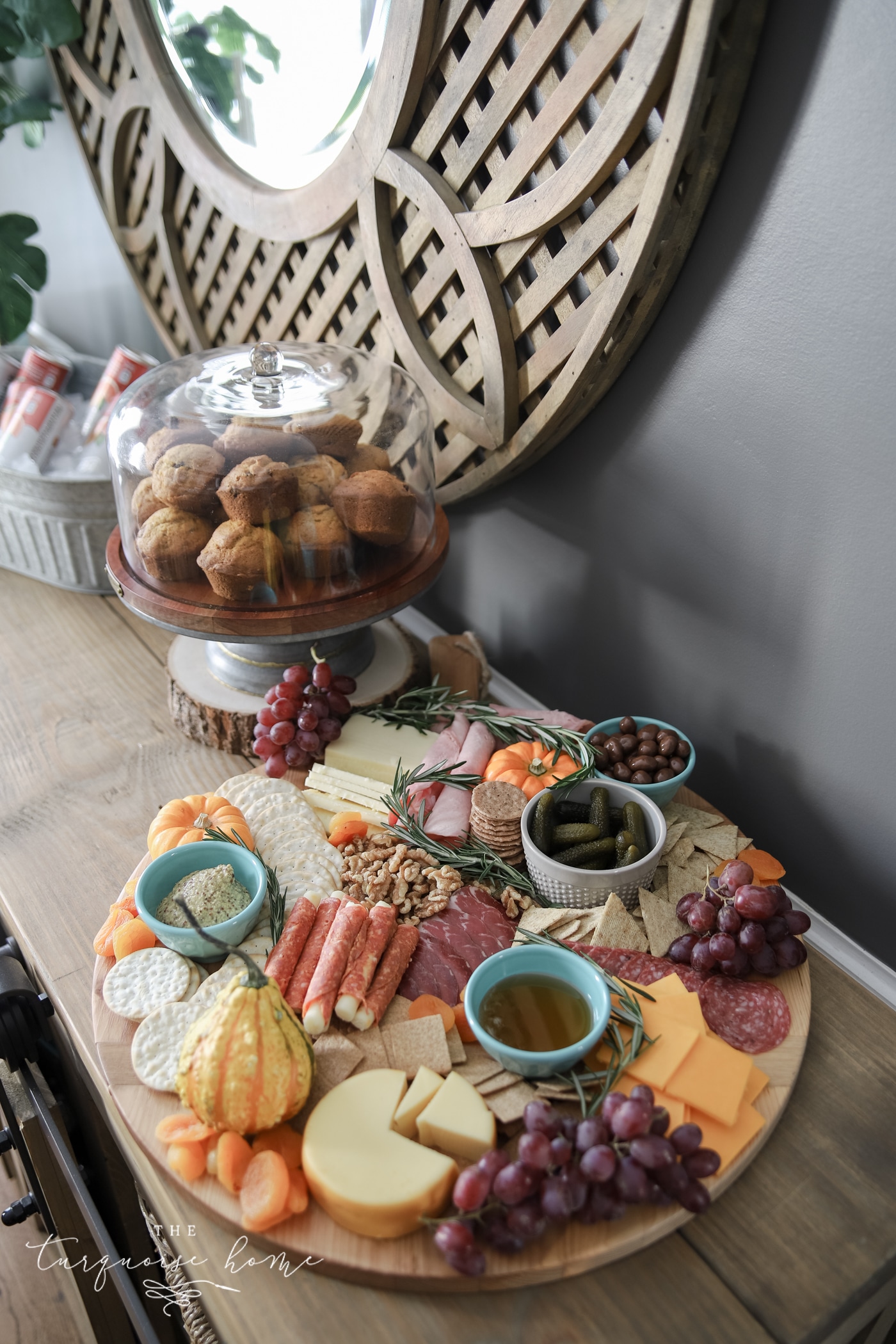 More fall recipes you will love:
Where to Buy Fall Decor?
Find places that sell what we're talking about! I shop all of these stores for my fall decor.
Final Thoughts
I hope you got some inspiration for decorating your own home for fall. Enjoy the beautiful new looks in your home as we welcome the cooler weather, pumpkin spice lattes and football!
More Posts You Will Love: