The Best Gifts for the Home Decor Lover
Do you know someone who loves home decor and you want to buy them the perfect gift this year? Look no further! I have everything you could possibly want for your home decor loving girl right here. And if YOU are the one who loves all things home decor, take note!
Now, these gifts are not necessarily home decor. I wanted to pick out function gifts that are beautiful, too! It's never a bad idea to look for pretty items that you use. I find that when everyday items are also beautiful, it just makes my day brighter!
This post is sponsored by Walmart and includes affiliate links for your convenience. See my full disclosure policy.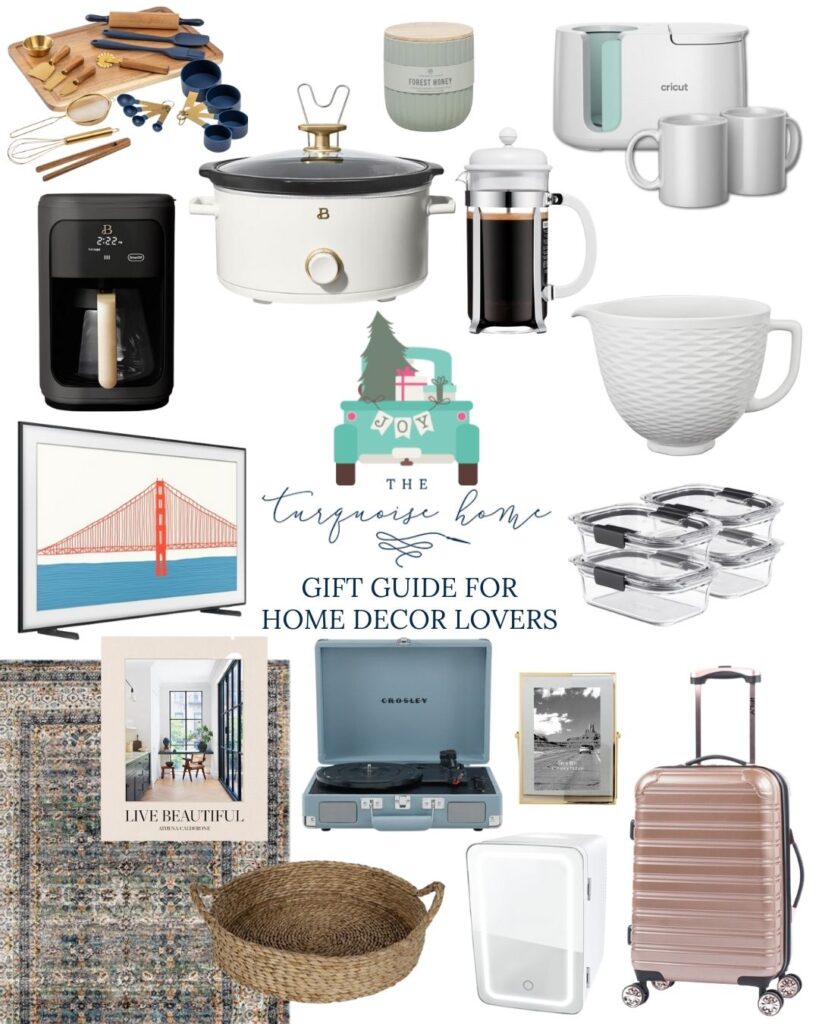 Baking Set & Wood Cutting Board | Candle | Mug Press Machine | Coffee Maker | Slow Cooker | French Press | Textured Ceramic Mixing Bowl | Frame TV | Food Storage Containers | Area Rug | Live Beautifully Book | Round Basket | Record Player | Gold Picture Frame | Mini Fridge | Luggage
Being surrounded by beautiful things can never be underestimated. And hopefully this gives you some ideas for people on your list who love beautiful things!
I found all of these ideas at Walmart Home. I love how convenient it is to shop there! And Walmart offers free 2-day shipping on orders above $35 (or on any orders if you're a Walmart+ member, like me) and free returns! Shop all home gift ideas here!

Gift Ideas for the Home Decor Lover
This set is perfect for someone moving into a new home or going away to college! The navy, gold and wood tones are just gorgeous!
You can never go wrong with a beautiful candle that doubles as decor!
This would be such a cool gift for the crafty person in your life! She can make designs for a mug and create her own beautiful mug collection. My pre-teen daughter would love this gift!
What a stunning piece of art for the coffee lover!
Think about the person who loves to eat home-cooked food, but is too busy to make a 3-course meal every night! This slow cooker would be so pretty to even leave on the counter!
Another great gift for the coffee lover in your life!
If you know someone who loves to bake, this would be the perfect mixing bowl for her Kitchen Aid mixer. I've wanted one for years. How gorgeous to leave on the counter?!
If you know me at all, you know I love the Frame TV hanging above my mantel. It displays art when it's not on and looks like art instead of a big black box on the wall. I know this is a more expensive gift, but it might be the perfect gift for someone you love! Or maybe something you can go in together with a group of people for someone.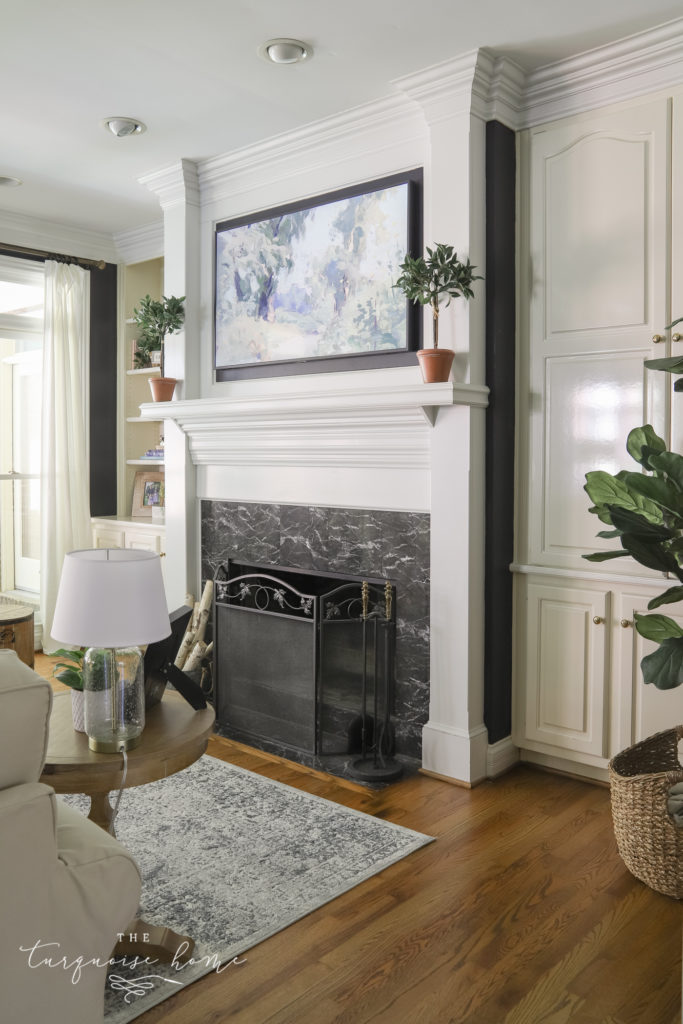 I know this might be a funny gift. But if someone you know loves practical things, this is a lovely option. I have these exact storage containers and love how they stack so nicely in the fridge. I always reach for them first!
This is another gift that might be a little out there, but what a beauty?! If you know someone really well, this rug could be perfect!
What's better than a beautiful coffee table book full of gorgeous home decor? I recently bought this for my home and it's gorgeous sitting on the table behind my sofa.
There's no such thing as too many baskets! Fill it up with whatever your friend or family member likes and you have a perfect gift that can be reused over and over again.
I love the retro look of this adorable record player, perfect for the person who loves vintage music!
A picture frame with a special photo in it is always a good choice!
This is for the skin care enthusiast in your life! Now, you may be wondering what a cute mini fridge is for, but I have one of these in my bathroom and use it to store my skincare. It's cute enough to go on the counter and keeps my eye patches cool!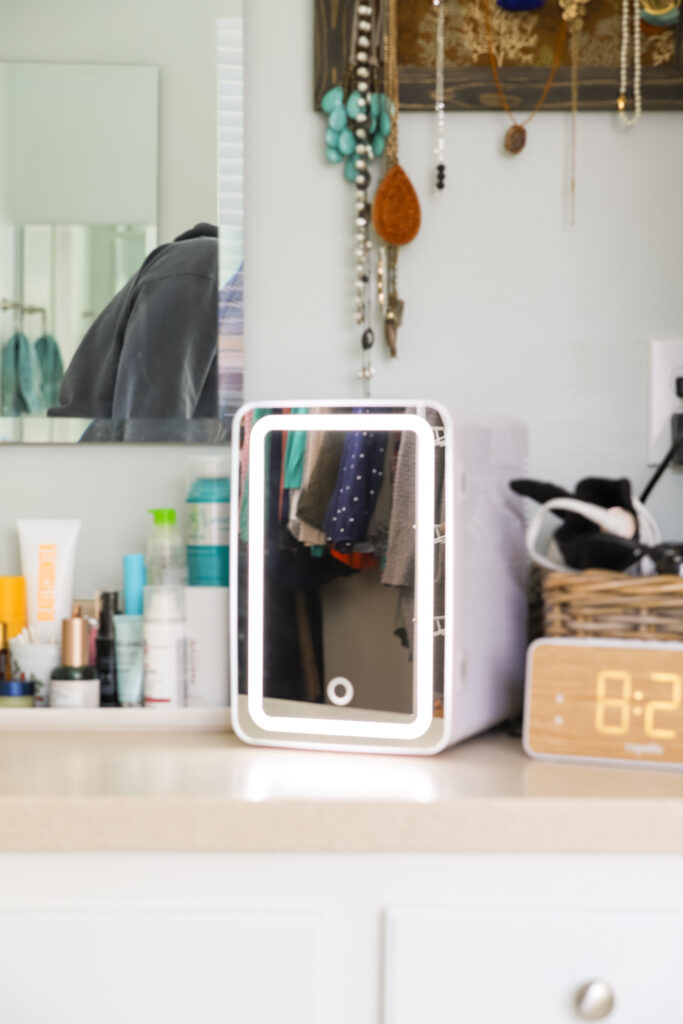 An adorably pretty piece of luggage is the ideal gift for the traveler in your life.
Check out all of these ideas and more below:

---
I hope these ideas got your wheels spinning for the perfect practical, functional, yet beautiful gift for someone you love!
Which gift is your favorite?
If you have a favorite that's not listed here, let us know in the comments!