Traditional Dining Room Design Plans
I gave myself one big home goal for the last few months of this year, and that was to come up with a design plan for my dining room makeover. And I think I've finally figured it out – with some help!
Let's take a look at how this room has evolved since we moved in almost two years ago.
When we got here, the walls were a pistachio green color. Pretty, but not my cup of tea.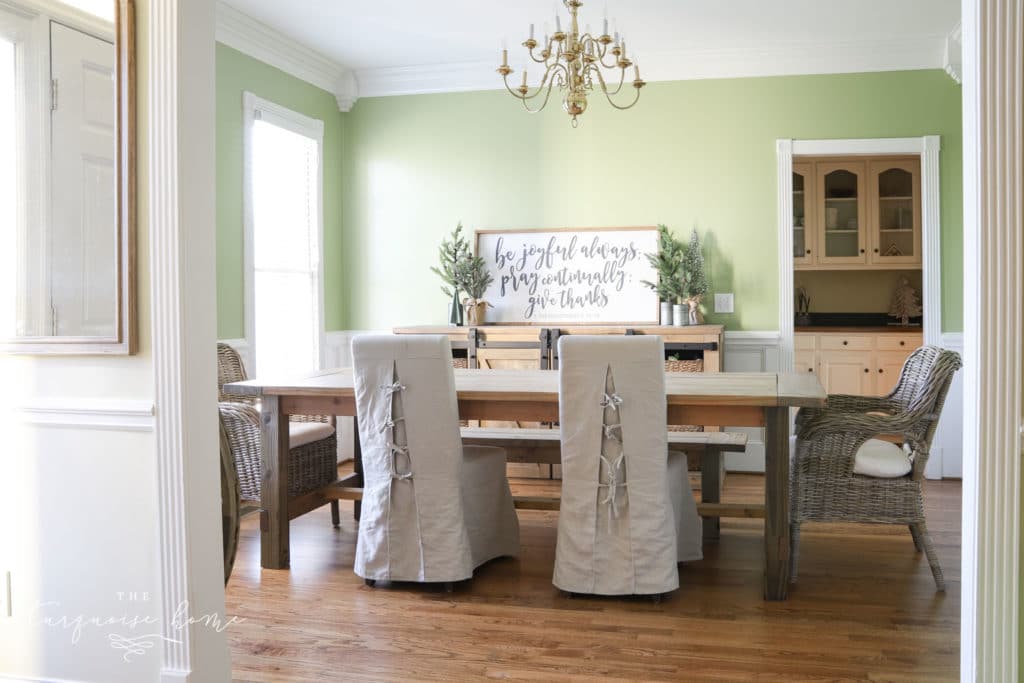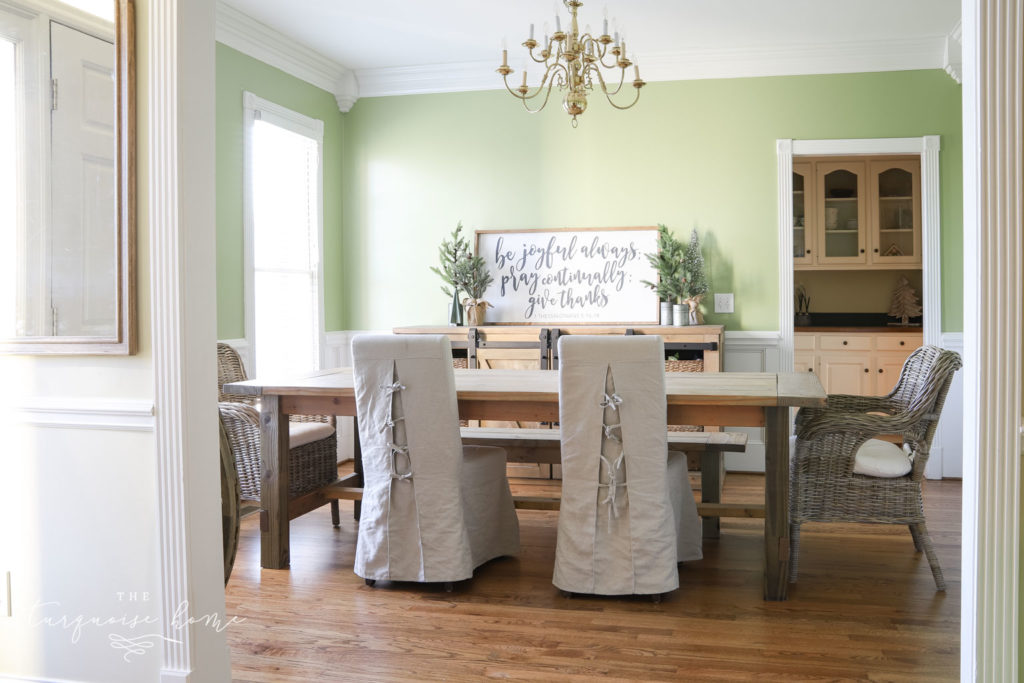 I immediately knew that I had to paint the walls. It's funny to me now how the room is going back to its roots with a green paint color, but we'll get to that later. ☺️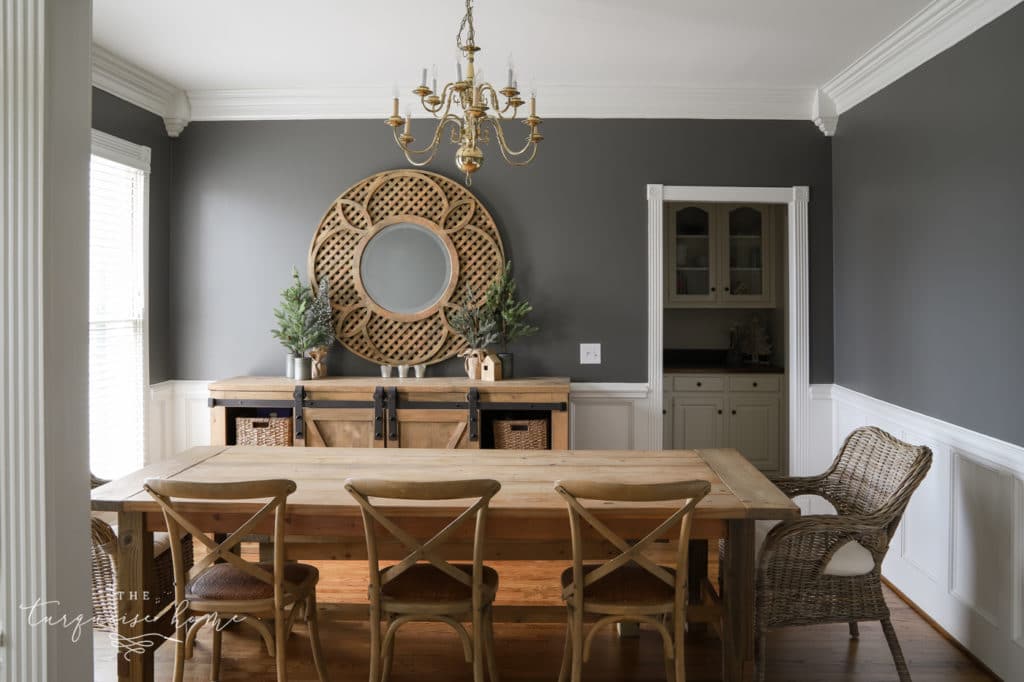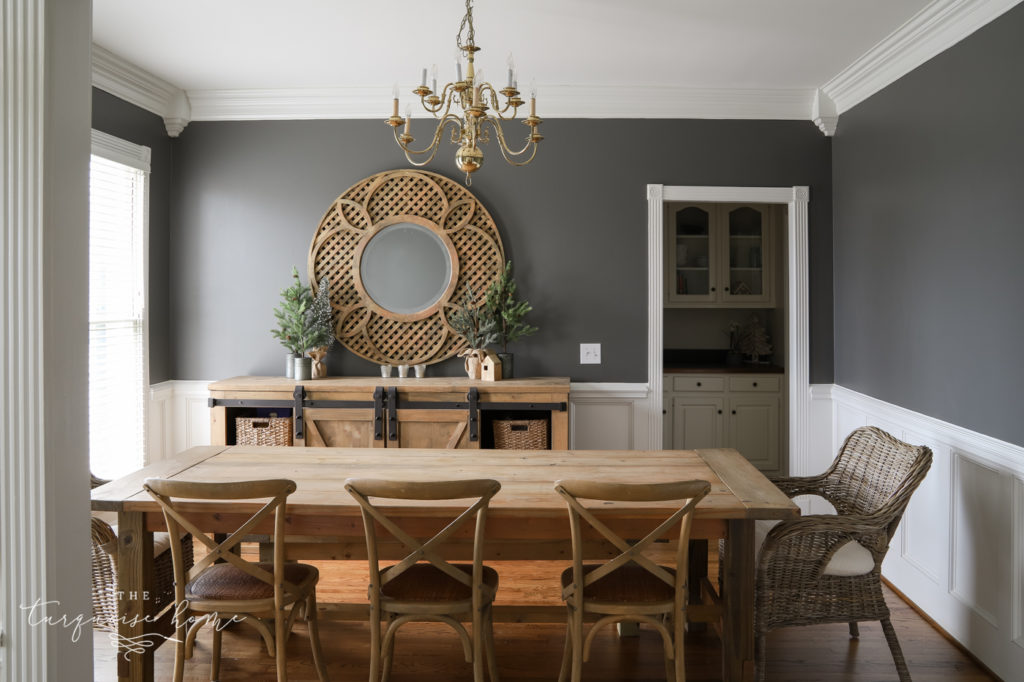 So, I had the walls painted Kendall Charcoal. And I loved the color! I especially loved the color next to the light wood farmhouse furniture I brought with me from our old house. It looked great.
But after living with this farmhouse furniture (that I built for my old house) for a while, it just wasn't right for our new home. Our home is more traditional, not farmhouse at all. Also, the table was just way too large for this space. So I sold the farmhouse stuff and was on the hunt for more fitting stuff, when I got a call from my mom!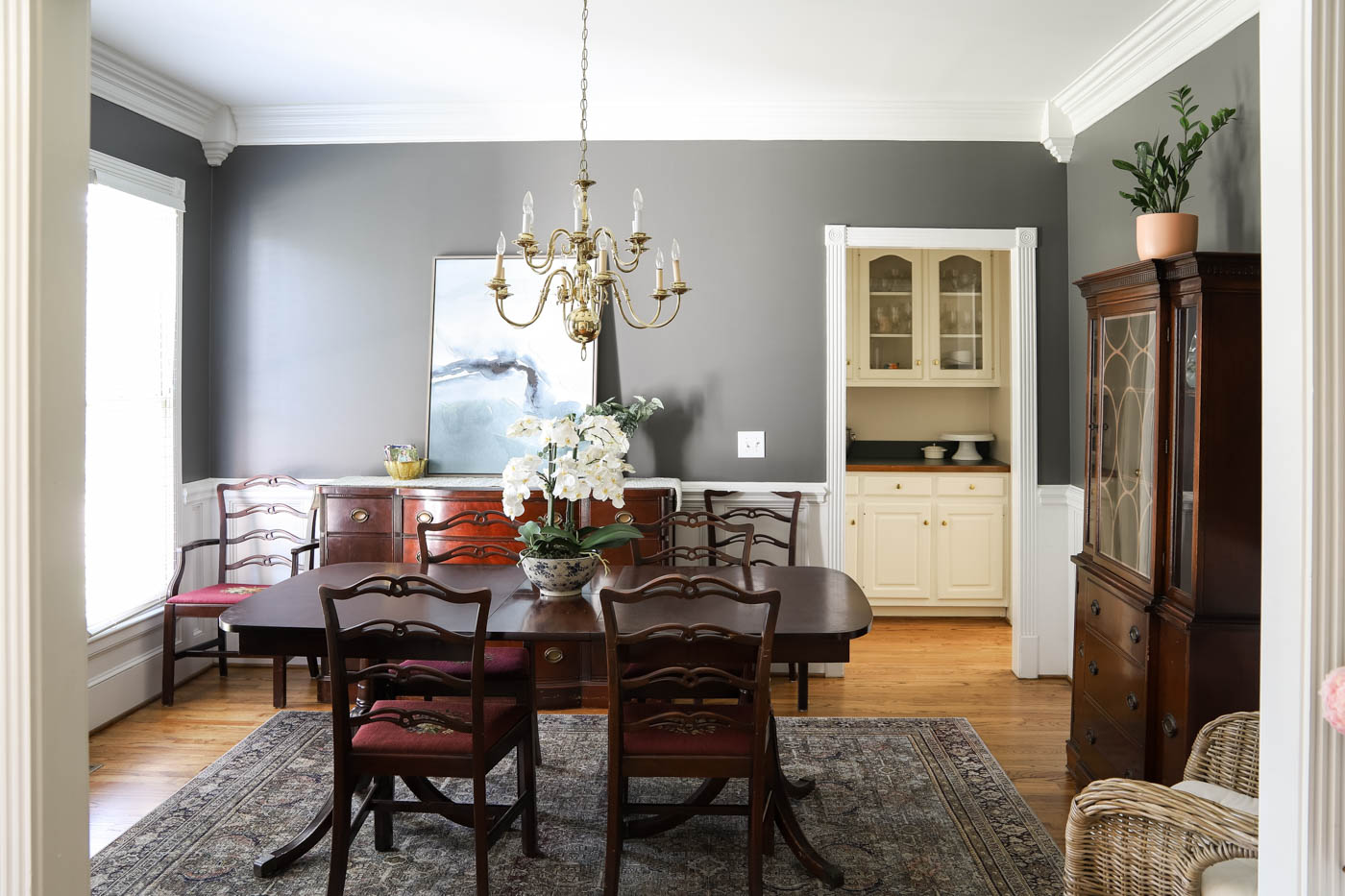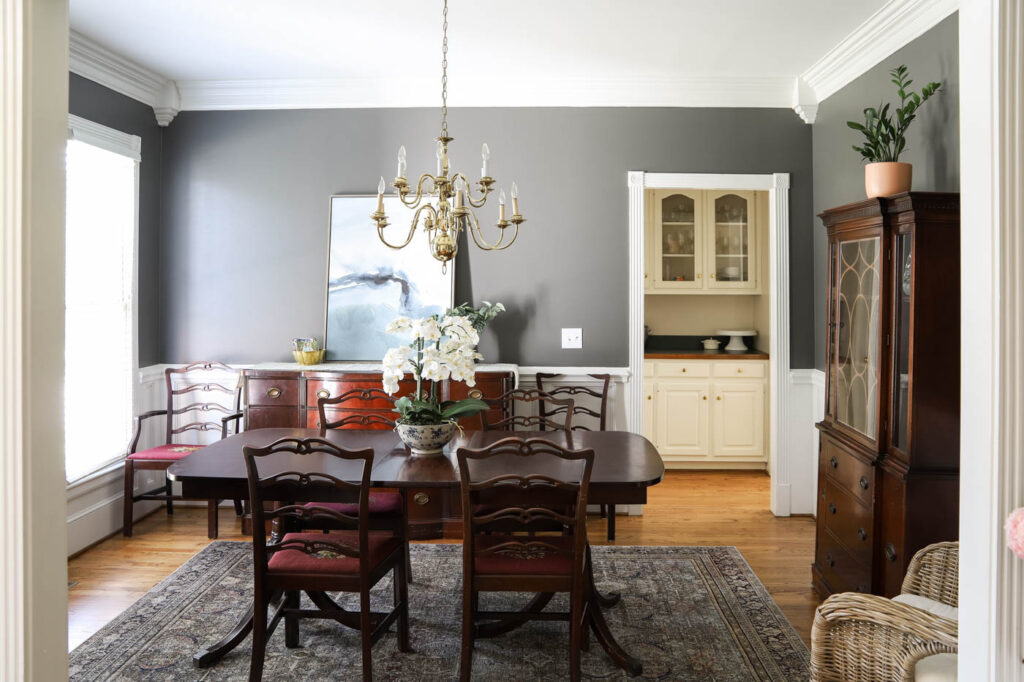 If you missed the story earlier, this new antique furniture came from my great-grandmother's home by way of my grandmother's house. My mom has always wanted this furniture, but when it came time to take it, she decided to pass it on to me! It feels like the perfect match and I love it so much.
So, now the mission was to decorate the room (and adjoining rooms) to complement this furniture.
Update: Come over and see the dining room progress!
Decorating Plans for a Traditional Dining Room
So, I went hunting for some inspiration.
And in the meantime I worked on a much smaller makeover in our powder room. I didn't tell anyone at the time that the powder room was kind of a test run for this dining room makeover. I wanted to see how I liked painted trim and wallpaper. And spoiler alert – I LOVE it!!
Now, I know it's different when decorating a small bathroom vs. a larger dining room. But, I really do love the combination. And it showed me just how beautiful it would be!
But I still felt out of my comfort zone decorating this room just based on my own decorating experience. I also wanted to settle on the wall colors and wallpapers for the butler's pantry and laundry room before I did anything in the dining room. The rooms flow into each other and it made me nervous to only decorate one room at a time.
I mean, I haven't done a ton of high end traditional decorating before. So, I hired Sydney at Sydney Collins Interiors to help me with my vision for the space. I've seen her work and knew she would be the perfect designer to help me get this right! (Find her on Instagram here. She does virtual e-design, so reach out to her if you need help, too!)
My inspiration started with this gorgeous pear plate, which is one of Miss Mustard Seed's art commissions. I absolutely love the colors! So, this is the vision I had for the space and what I sent over to Sydney – with requests to help me also pinpoint the laundry room and butler's pantry ideas.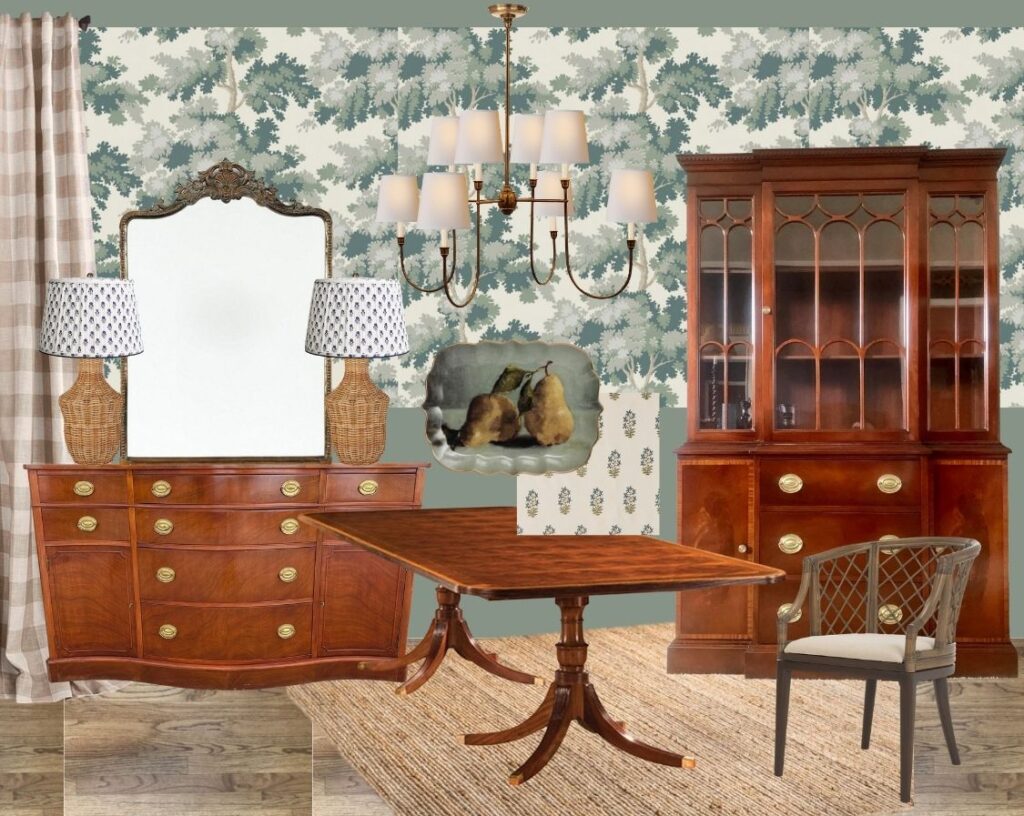 Gingham Curtains | Scalamandre Raphael Green Wallpaper | Wicker Lamps | Pleated Lamp Shades | Ornate Brass Mirror | 8-Light Brass Chandelier | Pear Plate | Block Print Fabric | Jute Rug | End Chair | Trim Paint Color: Farrow & Ball Card Room Green
My plans for the dining room makeover include:
Wallpapering the walls
Painting the trim
Adding curtains
Putting a mirror over the buffet
Adding lamps on the buffet
Possibly getting different chairs for the ends of the table
Getting a new rug
Making seat covers for the existing chairs
So, she tweaked my original plan some and sent this back to me: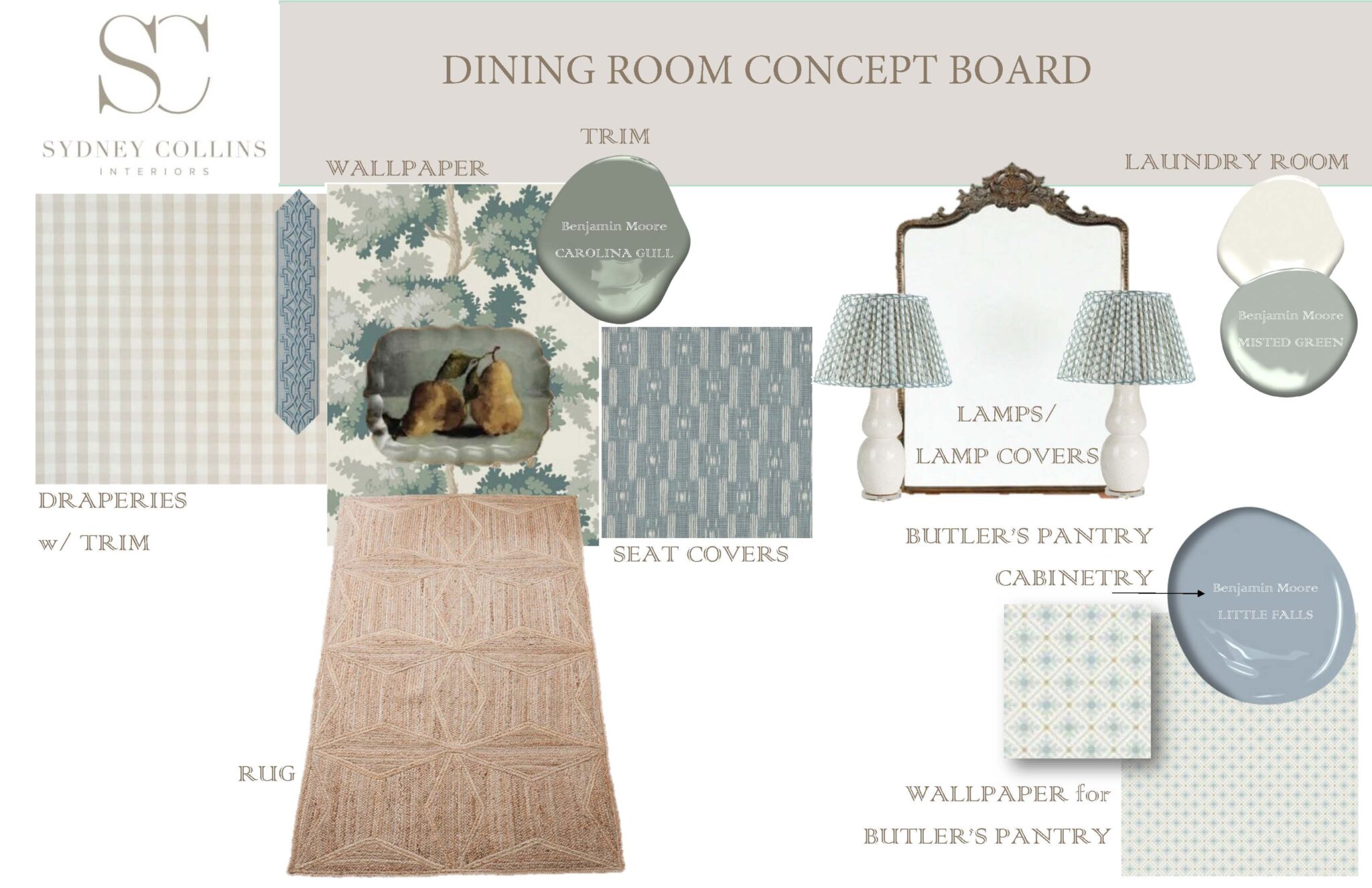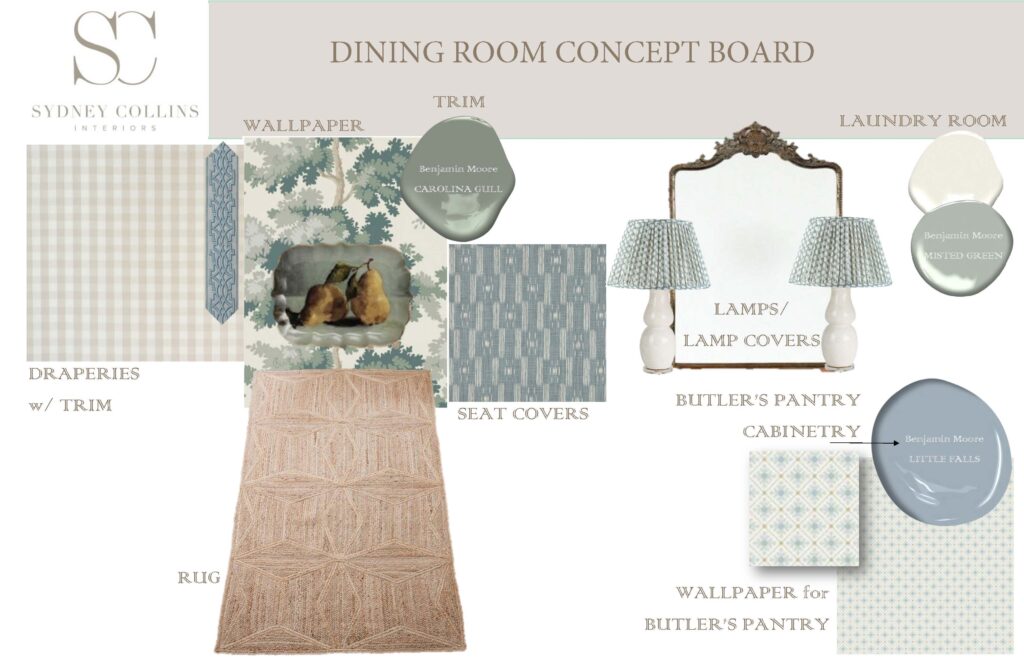 Dining Room: Gingham Draperies | Trim Tape (contact Sydney to purchase) | Scalamandre Raphael Green Wallpaper | Paint Color: Carolina Gull by Benjamin Moore | Pear Plate | Seat Cover Fabric (contact Sydney to purchase) | Braided Jute Rug | Brass Mirror | Double Gourd Lamps | Pleated Lamp Shades
Sydney chose Benjamin Moore paint colors for all 3 rooms, which I love because they are easier to access. And she chose some beautiful double gourd lamps with a lamp shade in a color that coordinates better.
She changed the chair cover fabric and added some coordinating trim tape to the gingham draperies. And that patterned jute rug?! Lovely!
And I can't even get over how much I love the colors for the butler's pantry and laundry room. I will do separate posts on what I plan to do in those rooms. But it feels good to have color schemes done!
I updated my original vision with her changes: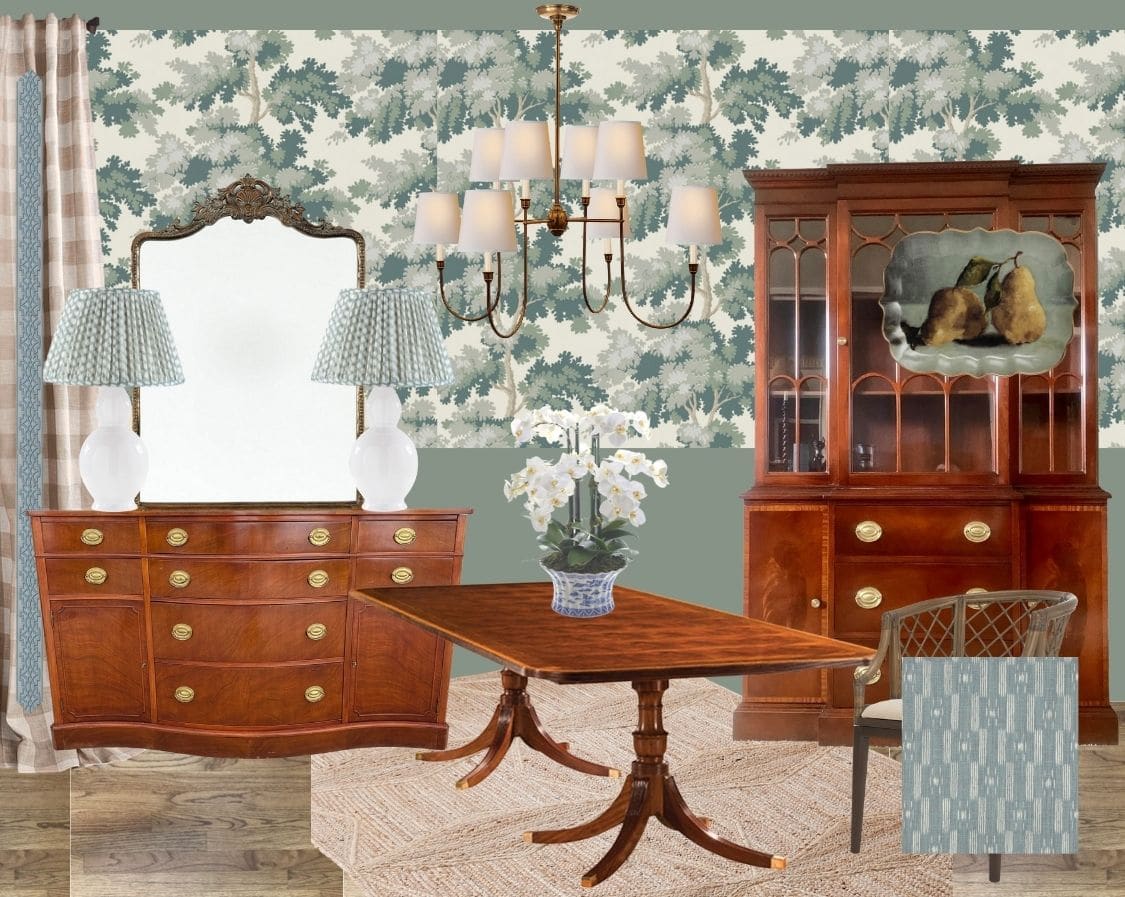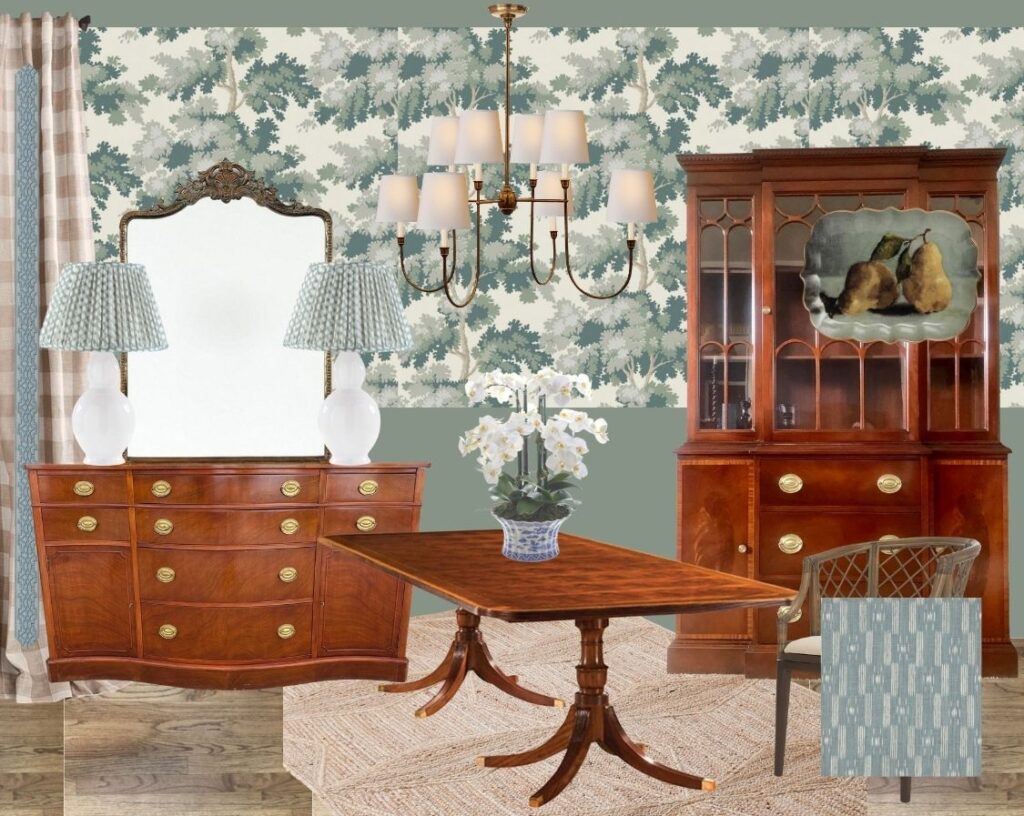 Yes!!! It's exactly what I wanted! Just a few tweaks and it feels ever more cohesive and perfect.
I know many of the items are more high end that my normal room makeovers. But I really want to go all out on this room. I want to do justice to the furniture and complement the style of the traditional home and furniture.
I know there would be ways to get a similar look on a budget. But I'm saving my money and will be buying things a piece at a time and watching for sales. Maybe I'll share some budget versions of these pieces along the way.
I ordered the brass mirror last month because it was on sale. And I just ordered the gingham draperies because they are on sale now. I'm watching the rest of the items as we go through the holidays so I can maybe get them for the best price!
I'm so excited!!
Tell me what you think in the comments below. It's going to be so fun to watch this room come together in the new year.
More Posts You Will Love: