The BEST Father's Day Gift Ideas
Need something special for a super dad in your life? Find thoughtful Father's Day gift ideas for all things dad's need.
It's the beginning of summer and we're starting to settle in for the crazy/busy/fun days of summer, but don't let all responsibility go just yet! It's almost Father's Day and we need a plan to honor the great dads in our lives!
My husband is a great dad, so I love to make sure he has a fun day and a thoughtful gift from my girls. I gathered some ideas that are Coach-approved and sure to give you an idea for something to get your husband or dad, too!
Over the years I've given him numerous things that he loves, so I gathered some of his favorites for a quick photo shoot!
This post contains affiliate links for your convenience. See my full disclosure policy.
Gifts I've Bought for Father's Day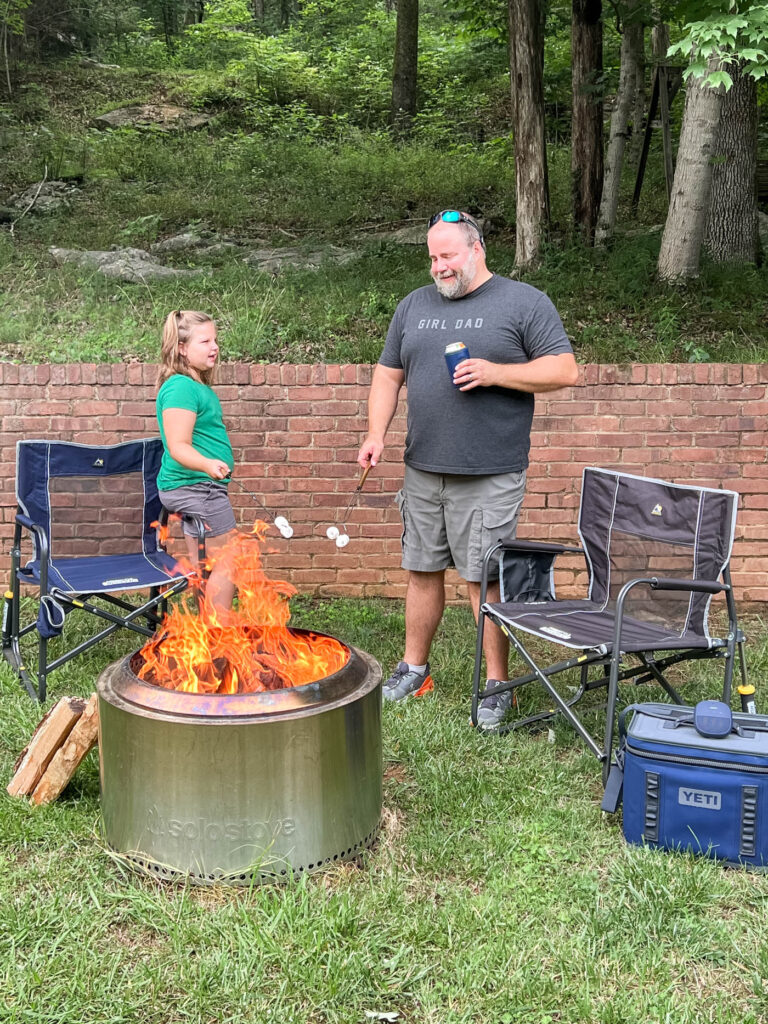 Father's Day Favorites: Rocking Outdoor Chair (XL size) | Solo Stove (we have the Yukon) | Yeti Cooler | Bose Bluetooth Speaker | Girl Dad Shirt | Can Cooler Duo
1. Freestyle Rocker Outdoor Chair – This is the BEST outdoor chair we've ever owned. I bought myself one when I bought him one. Ha! Get the XL size if your guy like a little more space!
2. Solo Stove – We love this smokeless fire stove. Once you get the fire going, the smoke is so minimal! I love not needing to wash my hair and clothes right after we've had a bonfire. My husband loves it for how easy it is to transport, too!
3. Yeti Cooler – It's perfect for keeping things extra cold. Easy to carry and easy to wipe down. It's a winner!
4. Bluetooth Speaker – This thing is small, but mighty. It's even waterproof! So, it's perfect for the pool, beach or lake!
5. Hopsulator Duo Can Cooler – It's the perfect way to keep any drink cold! AND it comes with a lid, so you can use it as a cup, also!
6. Girl Dad Shirt – Any dad of daughters would like this shirt. My husband loves his!
Don't be a last-minute gift getter, like me. 😜 Go ahead and order a gift your dad deserves and you'll be ready when the day comes in a couple of weeks! 🎉
Even more gift ideas below…
The Best Father's Day Gift Ideas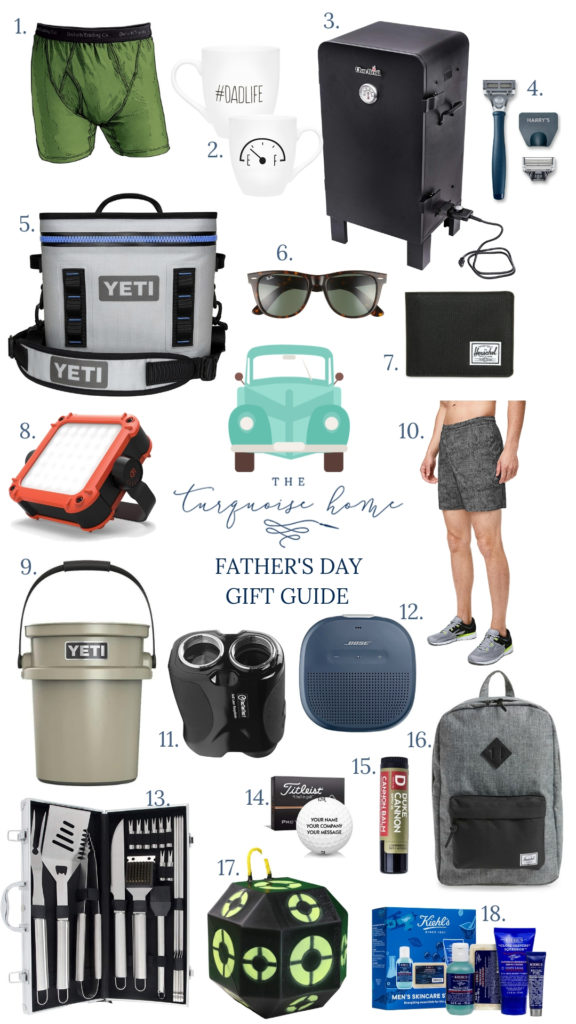 1. Buck Naked Underwear – I HAD to include these underwear because both my husband and dad both swear by them. Ha! They are a little pricy, but worth every penny, so we've added to their collection over the past few years.
2. #DadLife Ceramic Mug – Do you have a dad who loves to wait until the gas gauge is on E before filling up every time? Perfect. He'll love this one with a drink of his choice!
3. Charbroil Electric Smoker – Great gift for the grill master! This electric smoker is a great budget grill option and is small enough to plug in on your back porch. Get that great smoky meat flavor – easy.
4. Harry's Shaving Club – Get your man into the best shaving club! Try Harry's for only $5 with an introductory offer which includes a Truman Razor with blade, foaming shave gel, and a travel blade cover. This set will last him about 2 weeks. Harry's Shave set is also now at Target! Less than $10 is a perfect budget option gift.
5. Yeti Flip Portable Cooler – Pricey, but worth it! This Yeti cooler will keep things cool for up to 2 days! Great for the camper, fisherman or any guy who wants to keep his beer cold! (We LOVE ours!)
6. Ray BanClassic Wayfarer 54mm Sunglasses – Classic Ray Ban Wayfarer – classic style for Dad!
7. Herschel Supply RFID Wallet – Durable and fashionable with a budget-friendly price point! That's a win-win!!
8. Portable LED Light and Power Pack – Perfect portable light for the hunter who needs to get his 4-wheeler unstuck or gut a deer after dark. He can even charge his cell phone from the USB port.
9. Yeti 5 Gallon Bucket – Great for the fisherman with a no-slip ring on the bottom. It's even food safe if you need it!
10. LuluLemon Mens 7″ Shorts – Amp up dads style with lululemon men's shorts full of fancy tech pockets, mesh shorts underneath and quick-drying fabric. These high-quality lined Pace Breaker shorts are great for the active dad – and come in 6 colors!
11. Golf Range Finder – The newest 2019 laser technolgy for Golf Range finder. Great gift for the avid golfer.
12. Bose Bluetooth Speaker – After looking at this for a couple years, I got this for my husband for Christmas. It's small and has amazing sound. The battery life is 6 hours (forever!) – can't wait to use it at the lake this summer because it's waterproof!
13. 20-Piece Grill Set with Cooler – Heavy duty grill set for the man who loves to grill.
14. Personalized Pro v 1 Golf Balls – Personalized golf balls make a perfect gift!
15. Duke Cannon Lip Balm – We've shared this before but all items from Duke Canon are great! This is a tactical lip protectant and great for the hot summer months.
16. Small Backpack – This essential backpack is great for travel or work and has a space for a laptop.
17. Target Cube – The bow hunter gets his practice in with the easy, to use target cube!
18. Kiehls Mens Skin Care Set – Help Dad take care of his skin with this Kiehls mens skin care set. The shaving cream is amazing!
I hope this list was helpful and you find the perfect Father's Day gift idea for the dad in your life. Off to get my shopping on! 😎
MORE POSTS YOU WILL LOVE: