My Christmas Decorating Plans 2021
Traditional Christmas colors and even a little pop of pink give this home a classic holiday vibe! See my 2021 Christmas decorating plans in the living room, bedroom, dining room and the rest of the house.
Last year was our first real Christmas in our home, and I was overwhelmed with where to start. So, for the first time ever, I made some real design plans ahead of time to help me visualize the space. It was sooooo helpful!
Before that, I'd never planned out my Christmas decorating plans other than sketching them on a piece of paper in my Holiday Planner, but I found that visualizing my plans worked great!
I know it's always a controversial topic when bloggers start sharing their Christmas ideas and decor in early November, or even October. But I hope you know that my heart is to inspire and help YOU prep and plan for your decor early so that you can snag things you love before they sell out. My hope is that you can prep your decor early and enjoy the process instead of feeling last-minute and rushed.
Can I just say that it's also so much easier to decorate a house for Christmas when I've already got last year's decor under my belt. It feels way less overwhelming. So, let's jump in!
This post contains affiliate links for your convenience. See my full disclosure policy.
The photo below was taken in our living room the first Christmas we lived here, right after we had moved in. This was all the decorating I did that year. HA!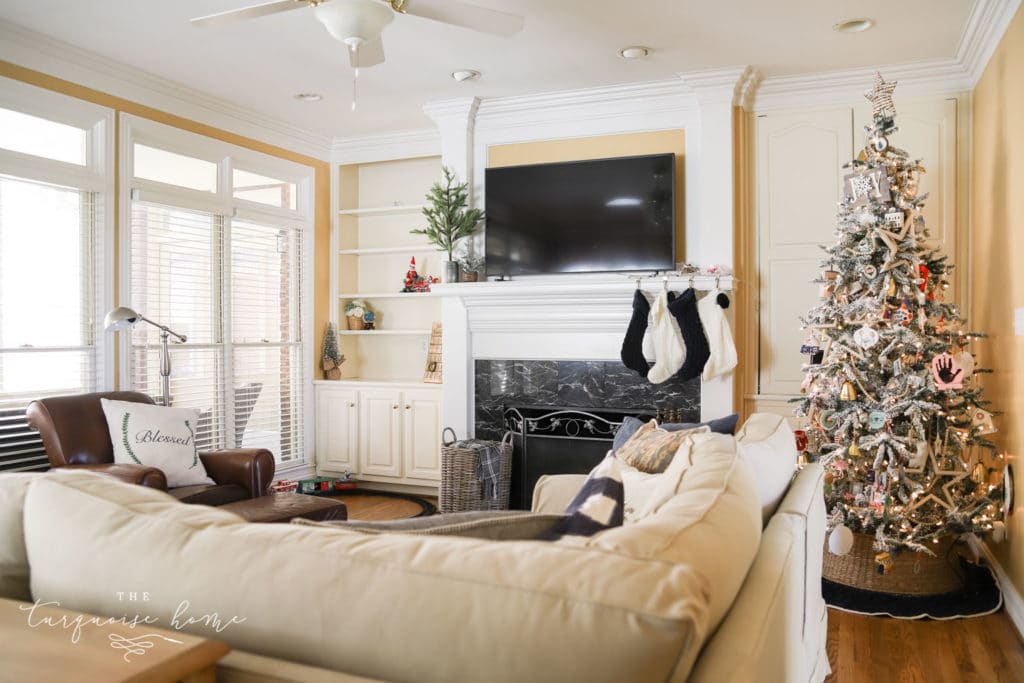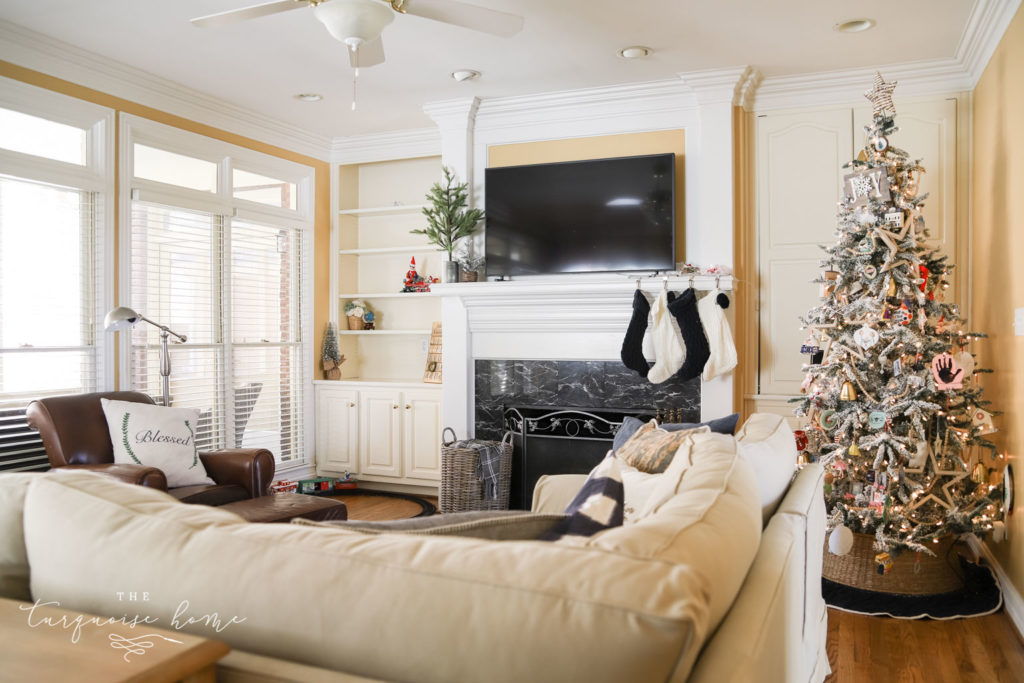 Then last year we upgraded our Christmas tree in the living room, and I am obsessed!
I've been wanting this particular Christmas tree for two years now. It's definitely an investment kind of tree, but I hemmed and hawed over the price and wondered if the size would even work in our living room. I thought it might be too big, but I also wanted it to fill the space nicely.
It's SO perfect for this corner of our living room. Filling it up perfectly, but not too overwhelming. I love how full the branches are without anything on them and I'm so happy with it! I can't wait to decorate it again this year!
OK, now on to my Christmas decorating plans.
Christmas Decorating Plans for the Living Room
I mostly wanted to re-use a lot of my same decor, but tweak the colors a little bit. Seeing it all like this helps me not to over buy and have to return a bunch it stuff. I shared how I make these mood boards (here), if you need to do the same thing!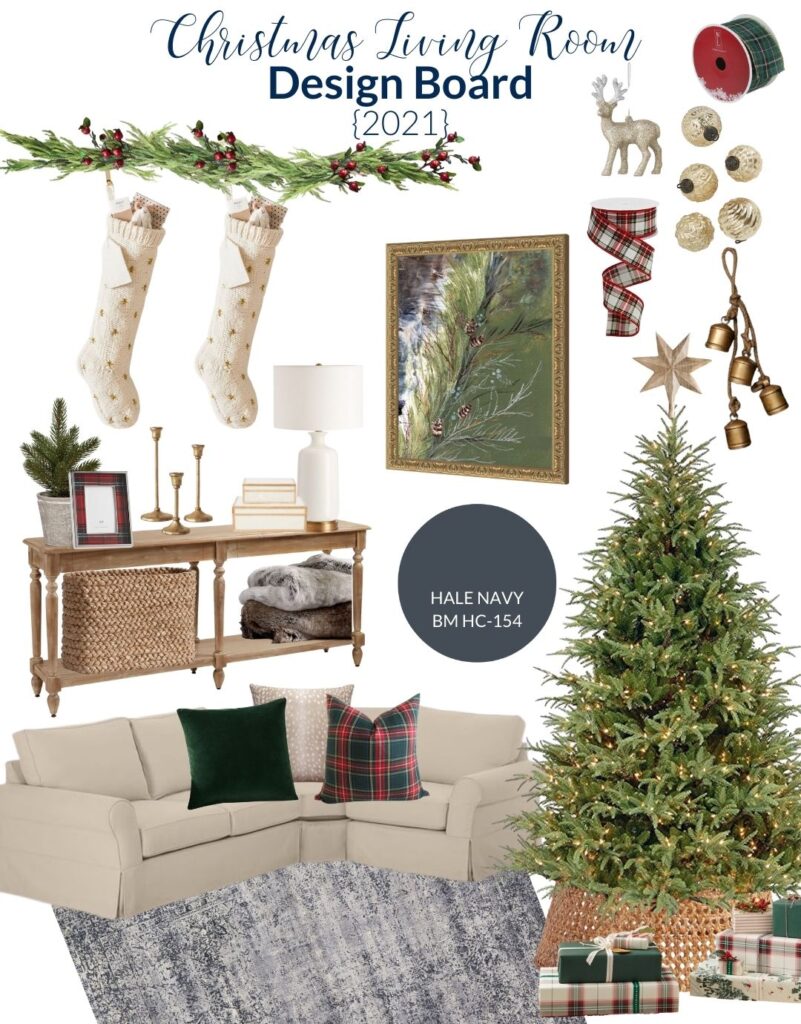 Cedar Garland | Pomegranate Stems | Knit Stockings with Gold Stars | Red Plaid Ribbon | Green Plaid Ribbon | Brass Bells | Deer Ornaments | Mercury Glass Ornaments | Console Table | White & Brass Lamp | Storage Boxes (Large & Small) | Brass Candle Sticks | Red Plaid Frame | Faux Mini Tree | Faux Fur Throw | Cedar Berries & Snow Abstract art | Star Tree Topper | Grande Frasier Fir Christmas Tree | Cane Basket Tree Collar | Plaid & Green Wrapping Paper | Sectional Sofa | Green Velvet Pillow Cover | Fawn Pillow Cover | Red & Green Plaid Pillow Cover | Blue "Vintage" Rug
I'm still loving all of the classic red and plaid, but add in a little more green this year. I LOVE this Cedar Berries & Snow Abstract art I bought and can't wait to share it in the space. It's going to be beautiful when it's all in place!
Christmas Decorating in the Dining Room
Now, for the dining room, I am so excited to decorate it with my great-grandmother's furniture. I'm still working on the design board for the makeover for the room. But it'll be so fun to deck the halls just the way it is right now!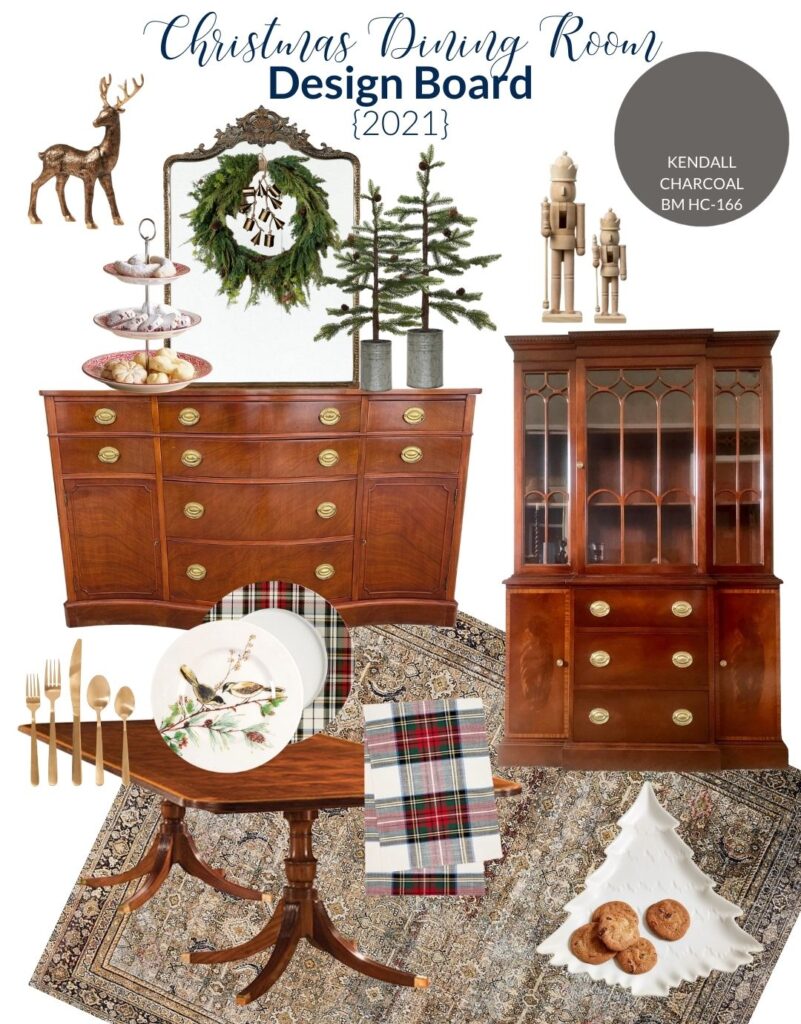 Brass Deer Statue | Antique Server | Metal Brass Mirror | Mini Tabletop Trees (similar) | Tiered Serving Tray | Cedar Wreath | Cluster of Bells | Wooden Nutcrackers | Antique Hutch | Gold Silverware | Winter Song Plates (retired) | Plaid Plates | Antique Dining Table | Olive & Charcoal Rug | Plaid Table Runner | Christmas Tree Serving Platter
One of the most exciting things about having this new-to-me furniture is that there's now room for a tree in the dining room! I'm not sure how I'll decorate it yet. I might just leave it alone this year, but I'm excited to have another tree in the house. (This is the tree I got.)
I don't know if you remember from last year, but I put a Christmas tree in my office so that there would be a Christmas tree visible from the front of our house. There are 6 windows in the front of our house, so I wanted at least one window to have a tree.
But this year there will be two trees – one on each side of the house, and I'm so excited! Nothing makes me smile more than seeing Christmas lights when I drive up to the house at night.
Christmas Decorating in the Kitchen
Last year at this time I was still trying to finish up my kitchen makeover. It doesn't look all that different, but it's fun to have it "done" and simply build on how I decorated it last year.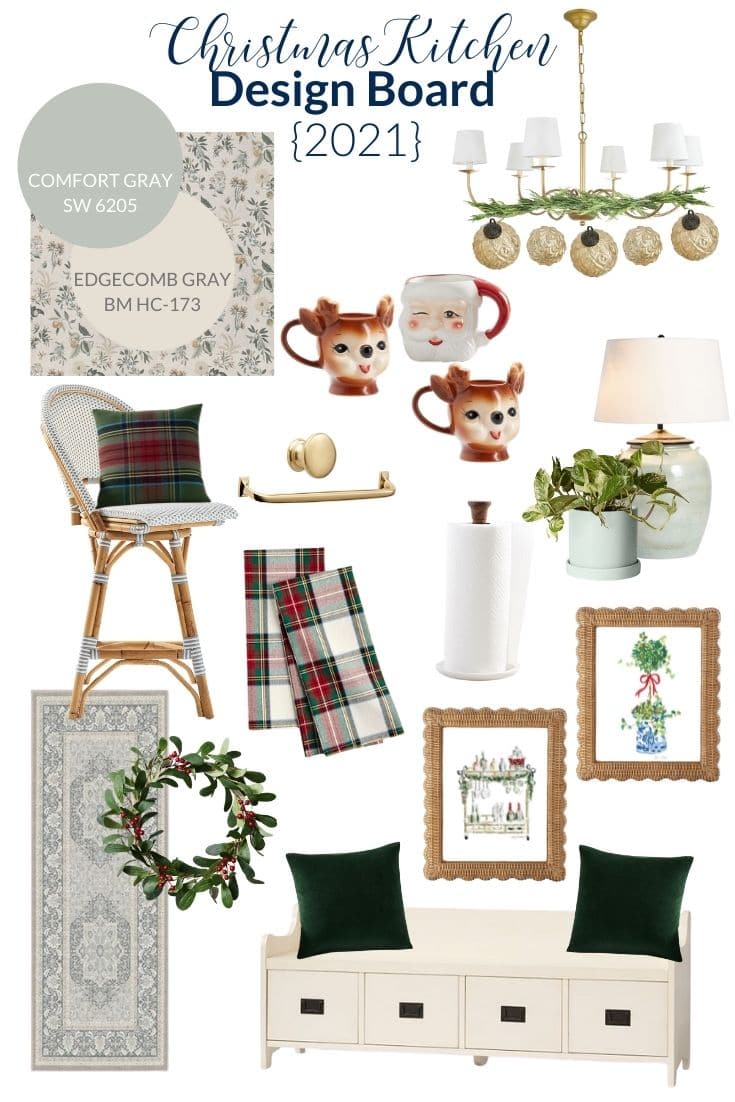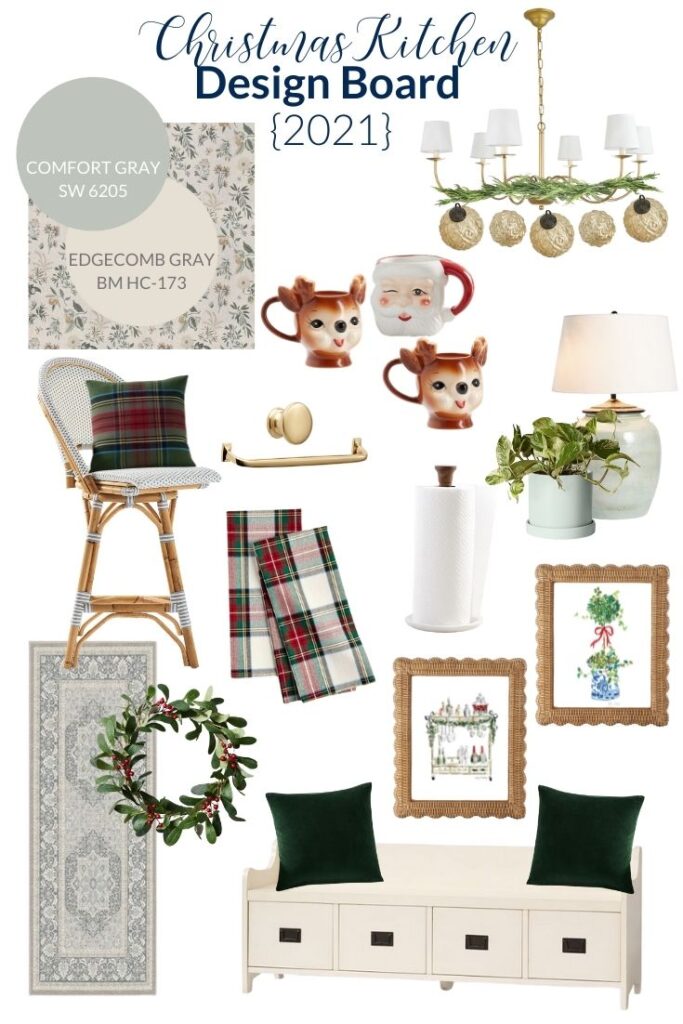 Brass Chandelier | Gold Ornaments | Cheeky Reindeer Mugs | Santa Claus Mugs | Riviera Swivel Bar Stools | Brass Knobs & Pulls | Pothos Plant | Lamp (similar) | Green Plaid Throw Pillow | Plaid Kitchen Towels | Paper Towel Holder | Scallop Wicker Frames | Christmas Art | Kitchen Runner | Mistletoe and Berry Wreath | Green Velvet Pillows | Wade Storage Bench
With the kitchen, I try not to add a lot of clutter because the room has to be such a work horse through the holidays. So, I like to find ways to change out kitchen essentials with holiday versions, like: art, mugs, towels and more! I also like to add wreaths to all of the cabinets. It makes the room so fun and festive.
Christmas in the Primary Bedroom
Last year was the first year I ever really decorated our bedroom. I've put a tree in there before, but not much more. But last year I added Christmas bedding and I was hooked. 🤣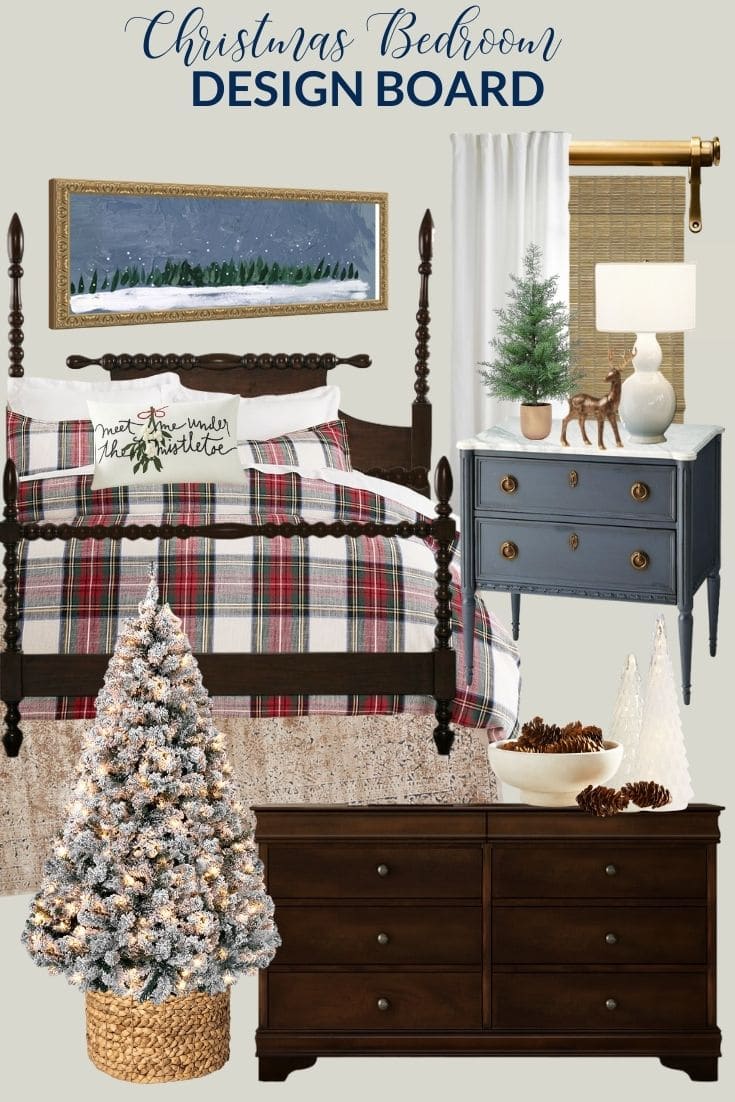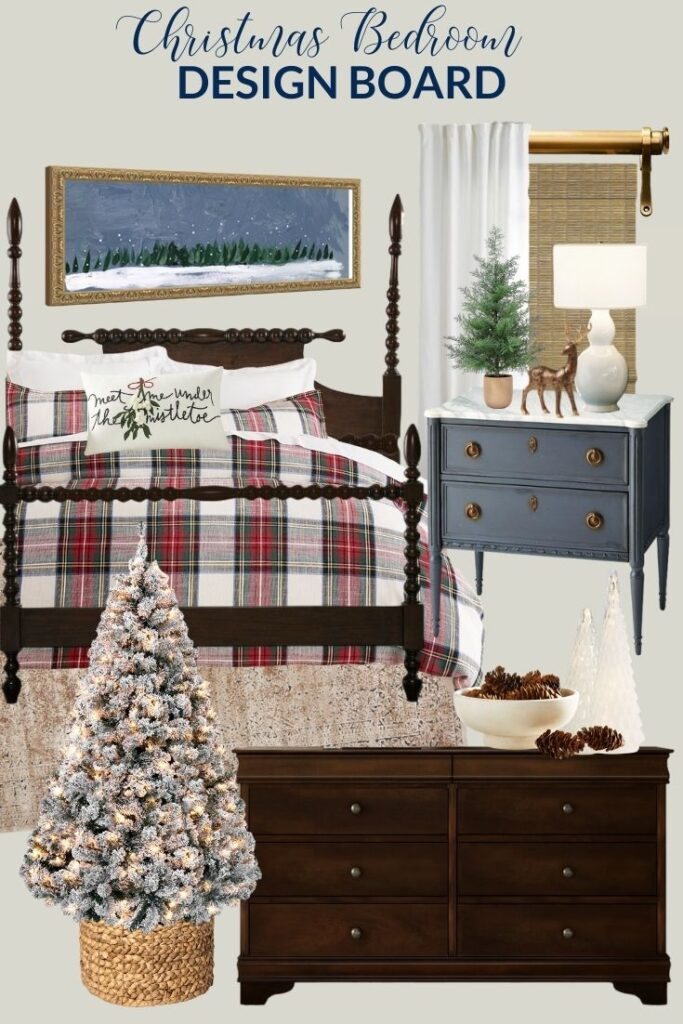 Petite Pano Pines Winter Art | Four Poster Bed | Stewart Plaid Bedding | Mistletoe Pillow | Ivory Linen Curtains | Brass Curtain Rod | Bamboo Shades | Blue Nightstand | Double Gourd Lamp | Tabletop Pine Tree | Dresser | Flocked Christmas Tree | Basket Tree Stand (learn my Christmas tree basket trick) | Large White Bowl | Pinecone Vase Filler | Pre-Lit Beaded Glass Trees
It's just too fun to walk in there with the glow of the Christmas tree and plaid bedding. I am even adding winter/Christmas art above the bed this year, and maybe a few other decor items! I'm so excited to pull it all together.
P.S. Some of the furniture in the design board hasn't been shared yet. And other are on my wish list! ☺️ Stay tuned for a full primary bedroom makeover in the future!
More Christmas Decor Ideas
Lastly, I'll be decorating the office and girls' room again. My daughters decided they wanted to move to separate rooms recently, so I'm not sure which room I'll put the tree in this year. But I'll be sure to use the same box of 85 blush ornaments set I used last year. That set is so easy and perfect for kids!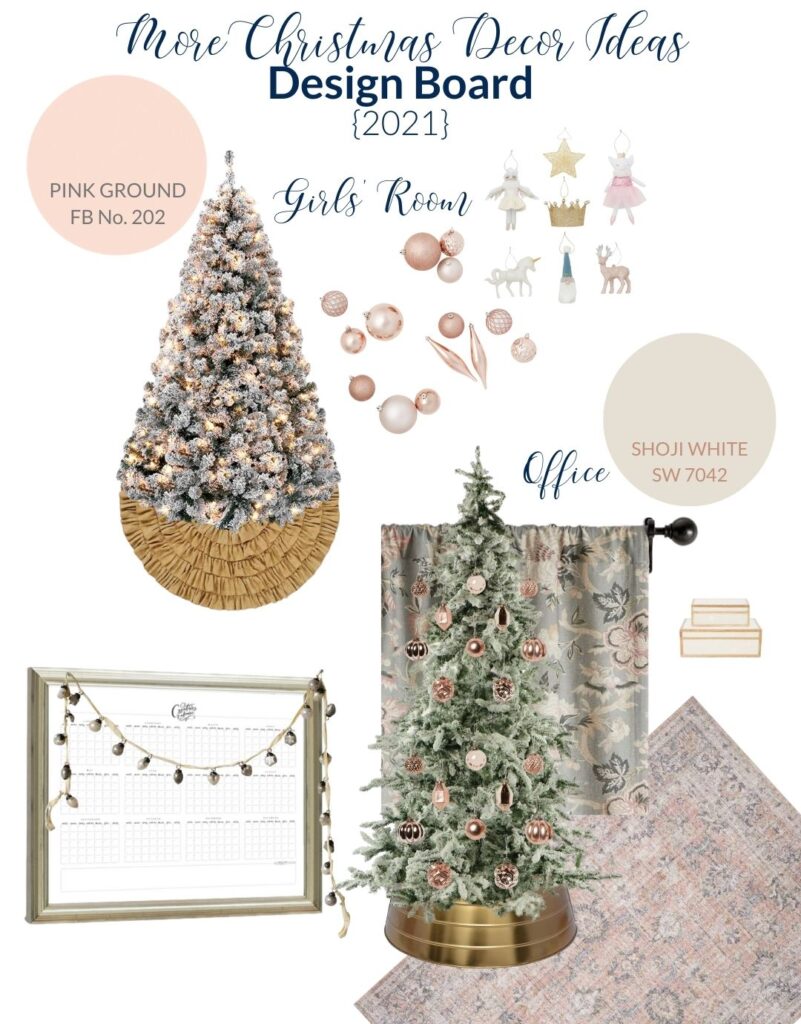 Girls Rooms: Ruffled Burlap Tree Skirt | Flocked Pre-Lit Tree | 85 Blush Ornaments Set
Office: Floral Curtains | Flocked Mountain Pine Christmas Tree | Gold Ornaments | Brass Tree Collar | Blush and Gray Rug | Girly Blush Ornaments | Yearly Wall Calendar | Mercury Glass Ornament Garland
My office was one of my favorite Christmas spaces last year. The ornaments I got last year, along with the spray painted "brass" tree collar gave the perfect blush/glam look! It goes to show how just a few seasonal touches can go a long way in any space!
I hope this gives you an idea of where I'm going with my Christmas decor this year! I am excited to take you along. It really helps me think through each space and narrow down exactly what I want to do!
Do you like to go all out for your Christmas decorating, or do you like to keep things more simple?
MORE POSTS YOU WILL LOVE: