DIY Monograms for Every Room in Your House
Learn how to make tons of ideas for monogramming every room in your home. These DIY monograms are good for all on a budgets!
A monogram can make even the most basic item elevated. There's something about a monogram that I absolutely love—maybe it's my southern roots?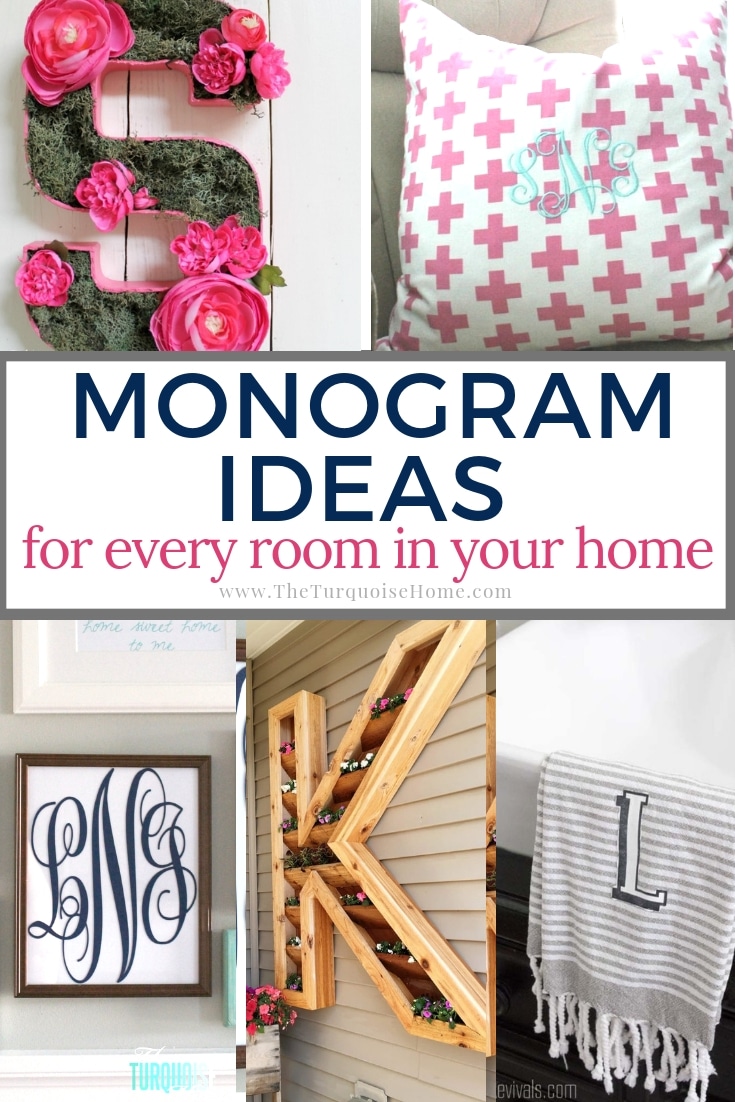 But, in case you haven't noticed, monogramed items are pricey! So, rather than purchase them, I instead learned how to do a DIY monogram and use it to decorate every room in my house. It's so easy, ya'll! Here's how.
How to Make a DIY Monogram
There are many ways you can design a DIY monogram, but by far the easiest is to use a cutting machine! You can literally have unlimited designs with the push of a button once you create your original design. And, if the word "design" scares you–don't be! It's as simple as putting together three letters. I wrote an entire post about how to do it, step by step. Check out my post on how to create a simple vinyl monogram right here.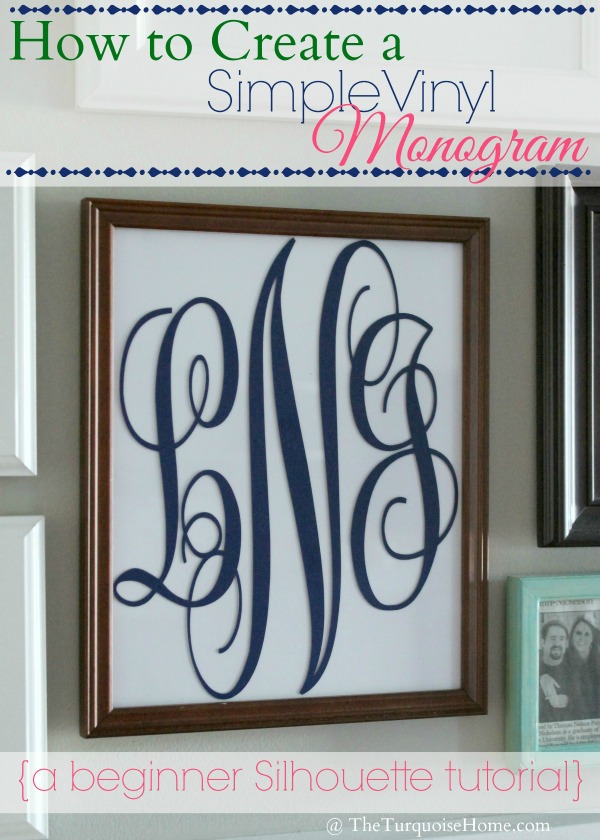 Heat transfer vinyl (HTV) is a great way to apply your designs to fabric. The possibilities are endless!
How to Monogram Every Room in Your Home
So, now that you know how simple it is to design a monogram, let's talk about what you can actually do with one! As you'll see, there's a monogram for every room — literally. Here's a list of my favorite ways to monogram all the things!
Put a Monogram on your Living Room Wall
My framed burlap monogram decor was so easy to make with supplies I had on hand! Use an empty frame, leftover fabric and you'll be all set!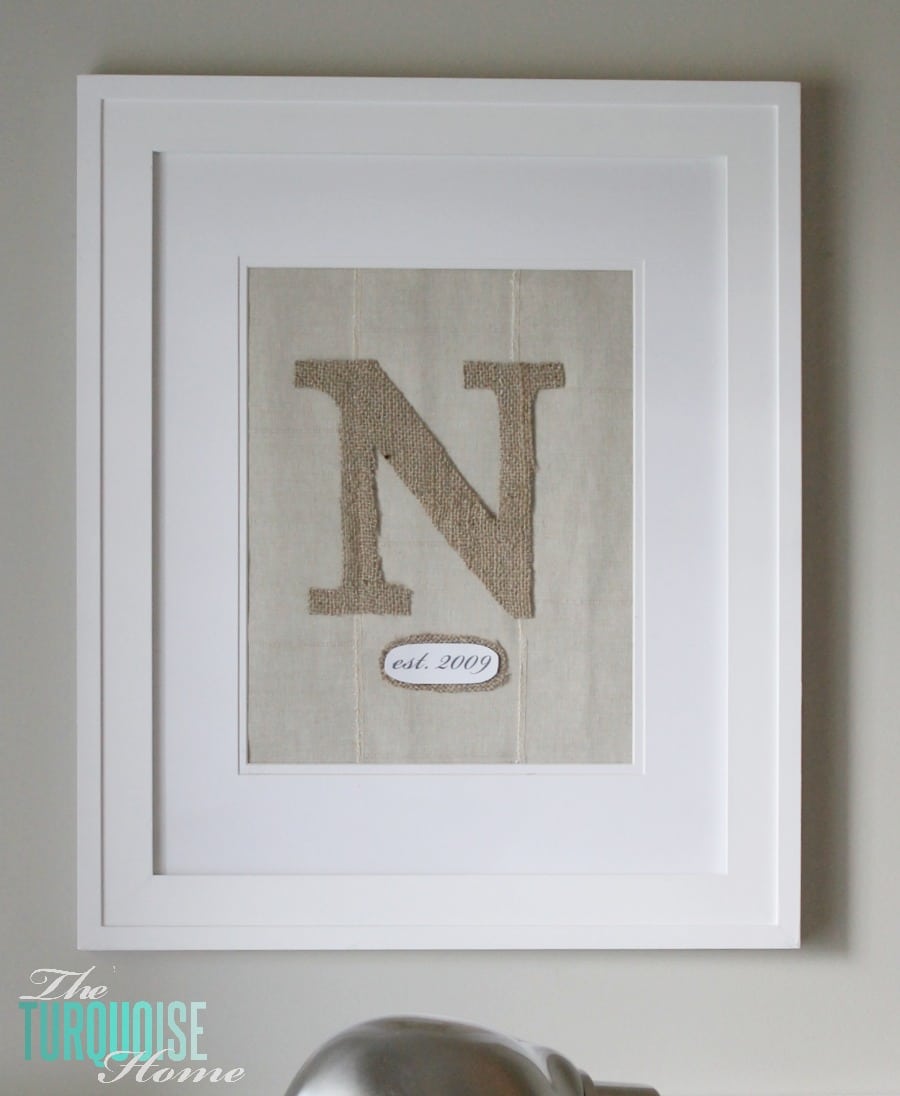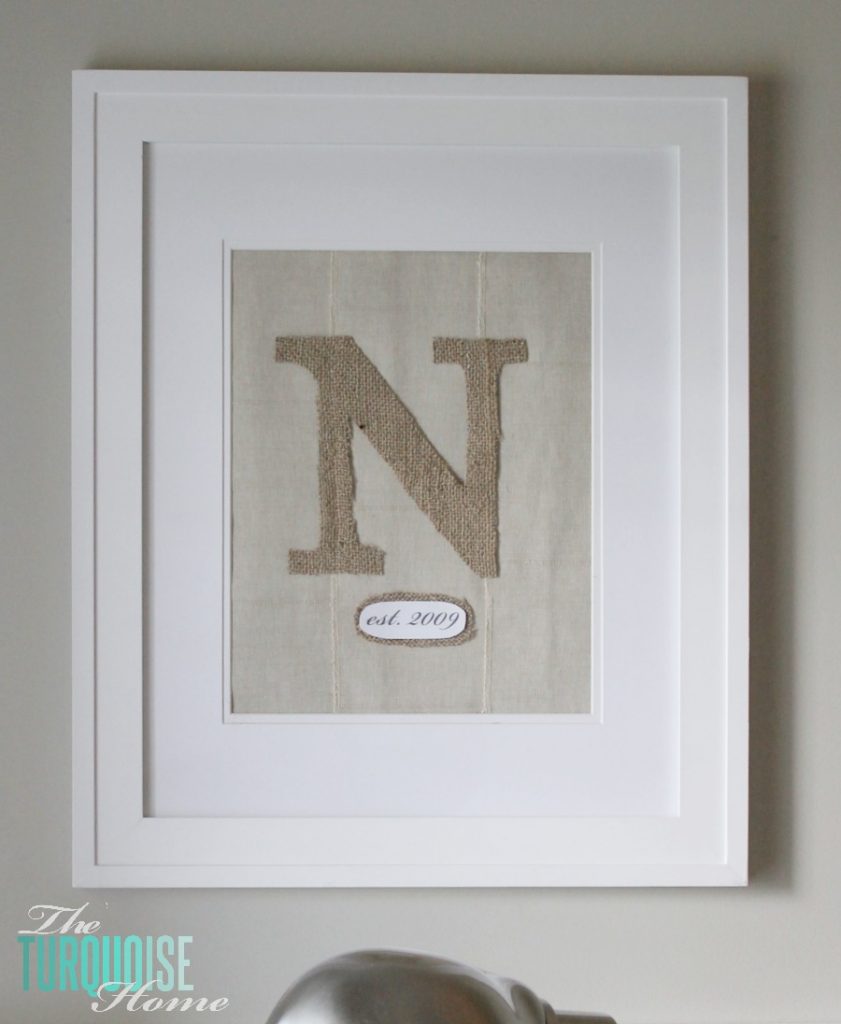 How to Use Monograms in Your Kitchen
Oven mitts are something you use day in and day out. They are practical, but not necessarily pretty…until now! A basic pair of mitts like these can get an easy upgrade with this project from The Country Chic Cottage.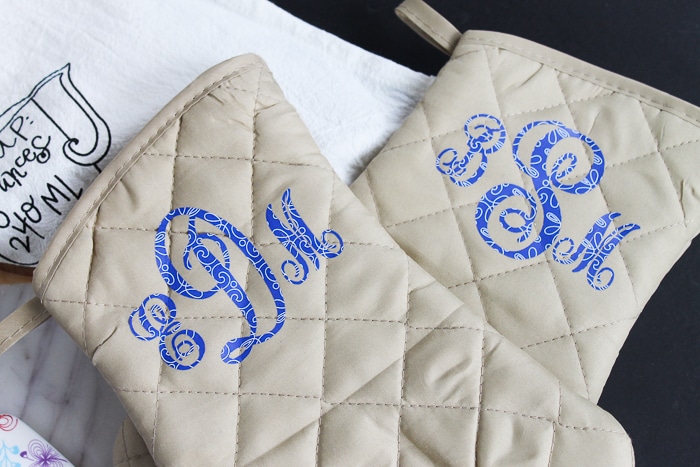 If you aren't feeling quite confident in your ability to create a monogram with a cutting machine, this is the project to start with! Grab a set of plain white mugs for cheap on Amazon and create this fun DIY mug project from Design Mom. You can do it with a sharpie as she does, or simply use the DIY monogram from above!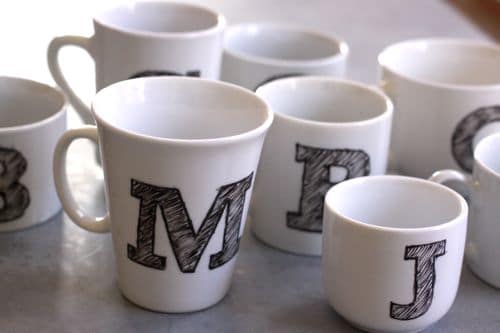 There are so many other kitchen items you can personalize, too! Some of them include:
How to Use Monograms in the Bathroom
Whether you want to admit it or not, you probably spend an awful lot of time in the bathroom. Why not make it feel truly like your own by decorating with a DIY monogram or two? I love this simple, modern one-lettered towel from Southern Revivals.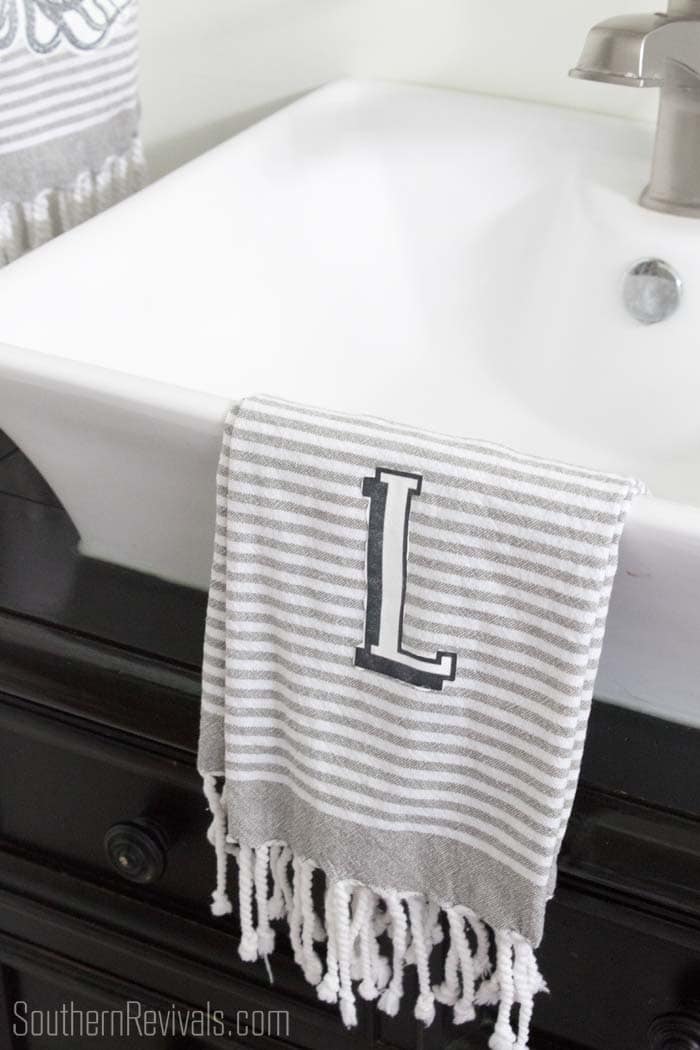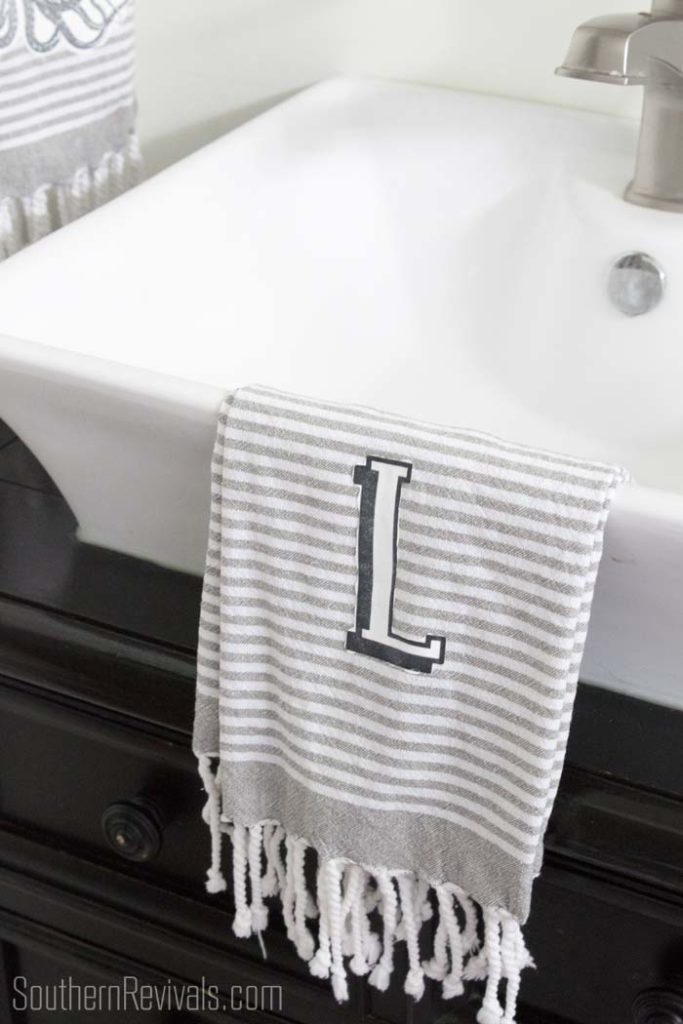 Another great place to add your initials is your shower curtain. Plus, this simple project from Eileen and Co only cost about $2!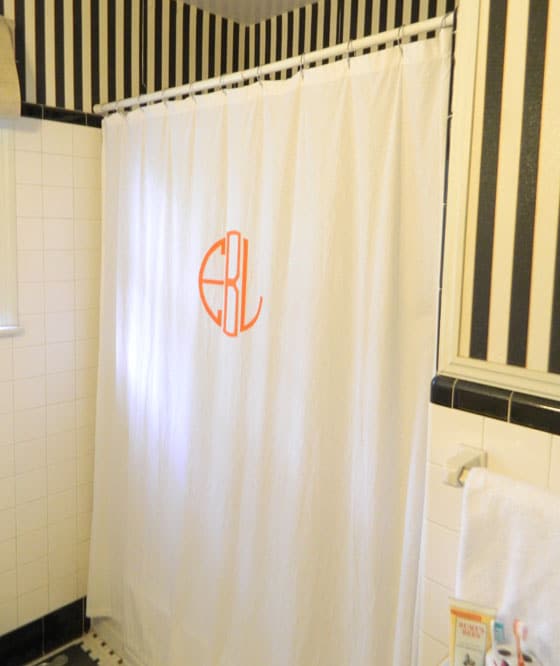 If you want to add your personalized touch to a few other spots in the bathroom, try monogramming these:
How to Add Monograms to a Bedroom
Want to add a little personalization to your bedroom? Simple! Use a monogram. How pretty would this pillow from Thistlewood Farms be on your bed?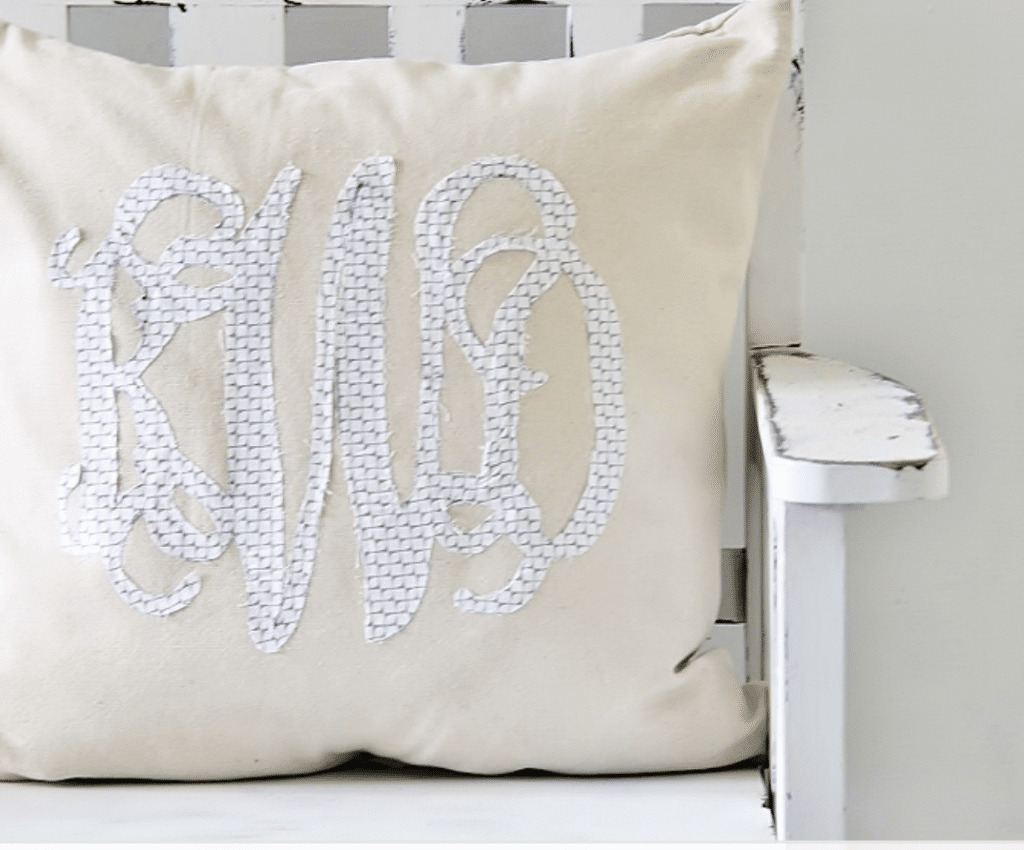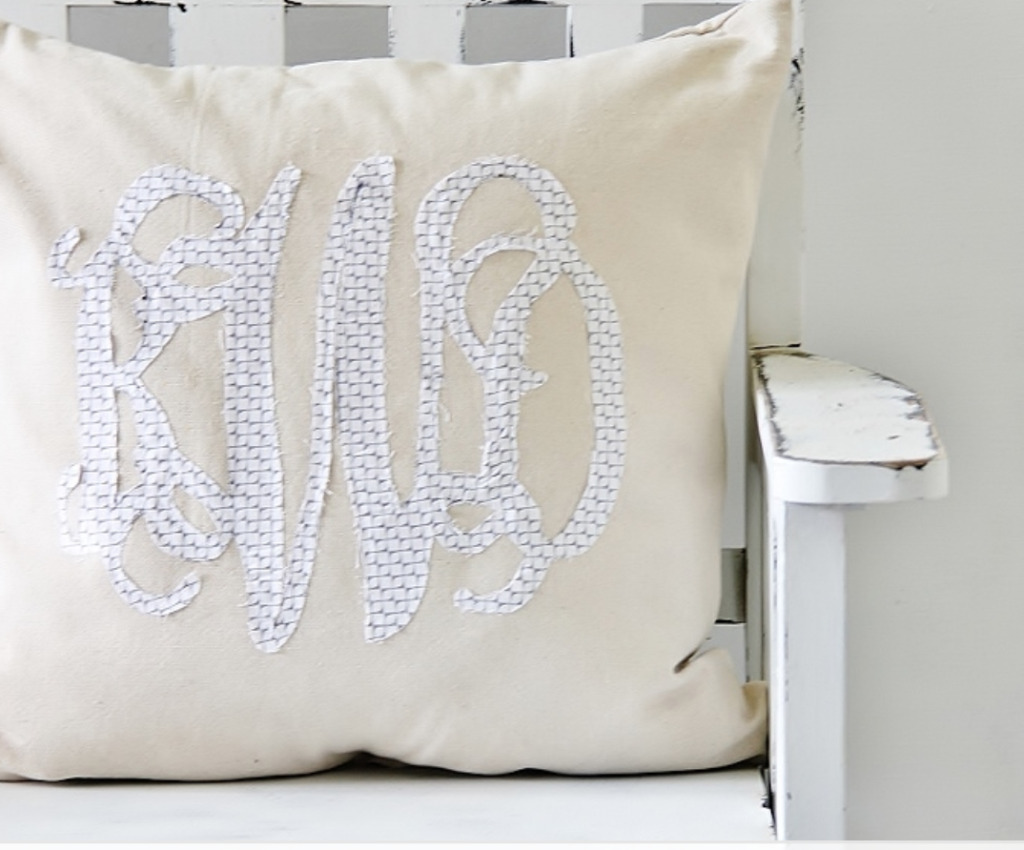 Want to make an even bigger impact? Try making a personalized comforter instead, like Effortless Style did here.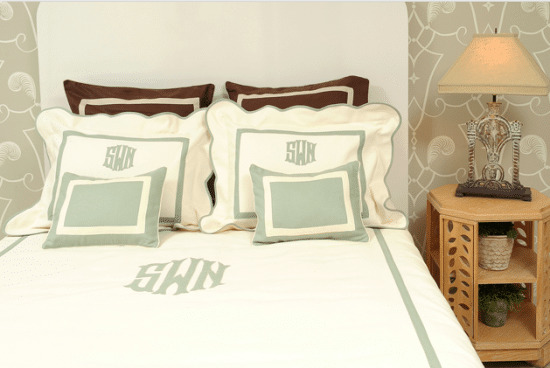 As I'm a sucker for plenty of pillows, I can't help but throw in this gorgeous pillow project by Hymns and Verses. So pretty!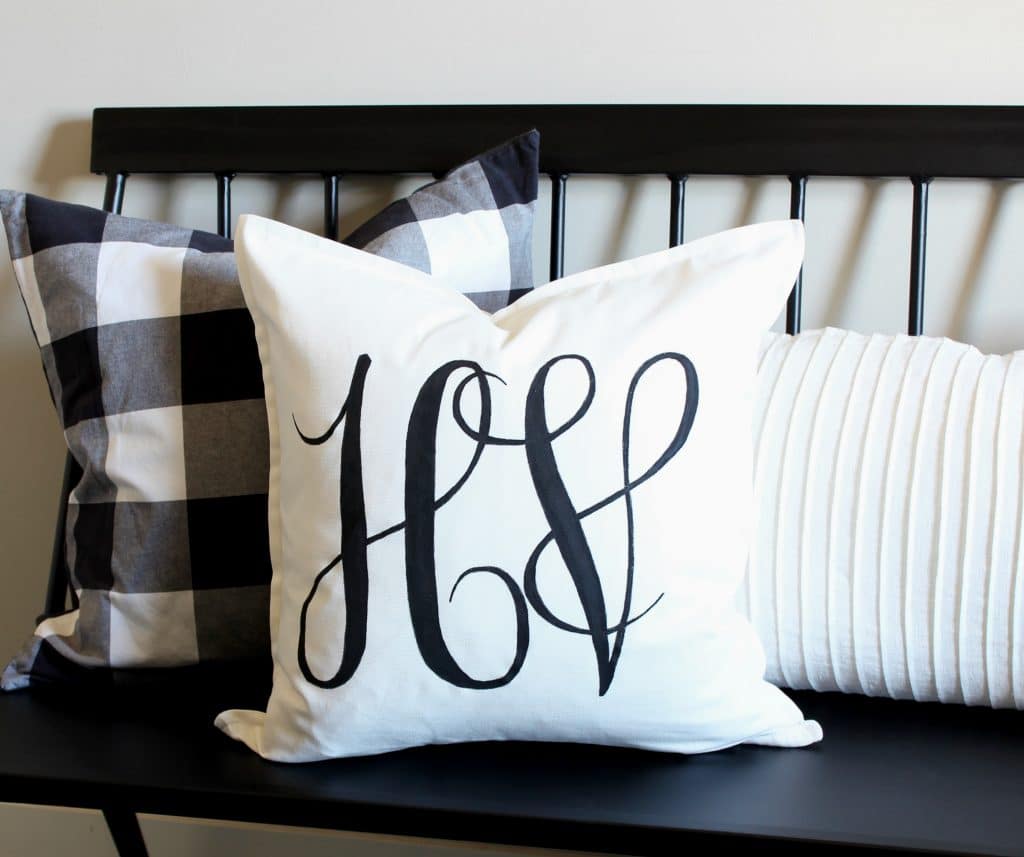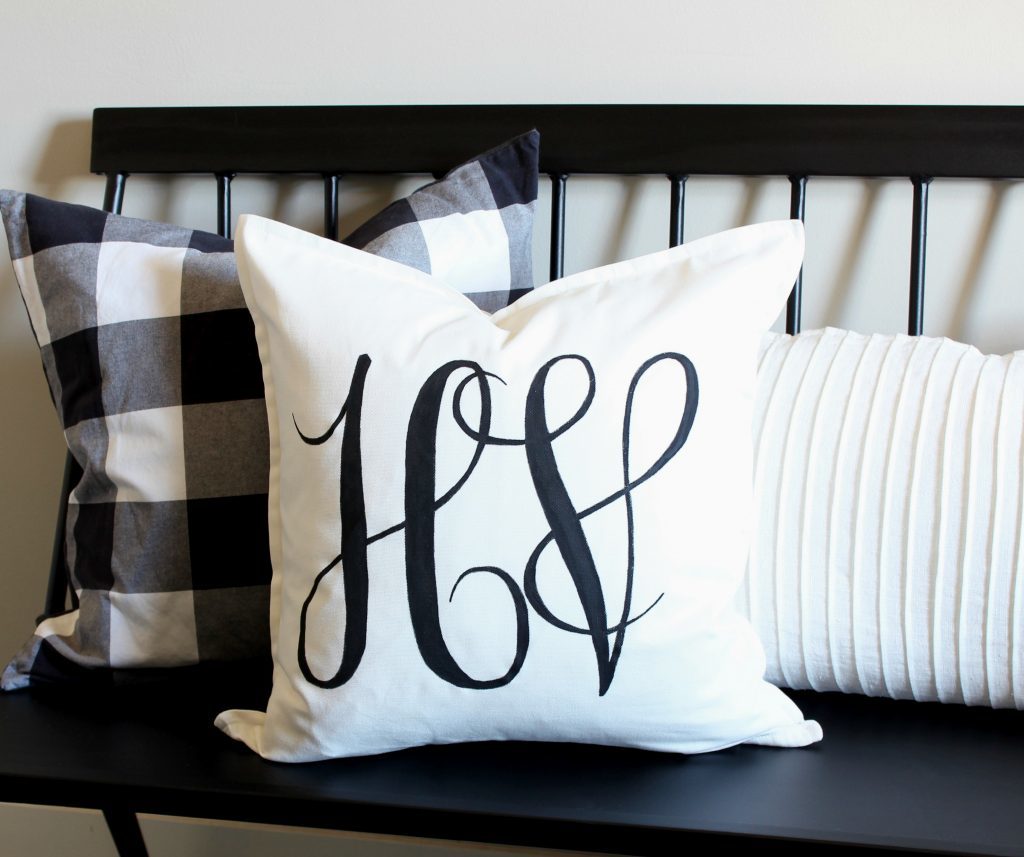 Another great idea for personalizing a pillow would be to take my Cotton Wreath Monogram printable (download here) and use my tutorial for personalizing a pillow with iron-on transfer paper.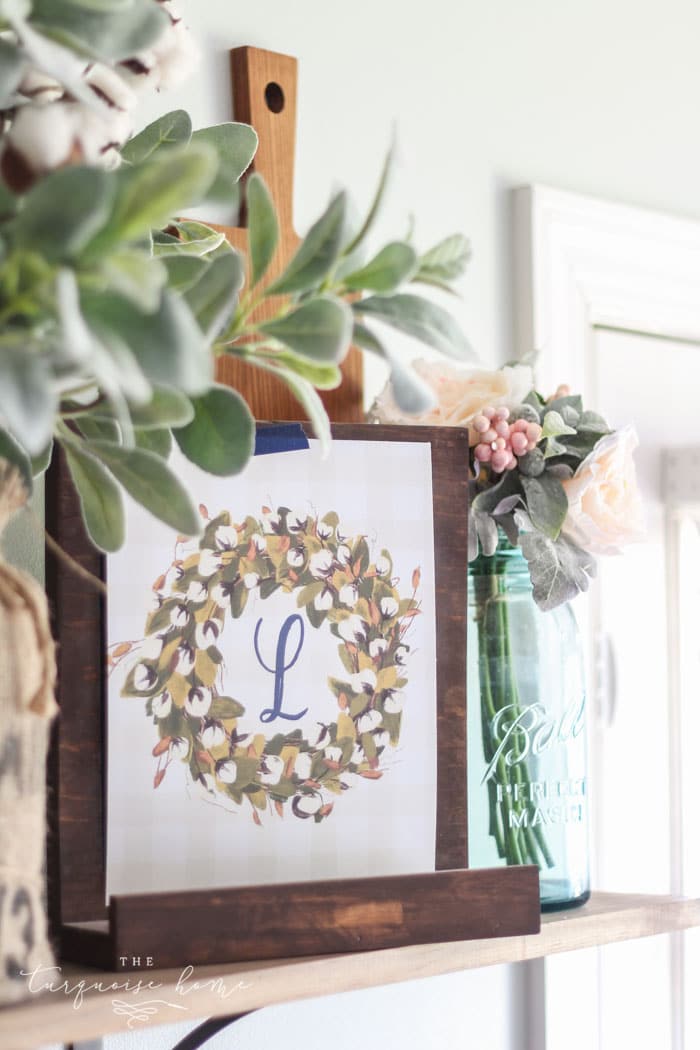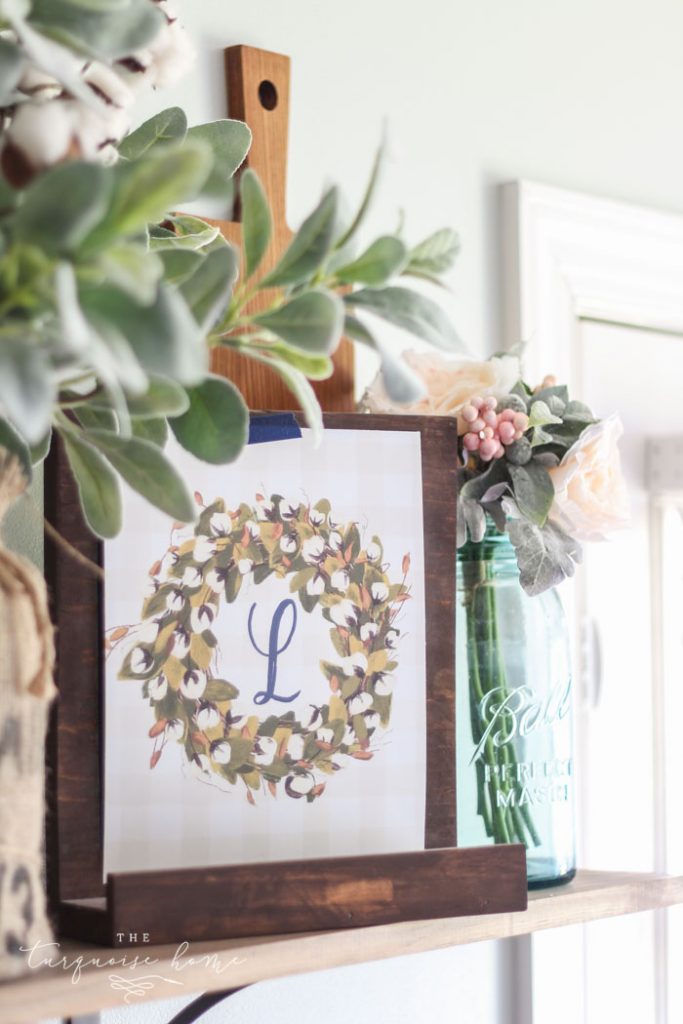 Just download the free printable with your initial on it (flip it around to make it a mirror image first – see my suggestions in the tutorial here) and you'll have your own adorable pillow in no time!
Need some more ideas of things you can add to in your bedroom? Why not try a few (or all!) of these:
Wall Art Monogram Projects
Monograms aren't just for fabric! There are so many other ways you can use either the classic monogram or the more modern one-letter initial. If you are looking for a fun decor piece for a kid's room or playroom, this flower and moss letter would be perfect for a little girl's room.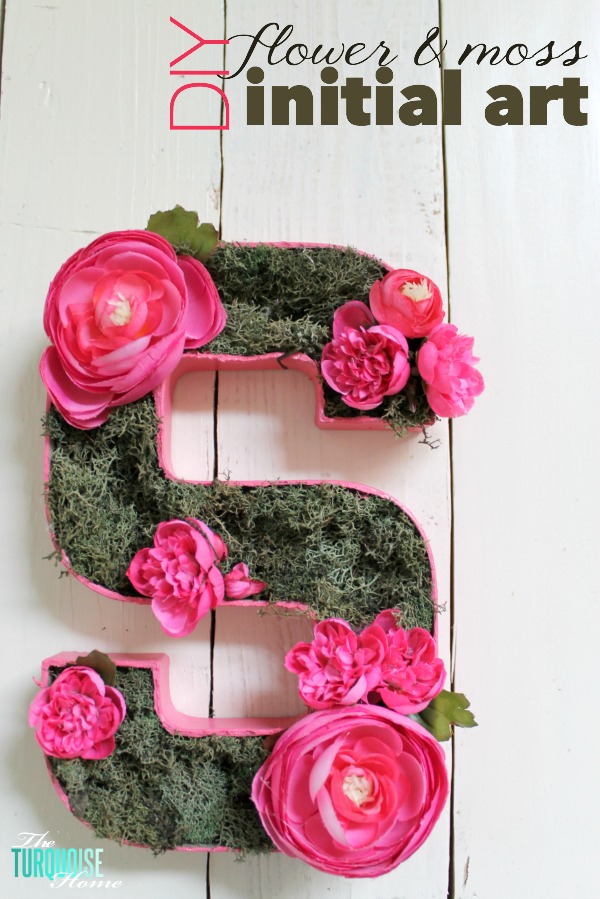 Or this DIY fringe letter from the Sweetest Occasion is perfect for a boy's room!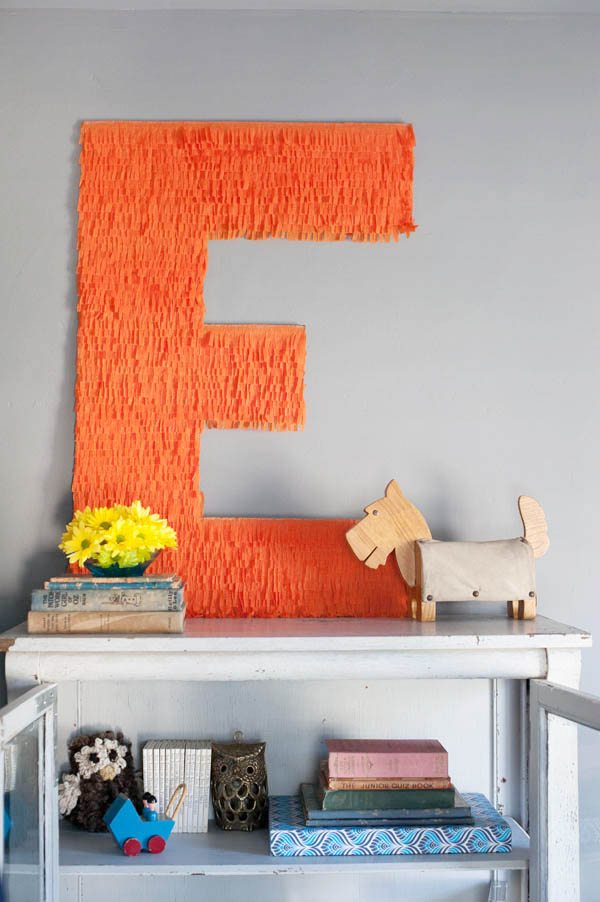 In case you were wondering, yes, you can even decorate outside your home with fun personalized decor. This monogram cedar planter is absolutely on my must-make list. Ellery Designs did a fantastic job on this one.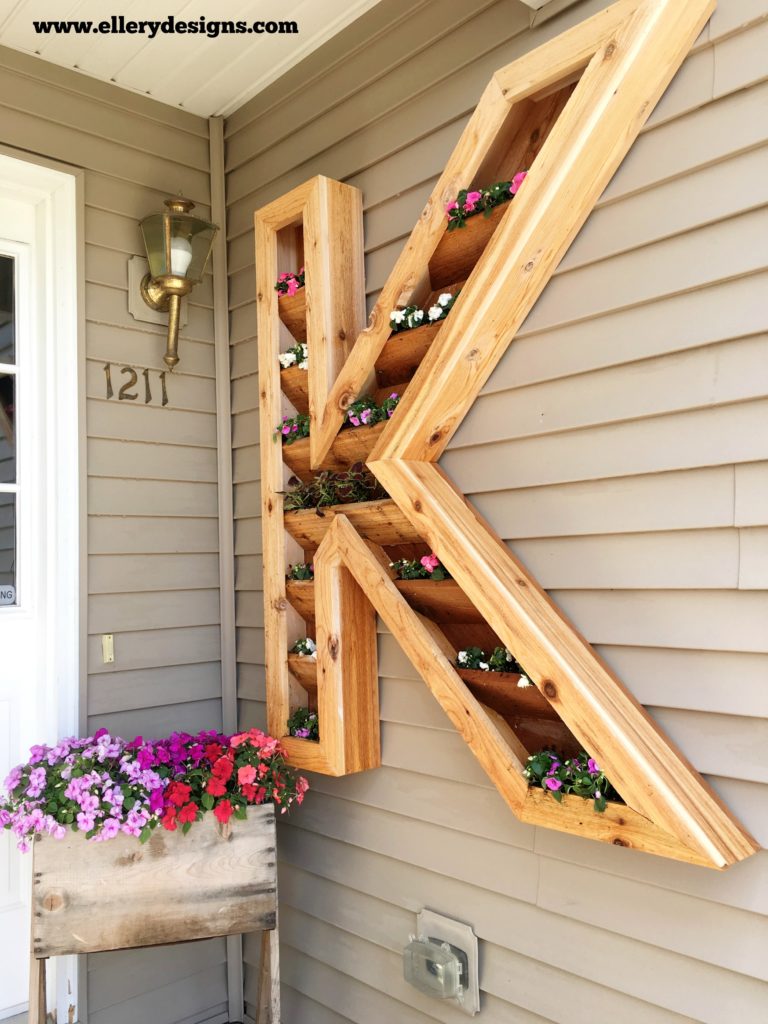 Which Order Should the Letters go in?
One common question I've seen a lot about creating DIY monograms is which order the letters should go in. Here are the general rules: if you are creating a single initial, most people use the initial for their last name.
If you are doing a traditional three letter monogram, the order is first name, last name, middle name. The first letter of your last name is in the center and is sometimes offset to be larger than the other two letters.
Lastly, if you are doing a combined monogram with you and your spouse, the wife's first name initial is first, then the combined last name for the middle initial, then the husband's on the right.
So, you see, there are plenty of opportunities to add a monogram or three to every room in your home! I promise you guys will be hooked once you start. 🙂
MORE POSTS YOU WILL LOVE: