25+ Stunning Summer Fireplace Mantel Decor Ideas
One of the easiest ways to update your home every season is by decorating your fireplace mantel.
The mantel is often a central focal point of a home, and it's a small enough project that it is always the first area I update with the new seasonal decor!
How to Decorate a Fireplace Mantel
Whether you're decorating for fall, winter, spring, or summer, each season has a charm and elegance that can be tapped into to create a stunning fireplace mantel design you love.
The key to a beautiful mantel design is to incorporate the season through items that you love and reflect your personality. Display a mix of seasonal flowers, signs, photographs, and more to give a seasonal snapshot of your home decor style.
25 Stunning Summer Fireplace Mantel Decor Ideas
Check out these 25 gorgeous summer mantel ideas to give you summer mantel decor ideas!
1. Simple Summer Mantel
When you want to celebrate the season in a simple way, all you need to do to create a simple summer mantel is to display a large mirror flanked by vases of seasonal blooms. How easy (and gorgeous) is that?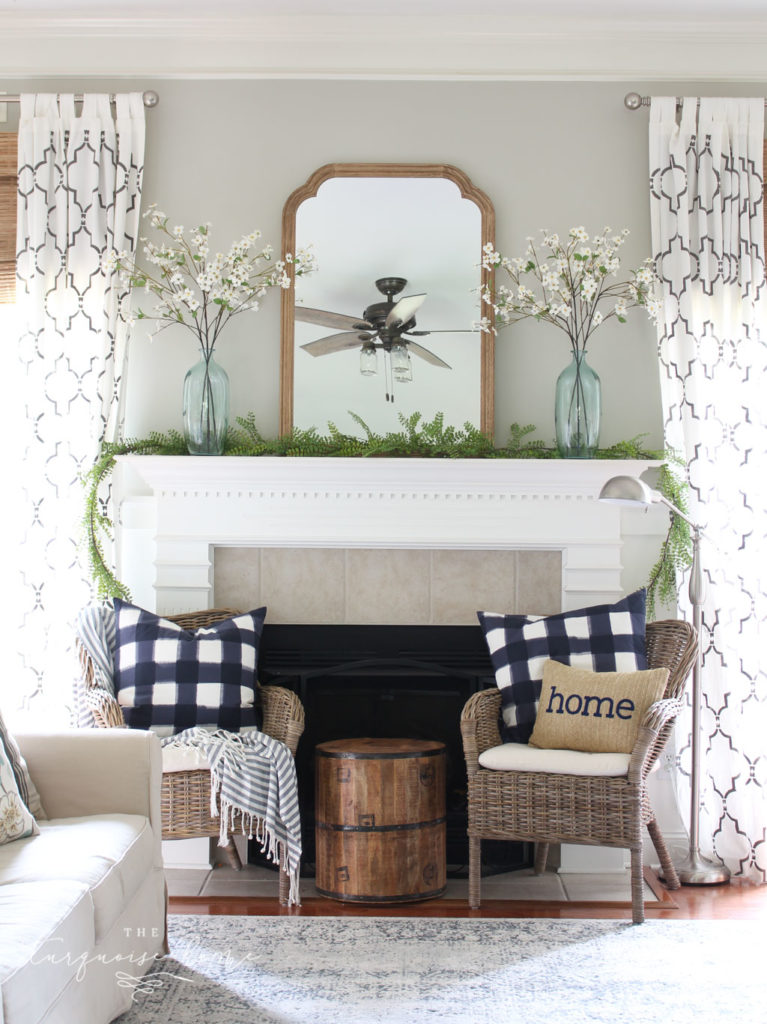 Make a huge art impact with some DIY engineer prints of your favorite beach scene this summer!
3. Summer Blues
Take a look at this mantel from Ashley at Modern Glam. These blue and white pieces of pottery remind me of a summer sky with puffy white clouds, and the added greenery is the perfect final touch.
I love how crisp and clean this mantel feels!
4. Flower Market Mantel
Jen from Tater Tots and Jello took inspiration for her mantel decor from the flower market.
Flowers and greenery flank a large summer-themed sign and add eye-catching pops of color. The galvanized pots are another fun and interesting element.
5. Beautiful Built-Ins
If you have built-ins next to your mantel, then take a page from the playbook of Erin at Live Pretty on a Penny. Not only did she give her family room a DIY fireplace surround makeover, she added these bookshelves, too!
The blues, whites and wood tones & texture really give a beautiful summer vibe!
6. Show Your Patriotism
Stars and stripes, here we come! This is perfect for all summer long to show off your red, white, and blue like Kim from Starshine Chic does with this summer mantel idea. I love the layered coordinated stars.
7. Bright and Cheery
Samantha from Little Bits of Home pulls out the cheery summer decor with bright yellow (faux) forsythia blooms and blue sea glass. The two together bring a contrast of color that feels happy and very much like summertime.
8. Colorful and Chic
Janet's summer mantel decor idea from Shabbyfufu centers around the basket while the frames take a backseat behind the peonies in blue mason jars. It's fun and colorful!
9. Bring The Outside In
Dear Lillie uses potted lavender for a bright splash of purple to contrast her bowl of limes, basket, and other green elements of texture on her mantel. It looks very fun, rustic, and summery.
10. Coastal Fireplace Mantel Decor Idea
What would summer be without the beach?
This simple white mantel shines with forsythia branches to add a splash of yellow and pops of sea blue throughout. The white wood boards make a nice backdrop in this beautiful design from The Frugal Homemaker.
11. Beach Inspiration
Here's a very different take on a beachy summer mantel! I took a picture from one of our family beach trips and blew it up as the focal point for this summer-themed mantel decor idea.
The olive buckets are arranged with lamb's ear, eucalyptus, and lavender, which add just the touch of color the design needed. Jars of shells rounded everything out.
12. Sweet and Pretty
The pink hydrangeas pair well with the blue jars in this summer fireplace mantel decor idea. I think this mantel idea from Yellow Bliss Road is gorgeous.
My favorite part: the shells at the bottom of the jars!
13. Neutral Farmhouse
Here is a nice neutral fireplace mantel example from Stone Gable. First step: hang a mirror. Then, using all wood and white with the exception of three orchid plants (just the greenery). Very chic!
14. Birdhouse Decor
This summer fireplace mantel decor inspiration from Love of Family and Home showcases both green and blue beautifully and adds bits of texture with greenery. The birdhouses and sign add additional layering and interest.
15. Simple Beach Theme
This super simple beach-inspired mantel from Gina over at The Shabby Creek Cottage makes use of the summery beach vibe without going too far. A summer mantel decor design similar to this would be quick and easy for anyone short on time.
16. Lemonade and Sunshine Mantel Decor
Brie from Darling Doodles Design shows off yellow in a big way with this lemonade and sunshine themed fireplace mantel decor idea. If you love bright and cheerful, this design is for you!
17. Coastal Summer Mantel Decor Idea
When I made this summer mantel design, I reused my beach picture added more of a nautical motif to the overall mantel decor. Starfish, boats, and lots of blues work with the picture to create a light, coastal feel. The bay leaf topiaries add a fun element of texture.
18. Bright and Fresh
If you're in the market for quick and easy ideas, consider a fireplace mantel design like this one from Landee at Landeelu. A sign (with a fun-colored frame), a mirror, a few bright blooms, and a large letter are all you need.
19. Summer Florals
When you want a big pop of color, summer fresh flowers are the way to go as shown here by Feathers In Our Nest. Use books to create height and other fun elements for additional eye-catching interest!
20. Simple and Chic
When you just want to add a nice focal point to a room but don't want to spend a lot of time on it, go with a design like this one from Thrifty and Chic. Alicia uses lanterns to add depth to the tall bottles with forsythia stems.
21. Beachy Theme
This mantel from Organize & Decorate Everything has elements that you don't see every day. The framed sand dollars and driftwood just make me want to go dip my toes in the sand!
22. Adventure Is Out There
While this fireplace mantel decor theme is mostly beach-related, there is an element of travel/adventure too (check out the books and suitcase below). All you need is a piece of art and some shells to make yours similar to this one from The Lettered Cottage.
23. Farmhouse Summer
This farmhouse red, white, and blue decor from Hoosier Homemade is gorgeous!
I love that big wooden flag (you can grab the tutorial to make one of your own) as a colorful background. The showy hydrangea blooms add a nice piece of texture.
24. Under TV Decor
The picture here may not show a fireplace, but this decor design from Cherished Bliss is perfect for a mantel with a TV hanging above or even a hanging picture. Potted greenery, candles, and a lamp create a simple yet elegant design.
25. Wreath and Mirror
Hang a wreath in front of a mirror, like this forsythia wreath. Lots of green, yellow, and turquoise (which I love!) in this mantel design from Chic on a Shoestring makes it feel very summery.
26. Add a Statement Piece
Nothing anchors a fireplace mantel decor design like an unusual piece. The Frugal Homemaker centers this sunburst mirror in a symmetrical design. It's is flanked by branches, blue jars, and coastal elements.
27. Wanderlust Decor
If you love to travel, calm those itchy feet in between trips with travel-inspired decor from your trips – or items that inspire an upcoming trip!
In this mantel example from Emily at Two Purple Couches, she uses souvenirs, trinkets, and even a postcard from past trips to display some summer flair on her mantel.
That's it! I hope these summer fireplace mantel decor examples inspire you as you swap out your seasonal decor.
MORE POSTS YOU WILL LOVE: