A Simple Summer Dining Room
Yay! It's the Summer Dining Room reveal day! Simple dogwood stems, greenery and texture make this simple summer tablescape an achievable look for anybody!
Today I'm sharing about our simple summer dining room!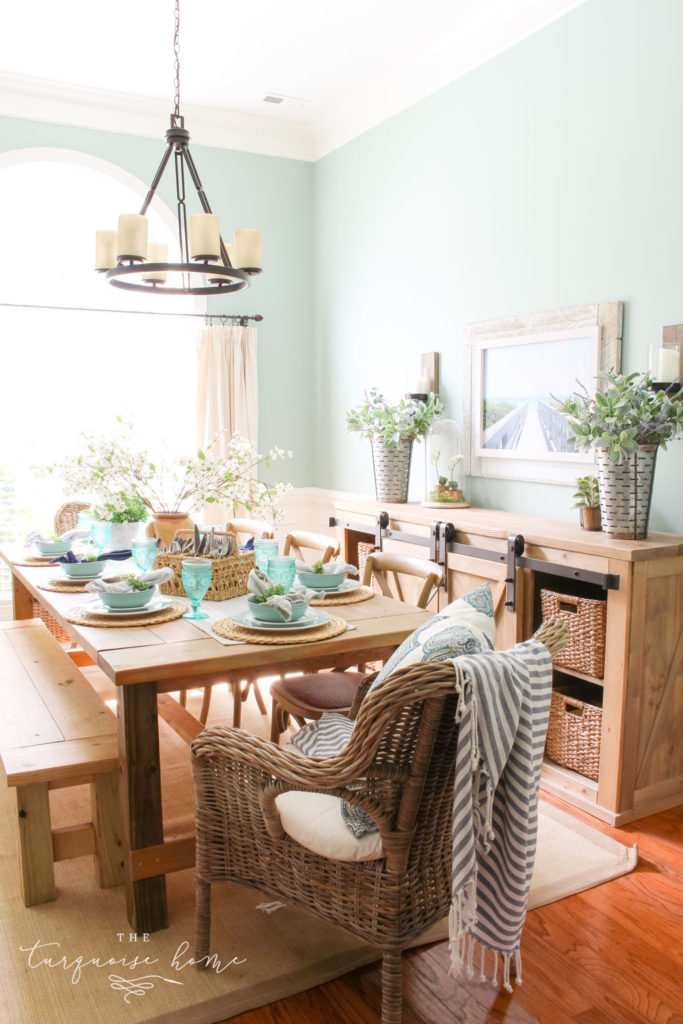 I wanted to decorate one more room for summer before our house gets torn apart! Yep! You may not have heard that we're getting all new flooring next month. It's been a whirlwind of a summer, which started out with a flood from a busted refrigerator filter. I'll share more about that soon.
But first, let's take a peek at the decorated summer dining room! As always, I wanted to use a lot of things I already owned.
This post contains affiliate links for your convenience. See my full disclosure policy here.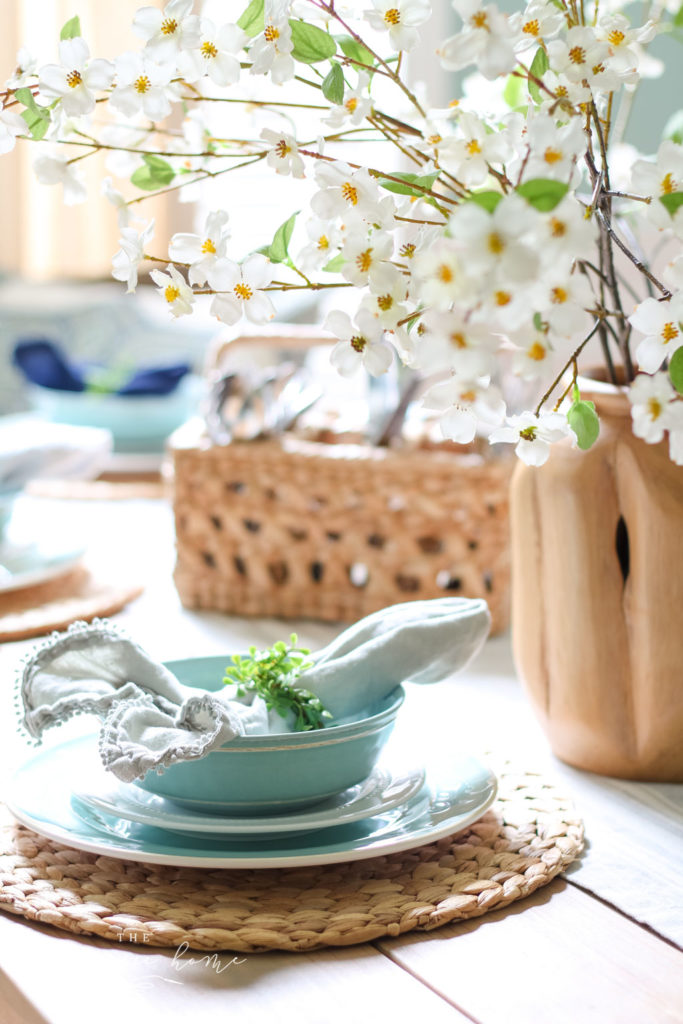 The turquoise dinnerware is new and the perfect color for summer! I stole the dogwood stems from my summer mantel just for this photo shoot. Shhhhhhhh! Don't tell anyone. 😂
Everything else is stuff I already had around the house. Oh, well, except for that adorable utensil caddy (similar) that adds just the right texture for a summer tablescape or summer picnic.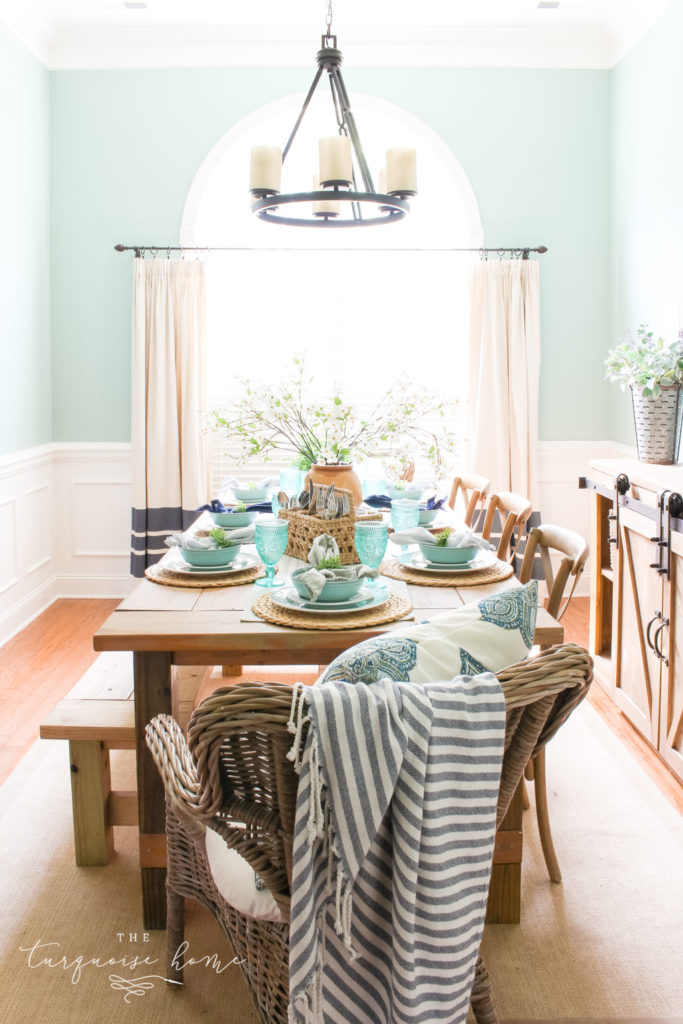 Did you know that I made all of the furniture in this room? Yep! I sure did. When we moved into this home 7+ years ago, we didn't have much furniture and didn't have the money to buy a bunch of new stuff. I started scouring Craigslist and Facebook for deals. I found a few things, but when I didn't find what I like, I decided to start building what I wanted.
It turns out that you can build wood furniture for a whole heck of a lot less than you can buy it. I even made the curtains! (I've linked to all the tutorials in the sources list below.)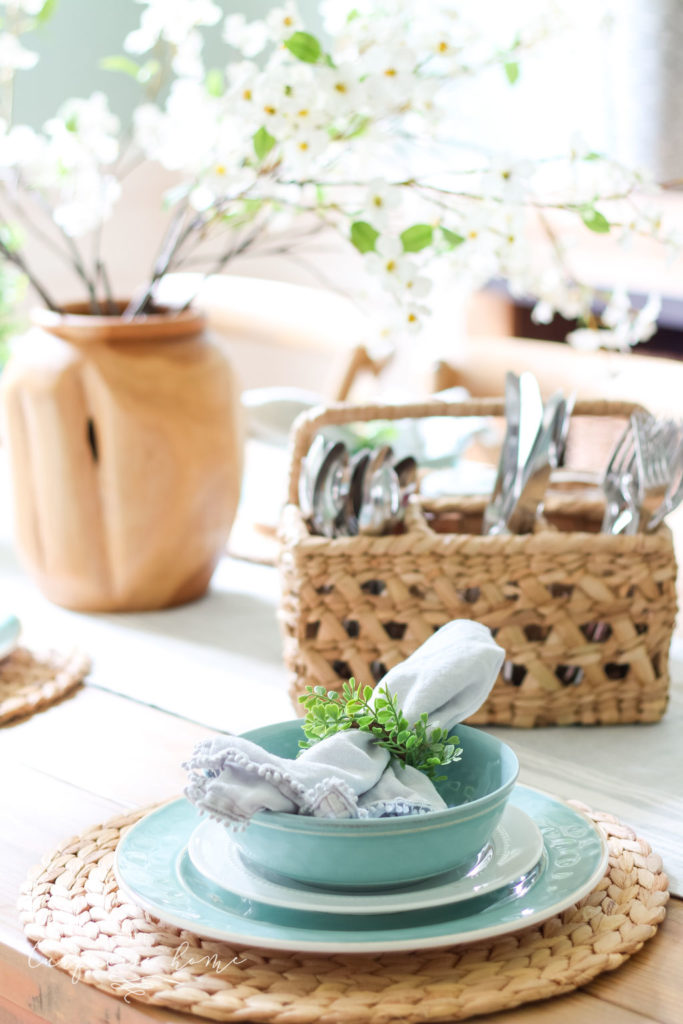 I love being able to take everyday items from the hardware store and turn them into beautiful and functional pieces of home decor.
But back to the summer tablescape. I love just setting a table, making a statement centerpiece, adding seasonal touches and stepping back to admire my work!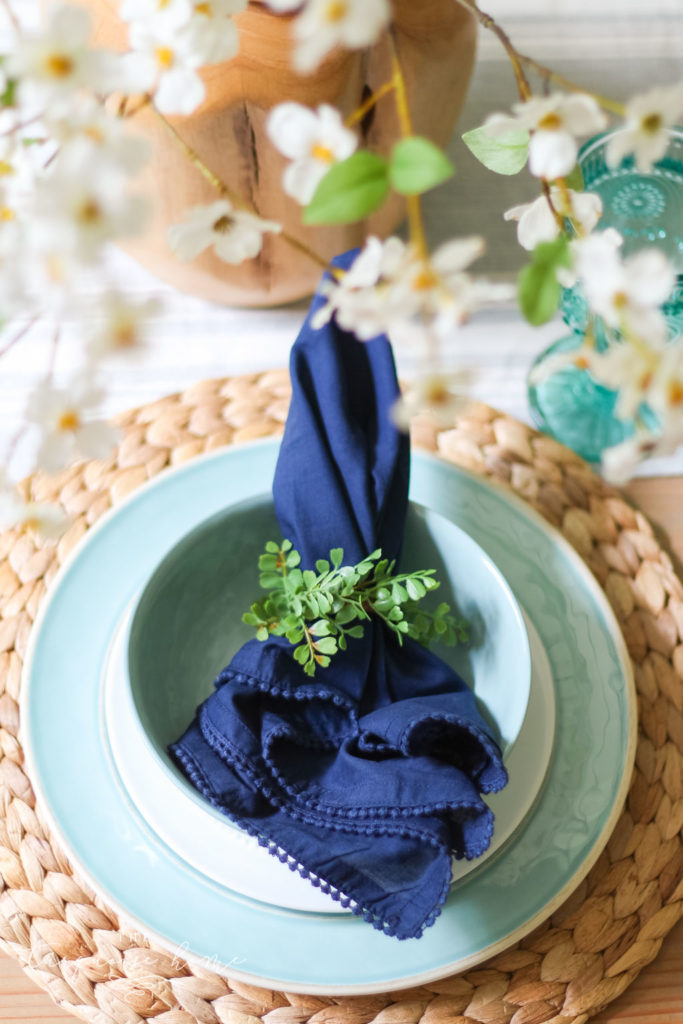 A pretty plate and cute cloth napkin with a fun napkin ring is really all you need for a seasonal table setting, right?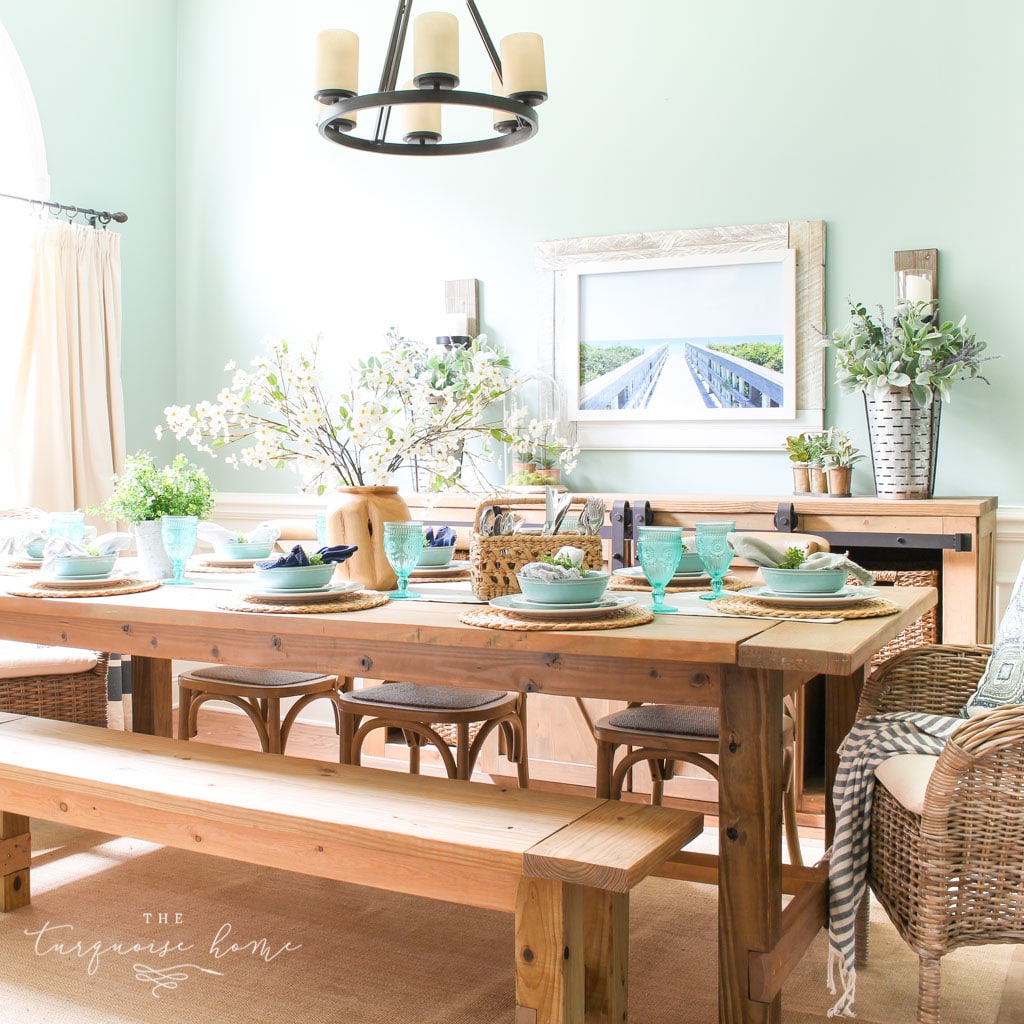 Sources for my Summer Dining Room
Napkins with poms – Hobby Lobby
Teak Wood Vase – no longer sold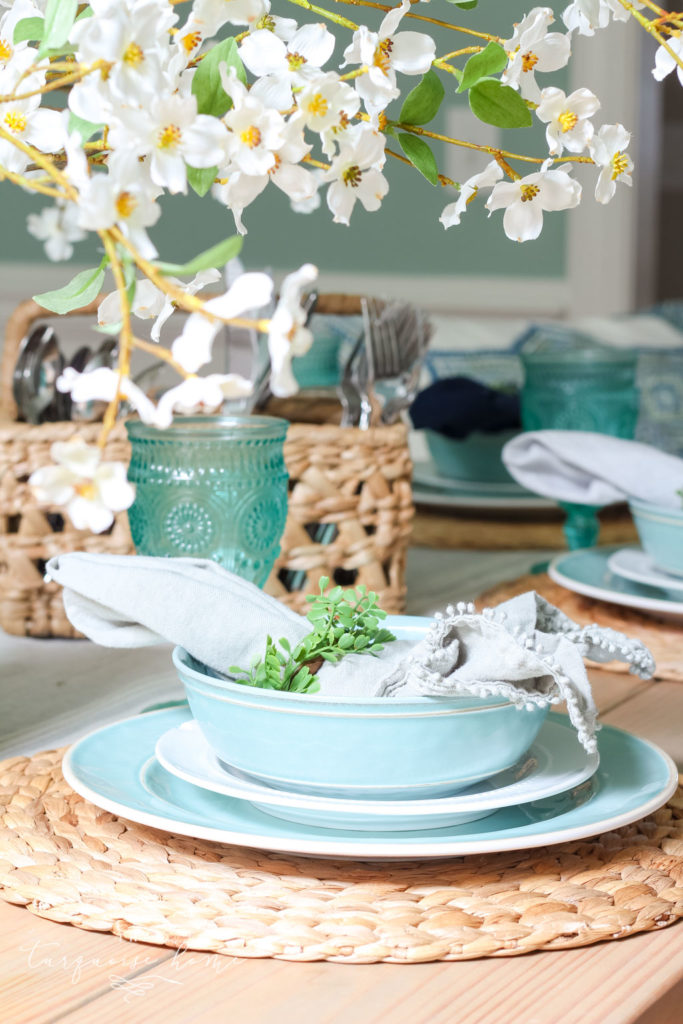 I hope you've been inspired by my summertime dining room.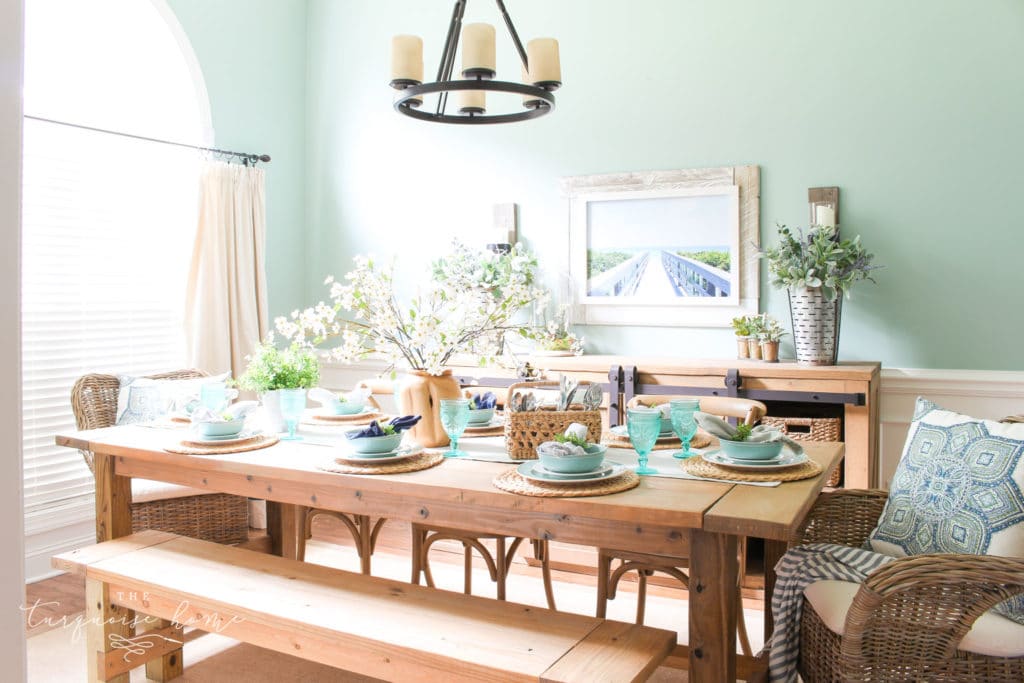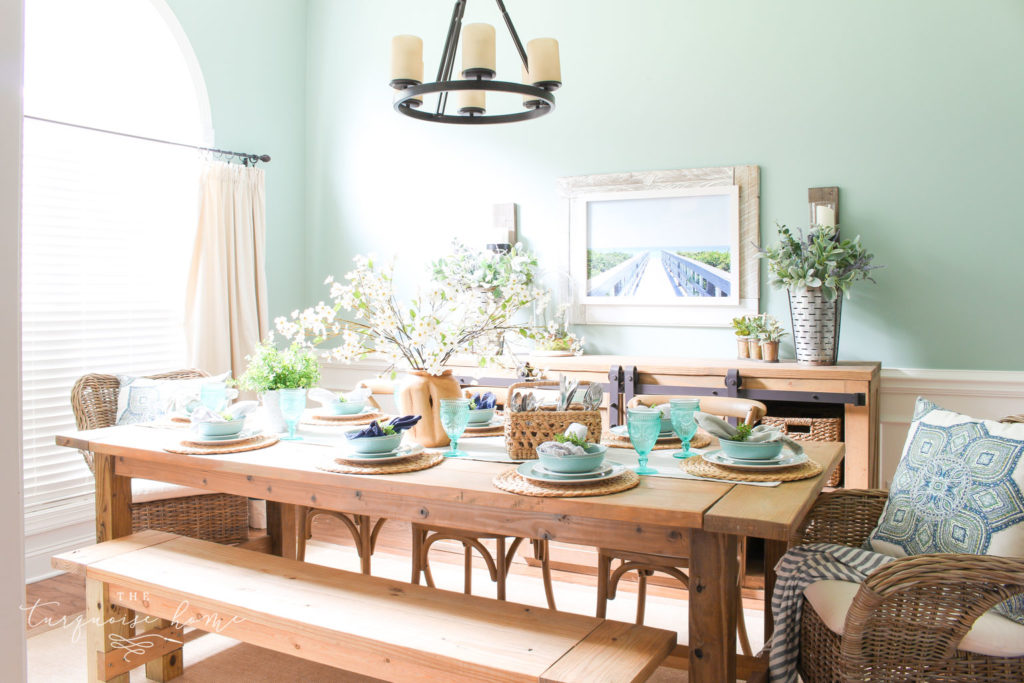 More Posts You Will Love: